When most people think of a diesel pickup, the picture that often pops into their head is a fully loaded crew-cab 4×4. It isn't often that we see regular-cab trucks, and when we do, they're often work trucks and nothing special to look at. But Brenton Lindenberg's 2009 regular cab is anything but regular—the 30-year-old owner of Side Action Diesel Performance (SADP) in Harvard, Illinois, uses his 2009 F-250 Super Duty as a shop demo truck, weekend racer, daily driver and tow rig.
Lindenberg purchased his first diesel truck, a 2000 Ford F-350, more than seven years ago, and after installing a tuner and feeling the increase in power, he was hooked. He continued to wrench on the truck through the years, eventually coaxing nearly 600 horsepower out of the 7.3L Power Stroke engine. Finally, he felt it was time to move on to a new challenge. He wanted to stay with the Blue Oval, but decided it was best to leapfrog over the 6.0-liter engine and find a 6.4 for his next project.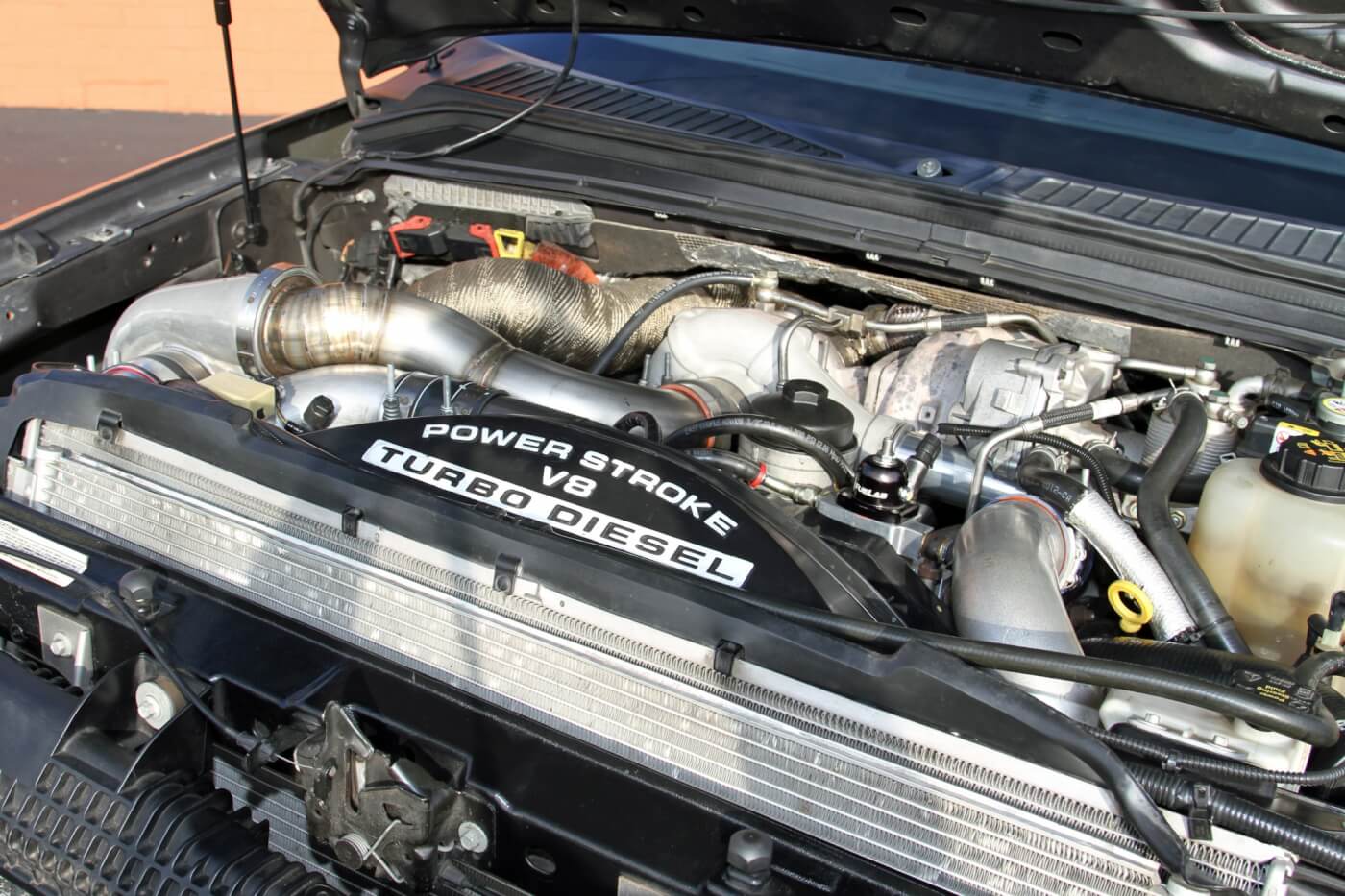 FINDING THE RIGHT TRUCK
Lindenberg found a clean 40,000-mile 2009 F-250 in Texas. Driving the truck back home to Illinois, he stopped to visit his 93-year-old grandfather in Arkansas. Grandpa didn't understand the desire to make changes to such a nice truck but blessed his grandson's endeavors nevertheless.
Lindenberg started out simple, installing a tuner and exhaust system before taking it to the drag strip for some baseline performance runs. In this configuration the truck ran the quarter mile in 12.80 seconds at 103 mph—fun to drive but not what he was looking for. It was time to get serious and start building some custom parts to step up the Ford's performance.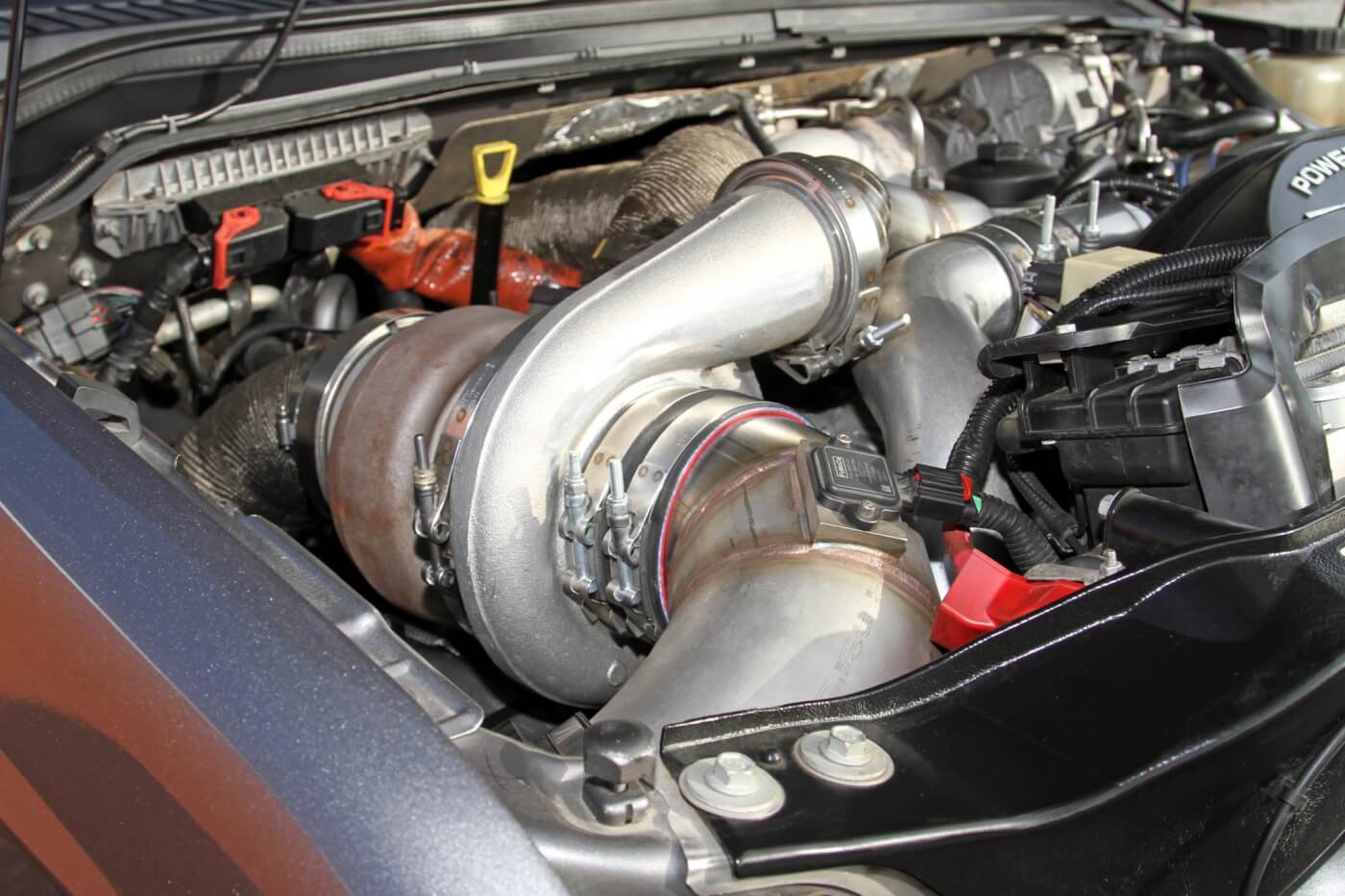 TRIPLE TURBO INSTALLATION
Lindenberg and his team at Side Action Diesel Performance pulled the cab off the frame and began making room for an additional turbocharger, a BorgWarner 480 with a T-6 housing and big turbine wheel that was optimized to work with the 6.4. Since the 6.4 came from the factory with a compound turbo setup, this brought the Ford's turbocharger count to three. The triple-turbo combination pulls in air through a K&N cone filter, and then sends the compressed intake charge through the factory intercooler before it enters the stock intake manifold. Spent exhaust gases are expelled through a 4-inch diameter Flo~Pro stainless steel exhaust system that exits behind the passenger-side rear tire. Header wrap is installed on the hot pipes to help keep under-hood temperatures down and protect other engine components.
Running the truck down the strip with the triple-turbo system installed dropped nearly half a second of the ET, this despite the fact that the truck was still running a completely stock fuel system and transmission. Lindenberg took this as a sign that he was barking up the right tree and that his triple-turbo kit had serious potential.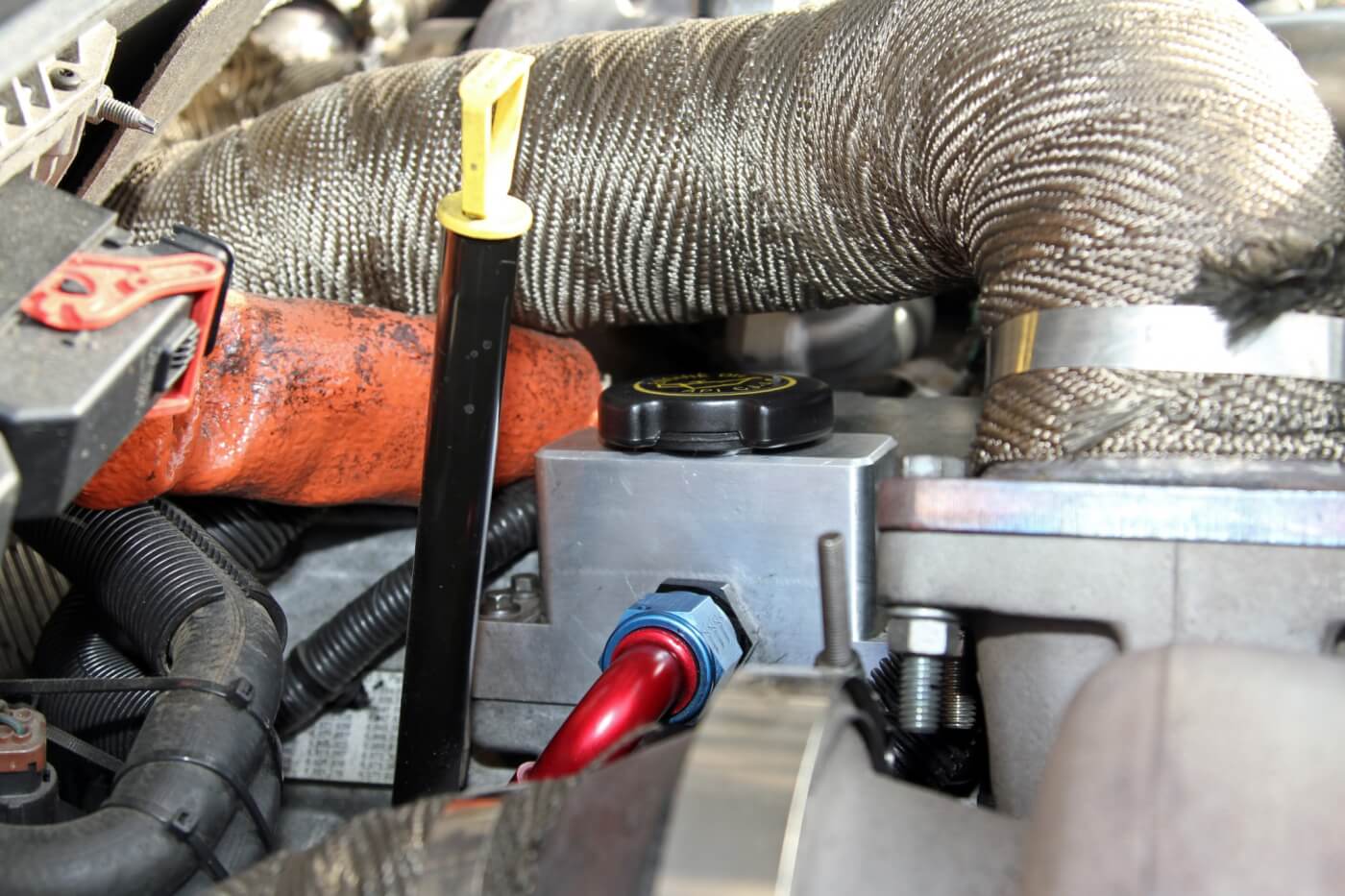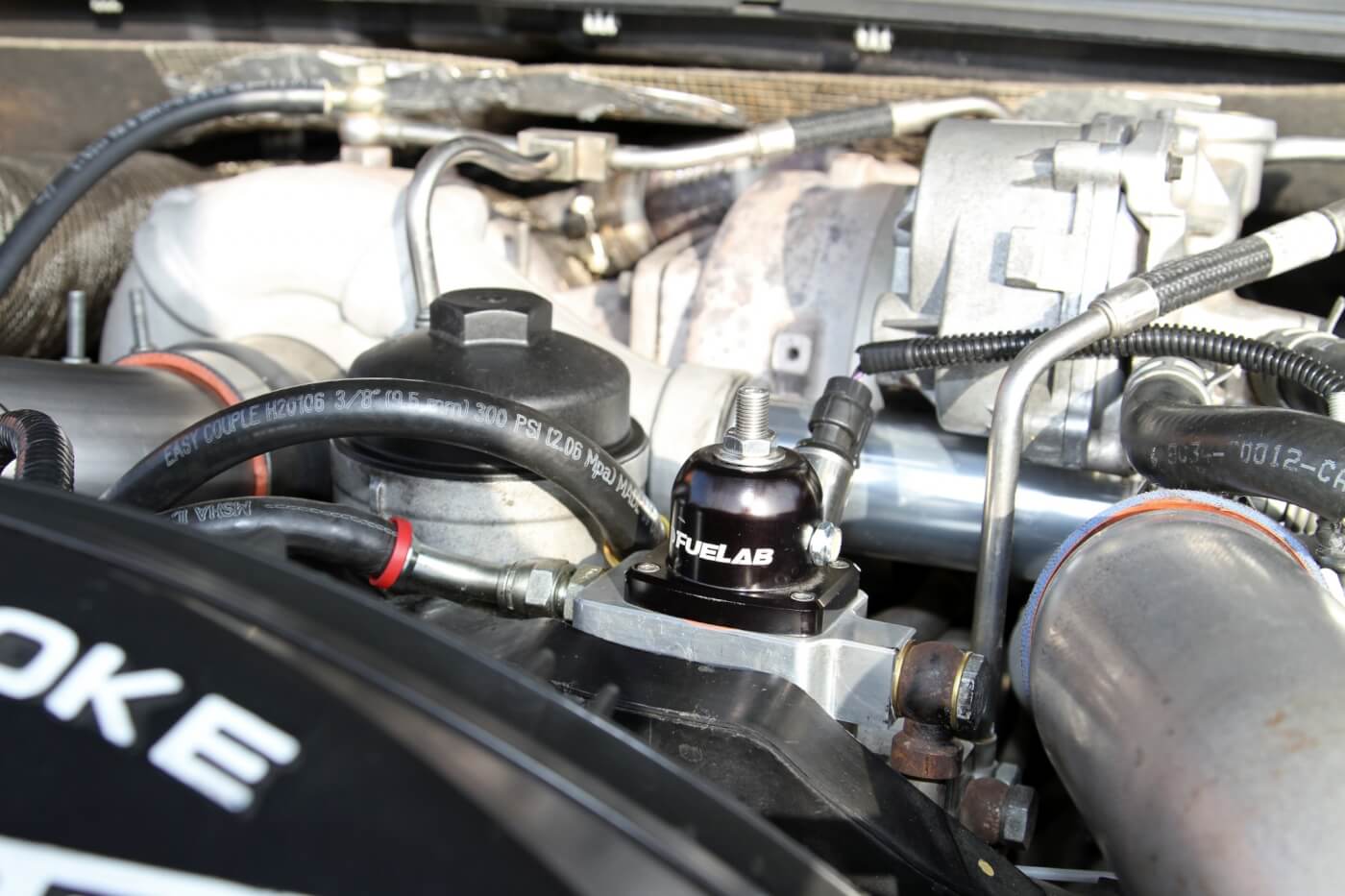 TURNING UP THE FUEL AND TUNING UP THE TRANNY
Once again the cab came off and the team focused on the fuel system, increasing fuel delivery capacity to keep up with the airflow the triple turbos could supply. They built and installed a set of 100-percent-over injectors, complemented by an SADP fuel bowl delete kit and FueLab regulator. Since a single Ford K16 high-pressure fuel pump would struggle to keep up with the big injectors, they developed and installed a dual K16 pump kit to make sure rail pressure drops would not be an issue, with a FueLab 200-gph lift pump to feed fuel from the tank.
While the fuel system upgrade was in process, Lindenberg pulled out the 5R110 transmission, disassembled it, and installed new Sun Coast internals and a new torque converter custom-built by Dennis Sneath at Midwest Converters in Rockford, Illinois.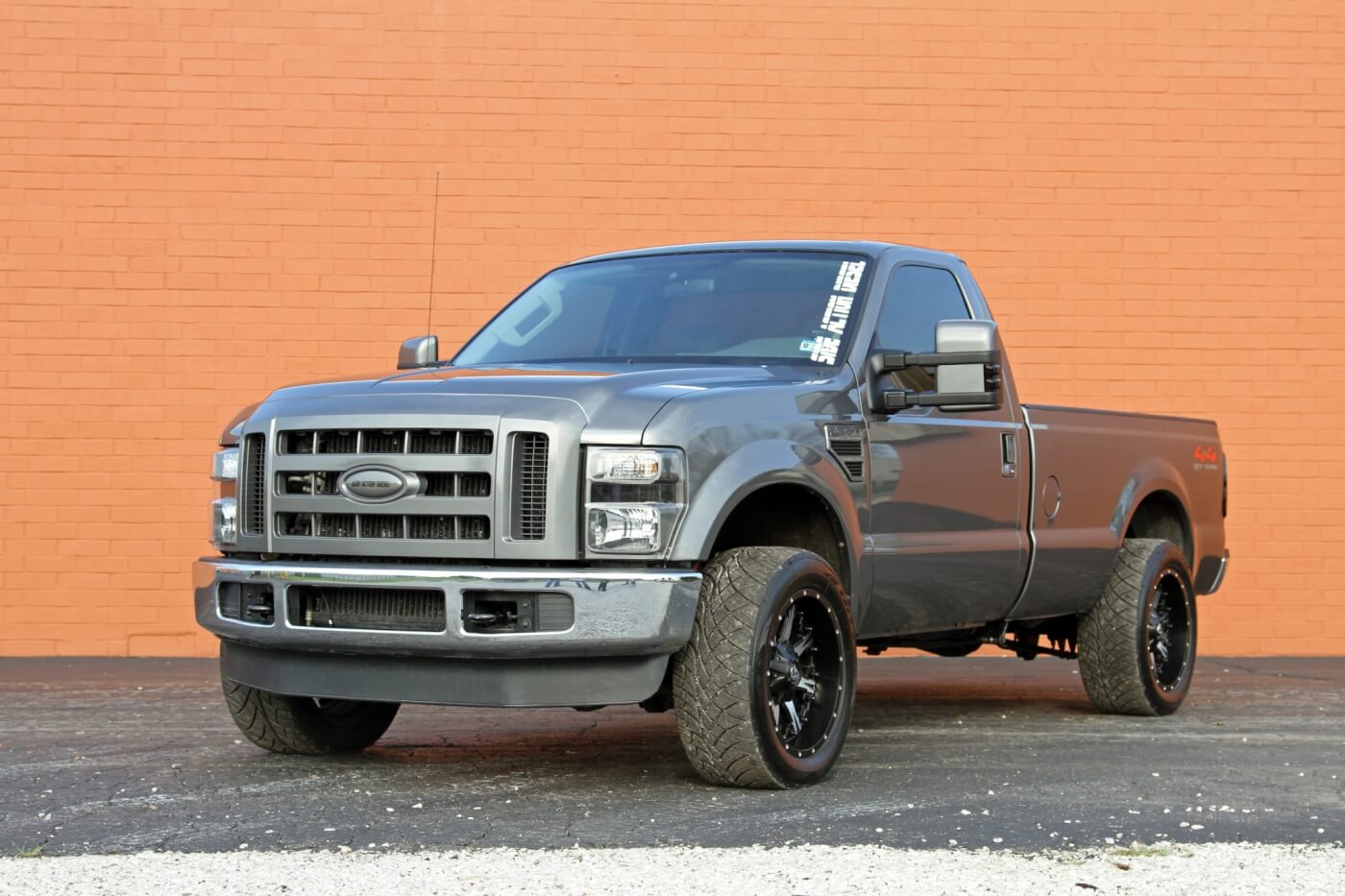 Next, Lindenberg turned his attention to the chassis to make sure the truck could put all of its newfound power to the ground. Out back, the SADP team removed the factory 2-inch lift block and installed a set of CalTracs traction bars. Up front they installed a pair of 4,400-lb coil springs to lower the front end and give the truck a good stance. The factory FX4-package Rancho shocks were retained at all four corners. Lindenberg chose Nitto NT420S 305/50R20 tires, which he had wrapped around 20-inch Fuel Nutz wheels. A B&W gooseneck hitch mount went into the bed.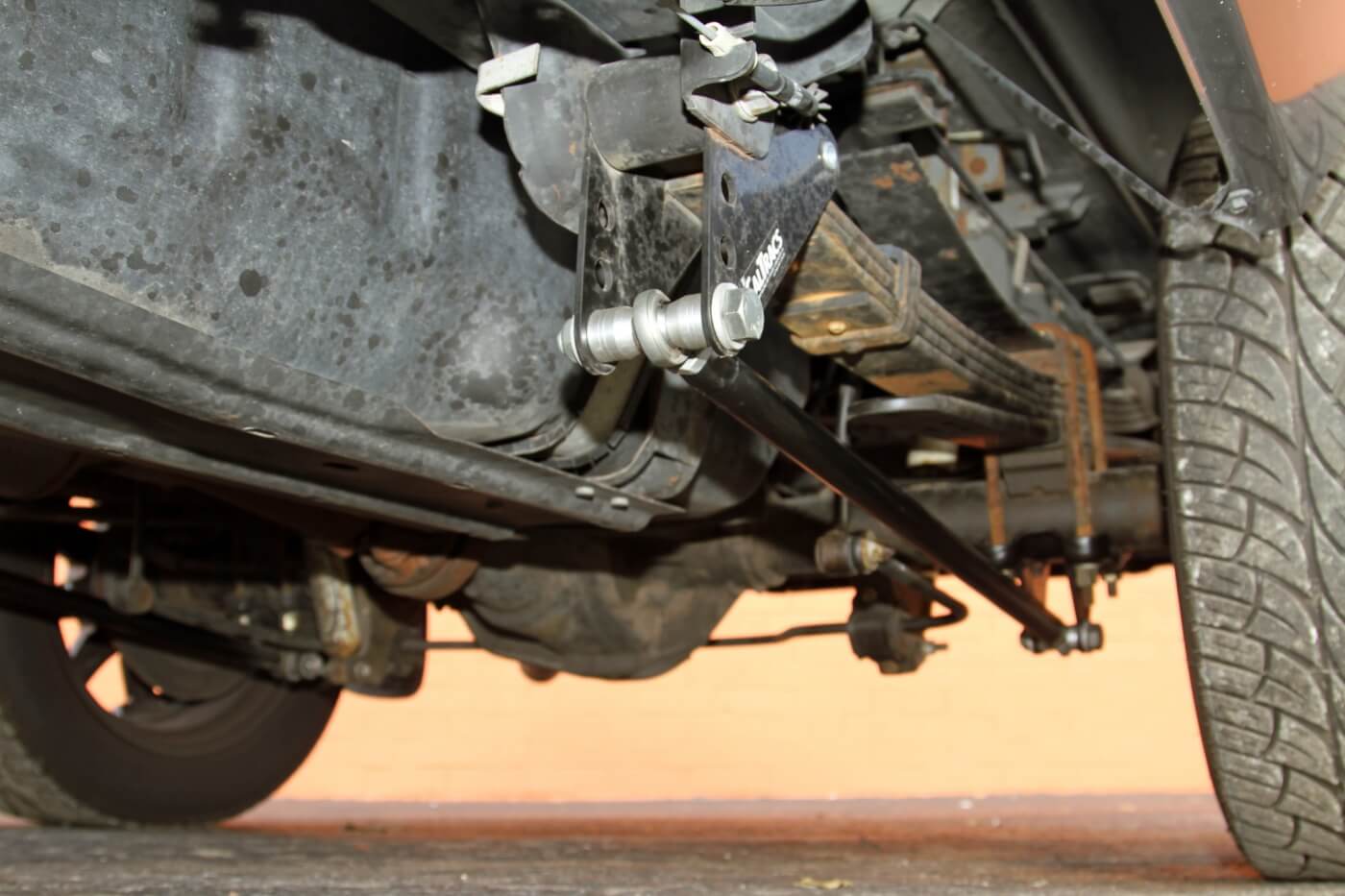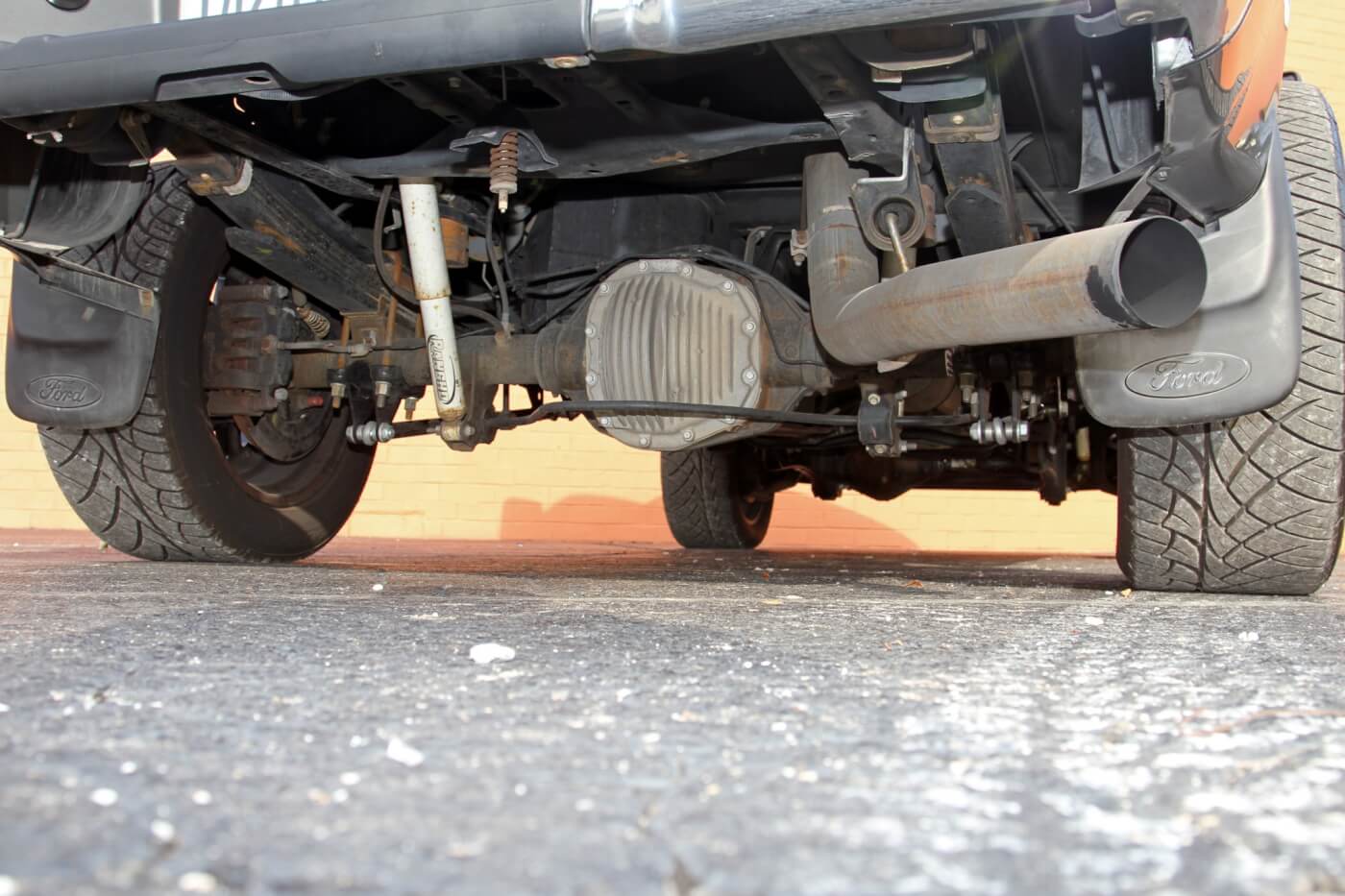 DESIGN DETAILS
Lindenberg turned the truck over to Rob Woodcock and Brad Pieniazek for paint details. They color matched the grille, side vents, door handles and mirrors, applied color to the grille emblem and headlights, and tinted the taillights and tailgate emblem. Dark tinted windows complement the gray paint well and help keep prying eyes out of the interior.
Inside, the upgrades are purely functional. Lindenberg left the stock cloth interior with its split-fold bench alone, installing an aftermarket brake controller under the dash and a triple-gauge pod on the driver's A-pillar, the latter populated by a DashDAQ monitor and Auto Meter boost and fuel pressure gauges.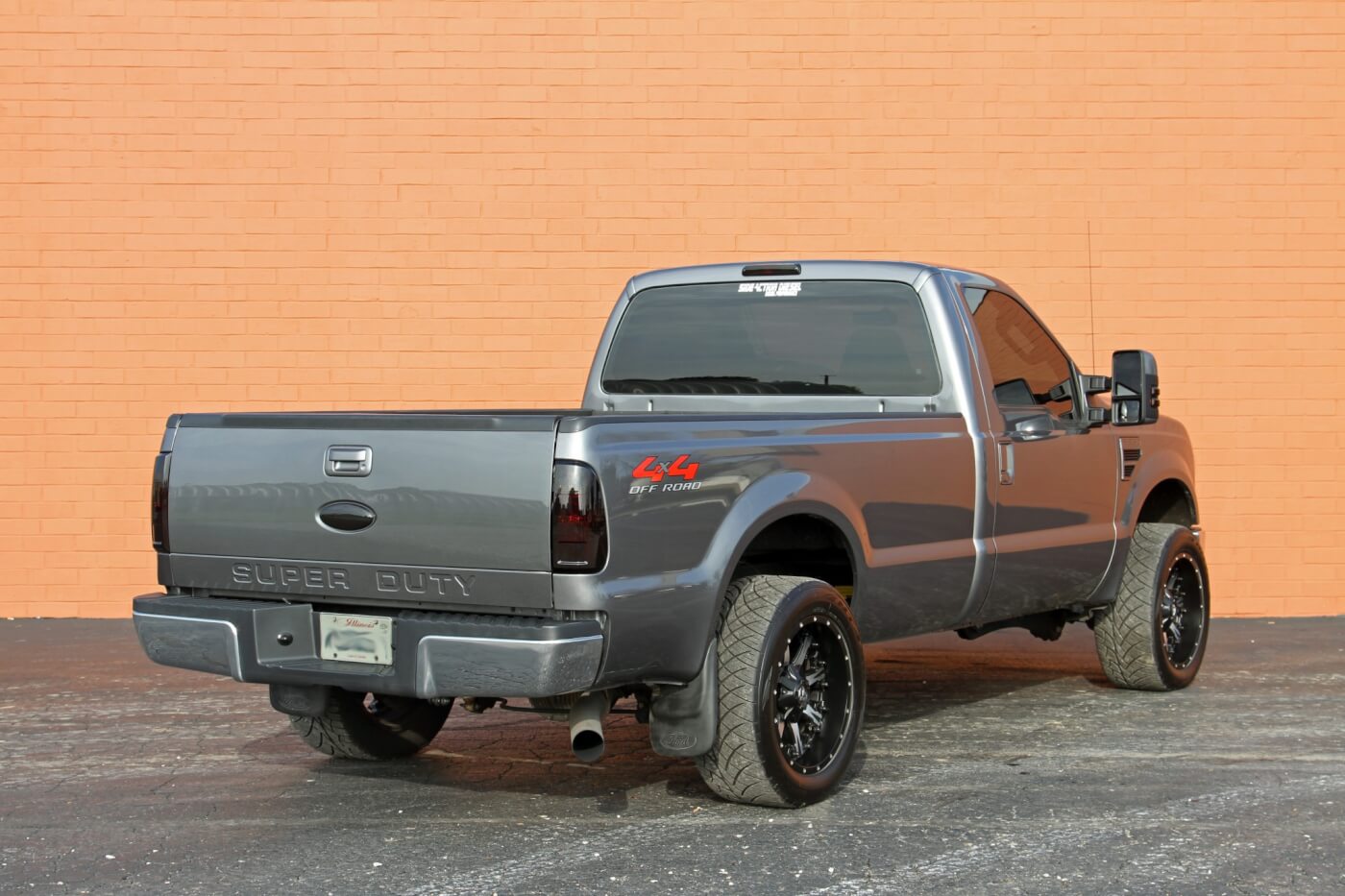 Tuning for the engine was handled by the team at Gearhead Automotive using an H&S tuner. Lindenberg has yet to push the truck to its full potential; since he uses the truck as his daily driver, he has so far limited himself to the tow tune—but even with that setup the 7,500-lb truck has made a quarter mile pass of 11.57 seconds at 118 mph, cutting 1.3 seconds from his baseline run. On the chassis dyno the truck puts down 751-horsepower and 1,450 lb-ft of torque.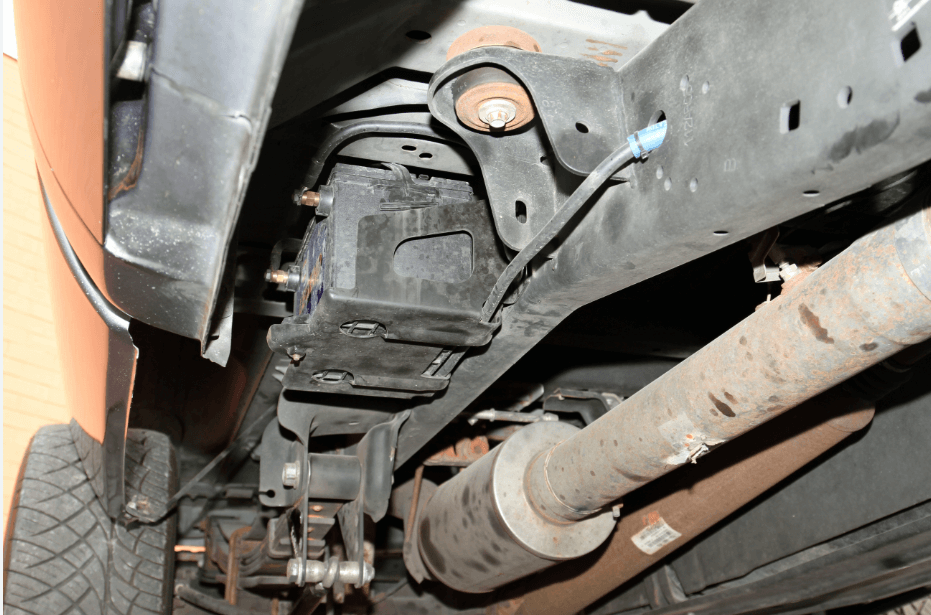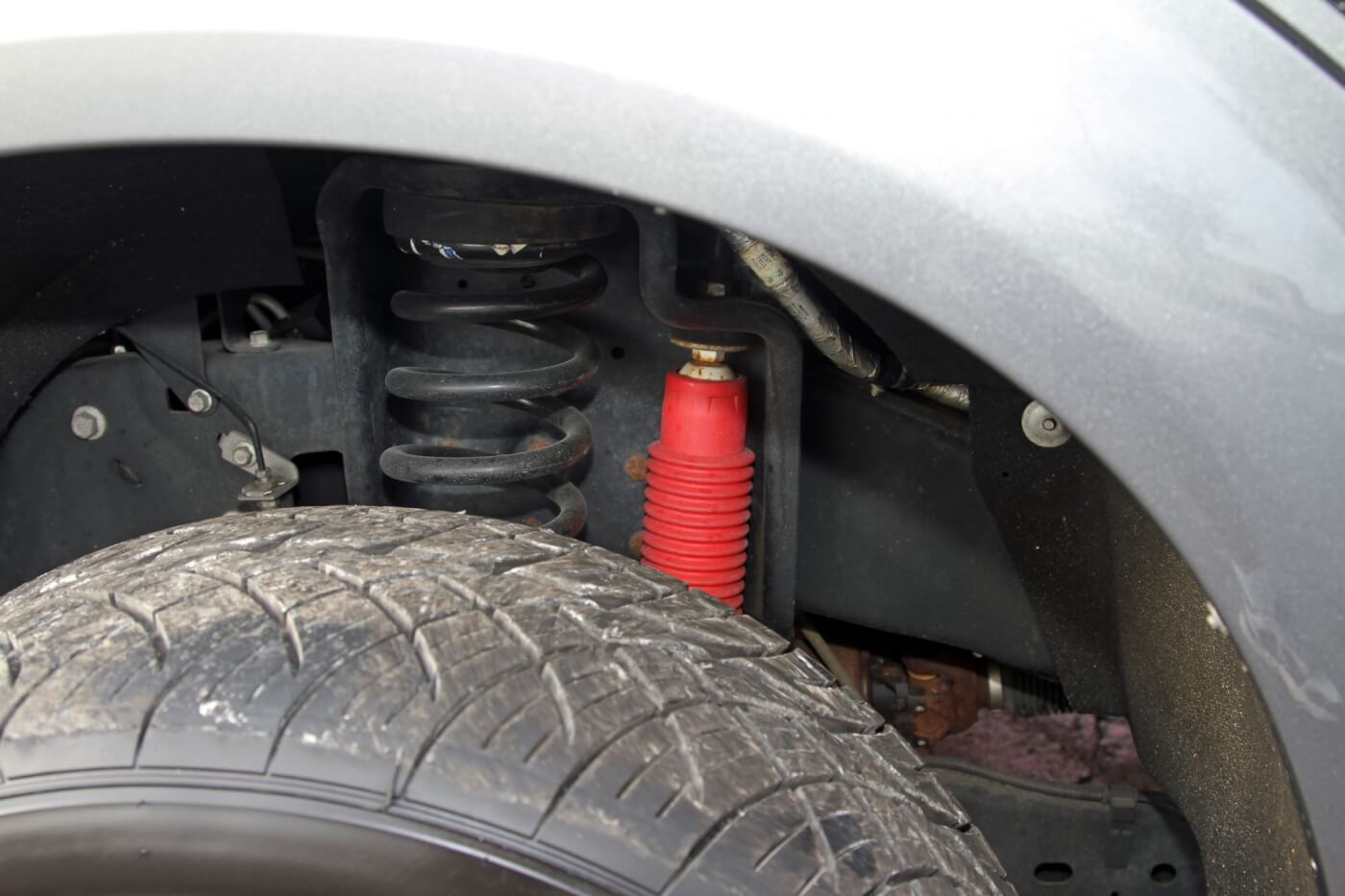 A REGULAR CAB THAT'S ANYTHING BUT REGULAR
With more than 750 horsepower on tap, Lindenberg and his team at Side Action Diesel Performance have created a go-fast Ford that they can be proud of. His triple-turbo 6.4L Ford can hold its own on the drag strip as well as handling towing and daily-driving chores. We don't' see many custom regular cab trucks, and this one is a great example of what can be done with some hard work and ingenuity. DW