CARLOS CALDERON'S CUMMINS PRE-RUNNER
"THE FACTORY FRAME WAS CUT OFF DIRECTLY BEHIND THE CAB TO MAKE WAY FOR AN ALL-NEW BOXED BACK HALF"
Growing up around his family's tire store, Carlos Calderon of Santa Maria, California, began growing his love of everything automotive at a very young age. Spending all his time around the shop, learning the ins and outs of the cars and trucks his dad was working on all day, created a bit of a truck-centric attitude within him right from the start. Since he was still in his teens at the time this build started, this 2nd Gen Dodge Cummins became almost an extension of Calderon's body. With time and with the help of a few friends and nearby shops, turning this truck into one of the first true front-beamed and rear-linked diesel Pre-Runners in existence became his true obsession in life.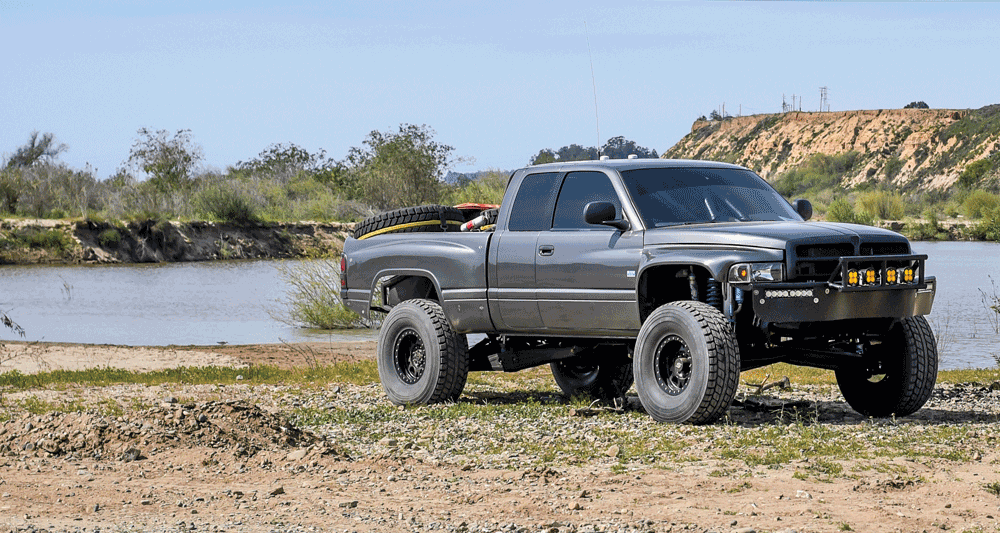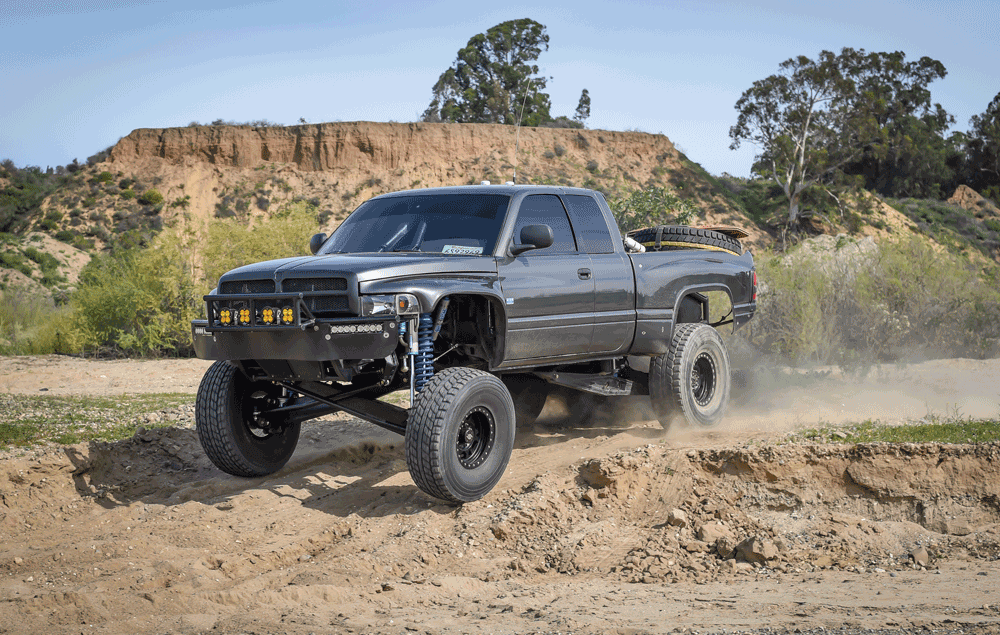 DIESEL PRE-RUNNER
The true vision of the project involved converting the 24V, 5.9L Cummins into a fully capable Baja truck while maintaining some of the daily driver characteristics that would allow him to drive it to and from work whenever he wanted. The truck has been sitting in its current form for almost four years, but took nearly seven years, endless hours, and too many broken parts and improvements to count. To become a true Baja truck, it first needed the suspension and steering system improved drastically. The gnarly off-road abuse it would be subjected to necessitated more suspension travel, better shocks, and a drive train to support it all.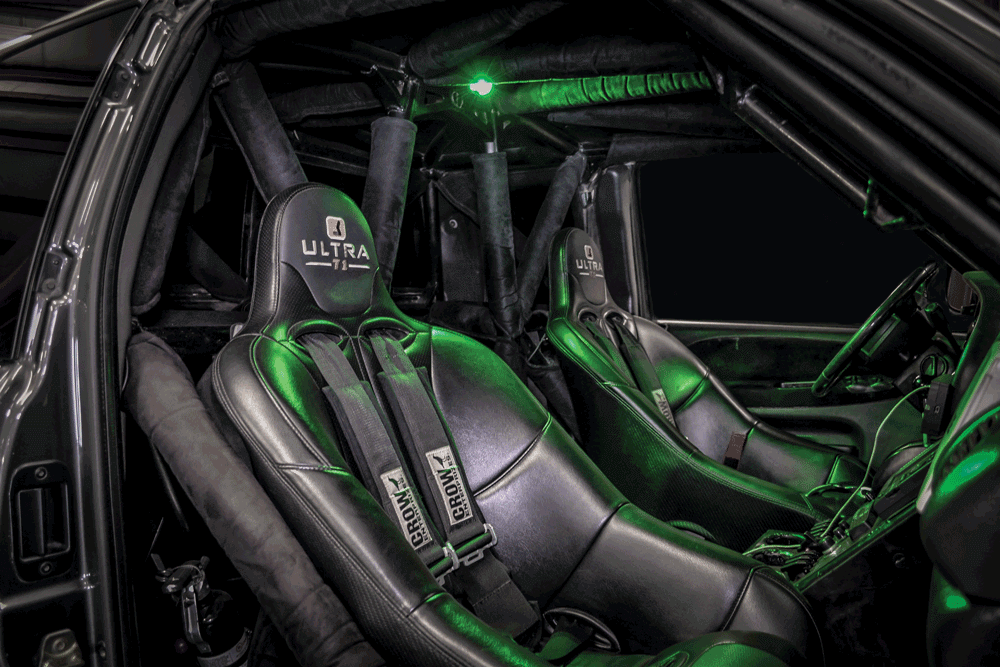 THE CHASSIS
Starting with frame modifications and roll cage, Calderon turned to Steve Fike of Dirt Designs for his team's fabrication skills and assistance. A complete chassis cage was built using 2-inch DOM tubing; it was assembled to be race legal for BITD and SCORE sanctioned races. The factory frame was cut off directly behind the cab to make way for a new boxed-back half section to support the fully custom linked rear suspension. The rear trailing arms measure 65 inches in length and use massive JMX16T Heim joints with a 1.25-inch Uniball for durability. The shocks used here are massive 3.0 King coilovers with King 4.5 Tube Race bypasses and 2.5 bump stops. A Detroit locker was installed to strengthen the rear differential, along with forged Yukon axles and a 4.56 Richmond ring and pinion gear set. To make sure everything survives the off-road beating, the hardware used is all safety wired 12-point nuts and bolts.
"500 HP AND 800 LB-FT OF TORQUE".
SOLID AXLE DELETE
For the first few years the front suspension used a solid axle design, but after breaking it for the third time Calderon decided to dive headfirst into the J-beam conversion that's now used under the front end. This full-custom front was built to support a swing-steer setup outfitted with a ported steering box and ram from Bench Works Steering. The power steering pump was upgraded with a PSC unit to keep steering input precise and responsive. With a full 21 inches of front suspension travel, the J-Beam system works flawlessly off-road. As with the back end, the truck softens dirt moguls with 3.0 King coilovers and 4.0 six tube race bypasses. The front and rear brakes were upgraded with StopTech drilled and slotted rotors and EBC Yellowstuff pads. The brake lines were also upgraded with stainless braided bits from Crown Performance. The truck rolls on 39×13.50 Toyo M/T Open Countries mounted on 17×9 Ultra bead lock wheels.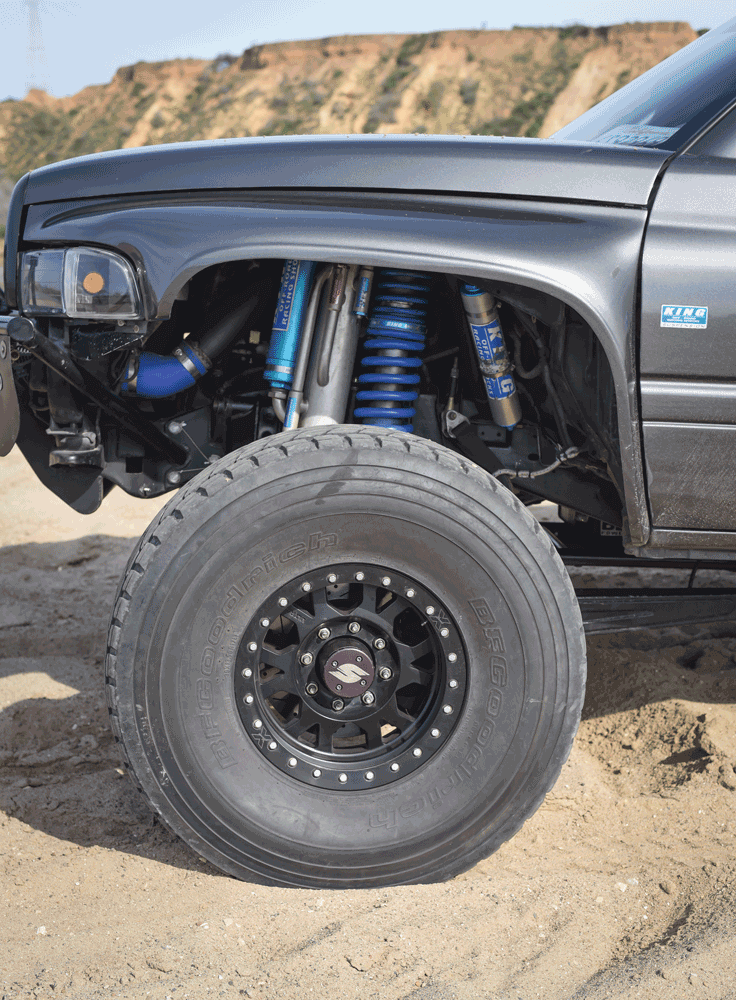 BODY WORK
The body was modified and painted by Premier Auto Body of Santa Maria, Calif., and endows the truck with true Pre-runner style using Hannamen front fiberglass fenders and Trailer Products rear fenders. The stock headlights were replaced with blacked-out lamps from Anzo Lighting. A Fuel Safe 50-gallon fuel cell resides directly behind the cab along with Optima Yellow Top batteries. The back end was also modified to make room for mounting two full-size spare tires for quick and easy swaps on the trail. State-of-the-art GPS systems were also needed for the build, so a Lawrence GPS 5 Baja and Lawrence GPS 7 system were installed in the cab along with a Rugged radio intercom and PCI race radio kit. The stock seats were replaced with 5-point Beard Ultra T1 seats and Crowe harnesses.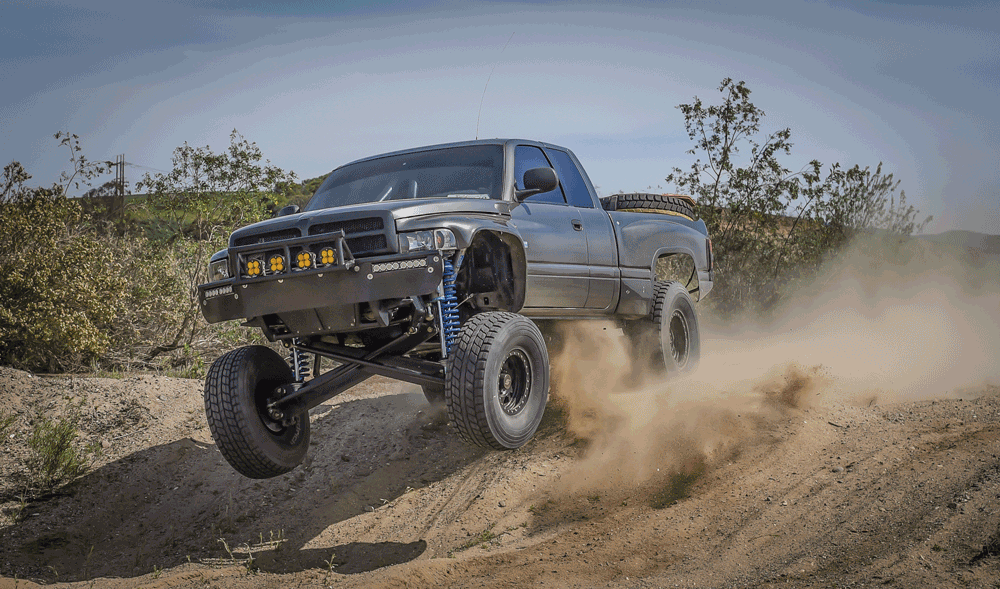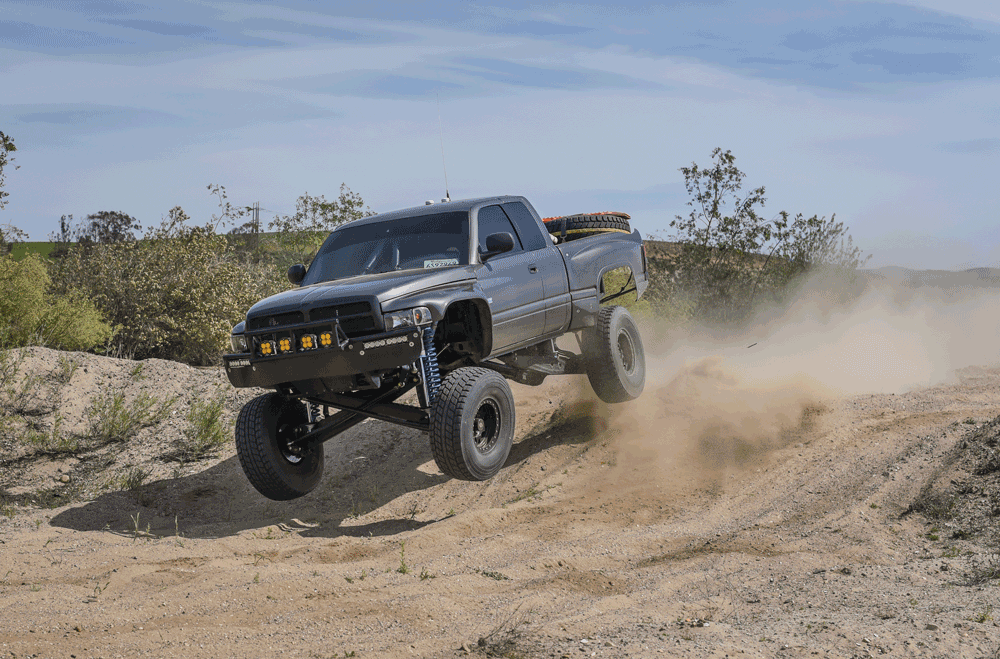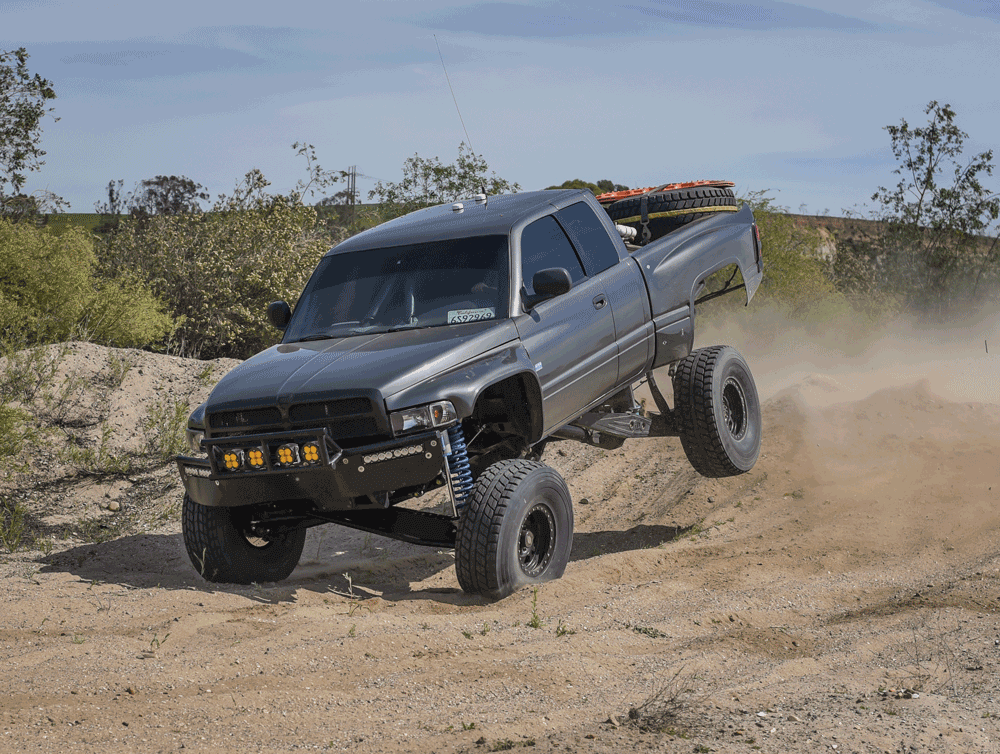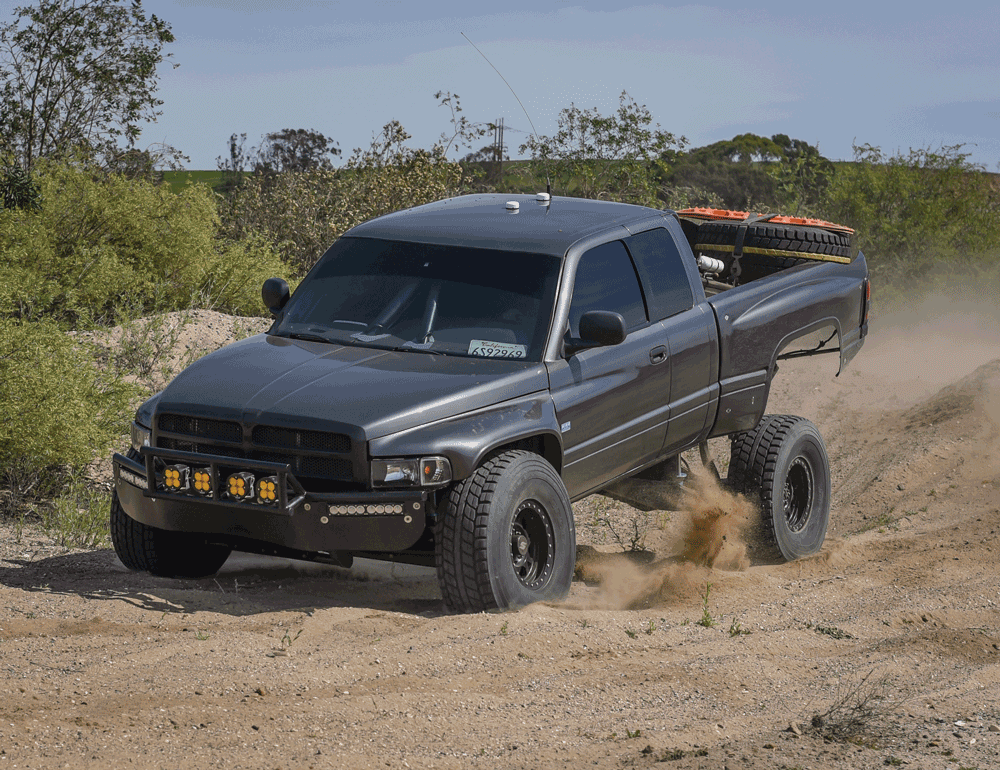 24V CUMMINS
Since the factory 24V Cummins under the hood wasn't going to have quite enough grunt to keep those massive tires rolling and make the truck competitive out on the race course, some mild upgrades were required. The fuel system was upgraded with a BD Diesel X-Flow lift pump kit and 150hp Industrial Injection injectors. To improve airflow, a Banks Ram Air intake elbow, BD Diesel intercooler, and BD Diesel Killer B Special turbocharger set at 40 psi boost were installed. A fully custom intake system was built using a high-flow R2C air filter to keep dirt and debris out. The exhaust was upgraded with a full 4-inch piping kit, and a Smarty tuner was used to massage the computer programming for optimum performance. Inside the cab, Calderon monitors engine vitals by using an Edge Attitude gauge kit.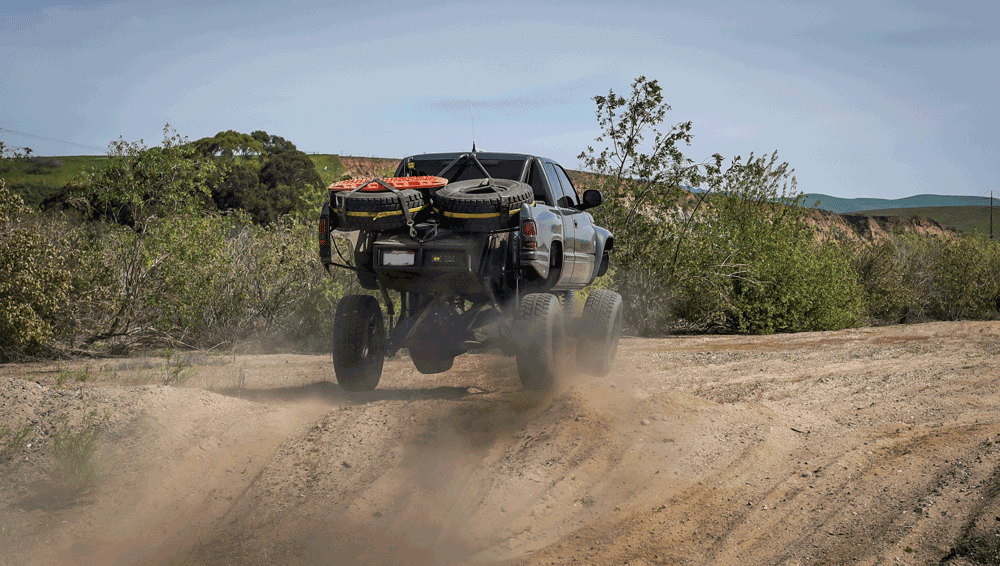 "THE TRUCK HAS MULTIPLE TOP TEN FINISHES IN BAJA".
DRIVETRAIN MODS
To channel 500 hp and 800 lb-ft of torque, the truck's drivetrain needed to be beefed up as well, so a fully built 47RE automatic transmission was assembled by Gars Transmission of Paso Robles, Calif. Running all billet shafts, a triple-disc torque converter, BD Diesel billet fl ex plate and Suncoast manual valve body, it's basically built to handle anything thrown at it. A Mag-Hytec deep transmission pan and Mishimoto aluminum radiator were also installed to help keep fluid temperatures down in the hot desert conditions. A Santa Maria Driveline was used to improve the drivetrain's strength and durability.
Since being completed, the truck has competed at Baja on two separate occasions, where it placed in the top 10 both times. Which is not bad considering the 70+ truck field it was competing against. Calderon has been very happy with the truck's multi-purpose uses, and believe it or not he still drives the truck every day to work. To his knowledge, this truck was the first and still one of only a handful of front-beamed, rear-linked, full-size diesel-powered Pre-Runner trucks either on or off the road. He gives thanks to his friends at Dirt Designs and ALLCO for all their hard work and help on the project through the years. He also takes pride in knowing he built something particularly special and different. DW