A 1955 International Harvester That Scoots
here are a lot of rough and rusty old trucks dying in the weeds. They come in three kinds. The first kind are beyond reasonable help and will eventually return to the earth. The second kind are so rare that the serious time and money needed to restore them is justified in most cases. The third kind fall in that grey area where they are not rare enough to warrant the expense of a restoration but the bones are good enough for a buildup. When Josh Scrima, a well driller from upstate New York, found a pair of derelict International Harvester S-Series trucks, he knew he had trucks of the third kind. One was a 1955 S-120 (3/4-ton) 4×2 and the other a 1956 S-130 (1-ton) 4×4.
Next, he decided what he wanted to build from the remains. He isn't a purist or collector, so a return to stock was not the goal. A restomod wasn't high on the list either. Like many of us, Josh is better on the technical side than the bodywork side and both these trucks had serious issues cosmetically. That left a Rat Rod build. The new Rat Rod phenomenon allows us all a legitimate "out" on having to devote a small fortune to bodywork on a truck that's pretty far gone cosmetically. Even with the lower expectations for a Rat build, with old Binders being so notorious for rust, he needed every halfway decent body panel he could find and that meant combining the parts into one truck. The remaining unused original parts went to a needy collector.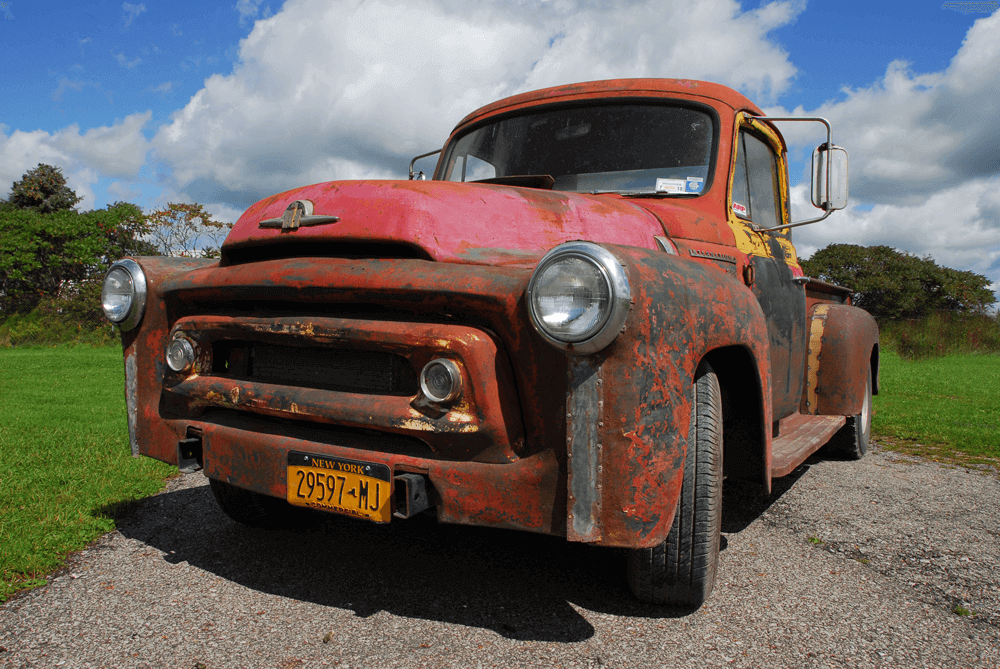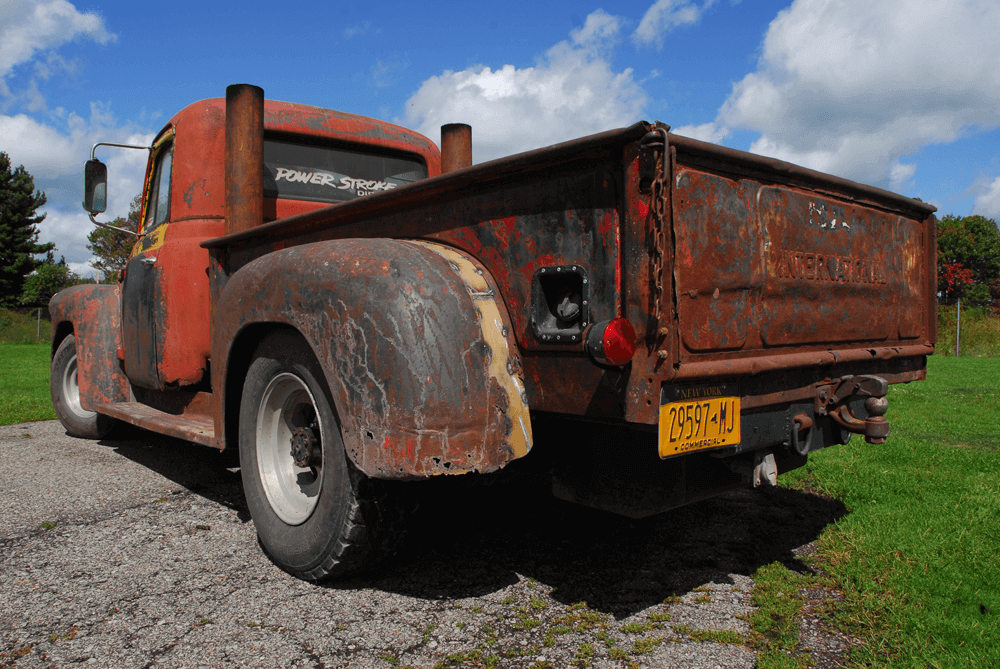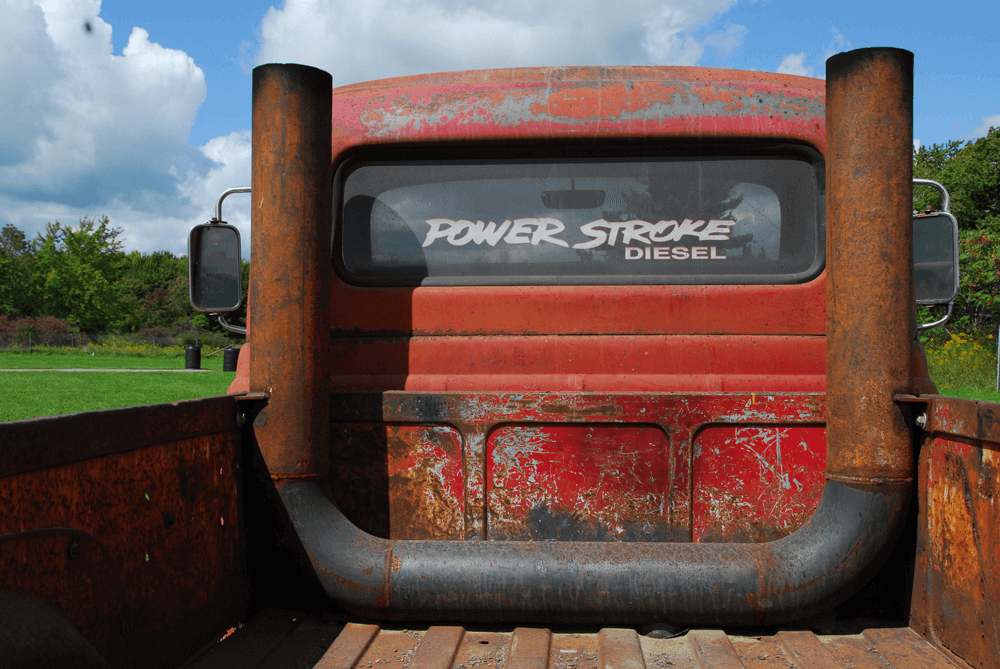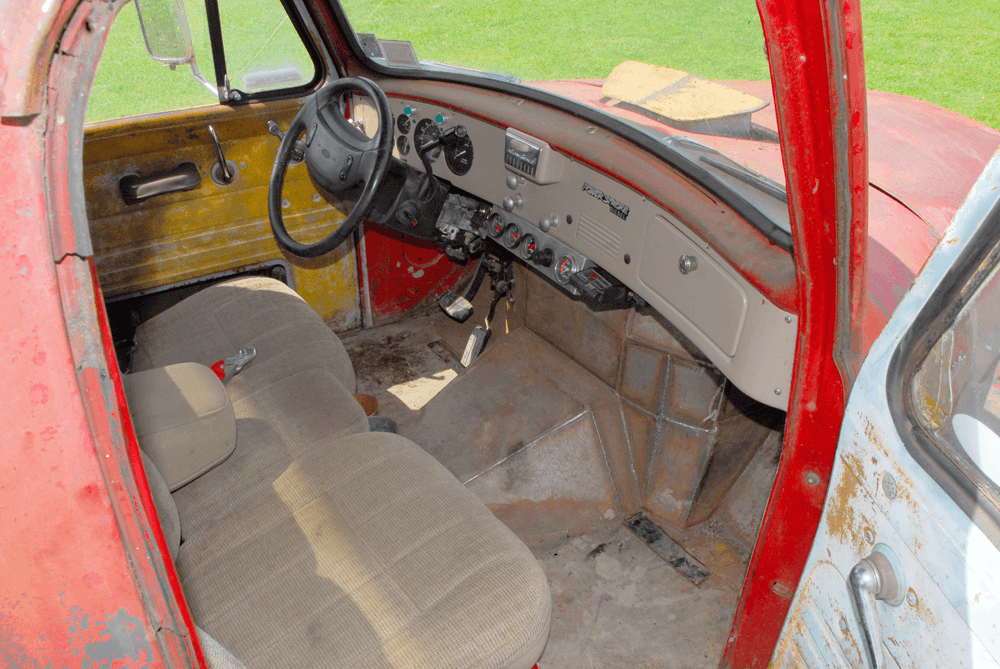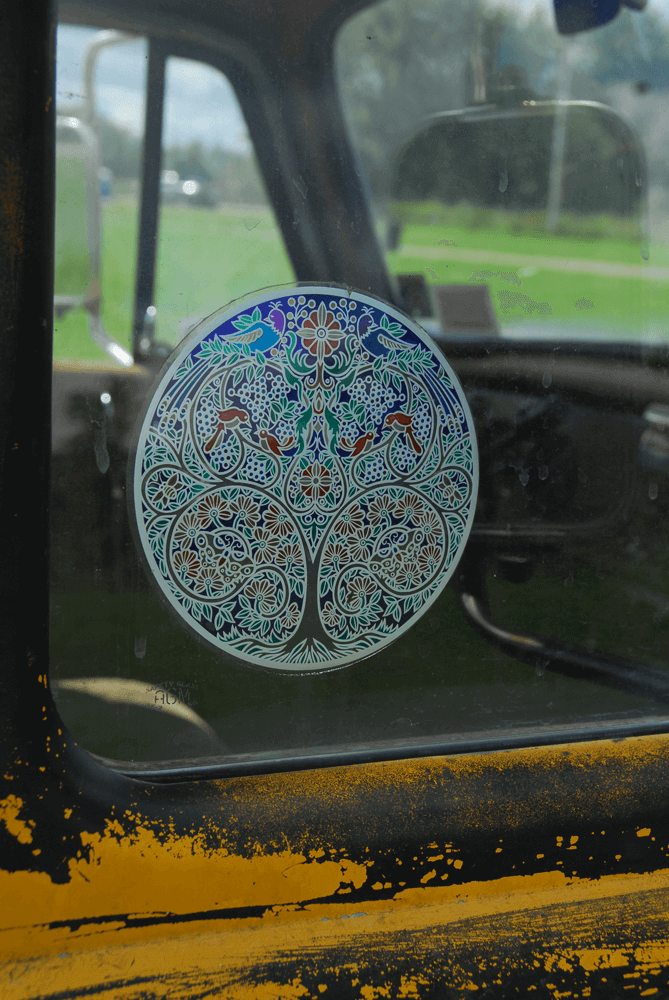 Josh opted for a diesel repower and was overjoyed to indulge his passion for Power Strokes. That the Power Stroke originated from Navistar, the company that was once International Harvester, was icing on the cake for an old IH truck build. The original purpose of the truck was to be a fun hauler or tow rig. After his experience at Thompson Raceway where we shot the truck, that idea has changed.
The powerplant came from a '97 Ford F-250 and you know what that means. It's a 7.3L Power Stroke! The 7.3L bottom end is bone stock so far with 200,000 miles on the clock. The upper end has been beefed, most notably by tying down the heads with an ARP stud kit, adding Smith Brother pushrods and Comp Cams valve springs.
The induction and injection system starts with Rosewood Diesel Shop 300/200 injectors (300cc, 200 percent over stock size nozzle). The fuel system is fed by an Aeromotive A1000 pump and the injectors are operated by an Adrenalin HPOP and popped with the help of a TS chip custom tuned by Dyno Proven Performance. Air is compressed by a Borg Warner S472 on a T4 mount fed by bellowed stainless up pipes. The truck uses a stock intercooler from a 6.0L Ford truck and inhales via a custom cold air box protected by a big K&N filter. The turbo dumps into a 4-inch downpipe that feeds a pair of stacks… which happen to be two sections of 6-inch well pipe! Josh hasn't gotten any useful dyno number yet but based on various calculators using weight and the best ET on the drag strip, the truck is making an estimated 500 horsepower at the rear wheels.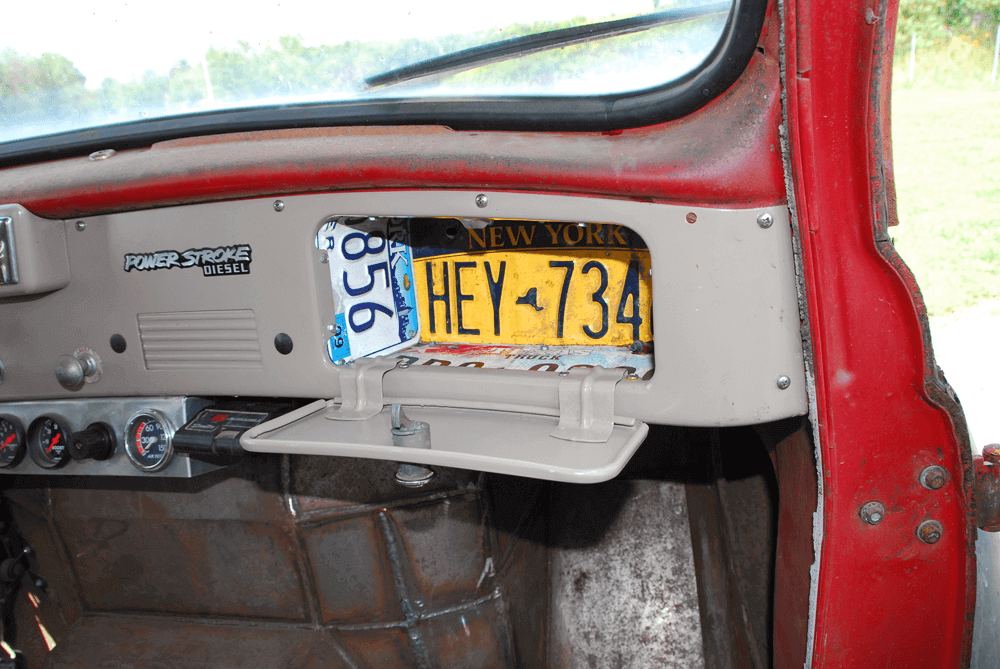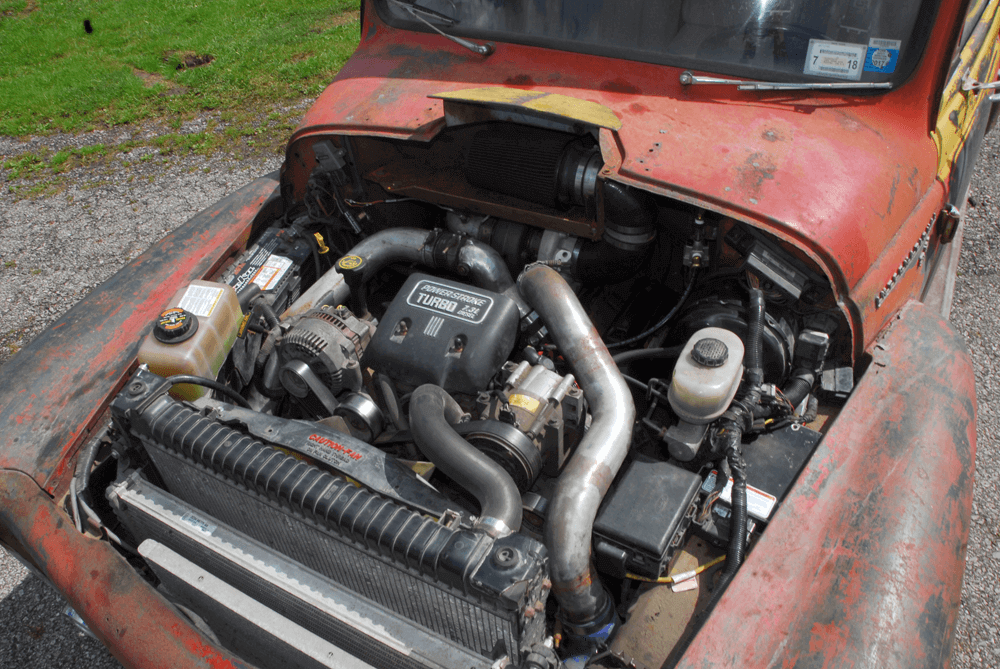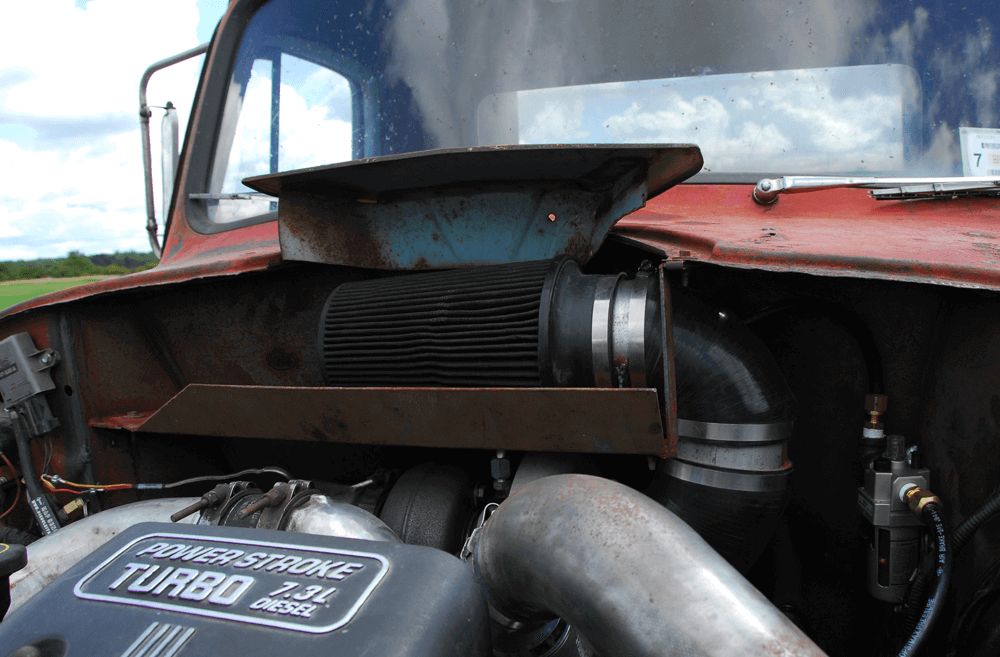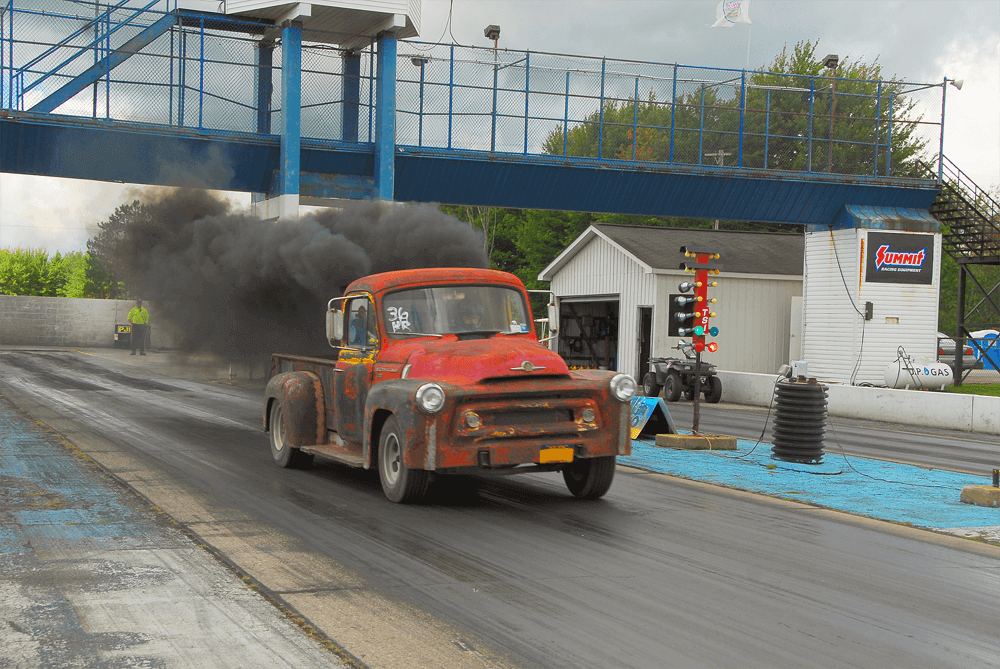 The trans is an E4OD with a performance rebuild. This includes billet shafts, forward and direct drums machined to take extra plates, Alto Red Eagle high performance clutches and steels, a 2200 rpm stall Precision triple disc torque converter and custom pump and valve body tuning. The cooler is a stock late model F-250 unit.
The S-130 1-ton frame was strengthened and gusseted, both for strength and to fit a beefy 5th wheel hitch, but also a 4-link rear suspension with air springs. The front is still using leaf springs on a beam axle for now but air springs are planned. The front beam axle is from a '55 Ford F-100 but has a "Josh-built" disc brake conversion using a mix of parts and its steered with a Saginaw power steering box. The rear axle is a 10.5-inch Sterling with a 3.55:1 ratio and a Detroit Locker. The air springs are fed by an air system that uses the engine's factory AC compressor.
The body is a mix of pieces from the two trucks and wears the "field-found" patina it earned from decades of neglect with no enhancements. Josh had to completely redo the cab floor and firewall to fit the Power Stroke engine and E4OD transmission.
The rest of the story on this vintage truck starts when Josh Scrima showed up at Thompson Raceway Park for his Diesel World photo shoot. He had never run any truck down a timed quarter mile, much less this one but he was game to try. His very first run was 14.06 seconds. After a little coaching on technique and a few more runs, he was down to 13.03 seconds. Before the day was out, he had dropped below 13 seconds and had posted a 12.8 second run at 118 mph. A drag racer was born that day!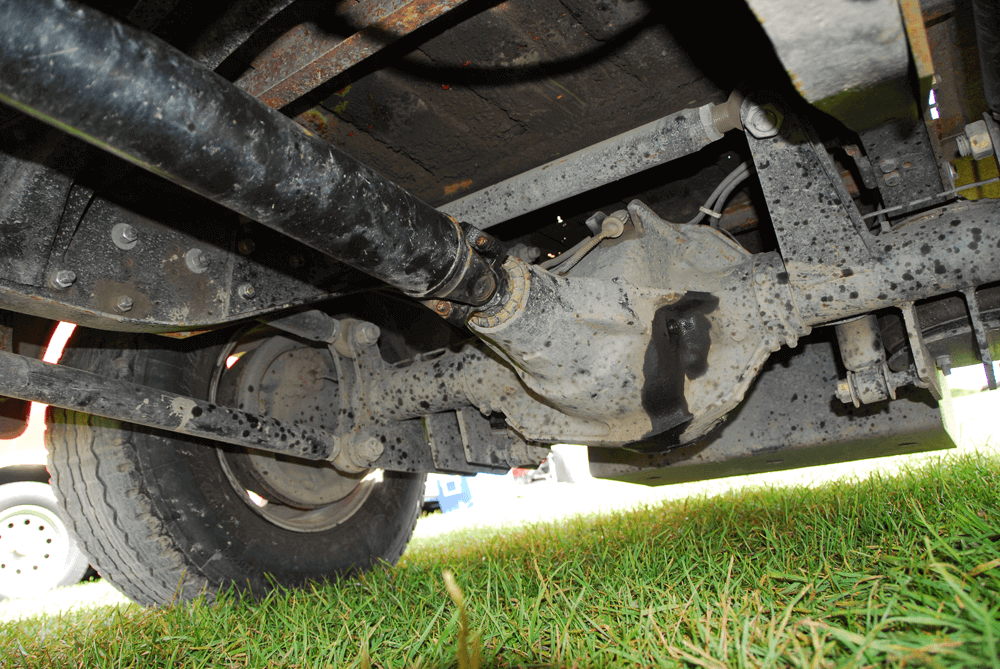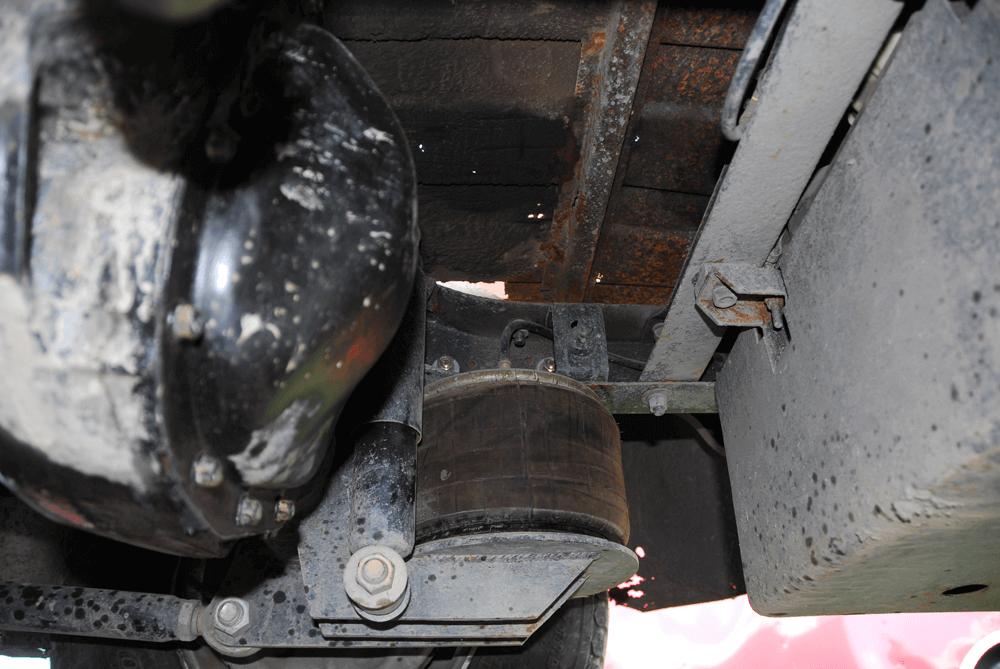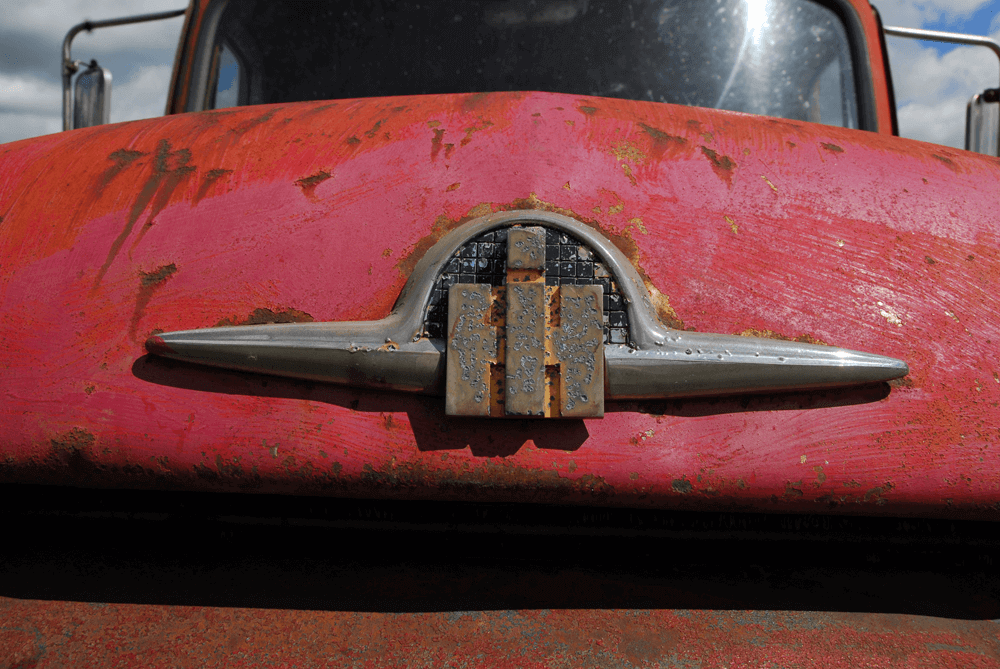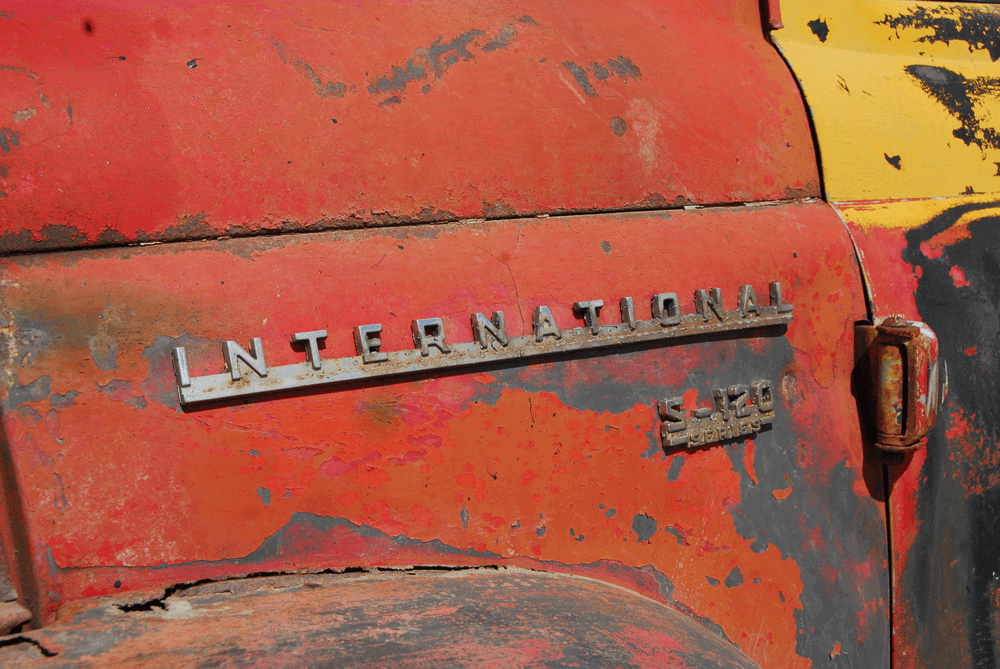 Now that the Scrima Rat Rod's fun channel has been changed from general purpose to the drag strip, a lot of changes are in the offing. As you read this, the old Binder is undergoing a drastic weight loss program. It's going to lose a lot of the frame reinforcing installed for the 5th wheel hitch and the well pipe stacks that weigh more than a Kia Rio. He sees a good 400 pounds of easily removed iron, which will slim the truck down to about 4,800 pounds and that's just a start. Power output is going to be enhanced, likely with compound turbos, bigger injectors, dual HPOPs and further tuning. The bottom end is going to be gone through and beefed in the appropriate ways.
Josh Scrima's build is an example of the "Three R's:" Rescue-Rebuild-Race. The old Binder went from being an eyesore to a head turner… assuming you can turn your head fast enough!