Ravi Toor has had a passion for trucks since he first got his driver's license. In the past he's owned a 2008 GMC and a 2012 Ram. This new 2015 GMC is his latest pride and joy.
When the new GMC 2500HDs came out for the 2015 model year, it was love at first sight. Toor knew he had to have one, and one with the Duramax diesel as it's an engine he's come to love and respect. The first step was to locate one of these new trucks and get it home to look it over in detail. Of course, it wouldn't remain stock for long.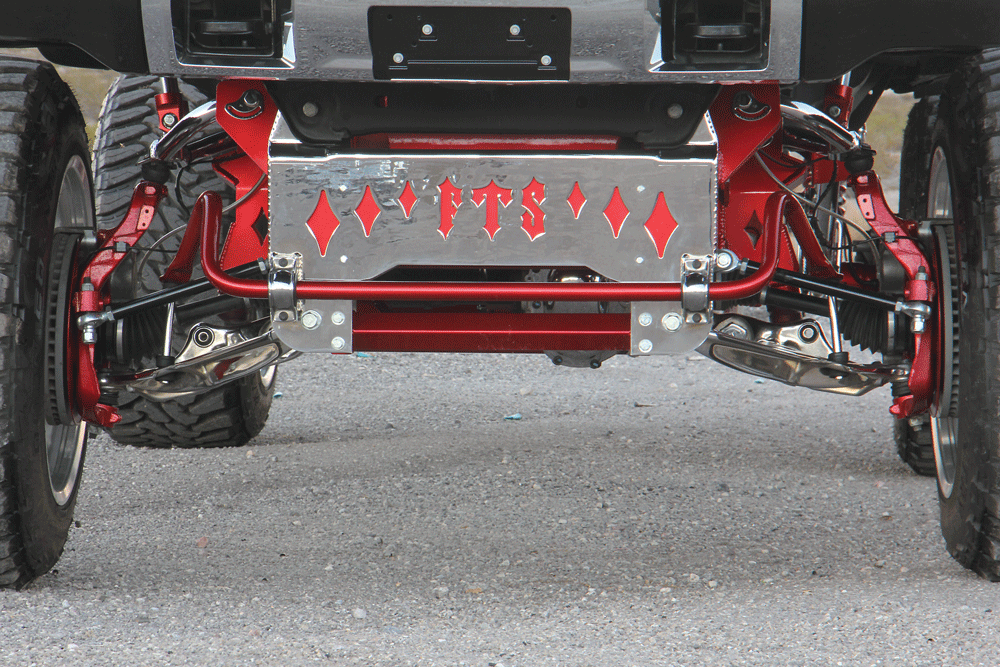 After picking up his new Sierra HD, Toor decided that he wanted a nice, clean build that wasn't "over the top." He began planning the build right away, but as with any new truck, the early availability of parts was very limited. For some this would be a bit of an issue, but not for Toor. He owns Altered Attitude Inc., a shop that serves auto and truck enthusiasts in Central California. It also allows him to follow his personal passion for trucks. The business connections he's made over the years helped provide access to some of the newest parts for the redesigned GMC. Of course, his shop also does fabrication and these skills came into play too.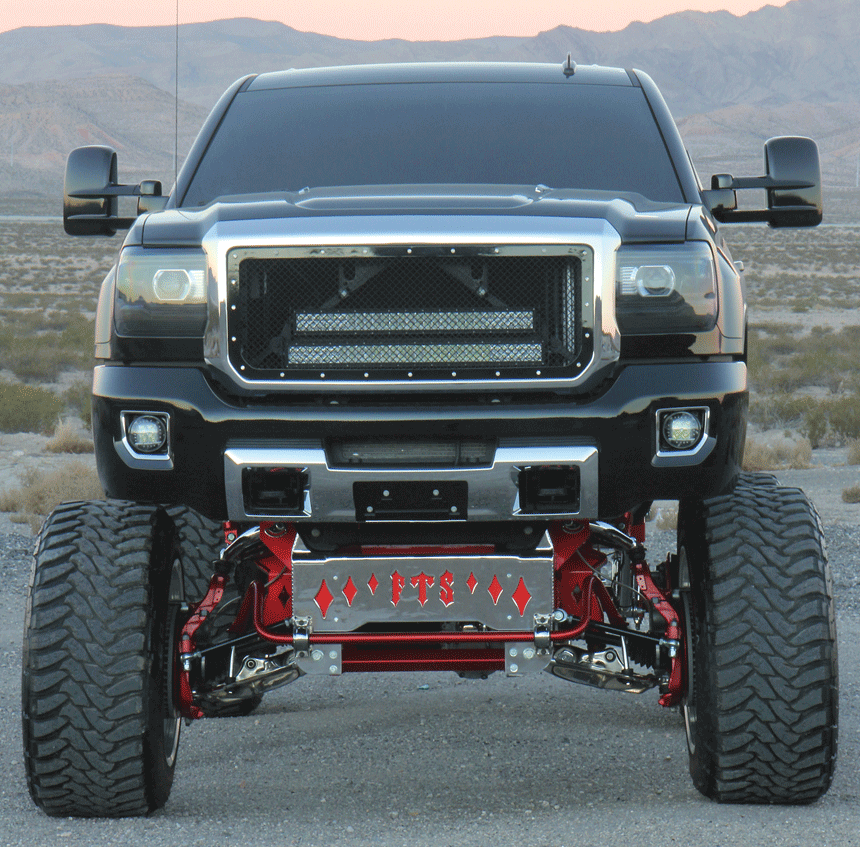 This black Sierra HD 4×4 truck was fitted with a 15-inch Full Throttle Suspension lift kit. This kit is said to be 100-percent bolt-on and is designed to keep the center of gravity lower than is typical of a lift this tall. This provides advantages in ride quality and handling.
Up front, the kit's new structural crossmembers drop the front differential to help keep the weight low. The kit also retains the stock track width and the installation doesn't require the use of special offset wheels. The steering is lowered too, to maintain proper flat tie rod angles. In addition, a full heim joint steering setup is used in place of conventional tie rod ends.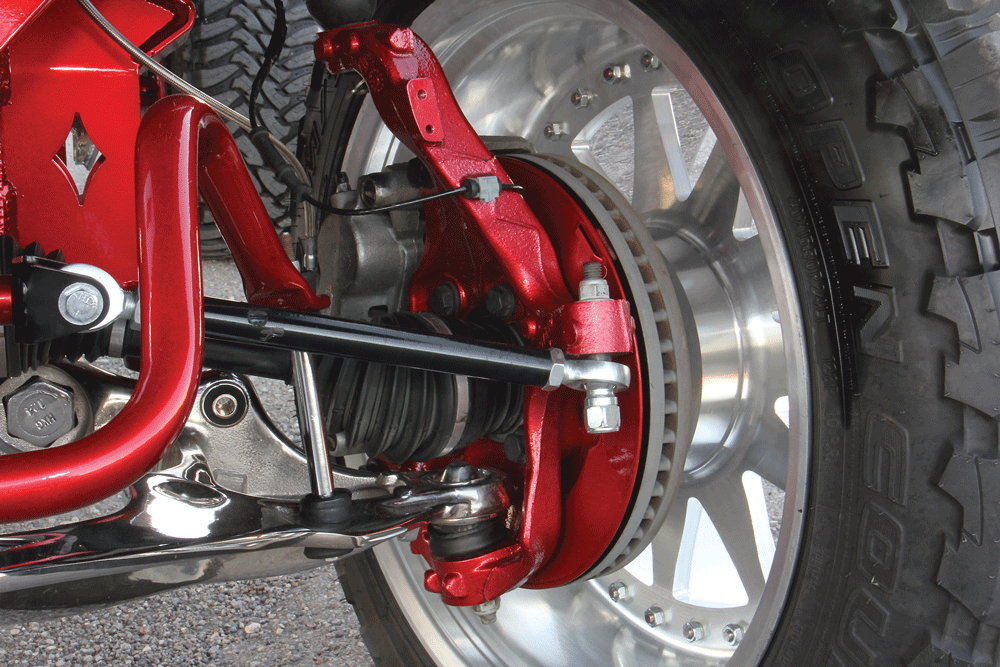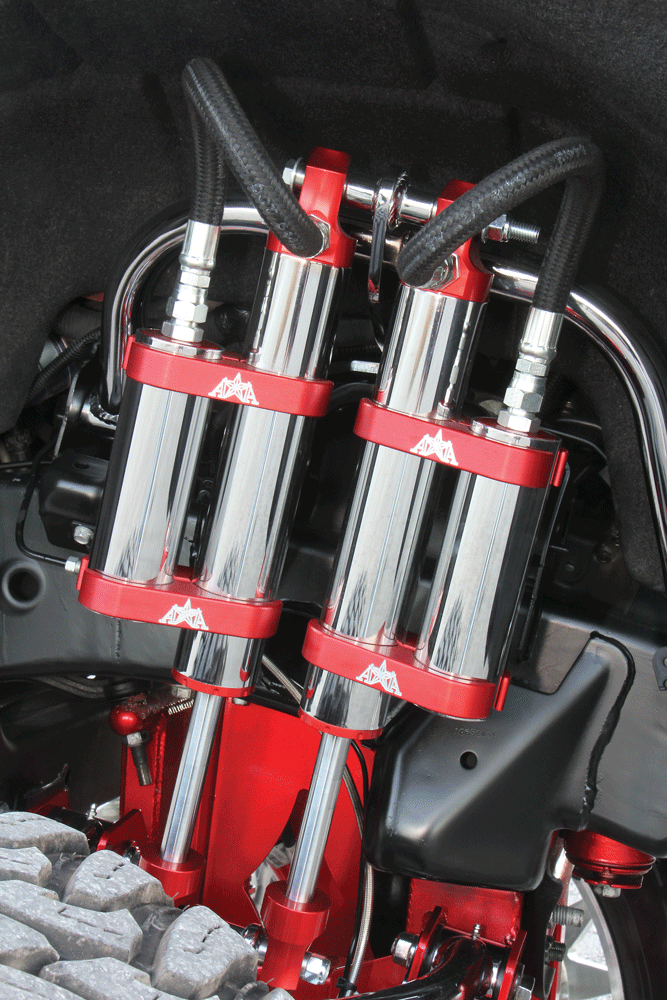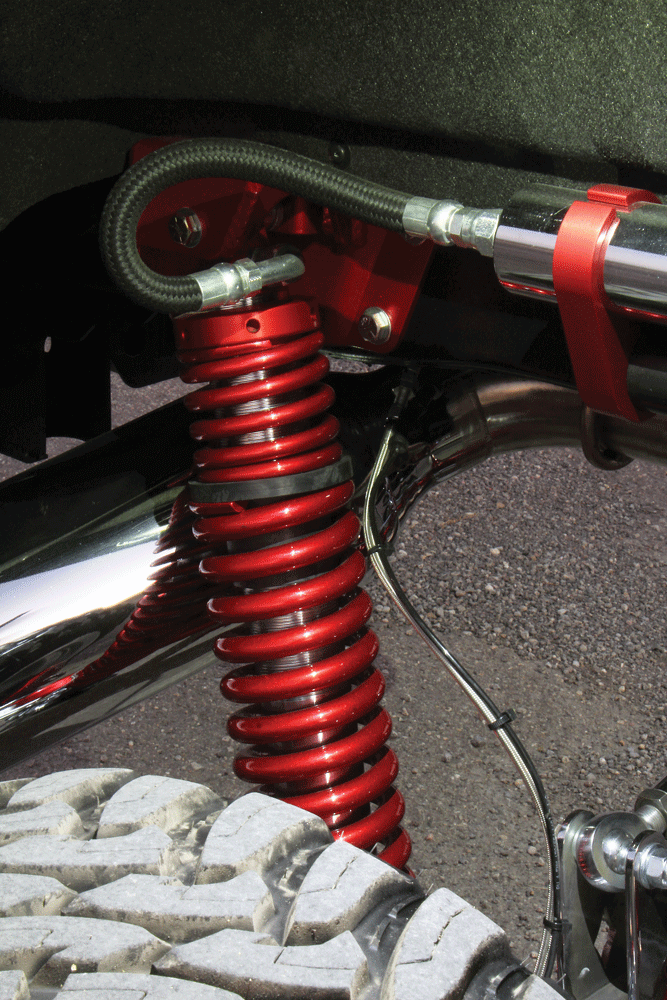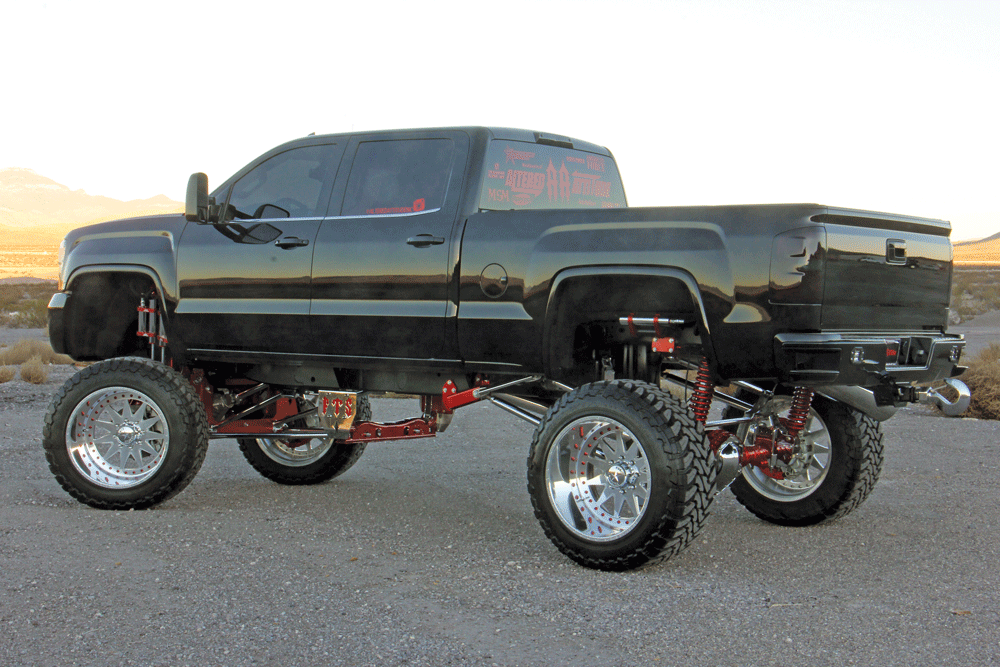 The rear suspension is a four-link design and it matches the front in strength and ride quality. Traction bars were added to keep the rear in place as the Duramax pumps power to the ground. The full FTS suspension is rounded out with remote-reservoir shocks. There are twins up front and singles in the rear, all from Full Throttle Suspension. To add to the wow factor, the suspension parts are powder coated red or chrome plated.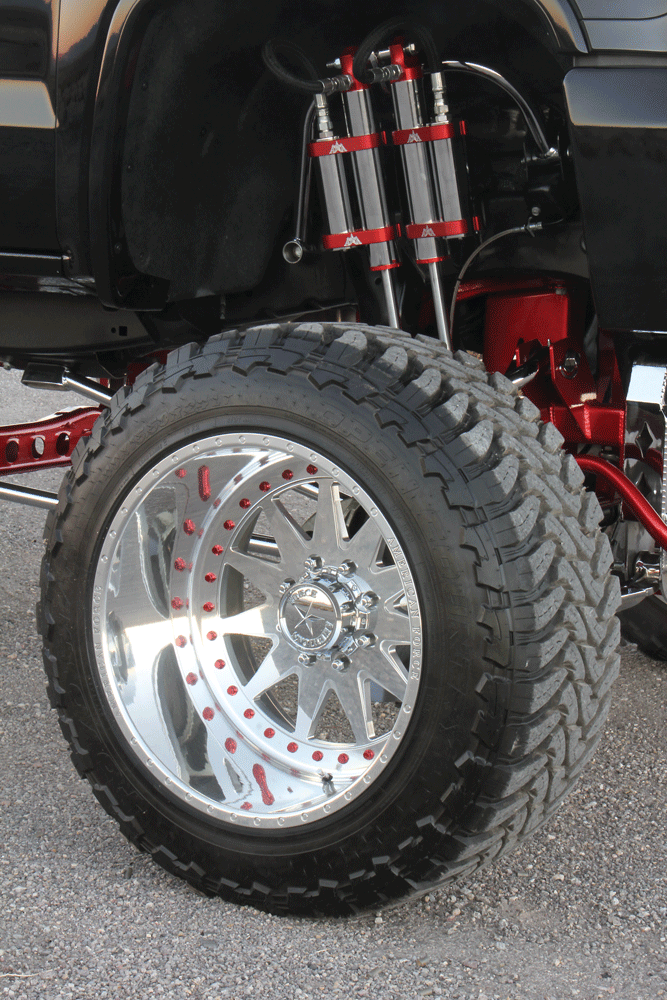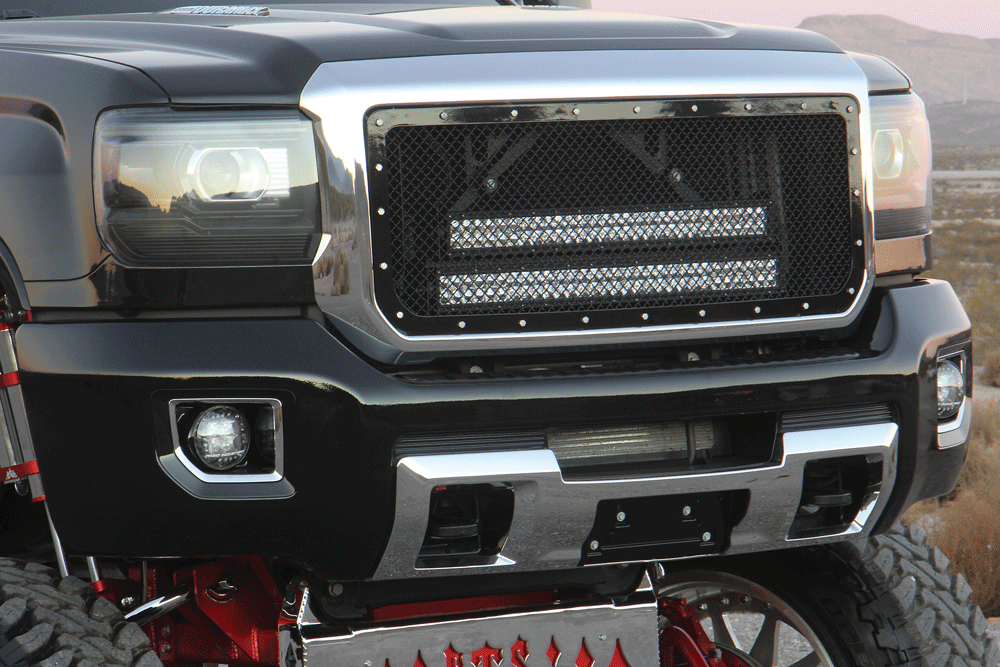 The lift allows for the use of 40×15.5x 24 Toyo Open Country M/T tires mounted on American Force, Honor MP wheels. These huge tires look like a stock fitment, as they are proportionally correct for the lift height.
Other upgrades include a custom 4-inch TIG welded stainless steel exhaust. This was built by Toor and Chuey Vargas at Altered Attitude. They also made their own custom grille insert. Behind the grille you'll find a pair of 30-inch Rigid LED light bars, and the stock fog lamps have been swapped for Rigid LED replacements. The rear bumper also has twin Rigid LED insets for backup lighting.
In the interior, the trim pieces have been painted red to match the suspension. The stock seating is retained but was recovered. The new leather outers on the seats are from Katzkin. The color scheme is gray with, of course, red stitching.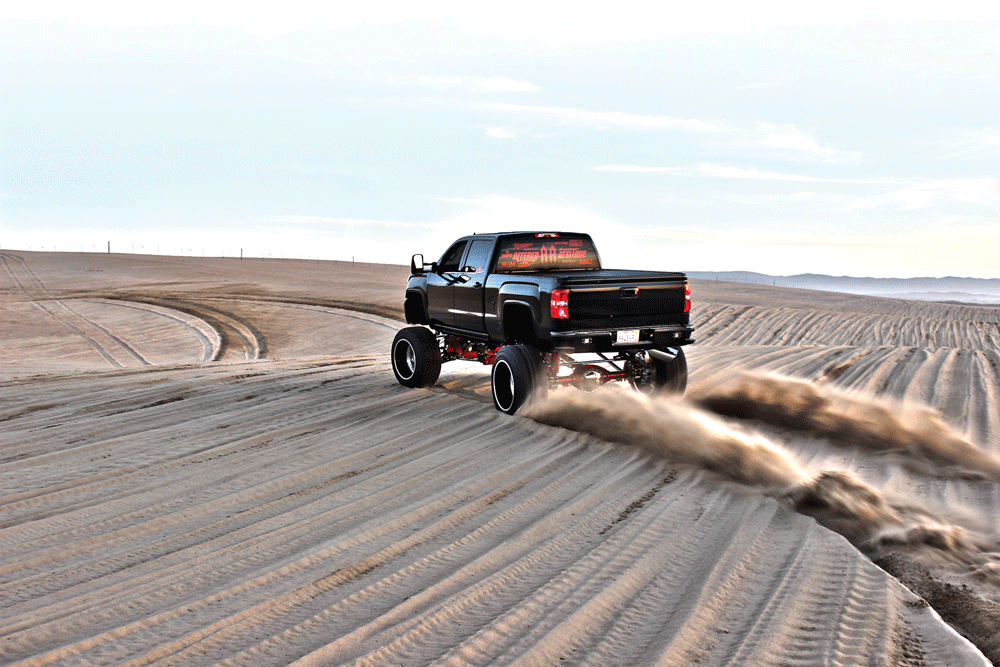 Toor works hard but his love for trucks and all things diesel make it more like fun than work. When the office doors close, he slips into full play mode. This usually means hitting the dunes at Pismo Beach, California, or participating in a truck show. He particularly likes shows and automotive culture in the San Francisco area. One thing we'd like to know—if this build isn't "over the top," just what will we see when he does decide to push the envelope? DW