A COMPOUND-TURBO, 800-HORSE 7.3L
It's no secret that owning a highly modified diesel can take a big bite out of your pocketbook. And if you're trying to compete with a HEUI-fired 7.3L Power Stroke, you've definitely got your work (and expenses) cut out for you.
SURVIVING NEAR TRIPLE-DIGIT BOOST MEANT THE ENGINE HAD TO BE BUILT, AND BUILT RIGHT.
Perhaps no one knows this struggle better than Chris Hoover. The Asheboro, North Carolina, native has been addicted to playing with Ford's first Power Stroke since the first time he hooked to the sled many moons ago. And even after retiring his '99 F-250 from the dirt, he quickly found a way to continue pouring time and money into it.
The new goal? See how quick the 7,200-pound Super Duty can shuffle down the drag strip.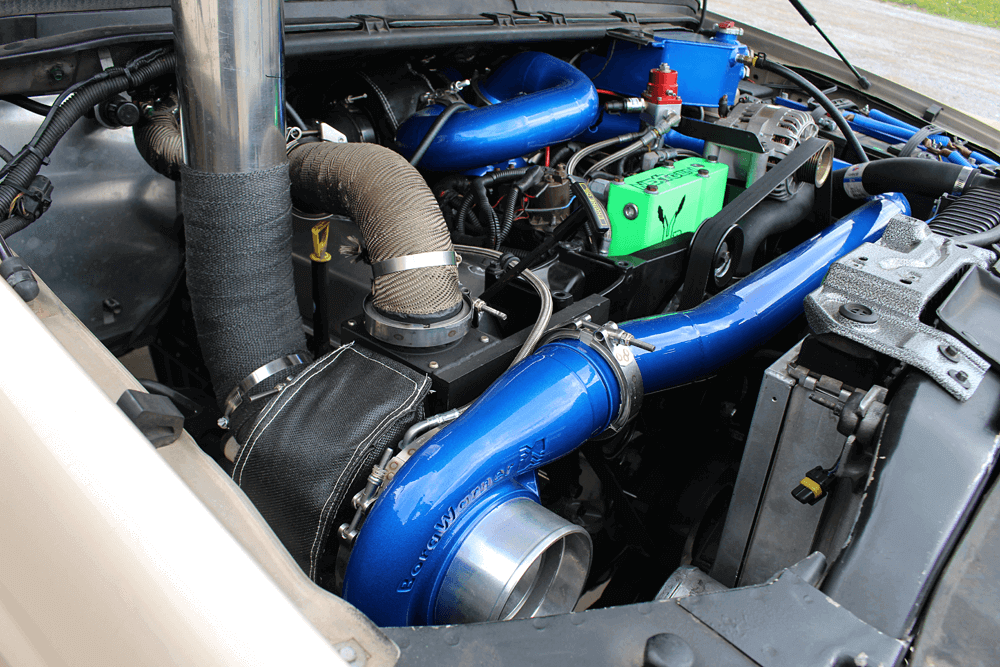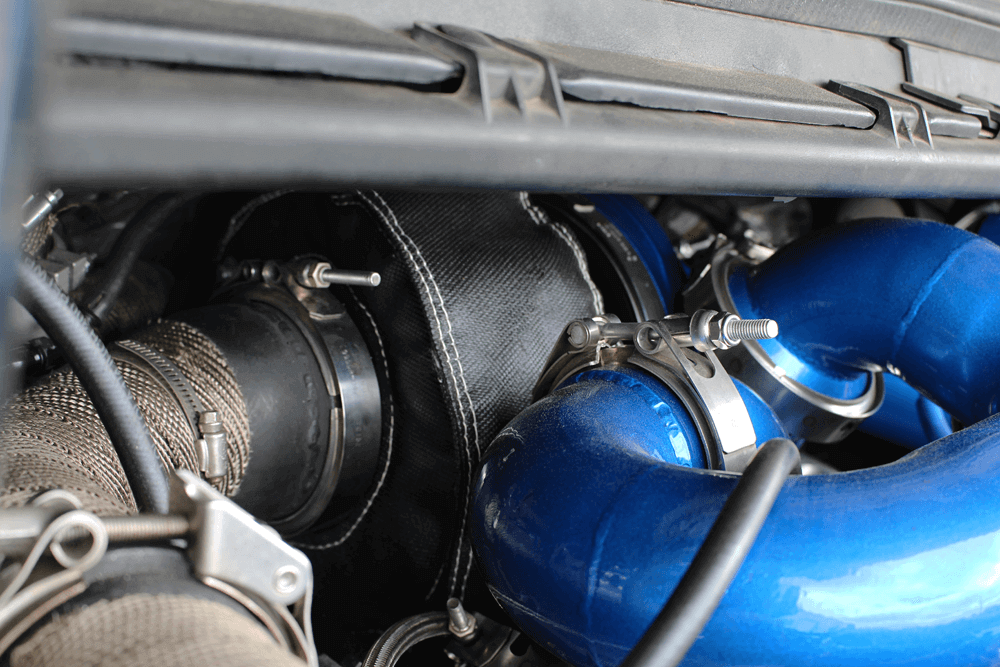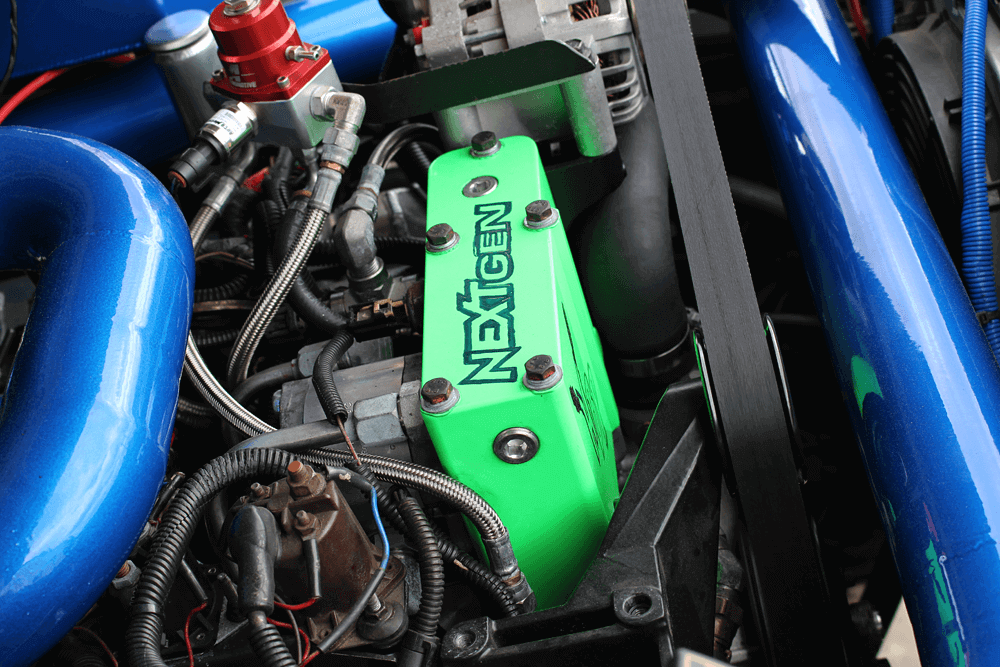 A Pair of S400s
While most 7.3L enthusiasts throw a large single at the engine and sacrifice low-rpm drivability in exchange for a strong top-end hit, Hoover wasn't willing to compromise. Instead, he runs a set of compound turbos in a system he pieced together himself. The two-stage arrangement consists of a T6 flange Forced Inductions S488 SX-E atmospheric charger and a box BorgWarner S472 SX-E in the valley. Under full load, it takes a 100psi gauge to keep track of how much boost this duo brings to the table.
Competition-Ready 7.3L
Surviving near-triple-digit boost meant the engine had to be built—and built right. For this, Hoover enlisted the help of nearby Crutchfield Machine, which handled all machine work performed on the block and heads. From the bottom up, the engine employs a Carson Stauffergirdle and ARP main studs, a partial block fill, Carrillo rods, cut and coated Mahle pistons, a Gearhead Automotive Performance Stage 2 cam, and a set of ported and polished heads. To keep the head gaskets alive at more than 80 psi of boost, both the block and heads were cut to accept fire rings, with ARP studs being used to clamp the high-flow heads to the block.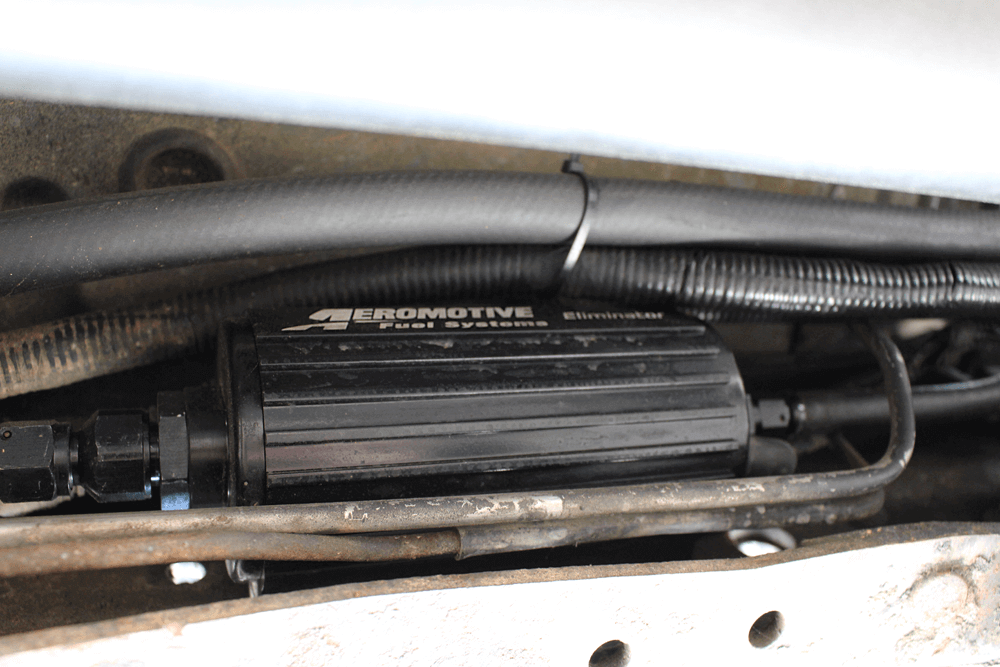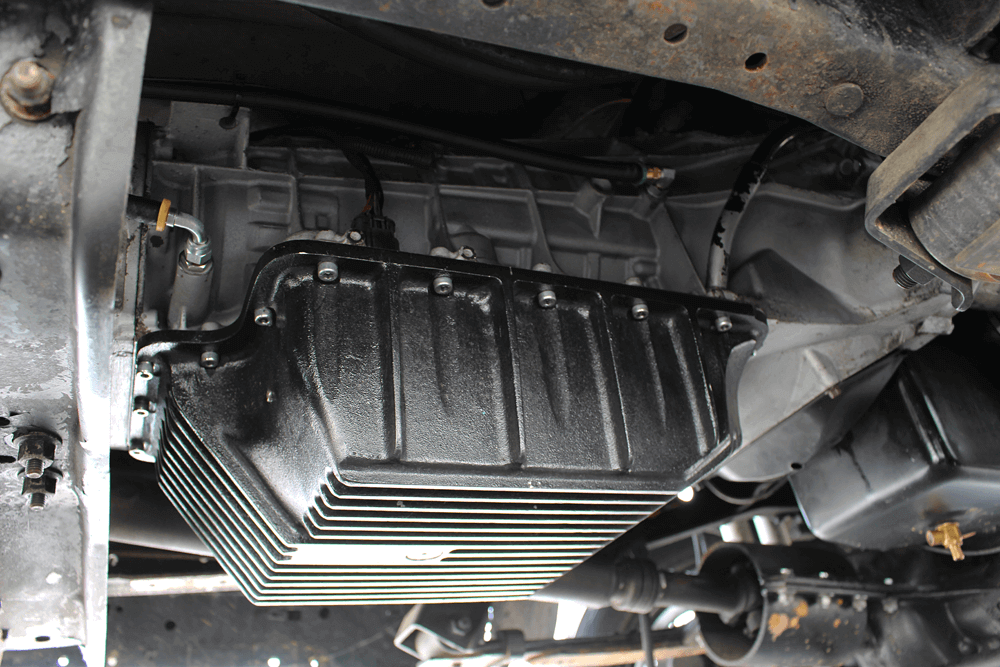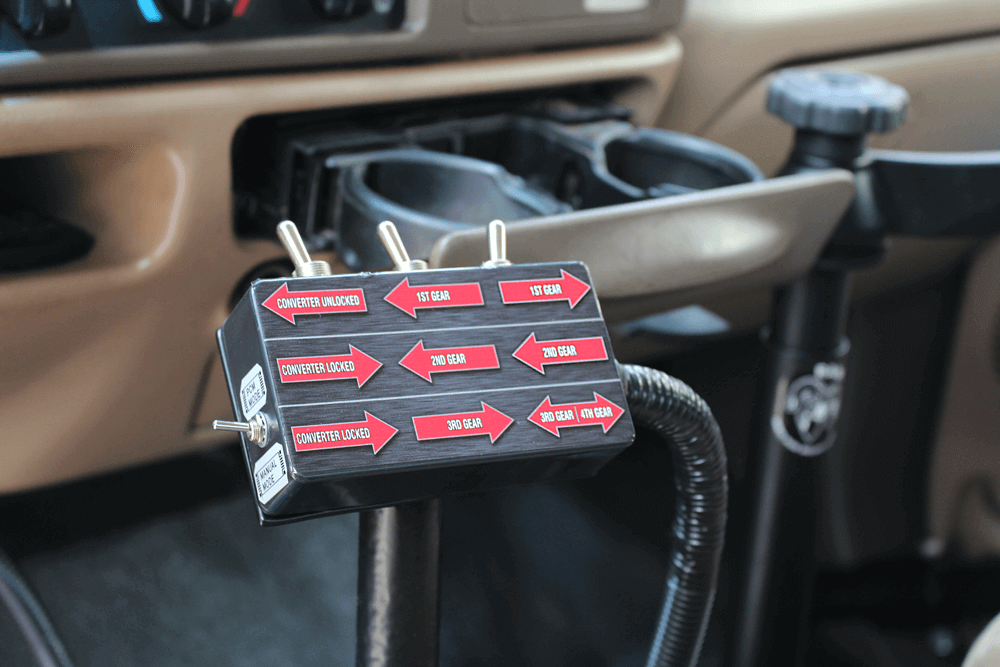 Fuel & Oil Demand
No stranger to the fact that it takes a sizeable injector to make big power in the 7.3L game, Hoover opted for a set of 450/400 hybrids from Full Force Diesel. With the potential to flow 450cc worth of fuel through a nozzle that measures 400 percent larger than stock, the 450/400s are no joke, but they do require big oil. To make sure the injectors' high-pressure oil demands were met, Hoover mounted a Next-Gen high-pressure oil pump (a joint effort between he and Crutchfield Machine) over a DieselSite Adrenaline. A custom dualfeed fuel supply system—built around the use of an Aeromotive Eliminator pump and a regulated return— guarantees a consistent 70 psi of fuel pressure is always on tap for the big hybrids to use.
Billet 4R100, Custom Tuning
To hold up to 1,500 lb-ft (or more) of torque and regular abuse at the drag strip, Hoover had local friend and transmission guru, Jared Chriscoe of Brueilly Auto Repair Center, build the truck's 4R100. It sports billet input, intermediate and output shafts, Red Eagle clutches and a triple-disc converter from Atlantic Torque Converter, another Asheboro-based company. As for taming the 450/400s for street use, Hoover relies on PCM tuning from DP Tuner, while more aggressive files from JeliBuilt Performance are used at the track.
With a setup that he conservatively estimates to be around 800 hp at the wheels, Chris Hoover's Super Duty is pretty serious in the 7.3L world. Even out amongst the Duramax and Cummins wolves it should have no problem holding its own. If all goes well in 2018, we won't be surprised to hear his 7.3L has gone deep into the 7s in the eighth-mile, if not high 6s—a pretty impressive feat for any truck, let alone a 7.3L.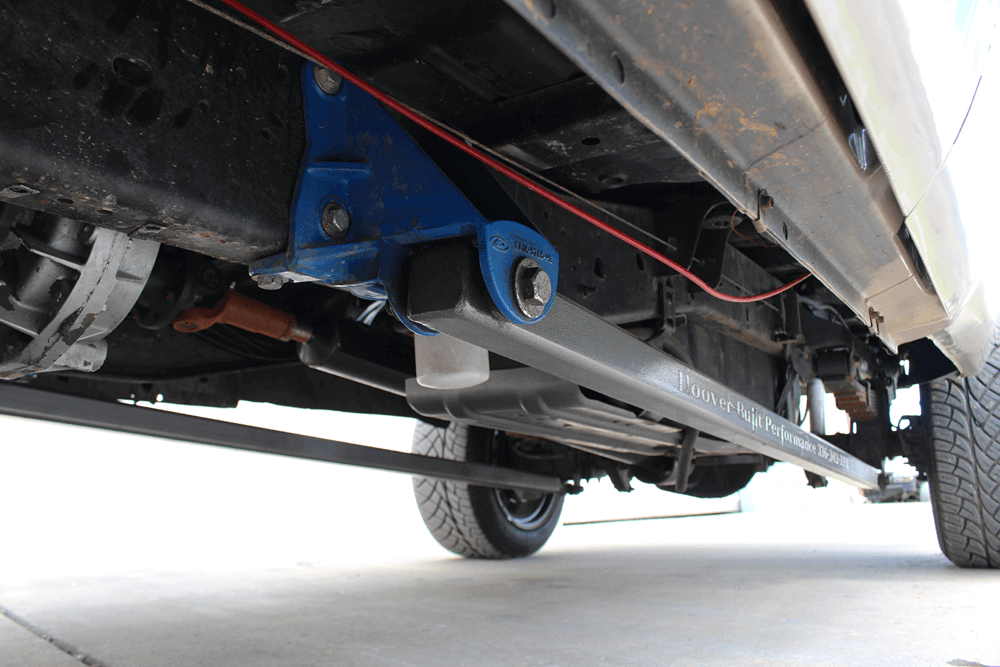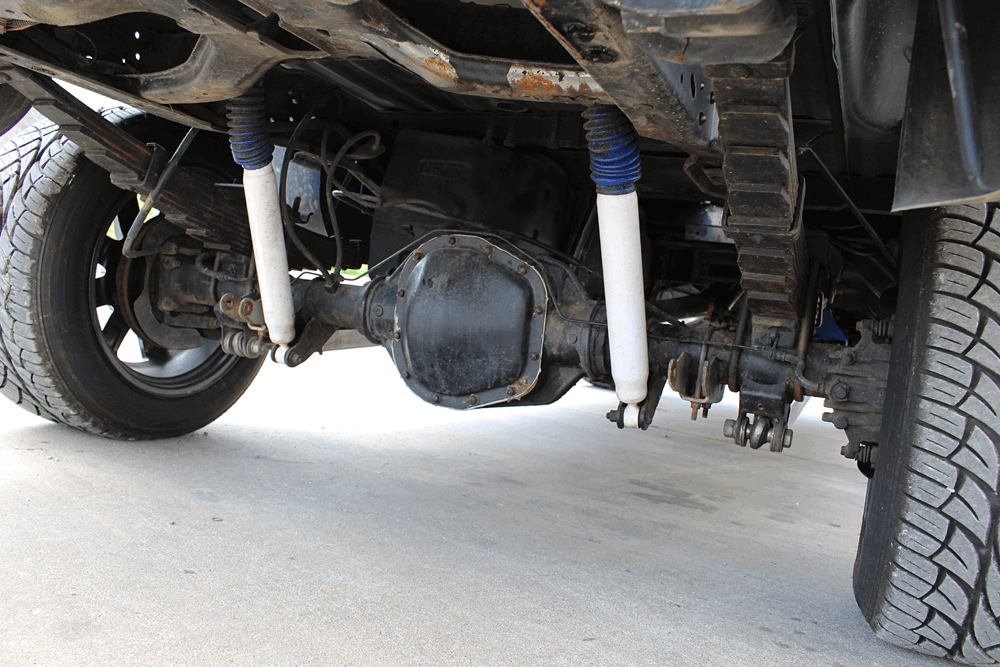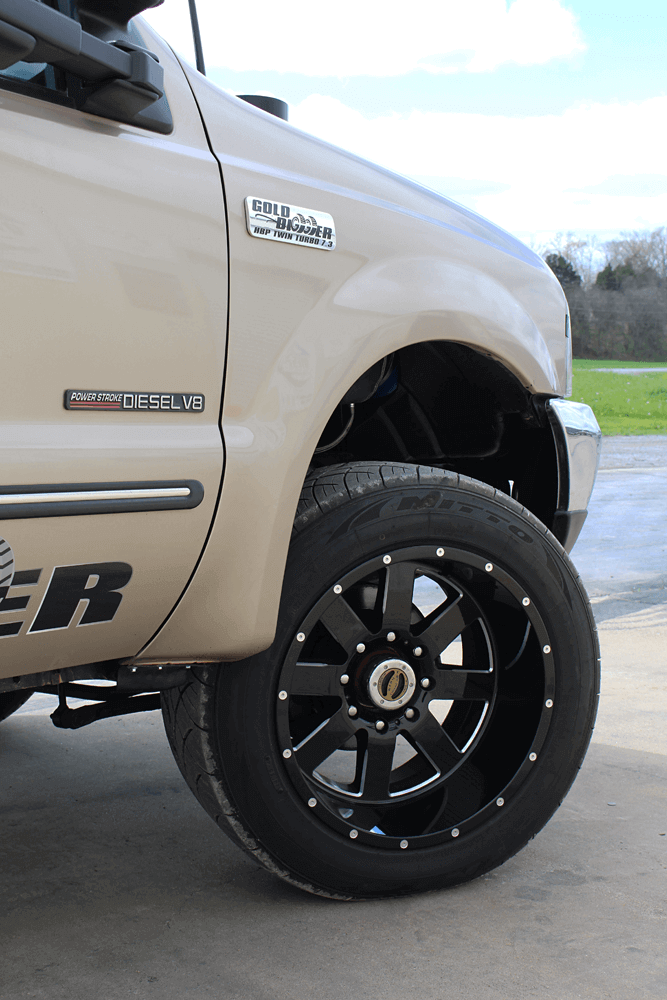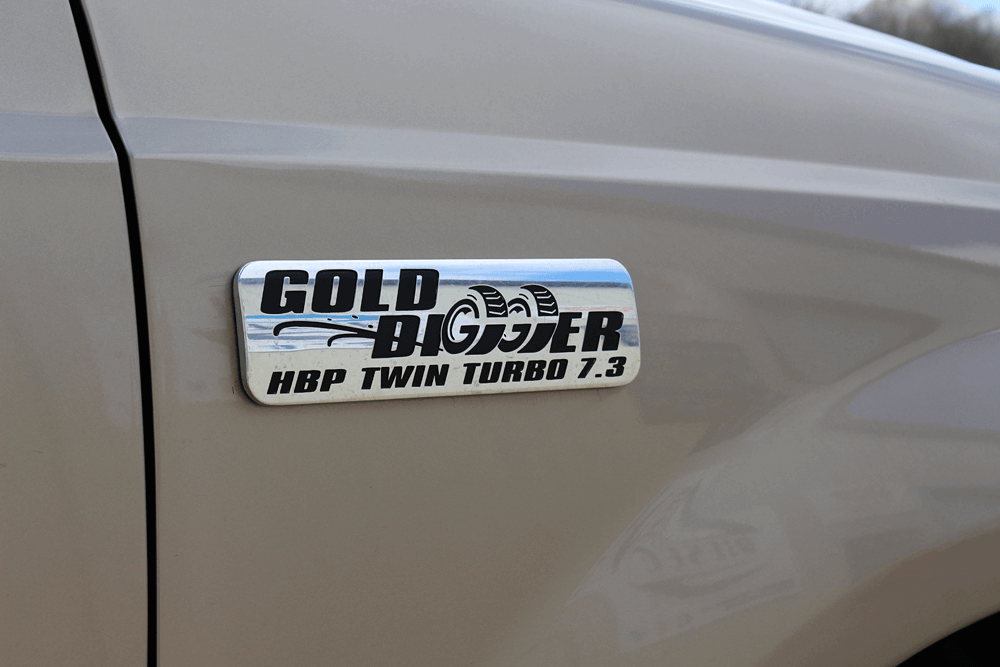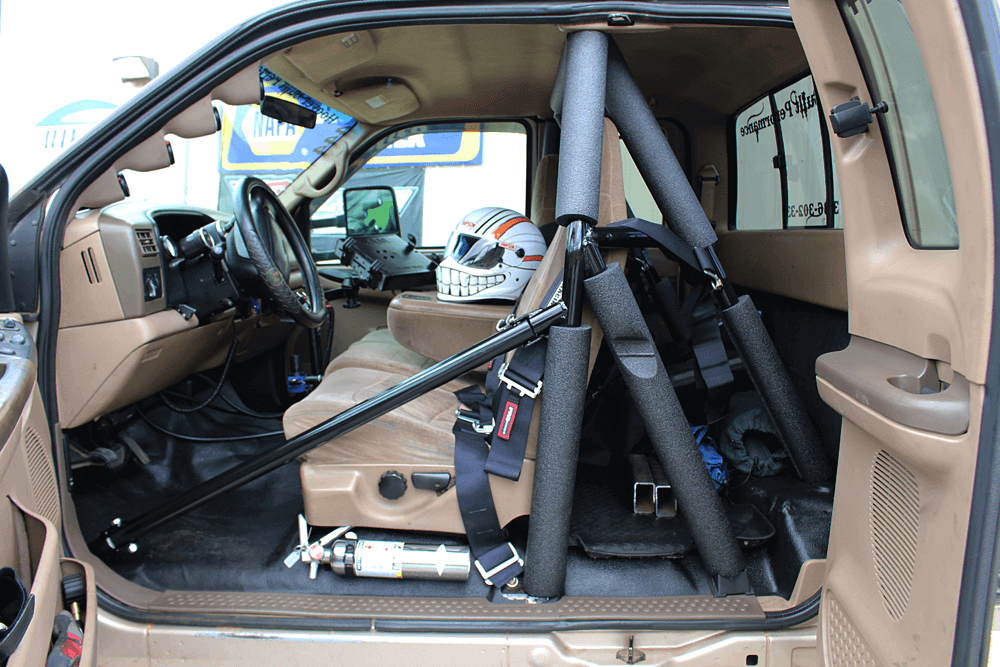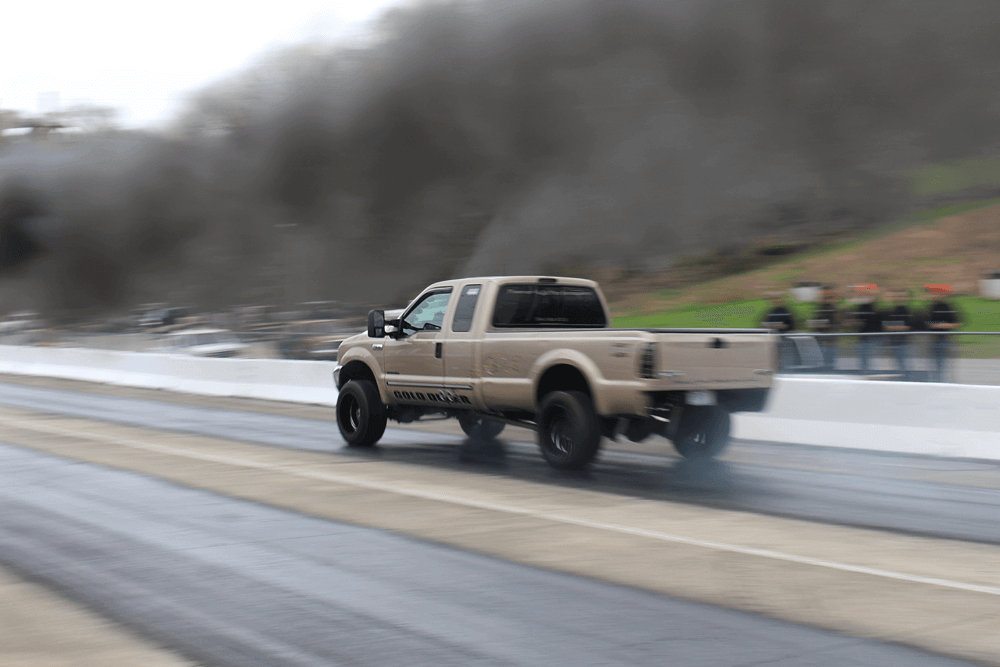 [divider]SPECIFICATIONS [/divider]
1999.5 FORD F-250
OWNER: Chris Hoover
HOMETOWN: Asheboro, North Carolina
ODOMETER: 336,286 miles
ENGINE: 7.3L Power Stroke
SHORT BLOCK: Partially fi lled block, fi re-ringed, Carson Stauffer girdle, ARP main studs, Carrillo rods, fl y-cut and coated 14:1 compression Mahle pistons, Gearhead Automotive Performance Stage 2 cam
HEADS: Crutchfi eld Machine port and polish, fi re-ringed, oversize intake and exhaust valves, beehive competition valve springs, Smith Brothers pushrods, cryo'd stock rocker arms, ARP head studs
FUEL: Full Force Diesel 450/400 hybrid injectors, Hoover Built Performance fuel supply system with Aeromotive Eliminator pump and regulated return, Complete Performance fuel tank sump
OIL: Hoover Built Performance Next Gen high-pressure oil pump over DieselSite Adrenaline, DieselSite high volume low-pressure oil pump
AIR: Hoover Built Performance compounds with S488 SX-E from Forced Inductions (atmospheric) and BorgWarner S472 SX-E (high-pressure, valley)
INJECTABLES: Snow Performance Tow-Max water-methanol system with three nozzles feeding each head (60/40 methanol/water mix)
TUNING: DP Tuner via F6 Smart Chip (street tunes), JeliBuilt Performance race fi les via TS Performance six-position chip (track tunes)
TRANSMISSION: Brueilly Auto Repair Center 4R100 with billet input, intermediate and output shafts, Red Eagle clutches, TransGo shift kit, triple-disc Atlantic torque converter, billet fl ex plate, Matt Maier shift box
HORSEPOWER: 800 rwhp (est.) TORQUE: 1,500 lb-ft (est.)
TIRES: 305/50R20 Nitto 420S
WHEELS: 20×12 Moto Metal MO962
AXLES/SUSPENSION/STEERING: Detroit Truetrac locker and 37-spline Yukon axle shafts (rear), ARB locker (front), 3.73 gears, Hoover Built Performance traction bars, One Up Offroad dual steering stabilizer system