Just about every pickup owner started out playing with toy trucks. After all, what kid hasn't pushed them around in a sandbox or watched them tumble down a mound of dirt? Of course, we all eventually have to grow up at some point, and so do our toys.
That's kind of what happened with the Matchbox Superlift Brush Truck. For those not familiar with wilderness firefighters and smoke jumpers, brush trucks are rugged off-road rigs outfitted with all sorts of heavy-duty equipment for putting out wildfires. Since fire trucks are one of the most popular Matchbox scale models, Mattel's in-house designers decided to heat up the concept with a radical rendering for a new toy truck.
Superlift's Joey Arbogast then took it to the next level, having already done joint promos with a number of well-known companies, such as Hooters restaurant chain, the TV show "Gator 911," NASCAR's Kerry Earnhardt and Mattel's Hot Wheels and Matchbox models. This "exposure through association" has helped make Superlift a household name. Easier said than done, though, as the Mattel promotions required years of effort. They were well worth it, however, as Arbogast estimates some 33-million toys associated with the Superlift logo have been produced over the years.
The latest involved transforming a 2011 Ford Super Duty into the Matchbox Superlift Brush Truck. After Mattel's toy designers drew up a rough idea for it, Arbogast then submitted a proposal to Ford for a full-size, fully functional show truck.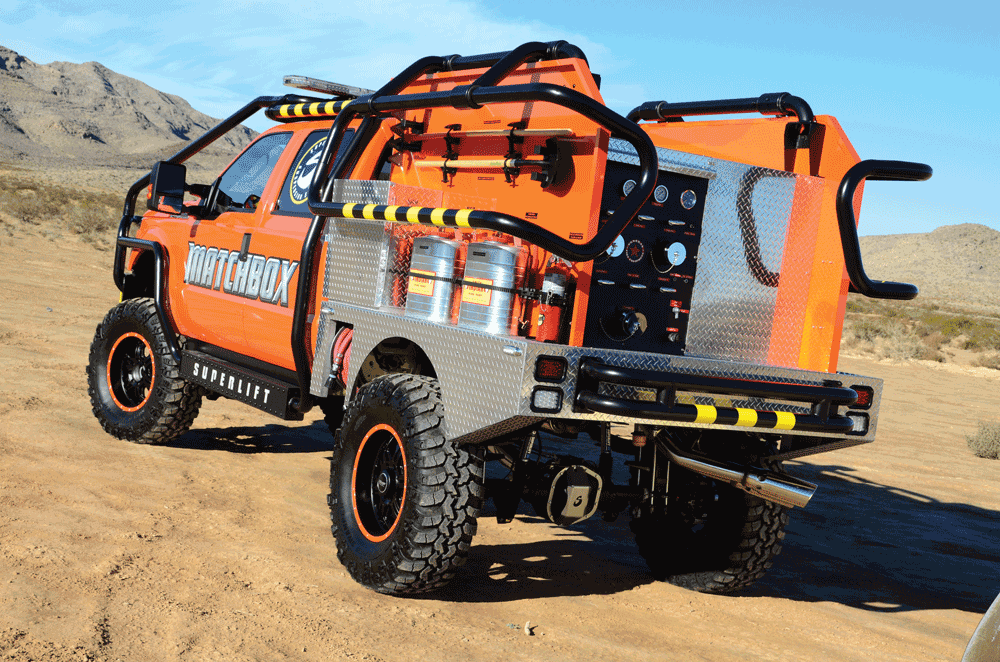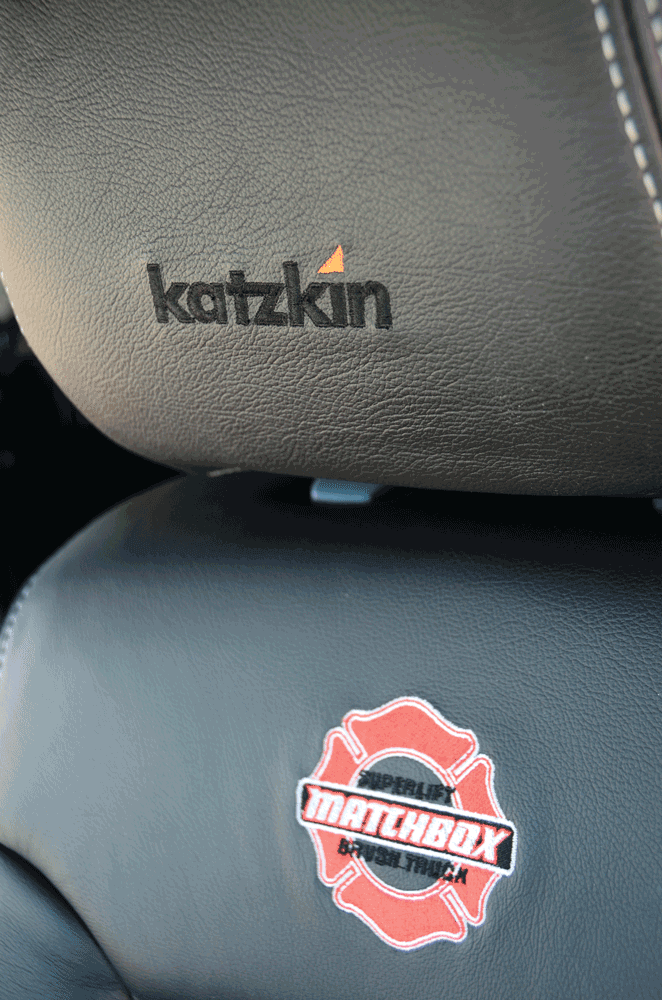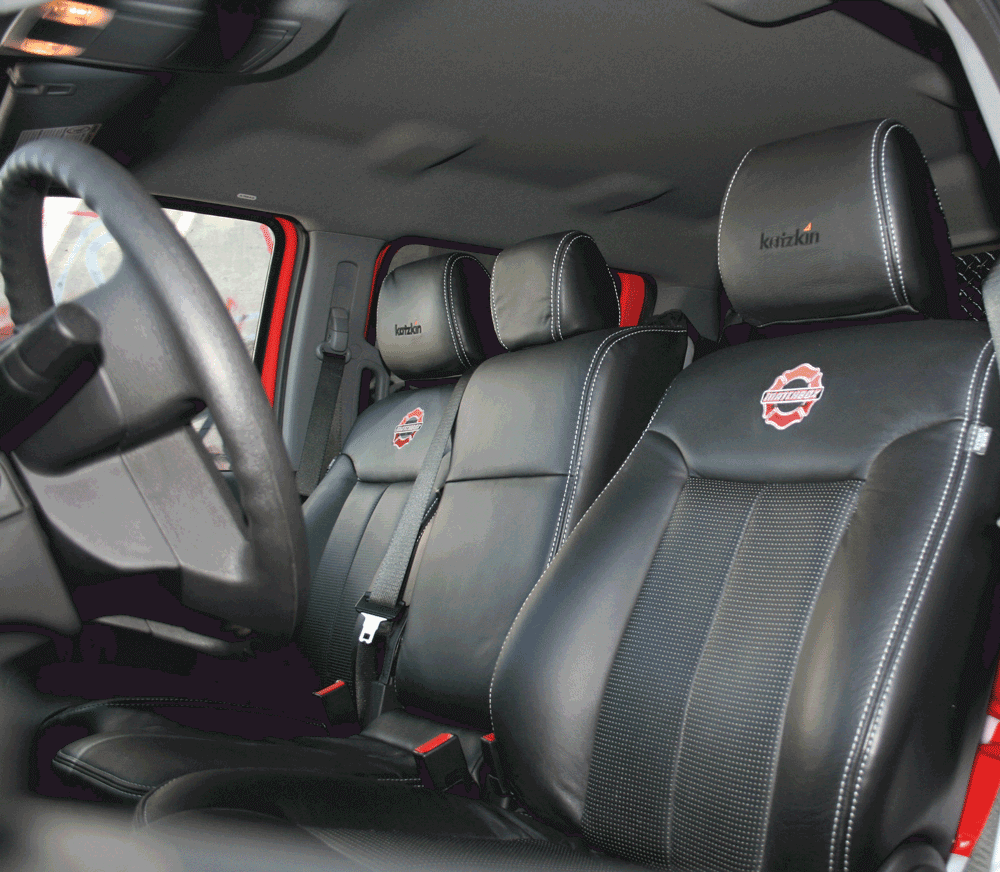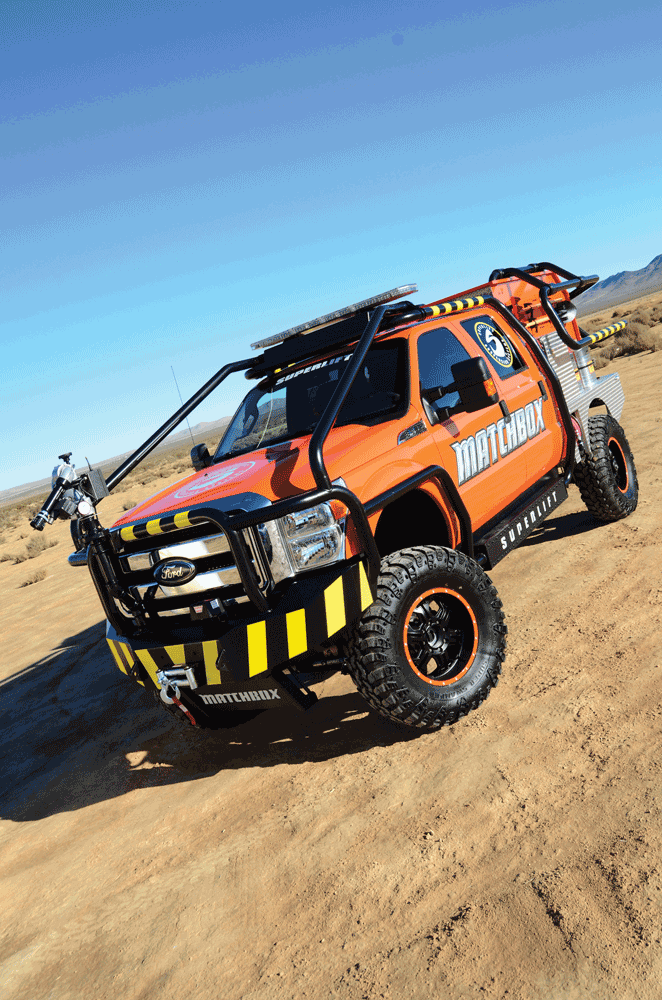 "That was the easy part," Arbogast says. "I worked with Alec Tam at Mattel and took cues from the design team at Ford, headed up by Sherry Kollien, and we were able to put on paper a collaborative effort that we knew would be an iconic build."
Once approved by Ford's design department, a Super Duty was delivered to Superlift's shop, where work began on the innovative exoskeleton extending over the entire body. This and other mods required the combined efforts of DeeZee, FIG Designs, Mick's Rod Shop and Marzula Fabrication. Superlift's R&D Team designed the tubular exoskeleton to not only protect the rig in a wilderness firestorm from falling trees and other firestorm debris, but also create an eye-catching "cool factor."
DeeZee both supplied and bent the tubular superstructure, along with providing the diamond plate for the bed and boxes. The framework visually ties together the side steps, light bar/roof rack and bumpers, going from aluminum to steel, and then back into aluminum by using some innovative connectors.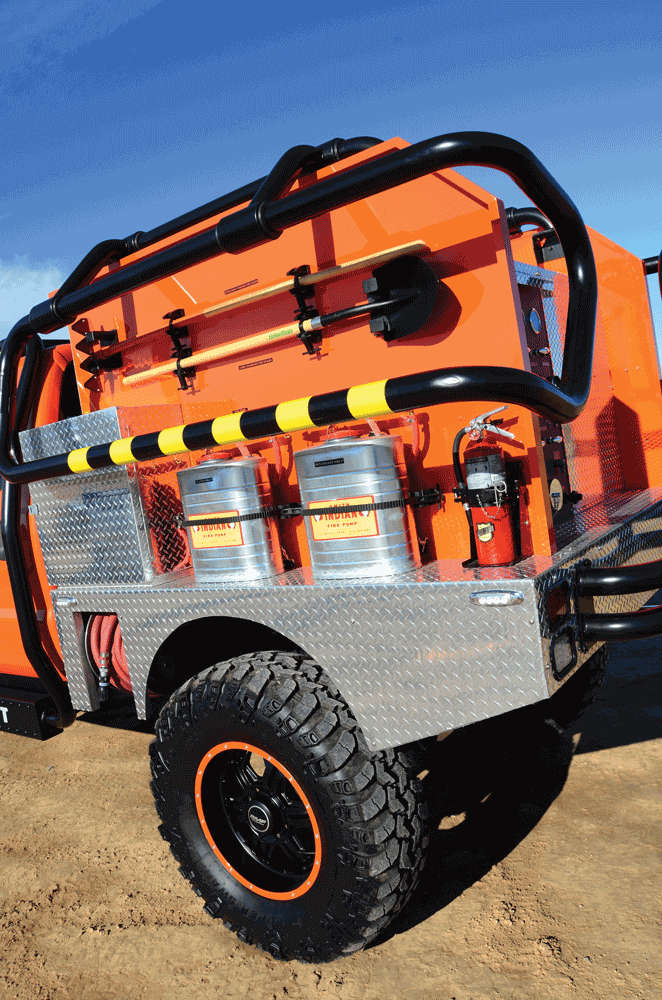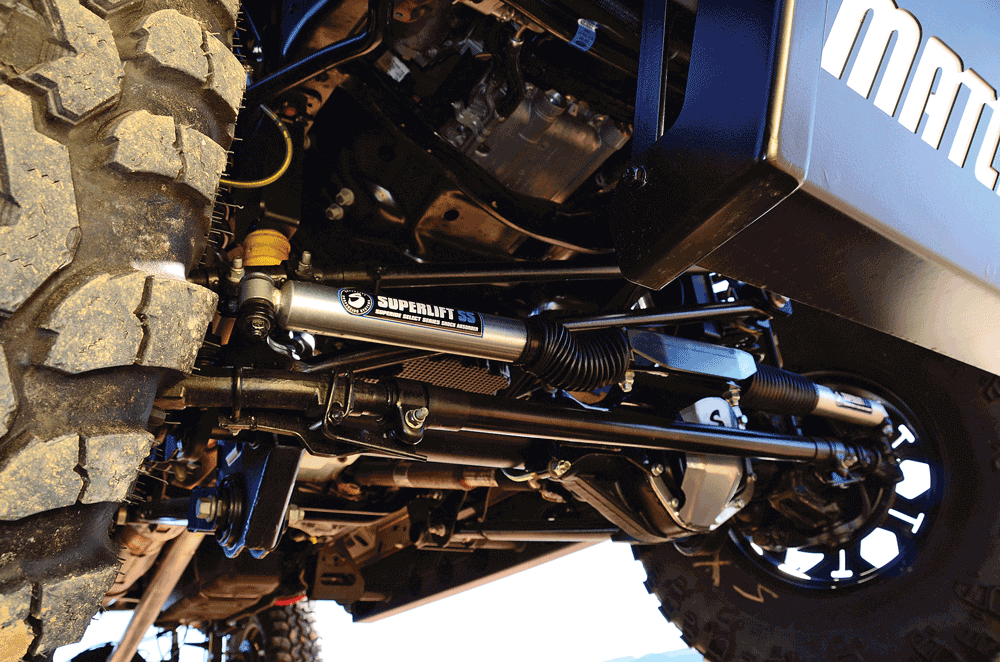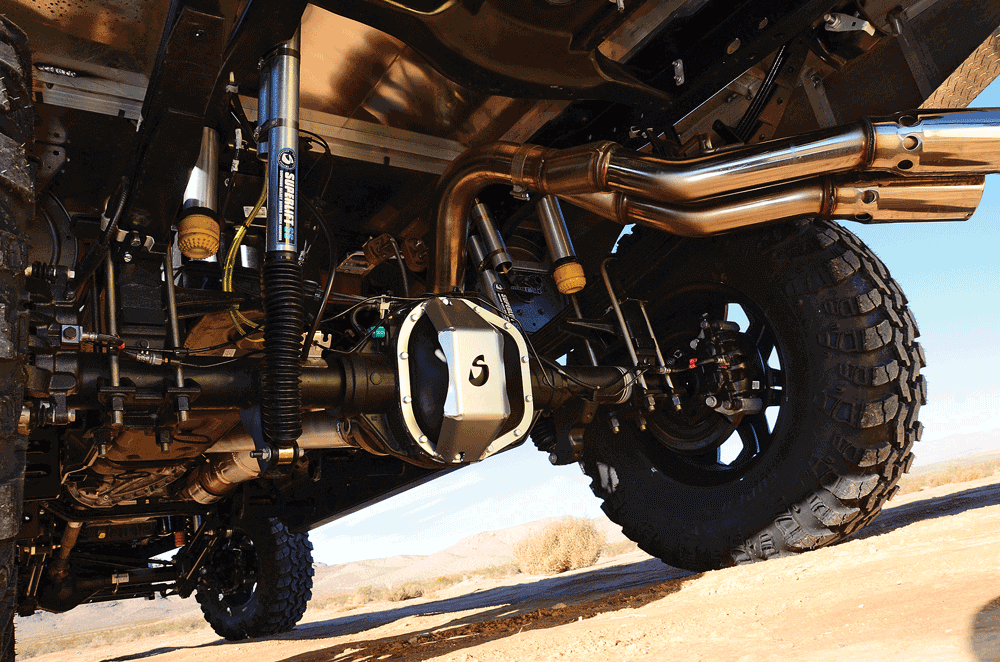 One technically challenging aspect involved the mounting points, so the tubing could be removed later on without leaving any "footprints" (mounting holes in the body). Fabricated out of both aluminum and steel tubing at Superlift's R&D facilities, this frame floats over the entire body by attaching only at anchors on the front bumper and side steps.
Fab Fours fabricated the custom bumper. Based on this firm's aftermarket bumper, but built to Superlift's specs, it was customized so it could be grafted with a tube guard integrated into the exoskeleton. The R&D team also designed the mounts for the Task Force Tips water cannon mounted on the front bumper, which can be remotely controlled from inside the cabin.
Who are key players handling this extreme build? Polecat Workz (Superlift's nickname for its R&D Team) consists of Mike Martin, Jeff Marzula, Jason Crain and Andrew Joiner. Mike is a master fabricator and Lead Design Engineer whose roots are in hot rodding. He's well known for several rods such as "The California Kid's Older Brother." (Pete Chapouris, the man who built the original '34 "California Kid" said that Mike's '33 Ford was as good a hot rod as he had ever seen built, and was the closest thing to being the actual 'Kid' that he had ever seen.) And Arbogast adds that, "Mike is one of the premier designers of off-road lift suspensions in the world."
Jeff Marzula, also a master fabricator and mechanic, worked with Mike to fit all of the pieces of the puzzle together. Jason Crain, the R&D Manager, worked closely with Arbogast to get the job completed. Andrew Joiner, a degreed architect, played an essential role in aiding Jeff and Mike in hustling to complete the build.
The foundation of the Brush Truck showcases Superlift's suspension lift system, rising a full 10 inches. Up front are new lift coil springs, an adjustable four-link setup, Superide SSR shocks, and steering stabilizers. Out back are lift leaves and blocks, and Superide SSR shocks. Matching front and rear Superlift eXtreme ring diff cover protectors with a polished zinc coating finish off the look of the underbody. All these components came directly from the company's parts catalog.
This level of elevation makes plenty of room for a set of 42-inch Interco IROK tires, fitted on 20-inch BMF S.E.R.E. rims in Stealth finish with orange-painted rings, making for a truly aggressive stance.
Rounding out the Brush Truck's capabilities is a utility bed fitted with hand tools for wilderness firefighting: a pair of long-handled fire spades, straight-finger fire rakes, flathead fire axe, and Indian tanks for fire retardant. The hose reels and water cannon are fed by the 450-gallon tank mounted atop the rear frame rails.
Arbogast praises GFE (General Fire Equipment) for playing a major role in the build: "They were the inspiration for the build, and built the fire box/bed that went on the back of the truck," he points out. "It was a custom build because we used a crew cab short bed, and they normally use single-cab long beds."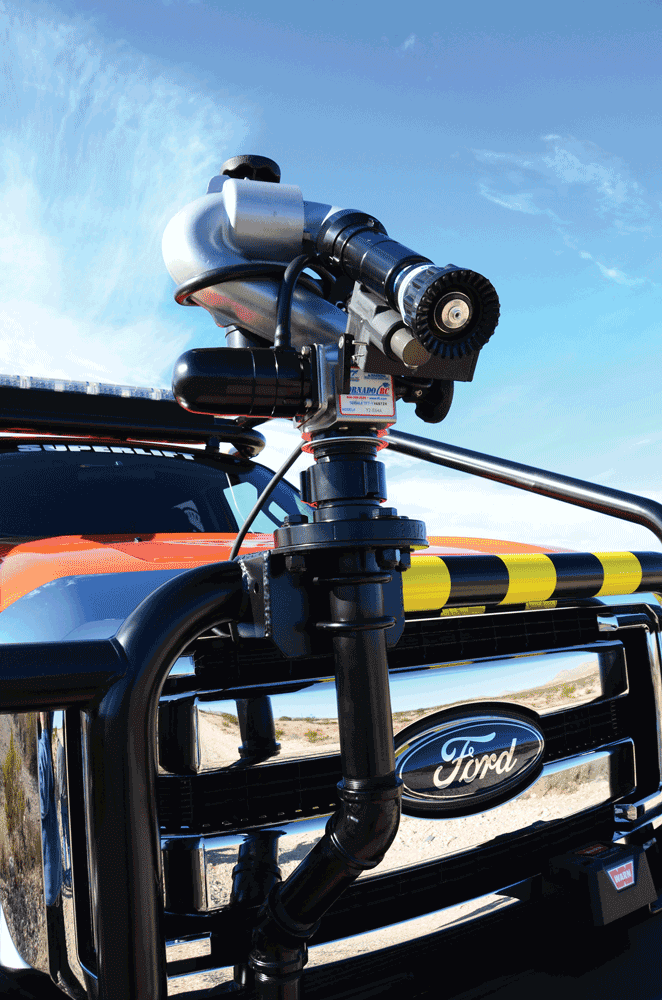 No ordinary paint job would do for a project this extreme. As Arbogast notes, "When we first started putting this build on paper, we talked with the guys at Mattel and they agreed the brush truck needed a fiery hue that would help it stand out among other rescue rigs."
No easy task, but it turns out that safety orange and Matchbox orange are real close to the same color, and the PPG "Oh So Orange" was the ideal choice. Even though brush trucks in general are more about function than style, Jamie took a very meticulous approach and was totally committed to giving it a spectacular "louder than a fire truck" treatment with a contrasting satin-black powder-coated accent, plus a road-hazard graphic on the front bumper.
If that doesn't get enough attention, you can't miss the code-three emergency lights and sirens, along with KC HiLites and the rumble of a Magnaflow exhaust system for the 6.7L Power Stroke. Offsetting the imposing, hazardous-duty exterior is one concession to creature comforts—glove-soft Katzkin Barracuda leather upholstery and raised logos stitched on the headrest and seatback.
Otherwise, it's all business inside the cabin, armed with a Code 3 Security LED 2100 X strobe police lighting, Code 3 command module and Wig-Wag pack, Code 3 P/A and siren system, Audiovox wireless communication system and Magellan hand-held GPS units.
All told, the visual impact is startling, so no surprise that the Matchbox Superlift Brush Truck earned Ford's Award for Design Excellence/Outstanding Achievement in Design. In addition to being a huge hit at Ford's SEMA show booth, some 4,600 special editions of the scale model were given away.
Enhancing the program even further, in addition to 1:64 scale Matchbox models of the Brush Truck being merchandised at toy stores nationwide, the full-size version made a cross-country tour at shows, parades and fund-raising events, where it grabbed as much attention as a three-alarm fire. All that's missing is a spotted Dalmation riding with a crew of firemen.
The future of the Brush Truck is as hazy as the smoke from a forest fire, as plans call for it to be dismantled and turned into a new, as-yet-unnamed project. But it will live forever as a permanent casting in the Matchbox line of collectible models for kids of all ages to enjoy. DW
[divider]From Mattel Matchbox Design to Full-Size Truck[/divider]
Superlift Suspension Systems
888-299-4692
www.superlift.com