Built On A Budget, 90% Of This Truck Came From Salvage Yards!
There are lots of influences in life that can create a lasting impression. For many young men, their time in military service shapes their future, primarily because it's a world vastly different from anything they've previously encountered. It's a coming-of-age experience that marks the transition to adulthood. Tim Feidt from Maplewood, Minnesota is a retired local teamster driver but he has fond memories of his time behind the wheel as an Army motor transport specialist. As you will see, his time in the military left quite an impression and clearly shaped his future!
Tim is also an avid automotive enthusiast, getting his start in the hobby by building Model T Fords, then moving up to Model A's, and finally progressing to custom vehicles so unique, that customers around the world now own them. His cars have sold to a diverse group of international owners in Canada, Saudi Arabia, Japan, and Norway. As talented as he is, however, there is a unique restriction that affects every element of his creations. In addition to describing himself as a 'one-man show', everything he builds has to fit in his one-bay garage. The compact space has a nine-foot wide door, opening to a height of seven feet, and measuring just 20 feet deep! Try to envision building this radical ride in those tight confines!
His latest adventure is this diesel-powered, hand-built special, designed to honor the US military, made obvious by the flag pole and the huge American flag always flying proudly in the breeze. Using skills acquired over the years and coupled with a passionate sense of patriotism, Tim began the design in his head along with the search for appropriate material. With just a few exceptions, he built his truck on a budget, using salvage yards as the source for most of the components.
One of his first stops was Manders Diesel, a Mack  Dealership and salvage yard not far from his Minnesota home. That's where he found the 1980s Model RB Mack cab, setting the tone for the build. The running gear came from a 1996 Dodge 3500 Chassis Cab flatbed truck, found in Flint Michigan, and driven home in the winter with a non-functioning heater! The Dodge donated the front and rear axles, engine, and transmission, as well as dozens of smaller essentials. Tim especially wanted the 5.9L, 12 Valve Cummins turbo with five-speed, keeping it basically stock (for now) except for flipping the manifold to reposition the turbo higher so it would fit between the frame rails. The huge 84-gallon Freightliner fuel tank, also a salvage item, was originally dull black but once polished, it became an eye-catching addition. Thanks to careful sourcing of material and selling the parts that were left on the Dodge, he estimates that he has less than $1000 in the running gear.
Continuing that frugal approach, Tim built the heavy-duty 144-inch wheelbase chassis from scratch using eighty feet of 2×4 rectangular steel tubing and another eighty feet of 2×2 used as reinforcements. Once the rugged frame was complete, it was time to design the truck's ground-hugging profile. Since the goal was not to sit high and corner slowly, suspension changes began with a new Airbagit air system. It uses 12-inch SEMI bags that compress to just 2 3/4 inches and raise to 9 1/4 inches giving the truck a dramatic change of altitude. A pair of Airbagit compressors and twin 3-gallon reserve tanks create a quick response, thanks to ½-inch lines. The tanks, compressors, and a pair of batteries reside in a special rack located down low, behind the cab. Hit the switches and the truck will do up and down, front to back, and side to side. (Kids love to see it perform!) Did we mention that Tim likes to ride low? To protect the chassis when it contacts the asphalt, skid plates were added to each corner, cut from the blade of a salvaged road grader.
Suspension additions begin with the straight axle from the Chassis Cab Dodge, fitted with 10-lug, Alcoa 22.5 rims and held in place with an owner-fabricated four-link and Watts linkage. In order to use modern low-profile rubber (Nankang SP-7 Utility  305/R4522), the rims were trimmed to 22 inches. In the rear, there's a second owner-fabricated four-link that holds the Dana 80 with 4.10 gears. It drives uncut 22.5 Alcoa's, wrapped in 445/50R22.5 Michelin X One's Super Singles. The rear tires and rims were sourced (you guessed it!) from a truck salvage yard in Sioux Falls, South Dakota. Drilled and grooved disc brakes up front and new one-ton drums in the rear haul the 6500-pound truck down quickly.
The interior was probably the most expensive part of the truck. The eight-way adjustable seats are commercial Bostrom units, featuring their Flex Support System that absorbs bumps and reduces driver fatigue. Upholstered in black leather, the seats are heated and cooled and they swivel for ease of entry and exit. The $4200 seats were one of the biggest expenses of the truck, purchased with a special lady in mind since Tim's wife, Laura enjoys riding in the truck as much as he does. As you might expect from a career, big rig driver, the Mack cab is loaded with a full complement of instrumentation stretching across the dash along with that essential highway addition, a CB radio. Tim is always pleasantly surprised when he hears commercial truckers admiring his rig as he rolls down the highway. As a special touch, the four-foot-tall shifter was modified to hold a Bosch microphone, illuminated with LEDs. Steering is accomplished with a blend of the Dodge 3500's power steering and the Mack steering wheel and linkage.
Once most of the basics were in place, the goal for the exterior was an aggressive look similar to prewar Dodge Power Wagons, made even more ominous since Tim dispensed with non-essentials like the fenders, hood, and bed. The muscular ride sports an intimidating crash bar up front, shaped from flat stock and protecting the radiator and intercooler. It's accented with Jeep headlights and auxiliary LED driving lights mounted on top of the stout front bumper. The numbers on the bumper represent his old army unit, Freight Company 29 Trans, 594 transportation, and Truck 302. He has a picture of him standing next to his old Army truck showing those same numbers but he smiles when he says, "Neither of us looks like that anymore!" The huge Mack external air cleaner adds to the truck's aggressive looks while gloss black powder-coated tubing smooths the flow of incoming air. The tall, flat black 5-inch vented stack (when provoked) has been known to create a dark billowing cloud under certain conditions. In the rear, a stainless steel rear panel holds the four LED red/clear taillights. Dozens of smaller LEDs were used throughout the truck, accenting the front and rear bumpers, rocker panels, and sun visors. In addition to the Olive Drab paint job and the Army stars that adorn both doors and the back window, large POW*MIA mud flaps reinforce the military tribute. Tim's final touch was welding a flagpole to the Holland 35 fifth wheel so that he could always fly Old Glory.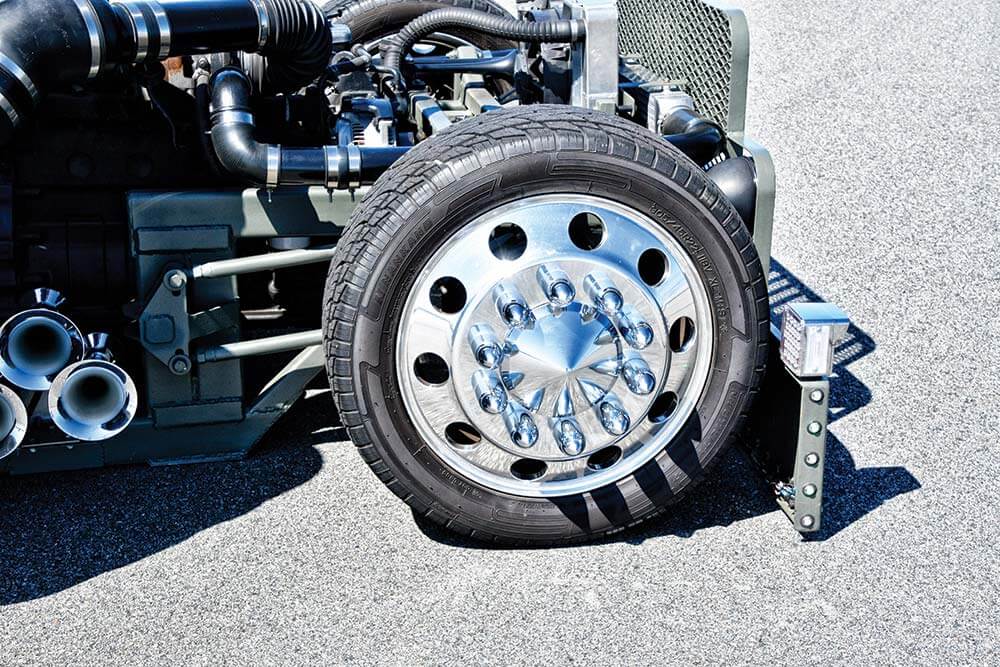 Tim's slammed, one-of-a-kind  Mack was completed in just six short months while he was still working 40 hours a week. What's the best part of his radical tribute truck? Besides winning a Best of Show at the last Las Vegas Rat City Ruckus along with numerous 'Best of' awards, Tim and Laura enjoy participating in military gatherings, parades, and visiting military bases around the country. They have traveled to Fort Carson, Fort Campbell, Fort Benning, and Fort Stewart, as well as multiple Naval and Air Force facilities. They are always greeted warmly when they arrive. One of the treasured moments that stands out was when Tim was driving down the freeway and a three-car convoy of black government SUVs rolled up alongside. It was the governor of Minnesota, Tim Walz who lowered the dark tinted window and gave him a big thumbs up. He later met the governor in person and they discussed the truck in detail. When he's not chatting with enthusiastic governors or shaking hands with senior military officials, Tim especially likes to introduce kids to the truck, inviting them to sit in the driver's seat so that they could enjoy a picture behind the wheel. And, of course, everyone loves that special license plate!
How does Tim feel about his latest creation? "I judge my work by the expression on people's faces when they see my truck. The truck represents who I am and most importantly, I built this Army truck to honor all veterans, POWs, and MIAs. There is a saying, All Gave Some and Some Gave All.  To All, I thank you from the bottom of my heart.  It is because of you that we have our freedom."