BOUGHT TO WORK, BUILT TO HAUL
We all know the blue-collar, hard-labor working man is the backbone of this country. Whether it's a guy down in a trench welding pipe or swinging a hammer while framing a house, these guys depend on their tools to get the job done as effi ciently as possible. In today's hard labor industries, the truck you drive can become one of the most important tools for getting your job done. Take this 2012 6.7L Cummins powered 4th Gen Ram 2500 for instance. Yes, it's the fully loaded Longhorn Edition with air-conditioned seats and a heated steering wheel, but nobody ever said a working man doesn't enjoy some of the fi ner things in life on occasion.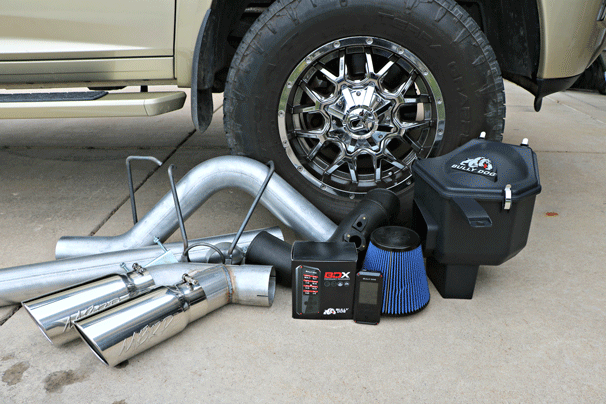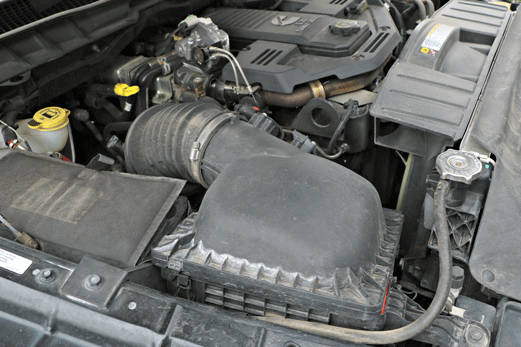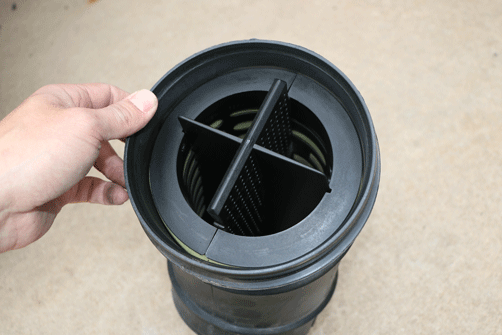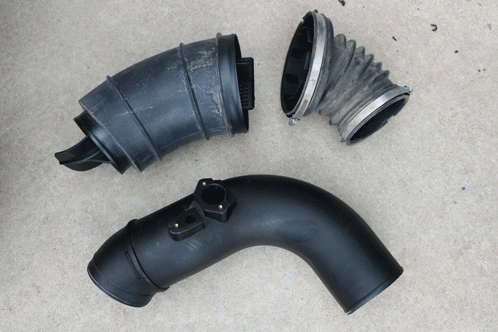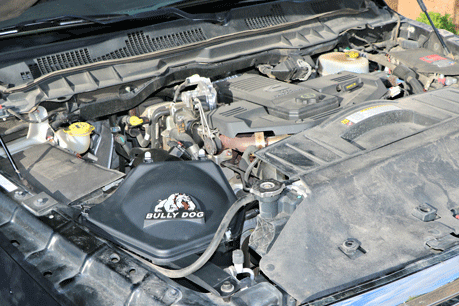 The big Dodge was just picked up off the used truck market this spring with 88,000 miles on the clock, and the new owner is a job foreman for a large construction company that builds big commercial buildings and hotels. He also has his contractor license and builds houses on the side with his father and brothers. Having a dependable truck that can help him get tools, a skid steer, track hoe, and his heavy dump trailer loaded with dirt or gravel to job sites is a must. The 6.7L Cummins has always been known for its torque output and works great for towing because of it. But one thing we've learned is that the vast diesel performance aftermarket will always have some parts available to improve upon that already stellar stock platform. When the EGR, DPF and urea control systems were introduced there was a big fear that the aftermarket would die off, yet nearly ten years later the aftermarket is still plugging away, with plenty of emissions-friendly products that really do work and improve upon what Ram, GM and Ford are offering off the showroom floor.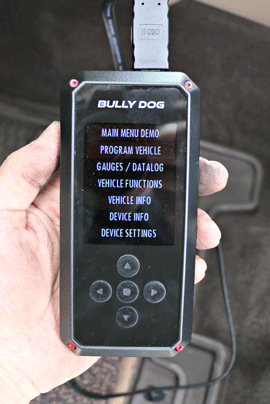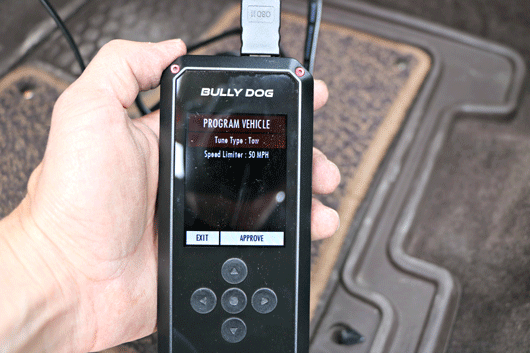 For this build, we'll dive into some worthwhile upgrades that can turn any 2010+ 6.7L Cummins into an even better truck for daily driving, towing and working around the job site, all while maintaining the factory emissions equipment that keeps Big Brother happy. Part One of the build starts off with the basics: intake, exhaust and tuning, along with a steering stabilizer that will eliminate the "death wobble" Dodges are sometimes known for when running at higher mileages or with bigger tires.
BULLY DOG RAPID FLOW INTAKE
As with every diesel engine on the market, a good high-fl ow intake system can help improve turbo spool-up and throttle response while still offering excellent fi ltering capabilities. The Bully Dog Rapid Flow Air Intake (RFI) will remove some restriction present in the factory intake to help more cool, dense air get to that big 6.7L engine. The high-fl ow intake tube can broaden the horsepower and torque curves while keeping fuel efficiency intact due to its more effi cient airfl ow passages. The plastic box is sealed to keep ambient air out of the intake stream and the cleanable 8-layer cotton gauze fi lter offers great fi ltration.
BULLY DOG BDX
The latest hand-held tuner from Bully Dog, the BDX offers preloaded tuning for the 6.7L Cummins that can maximize the engine's torque curve and power output to better meet the driver's needs, whether it's chasing after better fuel mileage or towing that heavy skid-steer around town. The full-color display and customizable gauges can be used to monitor engine parameters while driving via the OBD-II port and a built-in Wi-Fi signal allows wireless internet upgrades and access to the Bully Dog Cloud, where custom tunes can transfer fi les build specifi c for your application without requiring a PC or laptop. For this truck, which is almost always towing heavy loads, Bully Dogs Tow tune offered a little over 50 horsepower gains at the tires without increasing EGTs too much or affecting regeneration cycles; the modifi ed fuel and timing tables have improved mileage some, too.
MBRP 4" DPF-BACK EXHAUST
Since the goal of this build is to show that emissionsfriendly performance is possible with these trucks, the Diesel Particulate Filter and catalytic converter won't be touched. But that doesn't mean some changes to the exhaust can't help; plus, the newest dual 5-inch polished tips and single side exhaust from the MBRP's XP Series exhaust just look killer. The XP Series offers 409 stainless construction with a lifetime warranty, so it'll hold up well to the elements without breaking the bank. This particular kit will replace the small factory muffler with high-fl owing 4-inch pipe, but don't worry. In-cab noise won't change much if at all since that big DPF will still do a really good job muffl ing the exhaust note from the Cummins engine. Using basic hand tools and help from a friend this system installed in less than an hour and fi t perfectly, including that unique dual 5-inch polished tailpipe section that really helps set the truck apart.
BD DIESEL STEERING STABILIZER
The 2500 and 3500 Dodge trucks have always been known for somewhat problematic front ends and steering linkages, issues that become more prevalent at higher mileages or when running larger wheels and tires. Death Wobble is a term a lot of Ram truck owners are familiar with and preventing that from ever happening is always a good idea. The BD Diesel Steering Box Stabilizer support is an inexpensive, easyto- install upgrade that will help eliminate potential wobble and wandering at high speeds by removing any shaft play within the factory steering box. By supporting the sector shaft of the steering box at the pitman arm with a large greaseable bearing, the shaft can no longer fl ex or move to create excessive play in the steering wheel, offering a more positive driving experience and improving driver confi dence, especially when towing control is important.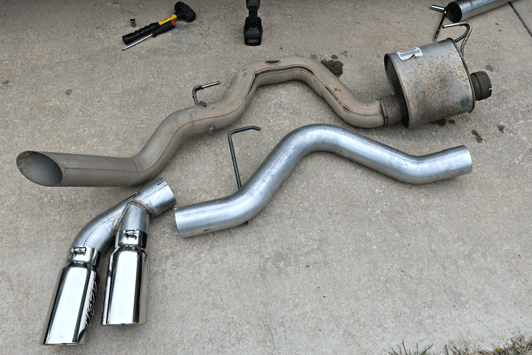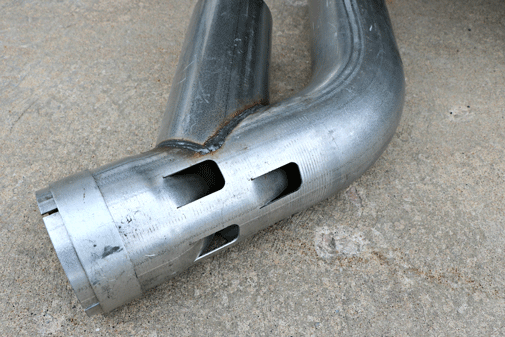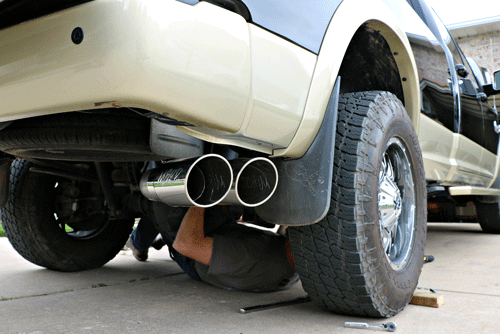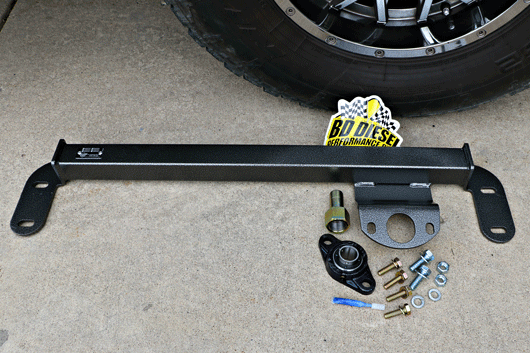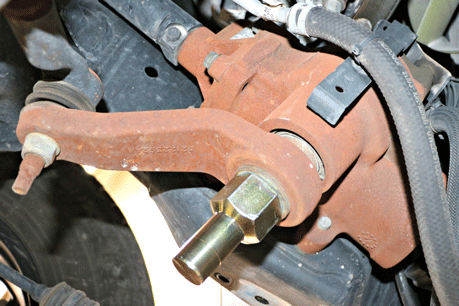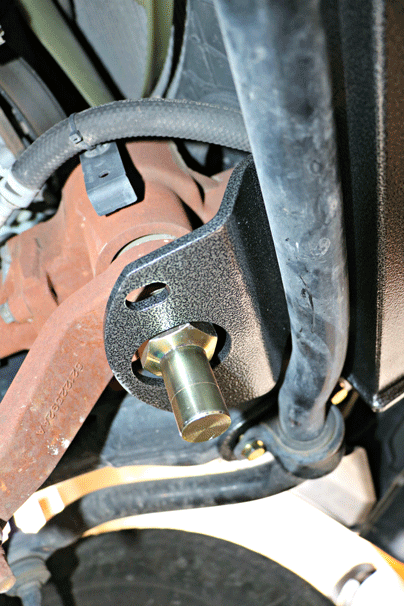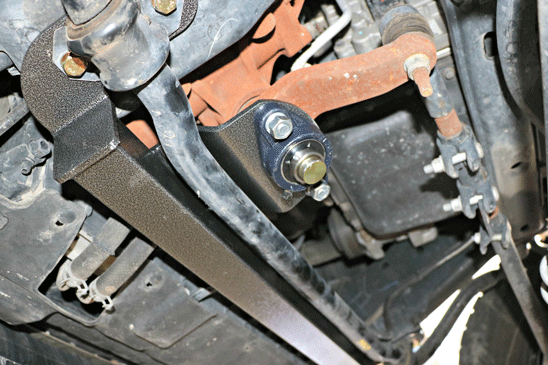 These parts were all installed in a couple of hours using basic hand tools and have already made daily driving, towing, and even fuel mileage improvements. With just 33-inch tires on 18-inch wheels, the steering support has helped steering input and the added power and torque makes commuting and towing a dream. The future of this build is still looking bright with plans of installing a turnover gooseneck hitch from Curt Manufacturing, some transmission and track bar upgrades from BD Diesel, and maybe even increasing fuel capacity and equipment refueling capability with some larger on-board fuel tanks. DW
SOURCE
BULLY DOG
BullyDog.com
940.783.9914
MBRP INC
MBRP.com
888.636.7223
BD DIESEL PERFORMANCE
DieselPerformance.com
800.887.5030