EVERYONE'S FAVORITE UPGRADE— GET YOURSELF SOME MORE AIR, THEN COME BACK NEXT MONTH FOR MORE FUEL, TUNING, AND REPEAT.
ATS DIESEL PERFORMANCE
2011-14 FORD SCORPION TURBO SYSTEM
The Scorpion Turbo System from ATS Diesel Performance is the perfect replacement for the 2011-14 Ford 6.7L Power Stroke diesel engine. An easy "drop-in" replacement of the old system, the ATS Scorpion turbo features the Aurora 4000 turbocharger. Offering higher overall performance over stock, the Scorpion system produces lower EGTs, quicker spool times and 60 more horsepower. The Aurora 4000 has a 45-degree turbo housing, utilizes the factory down-pipe, intake and discharge pipes, and no custom modifications are required. The kit includes stainless steel pipes, all the mounting parts you will need for an easy installation, and is covered by ATS's 5-year/500,000-mile warranty.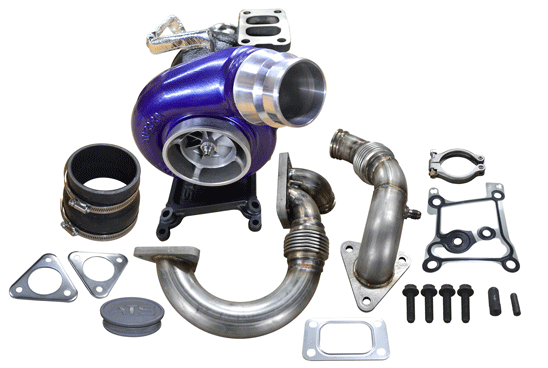 ATS Diesel Performance
866.209.3695
ATSDiesel.com
KC TURBOS
STAGE 2R DUAL BALL BEARING TURBO
This is a real game changer for the 6.0 Power Stroke world—a true dual ball bearing VGT turbo that is designed to make virtually instant boost. KCT claims it will spool faster and make more power than anything else in its class. Engineered for instant boost, ideal for towing applications, and capable of supporting up to 650 hp, the Stage 2R is intended to allow you to have your cake and eat it too.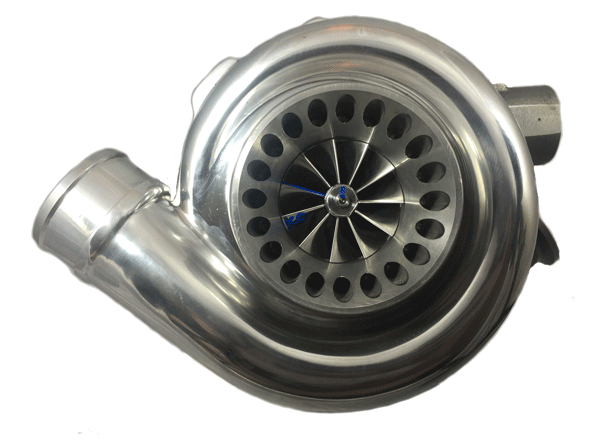 KC TURBOS
KCTurbos.net
BANKS POWER
1983-93 FORD BANKS SIDEWINDER
To give your older Ford a new lease on life, Banks Power offers the ultimate upgrade for classic (1983-93 Ford 6.9L & 7.3L F-250, F-350, F-450 pickup) Ford diesels with the Banks Sidewinder turbocharging system. Engineered to unleash up to 82 hp and 143 lb-ft torque at the rear wheels, Banks claims you'll hardly recognize Ol' Betsy. With the Sidewinder turbocharging technology onboard, she'll tow up the grade 53% more quickly with up to a phenomenal 29% fuel economy improvement at that. The kit is a complete turbo and exhaust system that includes all parts shown here (some vehicles require an extension kit for proper fit).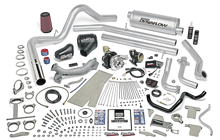 BANKS POWER
800.GET.POWER (438.76937)
BanksPower.com
INDUSTRIAL INJECTION
VIPER PHATSHAFT TURBO
The Viper PhatShaft turbo from Industrial Injection uses a 68mm turbine wheel and the choice of 62mm, 63mm, 64mm, 66mm, or 69mm forged and milled compressor wheels to suit various applications with "drop-in" T3 or T4 turbine housing fi tment. For longevity, the Viper PhatShaft turbos use dual oil groove bearings and steel 360-degree thrust bearings. Compressor covers feature a chamfered compressor inlet to maximize airfl ow and reduce turbulence for optimal performance. For safe towing power, the turbos feature an internal wastegate with an adjustable boost control wastegate elbow and oversized wastegate ports to reduce backpressure.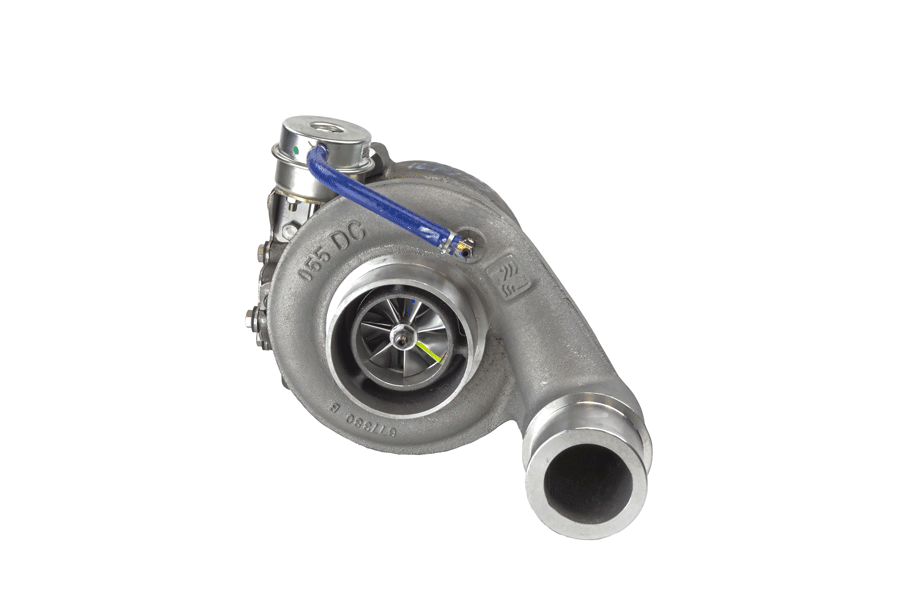 INDUSTRIAL INJECTION
800.955.0476
IndustrialInjection.com
NORTH AMERICAN TURBO SYSTEMS
CUMMINS COMPOUND TURBO KIT
North American Turbo Systems offers Compound Turbo Kits for all Cummins-powered Dodge/Ram trucks. The TIGwelded kits include the cold pipe, hot pipe, intercooler pipe, primary mount, oil lines, intake, and the necessary boots/ clamps to complete the installation. They feature 3D T6 transition fl anges on the hot pipes for smoother fl ow and a cleaner fi nished product. They also utilize straight couplers and V-bands to help eliminate the risk of blowing boots off. The Towing Kit is the most popular and it utilizes an S475 BorgWarner underneath the stock turbocharger. Everything can be customized from there with new or remanufactured compressor units, billet wheels, coatings, blankets, and so on.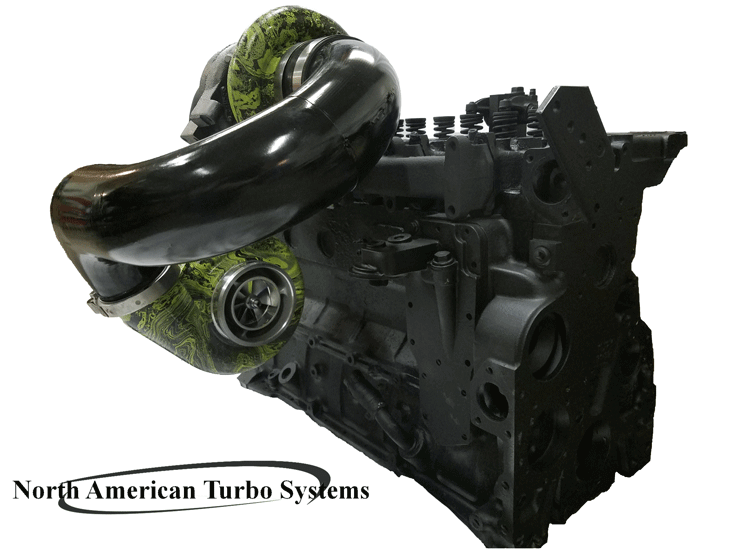 NORTH AMERICAN TURBO SYSTEMS
574.935.8400
NorthAmericanTurbo.com
PUSHER INTAKES
2004.5-2010 DURAMAX PUSHER MAX COMPOUND SYSTEM
The Pusher Max Compound System from Pusher Intakes for 2004.5-2010 Duramaxpowered trucks is compatible with most BorgWarner S400 frame and Garrett turbos. The bolt-on turbo system works with the factory turbo and is capable of supporting 750 to more than 1,000 hp depending on turbo and fueling configurations. The straightforward installation requires simple hand tools and basic mechanical knowledge. High-quality, 4-ply silicone couplers and stainless steel T-bolt clamps are used at every boosted connection. Fuel mileage increases of 1-2 mpg in daily driving and 2-4 mpg when towing have been recorded, along with EGT reductions of more than 200 degrees.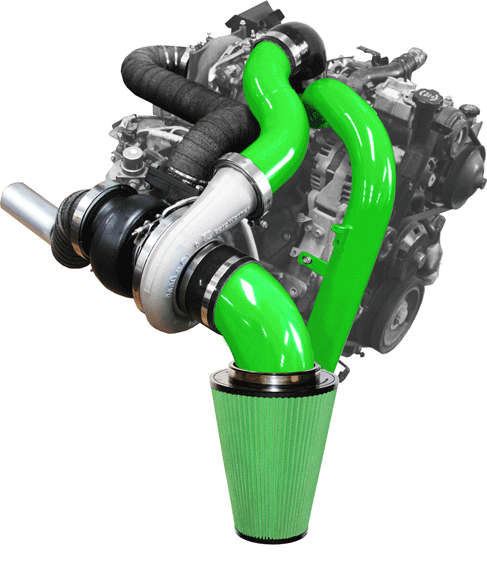 PUSHER INTAKES
866.900.6363
PusherIntakes.com
THOROUGHBRED DIESEL
GARRETT GT3788VA POWERMAX
Thoroughbred Diesel recommends the Garrett GT3788VA Powermax for '04.5-07 Ford Power Stroke 6.0L trucks as a drop-in replacement turbo for the customer who is looking for a turbo upgrade to compliment slight to moderate fueling upgrades. The GT3788VA turbocharger will support up to 175 hp over stock. This turbo features the AVNT (Advanced Variable Nozzle Turbine) design for increased compressor flow and boost response, utilizing 9 movable vanes which significantly increase turbine efficiency and improve engine performance from idle launch through peak torque. The Powermax also features a larger compressor wheel, which increases maximum power range and a new electro-hydraulic actuation and proportional solenoid.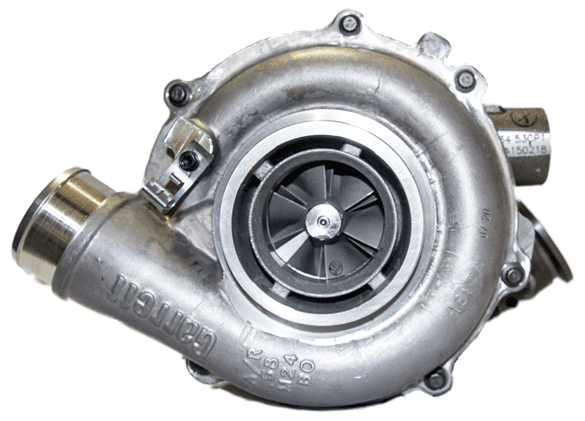 THOROUGHBRED DIESEL
866.737.4966
ThoroughbredDiesel.com
DROP-IN S369
KC TURBOS 7.3 POWER STROKE KC38R 369
KC Turbos is not shy in proclaiming the KC38R as the biggest and baddest drop-in turbo made for the legendary 7.3 market. It is a dual ball bearing drop-in turbo based on the S369 SX-E. It's made to run with larger injectors like 300/200 hybrids and help push these trucks into the 600hp range—all with a drop-in turbo!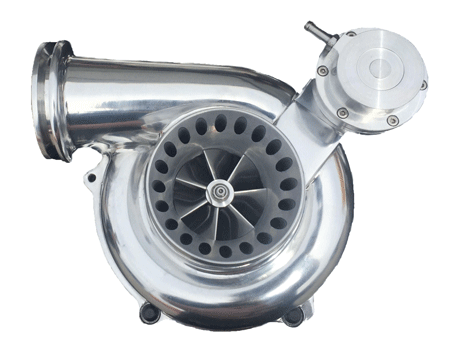 KC TURBOS
KCTurbos.net
WEHRLI CUSTOM FABRICATION
DURAMAX SINGLE TURBO KIT
Wehrli Custom Fabrication Single Turbo kits are hand built in-house by experienced fabricators and welders. WCFab Single Turbo Installation Kits allow you to install an S300 or S400 frame turbocharger on any model year Duramax. All necessary components are included for the installation and upgraded high-flowing intercooler piping, Y-bridge, intake and stainless braided oil lines. WCFab stands behind its fabricated components and workmanship for as long as you own the product. In-house powdercoating capability allows customers to choose from hundreds of custom colors to accent the engine bay to their liking.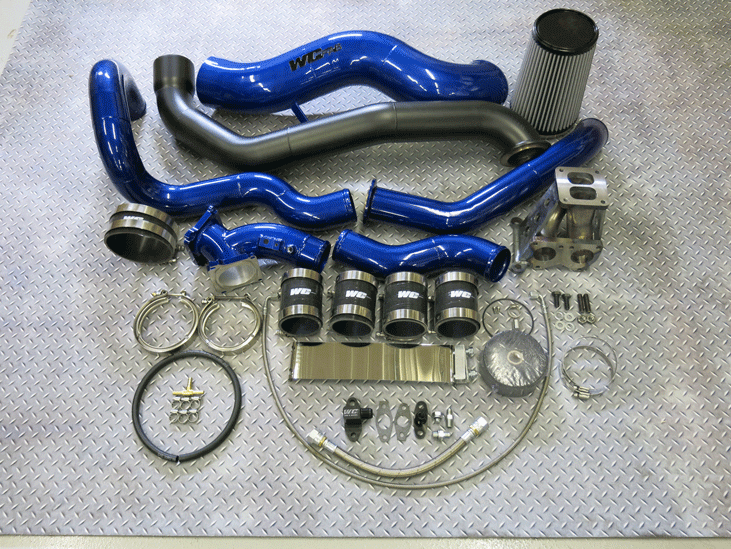 WEHRLI CUSTOM FABRICATION
630.277.8239
WCFab.com
SWAMP'S DIESEL PERFORMANCE
S467 "GANGSTER" TURBO
Swamp's Diesel is proud to offer the S467 Gangster turbo for customers wanting more power out of their diesel. This turbocharger can produce outstanding results with a variety of injector sizing, tuning and mounting configurations. The driving characteristics inherent in the design include great spool-up in the lower engine rpm range as well as a smooth, hard pulling, peak power curve. Swamp's likens spool-up to the "box" S467, yet claims this version offers a vast improvement in the upper rev range due to increased airflow. The company has found this turbo to be the best solution for someone wanting a well-rounded vehicle that excels at all tasks.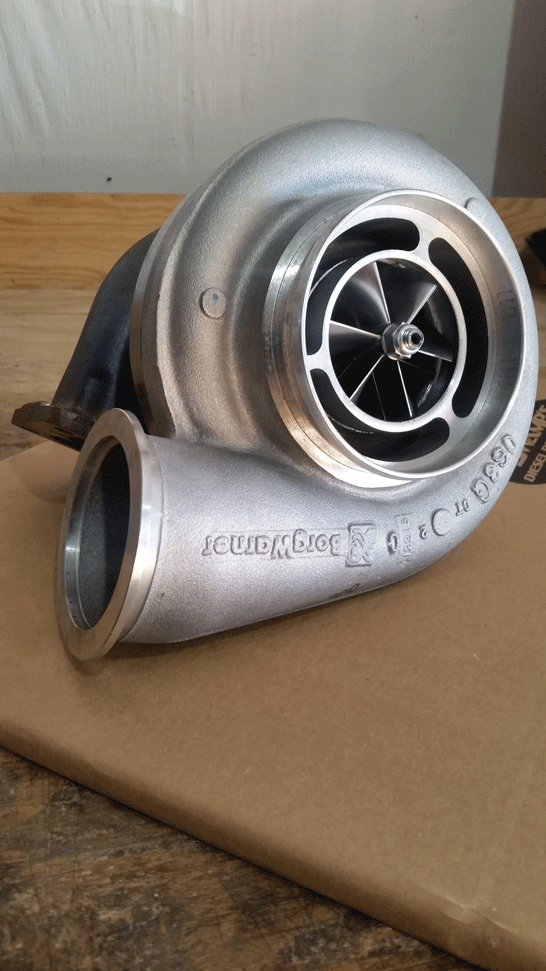 SWAMP'S DIESEL PERFORMANCE
866.595.8724
SwampsDiesel.com
WEHRLI CUSTOM FABRICATION
DURAMAX COMPOUND TURBO KIT
Wehrli Custom Fabrication Duramax Compound Turbo Kits are hand-built in-house by experienced fabricators and welders. WCFab Compound Turbo Kits are available for all model year Duramax trucks and have become one of the most popular upgrades for daily drivers and towing rigs alike. Compounding over your factory turbocharger has been proven to provide cooler EGTs with increased power and drivability across the entire rpm range, all while allowing the use and function of the factory turbine brake feature. Hundreds of custom powdercoat colors to choose from applied in-house allow the drivers to customize the underhood of their trucks to their liking.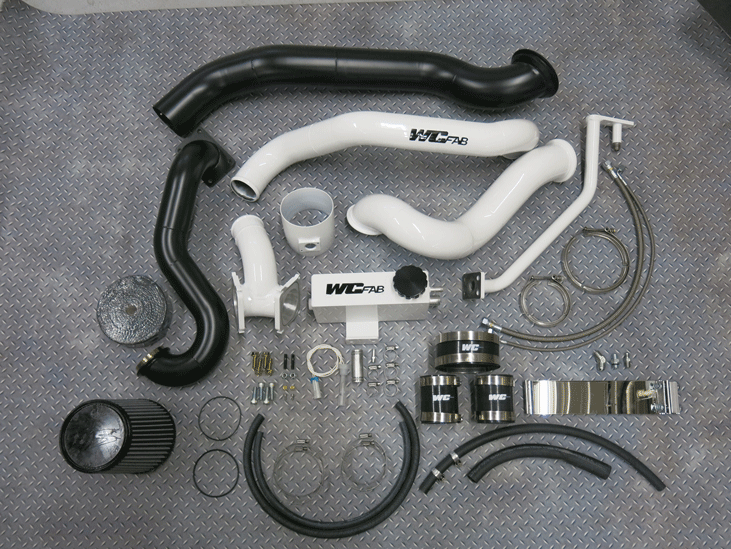 WEHRLI CUSTOM FABRICATION
630.277.8239
WCFab.com
PACIFIC PERFORMANCE ENGINEERING
6.6L DURAMAX 45/40 COMPOUND TURBO KIT
The PPE 45/40 Compound Turbo Package is for customers who are serious about adding massive torque and horsepower to their Duramax trucks. The key is how the strengths of the Garrett GTX4508R and GT4094R (or optional GTX4088R) are linked and how both turbos are designed to work in tandem at all times. Both turbos are made by Garrett and are oil and water-cooled (just like the OEM turbocharger), with ball bearings to ensure they provide unparalleled reliability as well as drivability. PPE combines the turbos with a custom 3-inch intake bridge with a 4-inch crossover tube and racespec, high-fl ow exhaust manifolds with up-pipes included.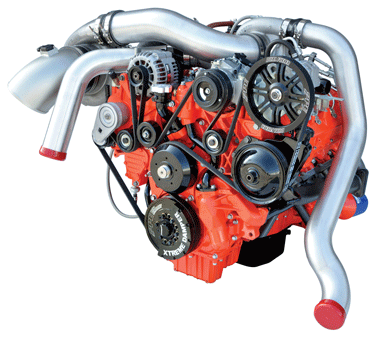 PPE
714.985.4825
PPEDiesel.com
POWER DRIVEN DIESEL
GARRETT BALL BEARING TURBO 1994-2007 5.9L CUMMINS
Power Driven Diesel has developed drop-in Garrett Ball Bearing turbos for 1994-2007 Dodge 5.9L Cummins trucks. These turbos are available with a 62mm, 64mm, or 67mm compressor wheel. They all feature billet 10-blade compressor wheels, and with ceramic ball bearing cartridges they are incredibly quick to spool up while offering great durability. The power range of these turbos runs between 500-675 hp depending on the size. The turbos are also water-cooled, which greatly contributes to the system's longevity. For a common rail Dodge, they will bolt up to the stock exhaust system; for non-common rail trucks an HX40 downpipe will be needed.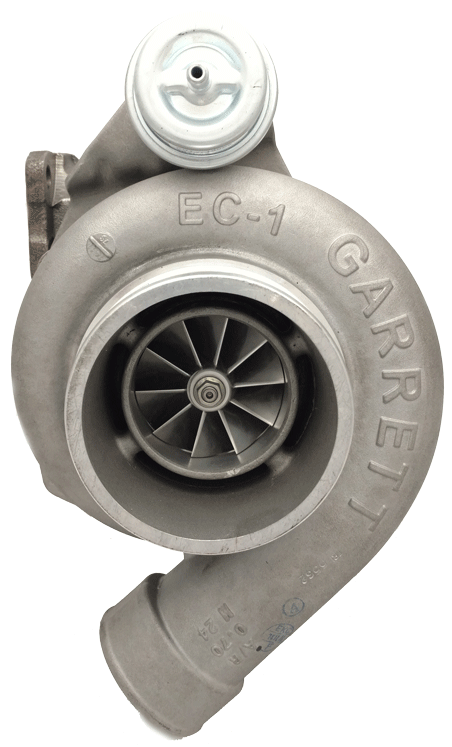 POWER DRIVEN DIESEL
435.463.7777
PowerDrivenDiesel.com
PUSHER INTAKES
1994-2002 CUMMINS LOW MOUNT COMPOUND TURBO SYSTEM
Pusher Intakes' new Low Mount Compound Turbo Systems for Cumminspowered trucks can be had with or without a BorgWarner S475 atmosphere turbo working with the factory turbo. The fully bolt-on kit does not require any welding and will support up to 750 hp with the stock Holset turbo and well over 1,000 hp with upgraded turbos. A 3.5-inch intermediate charge pipe with an integrated port for boost measurement is secured between the turbos with heavy duty 4-ply silicone hoses and stainless steel T-bolt clamps. Customers can expect lower EGTs, increased fuel mileage, increased towing capability, and proven support up to 1,000 hp.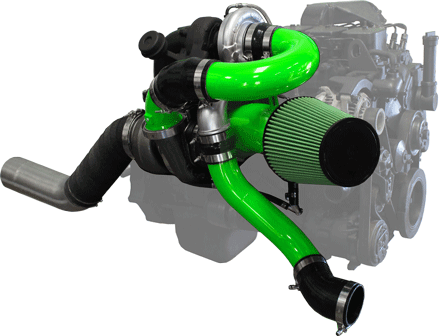 PUSHER INTAKES
866.900.6363
PusherIntakes.com
AFE POWER
'03-07 DODGE BLADERUNNER GT SERIES TURBOCHARGER
This BladeRunner GT Series Turbocharger from aFe Power is intended as a stock bolt-on replacement for 5.9L Cumminsequipped '03-07 Dodge trucks. It is a brand-new turbo that requires no core charge and offers dyno verified gains of 51 hp and 124 lb-ft of torque without additional fueling, but maximum performance gains will be achieved with fuel upgrades. The turbo comes with a billet aluminum adjustable wastegate actuator that is preset to 40 psi. It also features a billet aluminum compressor wheel that's lighter and stronger than stock for quicker spool and improved longevity.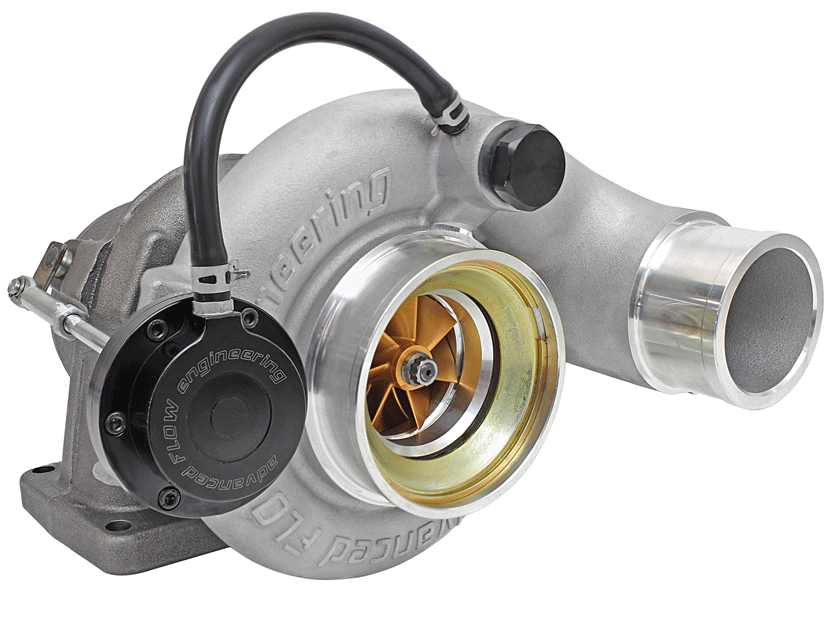 AFE POWER
951.493.7155
aFePower.com
DIESEL SITE
7.3L POWER STROKE TURBOS
DieselSite has finally released rebuildable ball bearing turbos for early 1999 and 1999.5-2003 7.3L Power Stroke trucks. Never pay full price for a turbo again—these upgraded new turbos are built with all-new components, not rebuilt. Larger shafts, ball bearing centers, larger Wicked Wheel 2 compressor wheels, larger AR ratios to support larger injectors, mechanical wastegate controllers, and drop-in applications are just some of the features. Benefits of the new turbos include reduced EGTs, more horsepower, and faster spool and throttle response, as well as superior surge control and airflow over stock.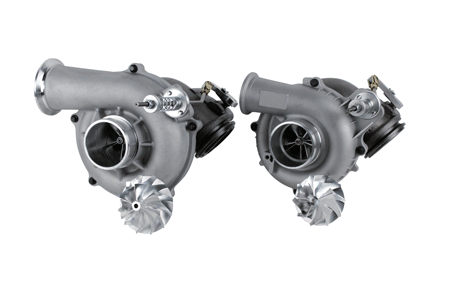 DIESELSITE
888.414.3457
DieselSite.com
FLEECE PERFORMANCE ENGINEERING
LML S362 FMW TURBO KIT The LML S362 FMW
Turbo Kit from Fleece Performance Engineering is a replacement turbocharger kit for 2011-2016 LML Duramax diesels. It comes with a 62mm FMW compressor wheel and high-flow turbine wheel rated for 625 rwhp. This turbocharger kit is guaranteed to enhance your driving experience. Fleece claims you'll enjoy the quick spool-up and throttle response of a small turbo and still get the big top end power you're looking for. Aftermarket tuning and aftermarket high-flow exhaust are required for installation of this turbo. Fleece Performance includes the new BorgWarner turbo, 4.4-inch stainless steel T4 pedestal, 3-inch stainless steel downpipe, and the necessary fasteners and hoses required for the installation.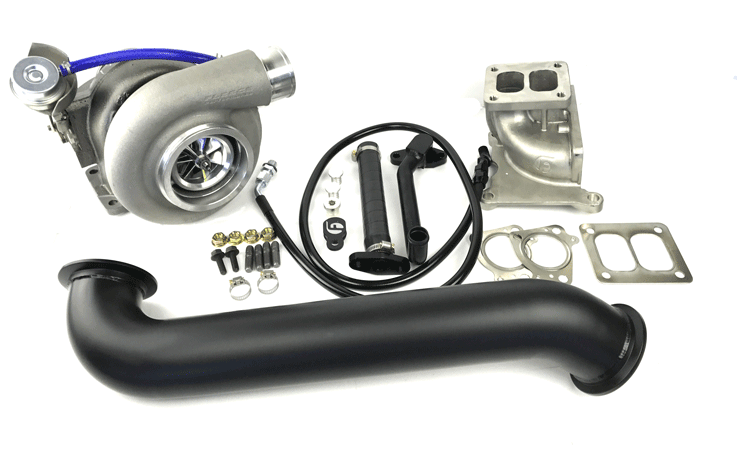 FLEECE PERFORMANCE ENGINEERING
317.286.3573
FleecePerformance.com
HSP DIESEL
DURAMAX COMPOUND INSTALL KIT
The HSP Diesel Duramax Compound turbo kit is a great option for the weekend warrior and for hauling heavy loads. This setup allows you to bolt on a larger atmosphere turbo in conjunction with the factory turbocharger. This is a very versatile kit designed to bring your Duramax to life. HSP turbo systems are available in a variety of color options to suit your taste. This kit will lower EGTs and includes ceramic-coated exhaust tubes for heat control, CNC-machined flanges for leak-free fitment, and mandrel-bent, coated steel tubing for increased strength, flow, and improved exhaust tone.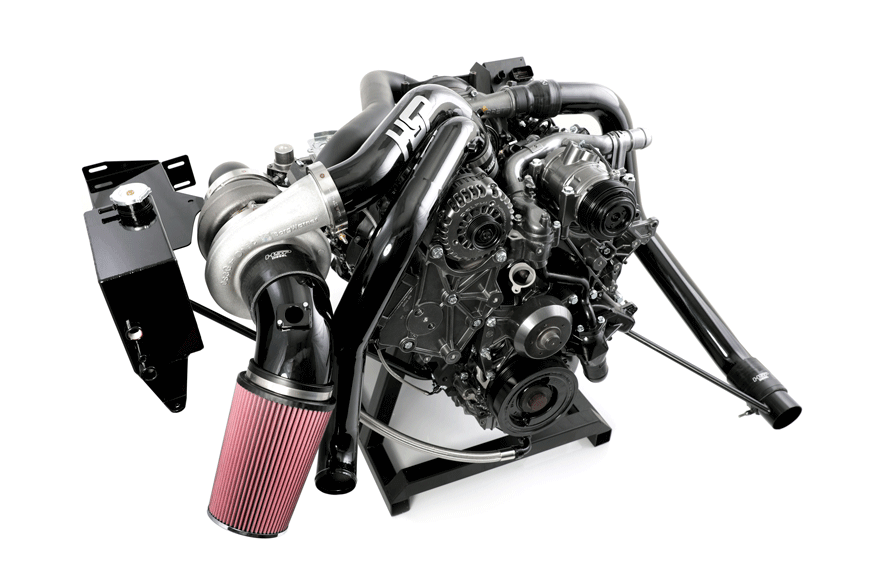 HSP DIESEL
586.785.3110
HSPDiesel.com
ENGINEERED DIESEL
CUSTOM TURBOCHARGERS
Engineered Diesel turbochargers are designed to give the best performance for your application. The middle line of Engineered turbochargers (shown here) can help your diesel truck make good, responsive power from 600 hp to over 1,500 hp. In-house design and machining of their billet compressor wheels provides wider power curves with better spool. Matching turbine options with each project gains more exhaust flow and lower exhaust gas temperatures. The turbos also feature precise machined compressor sections, upgraded bearing packages, and high-flowing turbine technology. The team at Engineered Diesel builds championship-winning turbochargers for a wide variety of applications.
ENGINEERED DIESEL
616.892.8204
Engineered-Diesel.com
BANKS POWER
1982-91 CHEVY/GMC NON-TURBO BANKS SIDEWINDER
Adding a turbo to a non-turbo truck can be a complicated affair; fortunately, there's a Banks Sidewinder Turbo Kit for just such a scenario as the 1982-91 Chevy/GM 6.2L non-turbo diesel trucks. Banks Power claims to offer the ultimate upgrade for 6.2L workhorses. In 1989, GM selected Banks as its 6.2L factory turbo option, and remained so until GM released its own 6.5L turbodiesel. To this day, Banks Sidewinder out-performs GM's 6.5L factory turbo or any other turbo for the pre-Duramax diesel engines. Sidewinder systems provide gains of 60 hp and 115 lb-ft torque at the rear wheels and up to 19% better fuel economy.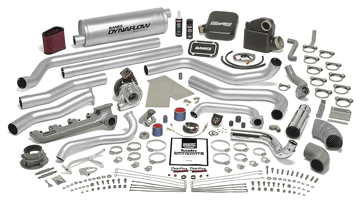 BANKS POWER
800.GET.POWER (438.76937)
BanksPower.com
ATS DIESEL PERFORMANCE
AURORA 3000 TURBOS
The Aurora 3000 turbos from ATS Diesel Performance for Dodge, Ford and GM are designed for towing and/or daily driving. The turbo can support power levels from stock to 500 hp while maintaining safe operation for stock engines and components. The Aurora 3000 offers quick spool times, lower EGTs and increased horsepower. With increased air volume, all fuel injected into the cylinder is utilized, creating more efficient performance and a more efficient, useable torque curve. All the parts you need are included for an easy installation and all ATS Turbos come with a 3-year/150,000-mile warranty.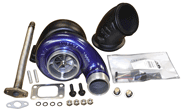 ATS DIESEL PERFORMANCE
866.209.3695
ATSDiesel.com
IRATE DIESEL PERFORMANCE
7.3L FORD T4 TURBO KIT
This 7.3L Power Stroke T4 kit from Irate Diesel allows the use of turbos that have much better airflow for daily driving, towing and performance. It replaces the factory leaky up-pipes with 304 stainless steel bellowed up-pipes that are all manufactured in the USA, and it includes all new stainless steel charge piping for the complete system. The kit is a complete turbo system replacement, allowing for better towing and/or performance applications when paired with a T4 platform turbo to suit your individual needs. This kit works on 1994.5-2003.5 7.3L Power Stroke Engines.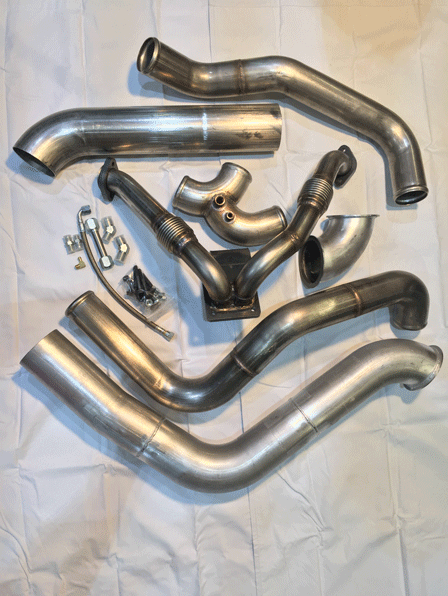 IRATE DIESEL PERFORMANCE
503.435.9599
IrateDiesel.com
PACIFIC PERFORMANCE ENGINEERING
6.6L DURAMAX 55/42 OR 55/45 BIG RACE TURBO KIT
For those looking to make a ton of horsepower and torque with a Duramax engine, PPE offers the Big Compound Race Kit. Taking over where the 45/40 Compound Turbo Kit leaves off, the 55/42 and 55/45 Big Race Turbo Kits are capable of supporting 1,700+ hp. These kits include everything that the smaller 45/40 Compound Turbo Kit has with the added airfl ow from larger turbos, as well as a reinforced intercooler to handle the higher boost pressures. The PPE Big Race Kits are hand-built for your engine, with the option to size the turbos according to your truck's specifi c performance needs and requirements.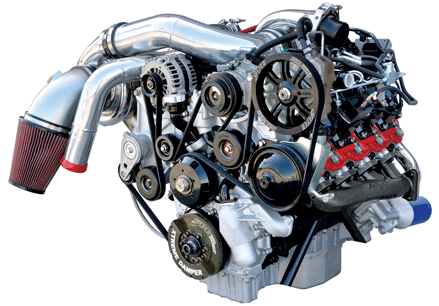 PPE
714.985.4825
PPEDiesel.com
STAINLESS DIESEL
5 BLADE MAFIA TURBOS
When considering a turbo upgrade, Stainless Diesel's vast lineup of 5 Blade Mafi a Turbos offers many options—anything from mild daily drivers to all-out horsepower builds or class-specifi c competition turbochargers like the company's class-winning 2.5 charger and NTPA leading 3.0 smoothbore. Faster spool-up and transient boost response makes keeping lower EGTs an easy task for the 5 Blade. In testing, the 5 Blade Mafi a lineup has seen signifi cant power gains over other standard turbos. Along with the increased performance the 5 Blade design provides, it provides the ever sought after "jet turbine" whistle.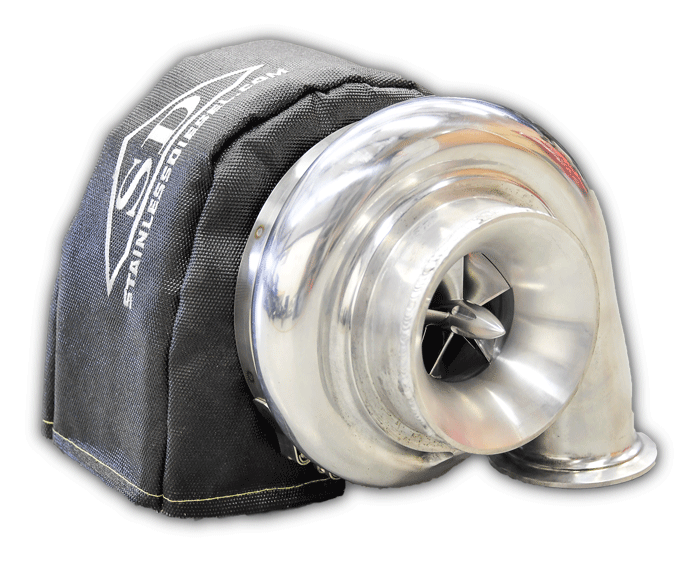 STAINLESS DIESEL
269.268.2223
StainlessDiesel.com
INDUSTRIAL INJECTION
SILVER BULLET PHATSHAFT TURBO
The Silver Bullet PhatShaft turbo from Industrial Injection uses a 74mm turbine wheel and the choice of 62mm, 63mm, 64mm, 66mm or 69mm forged and milled compressor wheels to suit various applications with "drop-in" T3 or T4 turbine housing fi tment. For safe towing power, the turbos feature an internal wastegate with an adjustable boost control wastegate elbow and oversized wastegate ports to reduce backpressure. For longevity, the Silver Bullet PhatShaft turbos use dual oil groove bearings and steel 360-degree thrust bearings. Compressor covers are fully polished for good looks and feature a chamfered compressor inlet to maximize airfl ow and reduce turbulence for optimal performance.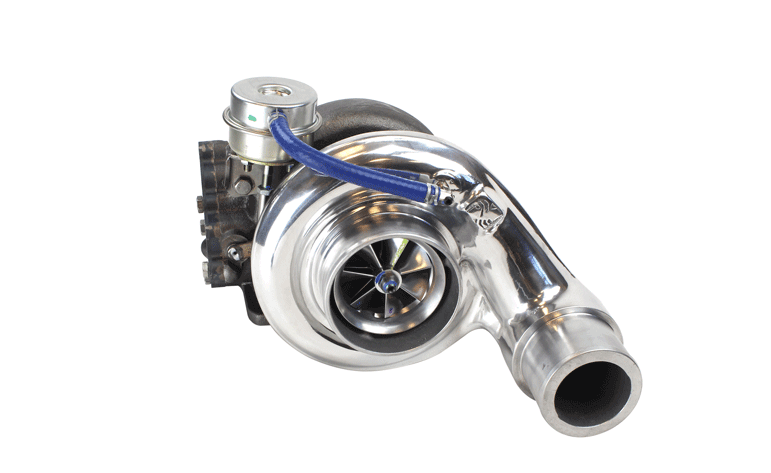 INDUSTRIAL INJECTION
800.955.0476
IndustrialInjection.com
HSP DIESEL
DURAMAX SINGLE INSTALL KIT
The HSP Diesel Duramax Single install kit is perfect for anyone looking to increase performance and improve the looks of their engine bay with many powdercoating options available while updating the limited factory VGT turbocharger to a more robust and better-performing BorgWarner or Garrett mid-frame based turbo. This versatile kit is designed to provide increased power and improved spool-up. Kits come with upgraded high-strength silicone boots and a heat deflection box with an airtight seal to prevent hot engine temps from entering the air filter. The kit is capable of supporting 600-900+ horsepower depending on turbo, tuning, and fuel system options.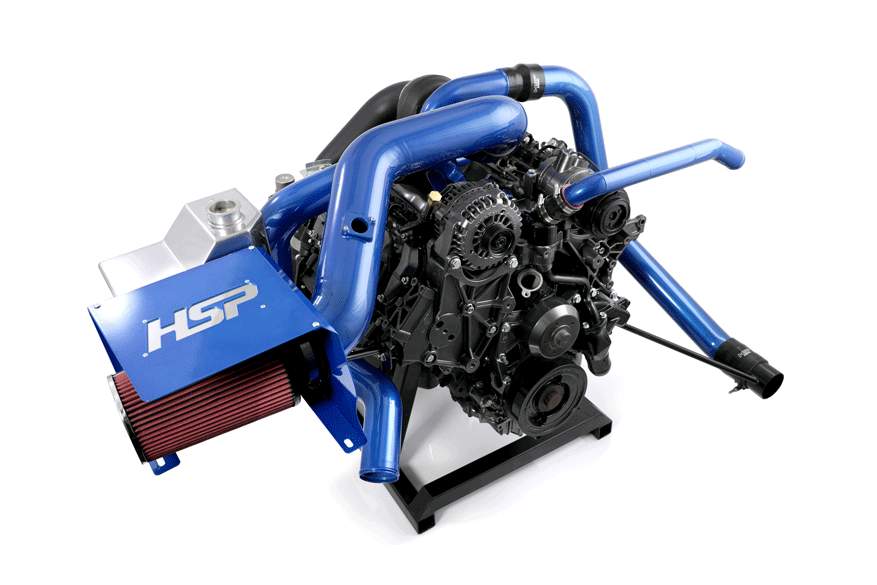 HSP DIESEL
586.785.3110
HSPDiesel.com
BULLET PROOF DIESEL
GARRETT DIRECT REPLACEMENT FORD 6.0L TURBO
Bullet Proof Diesel offers a brand-new Garrett direct replacement turbo for the Ford 6.0L Power Stroke—so why deal with remanufactured turbochargers when you can get a brand-new unit from Garrett at Bullet Proof Diesel at a great price? The Garrett GT3782VA is the same turbo used as OEM equipment on the 6.0L Ford Power Stroke diesel trucks and as such, installation is easy and reliability is top-notch. This turbo comes with new solenoids already in place and includes a hardware kit to make the installation as easy as possible. Additionally, there is no core charge for this turbo when purchased from Bullet Proof Diesel.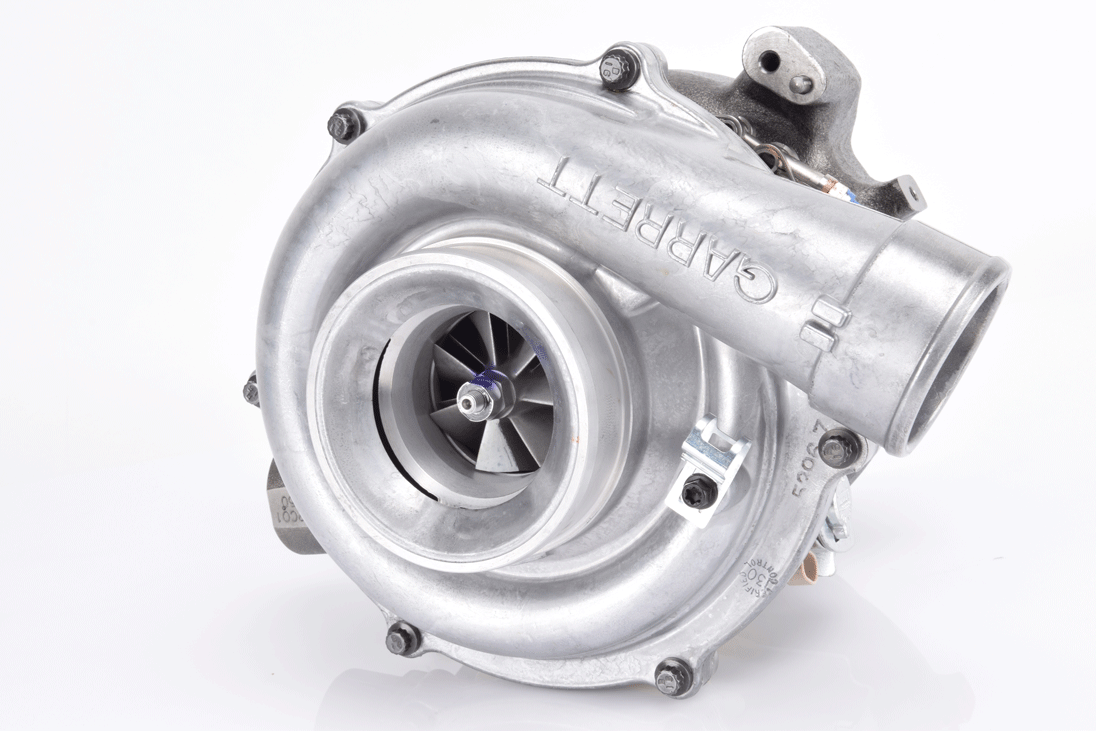 BULLET PROOF DIESEL
888.967.6653
BulletProofDiesel.com
BD DIESEL PERFORMANCE
DODGE 5.9L/6.7L COBRA TWIN TURBO KITS
BD Diesel Performance offers a complete bolt-on compound turbo replacement kit for common rail Cummins engines. The kit uses BorgWarner compounded turbos matched to provide the wide range of air needed for Street and Strip performance from 700 to 1,400 hp! Kits include the BD exclusive ultra-close radius Cobra Head turbine outlet that has been widened to allow maximum flow with no restriction and the split-flow cast connection pipe that provides even flow to the twin-volute turbine housing for quick response. The cold air intake shields out hot engine bay temperatures and includes a washable air filter designed to handle 2,320 cfm. The connection includes MAF sensor ports.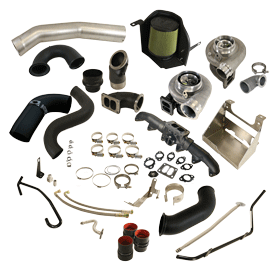 BD DIESEL PERFORMANCE
800.887.5030
DieselPerformance.com
BORGWARNER
AIRWERKS SX-E TURBOCHARGERS
BorgWarner Turbo Systems has released new AirWerks SX-E super core assemblies for performance applications. These new turbochargers are purpose-engineered for both diesel and gasoline high-performance applications and are available in S200, S300, S400, and S500 frame sizes. SX-E super cores contain the following new features: 360-degree thrust bearings, integrated speed sensor port and pre-machined boost port, flexible outlet options, forged milled compressor wheels with extended tip technology, optimized compressor stage aerodynamics, and interchangeable existing turbine housings. Contact a BorgWarner Distributor for more information.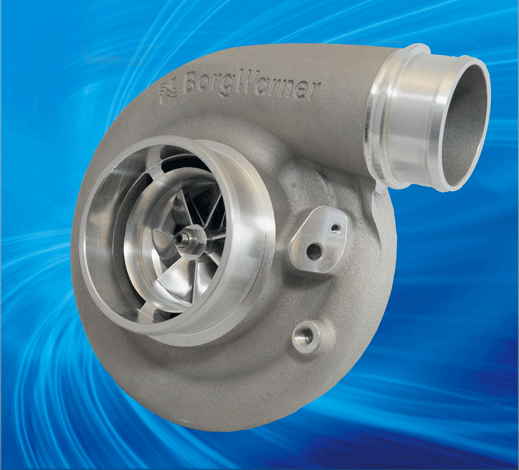 BORGWARNER
BorgWarnerBoosted.com