WALKING TALL 1965 FARMALL 806 FWA
When it debuted for 1963, the Farmall 806 was one of International Harvester's high points. The company was still punchy from the disastrous introduction of the 560 models and their host of technical issues. The all-new 06 Series put that debacle to bed once and for all. The 06 models were a genuine triumph for IH and the new 806 led the charge.
Putting out nearly 95 PTO horsepower, the 806 was the IH powerhouse tractor for several years and at the top tier for rowcrop tractors. Power come from an all-new diesel, the D361. The 806 was offered as a Farmall rowcrop model or a Wheatland style or industrial. It could be delivered with a wide front, or a narrow. AND it could have a driving front axle. IH called it Front Wheel Assist (FWA), and it's still known commonly by that term today. This wasn't IH's first rodeo with FWA, however.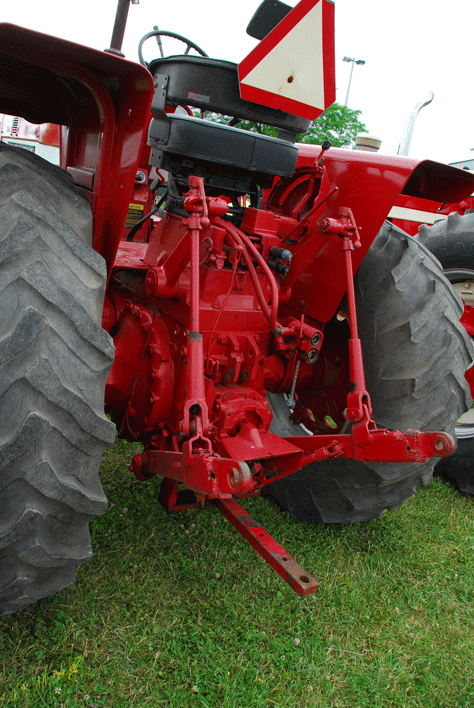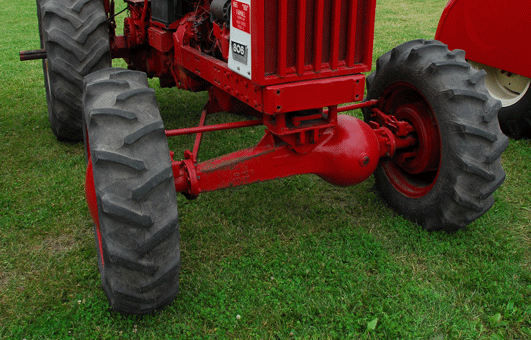 Through the '50s, FWA was offered by aftermarket companies and you could see it installed onto tractors of any color. Elwood Equipment Company, of Elwood, Illinois, had been doing that since 1947 using military surplus GMC truck axles. When IH introduced its new line of tractors for 1959, Elwood had attracted enough good attention that, after tests, it was validated as an IH-approved, dealer-installed accessory. It proved to be a great accessory for the farmers who needed it.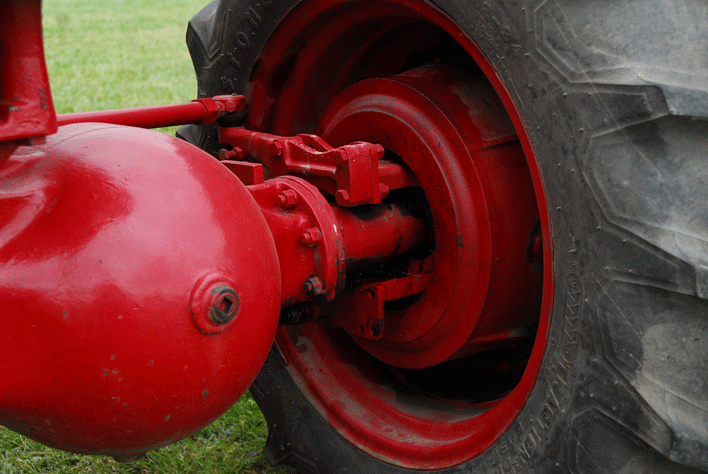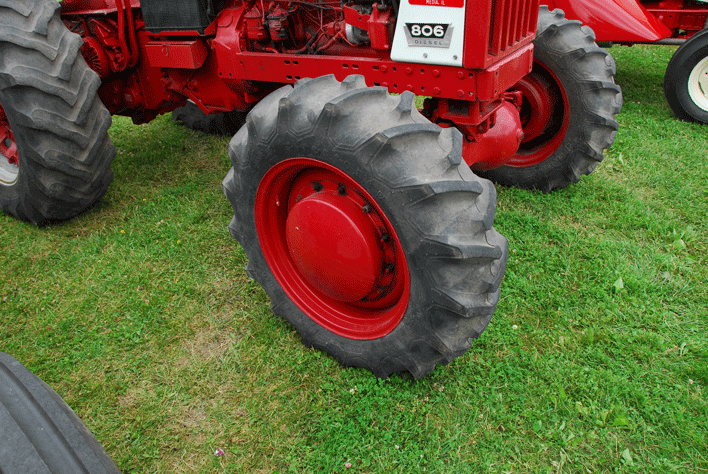 When the new generation debuted, IH retained the FWA option but used a different supplier. This time, they went with American Coleman of Littleton, Colorado. Coleman had been in business since the 1920s building large all-wheel-drive trucks. That market was wide open when they started, but by the time World War II was over they were reduced to being a small fish in a very large pond. Coleman adapted into building and selling conversion kits for trucks, light trucks on up to the biggest there were. As it happened, they were dealing with IH, selling kits for IH medium and heavy trucks. It isn't clear why IH pushed Elwood aside in favor of Coleman since IH had made no public complaints about Elwood. It could have been that Coleman was a larger company and a working relationship was well established, or it could have been cost. Elwood continued selling kits to dealers and individual tractor owners of all makes, even for IH 06 model tractors.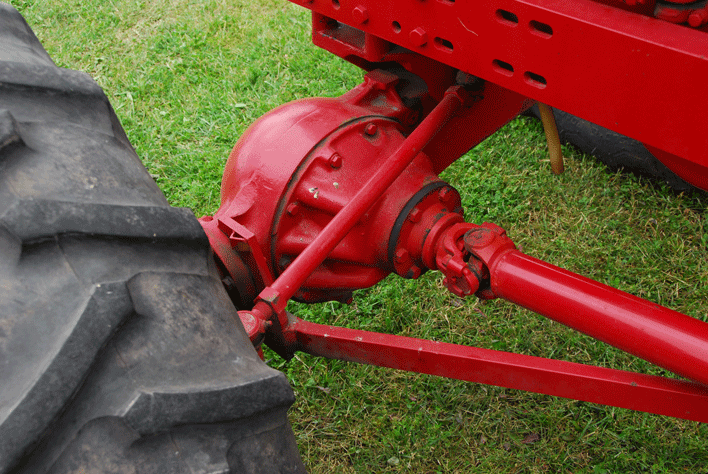 The Coleman axle was a bruiser and a very unusual idea. Designed by Harleigh Holmes in the early 1920s, the patent for the design was filed in 1925 by him and granted in 1927. In that era, the hardest part of designing a steerable front axle was the knuckle. Transmitting power "around the corner" was not yet a perfected art. Instead of incorporating a universal or constant velocity joint into the axle shaft assembly, Holmes put it around the axle end. The very large hub covers on a Coleman axle protect what can be described as a gigantic universal joint that pivots around the axle end. Though big and complex, it worked as well as any other setup of the era and had a few advantages. The biggest problem was that it couldn't be scaled down very much, so it's always seen on larger trucks. Coleman put its smallest model onto light trucks from the late '40s to the late '50s and it didn't work out very well. The axle weighed as much as the engine and it required very oddball wheels.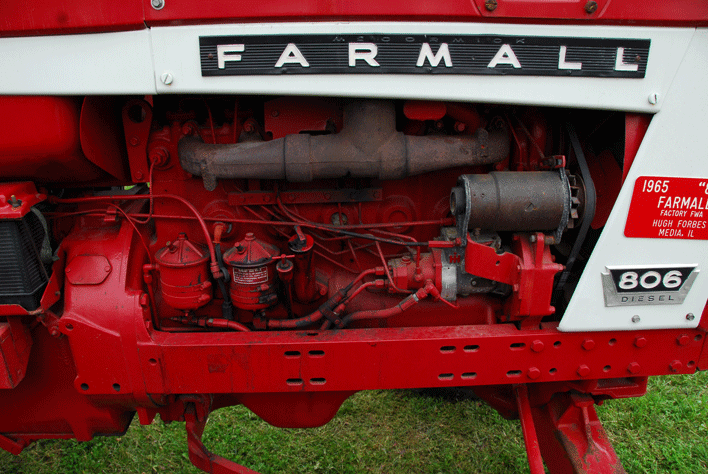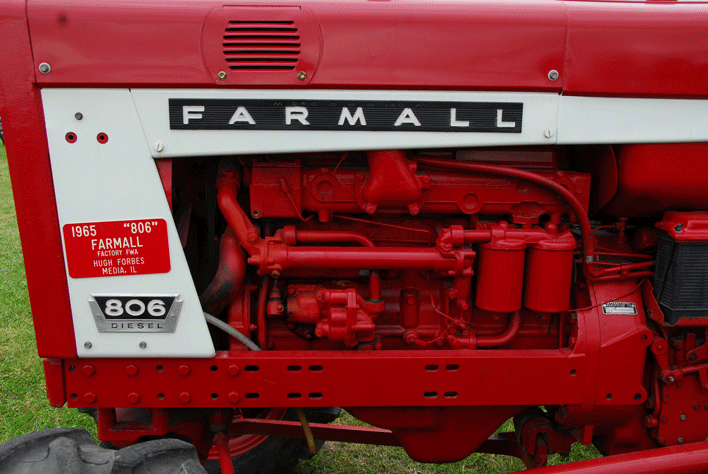 In tractors, the Coleman was apparently a good fit. The extra weight of the cast Coleman housing, with its Eaton-built pumpkin, was a welcome element. The output drive from the front axle was added into the range box of the final drive and a driveshaft led forward on the left side of the tractor. The Coleman kit could be ordered factory installed or for dealer installation, if an owner found a need for it after he had already bought the tractor. The axle could be swapped back to a row crop axle in about an hour and a loader could be used in conjunction with the FWA. One of the more interesting features is that the factory-installed kits used the "All-Wheel Drive" emblem from the IH Scout 4×4 SUV on the cowl. There are some exceptions to this, of course.
The addition of the FWA allowed the 806 to put more of its highfor- the-era output into tractive effort. As the tractor manufacturers neared and reached 100 hp, they learned it was getting more difficult to maintain traction with only two tires. Bigger tires, more weight and duals helped. The addition of too much extra weight was counter-productive because it created compaction issues in certain types of ground, reducing yields. Dual remediated some of that but added a width and cost dimension in some venues. Better and bigger tires are usually a help but there's only so far you can go in that direction. A driving front axle was a good answer and the preponderance of FWA tractors today is proof of concept.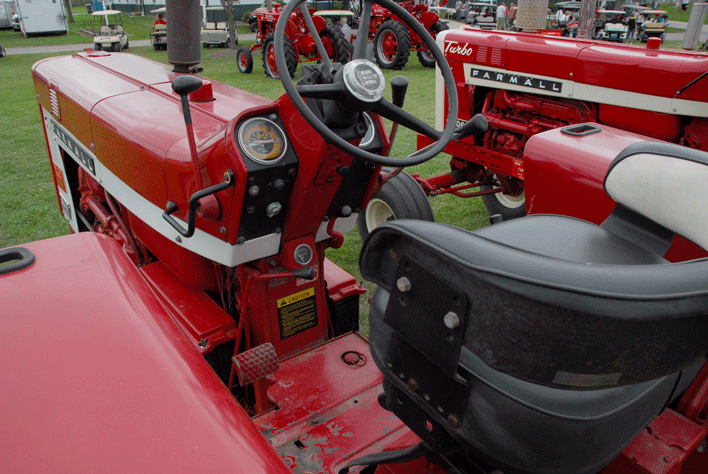 A typical FWA has one major flaw: reduced turning radius versus a rear-drive unit. The wheel angularity of a driving front axle cannot be quite as tight as a dead 2wd axle, so the turning radius is reduced. This was more a problem with the old closed-knuckle GMC or Coleman axles than it is for the more modern open-knuckle axles, but it's still a minor downside.
It's probably worth a few words at this point to explain the difference between Front Wheel Assist (a.k.a., MFD, Mechanical Front Drive, or MFWD, Mechanical Front Wheel Drive) and Four Wheel Drive (FWD or 4wd). In tractors, it's akin to the difference in light trucks and SUVs between full-time and part-time four-wheel drive. A FWA tractor has a driver control to engage the front axle.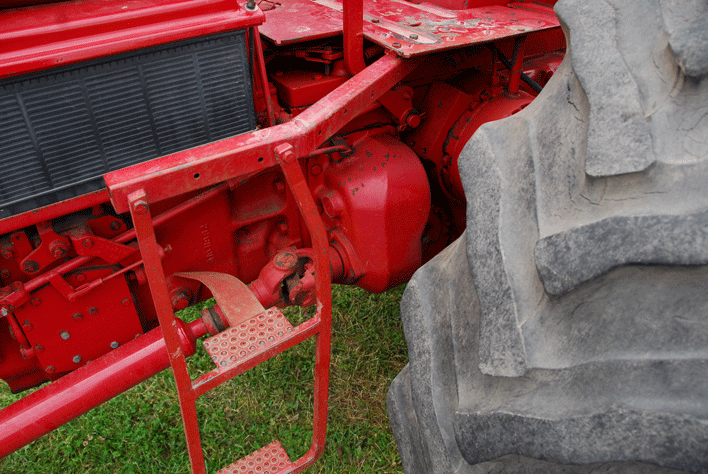 A FWD tractor is a full-time unit. Unlike a full-time road vehicle, it doesn't have a center differential. It doesn't really need one because it operates mostly on dirt. Also, the FWD tractor has the same size tires front and rear and is usually an articulated tractor that pivots in the center to steer rather than have steerable axles. There are, and have been, four-wheel-steer FWD tractors, with steerable axles at both ends but articulated has become the norm.
When the 806 was supplanted as the top dog red tractor in 1966 by the turbocharged 112hp 1206, the Coleman FWA was an option there as well. Ditto for the successors to the 06 line, the 56 series units. FWA went on to be an increasingly common part of the farming landscape. Coleman maintained supplying IH with axles into the 86 Series for 1977. Coleman was already fading at that point and would close its doors in 1986, but IH would source axles and other parts from various manufacturers as the demand for FWA became greater.
Today, early FWA tractors are extremely collectible. Parts for the Coleman axles have become difficult to obtain, as the owner of our stellar example here, Hugh Forbes, would probably attest. We saw this rig at the 2016 Red Power event in Wisconsin but were never able to make contact with Hugh. If IH, Case and Case IH 4wd and FWA tractors are of interest, a new book is out by Octane Press called Red 4wd Tractors, by Lee Klancher, that will keep you transfixed for hours.DW
TYPICAL SPECIFICATIONS: 1965 FARMALL 806
ENGINE: 6-cylinder, DI, D361
DISPLACEMENT: 361 ci
BORE & STROKE: 3.125 x 4.50 in.
*RATED PTO POWER: 94.93 @ 2,400 rpm
COMPRESSION RATIO: 17.0:1
TRANSMISSION: 16 (4x2x2)
TIRES: Front, 11.2-24 Rear, 18.4-34
*FUEL CONSUMPTION: 6.34 gpm @ max power
WEIGHT:
FUEL CAPACITY: 42
*TOP SPEED: 20 mph
*As rated by Nebraska Tractor Test 857 of a rear-drive unit