AF-350 DUALLY YOU COULD DRIVE UNDER THE DOOR
Do what you like, like what you do. Easier said than done sure, but truer words were probably never written. Look around the truck-builder's hobby and you'll see a good number of people living the mantra. Hell, look in the mirror, and you might find it also applies to you.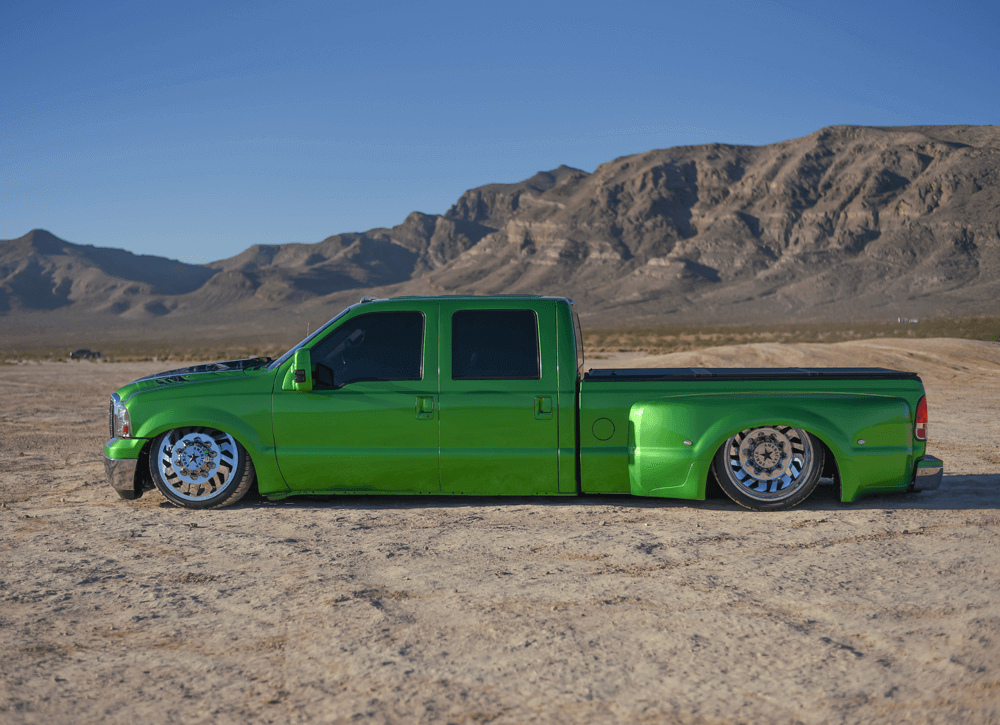 Damon Flippo is a big rig trucker from Glendale, Arizona. He is also a minitrucker from back in the day, since the early '80s, so he has been involved in one truck scene or another for a couple of decades. His latest project is this 2002 F-350 dually.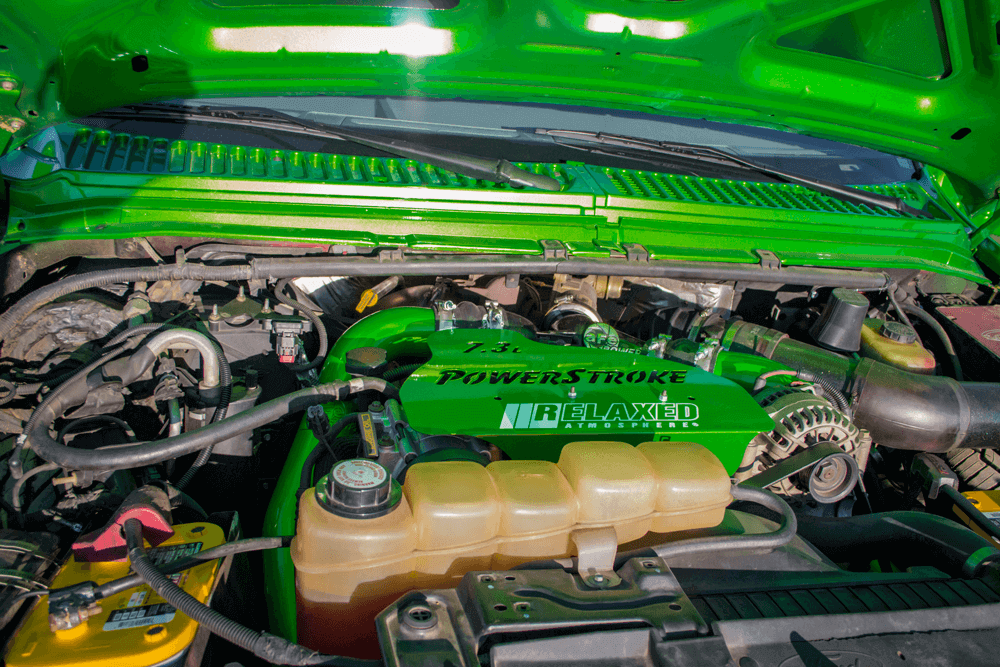 We were curious, so we posed the question to Flippo himself: Did your love of trucks affect the career you chose, or was it the other way around? "I've always been a largecar fanatic," he says. "And yes, I believe the daily job and making what you do for a hobby go hand in hand."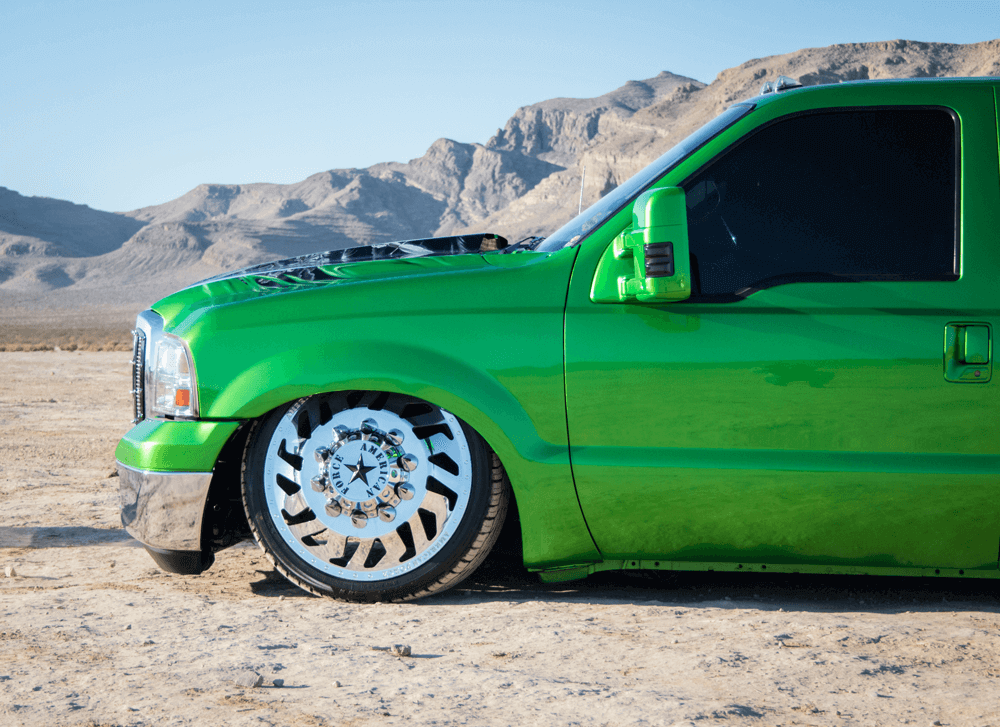 Flippo drives a '12 Peterbilt 389 with a flat-top sleeper and a 280 wheelbase on the highway, so it makes sense that he would gravitate to an oil-burner when he was at home driving on the street. His club is called Relaxed Atmosphere, and its crew members, his friends, were instrumental in getting this latest rig up and running. Or down and running, as the case may be. Way down. On the pavement, in fact.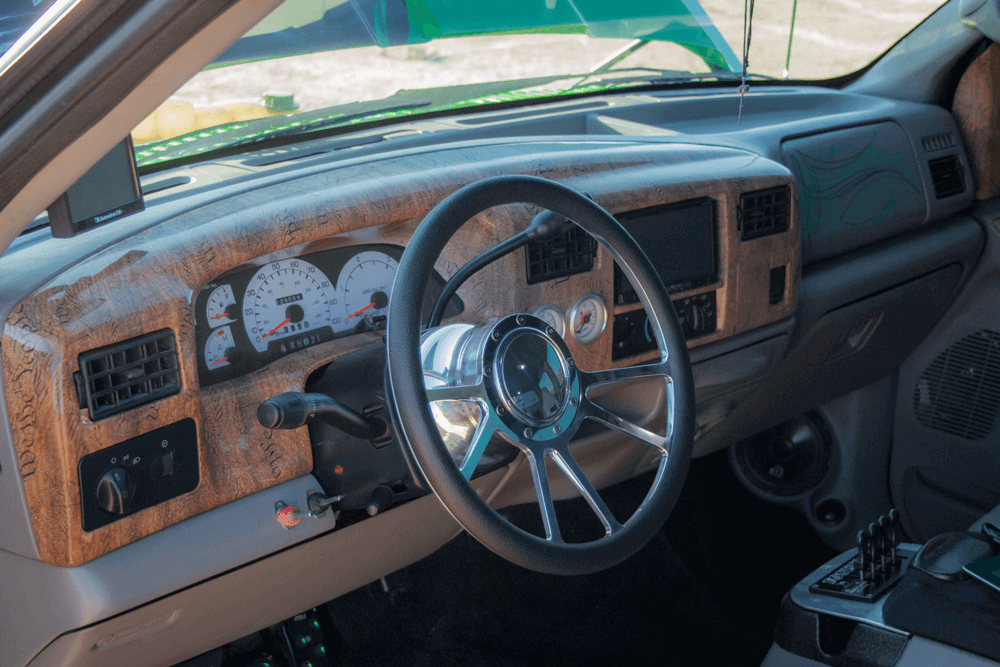 Flippo located the truck through his club affi liation; another member in Tennessee was looking to sell, so he decided the time was right and jumped on it. Flippo made the drive, towed it back to Arizona and wasted no time in tearing it apart. Everything had to go, including the interior, factory underpinnings, and various swaths of sheet metal, including the bed.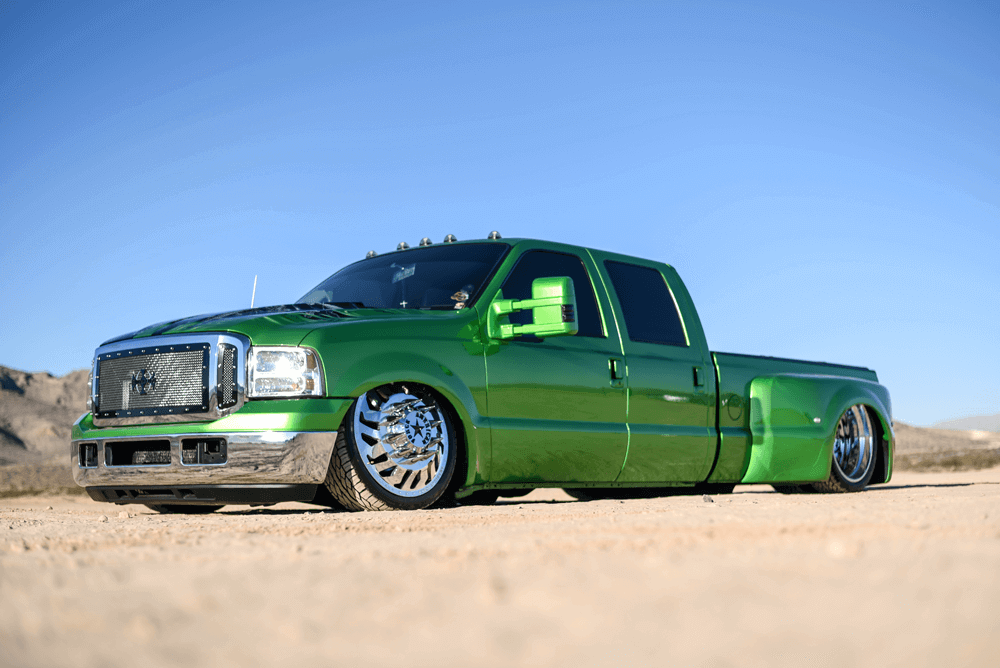 "Biggest challenge on it was getting it to lay down and still have functioning AC for those Arizona summers," Flippo says.
To that end, the rear end and bed were fully boxed and bridged so that the full length of the body can be literally dropped on the dirt, so to speak. The bed itself has been raised 6 inches and the suspension's range of motion is further enabled by a custom four-link rear setup; vertical movement is actuated by Peterbilt airbags, while vertical oscillation is controlled via Pure Performance smooth-body shocks. Ditto for the front, the entire setup being inspired by the functionality of Flippo's big rig. A panhard bar was added to keep the rear axle on its horizontal axis. A Viair compressor setup feeds the bags and a Fourplay switch panel at the front of the cabin's console controls the ride.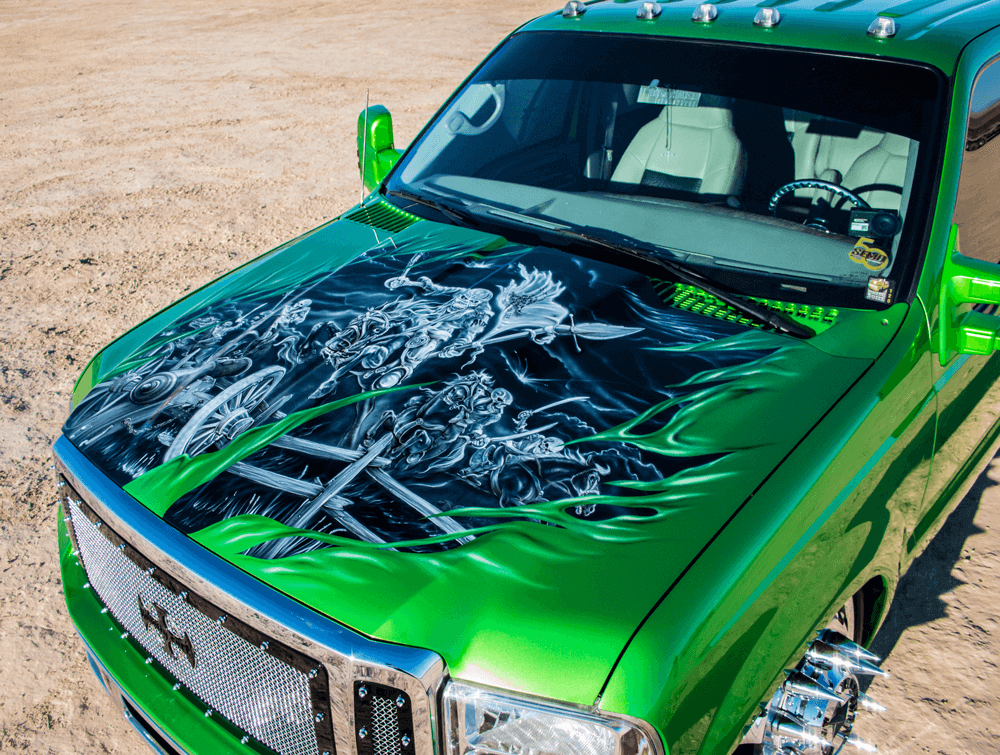 The wheels are 24-inch American Force Bruisers finished in gleaming chrome and flossing a 10-lug bolt pattern. Tires are Falken Ziex S/TZ05s in a 295/35R24 format. The AFWs feature a slick jet-turbine look and a polished finish that hark to Flippo's old school minitrucker roots. The Ziex S/TZs are Falken's premium sport truck tire for full-size applications, so they fit this bill perfectly.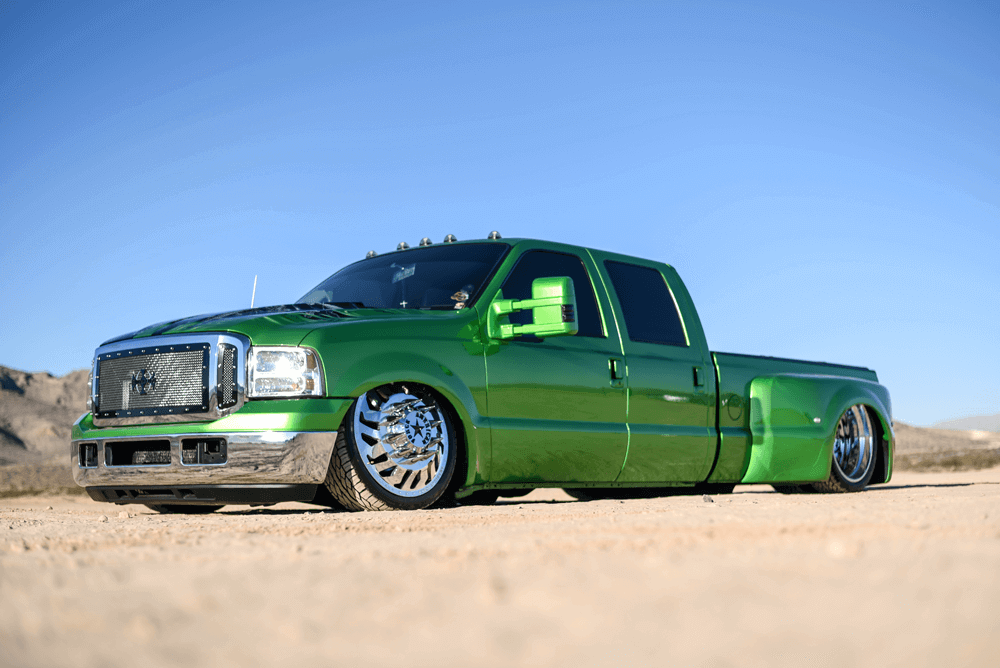 The engine pulls air from an AFE intake feeding into an AFE manifold. AFE also provided upgraded intercooler plumbing. The 7.3L exhales through a mean Magnaflow stainless steel straight pipe, 5 inches from the turbo back, which is great for making backpressure flatline as well as for waking the dead in Flippo's quiet suburban neighborhood when his right foot gets angry.
Engine programming is accomplished with an SCT Livewire TS and Swamp's Diesel PCM. Custom tuning was performed by Pure Addiction Diesel in Oregon. For added capacity and range for the 7.3's augmented power—which Flippo estimates to be a solid 400 hp—the 35-gallon fuel tank was upgraded to a 42-gallon well mounted in the factory location.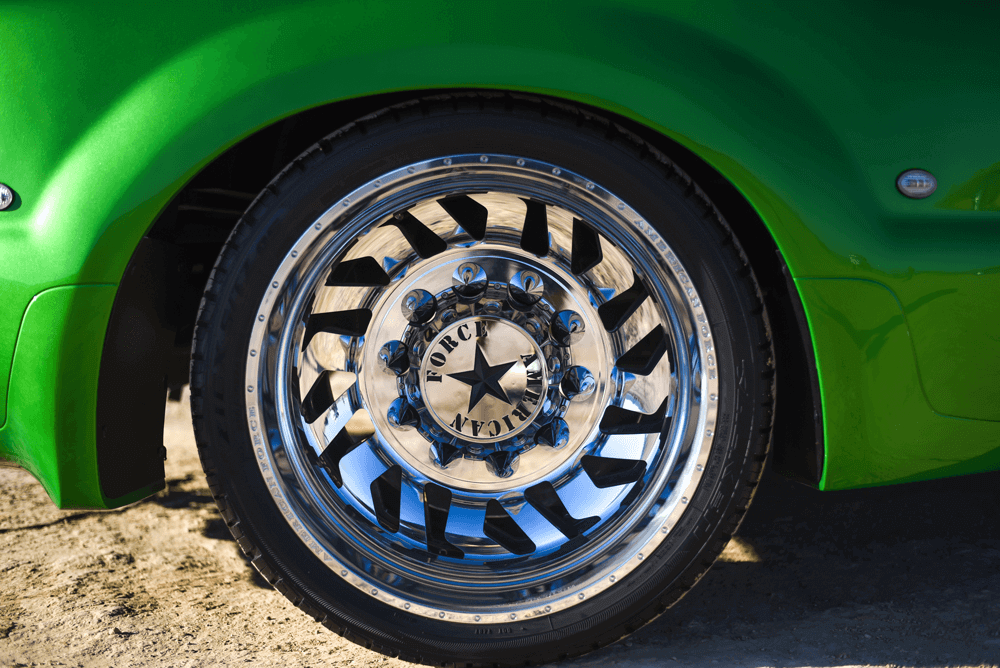 Once Flippo's fabrication shop, with help from the Relaxed Atmosphere crew, was able to pin down the car's mechanics— check the dead-level profile shot for evidence—it was time to address the truck's visual aspect. The front and rear bumpers were swapped out for newer units—a 2006 and a 2008, respectively—for a smoother look that Flippo appreciates in the older trucks. The stock hood was replaced with a Reflexxion cowl-induction unit.
Inside the cab, the seating surfaces were stripped bare and reskinned with Roadwire leather; the headliner was pulled and replaced with a swath of black velour. The factory stereo was gutted and replaced with a Pioneer head unit and door speakers, then augmented with dual 2,500-watt amplifiers driving the components and two 12-inch subwoofers. Easily the coolest interior feature though are the dash panels, which at a glance might seem to be some kind of wood veneer but are in fact hydrodipped with a collage from the U.S. Constitution, courtesy of SBC Hydrographics.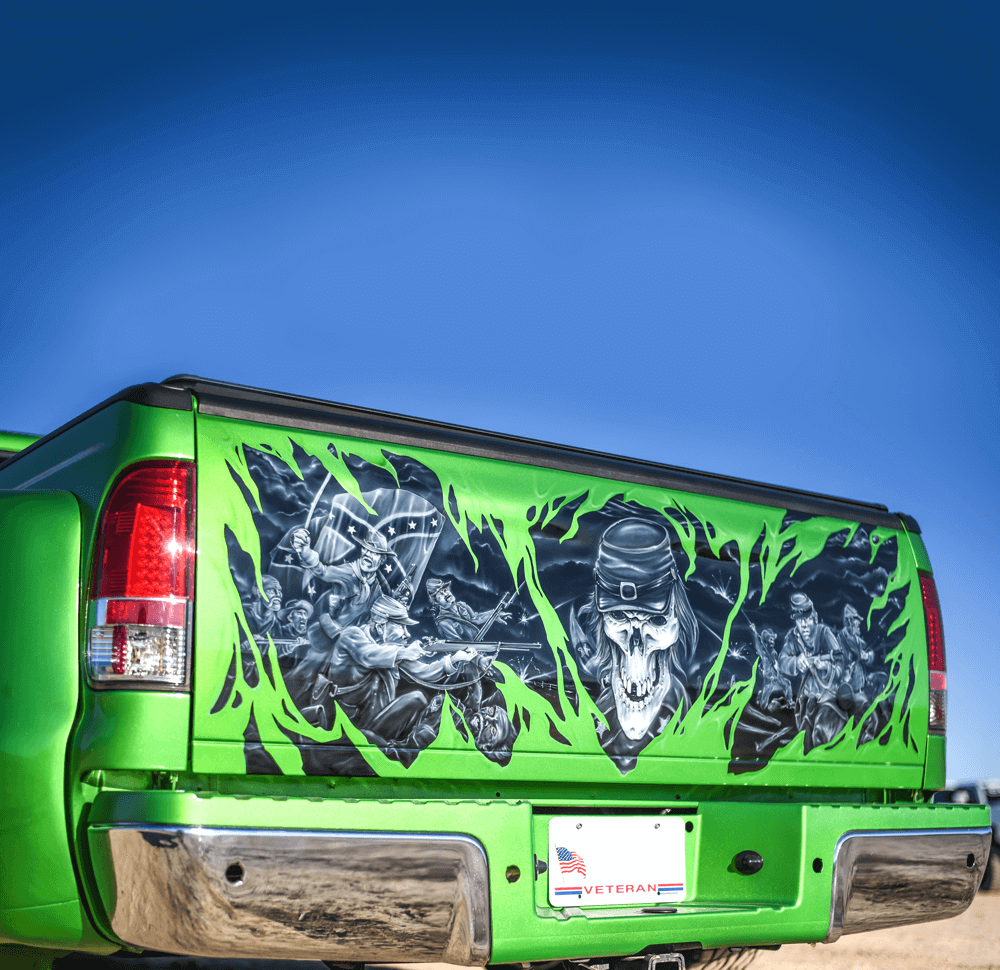 But if your eyes were to catch this truck at a few hundred yards, it's the paint that would skewer them and reel you in for a closer look. The hue is 2010 PPG Fusion Green, which wouldn't look at all out of place on some kind of Lamborghini (the green also shows up in the engine bay on the intake manifold and intercooler pipes).
The paint was applied by Chad Ricco of CR Design, who also supplied the wicked airbrushed graphics on the hood and tailgate. The Undead Civil War theme ties into the owner's basic concept for this build, which was American unity. Look closely at the hood and you'll see Eddie the Head riding a frothing warhorse and hoisting the Don't Tread on Me banner. Eddie's a nod to the truck's theme and Flippo's affinity for old school Iron Maiden—which makes the man worthy of hoisting a beer with this author.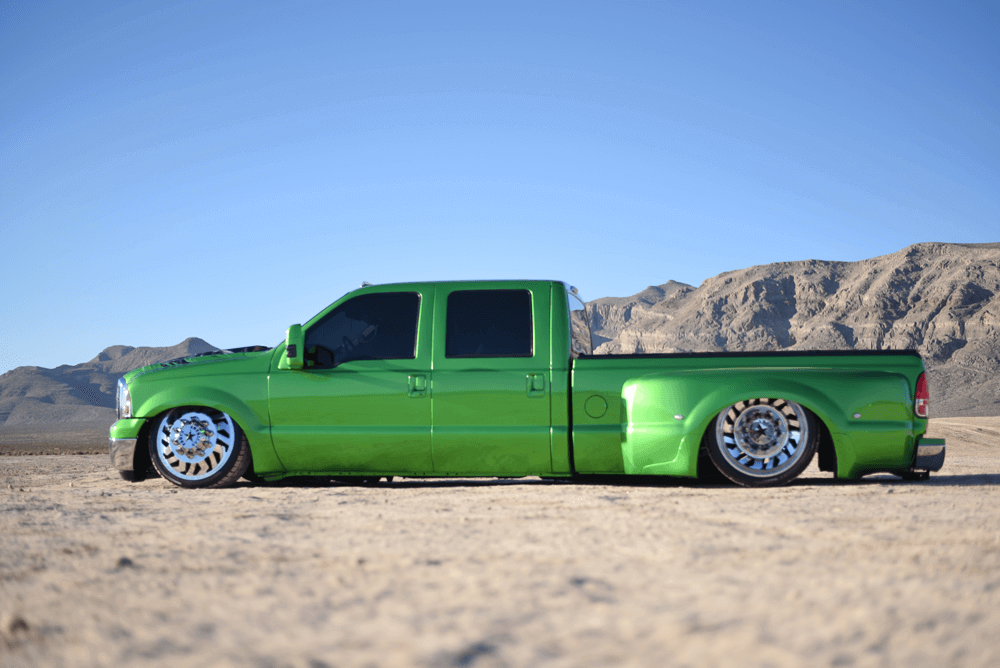 Flippo's F-350 made the drive to SEMA 2016 in support of Bolt Lock, an experience for which he says he's grateful, even though it wasn't his first trip to the Big Show. When asked about his stated Unity theme, he reveals that he's both a veteran and a patriot; Flippo followed his father's footsteps into the USMC, where he served as a SAW machinegunner.
Given the trying times we fi nd ourselves in, the man himself articulates it better than we ever could. "This country started with men willing to stand for their beliefs," Damon Flippo says. "I believe we all need to remember that this is a country of immigrants, but they came here to be Americans. And we need to remember what this country is built on and remember we are all one."
And with that, he drops the mic.DW