The most effective trucks are the ones that tell a story, with ideas, ideals and a sort of history behind them. Only then does the truck really take on a life of its own. There are no limits—except those temporary ones imposed by time and money, of course—to the amount of modification any one vehicle can be subjected to. But there's also a not-so-subtle line between crafting a truly unique, meaningful one-off ride and cobbling up a glorified parts hanger.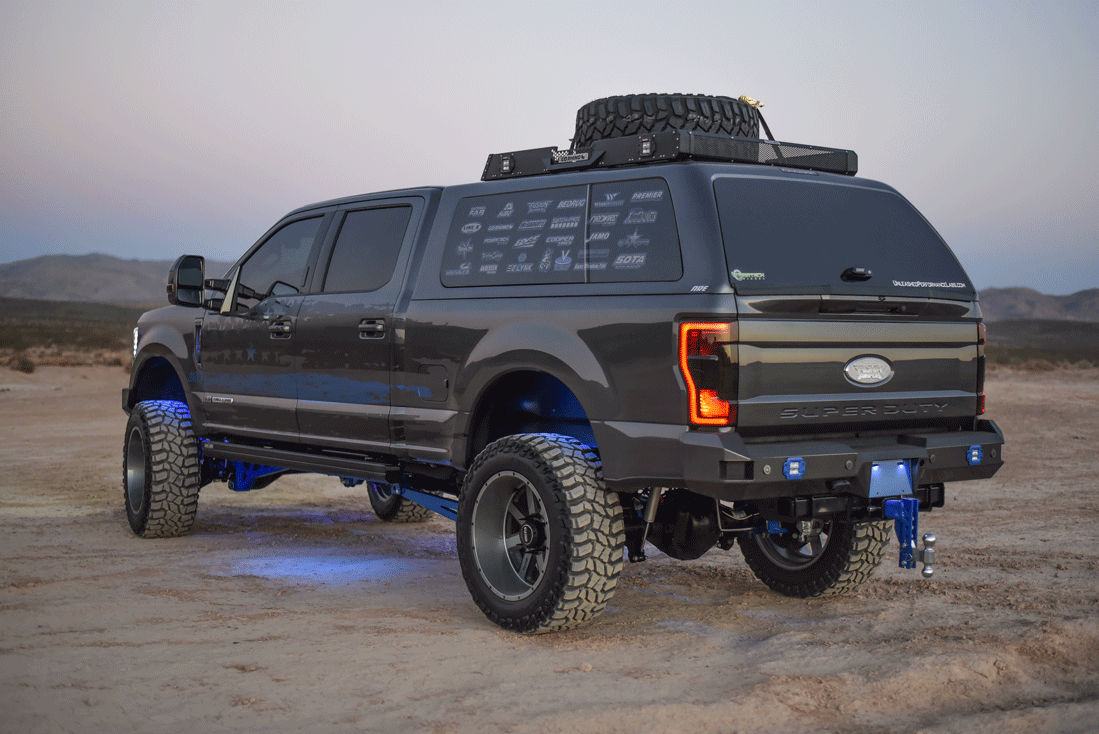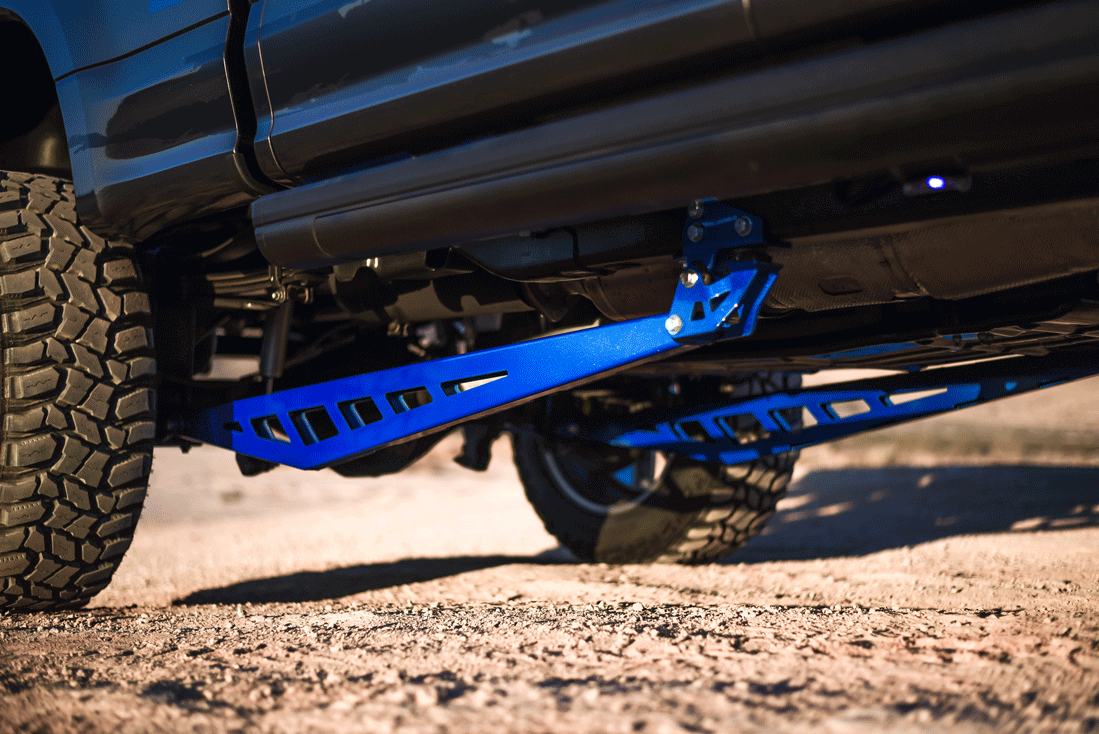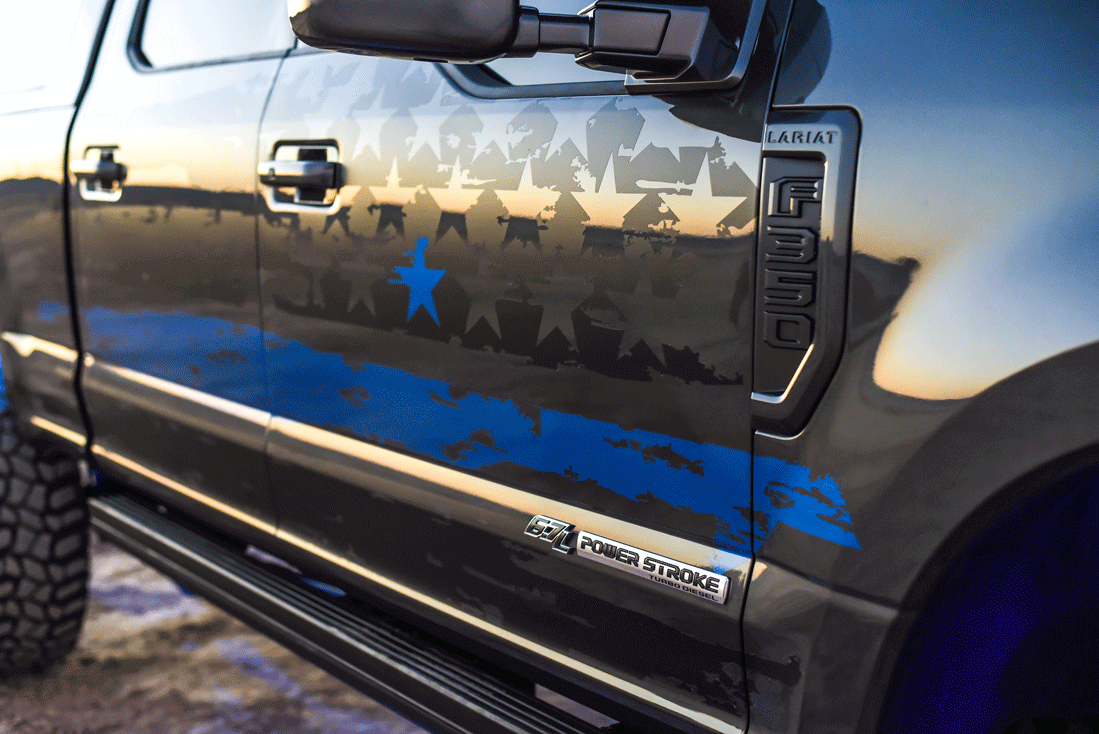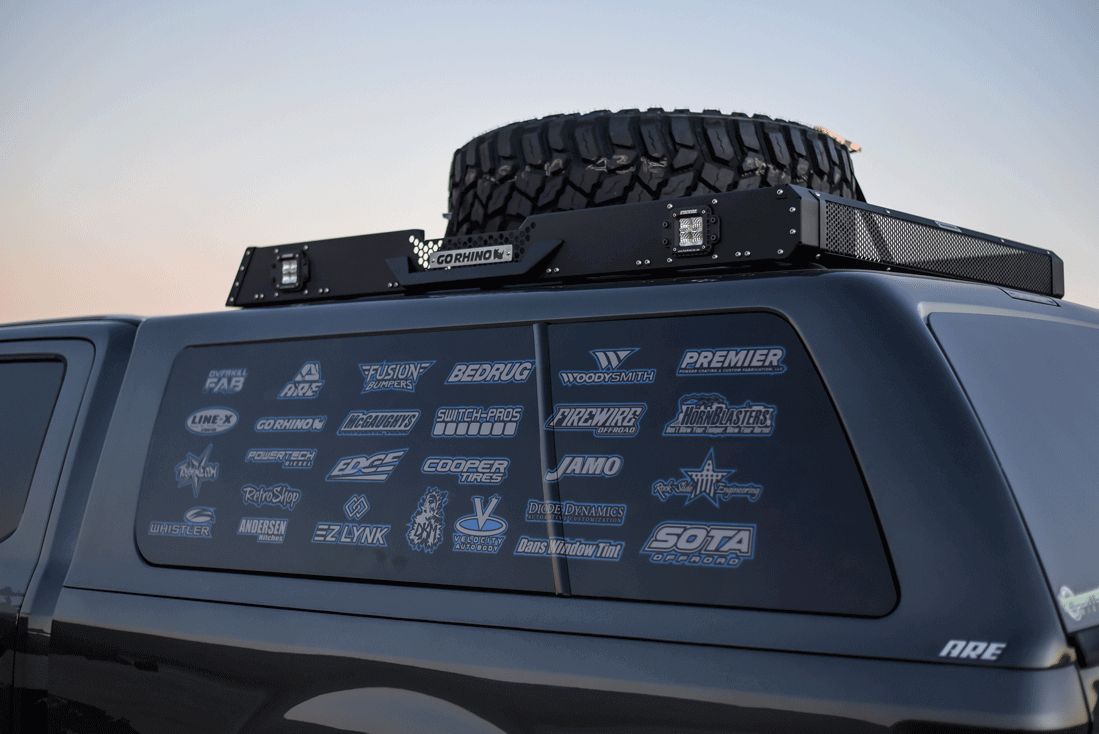 There in lies the great challenge in building a showpiece for the annual SEMA convention. At its core, a SEMA show truck is a vehicle for promoting a company or group of companies' products and services. But the most successful trucks go that extra couple miles to lodge themselves surreptitiously in the viewer's brain so that images of it continue to flicker through the showgoer's cortex long after the carpets at the Las Vegas Convention Center have been rolled up and the lights have gone down. So it is with this 2017 F-350 Super Duty project spearheaded by PowerTech Diesel superintendent Brent Willsey. Willsey is a familiar enough name in the industry, having built diesel-powered project trucks (as well as cars) professionally for more than a decade. Of course, Willsey's initial focus is on promoting business, and the finished piece as it sits before you was made possible through a collaboration of trusted partners in the truck-modding business,including Fusion Bumpers, ATS Diesel, McGaughy's, and a slew of other suppliers, a confederation Willsey has been cultivating for the past ten or more years.
Pinning It Down
Willsey purchased the truck in September 2016, giving himself a roughly two-month build time before the big show. It was a Super Cab Lariat in Magnetic (code for dark gray metallic), acquired from Woody Smith Ford in Rexburg, Idaho, not far from PTD's Idaho Falls HQ. Woody's also happens to be one of the project's marquee sponsors.
The front wheels are suspended from the chassis using McGaughy's coil springs, which are dampened by Fox 2.0 Performance shocks with remote reservoirs. Fox 2.0s also reside in the rear, which retains the factory leaf springs for towing purposes. The rear has been reinforced with beefy McGaughy's traction bars powdercoated in the project's signature blue hue. A Carli's Suspension steering stabilizer keeps the raised rig pointed along the straight and narrow. The whole setup rolls on 22-inch SOTA Offroad AWOL Anthrakote 8s and 37-inch Cooper STT Pro tires.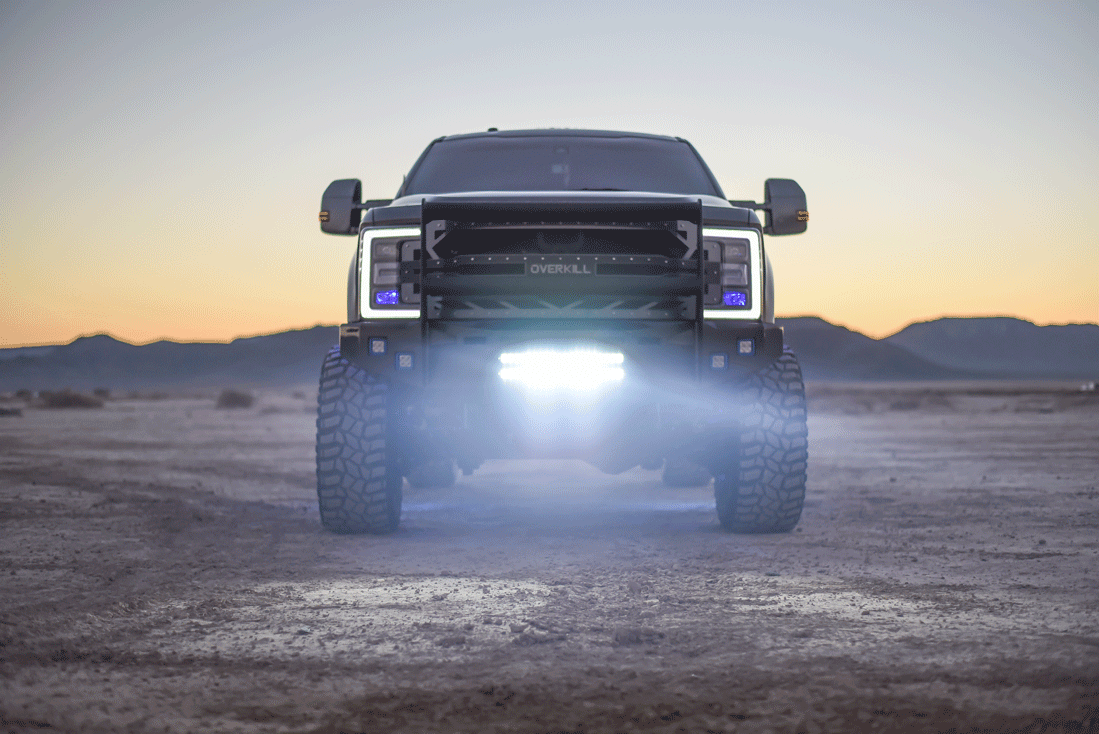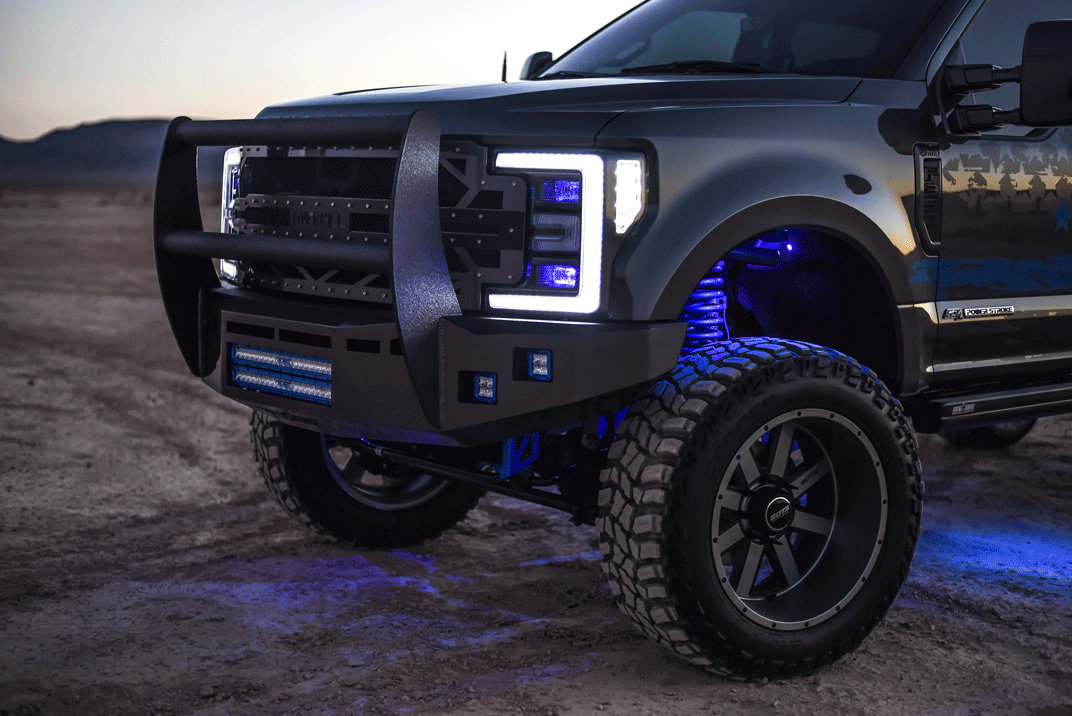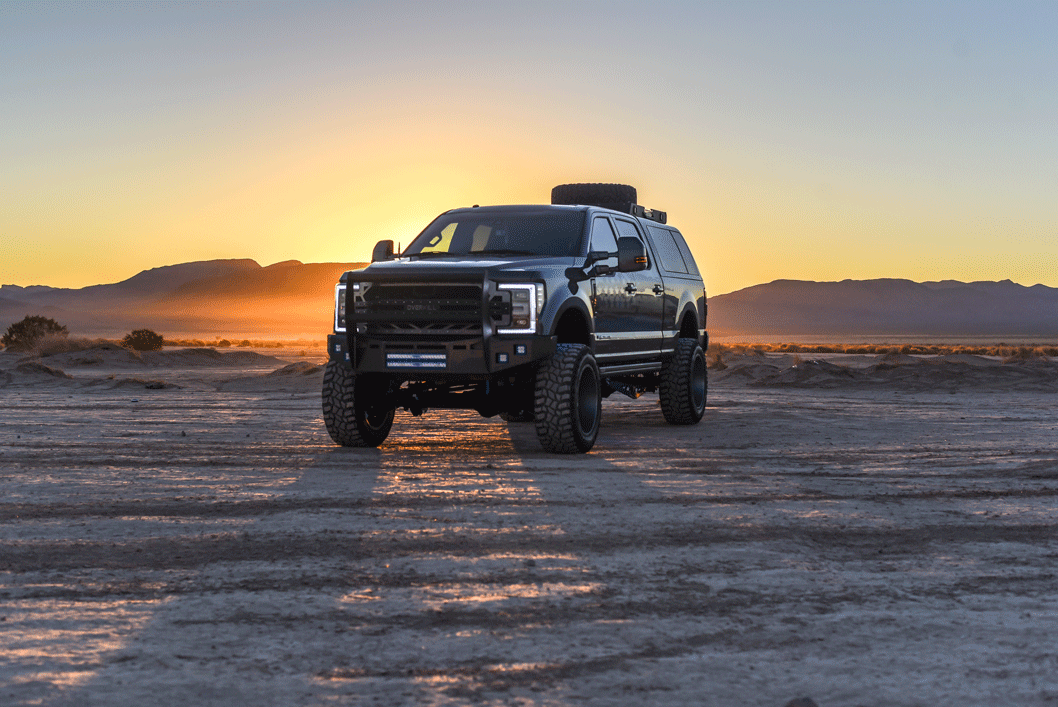 So far the underhood mods have been kept to a minimum, essentially clearing the stage for a fulltilt forced induction overhaul in the not-so-distant future. A FASS lift pump pulls fuel from the tank, a 55-gallon TITAN replacement unit, and pushes it through a factory distribution system that has been electronically re-tooled to operate along Willsey's personal parameters. His proprietary ones and zeroes are funneled into the factory computer hardware via EZ LYNK AutoAgent, a trick piece of automotive hacker gear that facilitates access to a wide range of vehicle diagnostics and control functions. The module jacks directly into the truck's OBD-II port and can access streamed data from local wi-fi, the cloud, or a smartphone app. Willsey added an Edge Insight module to the truck's instrumentation so he can keep an eye on any variation of engine parameters he chooses. At the far end of combustion, a custom 5-inch exhaust tract ushers spent gas out the rear, through a Jamo muffler and dumping out of a custom PowerTech tip. Magnetic Personality Of course, none of this would be worth a second look if the finished package doesn't draw the eye for further investigation. Fusion replacement bumpers ride in place of the stock covers; nicknamed Defender, these bumpers are Fusion's newest body armor for the 2017 Super Duty lineup. An Overkill Fabrication grille shell and insert help to shore up the forend.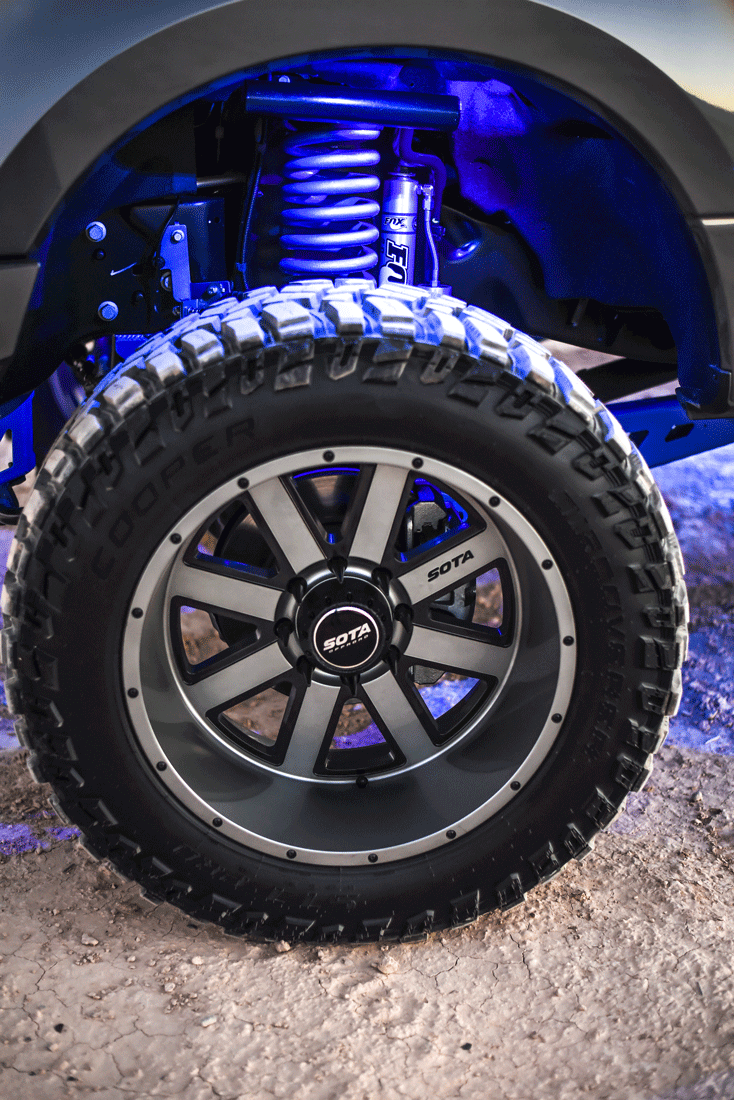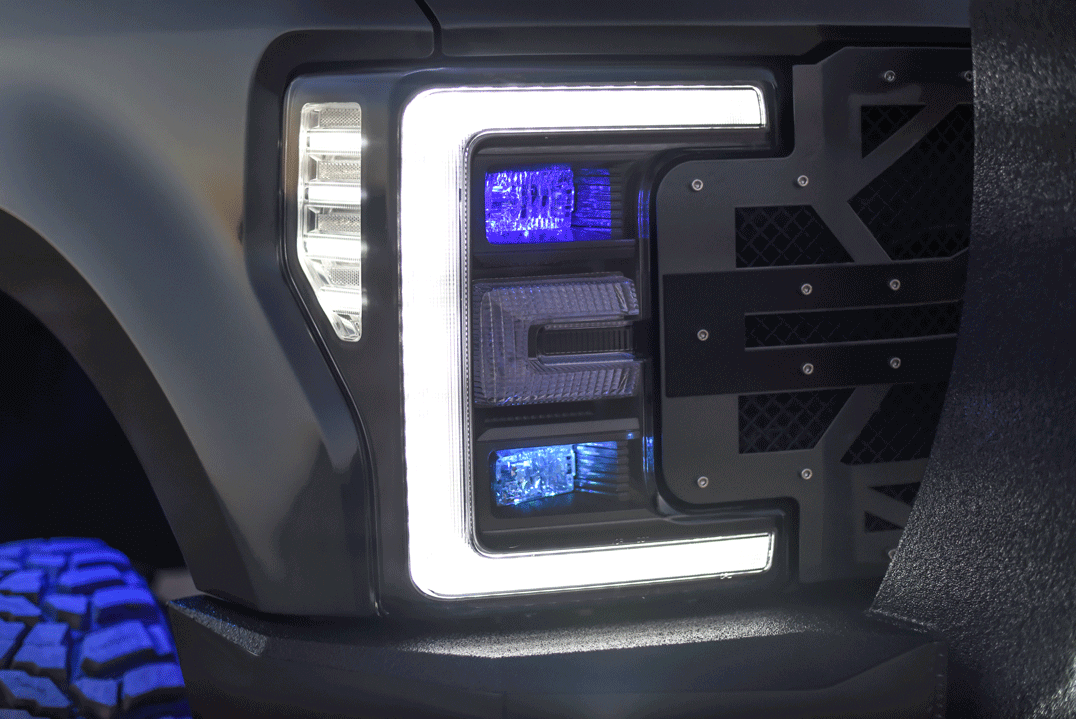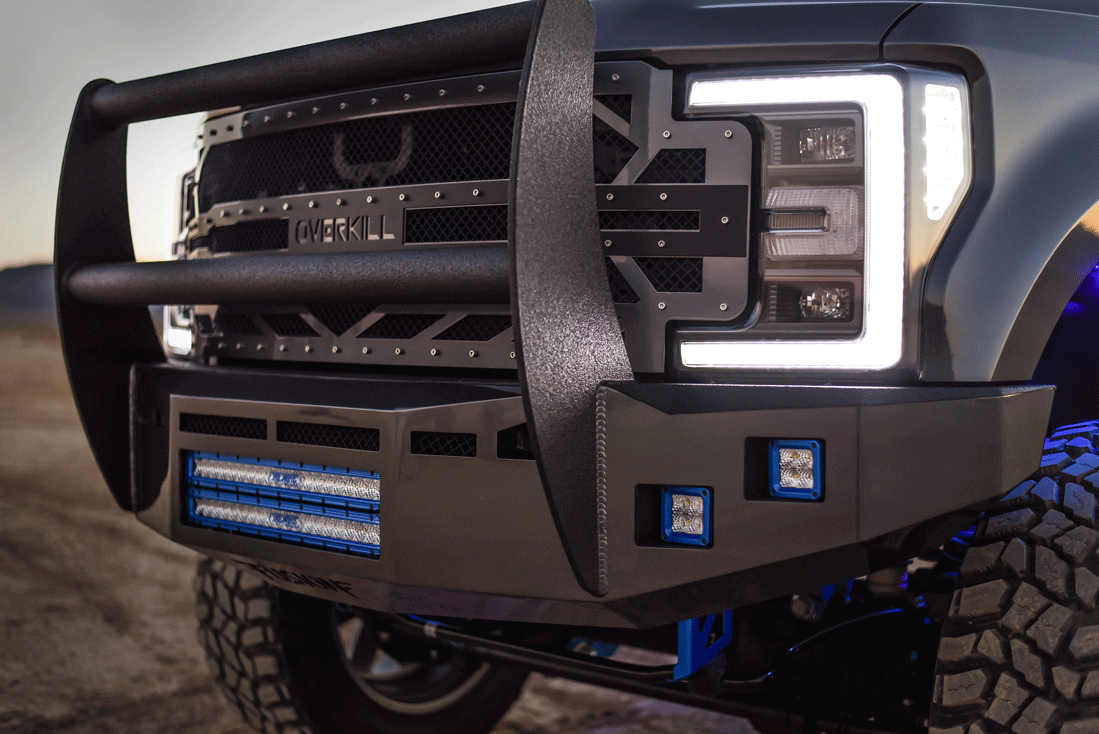 All auxiliary metal was painted to match the truck's factory Magnetic body color. Colormatching duties were commissioned to Velocity Auto Body in Rexburg; in addition to the bumpers, they applied their magic to the grille set, the mirrors, the door handles and the tailgate inserts. For extra toughness, the bumpers also received Line-X Premium treatment from Line-X of Idaho Falls.
The truck's bed has been plushed-out with a BedRug liner and the area has been sealed off from the outside using an A.R.E. camper shell. On the shell's topside, a Go Rhino roof rack has been positioned to carry a fifth wheel and tire and anything else that might be required for a Las Vegas road trip.
Protect & Serve
If it hadn't dawned on you by now, the overarching theme for PowerTech's truck is solidarity between law enforcement and the law-abiding public. "We decided to go with the Blue Line flag because of all the anti-police stuff that is going on," Willsey says. "My dad and grandpa were military as well as worked for the city police and Sheriff's office. It just kind of made sense."
The stylized Stars and Stripes graphics were designed and laid by Toyskinz, also of Idaho Falls. Willsey hints at the fact that cleaning up the distressed Old Glory pattern and picking out all the bits and pieces of negative space between the graphic elements was one of the most time-consuming aspects of the project.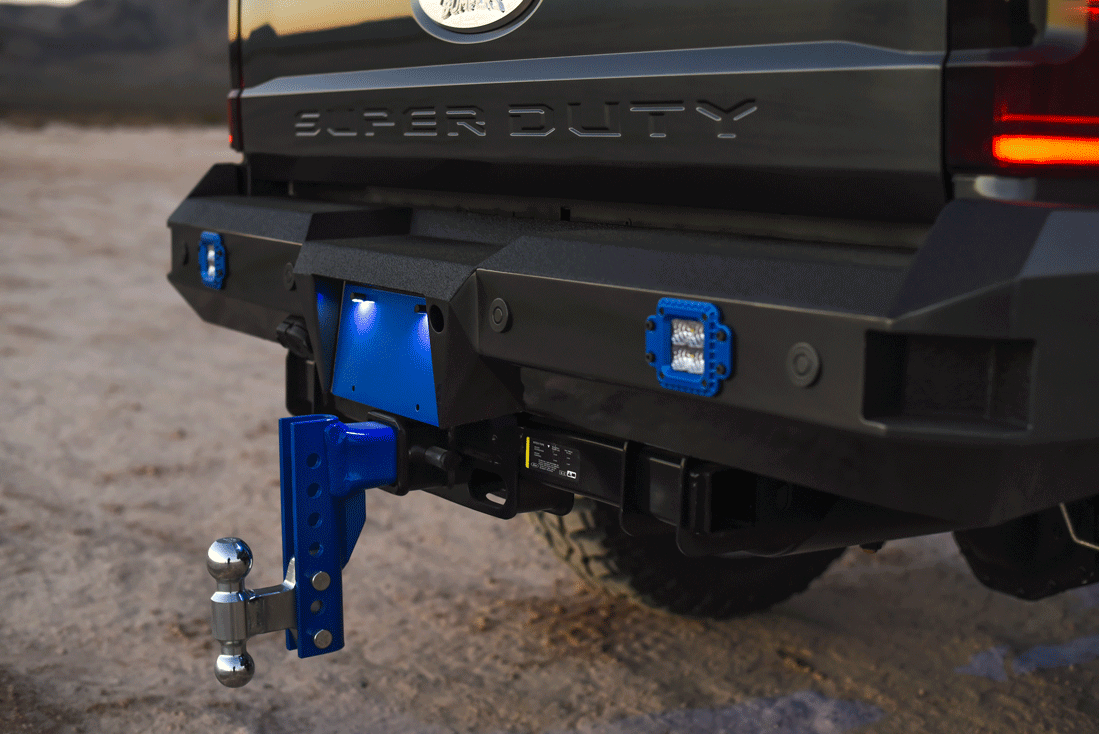 Myriad small details tie everything together. Retro Shop out of Missouri overhauled the headlights; the lamps were upgraded using Diode Dynamics LEDs, which make the white running lights and turn signals much brighter than they were from the factory. DK Moulds fashioned the clear corner markers. Various off-road accent lighting arrays were sourced from FireWire, powdercoated by Premier Powdercoat in Rexburg, and ported into the bumpers front and rear as well as up top on the roof rack.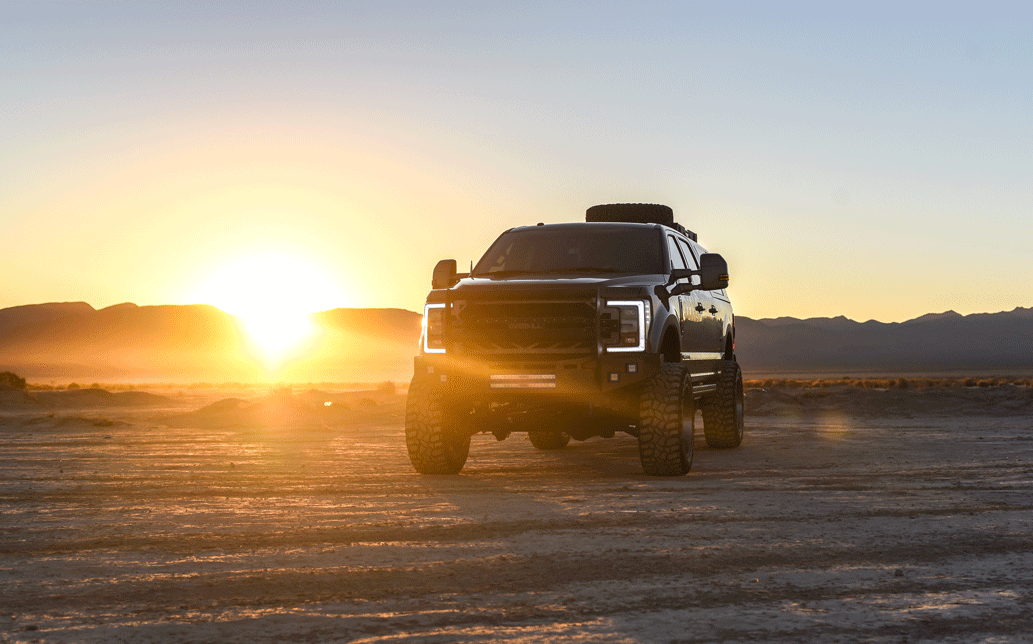 In case you don't see the PowerTech F-350 coming, Horn Blasters lent an all-black air horn kit and compressor setup to give audible cues to clueless onlookers. Willsey has described it as "crazy loud" and we have no reason to doubt that assessment. The PowerTech crew turned to Switch Pros to provide a means for wiring up all of the added accessories. "Made life a lot easier," Willsey says. "They have a killer product." Finally, Rock Slide Engineering running boards facilitate ingress and egress to and from the raised cabin. An Andersen Engineering tow hitch—coated blue like the various other chassis components—was secured to the hitch receiver out back.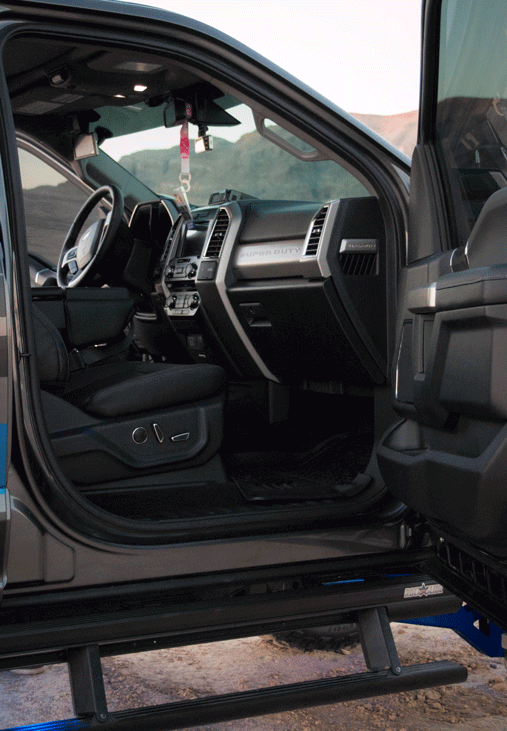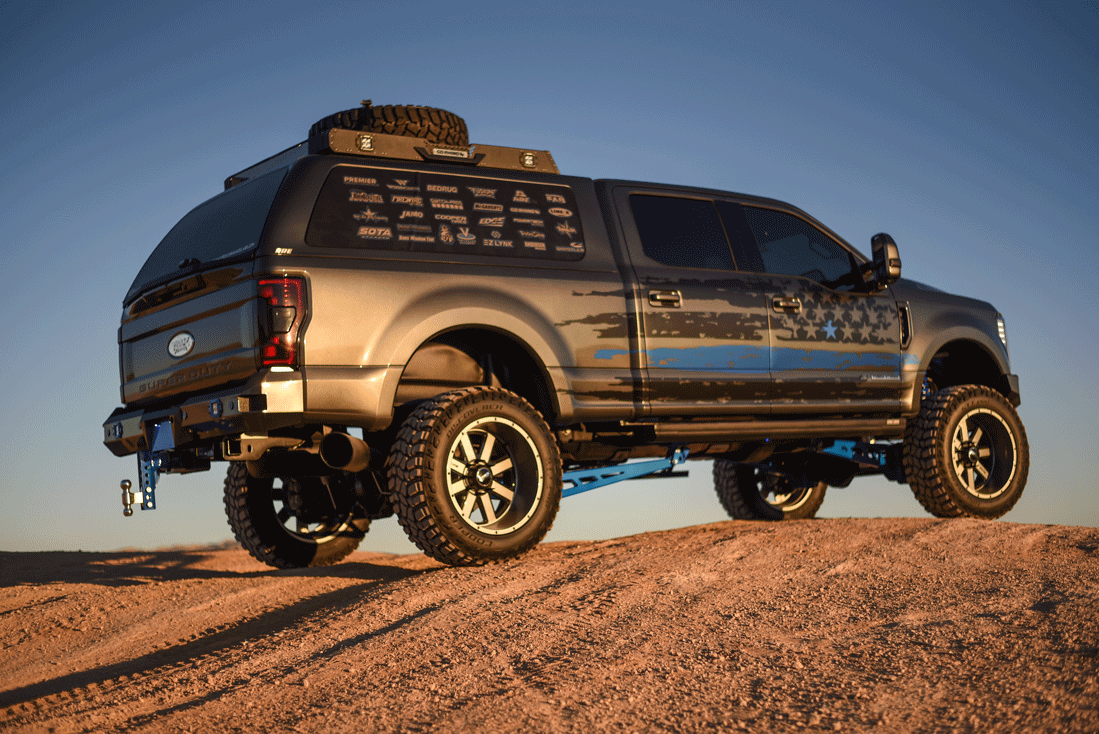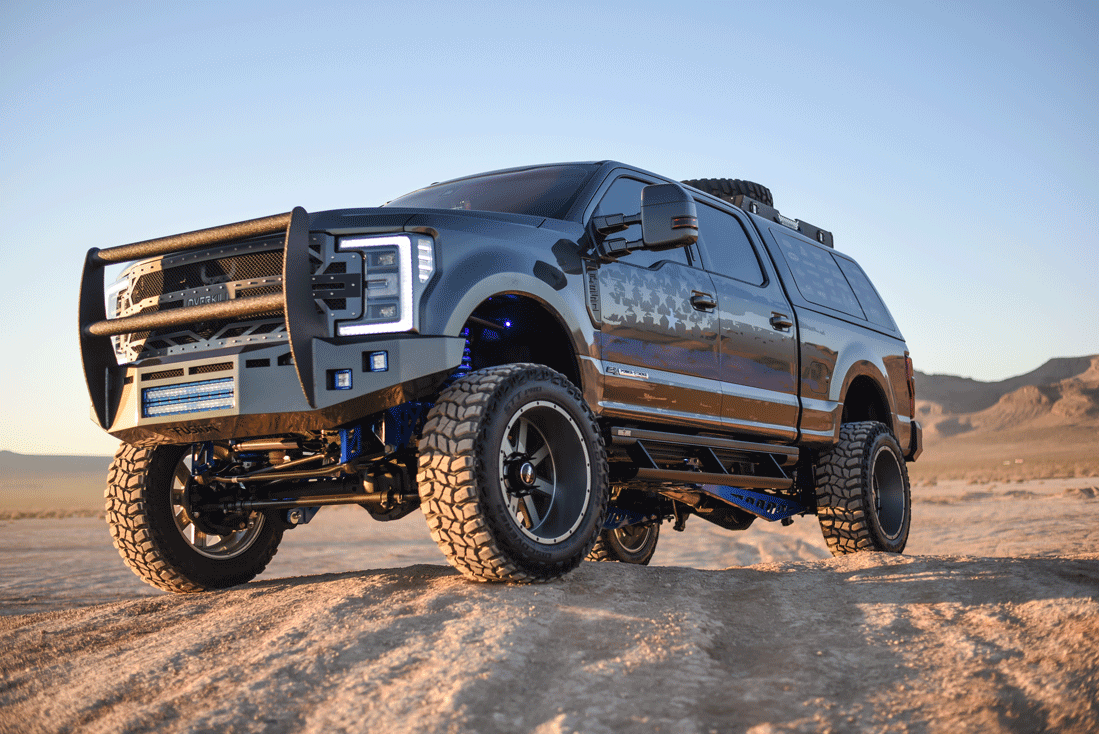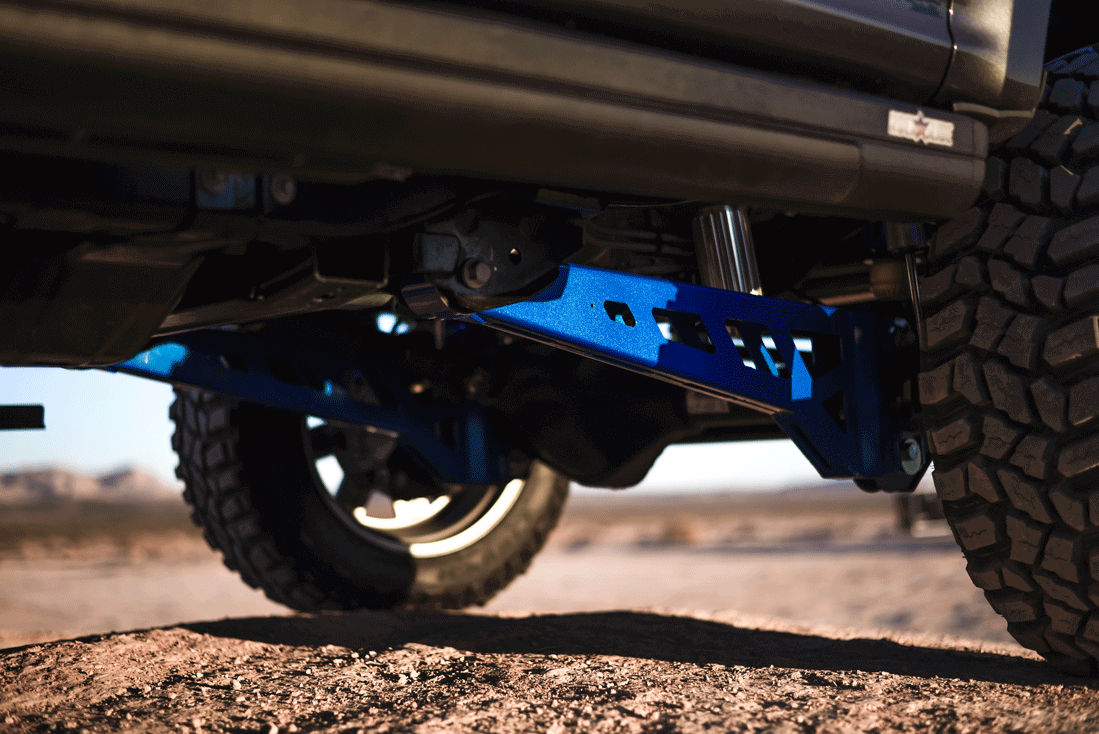 "Out of all my SEMA builds this one is my favorite so far," Willsey says. "It gets a lot of attention and local law enforcement loves it." Though he's quick to point out that the act of driving this rig isn't a get out of jail free card, so he remains on his best behavior when he and the truck are out and about.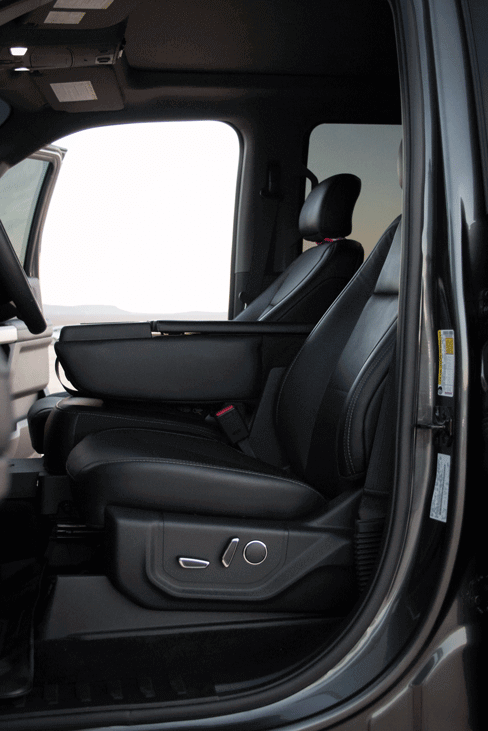 Future plans are already in progress; though it has not been photographed as yet, an H&S Motorsports 69 SX-E and supporting hardware has found its way into the F-350's engine bay. Willsey reports that as of this writing the new induction setup has been tuned and augmented with a Jamo exhaust and shift on-the-fly. We can't wait to see what else he brings to the show this fall.