Josh Land's Dodge Ram Pulling Machine
From time to time bad things happen to good people, case in point—when Josh Land was only 12-years old he was involved in a head-on collision that left him paralyzed from the waist down. Rather than get bogged down with his disability Land (now 28-years old) continued to be a "farm kid" spending his summers on his granddaddy's dairy farm. Just a few months after the accident with the help of a program called "AgrAbility" at the University of Kentucky, they fitted a tractor with a lift and hand controls to allow the youngster to continue his farming ways.
Daily Driver Start
Growing up a gearhead around trucks and tractors on the farm nourished his interest in engines, especially diesel engines for the Lancaster, KY mechanic and shop owner. As his interest in diesel trucks grew he eventually purchased this used 1997 Dodge Ram 3500 that was in good shape and mostly stock. At 19-years old in 2006 he started pulling the truck with plans to keep it streetable while making 450-500 horsepower and "The Crippler" was born. For the first couple years of pulling he even drove the truck to all the pulls he competed in by installing the weight rack and weights after getting to the track, pulling, and then taking it all back off and driving back home. As the truck became more competitive and less streetable he purchased a trailer and made it a dedicated pull truck.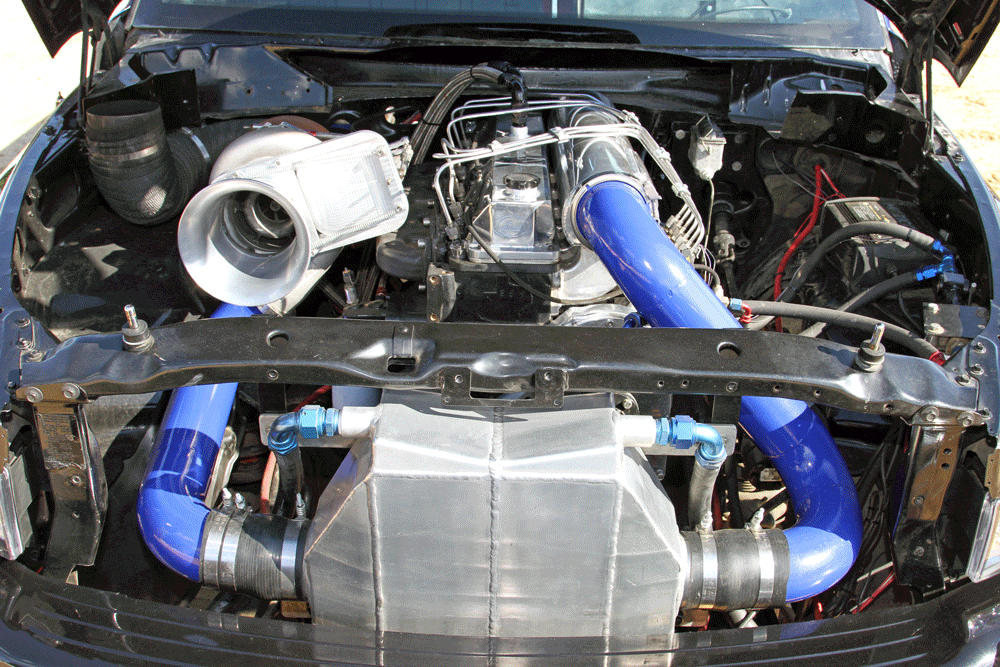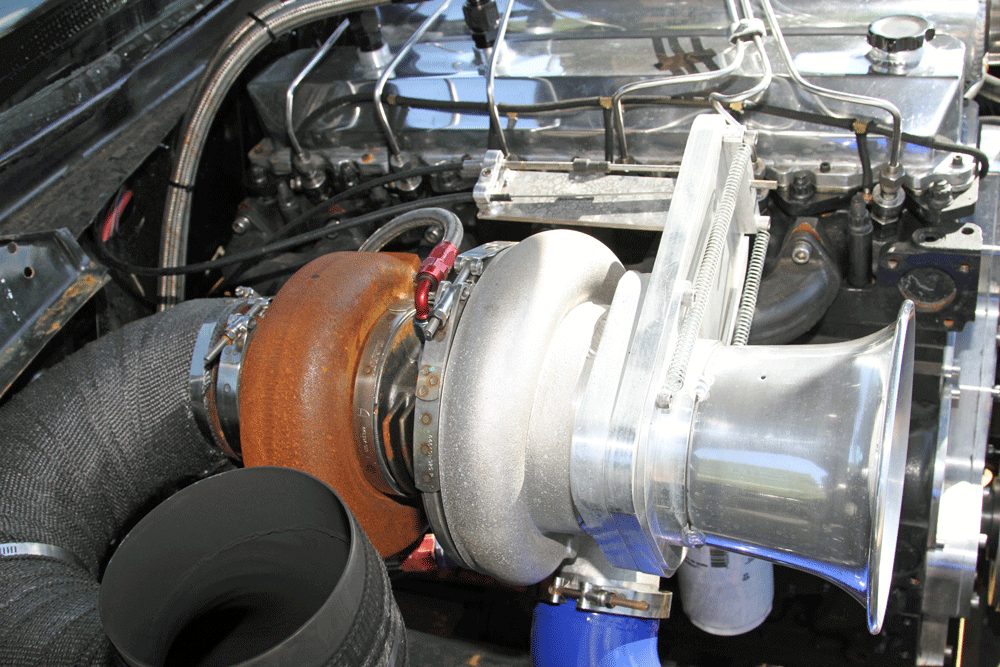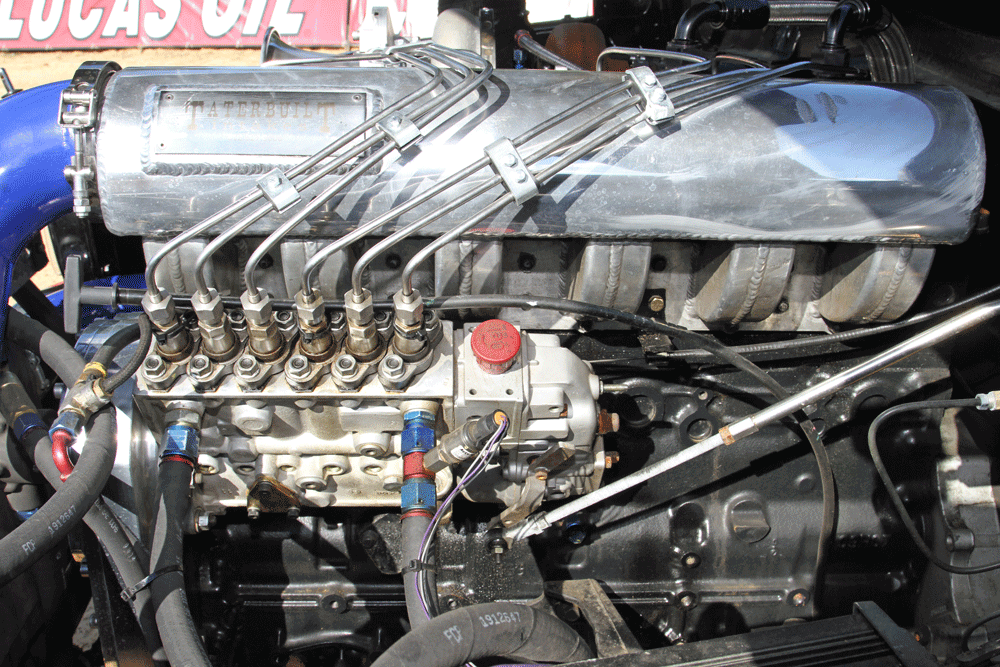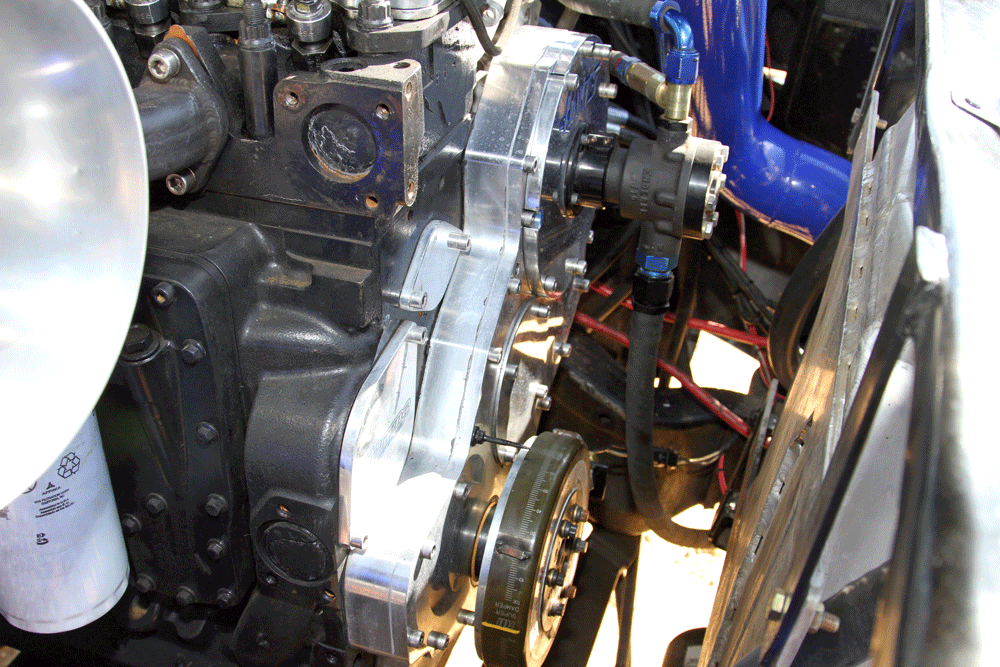 Stepping Up
In January of 2010 Land, along with his brother-in-law Michael Stinnett and friend Keith Dotson partnered up and started Bluegrass Diesel Performance and haven't looked back. After pulling with the stock bottom end in the Cummins for five years Land and the Bluegrass crew decided to take a year off pulling and build a true competition engine for the truck.
The engine they built is machined to use a deck plate and cylinder sleeves to reduce the risk of block failure and make future engine overhauls easier. The heart of the engine is a factory 6.7L Cummins crank shaft that swings a set of custom fly cut forged aluminum pistons on a set of custom billet connecting rods. A custom ground steel camshaft actuates roller lifters to open and close the oversized valves. The head is a CNC-ported Hamilton Cams cylinder head with dual valve springs, titanium retainers and SMT roller rocker arms. Both the cylinder head and main bearing caps are retained with 14mm studs while the mains get an assist from a 5/8-inch steel girdle to keep the balanced rotating assembly within the block.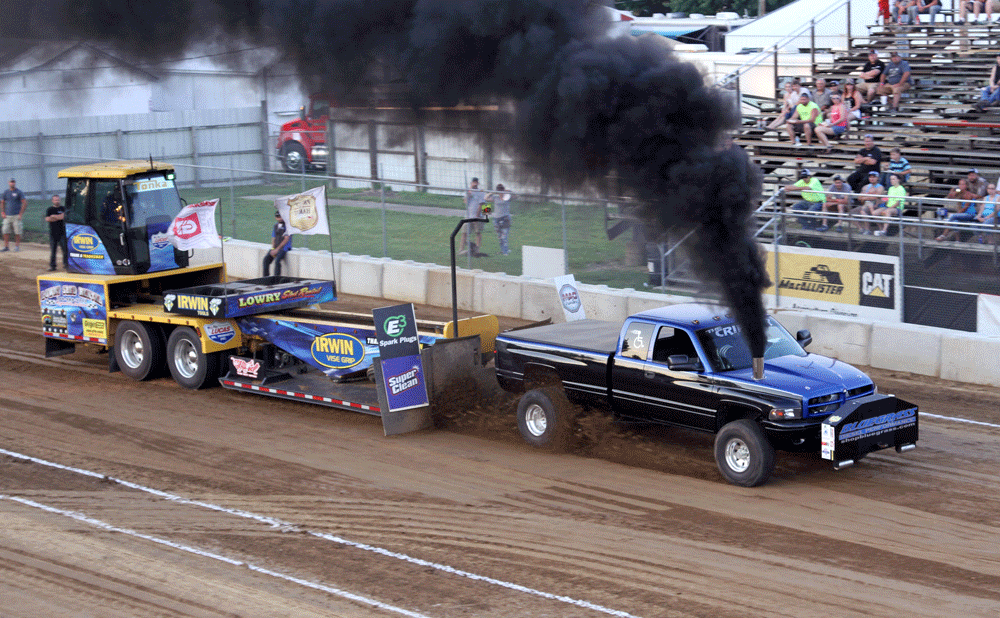 Air and Fuel
Spent gases are expelled through a Steed Speed Competition T6 exhaust manifold driving a custom HX60 2.6 turbo that has now been replaced by and Engineered 3.0 smooth bore turbo. The compressed charged is fed through a custom air-to-water intercooler where it is chilled before being handed off to the individual runner Taterbuilt intake manifold. Fuel is delivered to the engine from an Enderle mechanical fuel pump that pulls from a small aluminum fuel tank mounted on the rear side of the weight box. From the mechanical pump high pressure fuel duties and timing are handled by a 13mm Northeast Diesel P7100 injection pump that feeds a set of Scheid Diesel Performance triple feed injectors through a set of .093-inch polished stainless steel fuel lines. While Land feels that the 3.0 smooth bore turbo makes around the same peak power as the previous charger, its peak seems to be about 500 RPM lower than before. He estimates that his engine in making more than 1,200 horsepower in its current configuration.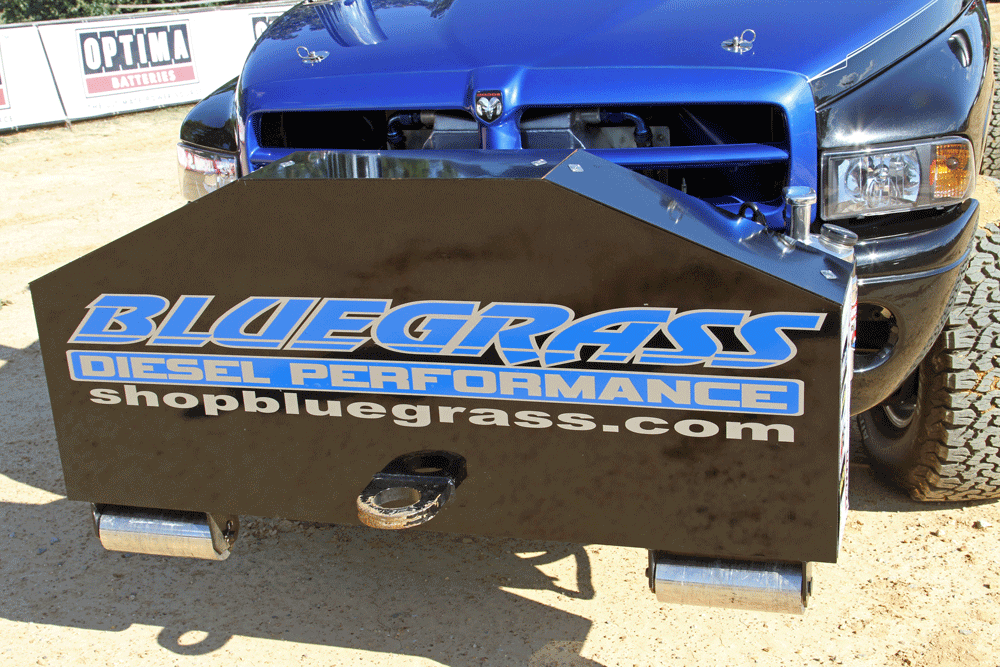 Slush Box Swap
In 2013 Land decided that the automatic transmission he was pulling with was holding him back compared to the competition so they performed a manual swap on the truck. He and his team developed a set of brackets and a clutch lever that allows him to operate the clutch by hand. In 2016 the factory driveline was upgraded when the Pro Pulling League Limited Pro Stock class rules changed to allow Open Drive Line components for more strength and less on track breakage. Power from the engine is passed through a Kenny's Pulling Parts 4-disc clutch. Next in line is the SCS Zero-Drag reverser and Quick Change transfer case that replaced the weak factory components.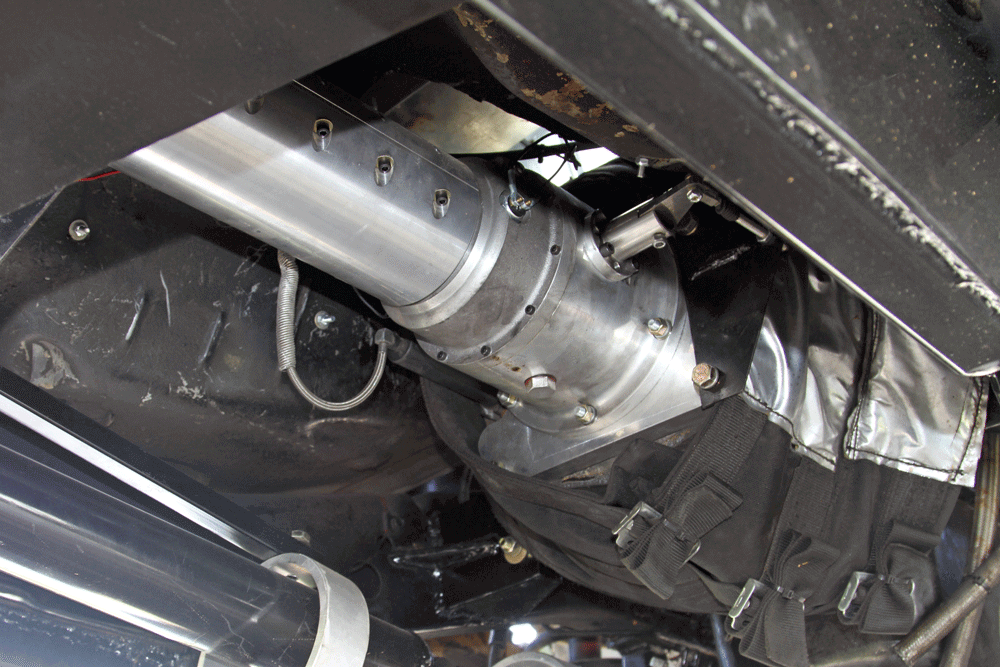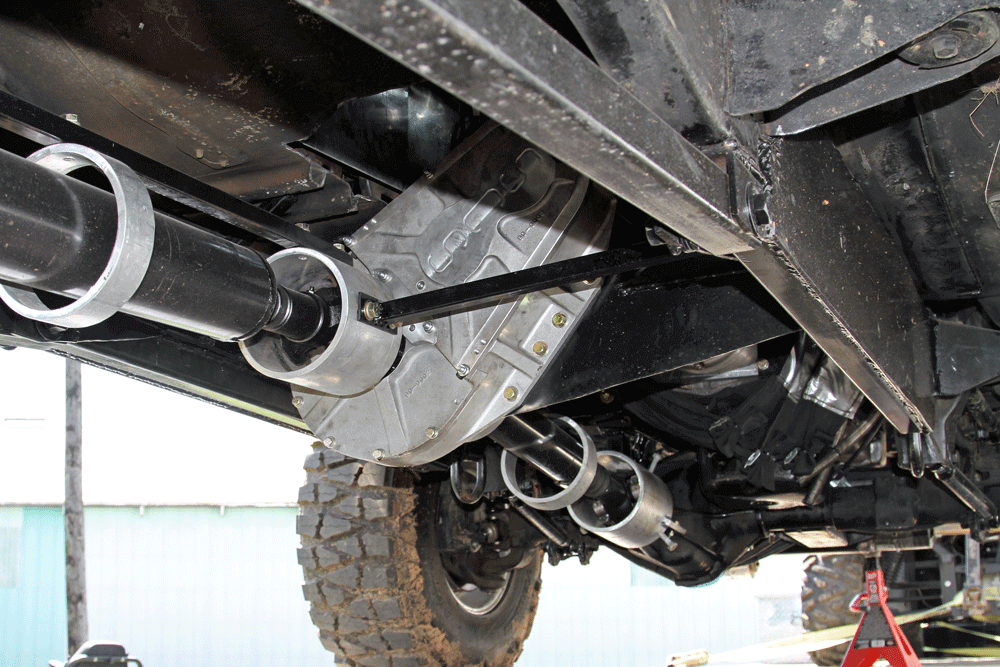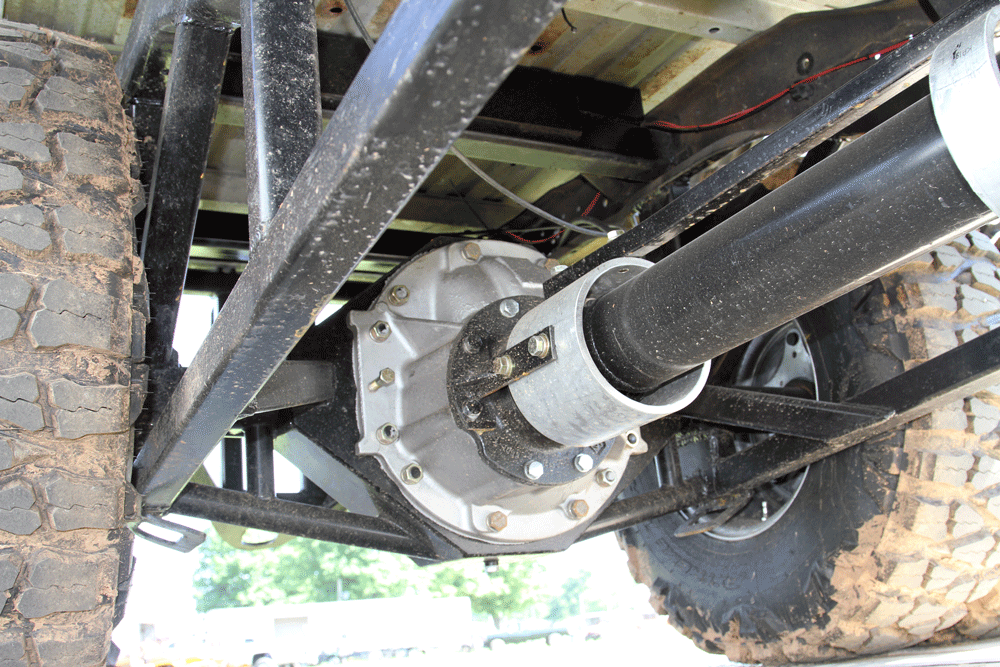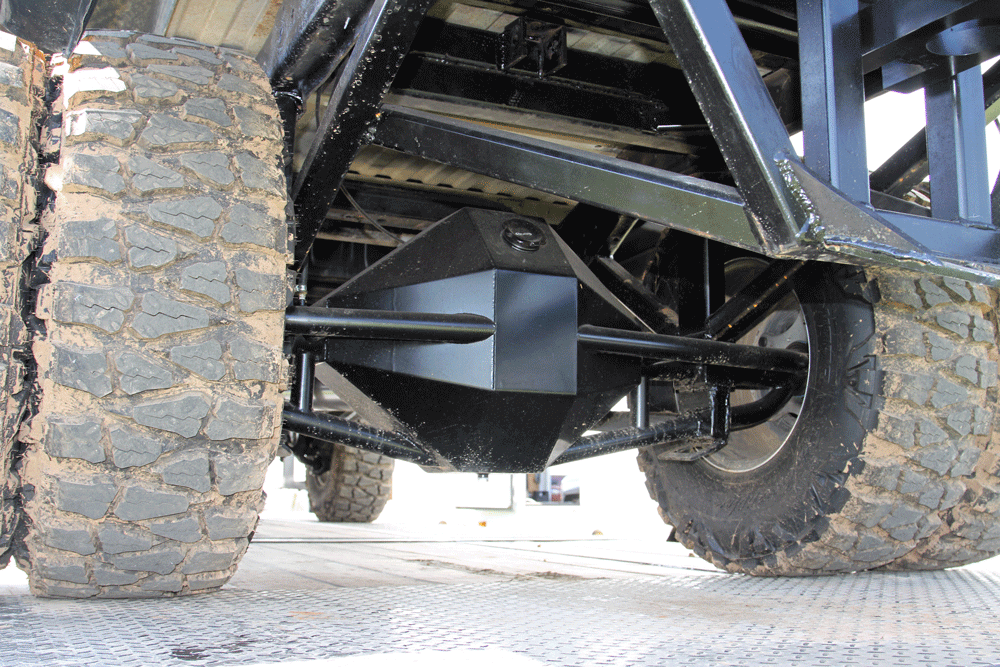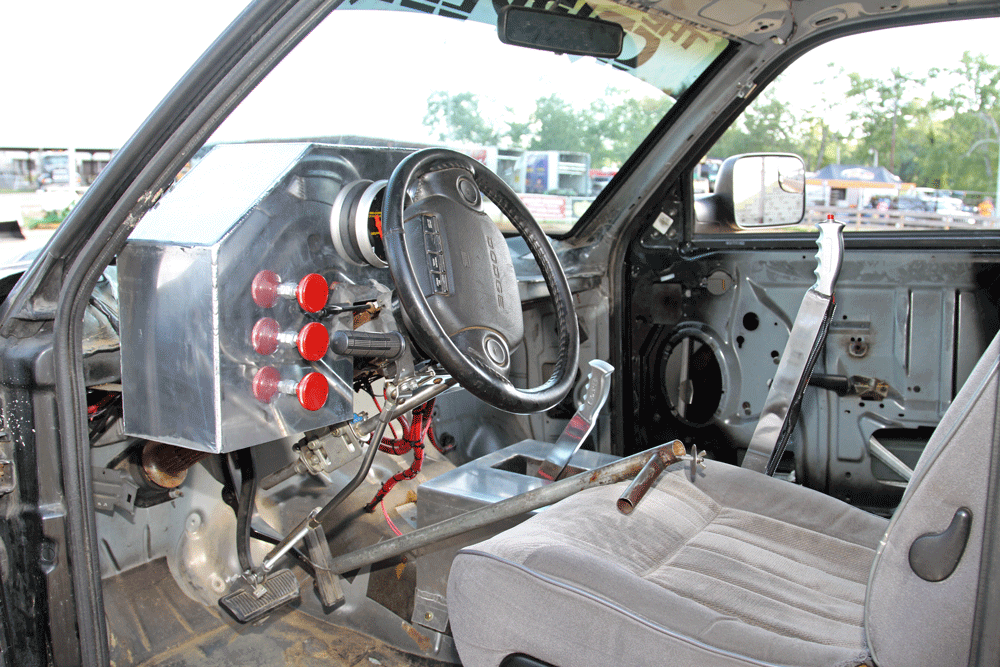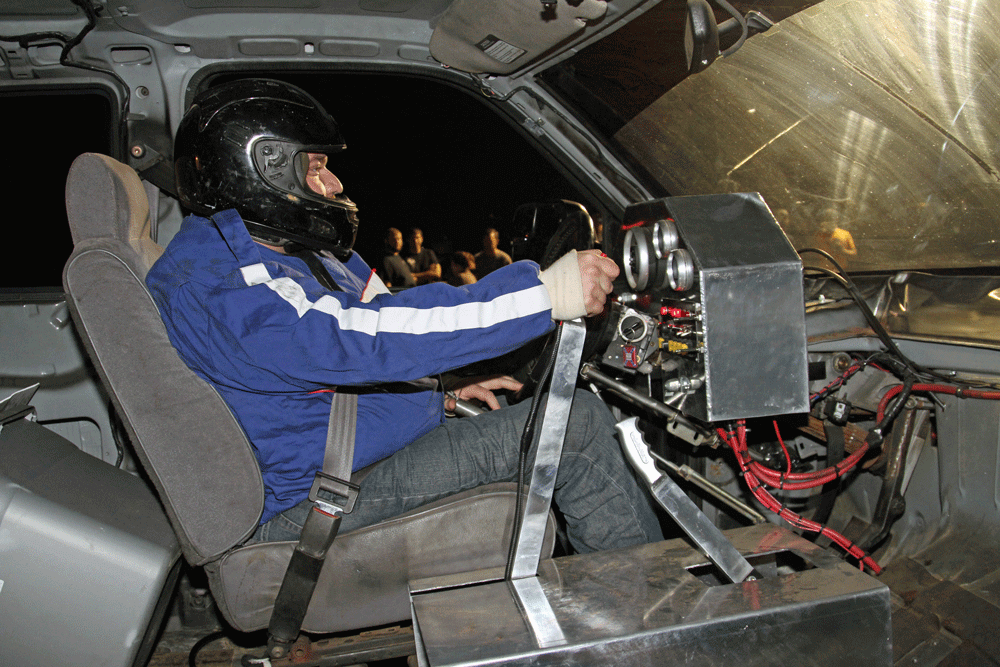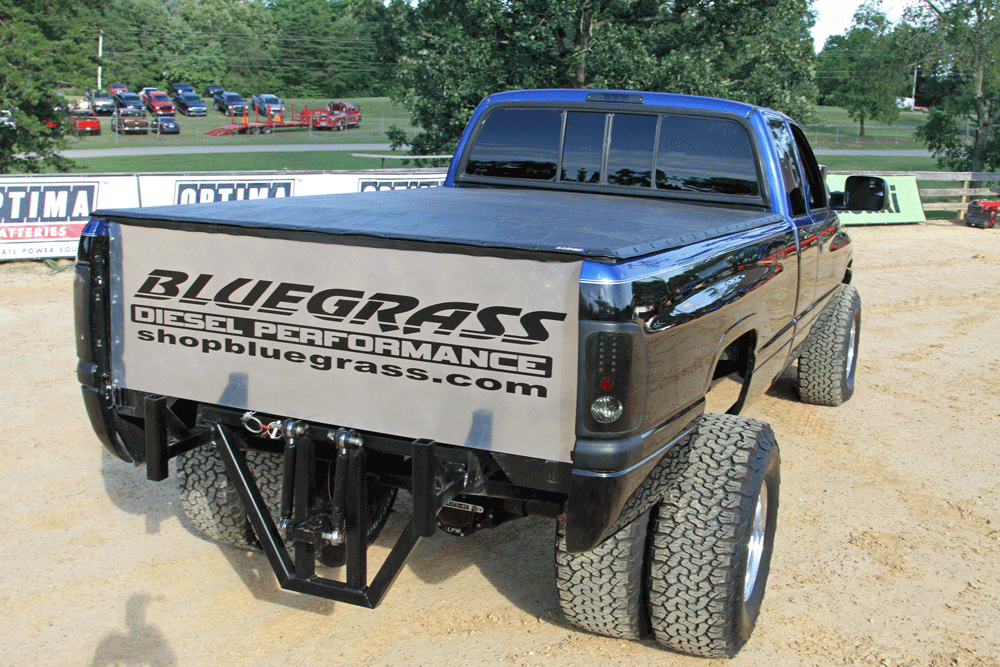 Power Transmission
Power is channeled from the transfer case to one piece drive shafts with 1410 U-joints for the front and massive 1550 U-joints in the rear. But in case a joint or shaft were to ever break Land and his crew installed drive shaft hoops and U-joint shields to contain any carnage. The Dana 60 front axle is stuffed with a Yukon Grizzly Locker and 6.17 gears with a Spintec free spin kit and Branik Motorsports drive flanges. Steering is handled by a custom full hydraulic steering system to help Land keep the 8,000-pound rig pointed in the right direction. Out back the new Open Drive Line rules for 2016 allowed Land and his crew to replace the factory Dana 80 with a fabricated custom sheet metal 20-145 Rockwell and an aluminum center section stuffed with SCS 6.14 gears and a spool to send the power evenly to all four rear Nitto Mud Grappler tires.
Sled Work
They also fabricated an extensive hitch mount to accept the sled hook and distribute the load to the fortified chassis. The rear leaf springs were replaced with fabricated steel truss work to locate and secure the axle and support the weight of the sled without deflection. Up front the springs are still present but suspension travel is mechanically limited to be best set up for the sled.
Of course with Land's disability he isn't able to handle all of the maintenance and prep work on "The Crippler" but thankfully he has a great support group of friends and family that he is able to rely on to get the work done. He would like to thank Jennifer and Michael Stinnett, Keith Dotson, Eric East, Matthew East, Aaron East, Jonathan Roseberry, Bradley Roy, Patrick O'Bryant, Kenny Smith, JimBob Taylor and Dalton Boyd for all their help in getting the truck to where it is today. Land says that without their help, he would not be able to pull. At the next PPL pull you attend cheer on Land and "The Crippler" as it claws its way down the track in the Limited Pro Stock class going for the win.