The coolest landscape truck in town
The Shell Rotella Truck Of The Month winner is Marty Tallon. Marty shares with us his long journey of inspiration (and hard work) that created this one of a kind work truck.
More than 18 years ago, when I started doing landscaping on my own, I decided I wanted to have a cool, different kind of truck to use for work. What I ended up with was a 1955 Chevy second series 3600 pickup but I actually needed a dump truck. I found a 1973 C/30 Dually dump truck. This truck was in OK condition. It did what it had to for a few years. Eventually, the floorboards had holes big enough to take a bath every time I went through a puddle. So once again, I needed another dump truck.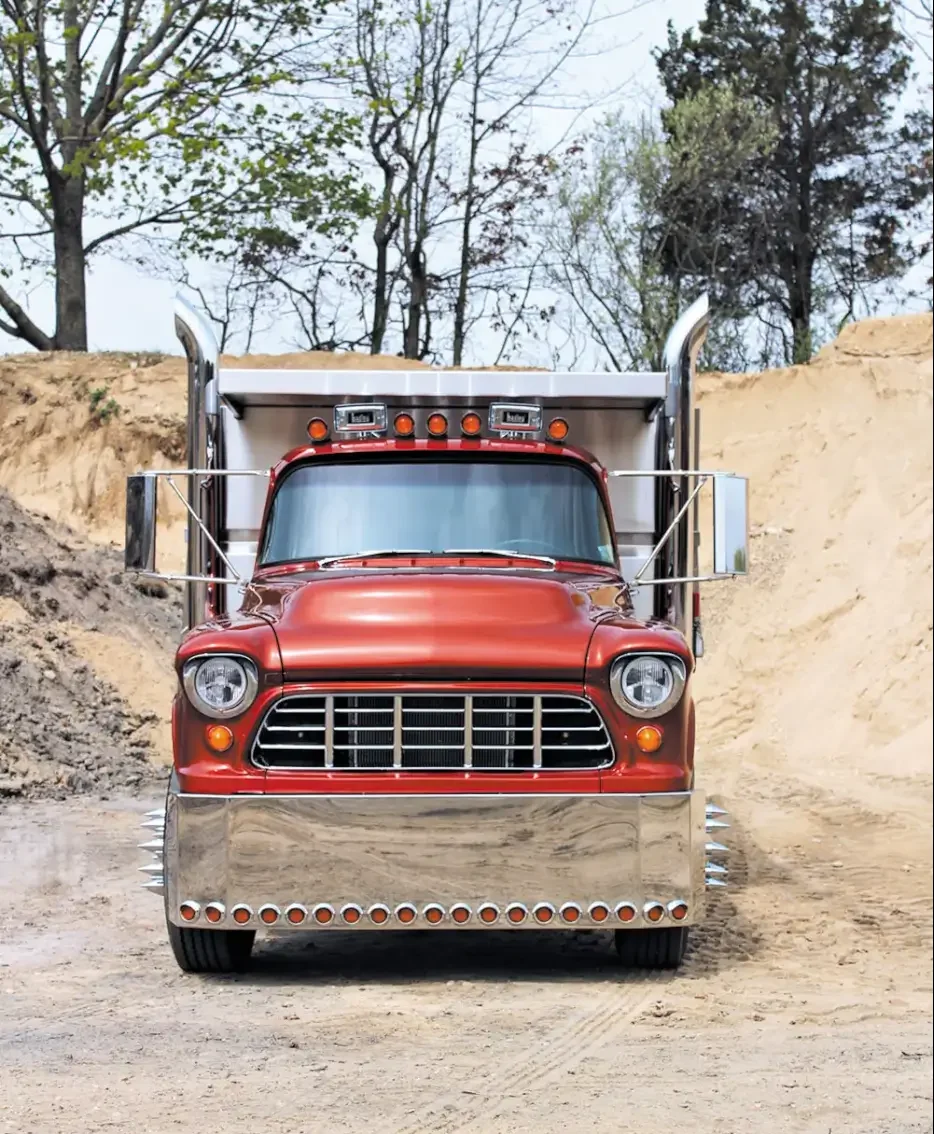 I already had a '55 pickup and a '73 dump truck, whose cab and dump body are rusted but the frame is in really good shape. I decided to take the '55 cab and put it on the '73 frame to make my own dump truck.
The first order of business was stripping down the '73 to just a rolling chassis. I drove the truck to the scrap yard where they lifted the dump bed off and put it on the scrap pile. I drove home what was left and put it in my 11' x 26' garage with an 8' x 10' work area to disassemble the rest by hand.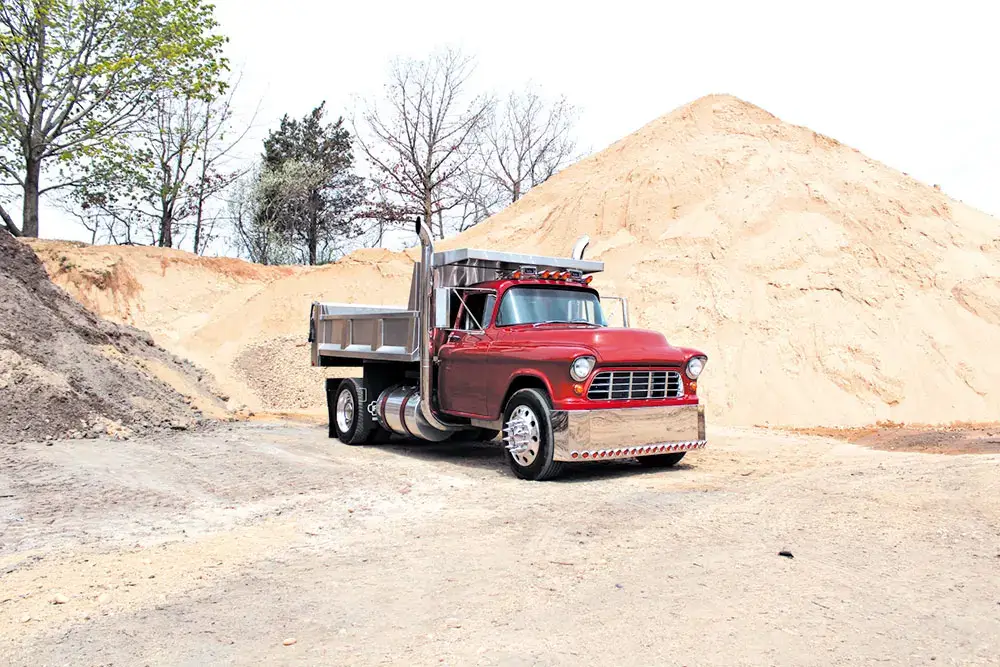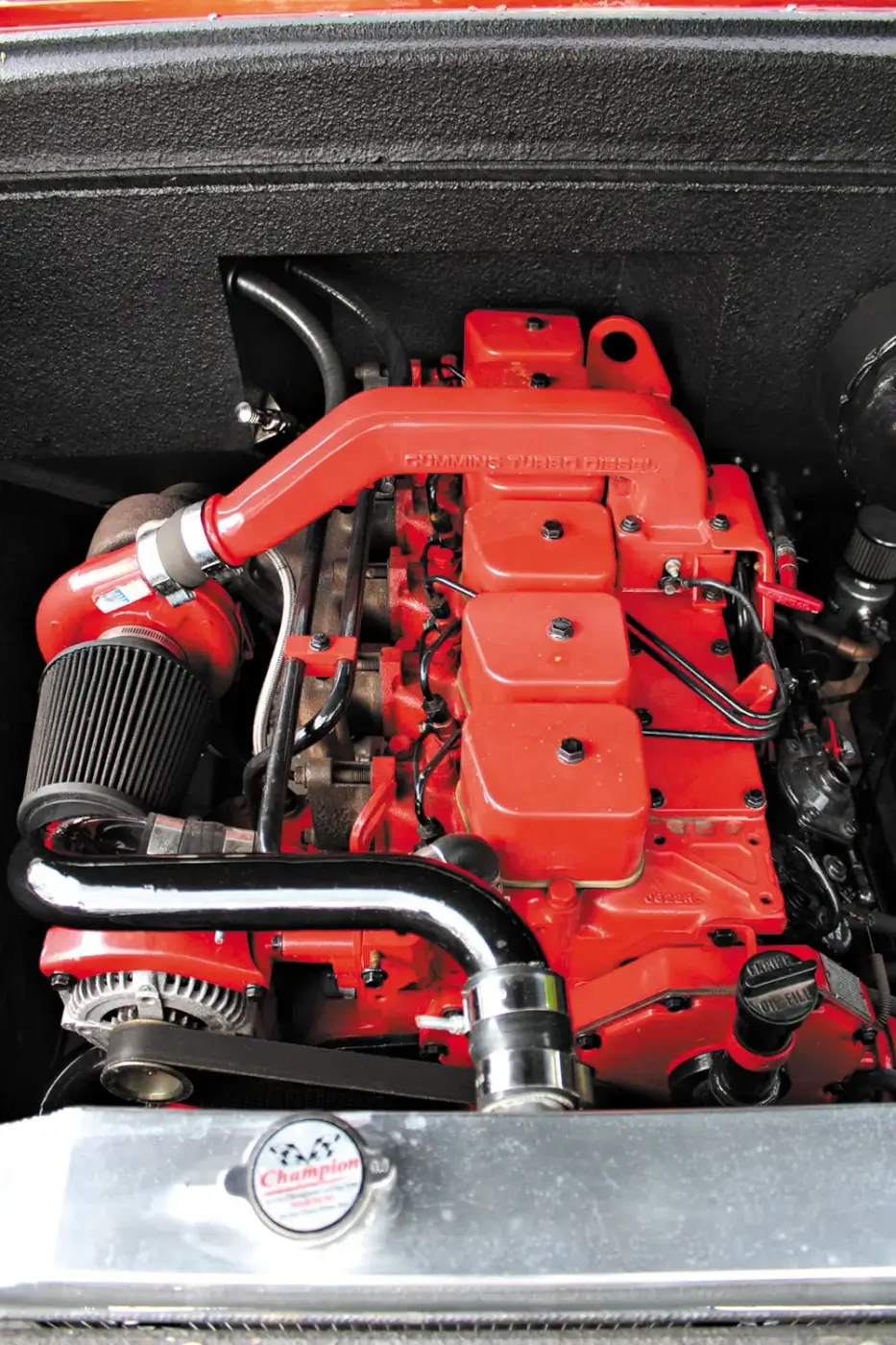 Once I was down to a rolling chassis I scraped and wire-wheeled the whole thing, then coated it with POR 15. My brother-in-law had a set of 10-lug 22.5 Alcoa rims. I bought an 8 set of 10-lug wheel adapters for the Alcoas so I could push it in and out of my shoebox garage. I used Toyo M1 22 to 55/70 R 22.5 steel tires for the front and four double coin, RLB4, 9255/70 R 22.5 for the rear.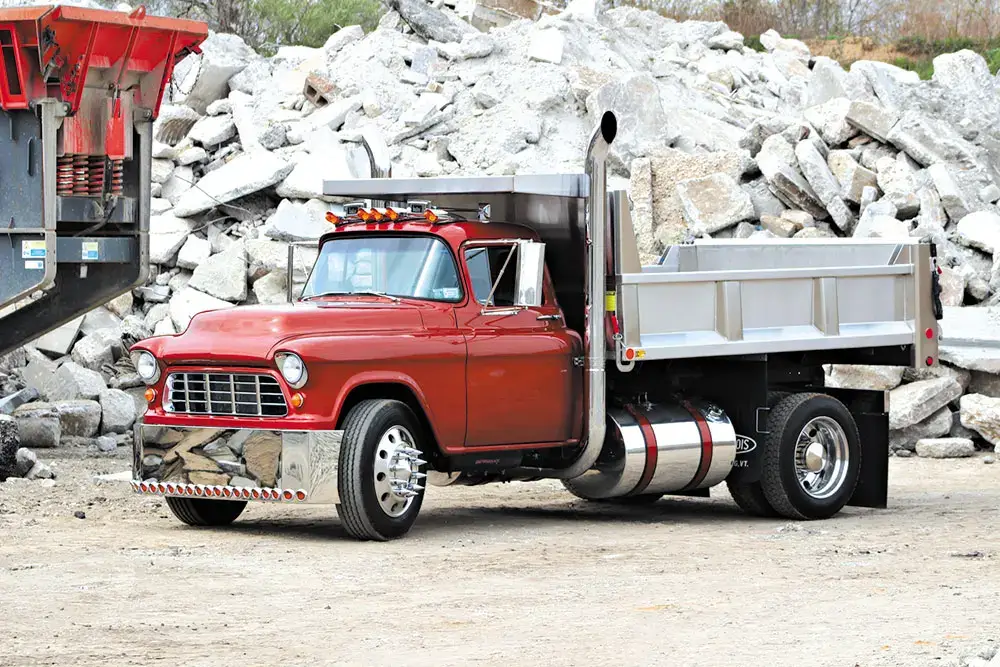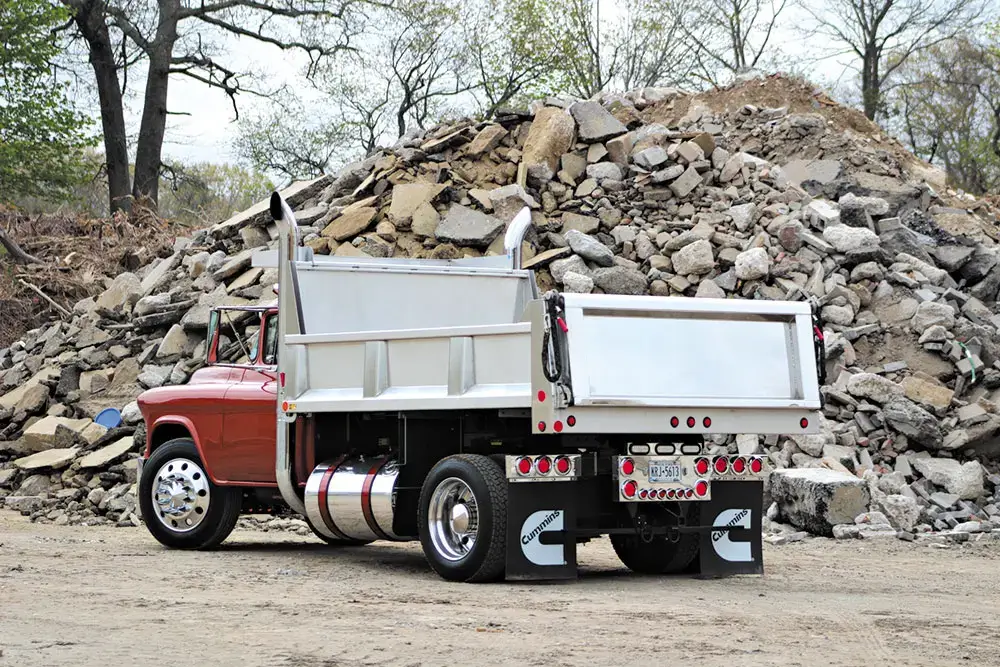 I was on a mission for a first-gen Cummins engine. I found it only a few miles from home. A 1991 Dodge D250 truck with only 120,000 miles on it – just broken in. I bought the whole truck and took out the motor and transmission. Since the motor had low miles (for a diesel) I just cleaned up everything and put new gaskets, hoses, and a fresh coat of Cummins red paint and the three-speed Torqueflite transmission was sent out to be rebuilt.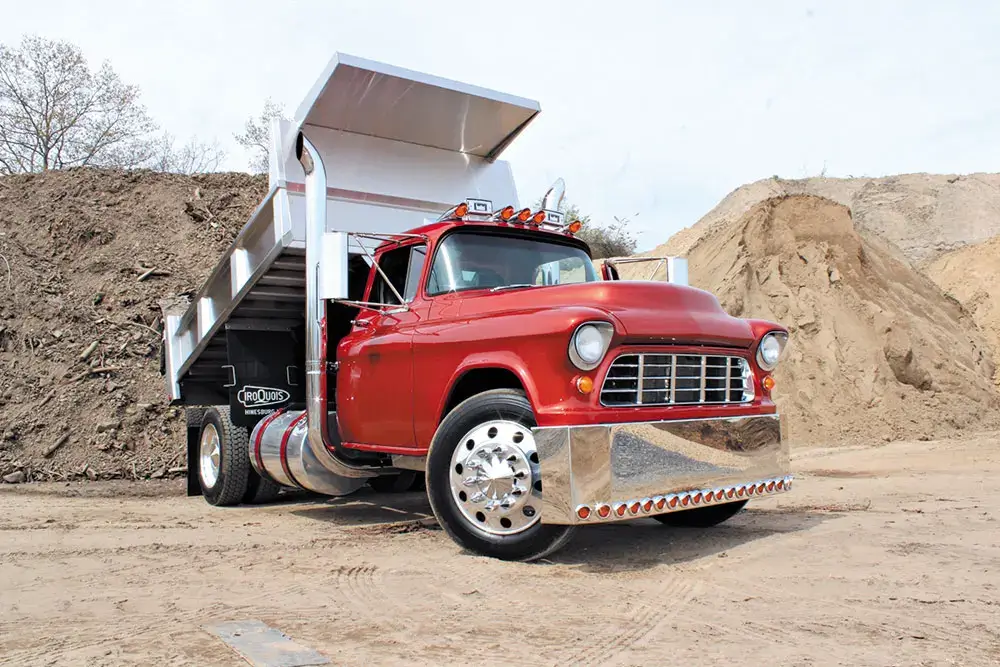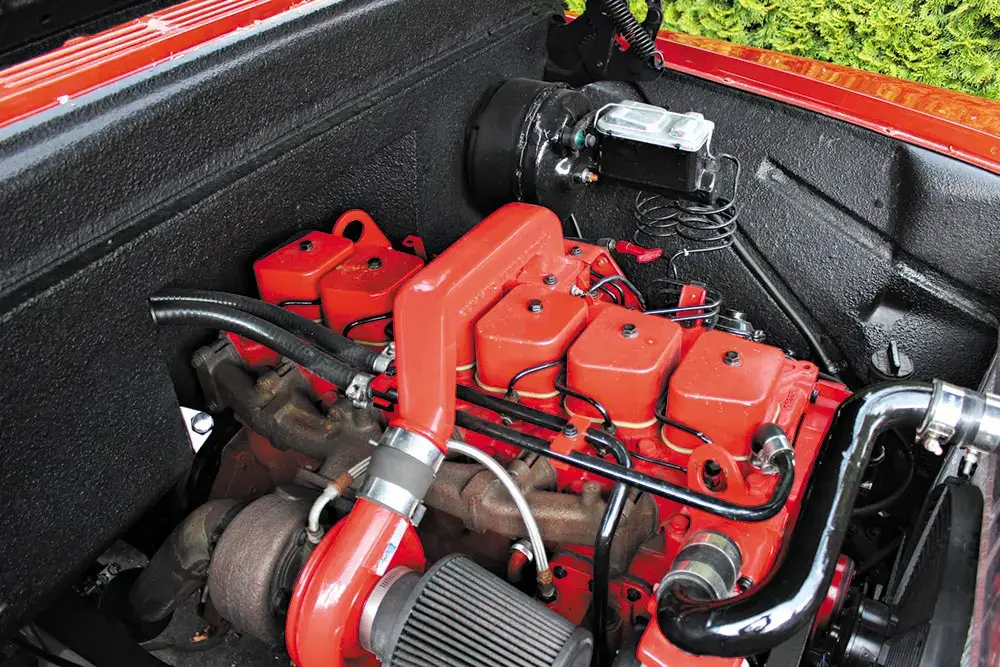 Mounting the Cummins on the '73 frame only took altering the Cummins motor mounts a little. At first, I was going to just cut a hole in the firewall for the motor but I opted to cut the whole thing out and make a new one. With a little alteration, I was able to use the original transmission cross member from the '91. I put in an aluminum four-core radiator for a '55 Chevy truck so it would fit easily on the radiator support. I welded up some custom, upper and lower radiator tubes out of some exhaust tubing I had laying around. I also mounted a new transmission cooler from a 91D 250 under the new radiator.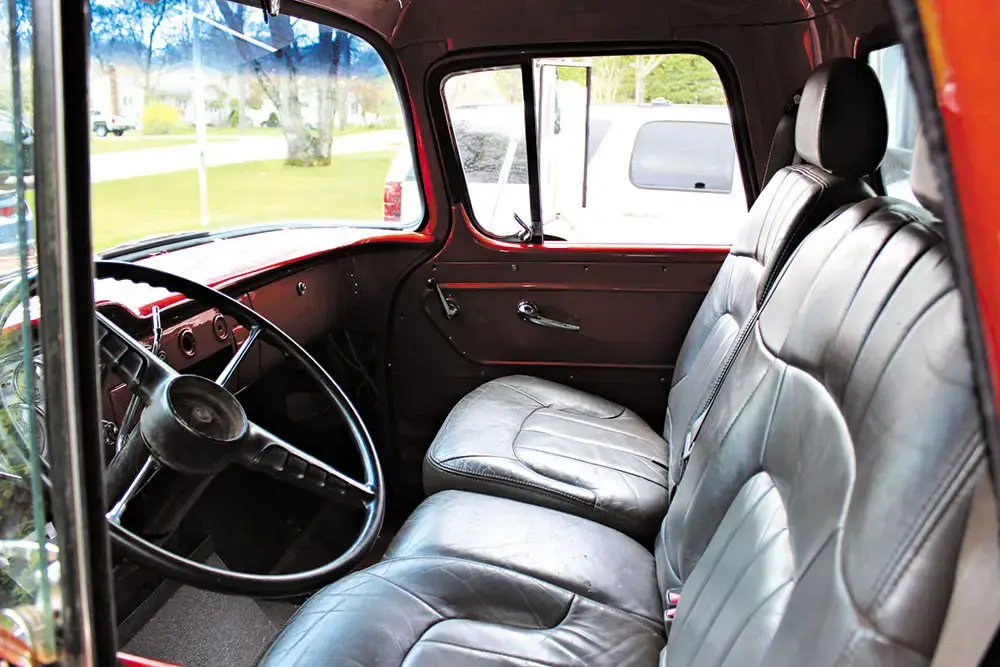 I knew the build was going to be big rig inspired and big rigs have big fuel tanks, big stacks, big suspension, big front bumpers, and lots of LED lights. Oh, and you can't forget about air horns and west coast mirrors.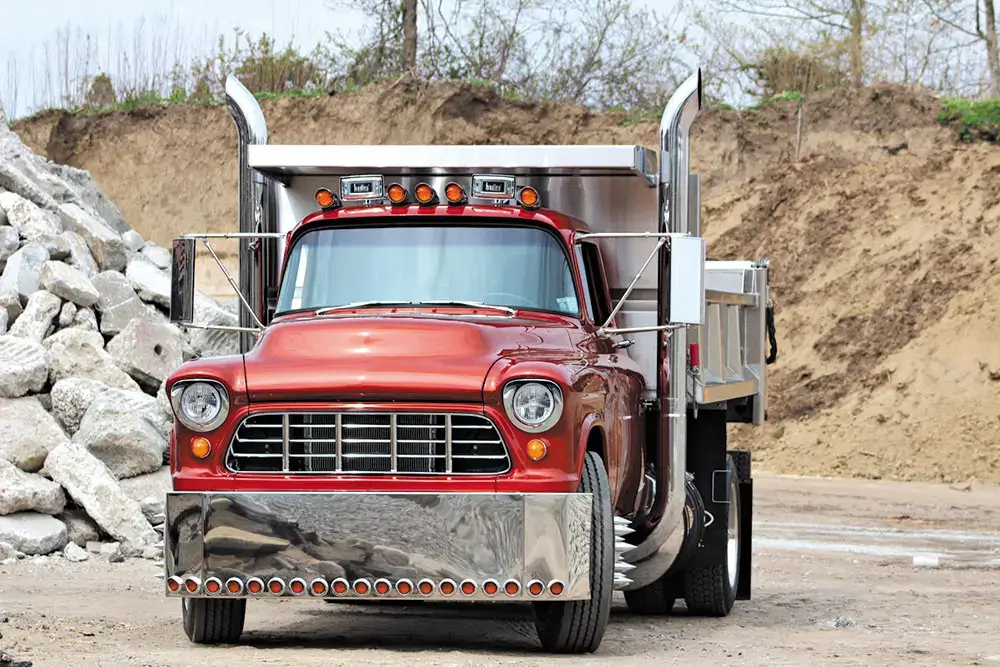 My goal was to support 180 gallons of onboard fuel. I knew the stock '73 leaf springs wouldn't hold up. With that in mind, I searched for a Corporate Air Rear Axle Suspension (AirBeam). This is the same suspension on a semi tractor trailer truck. It took some creative thinking and fabricating to get it to work, but it was all worth it.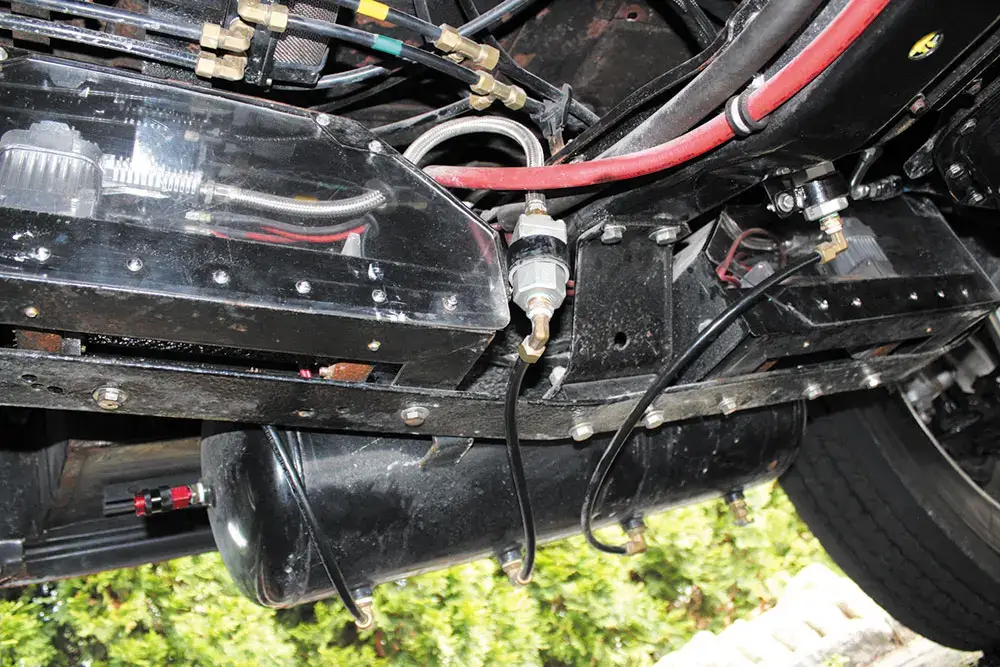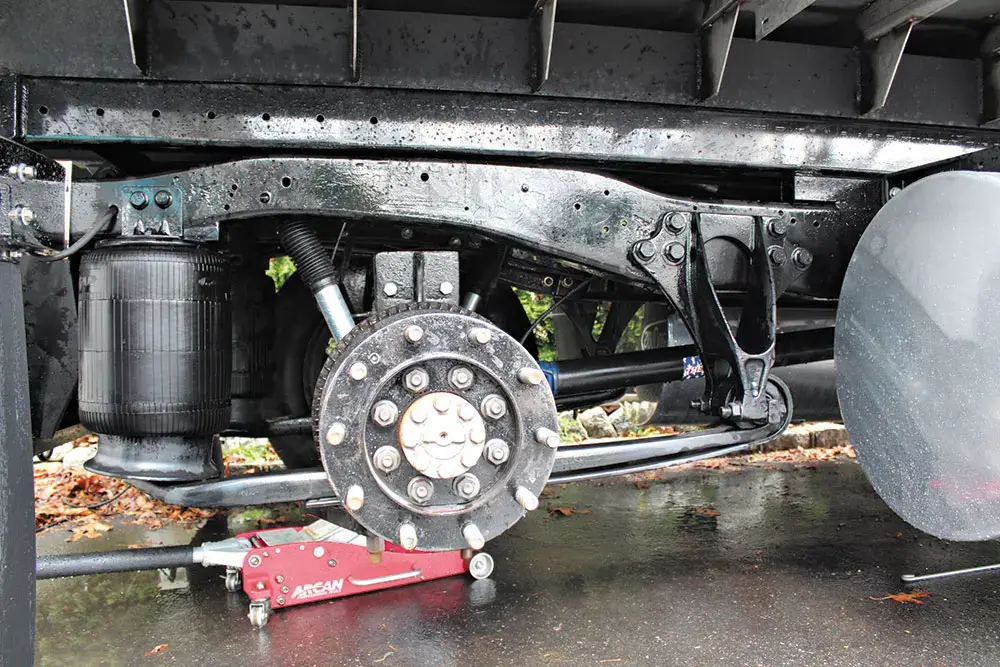 With all the weight of the Cummins up front, the stack springs wouldn't be sufficient so I installed two 5,000-pound air bags in their place. I added Bilstein shocks in each corner and added a sway bar. I mounted two 485 air compressors on the inside of the frame under the cab and an 8-gallon tank on the outside of the frame under the driver-side door. I put four switches and gauges under the dash to monitor all four bags.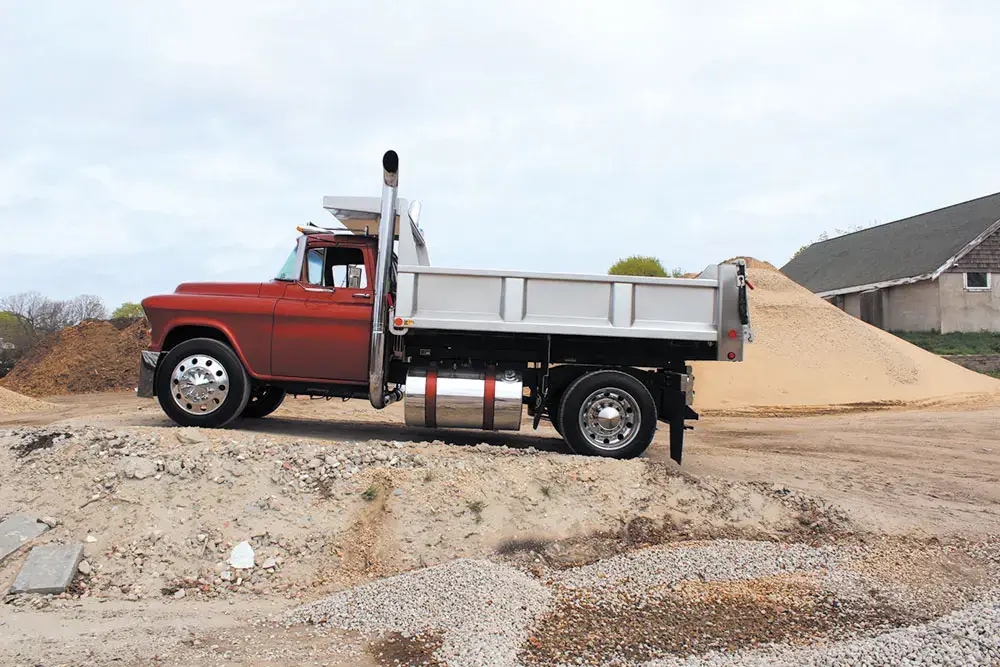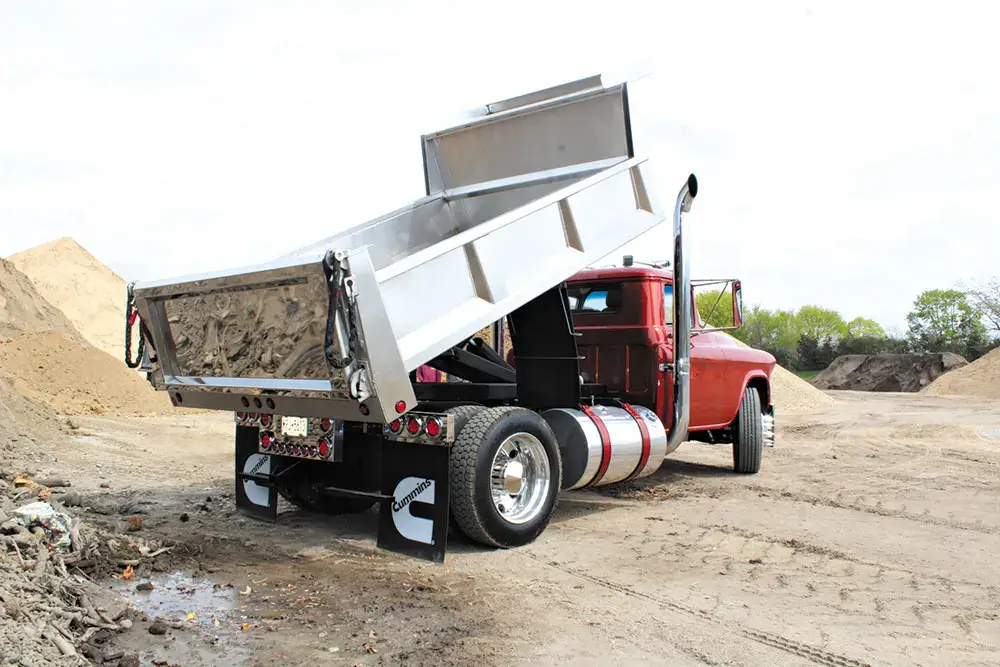 The interior is pretty much stock and still under construction. I did update it with AutoMeter gauges and an Ididit steering column. The front seat is a second-row seat out of a Buick Envoy. For now, there is no radio since I probably wouldn't hear it anyway with the straight pipe exhaust. That's music enough.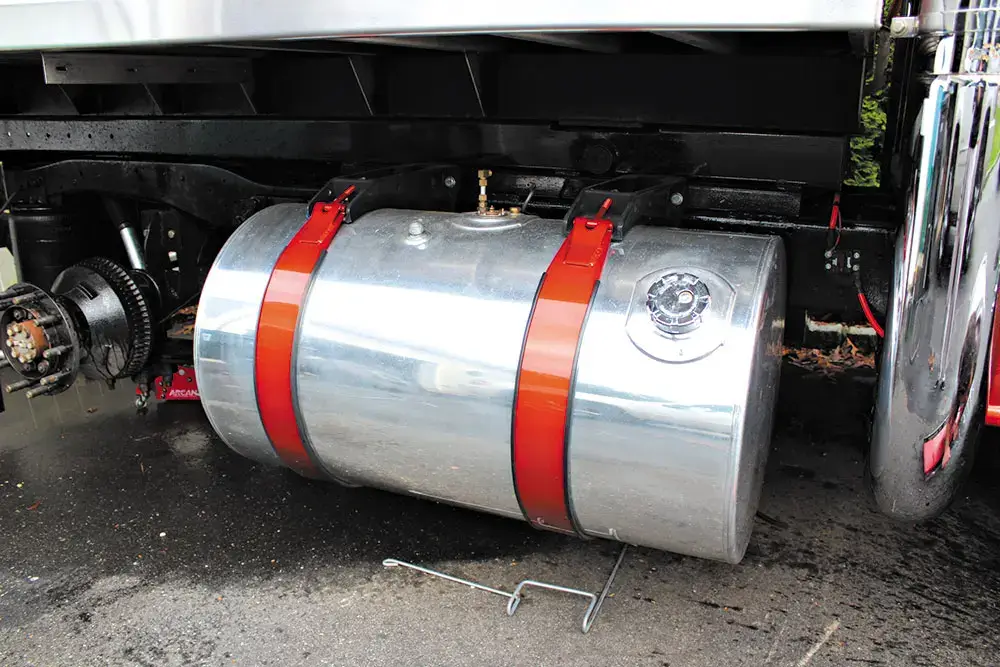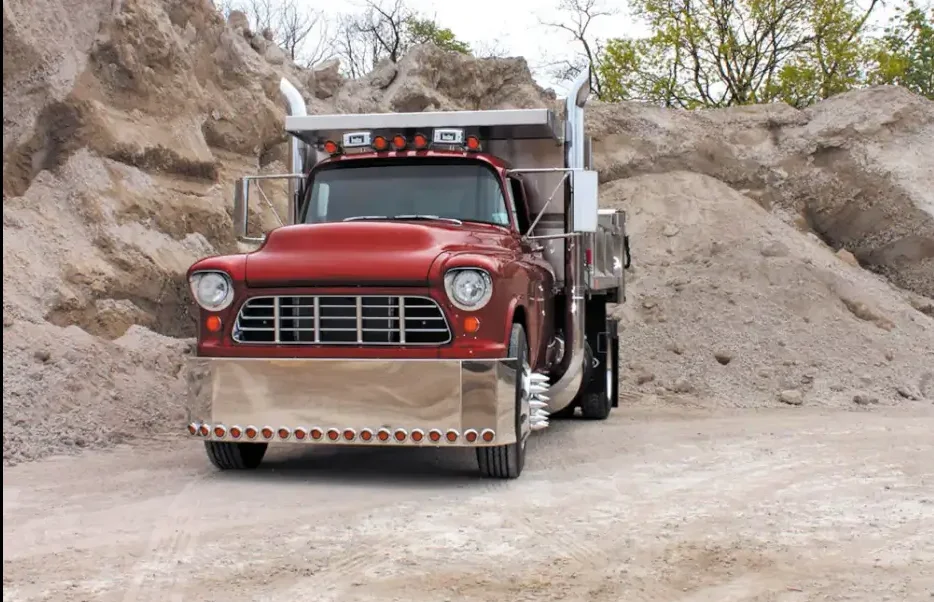 I searched the web to find a place to build a custom stainless-steel dump bed. I ended up trailering the truck to Hinesburg, Vermont to a place called Iroquoian Manufacturing Company. It stayed up there for a month so they could build a custom dump bed with a 14-ton hoist. Why stainless you ask? Because everyone else does aluminum. I wanted the bed to be different and eventually I will polish the whole thing into a mirror.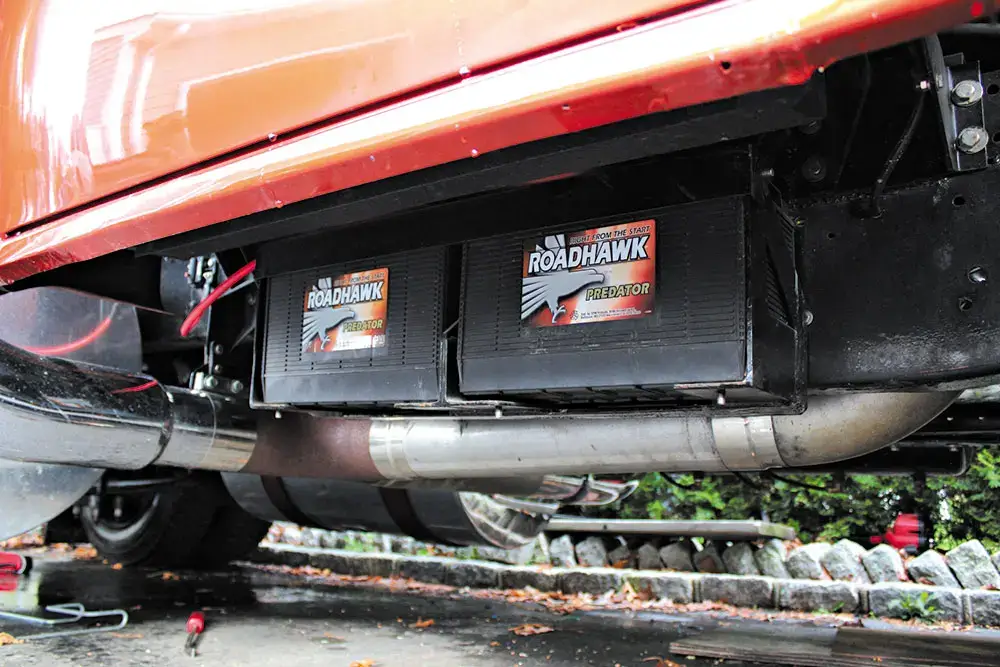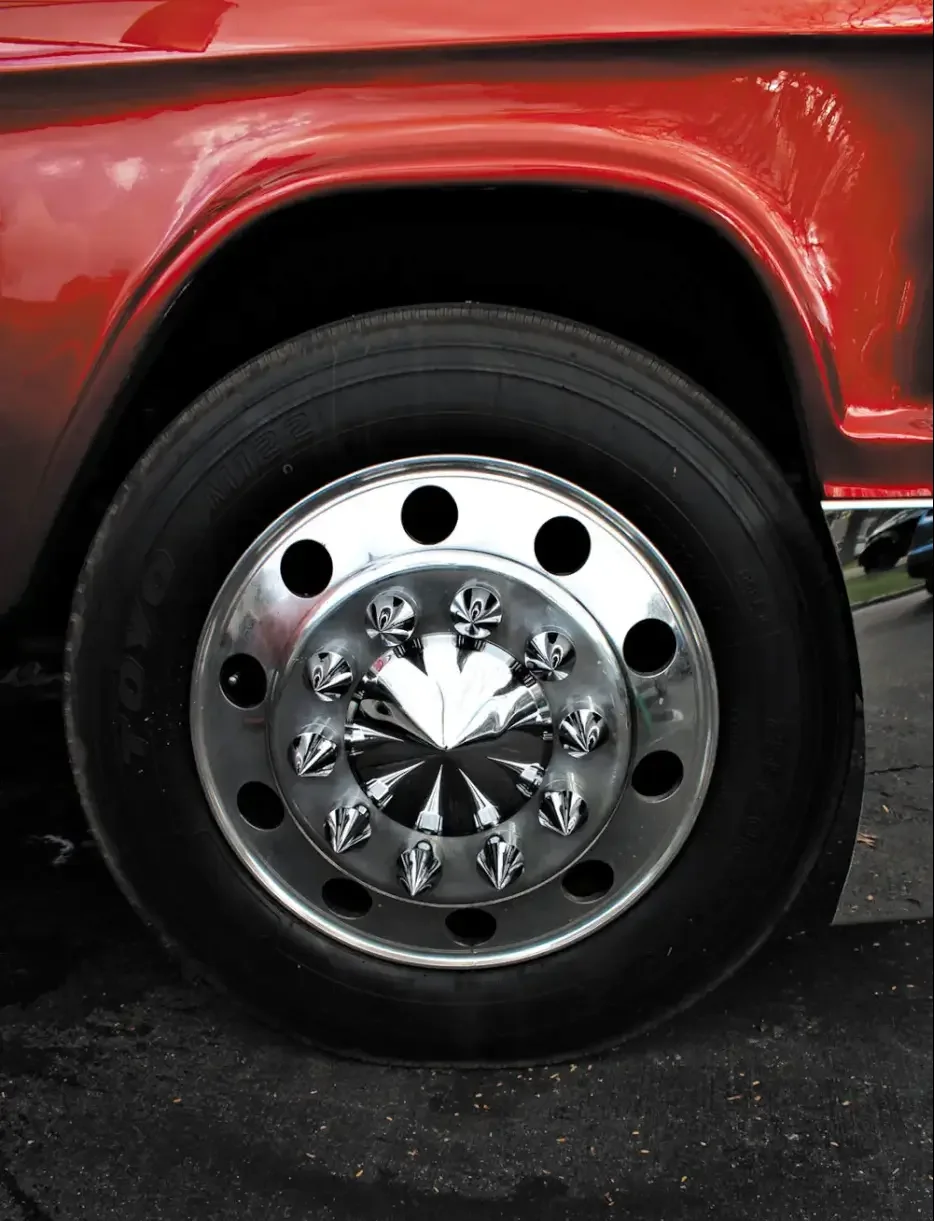 Now the only thing left was paint. From the beginning, I said I wanted to do it in burnt orange. I finally decided on a 2016 Corvette color called Daytona, Sunrise Orange and I'm glad I did. I found Jim Thrift of Thrift Auto in Medford, New York who could paint the truck with the body installed. When I first met Jim, I said I wasn't looking for a show truck perfect paint job since I was planning to use the truck for work – but perfect is exactly what he gave me.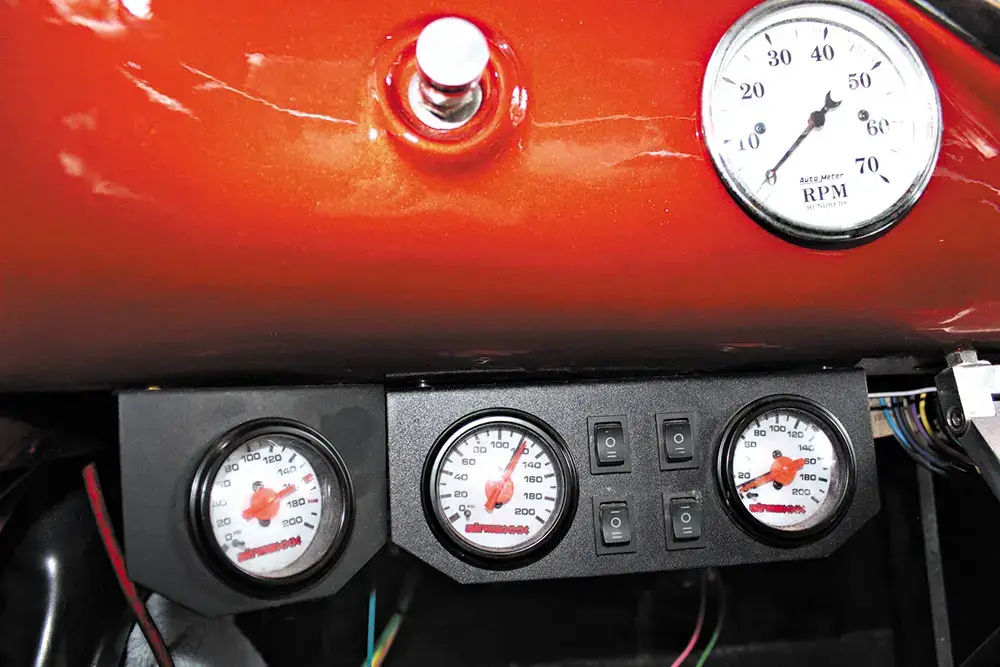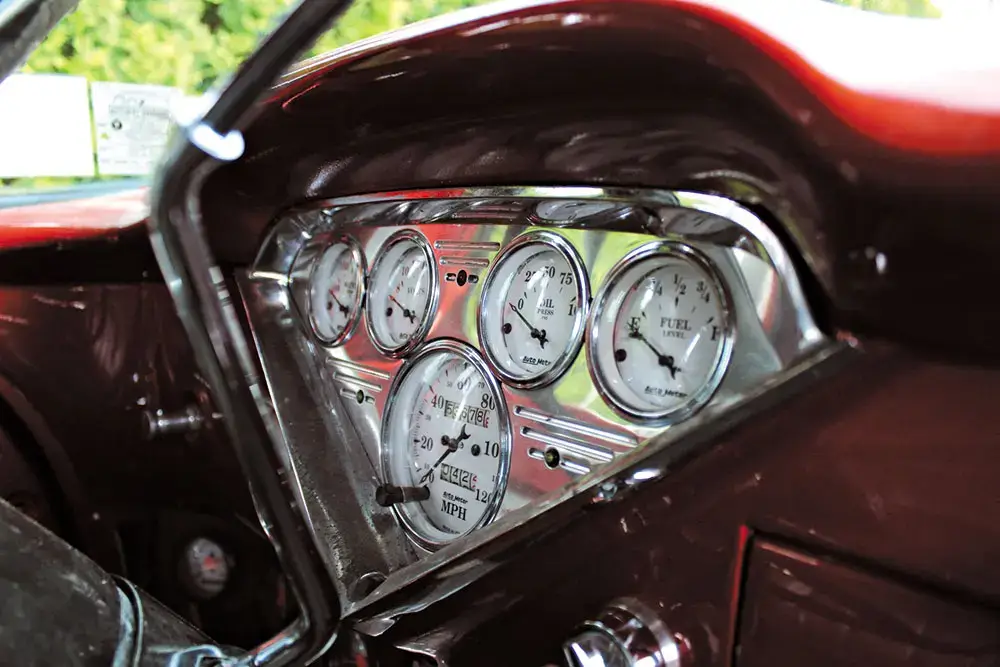 Everyone says I'm crazy for using the truck for work because it's too nice. I don't disagree but the whole reason I did this was to use it and enjoy it and to have the coolest landscape truck in town.