HELLWIG'S 2018 F-350 SEMA BUILD DOES IT ALL IN STYLE
The "Operator" is Hellwig Products latest show truck creation, and as with all of their builds, you can expect to see this monster being used in the fi eld and at a wide variety of events across the country. Based on a 2017 Ford F-350 Lariat, and featuring a Textron Wildcat X UTV mounted atop a custom cab-over mount from Sherptek, this recon adventure vehicle demanded attention at its debut in the 2017 Ford SEMA Show booth.
This truck was designed to appeal to a wide range of truck enthusiasts: the show truck crowd, tow/haul work truck segment, and the overland/outdoor recreation market. It specifi cally highlights the capabilities and quality of Hellwig sway bars and air spring systems, while it's large presence and unique looks attract attention wherever it goes. All the modifications to this truck were designed with full functionality in mind, allowing it to perform equally well both on and off-road. The truck was built to win the hearts of true offroad enthusiasts and pay homage to Hellwig's made in America roots and military offerings, while keeping on-road performance in mind, as this truck will be putting in many highway miles between events. Sara Morosan and her team at LGE-CTS Motorsports made Hellwig's dreams a reality by completing all modifi cations to the truck.
Go Anywhere
The ride this truck offers in all conditions while carrying a heavy load, is of the utmost importance to showcase Hellwig's quality load control products. The basis for the quality suspension on the Operator is an Icon Vehicle Dynamics Stage 5 Kit, which utilizes adjustable remote reservoir shocks and provides a full 4.5" lift. The lift provides enough clearance to run 37"x 12.5" Falken MT Tires, fi tted on 17" Method NV HD wheels. The combination of these two provide a buttery smooth ride on any terrain. Hellwig's front and rear sway bars ensure the altered center of gravity doesn't get the better of this adventure rig, and keeps it planted while maneuvering at both slow and high rates of speed.
To combat the extra weight of all the add-ons (including the UTV), Hellwig SXS Big Wig Air Springs were fi tted to the rear of the truck, ensuring a level load at all times. For even greater ease of operation, Hellwig's hands-free Auto Leveling air management system was added. Viair supplied their dual compressors and a large air tank, which keep the air springs at pressure, air tools powered up, and the tires infl ated.
Go Prepared
Every aspect of this build was laid out with the intention of having a purpose and serving a function; No item on the Operator was slapped on as a novelty. The front Fab Fours Vengeance bumper was modifi ed to house a Warn 16.5ti-S winch, to both extract others and handle any obstacles it might encounter. To mount the oversized spare tire and keep the items in the bed from flying loose, a custom Wilco Off Road prerunner style tail gate was fi tted. A modified Fab Fours Vengeance rear bumper helps support the weight of the spare tire.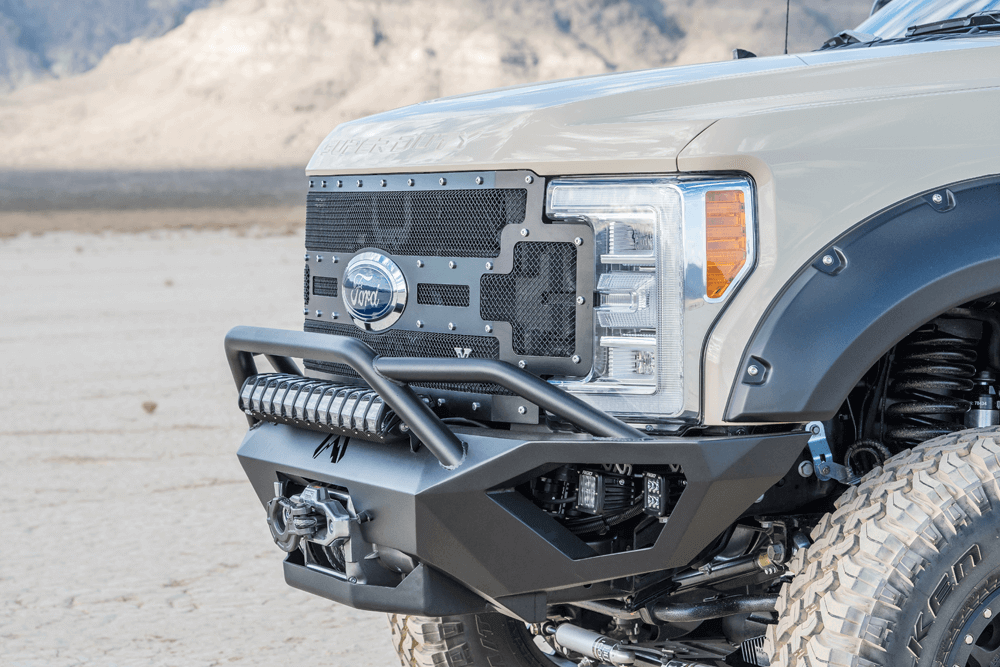 To keep the Operator breathing properly, you'll find a black 5" Magnaflow DPF back exhaust underneath the truck. Under the hood you'll fi nd two Optima Yellow Top Batteries providing power for the truck and its many new electrical accessories. Keeping the driveline, engine, and transmission fluids cool are Mag-Hytec differential covers, transmission and oil pans.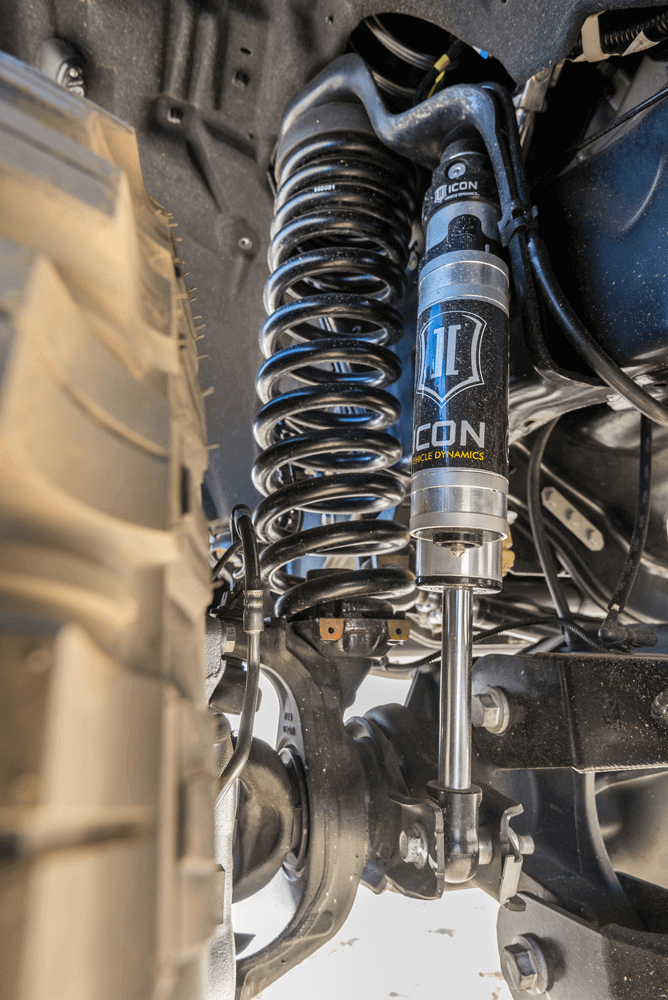 A full compliment of Rigid LED lights were installed in both bumpers and in the wheel wells. Each light serves a specifi c purpose and isn't just there to have another piece of bling on the truck. To give the Operator a functional support truck feel, a Whelen Liberty Light Bar was mounted atop the cab. If the fl ashing light bar isn't enough to get your attention, the Whelen PA system sure will.
Look Good
Rounding out the truck's exterior accents and functionality are the Bushwacker Pocket style fender fl ares, T-Rex X-Metal grille, AMP Research retractable side steps, and Billet Badges custom side badges. All of these accessories add a bit of functional performance while also fully integrating and upgrading the look of the vehicle.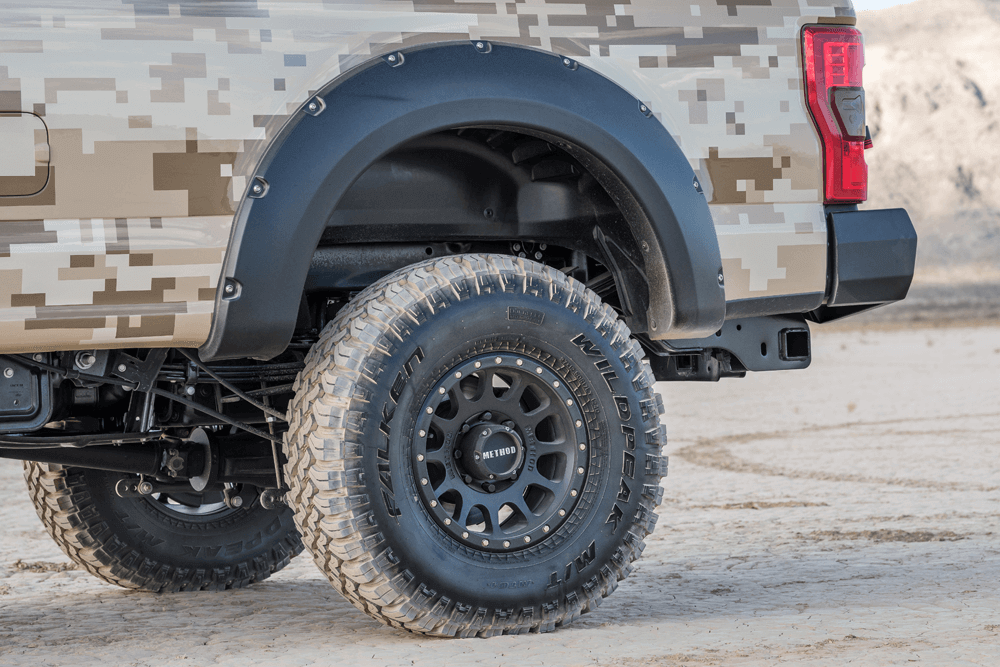 While the digi-camo graphics, lift, aggressive military style, Fab Fours bumpers, custom 5.11 Tactical upholstery materials, all weather mats and bed mounted UTV make it look tough and rugged, the powerful Ford power plant and Hellwig Suspension upgrades will back up the looks with top notch performance.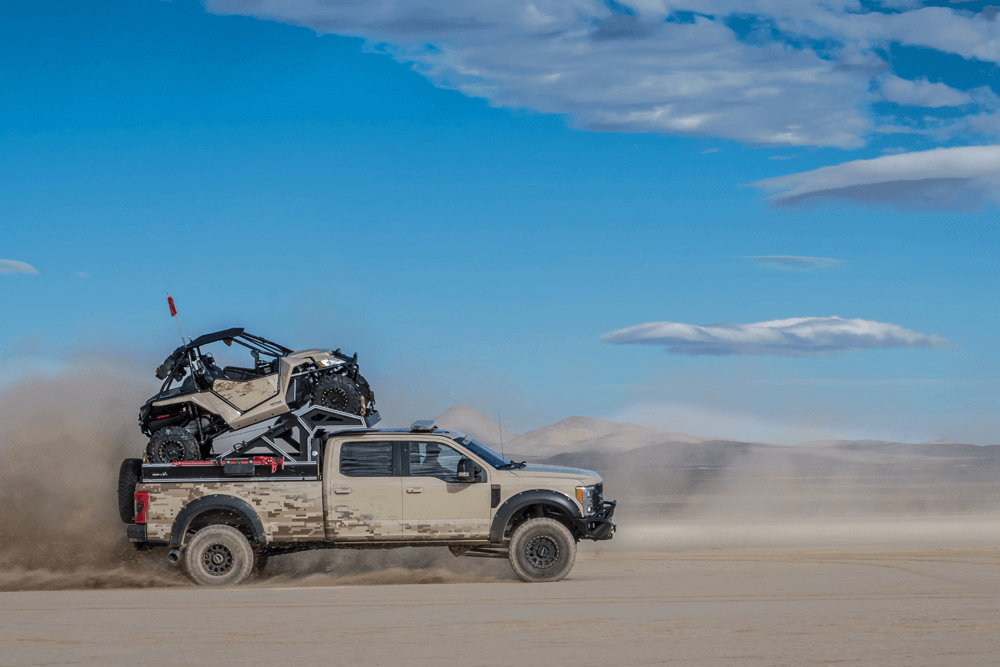 Theresa Contreras of LGE-CTS Motorsports painstakingly prepped, masked and painted the originally black truck with custom colors supplied by BASF. Each layer of the tan fade to digital camoufl age paint scheme was applied with detailed precision. Complimenting the tactical paint scheme is a full 5.11 Tactical one-off custom interior, which features the Molle system on all available surfaces. This system allows for secure and easy mounting of a full host of 5.11 Stash Bags, which conveniently organize and securely carry the necessary items for different types of travel.
Dragon Bak
The centerpiece of this impressive build is the custom frame mounted Sherptek Dragon Bak Dek, which securely carries a 2017 Textron Wildcat X UTV. Sherptek is a new startup that specializes in unique fl atbed and truck bed systems that utilize a lightweight and strong fully bonded extruded aluminum construction, and offers up a nearly infi nite tie down system. The Dragon Bak bed top UTV mounting system not only allows for secure UTV transport, but also offers the ability to run one or two integrated auxiliary fuel tanks, lots of accessory mounting options and a ton of storage room in the truck bed. The system is also extremely easy to mount and remove, as it requires no modifi cations or drilling to the truck. A Warn 2500 winch is used to raise and lower the Wildcat onto the truck, using the collapsible 12' loading ramps. The Wildcat is securely mounted to the Dragon Bak with Mac's Tie downs at all four wheels.
UTV Fun
The 2017 Textron Wildcat X mounted on the back of the Operator is all about fun. This go-anywhere machine is fast, fully appointed, and ready to tackle any terrain. An upgraded steering wheel and side mirrors from Assault Industries, improve the look and feel of the ride, while a Rigid 10" light bar, rock lights and a Buggy Whips LED whip make this vehicle perfect for night missions. The Trigger wireless switch system made wiring all the lighting and electronics a breeze. DayStar Cam Lock fl uid containers are mounted on the back of the Wildcat to ensure it has the range needed to get out and explore, and get back again. Bolt locks are utilized to keep all mounted items secure, while all being able to be accessed from one key.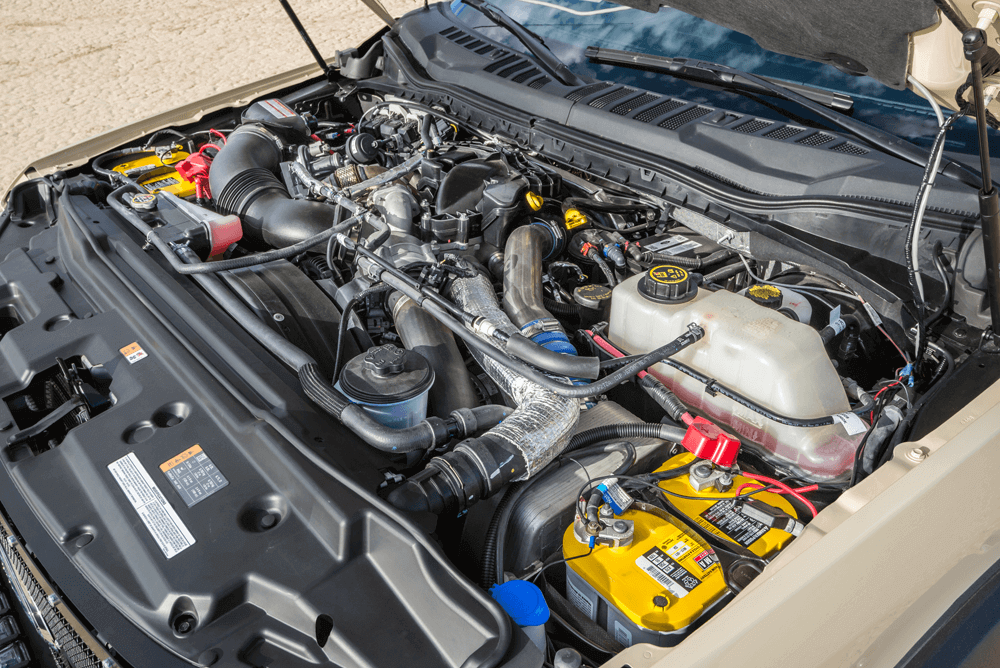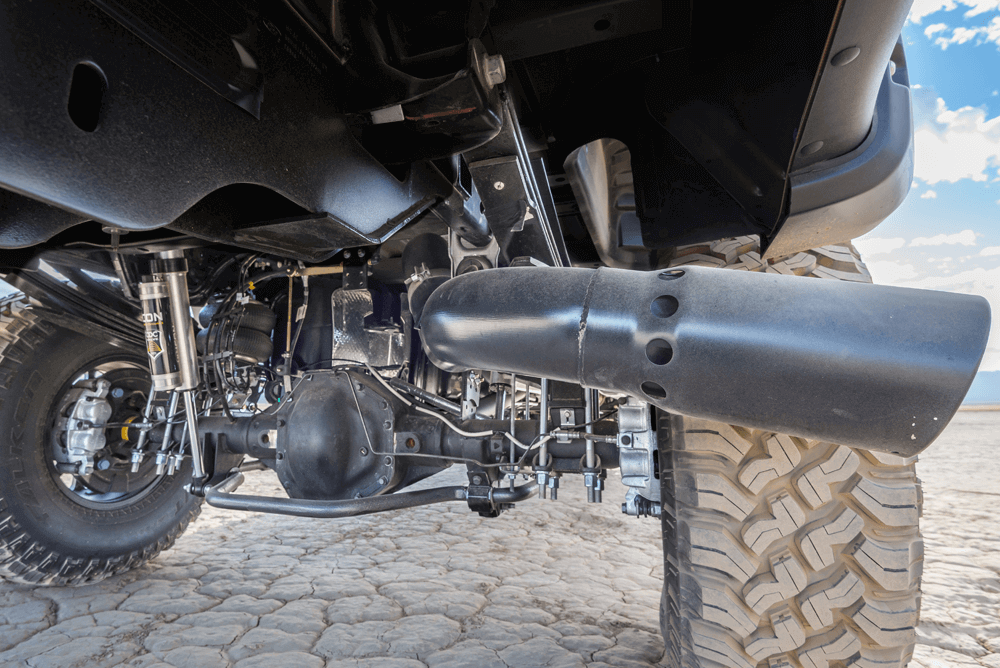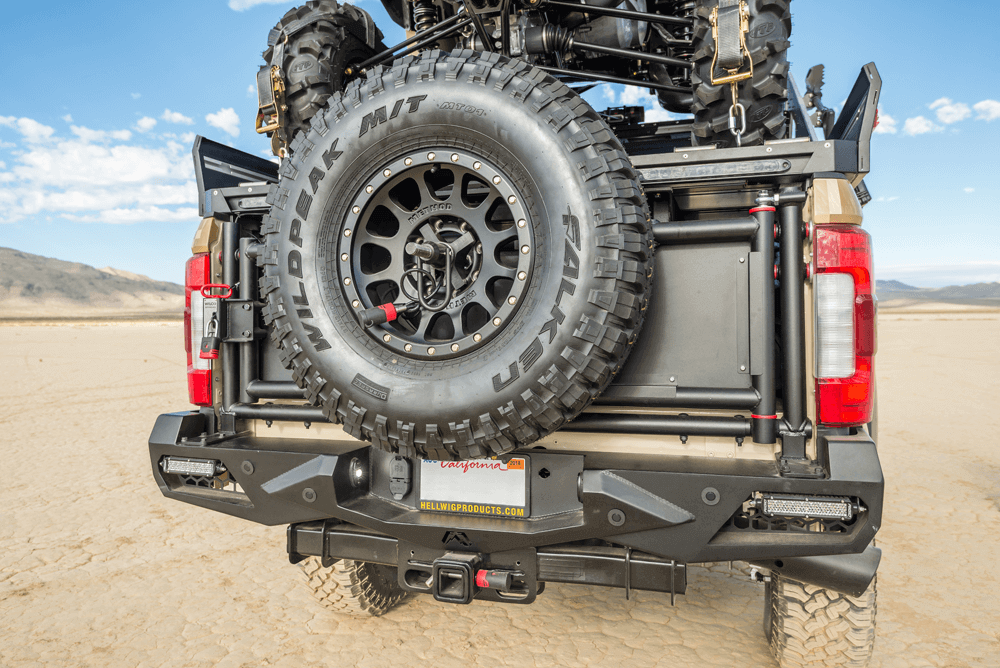 Rugged Radios fully outfi tted both the Operator and Wildcat with hard mounted and handheld radios, allowing the two vehicles to communicate with each other or others that they are on the trail with. Headsets and helmet intercom systems with push-to-talk functionally are also essential for easy and clear communication, especially when the Wildcat is screaming across the desert. To fi nish off the Wildcat's fun systems, an SSV Works blue tooth enabled head unit and speaker system was installed to keep the tunes pumping.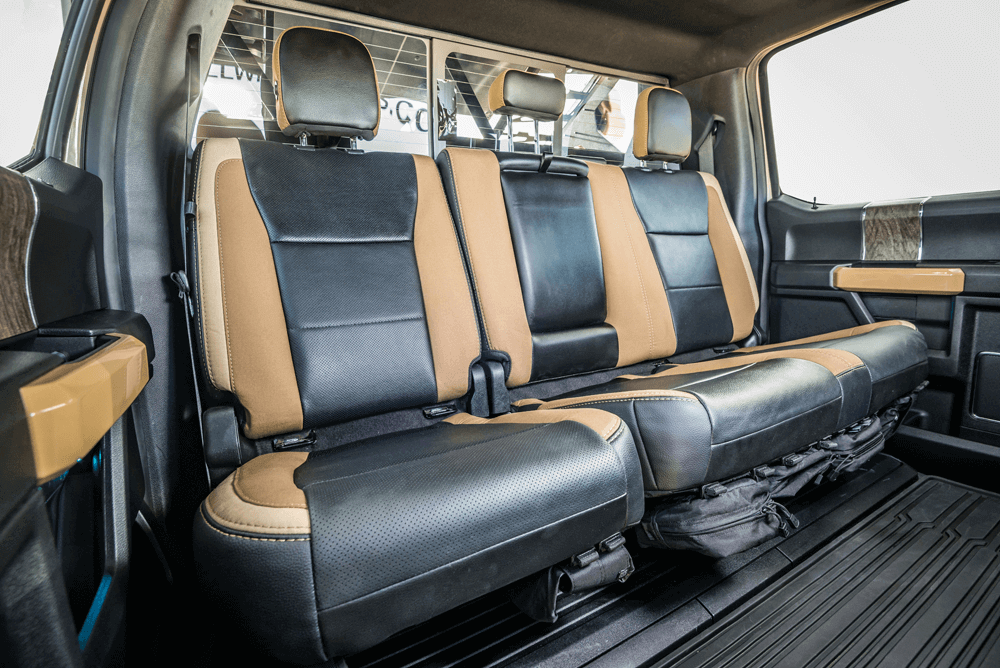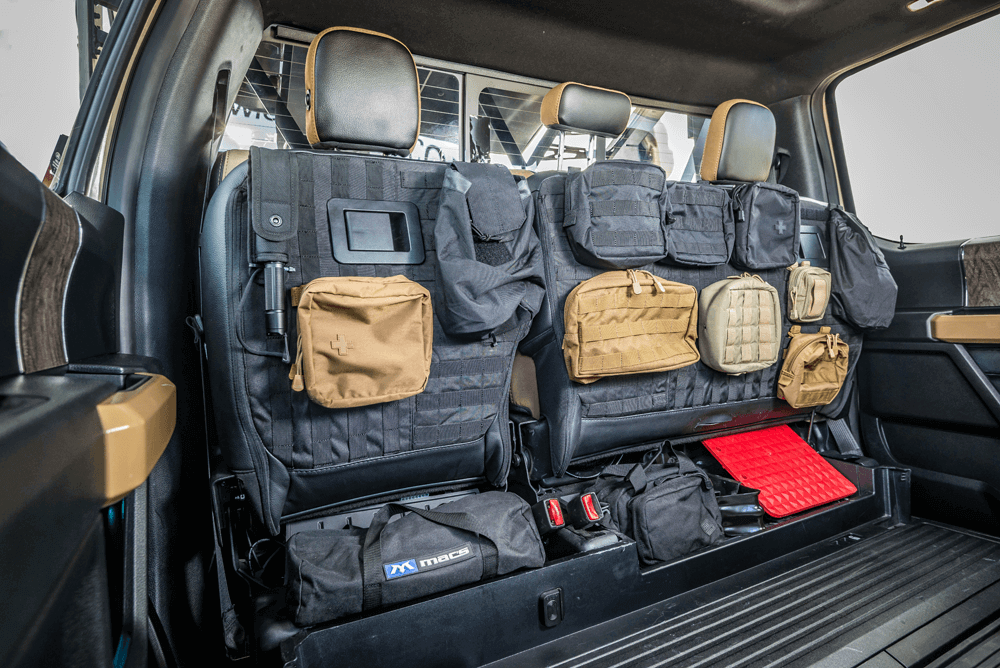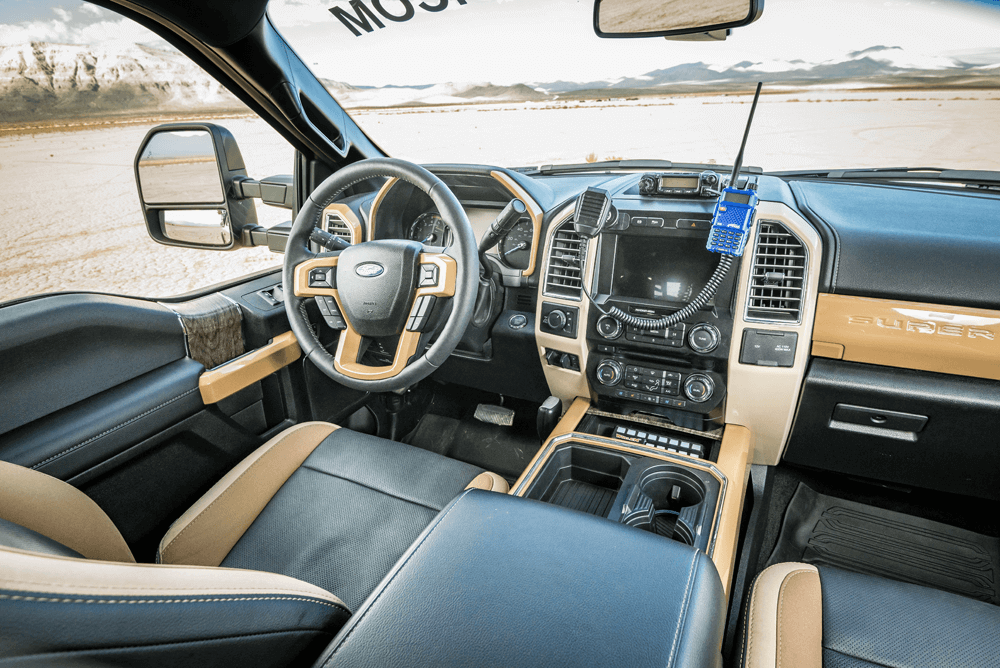 The Operator is one fully integrated, unique adventure machine that not only works well in a wide variety of conditions, but is also a ton of fun. Its presence alone demands attention, and the attention to detail on this build keeps you looking. The design and build of this truck truly showcases all manufacturers products involved and was recognized at SEMA with the "Ford Outstanding Achievement in Design Award."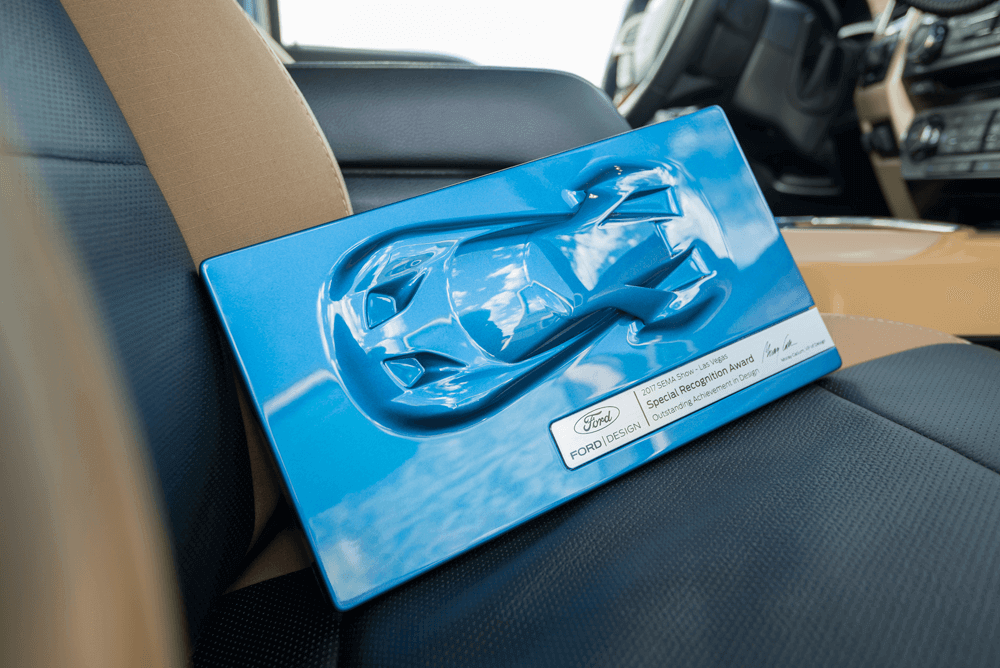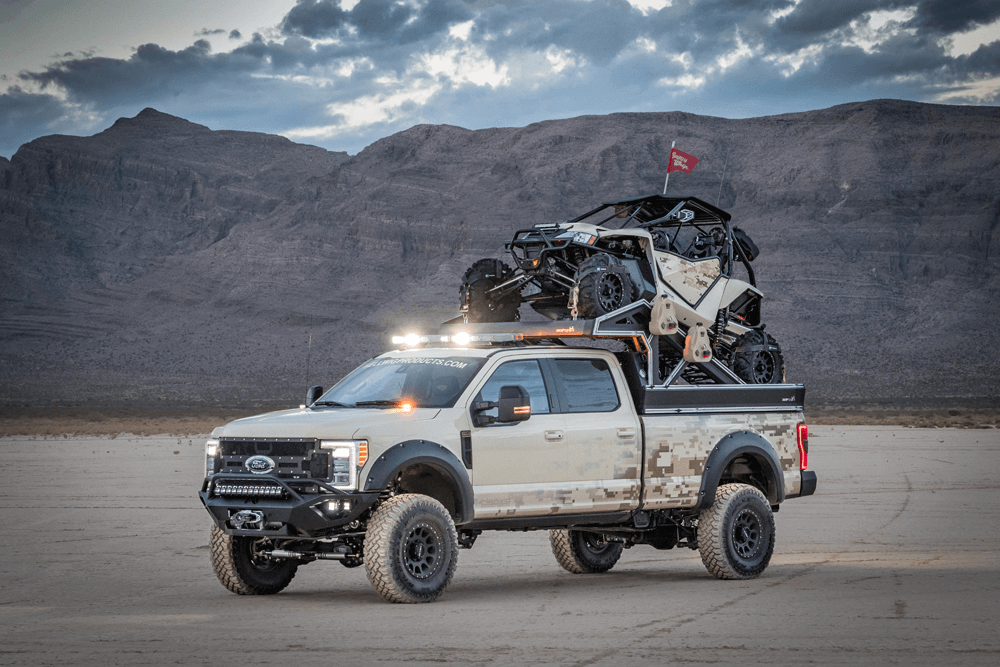 Sure, it debuted as the ultimate show truck in the Ford booth at SEMA 2017, but don't expect the Operator to remain a show queen. You won't see this rig being trailered around, but you will see it at off-road events across the country in 2018. It will be traversing highways, back roads and off road trails between events and for enjoyment by the Hellwig team. The Operator will be getting dirty and is sure to see some serious use along the way.DW