Still Exceeding Design Specifications at 81 Years Old
Back in the November 2015 Tractor Talk we showed you a 1935 McCormick-Deering WD-40. The WD-40 has the distinction of being America's first diesel-powered wheeled tractor. We barely got the WD-40 photographed at the 2015 National Threshers Reunion before a deluge of Biblical proportions swamped the event. As a result, we didn't get to talk to the owner, Chuck Lehman.
Lehman was back at the Threshers Reunion in 2016 and we caught up with him just in time see his vintage diesel on the National Threshers Association's 1920 A.D. Baker Prony brake dynamometer. His tractor is obviously superbly restored cosmetically, but in the back of our minds we wondered if it was a trailer queen or a working tractor. Turns out this 81-year-old diesel tractor is ready to work anytime, anywhere, and can deliver more than its rated power. Since the extensive and very expensive restoration was completed in 2012, it's been proving that at plowing days all over Northwest Ohio, Northwestern Indiana, and Southern Michigan.
ONE OF THE FIRSTS
We also learned more about the history of this tractor. It's a very early one, the 230th built, wearing serial number 731. According to production lists, standard production of the WD-40 started in May of 1935 with serial number 504. Numbers 501 through
503 were preproduction units built in 1934 for testing. Number 503 is owned by noted WD-40 historian, collector, and restorer, Eric Best, who looked up some scarce information we needed for this story. The exact production date of WD-40 number 731 isn't known but from production records we know it was built in late July 1935. The casting marks on the major structural tub back that up and are marked with a July 11, 1935 date.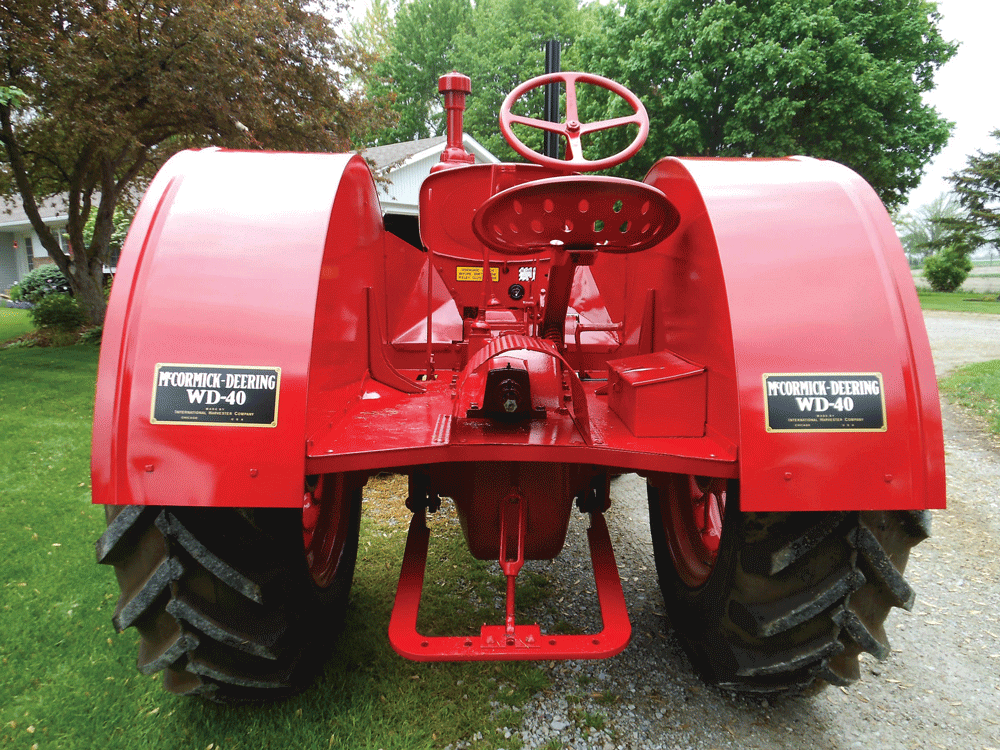 One of the seemingly anomalous things we noted about Lehman's WD-40 in 2015 was the red paint, which at first glance seemed incorrect. Sure, red is the color for which IH tractors are best known, but it wasn't always so. Prior to 1937, IH and McCormick-Deering tractors were painted a dark gray. Late in '36, at the start of the '37 model year production, IH began implementing a color change to Harvester #50 Red. It didn't happen immediately for all tractor lines, but sources conflict as to when the WD-40 line went red. It could be as early as the first part of 1937 or as late as November of 1937—but here's the back story on WD-40 number 731.
About the time Lehman's tractor was built in '35, IH was painting some tractors red for market research to test public reaction to the red paint. According to Best, many of the first 100 WD-40s produced were red. These tractors were shipped out as demonstrators to events and dealerships around the country. According to the original owners, Lehman's red WD-40 is one of those demonstrators; it was sent to Kansas. They were not only pitching the red paint in this case, but also the new IH D40 diesel. The diesel part of the pitch didn't work but farmers liked the snazzy red paint because you could see the tractor from a mile away.
RISKY BUSINESS
At that time, diesel tractors were a new idea and with the WD-40 being the first most farmers had seen, it received a cool reception all over the country. The reasons were many, the first being cost. Diesel power plants added a 30 percent price premium. Second was the lack of experience most farmers had with "them newfangled diesels" and there were some added complications in their use, such as cold-weather starting, special lubricants, complicated fuel systems, and so on. Lastly, there was a lack of supporting infrastructure. Stubborn self-reliance was the common trait of farmers in those days and diesels were a little more than many farmers could fix with the proverbial bubble-gum-and-baling-wire" so a nearby dealer with diesel experience was an important element. As a result of all these factors, it took a long while to sell the first WD-40 diesels. Those farmers willing to take the plunge in those days got smokin' deals and the Franz family in Ness County, Kansas, walked off with a slightly used WD-40, serial number 731, in 1936 at a bargain price. The tractor remained in the family until 2010!
"THIS 81-YEAR-OLD DIESEL TRACTOR IS READY TO WORK ANYTIME."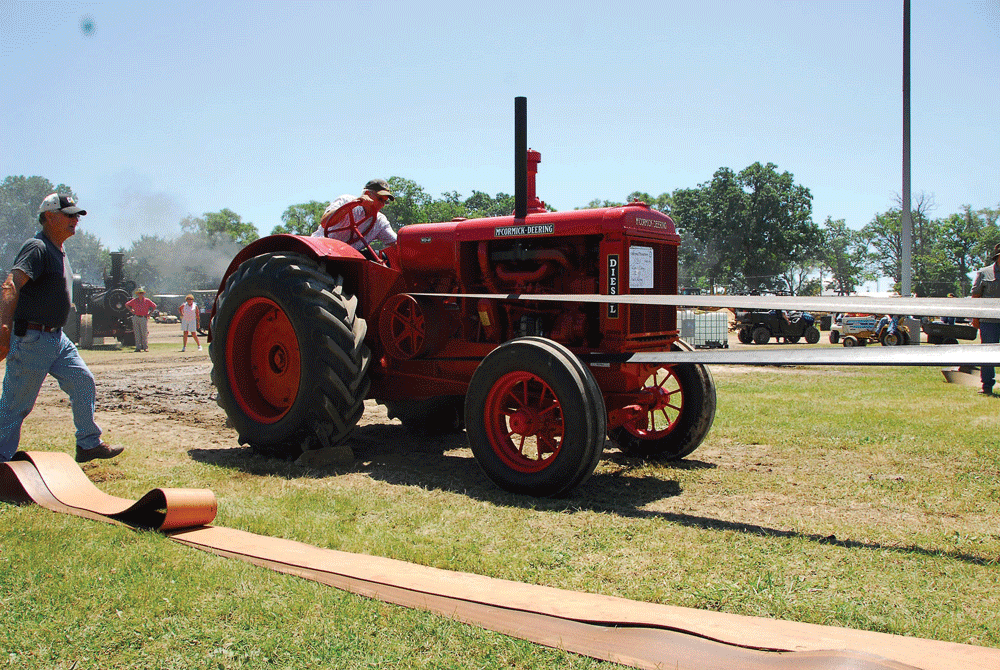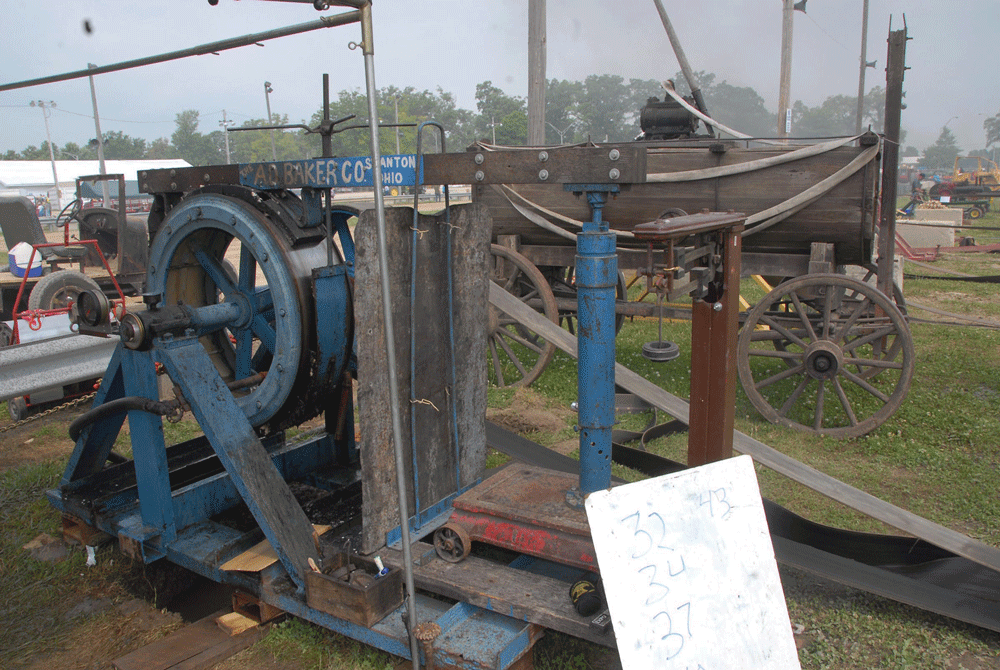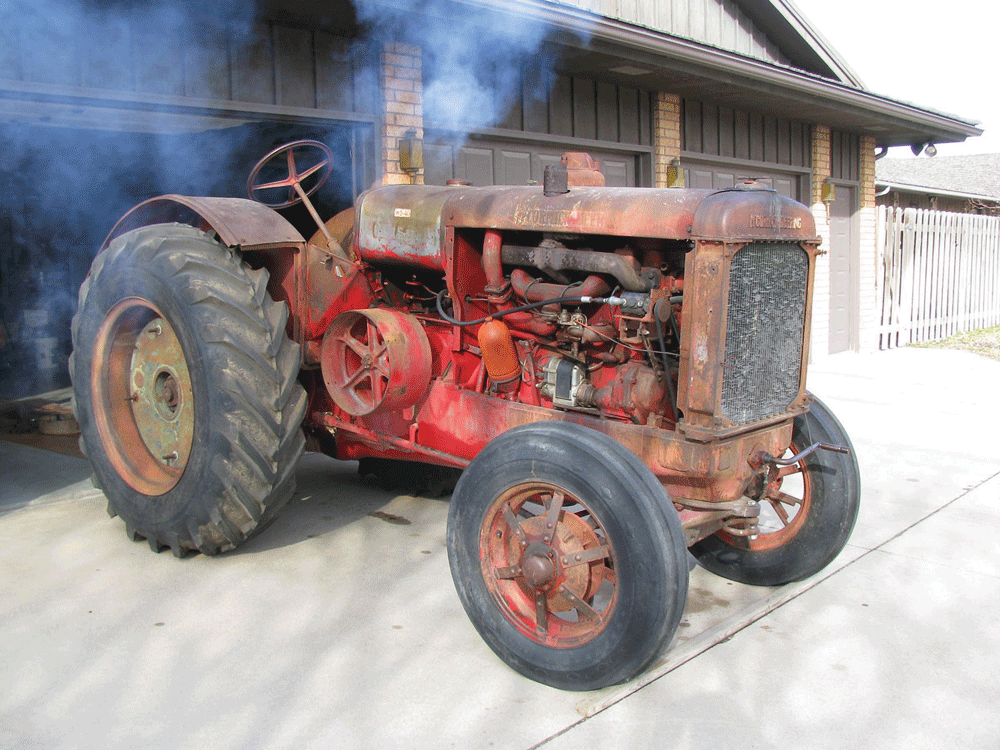 FAMILY HEIRLOOM
A tractor in the same family for threequarters of a century is bound to have a few tall tales attached to it. During his purchase and during the restoration, Lehman took the time to record a few as told by Leonard Franz, now 87. Franz remembers one of his older brothers driving the tractor home in 1936 and he gathered a lot of stick time on it over his many years of farming. The Franz family farmed as many as 5,000 acres using this tractor. It was in regular use working ground until 1954 and then spent another lifetime powering irrigation pumps. When Leonard's father died in 1972 and the farm was sold, the family wanted Leonard to have the tractor and he kept it until Lehman came along in 2010. The WD-40 models did not have hour meters, but given the acreages, the years in use, and several major overhauls, this tractor must have an unbelievable number of hours on it.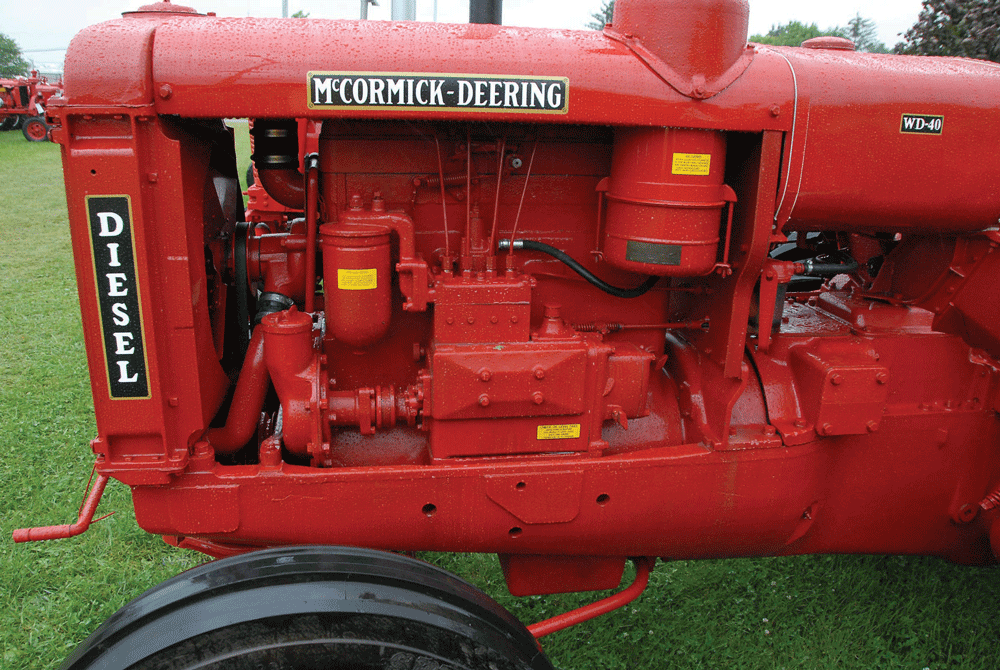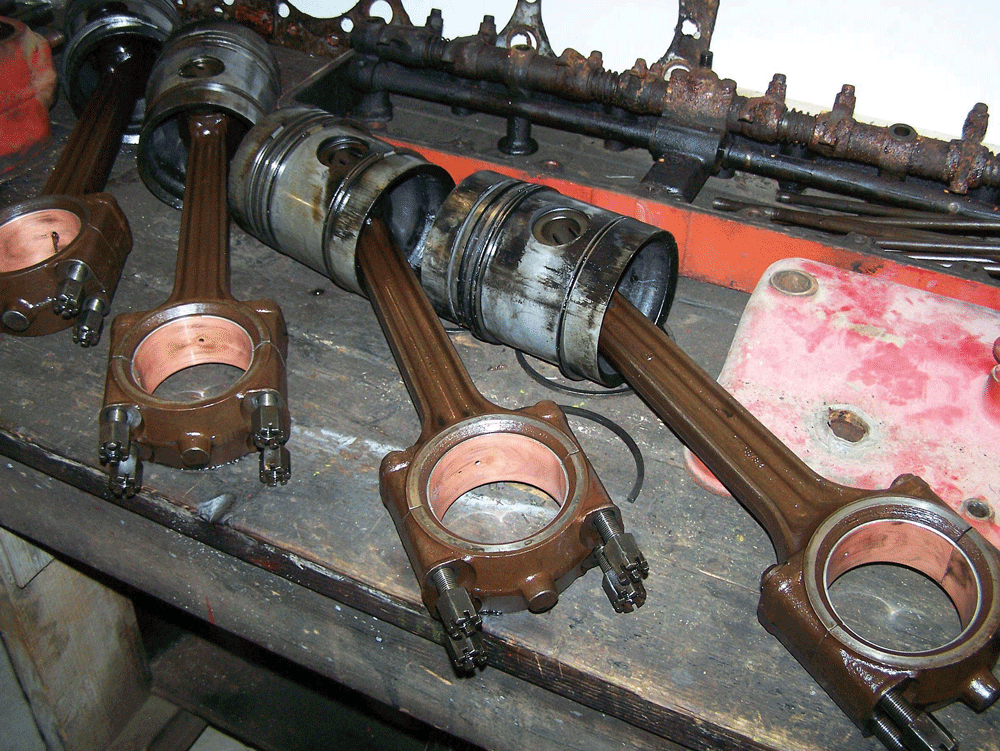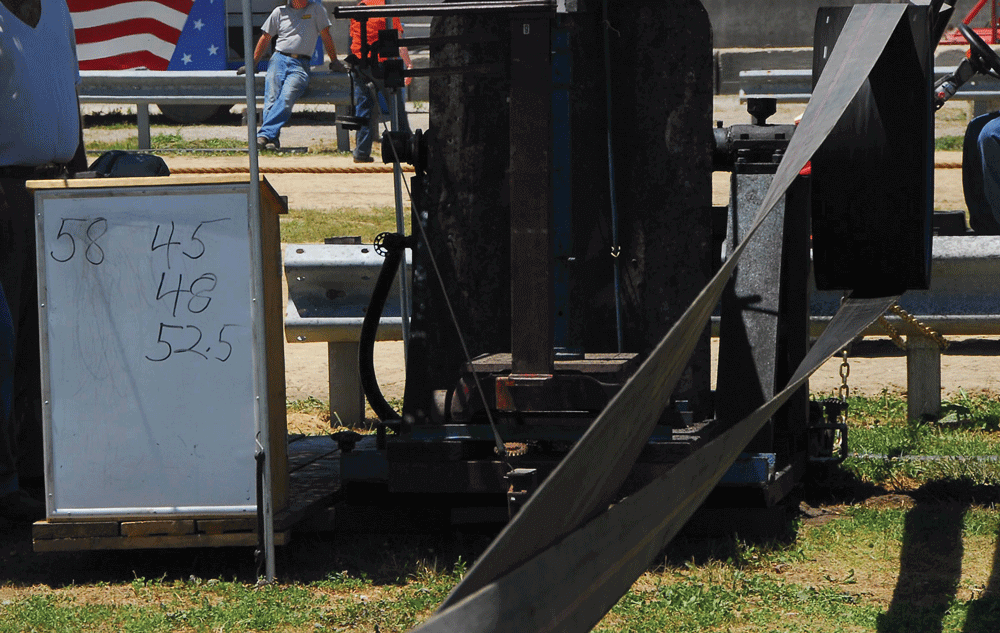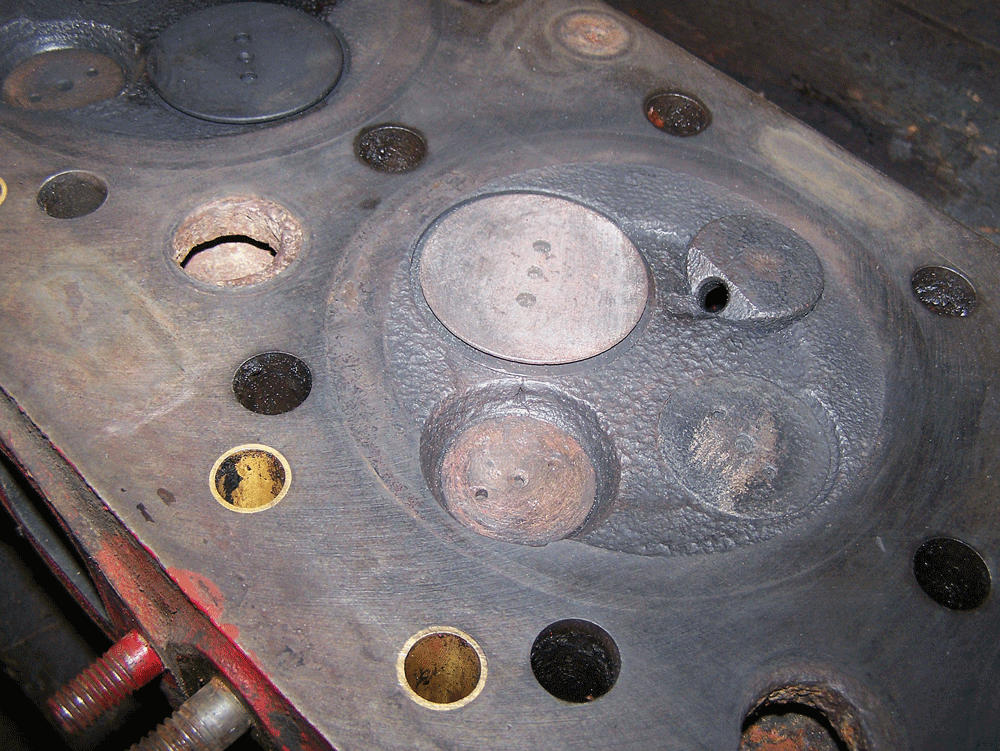 RESTORATION HURDLES
When Lehman got the WD-40, it was in tough shape. It ran and could move under its own power… but that's about all you could say. It was just plain worn down and worn out but it was largely complete. The WD-40s are a very advanced restoration because many parts are virtual "unobtainium." The IH-built PT-40 injection pump and injectors are very difficult and expensive to repair, but fortunately they were in good shape. Descendants of the D40 (later called the D461) engine were built into the '40s but internal engine parts are scarce and expensive. Powertrain parts are difficult and here is where Lehman faced a tough challenge. The input shaft, a shift rail, and one gear were damaged. He couldn't find the parts separately, new or used, though he turned up one complete used transmission for $5,000. In the end, he found a metallurgist who could weld, re-machine, and re-heat-treat the parts, making them good as new. In all, it was a two-year restoration that was pretty much a full-time job over that period. Lehman is a "git-er-done" kinda guy.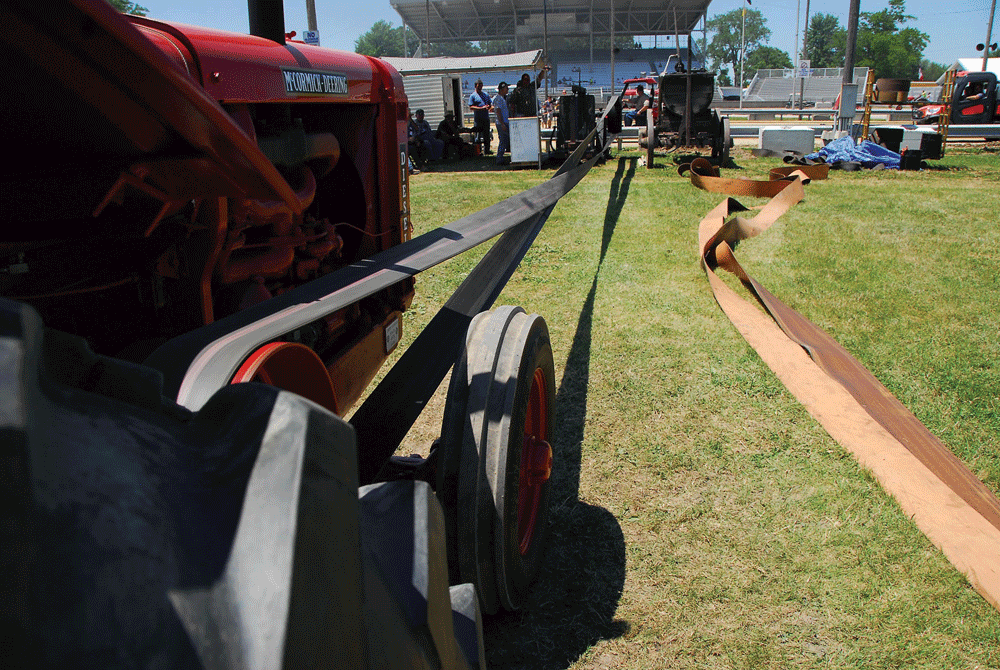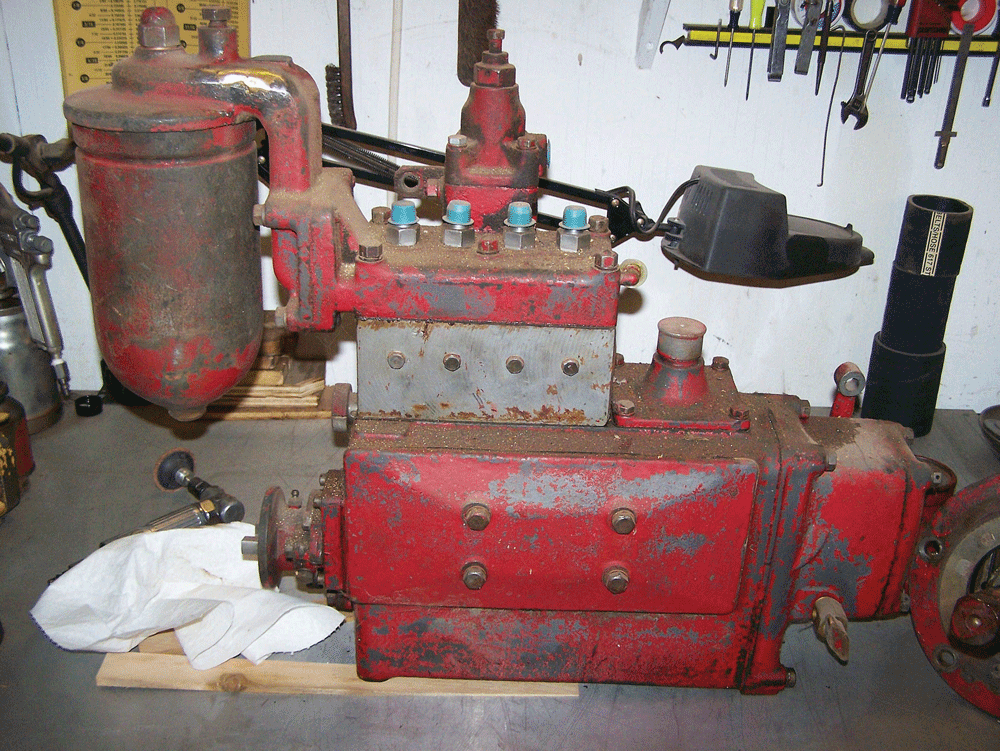 Now you know the rest of this story. The '35-40 WD-40 is a historically important milestone tractor but Chuck Lehman's has even more going for it. Sure, the unusual red paint adds to the collector interest, but for Lehman, it's the human history that makes the tractor important That a family would keep a tractor for 75 years and that he could be handed the keys by someone who was there when it was bought new makes it special. This tractor has a lot of stories to tell, and working it like he does, Chuck Lehman, and anyone nearby to watch, is there to hear them. DW
[divider]SOURCE[/divider]
NATIONAL THRESHERS ASSOCIATION REUNION
NationalThreshers.com