Ferdinand Porsche (1875-1951) had his hands into just about everything with an engine. By the time he started his own engineering firm in 1931, Dr. Porsche had acquired a great deal of motor vehicle engineering experience. His interest in tractors predated WWI, but he didn't work on a serious design until 1934, when three prototypes were produced. By that time, Porsche had gained some prominence while developing the Volkswagen automobile; it was so well accepted that the project yielded an additional charge from the Reich: the Volksschlepper, or the people's tractor. The Schlepper was project number 111 with the Porsche firm, and some of the other project numbers with which you might be familiar are 356, 911, 914, 924, 944 and 928.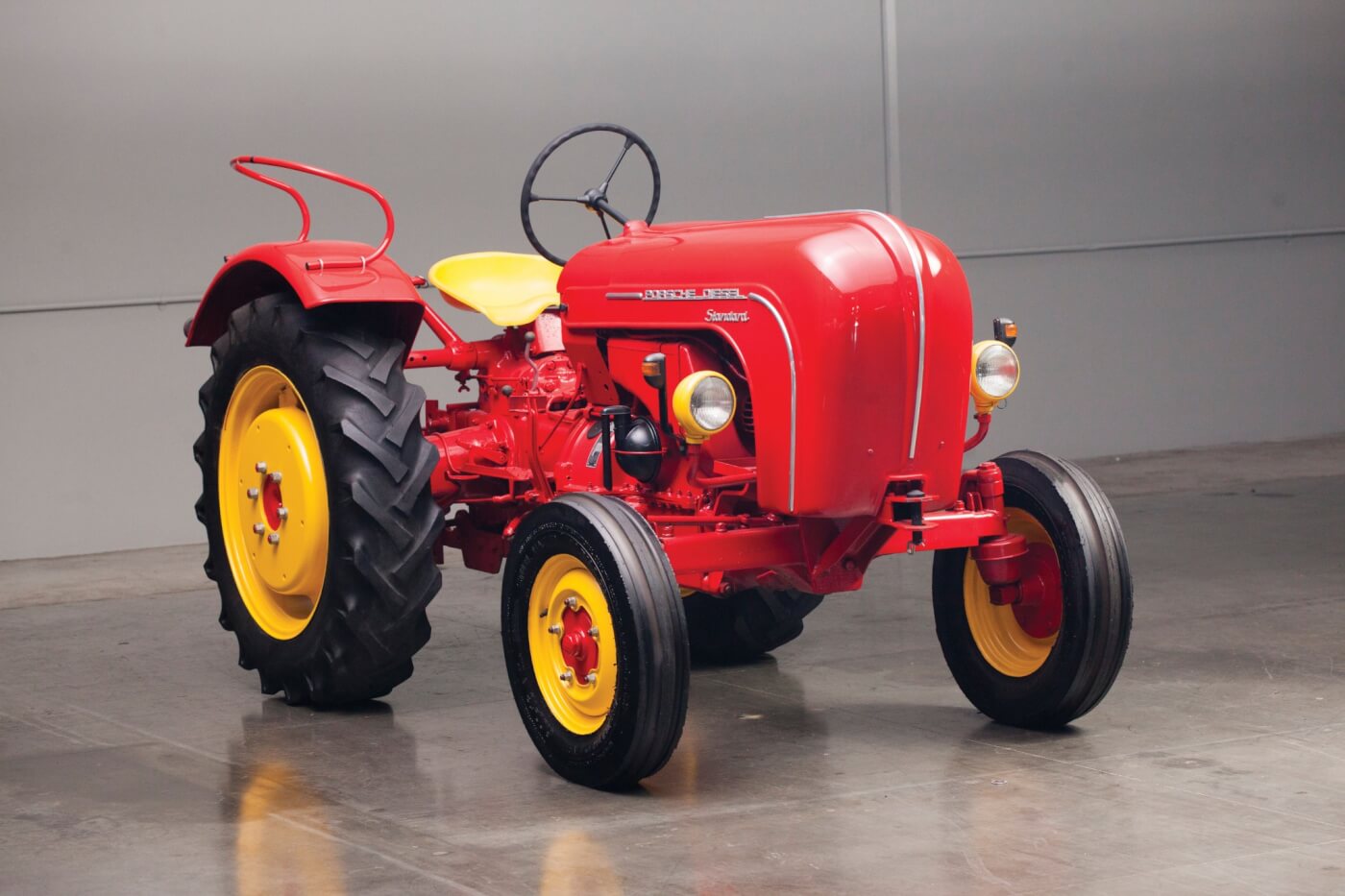 AIR-COOLED DIESELS
The first Porsche tractors were very simple designs with a fluid clutch and air-cooled V-2 gasoline engines, but by the time they were ready for production, the war had taken over most of German industry, and like the civvy Volkswagen, not much happened. After the German defeat, the Allied Occupation Government tried to convert Germany to an agrarian society (well, that didn't work, did it?) and the manufacturing of agricultural products was pushed hard. As a result, many war-ravaged firms saw agrarian manufacturing as a way to get back on their feet. Meanwhile, Dr. Porsche himself was being held in a French prison for alleged war crimes.
"About 1,000 Mannesmann-built Porsche-Diesel tractors were sold in North America."
One of the main things to come out of the tractor projects was the type 313 air-cooled diesel, the design of which was complete by 1945. At the end of the war, Porsche's company was in disarray, but Dr. Porsche's son, Ferry, held it together and finished the development of a tractor, among other things. By 1949, the elder Porsche had been released from prison and helped finalize a deal with Allgaier, an Austrian agricultural manufacturing company, to build the Porsche tractors under license. The new design sold well and funds were rolling into Allgaier and Porsche's bank accounts.
A big upgrade in 1952 yielded the Porsche System tractors, like the model A-111 you saw in Tractor Talk back in 2008. The Porsche air-cooled diesel had been substantially revised by then, and the tractor upgraded with new hydraulics and other modern features. Despite generally good sales, Allgaier decided to move away from tractor manufacturing in 1955 and sold the Porsche licenses and their tractor factory, to Mannesmann AG, who built the same tractor in 1957. That year, with some further technical upgrades, the slightly restyled tractors were rebranded Porsche-Diesel. By 1958, the tractors had undergone further revision, been given new designations, and the greatly expanded production included the 14-hp 1-cylinder Junior; 25 hp 2-cylinder Standard; 38-hp Super 3-cylinder; and the 50 hp Master 4-cylinder.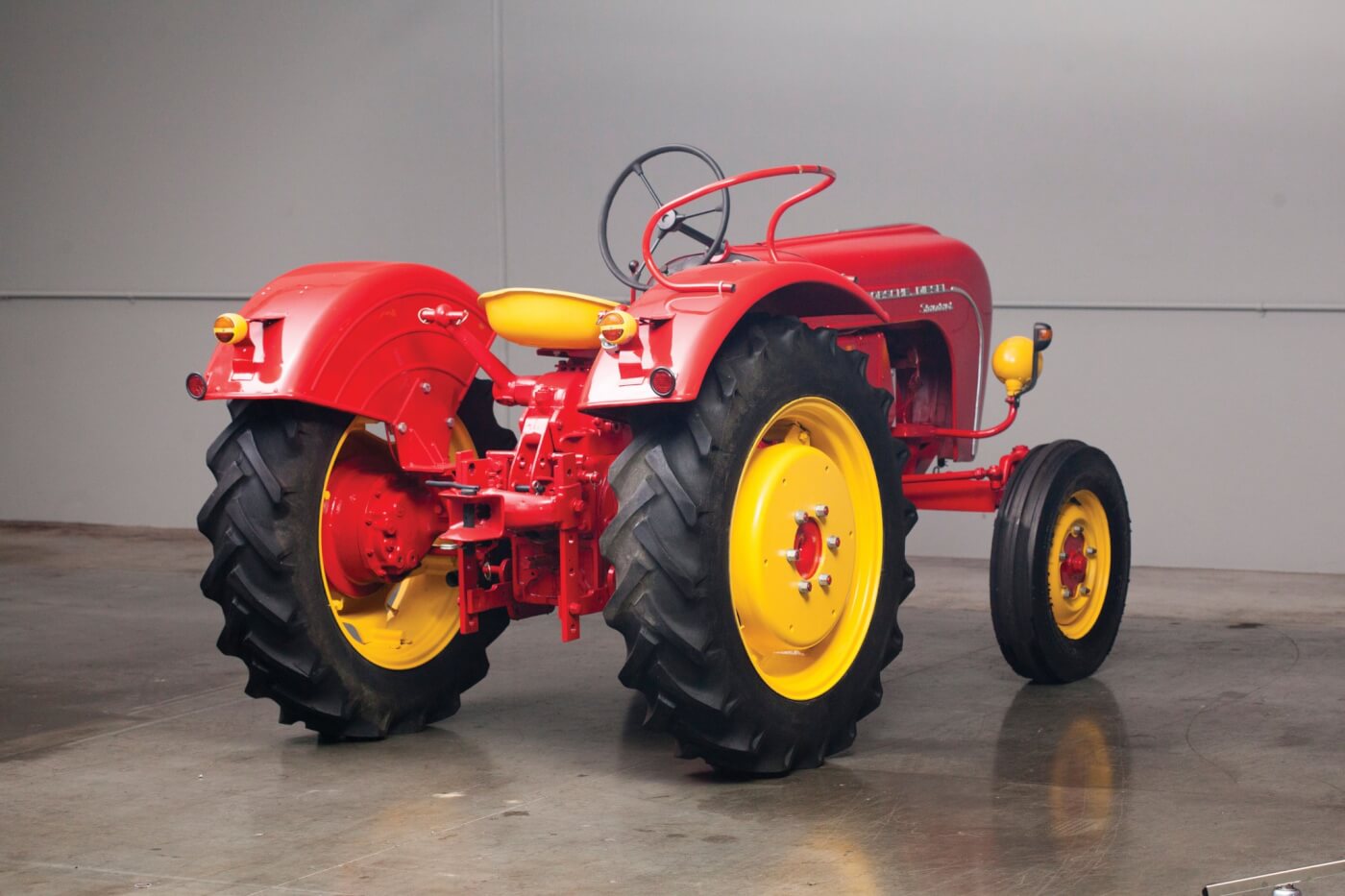 MODULAR DESIGN
The engines were all based on a modular design with a 50.15 ci cylinder that could be configured for one to four cylinders (and likely more if desired). They were directly injected, and each head and cylinder was separate and identical, so there was a lot of parts to interchange. Air-cooled diesels were fairly common in Europe at that time, with several companies producing them. Deutz is one very similar modular diesel, and it's similar enough to wonder whose design influenced whom.
NORTH AMERICAN INTRODUCTION
Sales of the Porsche-Diesel tractors were very good in Europe, and it was decided to begin marketing them in North America. After a few independent sale by a dealer in Connecticut, American Porsche Diesel Corporation was set up in Easton, Pennsylvania, to do just that, and sales began here in 1959. It was a modest success here but, worldwide, Porsche-Diesel tractor sales began lagging when the market became saturated by too many brands. In 1963, Mannesmann decided to move into other areas of manufacturing and by January of 1964, their factory was making tank engines for NATO, and the last few tractors were assembled from parts in the parking lot.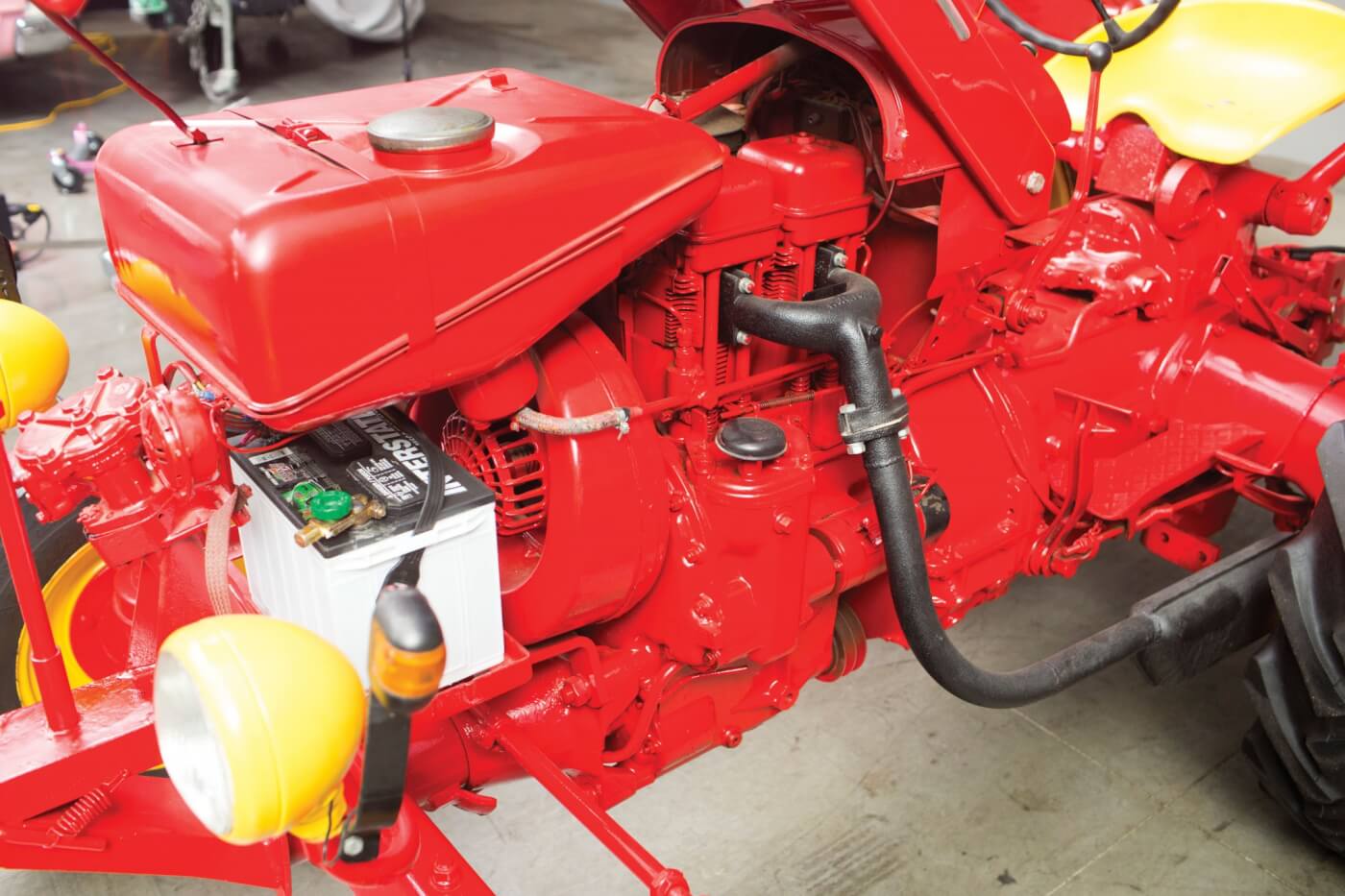 It's estimated about 1,000 Mannesmann-built Porsche-Diesel tractors were sold in North America, about 700 in the USA and 300 in Canada. The best sellers in North America were the Junior and the Master because they boasted features standouts in their classes and fit the market best. They all had a solid and economical powertrain, three PTOs (two rear and one center) a good hydraulic system and a diff lock. The European tractor model didn't always work here, but the Porsche tractors were close enough to have a shot at it. It isn't clear how successful Porsche tractors could have been here, but it's clear they didn't get the full-shot opportunity.
Two Porsche-Diesel tractors were tested at the University of Nebraska test lab in 1959: the single-cylinder Junior and the three-cylinder Super. The Junior was rated at 11.29 PTO hp, produced up to 9.58 drawbar hp and delivered 2,482 lbs. of pull at maximum ballast (800 lbs). The three-cylinder Super delivered 37 PTO hp and up to 33.4 drawbar hp with a maximum of 6,411 lbs. of pull with max ballast (3386 lbs). The two-cylinder Standard would've likely performed somewhere in the middle of those two benchmarks, likely in the 20 PTO hp range.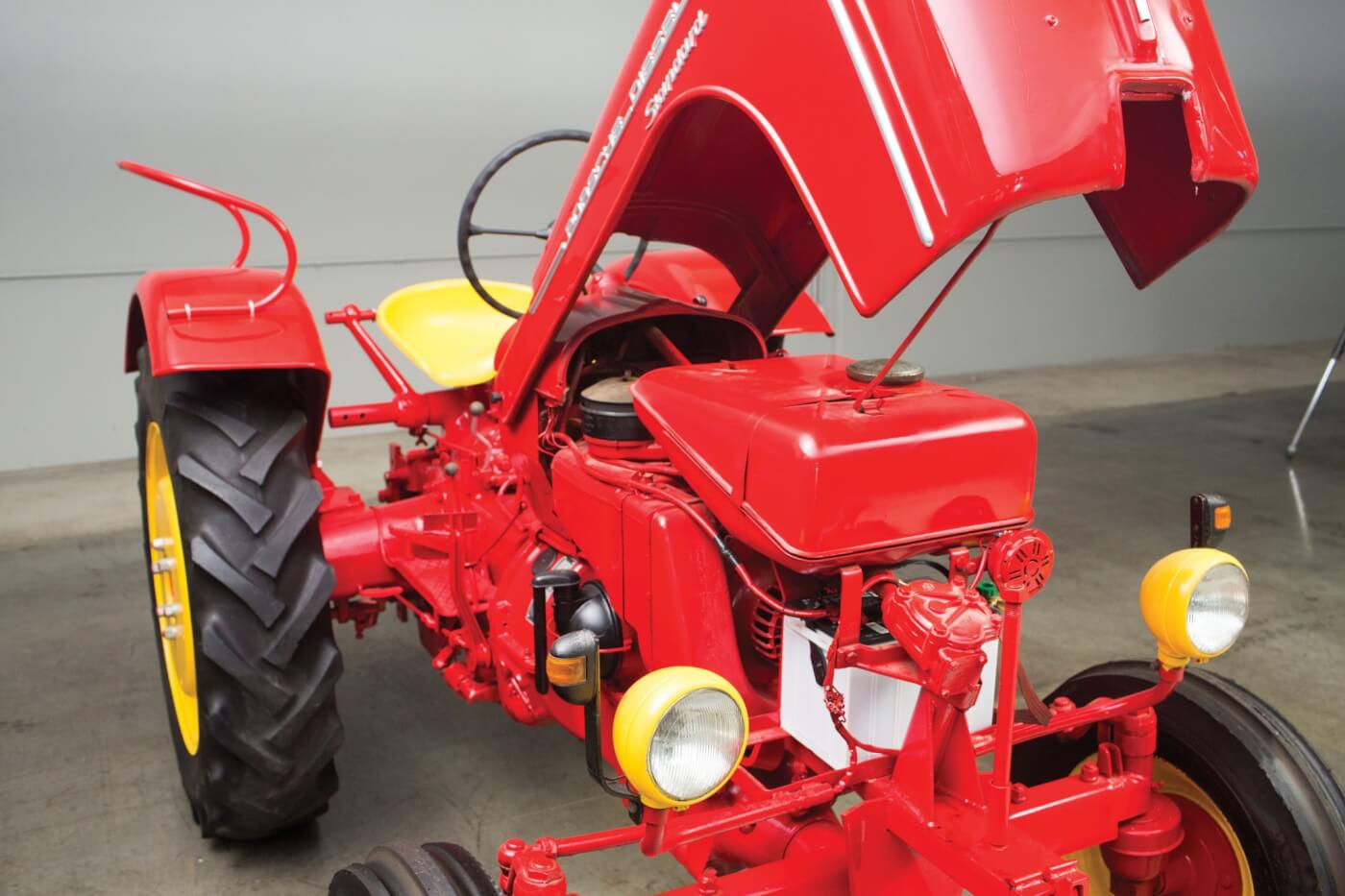 From the start of production by Allgaier to the last units built by Mannesmann, some 125,000 Porsche-licensed tractors were built. Iseki in Japan also got a license to build Porsche tractors, but their units were a considerable departure and appeared only to use some of the technology rather than the entire design.
The 1959 Standard you see in these auction glamour shots sold in 2014 for $19,800 at an Auctions America sale. The high price most likely has to do with the Porsche name, a majority of them finding homes with Porsche collectors with deep pockets. That has driven the prices higher than it might be if these tractors bore another name. We've been told there are about 1,500 Porsche tractors of all types and eras in the U.S. Many of them were imported from Europe by Porsche collectors. For all the glitz and glamour associated with the Porsche name, these tractors were contenders in their respective markets based off their own merits. No doubt, they're the slowest things to ever wear the legendary Porsche name, but they certainly live up to the quality associated with Porsche. DW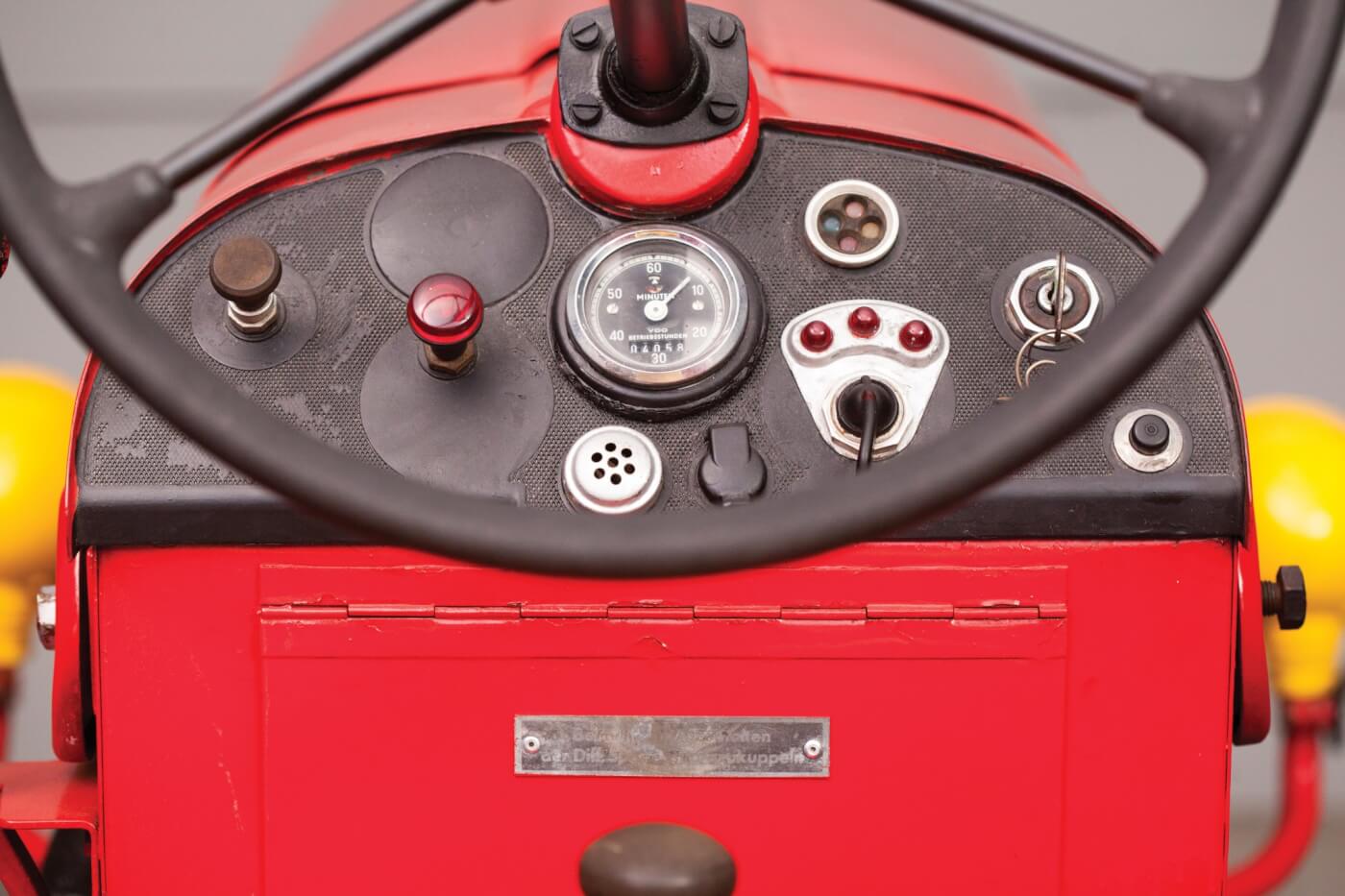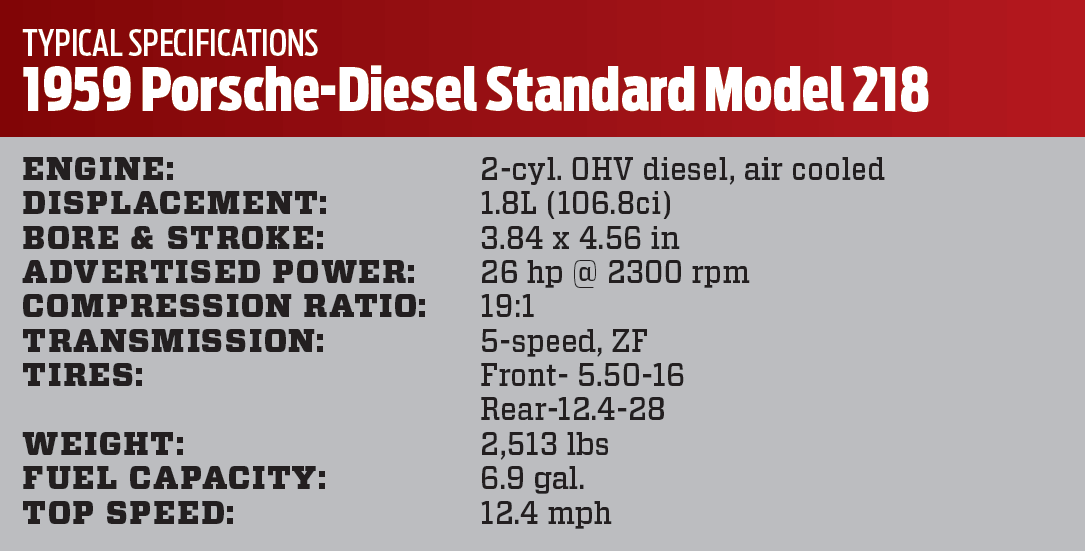 SOURCES:
Auctions America
Porsche Diesel North American Registry
Porsche-Diesel Tractors, LLC
303.663.4363