Most diesel trucks on the road today were designed to use a turbocharger. A stock turbocharged diesel engine comes from the factory with a good general baseline turbo that's also cost-effective for the automaker. That's the kind of compromise that happens throughout the manufacturing process, and the aftermarket was born to let you decide where the compromise point should be.
Changing away from any factory stock configuration always has potential to cause trouble. The danger with turbo upgrades is that you can easily end up installing a turbo that's too big for the engine, and this can result in the need for additional upgrades. Without matching up your components, your engine can run worse rather than better after a turbo upgrade.
It's also important to remember that the balance between turbo boost and fuel is delicate. Too much fuel and the engine runs poorly and smokes, too little and the engine is starved for power and can run hot, with excessive EGT (Exhaust Gas Temperature.) Similar issues arise when an engine does not get enough air through the intake.
The truth for most of us is that a mild turbo upgrade is a great way to improve power and throttle response without risking upsetting the balance that allows your engine to work efficiently.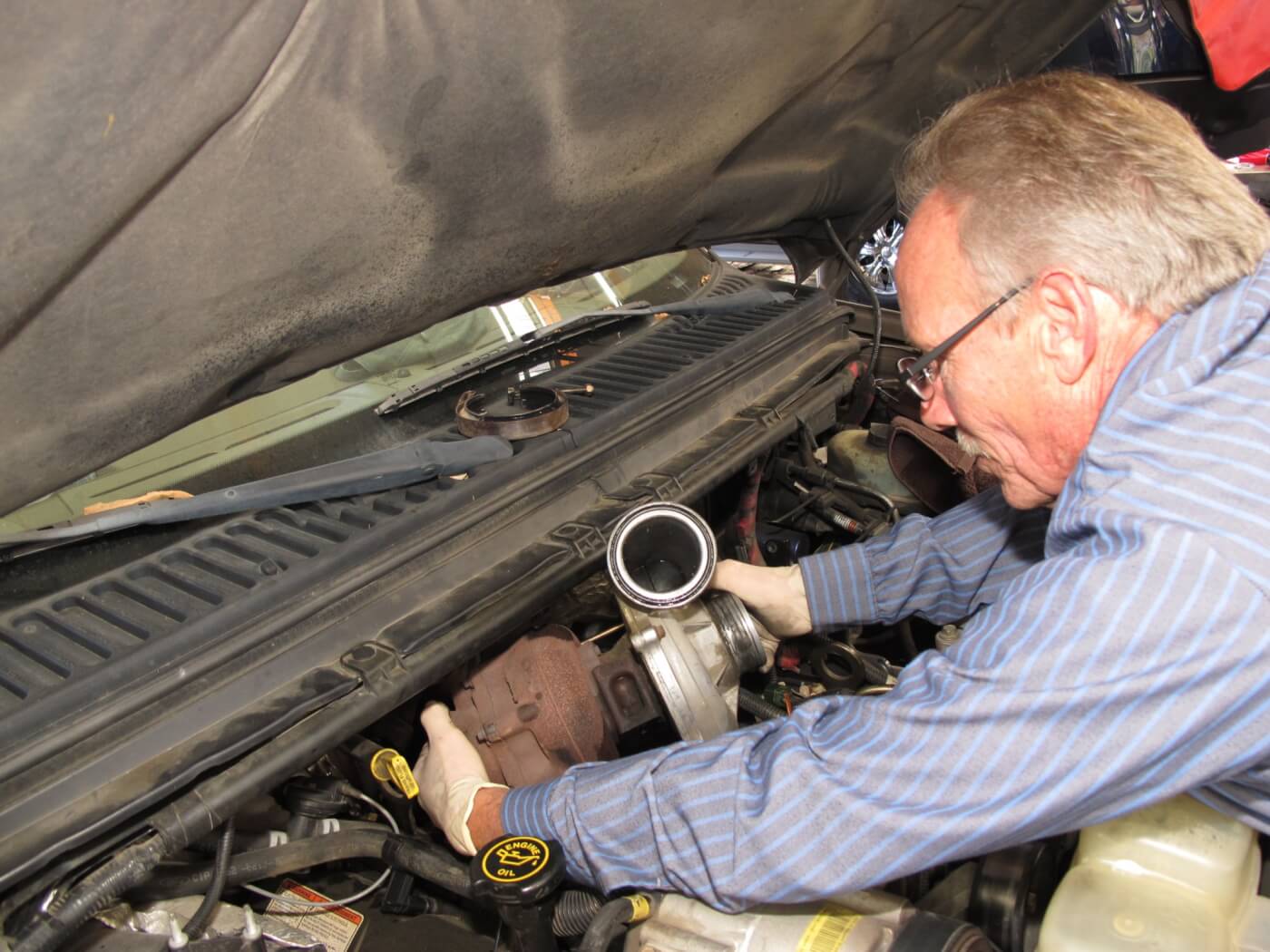 THE APPLIED PERFORMANCE SOLUTION
Applied Performance Products is a relatively new player in the aftermarket turbo game, offering a range of turbos from mild to wild. We had a chance to cover the installation of one of their APP-branded performance stock-replacement turbos (Part number: APP-802-011) on a 7.3-liter Ford Power Stroke engine. The owner of this truck mainly uses it for work, hauling a trailer, and other general use. The goal was to boost power output without getting into an endless spiral of engine upgrades. Applied Performance had the perfect solution for this diesel owner.
The APP turbo is larger than the factory unit, and feeds more air (boost) to the engine. But the most important feature is that this turbo is not so wild that it can't be used on an otherwise stock engine. Designed to be a "direct bolt-in" unit, this turbo feeds substantially more air than the stock turbo, and can be your only upgrade. However, this turbo can also be used with a wide range of additional mild upgrades that are limited or not practical with the stock turbo. The beauty is, you get more power now and room to plan for more upgrades later, if you decide that's what you want.
What is PSIG, anyway?
Because the basic pressure of the air around you is about 14.7 psi at sea level (and somewhat lower at altitude), that amount pressure is naturally added to any absolute boost pressure reading. PSIG stands for Pounds per Square Inch Gauge, which subtracts the basic atmospheric pressure from the reading—so PSIG is pressure relative to atmospheric pressure.
Made from top quality A-356 aluminum alloy, this turbo shell is both lightweight and strong. It houses a billet CNC compressor wheel that's designed to offer maximum boost at all levels, while eliminating both turbo lag and compressor surge. By delivering a smooth, consistent air intake flow, you get a smooth power curve out of your diesel engine. The lighter compressor wheel, and the better vane design, also produces faster spool-up and a boost curve that better matches engine demands.
APP has also built the internals of this turbo to last. A larger turbine shaft, better step-gap oil seals, superior bearings and improved quality control all result in a more consistent product than the factory stock unit.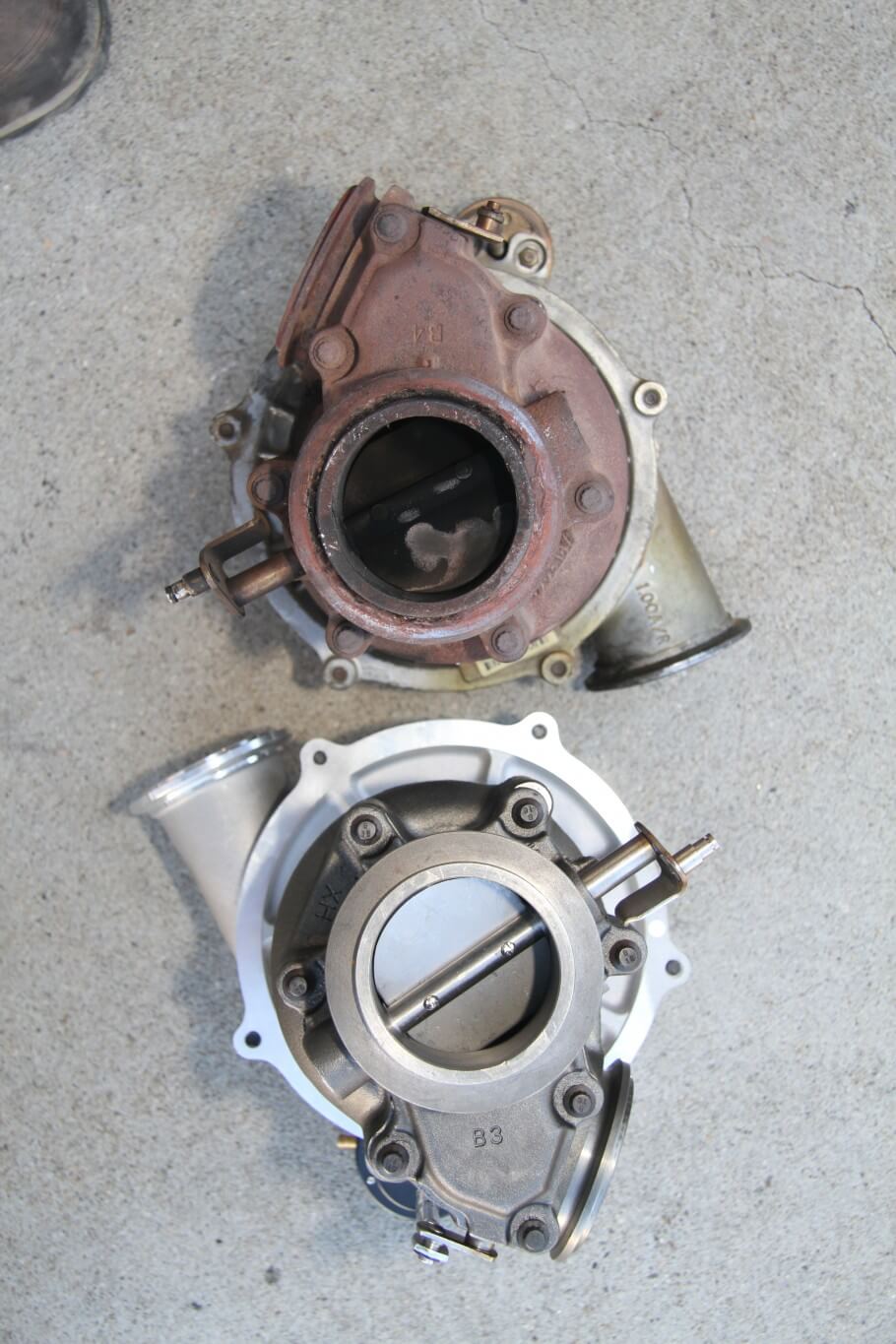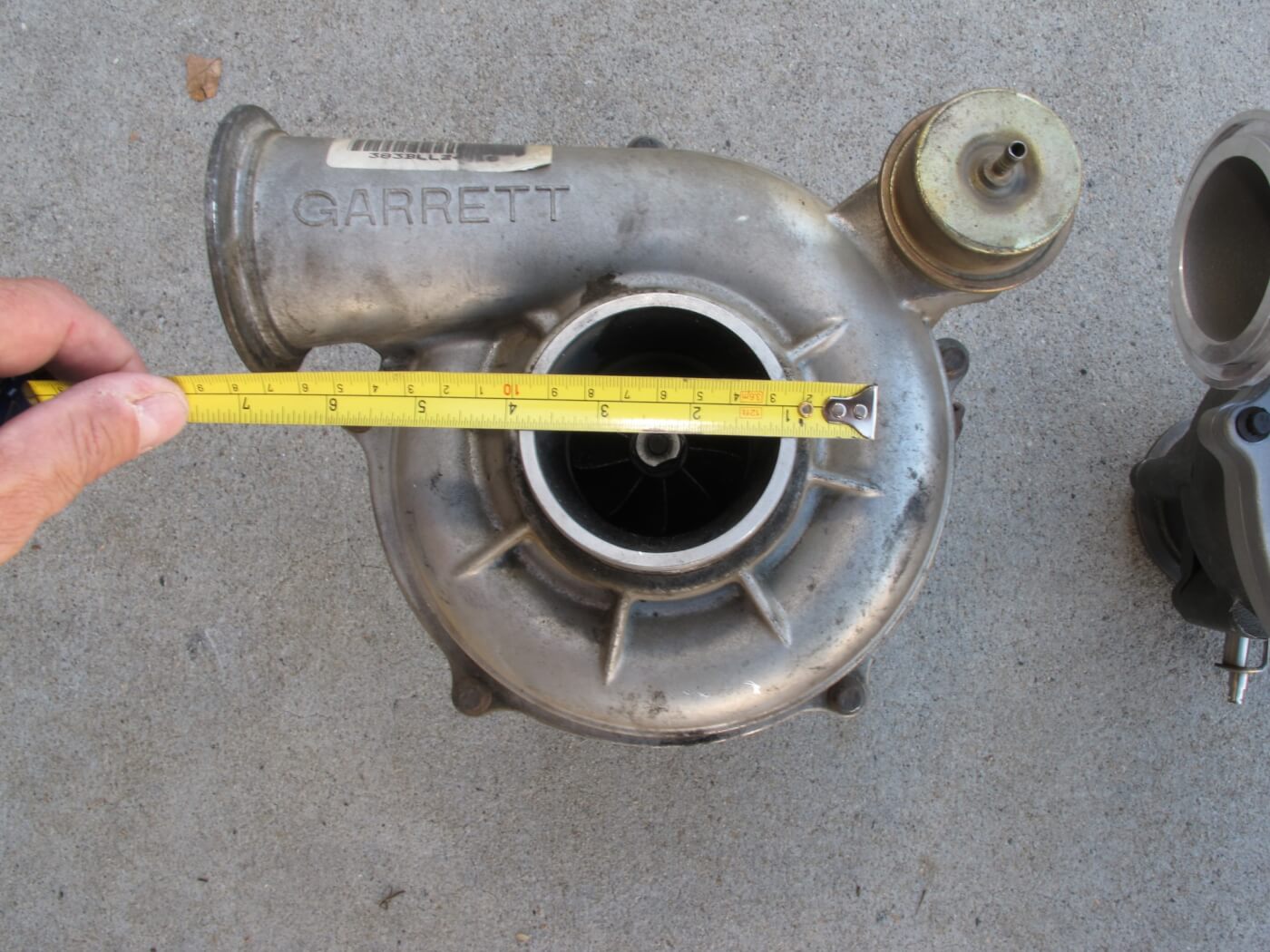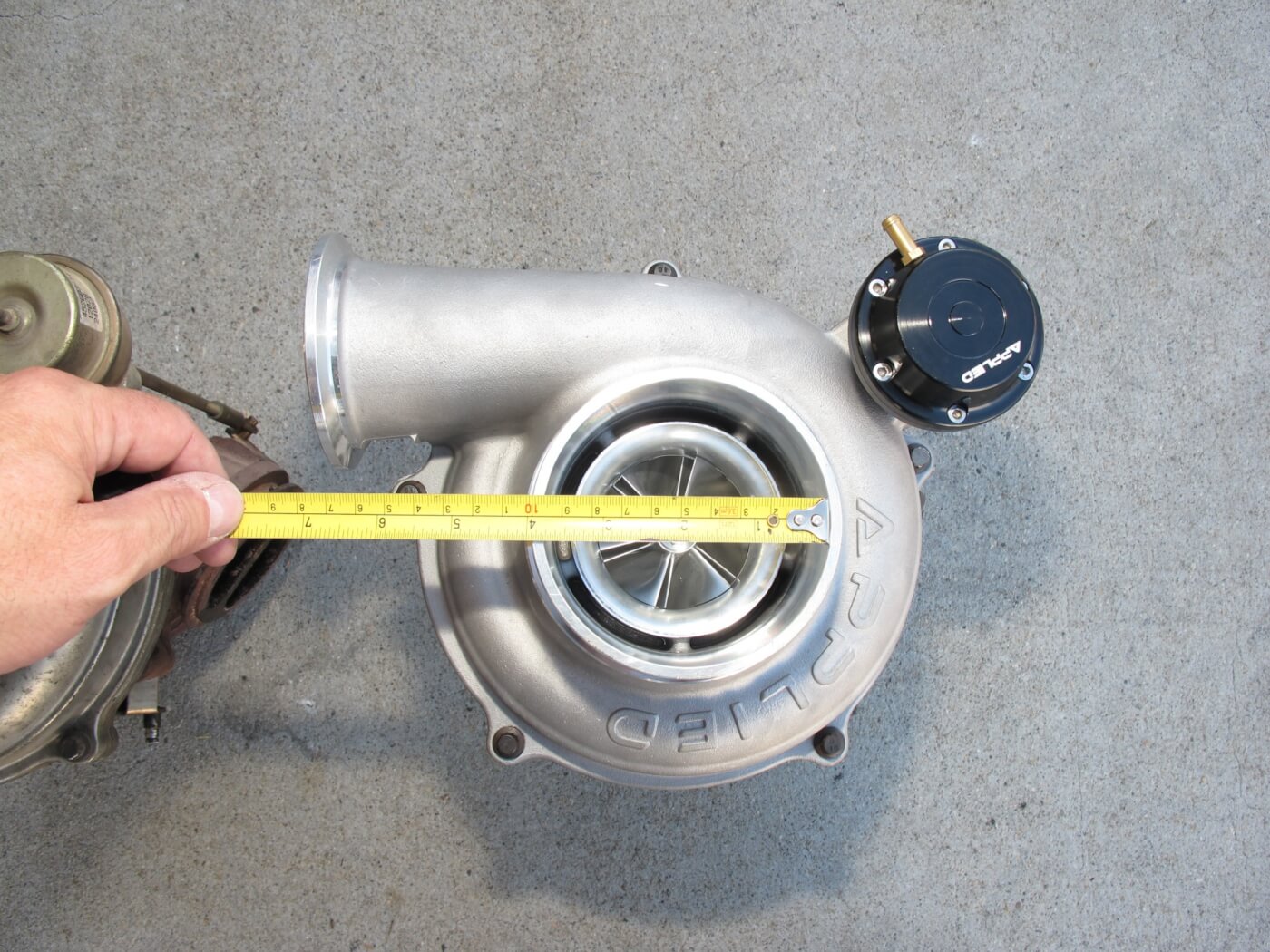 COMPARE AND CONTRAST WITH STOCK
Looking at the specs, the APP turbo has a 62mm inducer wheel and a 92mm exducer wheel, compared to 60mm and 80mm on the stock unit. While the wheels are larger, the case only a little bigger than the stock unit, so it fits easily into the available space. In addition, the new turbo comes with an all-new billet aluminum adjustable wastegate actuator pre-set at 24 psig. The factory unit is fixed at 8 psig. Other improvements over the OEM turbo are as follows: The turbo shaft has a larger diameter (22 percent larger at the hub and 16 percent larger at the journal bearings) over the stock unit. The contact area for the thrust bearing has been increased from 270 degrees to a full 360 degrees. A step-gap oil seal was added on the turbine side for better sealing and the turbo inlet is now 4 inches compared to the 3-inch original unit. APP includes a new silicone intake tube and T-bolt clamps to make installation simple with the larger inlet. All intake air enters a ported-shroud housing that flows better than the stock unit. Put it all together and what you get is better performance due to the larger turbine and compressor wheels, the more efficient housing, and the higher wastegate actuation point.
Two replacement turbos are offered for the 7.3L Power Stroke. One fits the 2003 and early 2004 models with a round EGR cooler only. The later models with late 2004 through 2007 with square EGR cooler should use a different part number. Both will provide similar results when installed.
It should be noted that simply upgrading to a new turbo will not result in noticeable power gains. This is because the fuel flow is still the same as stock. If all you do is upgrade the turbo, what you will see is lower EGT. A drop of 100 to 150 degrees is what the manufacturer claims as a general rule. Lower EGT is a good thing, and will allow you to use the power you're producing with less worry about engine damage from excessive exhaust gas temps. However, your engine will be able to make substantial additional power with just a few mild upgrades to the fuel delivery and tune. You can reap higher outputs than with the stock turbo can offer, it's just a matter of playing the right cards, so to speak.
Even More Power—A Bigger Turbo Expands Your Capabilities
When upgrading your truck, it's important to remember that everything works in concert. In this story we upgraded to a slightly larger turbo, but not a huge one. This upgrade is designed to work with a stock set of injectors and a stock tune. While you can run with just the new turbo, you can also take advantage of a few upgrades and get better output overall than you would get without the turbo upgrade.
Just remember that mild turbo upgrades can enhance other mild power modifiers, but be careful not to get caught up in a spiral of never-ending upgrades that you don't really want. A competent shop and/or supplier can steer you in the right direction to reach your goals one step at a time without overstressing any of your components. A well-balanced and planned power upgrade will perform better than guessing at a mix-and-match component setup.
If you do want to go hog-wild, Applied Performance Products also offers more powerful turbos that offer even more boost. These require additional upgrades and expense. No matter your end goal, they'll likely have the right turbo for you.
Below are a few of the upgrades the owner of this truck considered, and a few of them he adopted. All are available from Swamp's Diesel Performance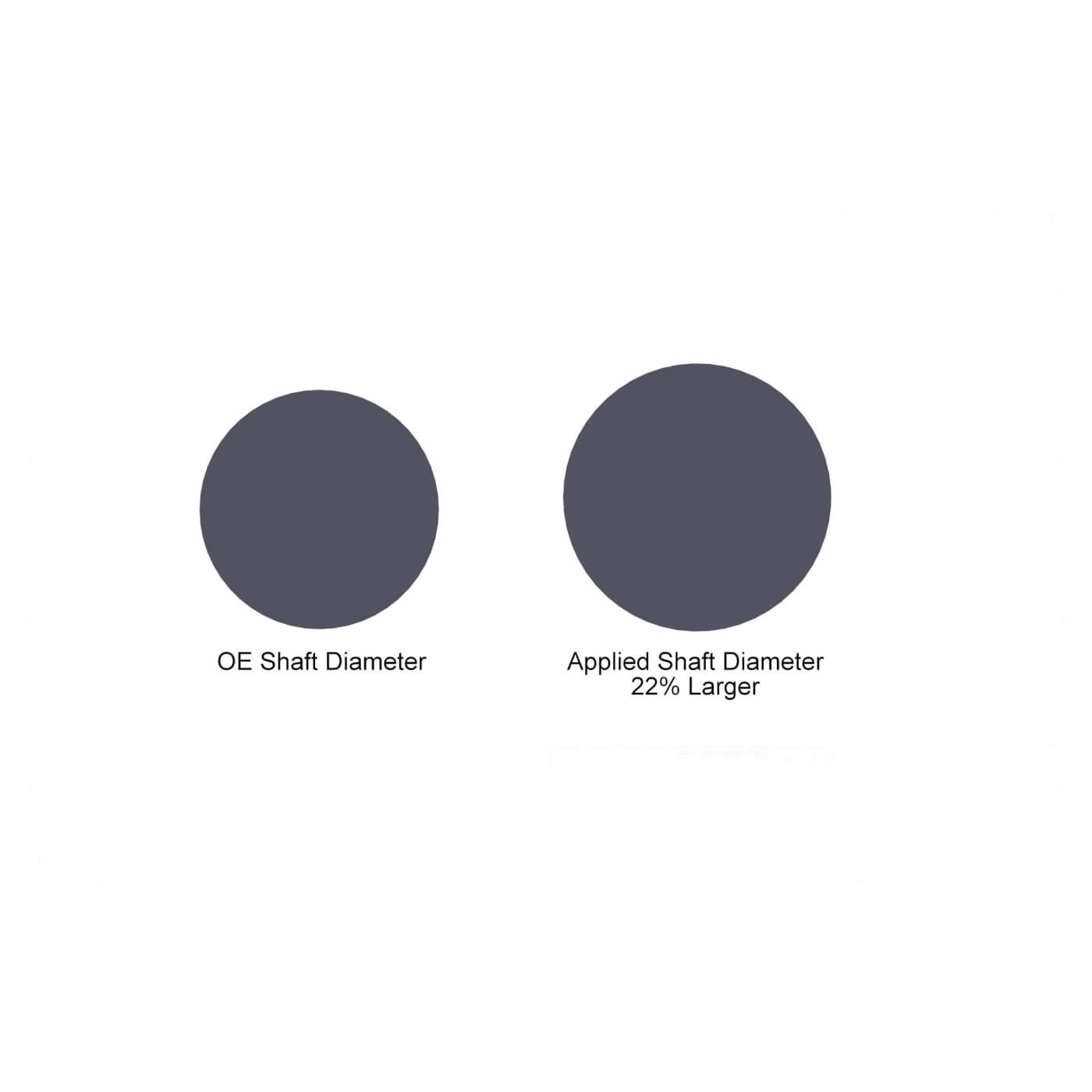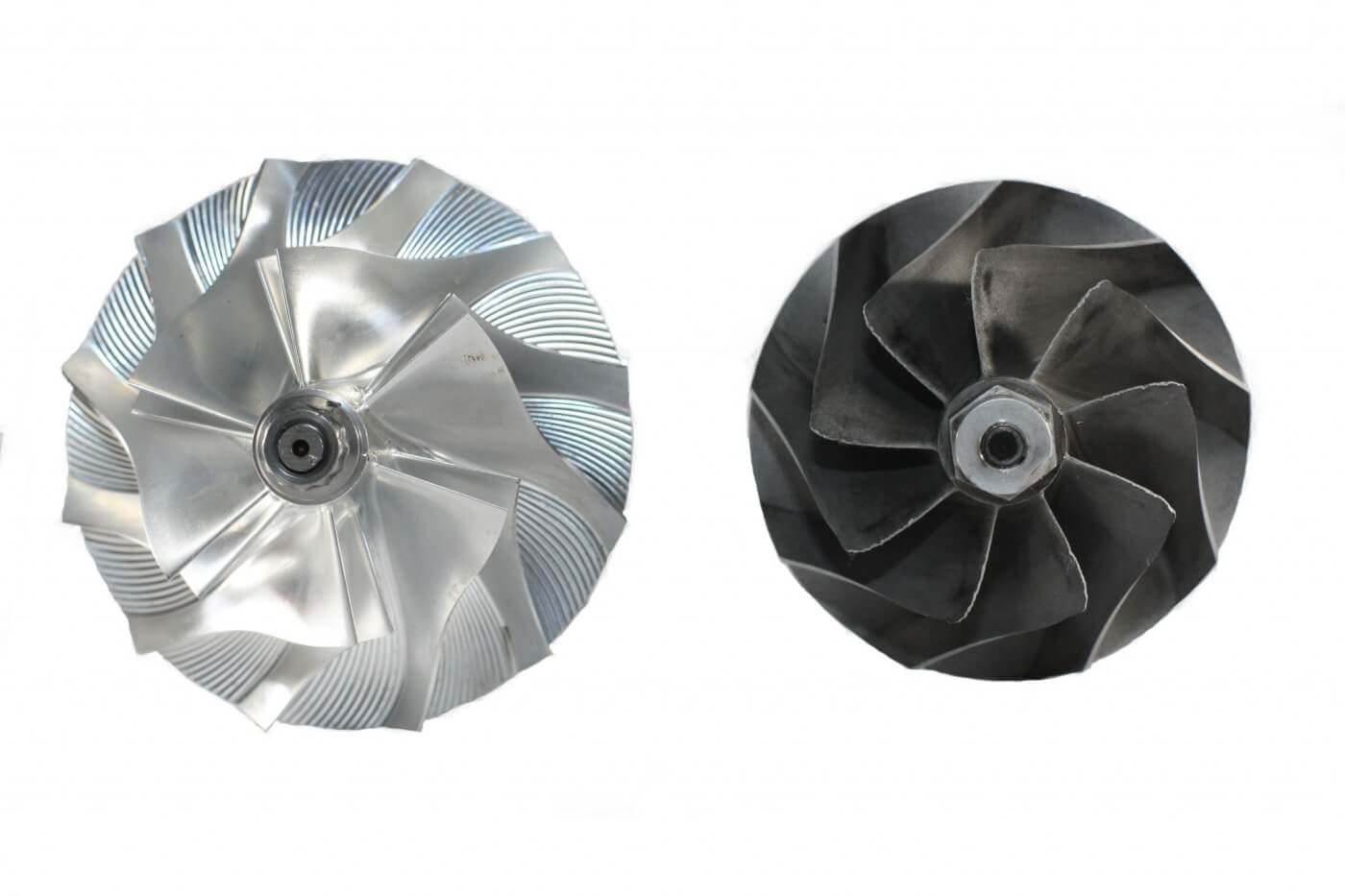 Adding More Power—Taking Advantage of Your New Turbo
The mild turbo upgrade covered in this story can be done without any additional upgrades. However, with some additional work to your truck, you can gain some more power. These upgrades are either not possible with the stock turbo, or will result in even better gains with your new upgraded turbo. The owner of our example 7.3L Power Stroke F-250 took the extra steps.
Before the turbo install, he had installed an MBRP 4-inch cat-back exhaust system, a Donaldson 7.3L AIS Intake and a TS six-position switch tuner, with Swamp's Diesel custom programming (stock, high idle, fuel economy, tow, hot street, and race programs included). After the turbo install, we were told that he was quite pleased with the end results. However, seeking more power, he also installed a set of Swamps Diesel Performance 7.3L injectors. This set was the mildest of the injector upgrades Swamps offer, and they were a perfect match for the mild turbo upgrade.
EASY INSTALLATION
We were invited to follow along as the installation was done at R&S Automotive in Newhall, California. The upgrade took less than a day, and went smoothly. When combined with a few simple power upgrades that the owner had done before the install, engine power was up and EGT was down. Follow along and we'll show you the highlights of a simple turbo upgrade that will result in lower EGT and more power with a just a little additional work. DW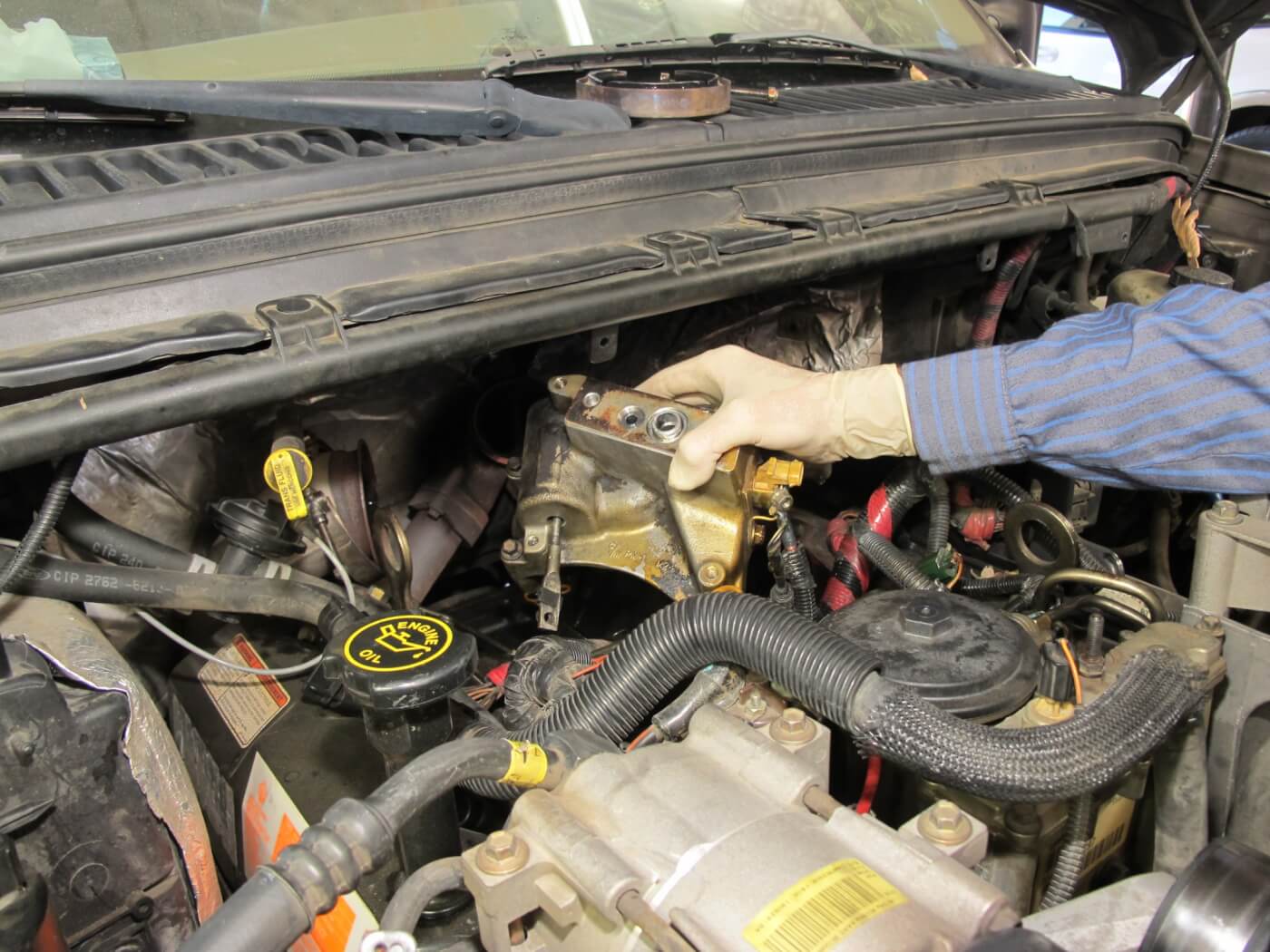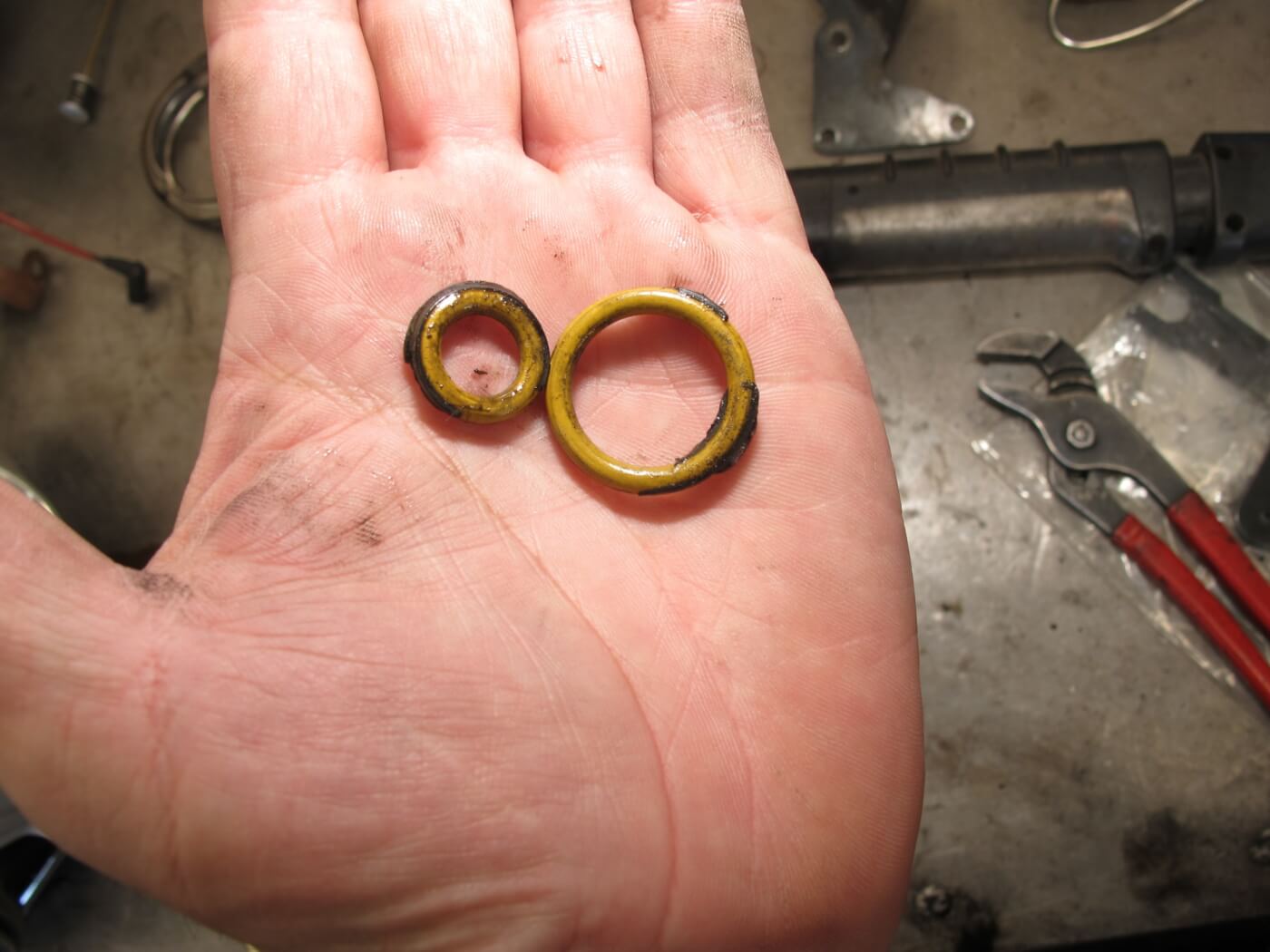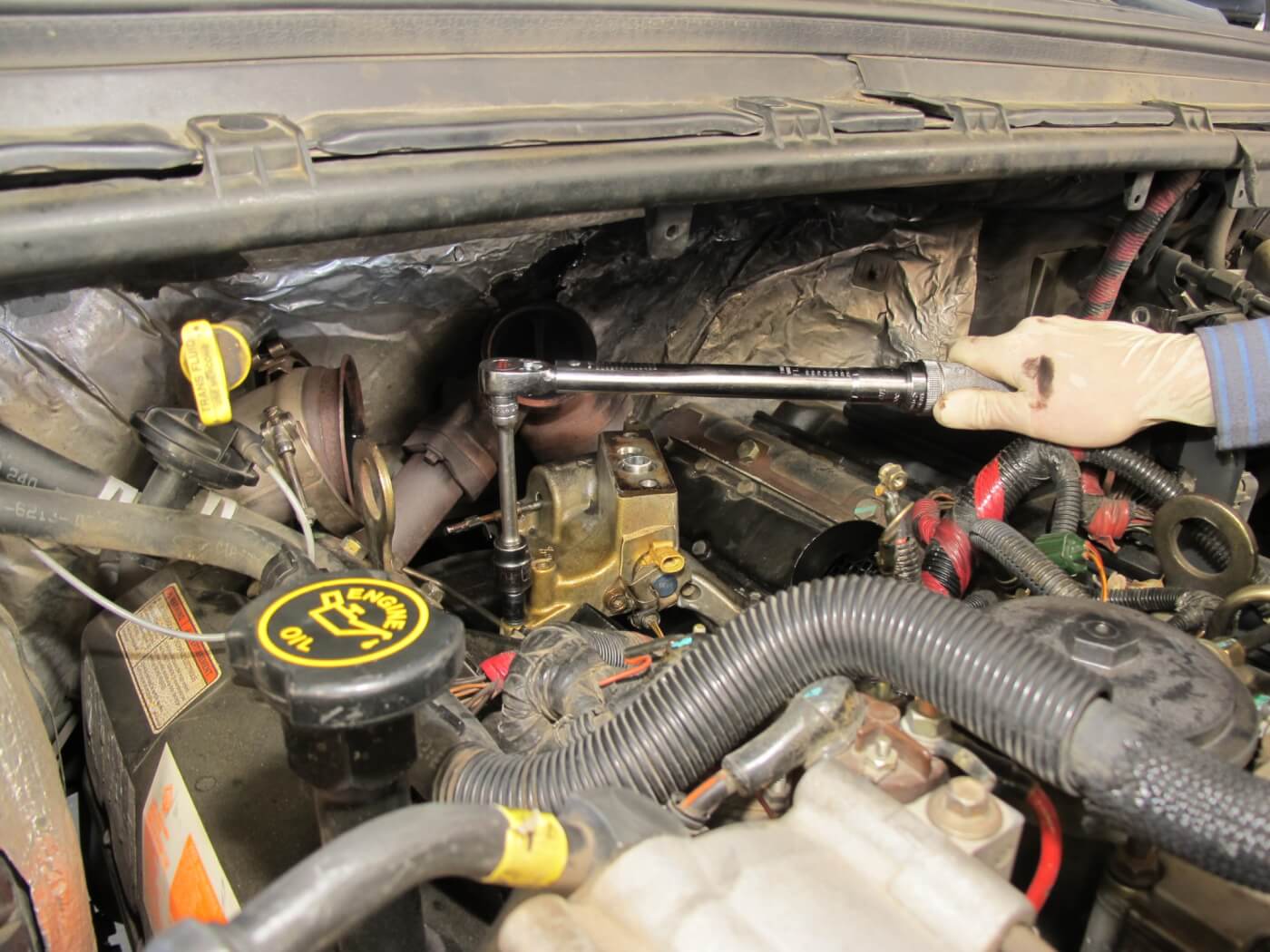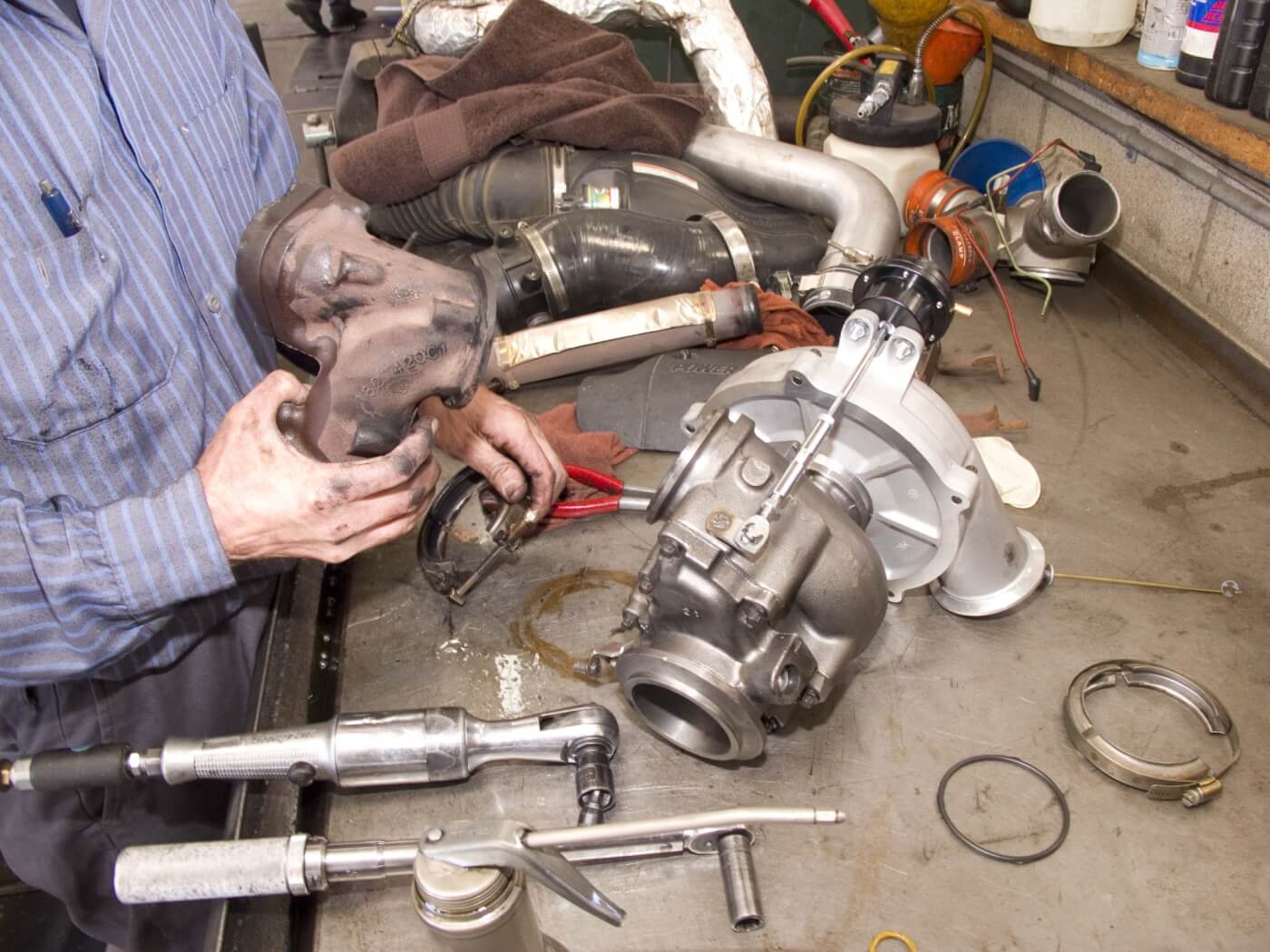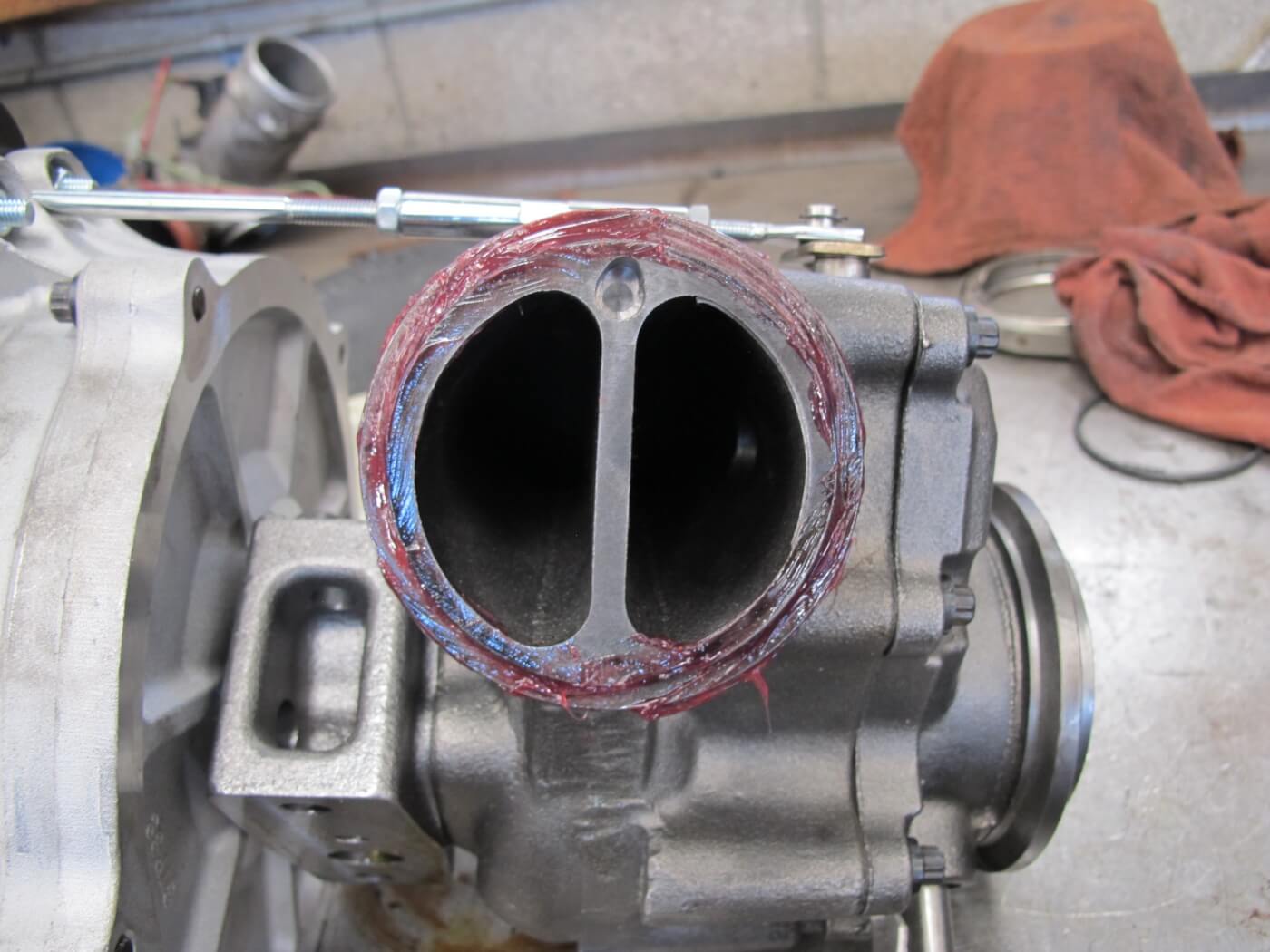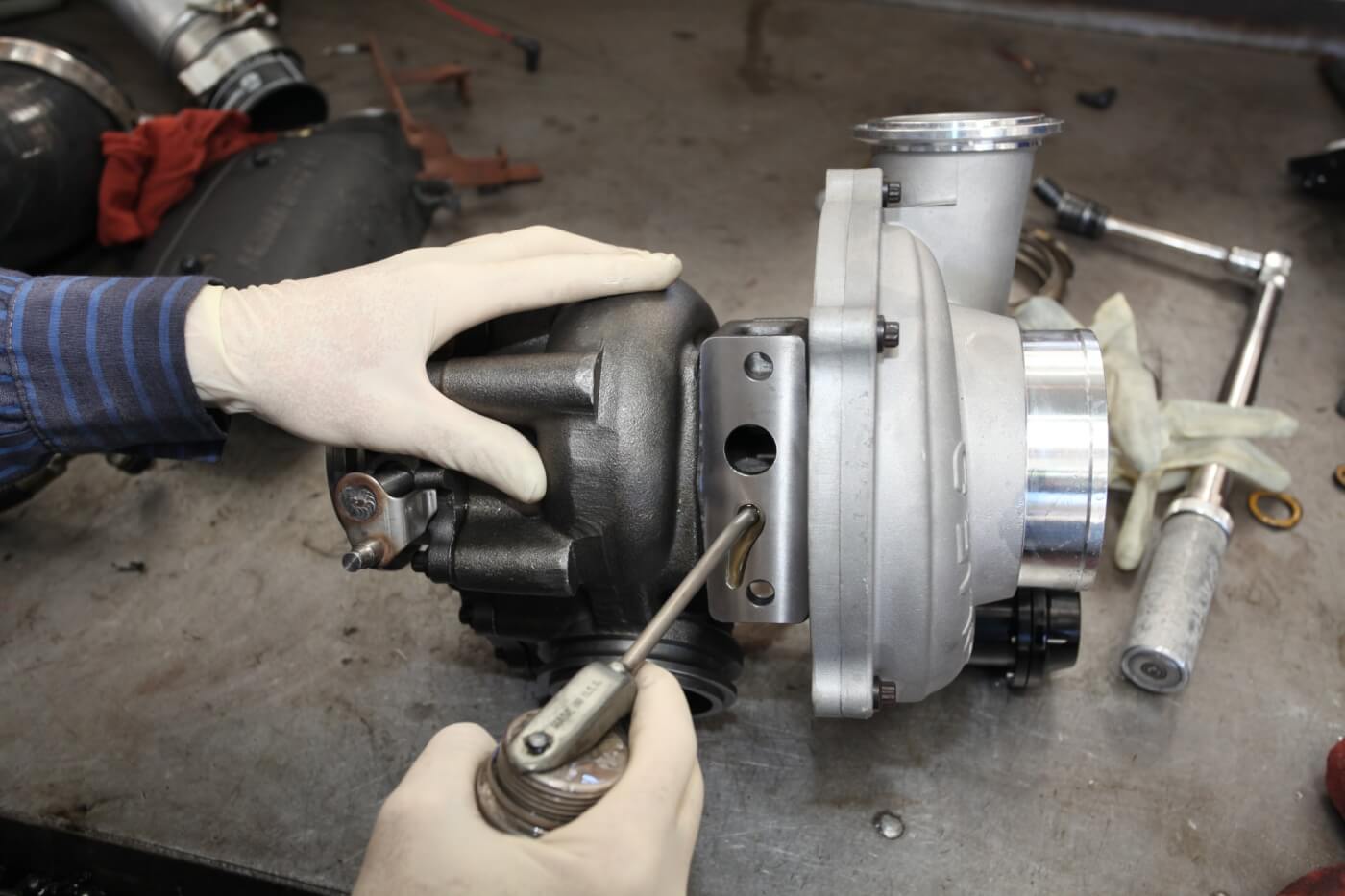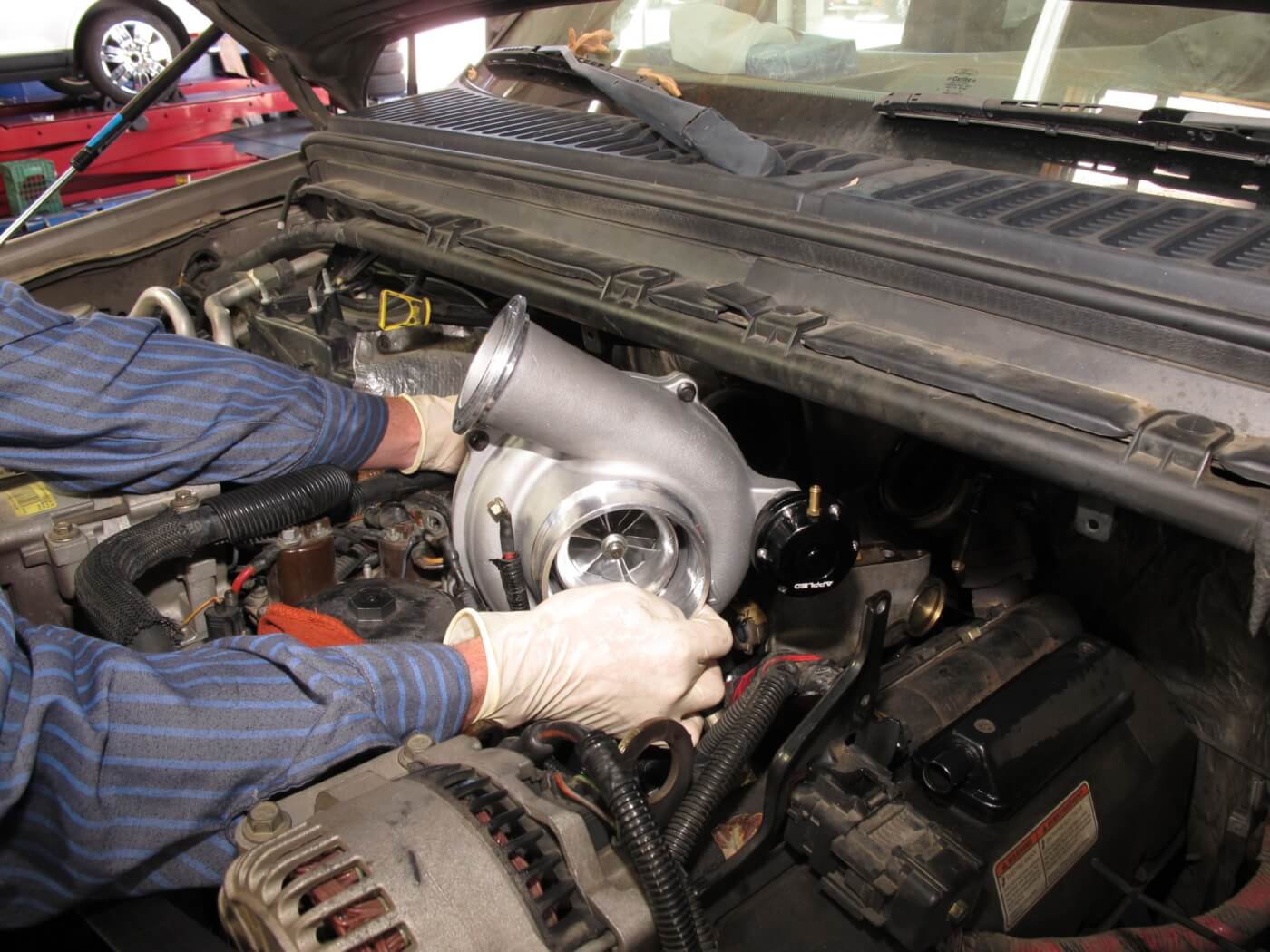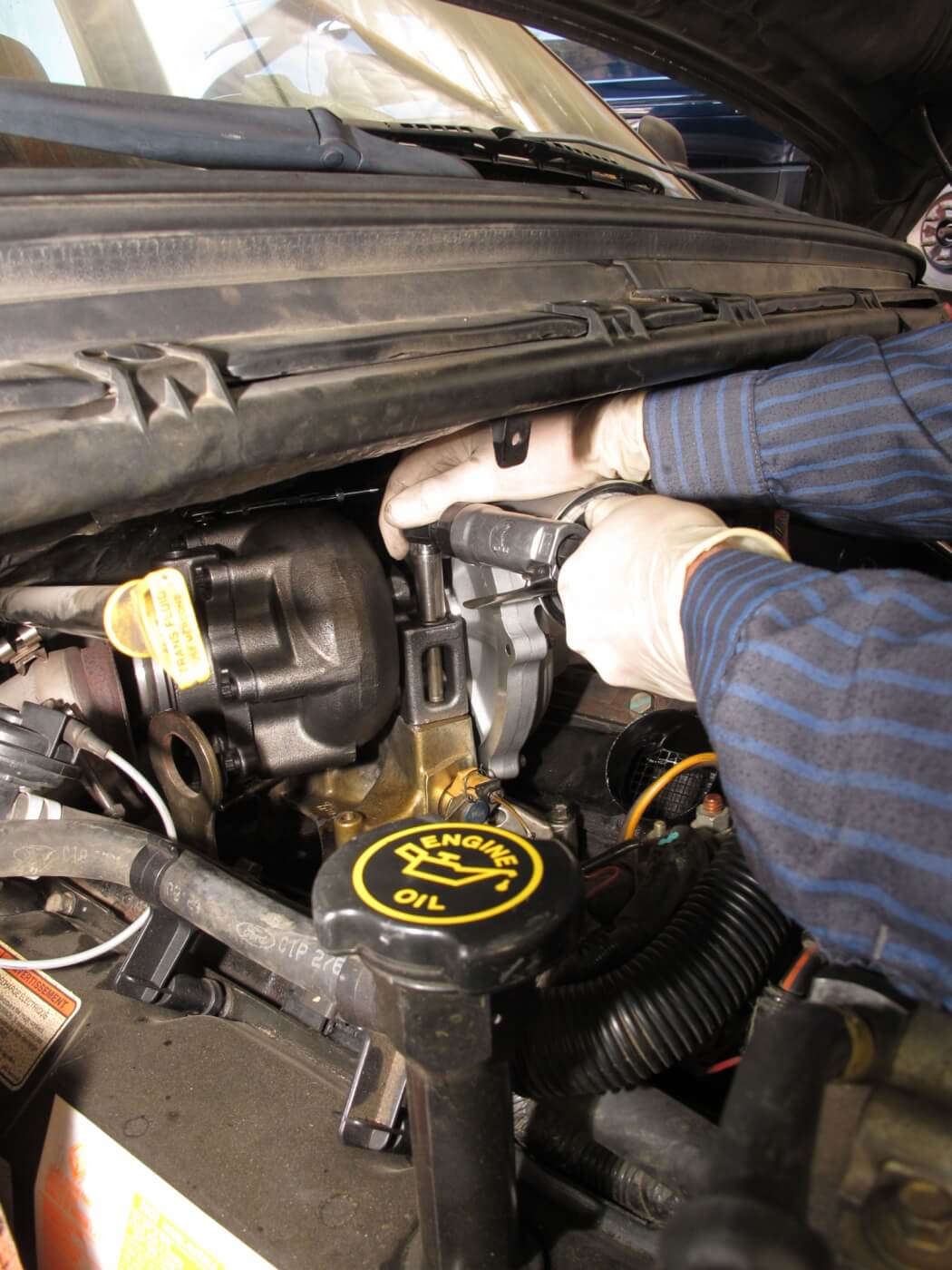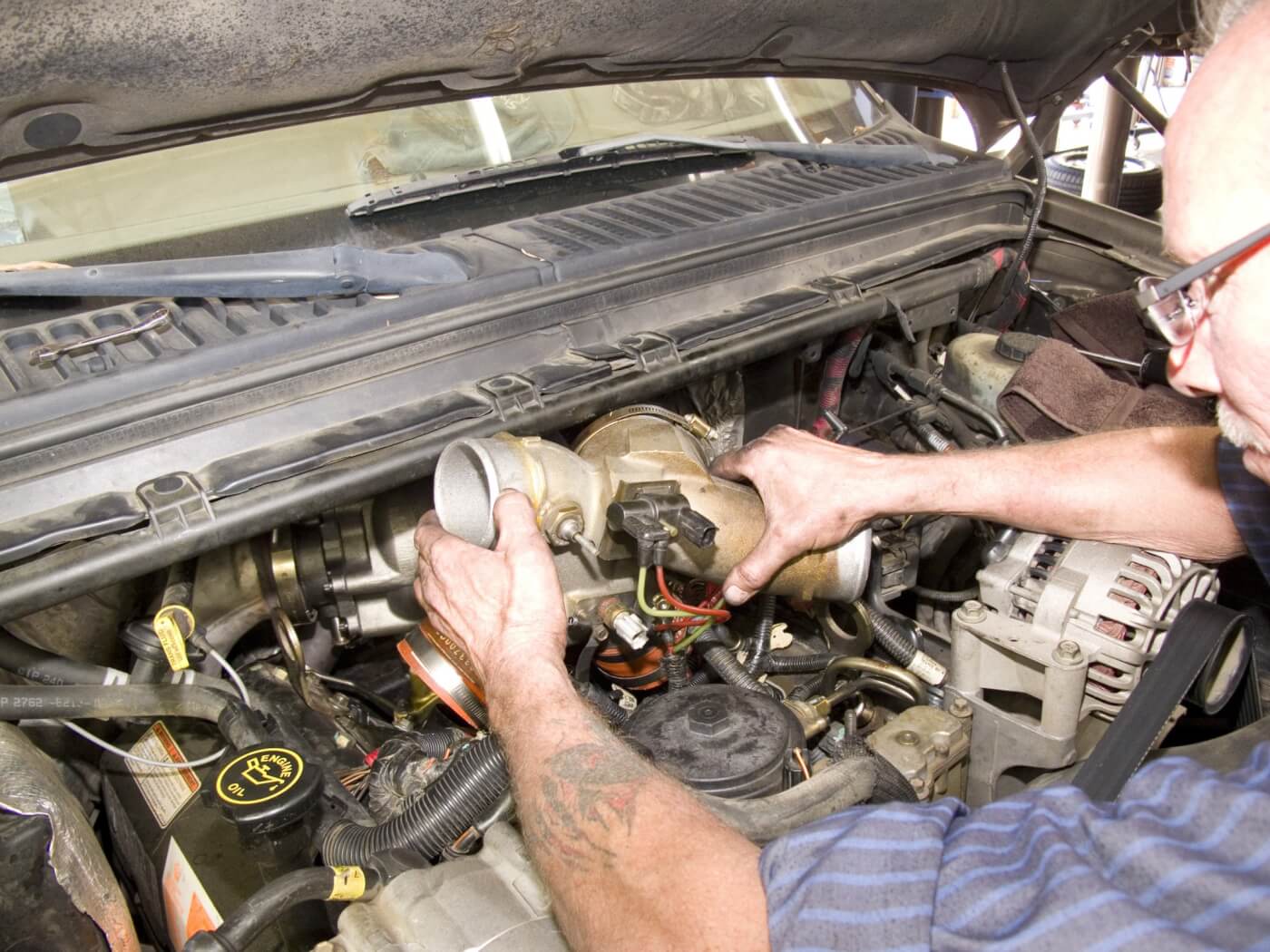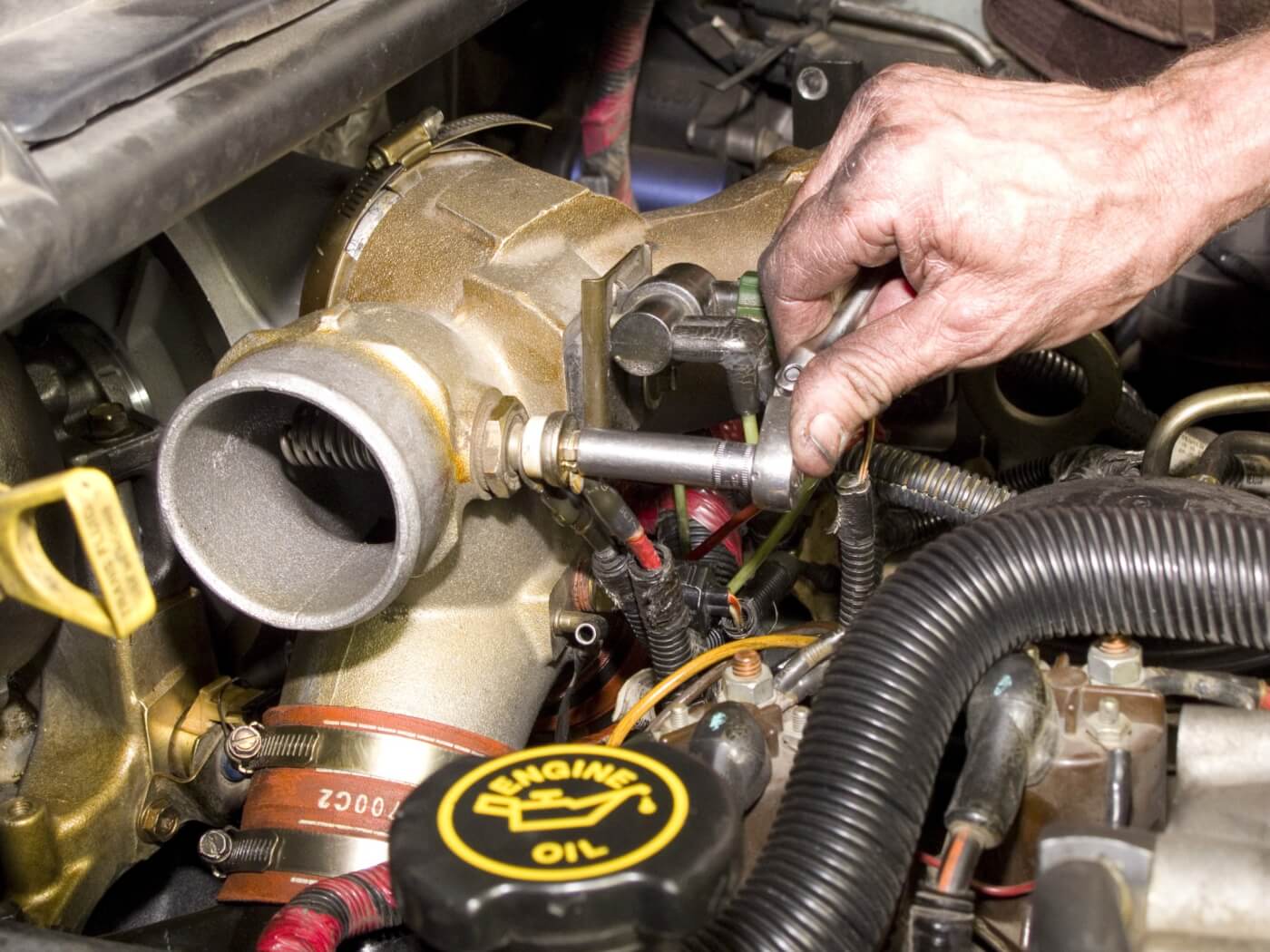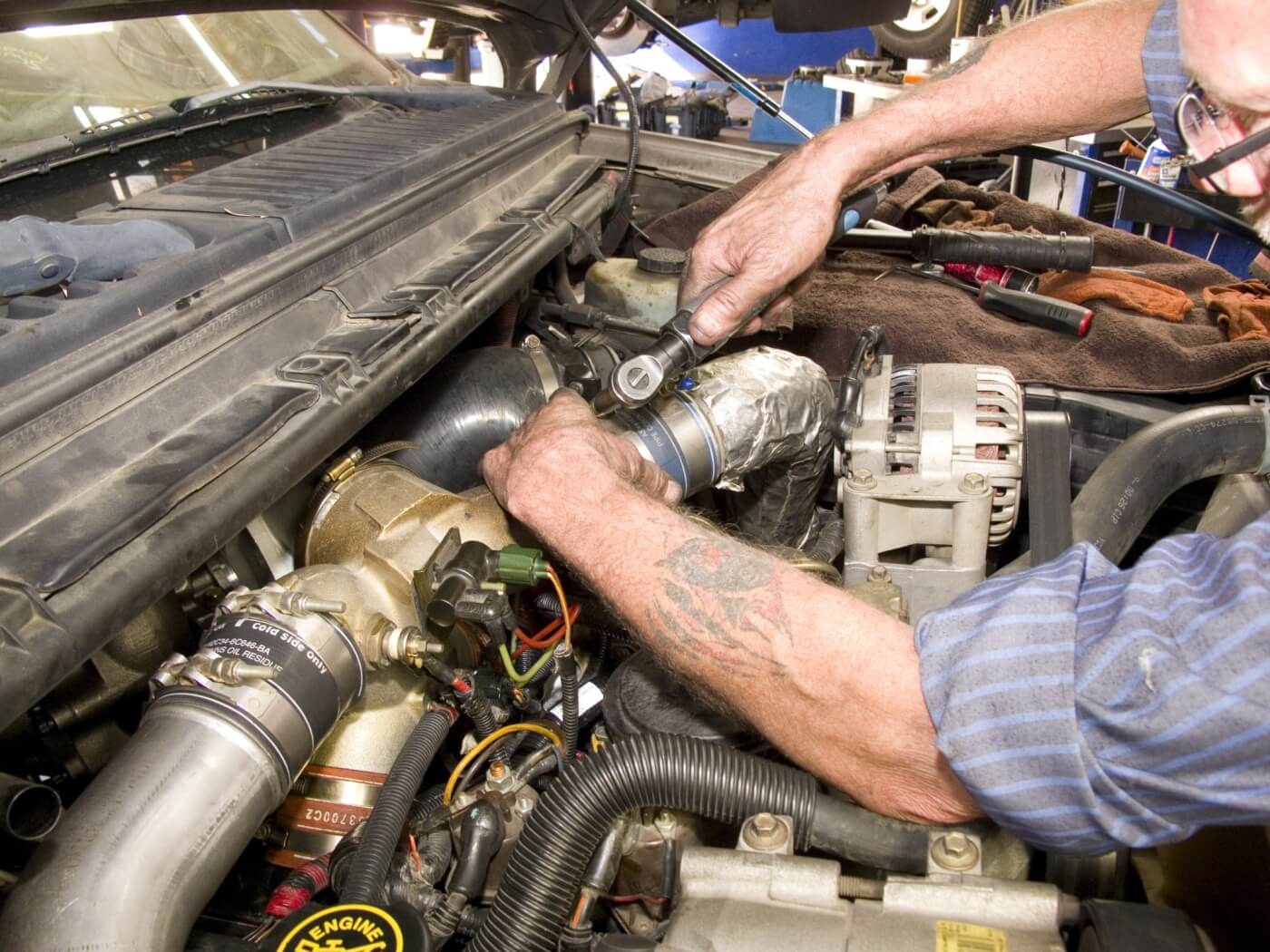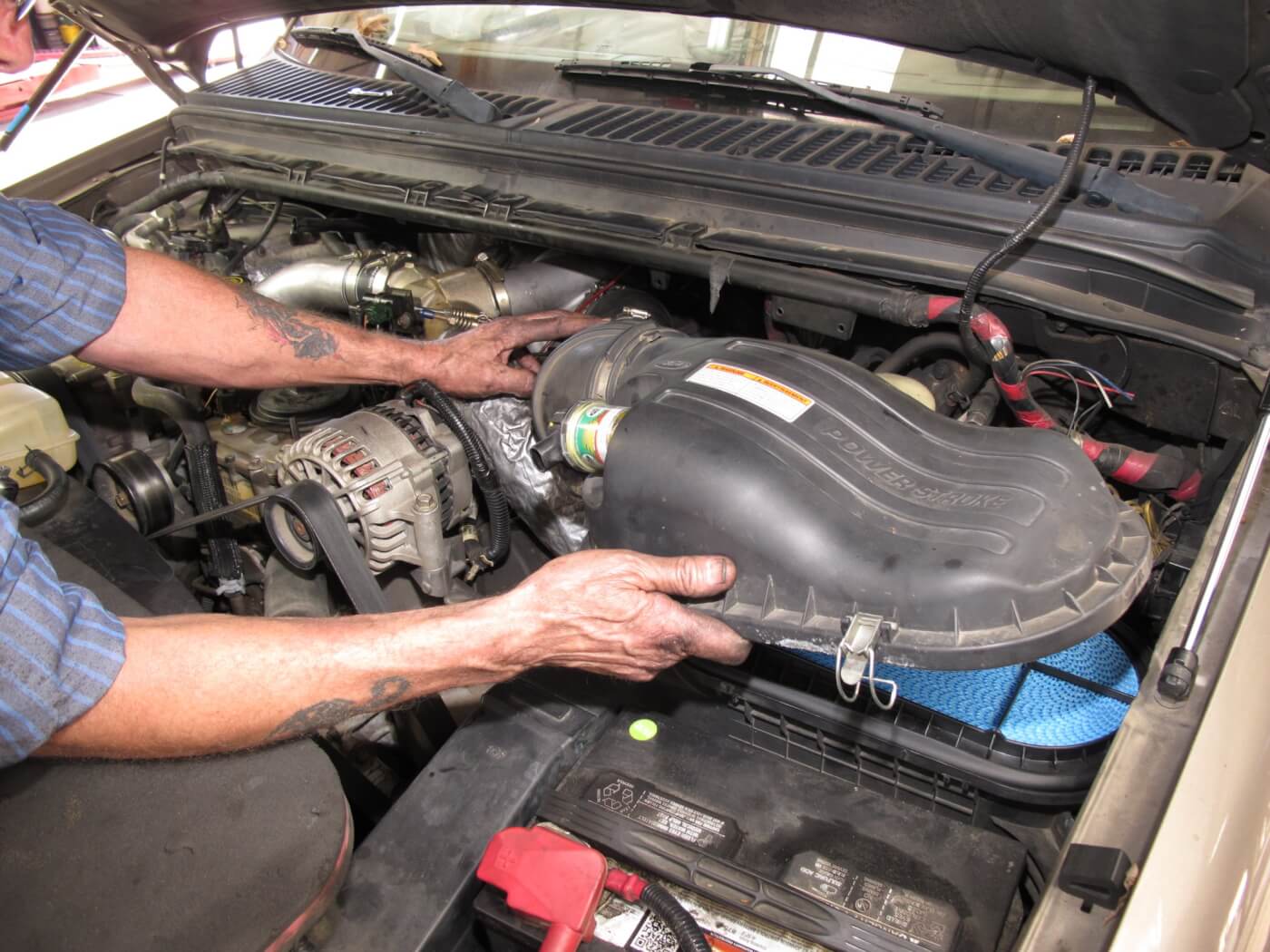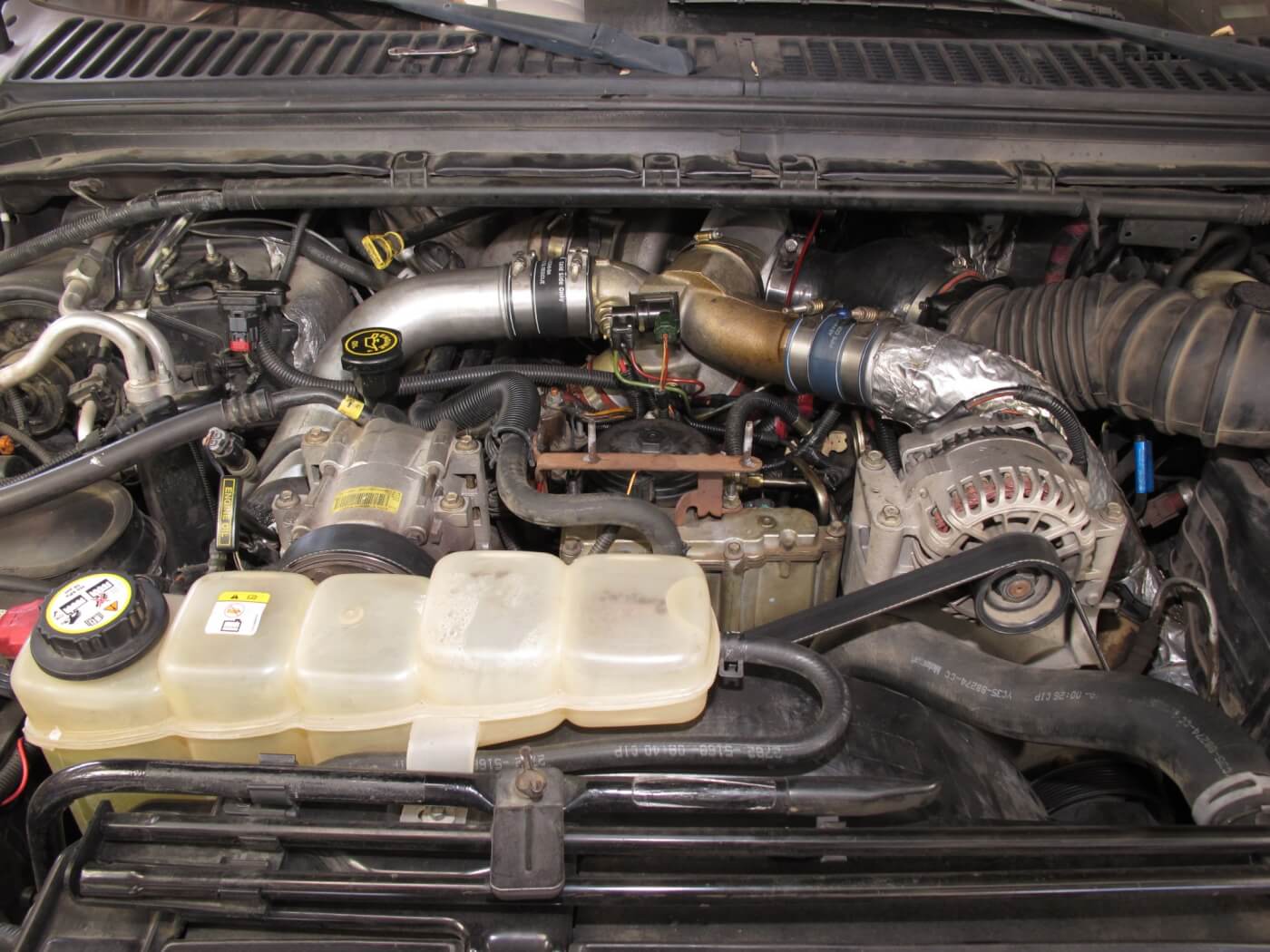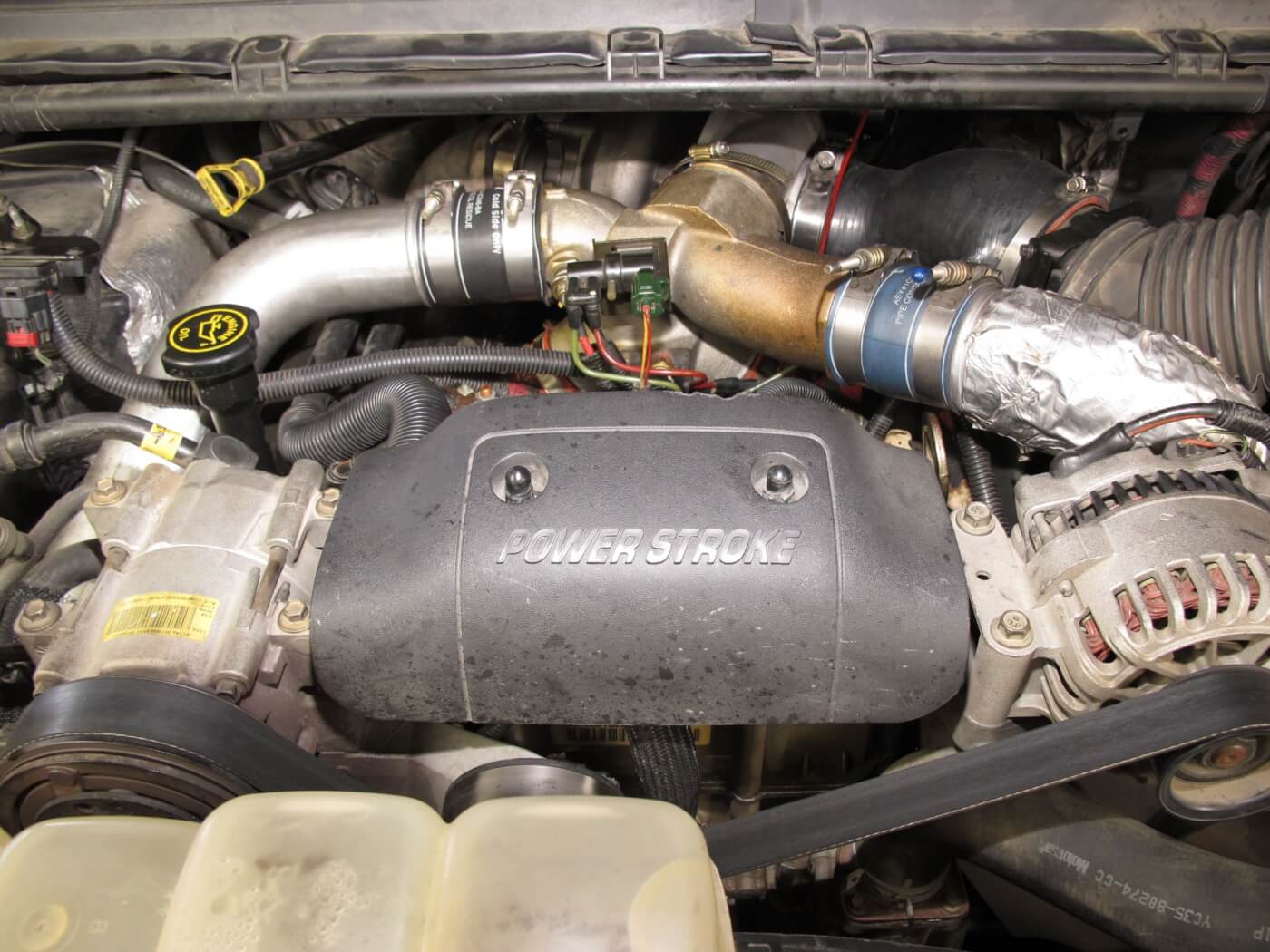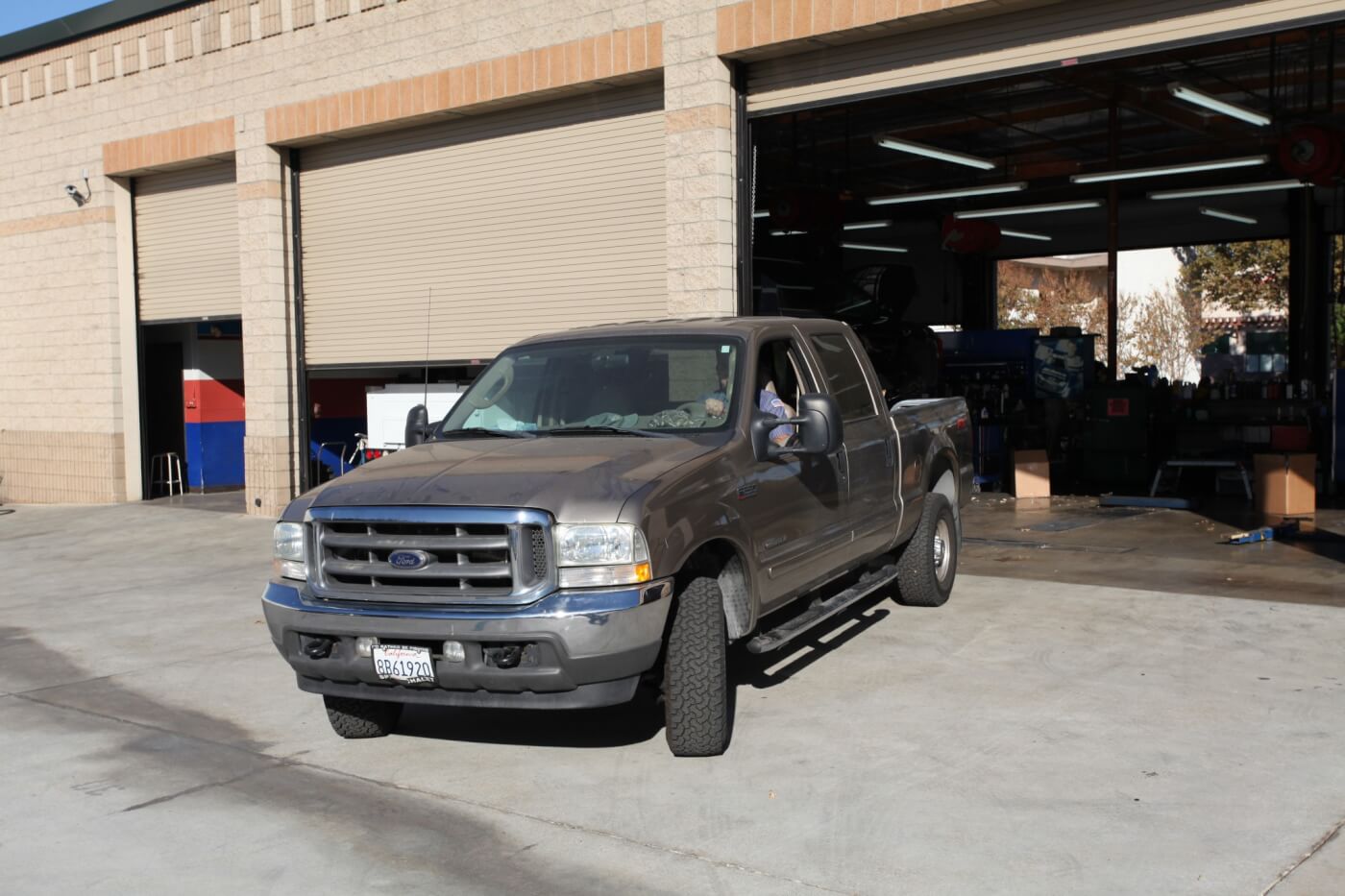 SOURCES:
Applied Performance Products
888.959.0974
AppliedPerformanceProducts.com
R&S Automotive
661.254.4589
Swamp's Diesel Performance
866.595.8724