Bolt-On Style
Hedman Hedders Exhaust Tips
Hedman Hedders has announced a new line of bolt-on exhaust tips for pickup trucks and SUVs. These new exhaust tips are available in a number of styles, sizes, and finishes to fit just about everyone's tastes. Available with the classic Rolled Tip to the more modern Double Wall Tip or even as a Turn Down in finishes that include polished stainless steel, satin black powder coated, and glossy black powder coated, there is a style to fit everyone's taste. Hot Tips are designed to fit trucks and SUVs with inlet diameters from 3.5 to 5 inches, outlets ranging from 4 to 6 inches, and lengths up to 22 inches long.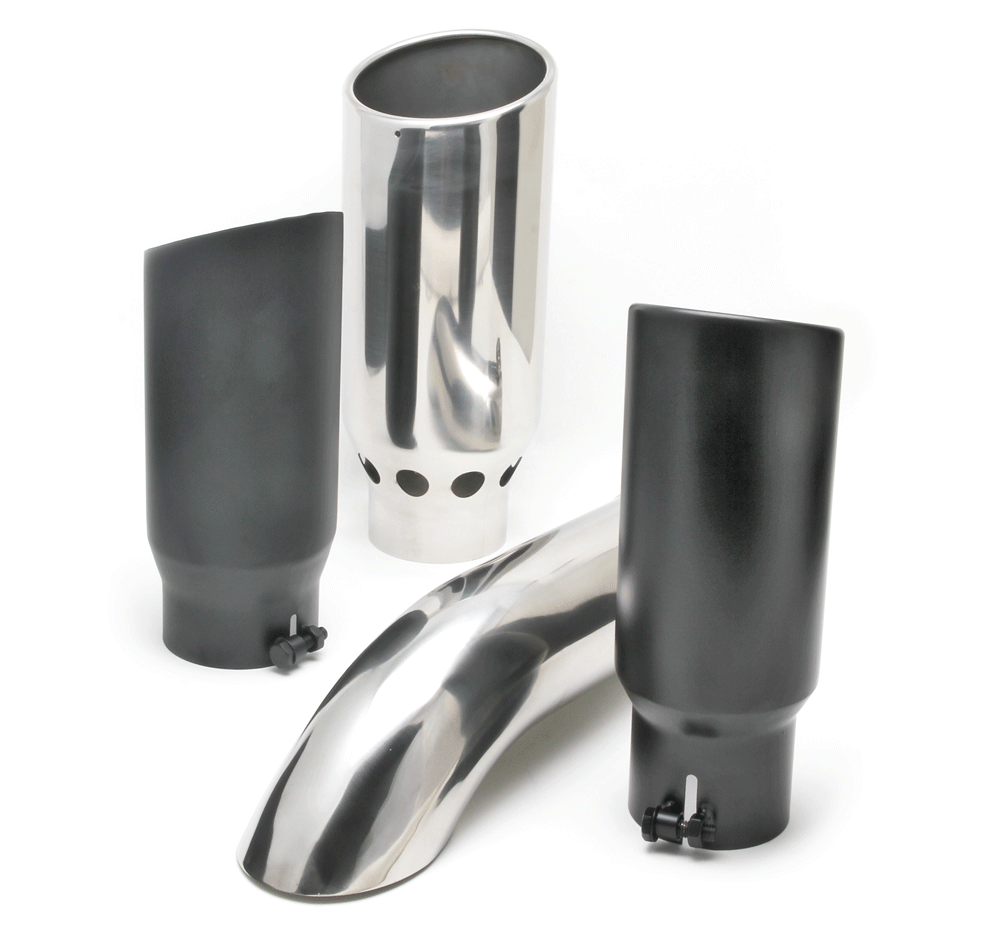 Hedman Hedders
Hedman.com
Dmax Manifold Bolts
ARP Exhaust Manifold To Cylinder Head Bolt Kit
Replace your rusted, broken, or stripped stock exhaust manifold fasteners with high quality ARP bolts. Their durability and strength stand the test of time. This kit will do both sides of the engine and installs easily without any modifications. These high quality fasteners help eliminate any exhaust manifold leaks. Fits Duramax trucks: LB7/LLY/LBZ/LMM, 2001-2010.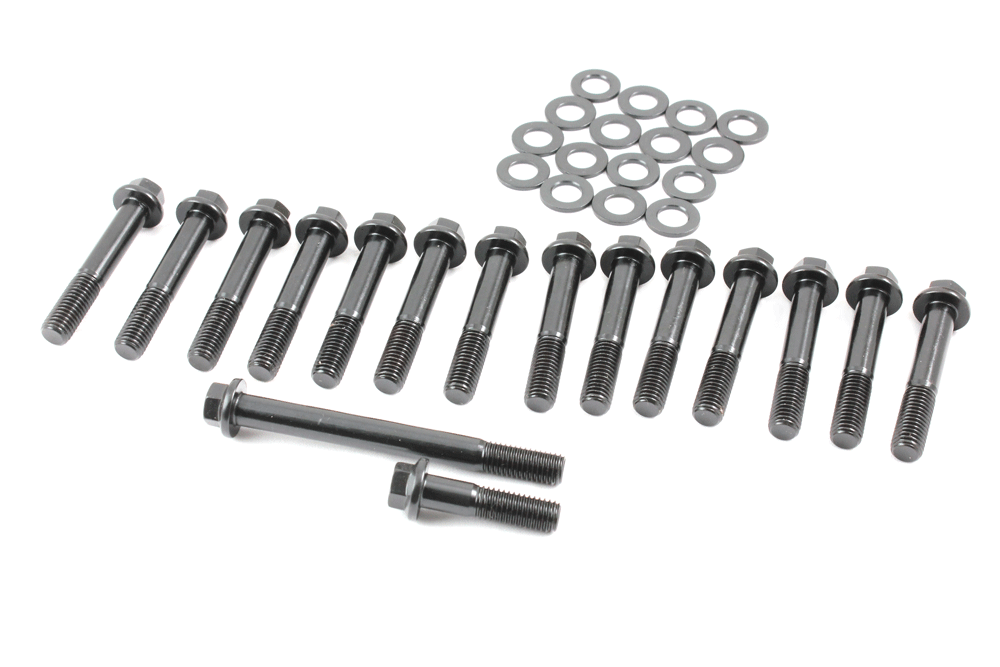 Automotive Racing Products Inc.
ARP-Bolts.com
Warn Ascent Bumpers
Warn's new bumpers provide rugged functionality and great style. Built from 11-gauge steel, Ascent bumpers have a unique low-profile design to maximize approach angles and accommodate oversized tires for maximum off-road performance. The bumpers are "winch ready" and accommodate a variety of WARN winches, including ZEON Platinum, plus they have dual ports for auxiliary lights (sold separately). Coated in a durable textured black powdercoat, the bumpers will resist corrosion and look great for years. Ascent bumpers are easy to install with pre-drilled bolt holes and cutouts. Available for Chevrolet, Ford, and Ram trucks.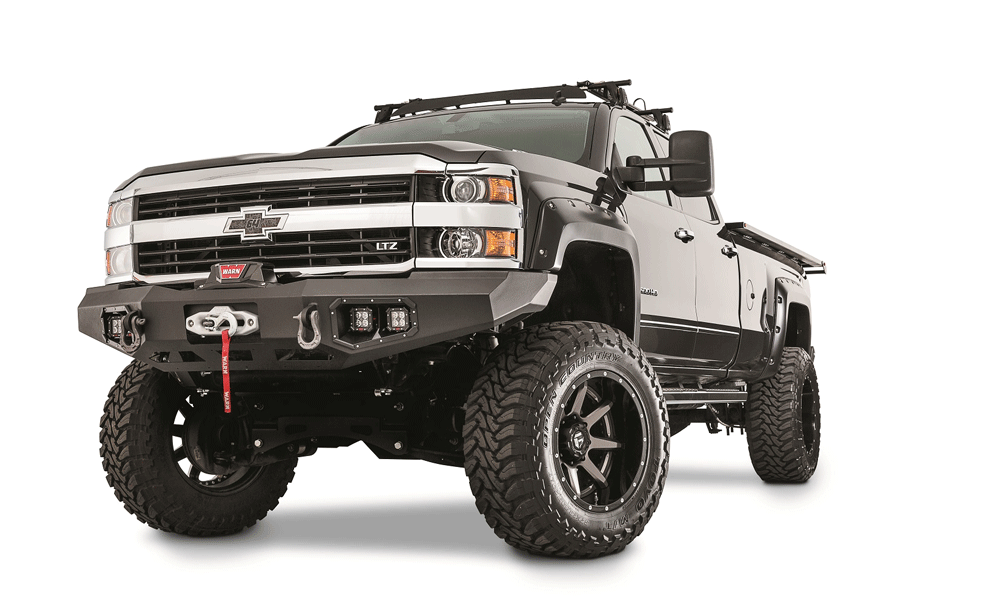 Warn Industries
Warn.com
Do More Ramp
Shark Kage
The Shark Kage is a perfect pickup truck accessory for dirt biking, quadding, driving your atv or doing other outdoor stuff. And the beauty of it is—it's not just a ramp. It transforms to 5 different uses. Aside from using the Shark Kage as a ramp, you can use it as a bed extender, a work table, a cargo box and a cargo cover and whatever else you can think of.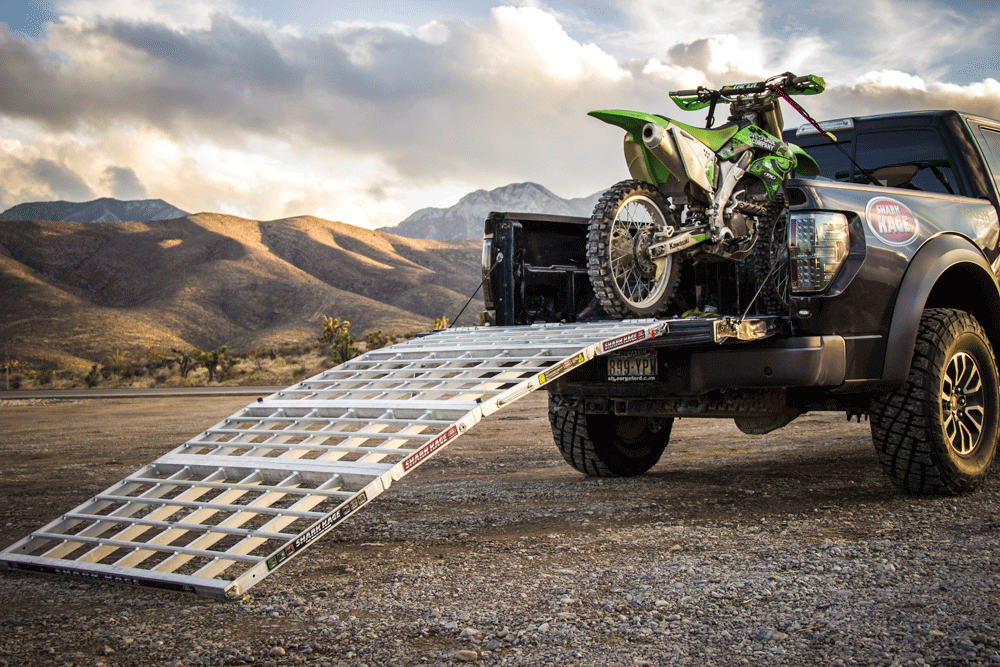 Move!!
Kleinn Train Horn Systems for 2011-2015 Ford F-250 and F-350
Kleinn Air Horns now manufactures 100-percent bolt-on onboard air and train horn systems for 2011-2015 Ford F-250 and F-350 diesel trucks that use U.S. made, vehicle-specific brackets. SDKITS feature various air horns and two levels of 100-percent duty cycle air compressors that require no cutting, welding or drilling.  SDKITS for Ford Super Duty use no cargo space and can be installed with hand tools. The kit also comes with a tire inflation kit and quick couplers.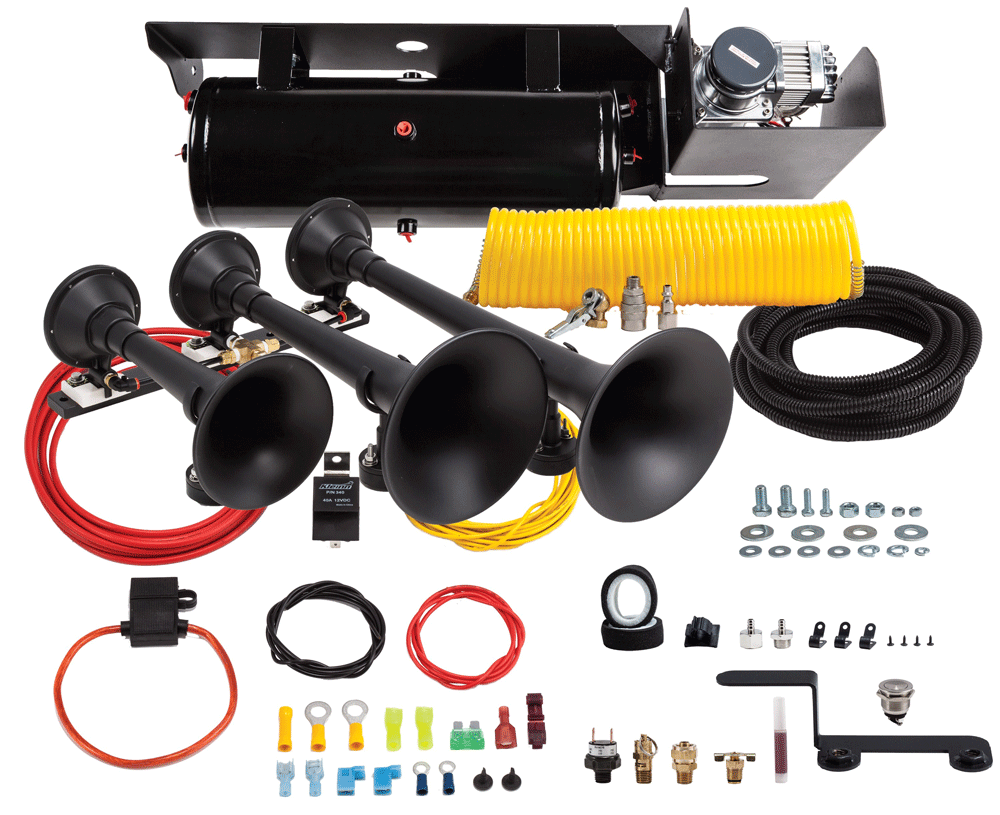 Kleinn Air Horns
Kleinn.com
Fuel and Tools
Transfer Flow 70-Gallon Tank and Toolbox
Transfer Flow has introduced a 70-gallon toolbox and fuel tank combo for 1999–2016 Ford, Ram and GM full-size diesel trucks. Made from 14-gauge aluminized steel for superior strength and rust resistance the adjustable toolbox storage area ranges from 5.5-9 cubic feet. It's baffled in two places on all four sides to reduce fuel slosh, and is powdercoated black for a durable finish. With the addition of Transfer Flow's Refueling Tank Upgrade Kit, you can use your 70-gallon auxiliary tank as a refueling tank as well.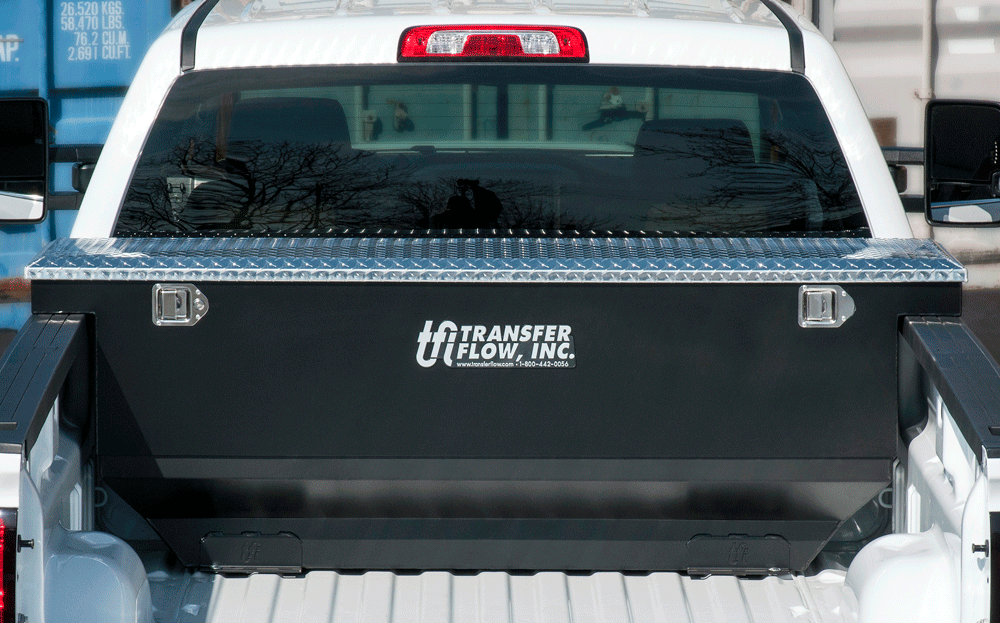 Transfer Flow
TransferFlow.com
Cummins Compounds
Pusher Compound Turbo Systems
Pusher Intakes has released their new High and Low-Mount line of Compound Turbo Systems for 1994 – 2016 Cummins-powered Dodge Ram trucks. With over four years in product development and testing, these new systems have proven to compound the stock chargers and provide up to 750 hp while improving fuel mileage and towing ability. The entire system is designed to be "bolt-on" to a stock engine bay, requiring only basic knowledge and mechanic skills. For the pure performance minded enthusiast, these systems are expandable by swapping in the recommended and larger chargers for +1,000 HP.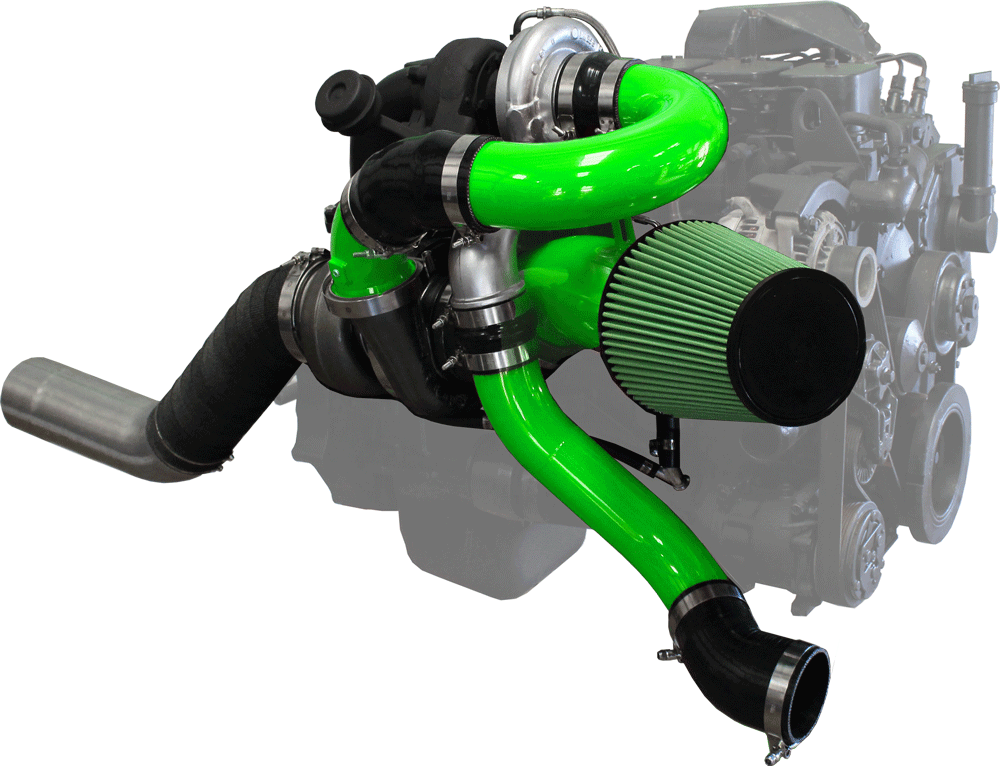 Pusher Intakes
PusherIntakes.com