Industrial Injection has been home to some of the highest horsepower diesel trucks on the planet for a number of years now, so it should come as no surprise that they host their own dyno day at their Salt Lake City shop. As a part of the Northwest Dyno Circuit's tour, a number of classes were available for entry, from stock to unlimited, and everything in between.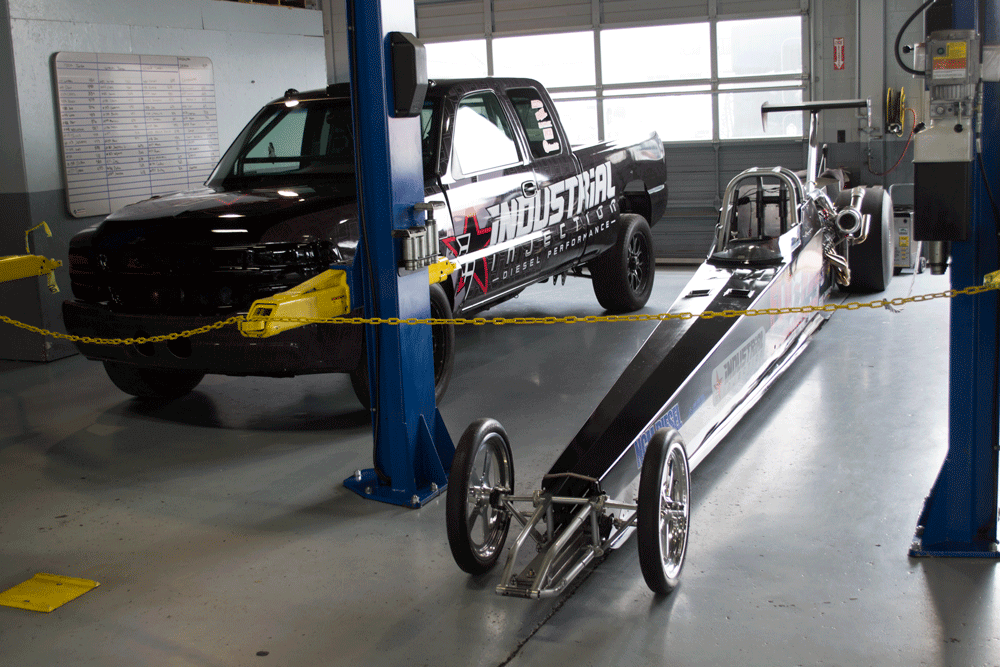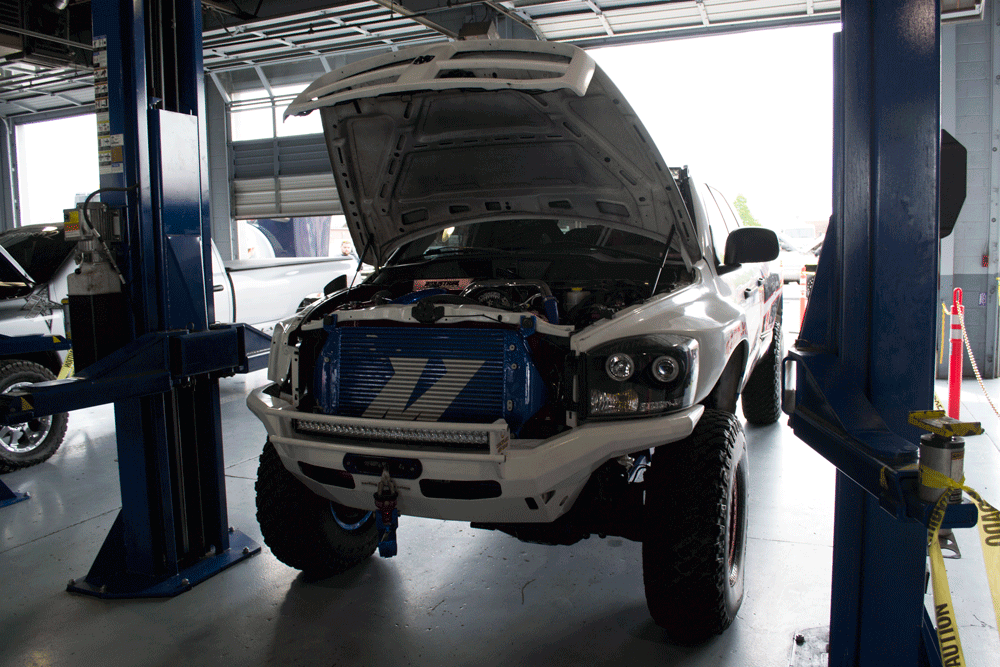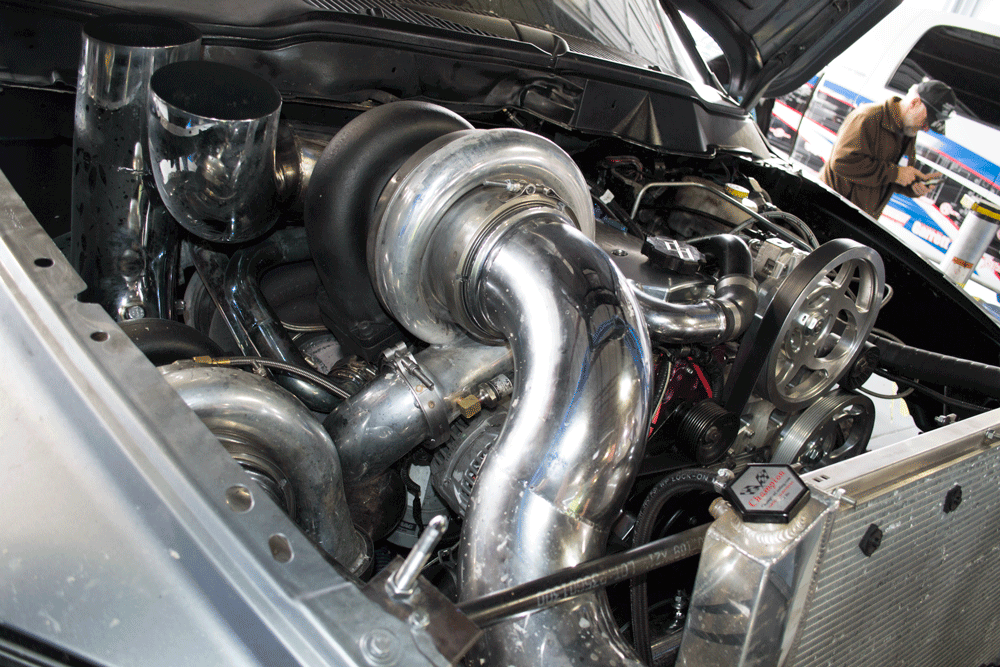 In addition to the three dynos on the premises (more than we've ever seen at any event), there were a number of diesel race vehicles, as well as show stoppers. Welderup (the shop behind Discovery Channel's "Vegas Rat Rods" show) had a unique Caterpillar-powered ride there, Industrial Injection had a couple of their race trucks on display, and Weaver Customs brought its unreal "TorC" Cuda. The lines and attention to detail on the Cuda were second to none, and the compound-turbo, 6.7L-powered Cummins was fitted in the cleanest engine bay we've ever seen.
With a long day of full-power pulls ahead, the festivities started at 9:00 A.M. sharp, with all three dynos available for competitors to use. The trucks at Industrial were a wide cross-section of the diesel public, as everything from brand-new '15 or '16 trucks to OBS Power Strokes could be seen lined up for their turn to run on the rollers. We saw license plates from all over–Utah of course, but Idaho and Wyoming were also well represented.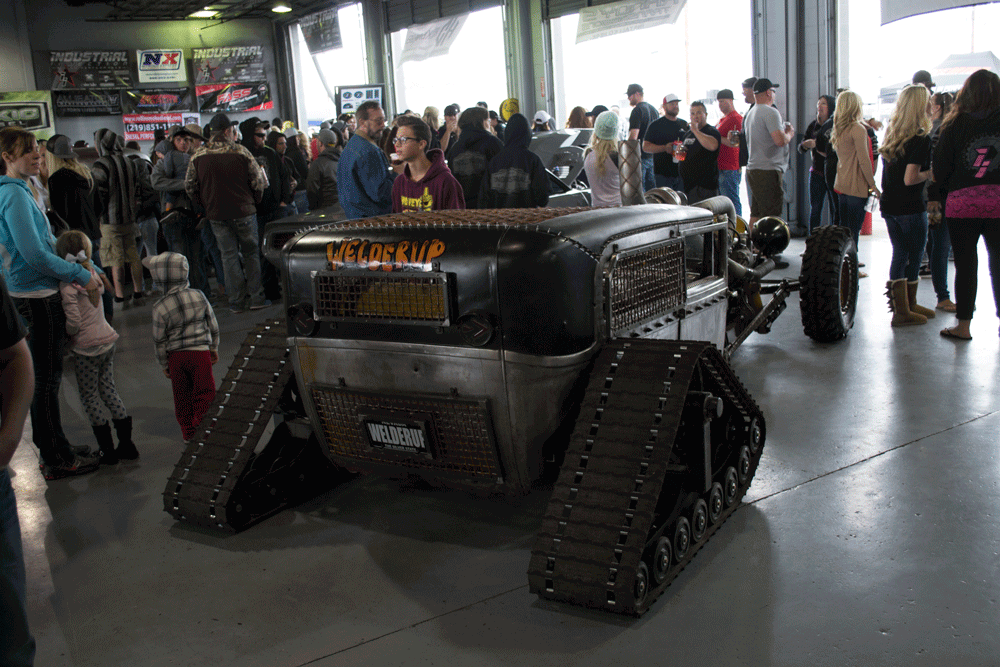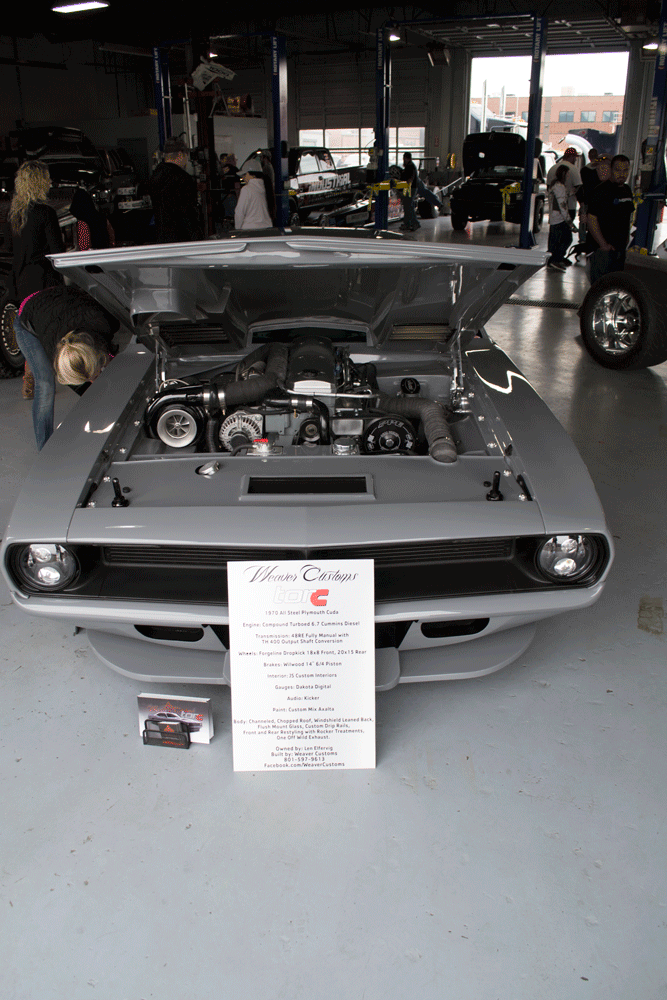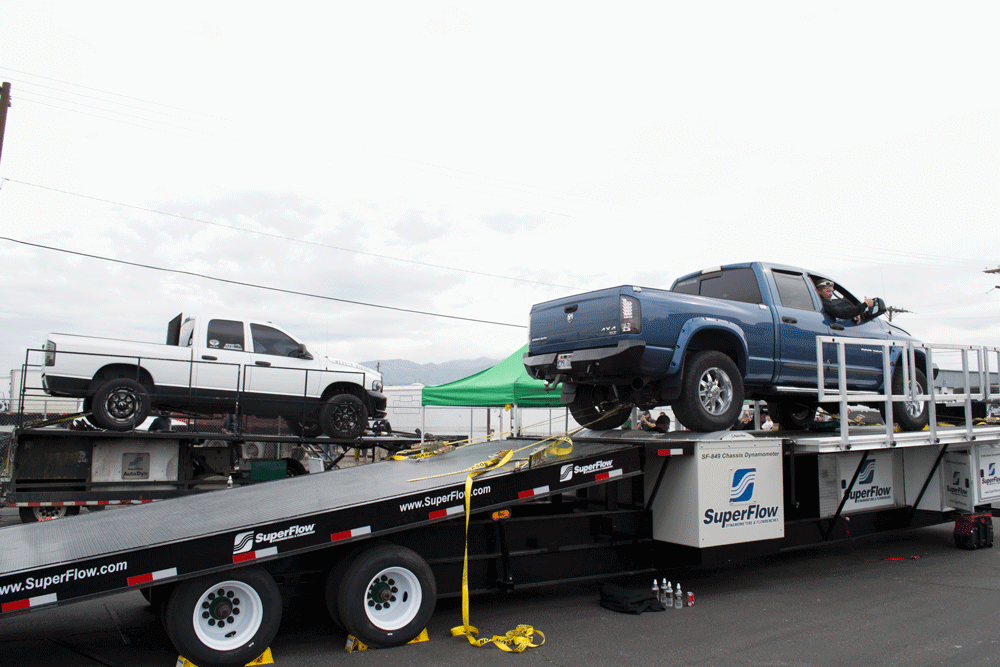 Between Industrial Injection's in-shop dyno and the outdoor Superflows, a vendors row was available for parts perusing, as competitors and spectators alike could check out the latest in turbos, tuners, hard parts, and vehicle accessories. With companies like ATS, Premier Performance and Edge on hand, there was something for just about everyone.
The dyno day started with a large group of Stock class trucks. because of its compound turbo setup, 6.4L Fords were separated into a different class. It's a good thing they were, as Taylor Wood's 645 horsepower run in his Ford dwarfed the top non-6.4L power reading; Austin Elmore's 557 horsepower pull. Modified Single saw the winner flirting with the four-digit mark, as Dan Madden's Duramax cranked out an impressive 940 rear-wheel horsepower with an 88mm turbo.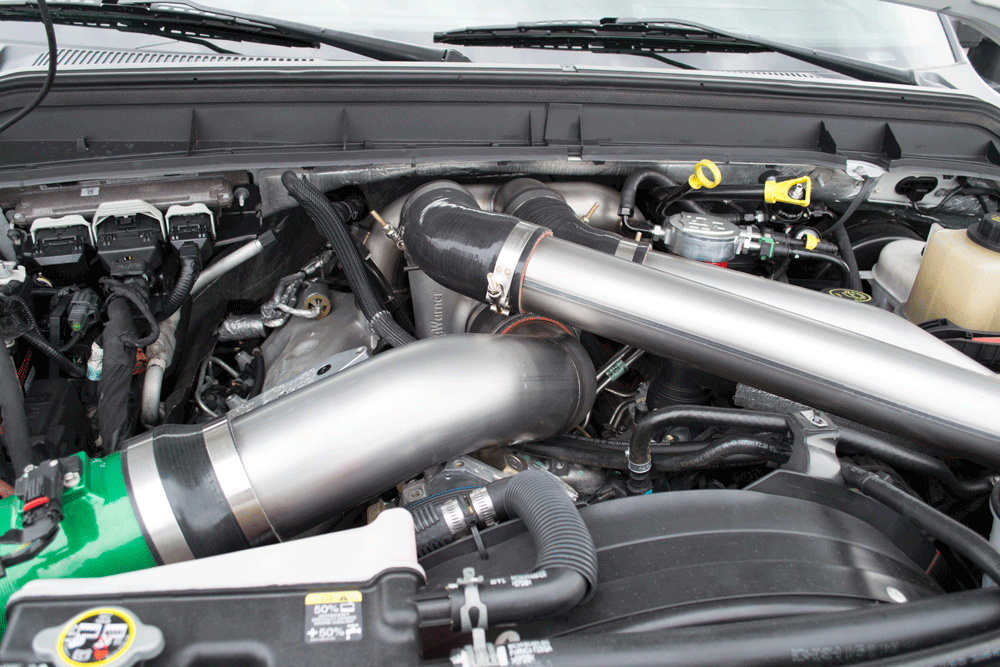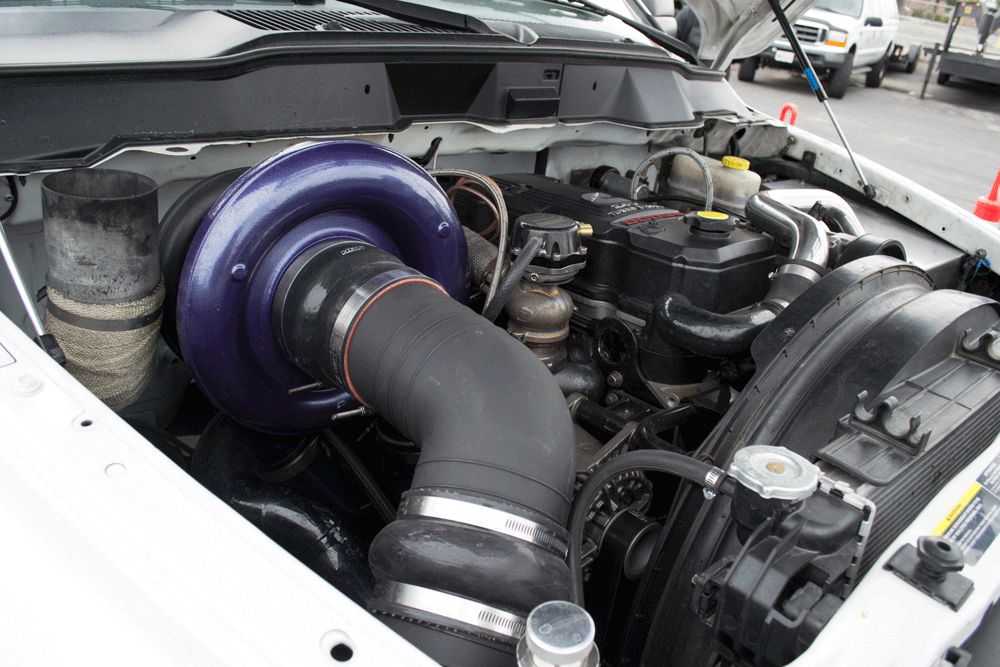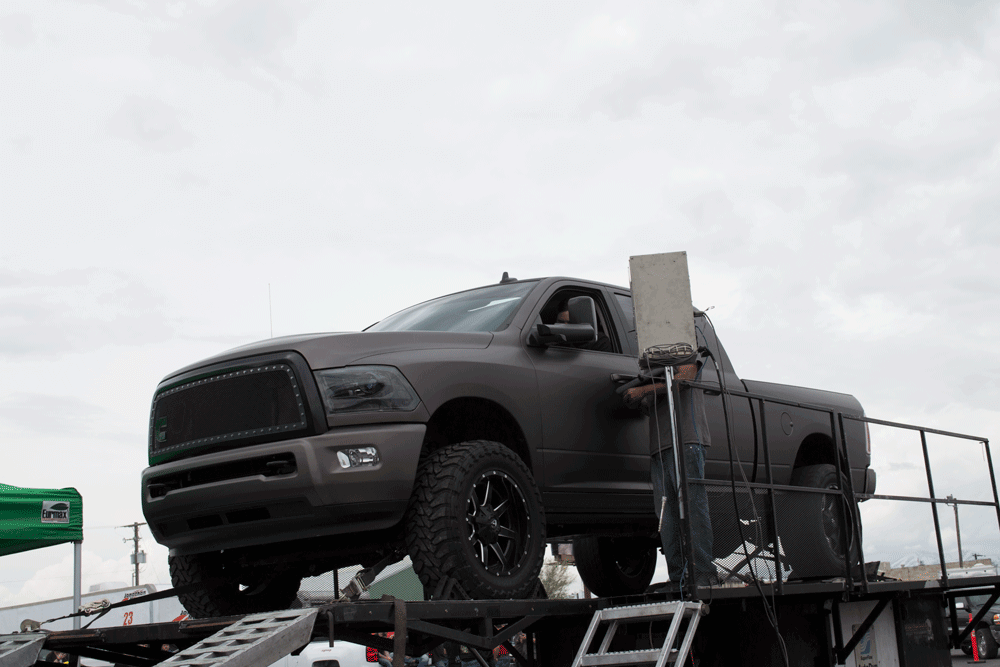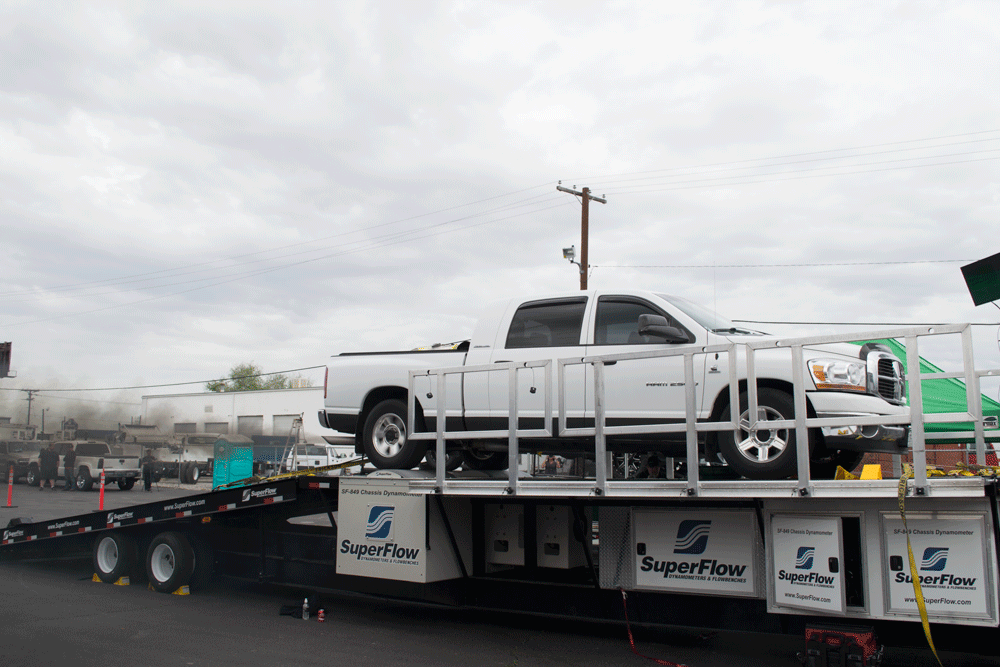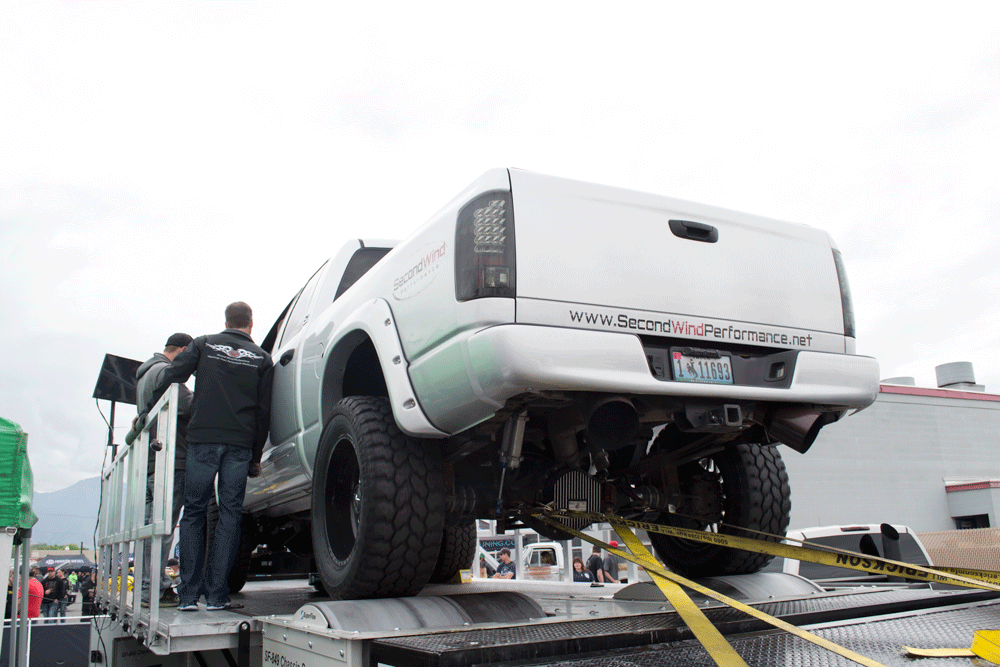 A big step up in performance took place in the Compound Turbo and Unlimited classes, which saw a number of competitors blast past the coveted 1,000 horsepower mark. In Compound Turbo, Justin Archibald hit 1,056 horsepower, good enough for Fourth, while Louie Fichtmer was in Third with 1,081 to the wheels. From there it was a big jump to Mike Mikstes' ride which made an incredible 1,271 hp pull, that was just edged out by Jason Schaffer at 1,282 hp for the win. Unlimited saw the highest power numbers of the competition, with Dan Madden making an impressive 1,237 hp with nitrous, and Trevor Peterson taking the overall win with a huge 1,357 hp reading from his Duramax.
As the day went on, more and more thunder clouds loomed in the distance, and in the early afternoon, Industrial Injection's dyno day unfortunately had to be shorted due to rain. Still, with the amount of dynos on hand, more than 70 trucks were able to hit the rollers to see what they were made of. With the amount of hard work and dedication put forth by Industrial Injection and the NWDC, 2016 was definitely a year to remember.
"In addition to the three dynos on the premises (more than we've ever seen at any event), there were a number of diesel race vehicles, as well as show stoppers"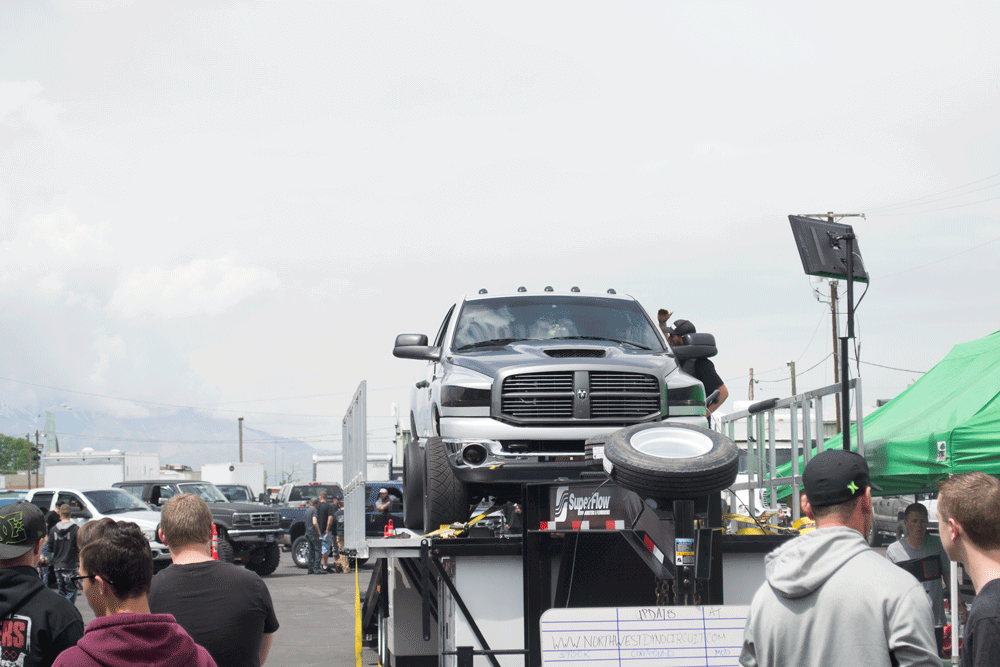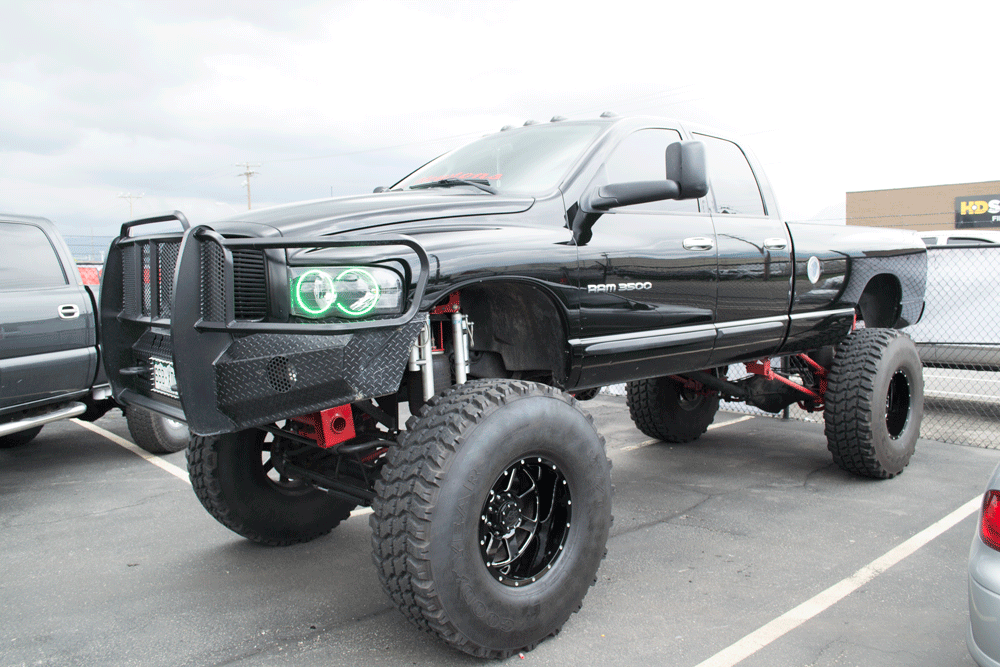 Results (Presented by the NWDC)
Stock Diesel
Driver/Horsepower
Austin Elsmore 557
Robert Gonzales 524
Ben Nehil 513
Brad Puls 509
Julio Lara 484
Jordan Lochhead 484
Colton Watkins 470
Jeff Muir 467
Robert Davis 466
Jordan Willie 465
Brenden Anderson 464
Hunter Lloyd 447
John Dickerson 442
Allen Wolfe 439
Dakota Slaugh 432
Austin Lloyd 414
Cody Cole 398
Zane Anderson 310
Jeremy Williams 305
Payton Gonzales 291
Hadley Russell 179
Stock Diesel (6.4L Ford)
Driver/Horsepower
Taylor Wood 645
John Walker 625
Justin Bishop 570
Modified Single
Driver/Horsepower
Dan Madden 940
Matt Logan 836
Trent Hibberd 787
Robert Hinton 733
Skyler Farley 732
Trent Burke 731
Cody Bramwell 692
Levi Royer 661
Kelly Gause 645
Jake Bolen 630
John Milligan 617
Andy Hensley 585
Brian McKay 560
Zachary Palacious 554
Craig Morgan 513
Tyler Saby 496
Casey Ingersoll 488
Shawn Smith 471
Zach Gibson 457
Tyler Murphy 416
Challis Anderson 375
Compound Turbo
Driver/Horsepower
Jason Schaffer 1,282
Mike Mikstes 1,271
Louie Fichtmer 1,081
Justin Archibald 1,056
Tyler Stevensen 873
Randy Jones 824
David Dudleston 784
Dustin Davis 747
Zach Farber 740
Bart Timothy 707
Bob Berends 698
Vantz Potts 688
Derick Dayton 658
Alex Brown 644
Nick Wagner 606
Brady Christensen 543
Caleb Ward 518
Casey Adams 507
Coy Manwill 204
Unlimited
Driver/Horsepower
Trevor Peterson 1,357
Dan Madden 1,237
Cody Hopkins 1,073
Sidebar: (With images 19; 20; 21)
Premier Performance's SIX PACK
As a parts wholesaler for a majority of the diesel industry, Premier Performance wanted to build something to showcase the parts they sell, and ended up with one of the wildest creations to come down the pike in a while. Dubbed the "Six Pack" thanks to the six Nitrous Express bottles in the bed, Premier was quick to point out that the Six Pack wasn't just a show queen; it could make power too. Strapped to Industrial Injection's inertia dyno, the rod made 845 horsepower on fuel, and then a wild 1,046 with two out of the six bottles open. Power also came on so fast when the boost and nitrous hit on the second run, that the truck went from 600 horsepower at 105 mph, to more than 1,000 at 110 mph; just a few tenths of a second later. While there were trucks that made more power, none were more violent or awesome than Premier's Six Pack.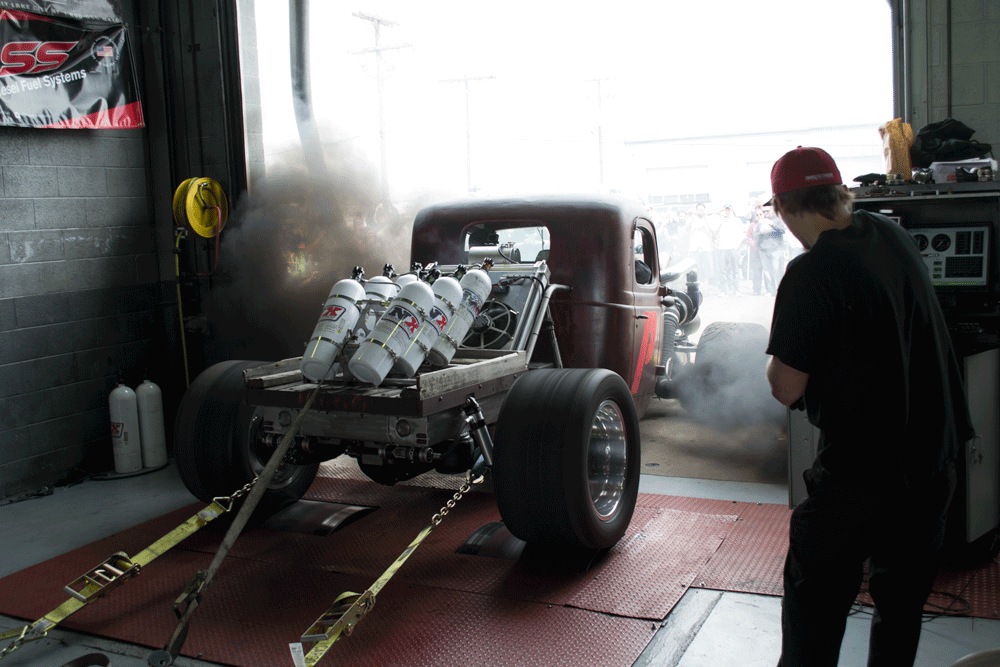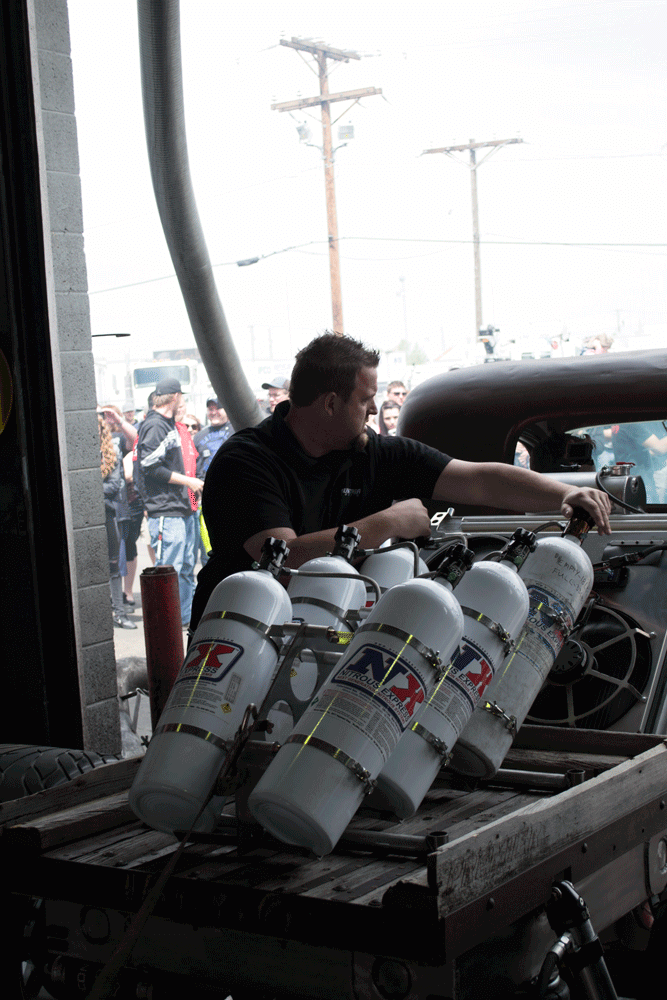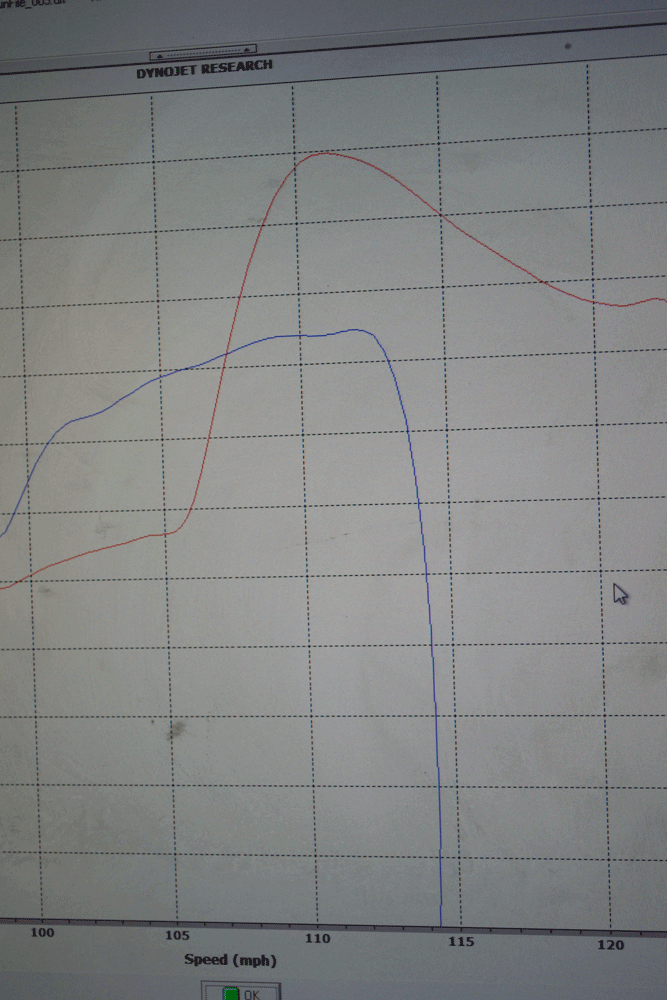 Sources:
Industrial Injection
IndustrialInjection.com
North West Dyno Circuit
NorthWestDynoCircuit.com