PART THREE: IMPROVING THE 6.4L POWER STROKE FOR SUPERB USABILITY
Introduced a few issues back, this 2008 6.4L Power Stroke has already seen an array of bolt-on upgrades intended to not only increase power for pulling, but to do it more efficiently than it did in stock form. Used as a daily driver, this higher-mileage F-250 doesn't see much more than 35 mph on small town streets during the week, but come Friday afternoon, it's hitched to a big living-quarters horse trailer or 38-foot RV trailer almost every weekend from April to September. It sees a lot of highway miles traveling the Idaho rodeo circuits, and getting up and down steep mountain grades while keeping EGTs, coolant temps and fuel stops to a minimum is of utmost importance to the owner.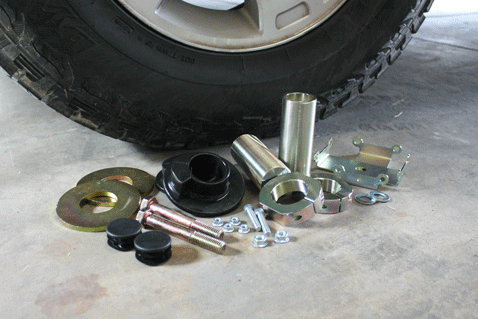 Part One addressed the power and efficiency of the big Power Stroke while maintaining all the factory emissions equipment and keeping it 100% compliant with CARB-certified parts. The Banks Big Hoss Bundle offered a great package for improving horsepower while maintaining cool fluid and exhaust temperatures under heavy load on hot summer days. The high-flow Techni-Cooler intercooler and Ram Air intake ensure cool, fresh air gets into the motor, while the dual-tip Monster exhaust helps usher spent gases out. For tuning and in-cab monitoring, the Banks Six Gun with IQ offers full-color touchscreen technology and gains up to 100 hp over stock, along with control of the turbocharger's variable vanes via the optional Speed Brake controller for additional braking on downhill grades.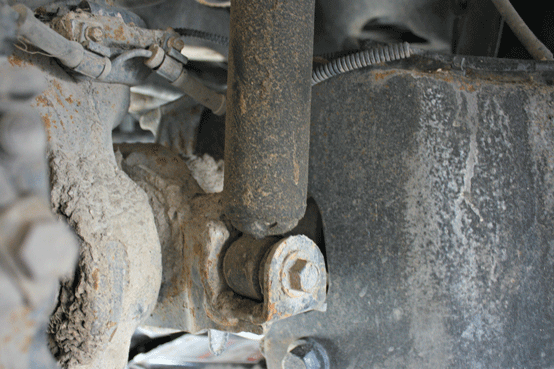 Part Two covered upgrading the front end with a tough Throttle Down Kustoms steel front bumper. This not only improved the look of the truck with its aggressive styling and near-perfect fitment, but it offers added protection against potential run-ins with wildlife on back country highways in the middle of the night. The optional push bar was the perfect place to mount an additional light bar to help light up those lonely, desolate mountain highways.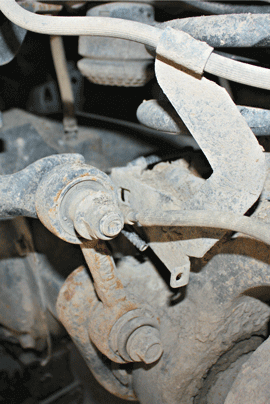 In this installment, the front and rear differentials will get some love with a much needed fluid service and new high-flow covers from One Up Offroad (OUO). These covers help improve oil flow to the bearings for extra insurance against ring and pinion troubles while towing heavy. The front end of the truck will get some attitude adjustment with the OUO Adjustable Coil Levelers (ACL), which can raise the front suspension up to 2.5 inches over stock for better tire clearance and overall looks.
OUO DIFF COVERS
With 140,000 miles on the odometer and no knowledge of the previous owner's maintenance schedules, more often than not you'll find the differentials and transfer case services get neglected, so to be sure everything is fresh it's always a good idea to flush and fill them with new fluid after buying a used truck. On the 1999+ four-wheel-drive Super Duty Ford, the Dana 60 front axle and Ford 10.5 rear axle offer great strength and functionality, but their basic differential covers' lack of drain plugs and their silicone seals make servicing a messy and tedious job. Looking to solve some of these issues, the crew at One Up Offroad engineered what they refer to as a high-flow cover that can increase bearing life due some specific internal characteristics cast into the cover for better oiling within the differential gear set.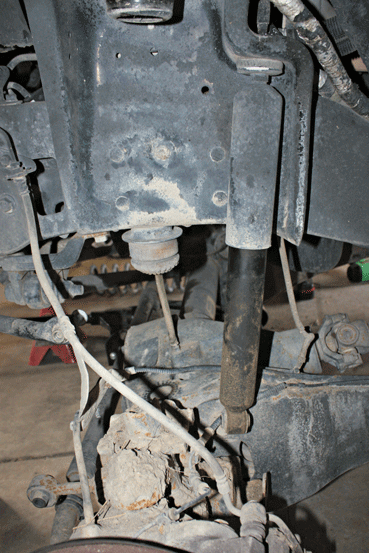 After consulting directly with Dana Spicer, the manufacturer of the Dana 60 axles used on the 1999-2016 Super Duty trucks, OUO determined that increasing the overall oil volume wasn't really needed. Spicer's failure analysis just didn't back the claims of axles overheating or lacking oil volume. OUO determined that an aftermarket cover that could help the ring gear splash oil onto the pinion bearings more efficiently was the best way to improve longevity of the axles and internals. OUO had also noticed finding an aftermarket front differential cover for these trucks that would clear the factory tie-rod, track bar and track bar bracket was virtually impossible. With this data to work with, the OUO cast-aluminum cover was developed to fit any Ford Super Duty, regardless of its suspension height or the use of high-strength axle trusses.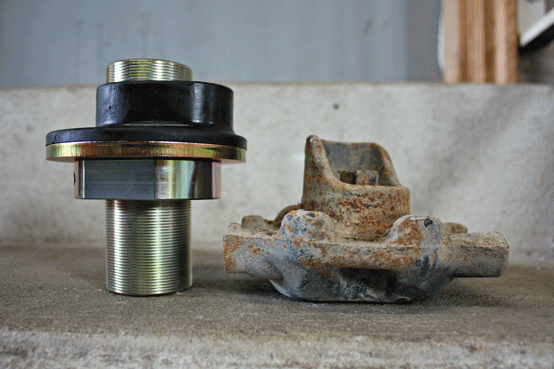 The OUO front and rear covers use a machined surface with a groove that accepts a thick 3/16" O-ring to make installation cleaner and easier than the factory silicone-style seal. They also incorporate a magnetic drain plug at the lowest point of the cover to ease future fluid services. But one of the most impressive design features of the cover is the massive 1-7/8" fill port cast and machined into it. This large port makes filling the cover much easier, while allowing you to actually see inside the differential to check the fluid level.
OUO LEVELERS
While the added weight of the new TDK front bumper didn't cause the front suspension to sag much, plans for raising the rear of this F-250 truck to F-350 height with taller OUO Traction Bar lift blocks when the OUO Traction Bar kit gets installed (stay tuned for Part Four of the project), something needed to be installed to add some front-end tire clearance. The Adjustable Coil Levelers from OUO seemed the perfect solution, as their unique threaded post design allows complete height adjust-ability by raising or lowering the lower coil spring perch to your desired level. The real beauty behind this style of leveling system is the fact that it will have no effect on ride quality since you're doing nothing to chance the coil spring compression rate, but can change the front suspension height anywhere up to 2.5 inches over stock.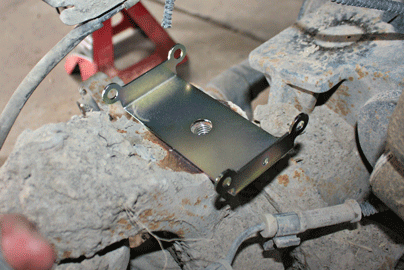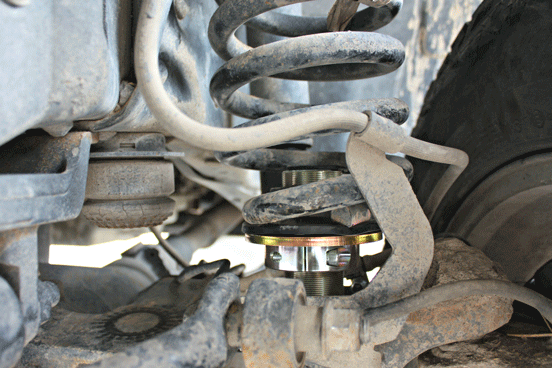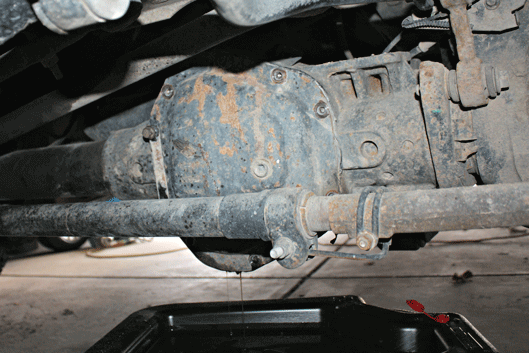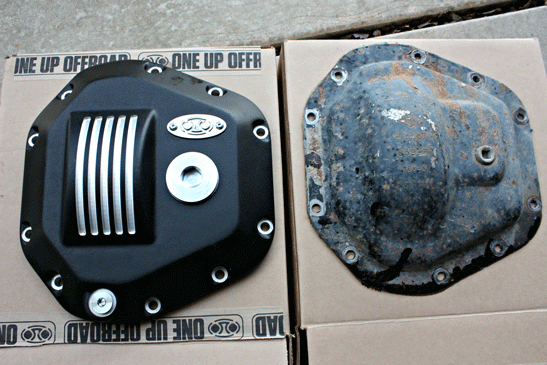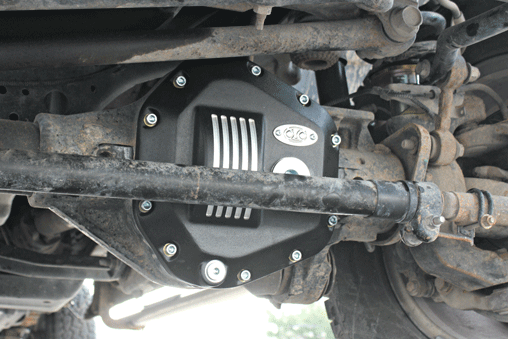 The kit installs in around two hours and you'll be able to fine-tune the stance and rake of the truck to fit your personal preference. With just a 33-inch tire and stock wheels under the truck and the factory F-250 block still out back, the front end was brought up 1.5 inches for now. But as the rear suspension is upgraded and raised up another two inches, a set of taller 35-inch tires may be considered, so this ACL system may get adjusted to the full 2.5-inch height to improve looks and tire clearance, but that'll be revisited if and when the time comes. And while it doesn't pertain to this build, for those already running big aftermarket lifts under their Super Duty with taller coil springs, the OUO Adjustable Levelers could still be added to get you another inch or two, or simply to fine tune your final lift height front to back or even side to side.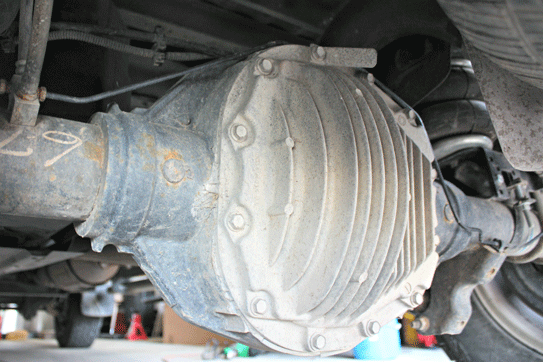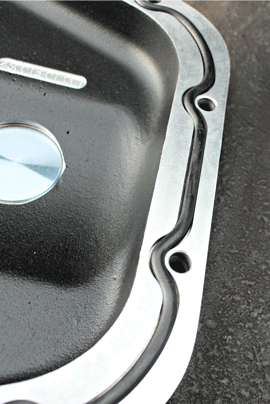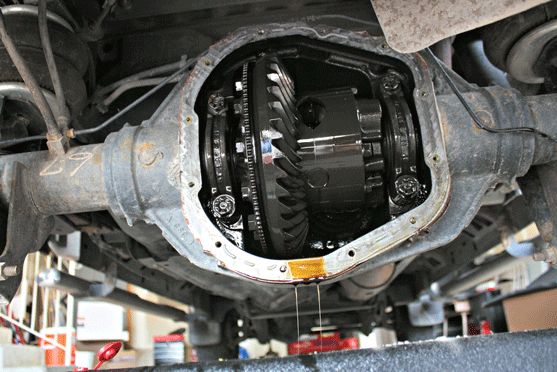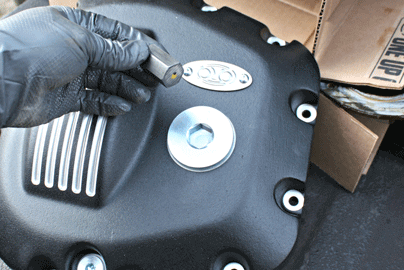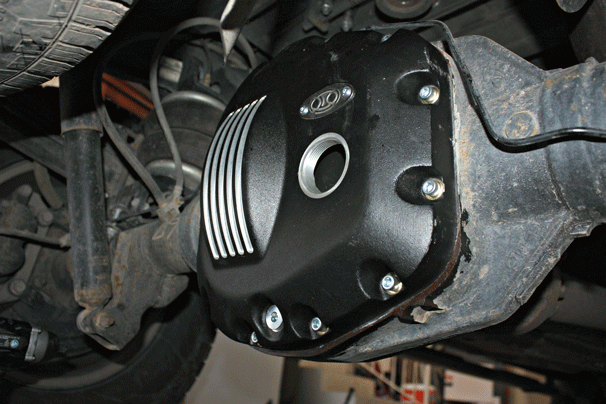 "THE KIT INSTALLS IN AROUND TWO HOURS AND YOU'LL BE ABLE TO FINE TUNE THE FINAL STANCE AND RAKE OF THE TRUCK TO FIT YOUR PERSONAL PREFERENCES."
While the cosmetic and performance changes to this 6.4L Power Stroke haven't been very drastic, their ultimate impact is more than noticeable while towing and daily driving. The additional horsepower and torque have helped keep massive loads moving, while the Banks Speed Brake has helped keep that same load under control when coming to a stop. The differential covers should extend pinion bearing life under the harsh towing conditions this truck will see every weekend, and the added height up front just plain looks better on this truck. In Part Four of this project build, the rear suspension will get some minor tweaks with OUO F-350 traction blocks and a set of short gusset traction bars to help prevent axle wrap under heavy load and acceleration. DW
SOURCE
ONE UP OFFROAD
888.98.ONE.UP
OneUpOffroad.com