In the past, Nissan's special vehicle projects have been lofty, literally, by focusing on the mountains. There's the Titan-based Project Basecamp, then the Armada-based Mountain Patrol unveiled at this year's Overland Expo West.
This time, Nissan goes for a bit of sand and surf with the Titan Surfcamp, a modified Titan XD specially built for the upcoming International Convention of Allied Sportfishing Trades.
The Surfcamp uses a Cummins 5.0L V8-powered Midnight Edition crew cab, and adds on a slew of custom packages designed for a day at the beach. The most obvious addition is the Freespirit Recreation rooftop tent. This is mounted on a Leitner Design cargo rack, which transforms the pickup into a mobile beach hut. A retractable Batwing awning from Rhino Rack extends the living space footprint, and there's plenty of cargo space thanks to the Rhino cab roof rack and the Decked bed storage system.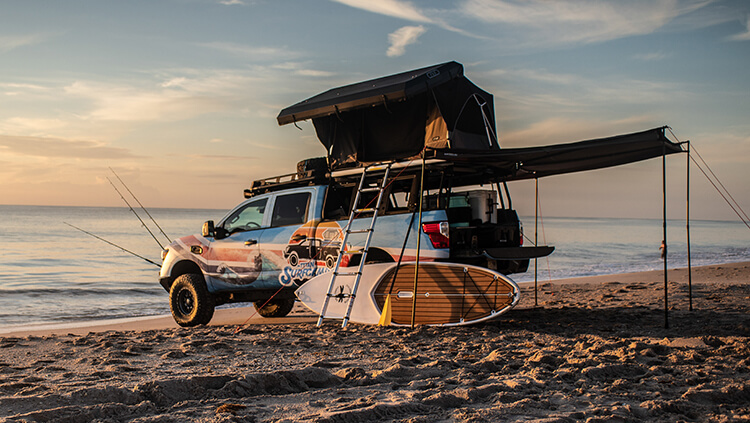 All photos courtesy of Nissan
Up front, the Fab Four Vengeance bumper features custom mounts for surf fishing rods, while the truck bed boasts real teak decking for prepping dinner. Inside the cab, Wetskinz water-resistant seat covers and WeatherTech rubber floor mats protect the interior from sand and saltwater. There's even a Road Shower solar shower to rinse away the sand after a day at the beach.
Finally, the Surfcamp has enough offroad and auxiliary lighting from Baja Designs, KC and Rigid Industries to rival a lighthouse. The entire truck is finished in a sweet light-blue retro color scheme inspired by '60s and '70s surf culture.
The Surfcamp is scheduled to make its debut at the ICAST conference in Orlando, FL this week. After that it can be viewed at the Supergirl Surf Pro leagues in Oceanside, CA at the end of July.
While Nissan has no plans to release a serial Surfcamp trim for the Titan, it should be noted that all of the concept's accessories are available on the market, so you can make your own rolling cabana.