Truck of The Year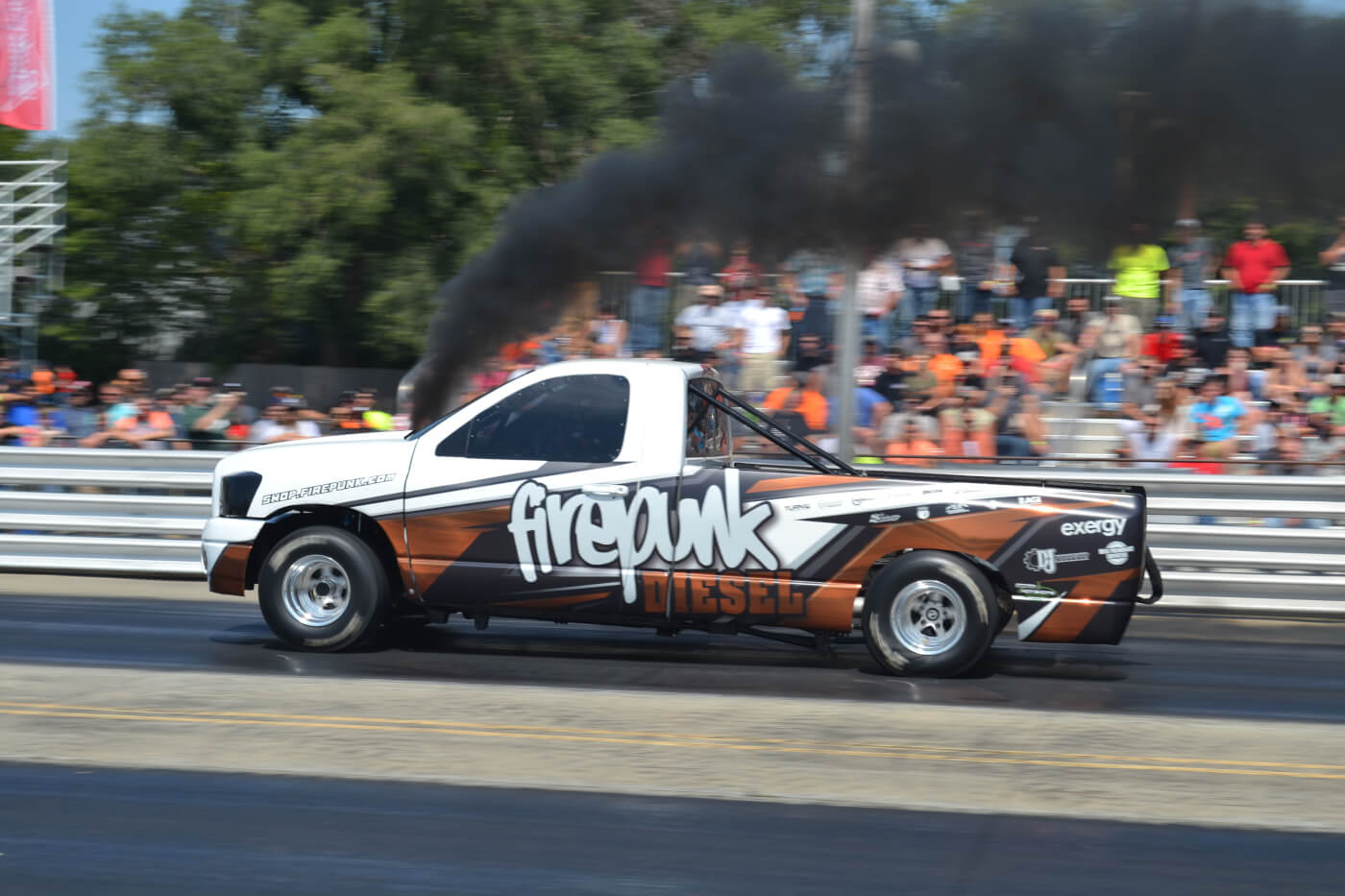 Lavon Miller's Dodge
UCC Winner, Pro Street Standout, Engine Exploder
In reviewing 2017, it was hard to argue against nominating Lavon Miller's Ram as Truck of the Year. After all, he ran the first 7-second quarter mile in a Pro Street or 4×4 diesel truck, he won the prestigious Ultimate Callout Challenge for the second time, and he went out with a bang with a legitimately viral video of his engine exploding at 2,200-hp and climbing. None of these accomplishments are cheap or easy, and even one out of the three would have been impressive. We look forward to 2018, where we have a feeling Lavon will be shooting for ever-more power, and the 4.99 eighth-mile barrier.
Highlights

2018 Ram Diesel
More Torque than Ever
If the rumors are right, it looks like Ram will be riding the wave of torque that its 2018 Cummins engine produces again for this upcoming year. Now with a mind-bending 920 lb-ft torque, the inline 6 bests offerings by both GM and Ford. Ram also still has the highest towing capacity. Even with its outrageous torque, the Ram is still down in horsepower to the others in the Big Three, which shows in quarter mile times. While Ram might still be King in towing and torque, we still are curious about when or if the Cummins will get a redesign or horsepower boost.
Twins!

Bring on the Compounds
Everyone needs a Winter project. Whether it's snowing, hailing, raining, or just cold, sometimes you just need to head out to the garage and try and create something. We had enough diesel parts and turbo stuff laying around we thought hey, why not put some compounds on something? We're not going to say what it's going on yet, but there could be some twins in next year's crystal ball.
News

Diesel 1 Electric 0
Diesel Lends a Hand in Puerto Rico
There's no doubt that clean energy will be all the rage again for 2018, but when there's limits, you still have to turn to diesel. Things are still looking pretty rough for Puerto Rico, with much of the area still recovering and without power thanks to truly horrendous hurricane weather. It's diesel to the rescue though, as APR energy helped revive the energy grid with diesel-fueled turbines. According to them, a solar farm in the same area to help power things up would only generate about 1/10,000th the amount of electricity as the gas turbine generators. While these generators can be run on a variety of fuels, we bet they work the best with diesel.
Diesel 2 Electric 0

The Carbon of Electrics
If you study math or physics, one of the first laws is that energy HAS to come from somewhere. So called zero-emissions vehicles have been around for years, and are making huge gains in power and mileage thanks to new battery technology and huge batteries that power this new generation of cars. Lithium mining is hugely polluting however, as is the coal-fueled power that it takes to recharge those batteries–by some accounts electricity produced by coal makes up to 40-percent of total carbon "footprint." Diesel on the other hand can be made from natural or synthetic means, and with a 90 percent reduction in emissions compared to 10 years ago, diesel just may be cleaner than electrics. Is it? We're going to look into it.
Parts Rack
Keating Machine's Creations
A Turbo Lover's Dream
We get a lot of turbocharger questions about parts, lines, boots, and most of all sizing. Whether you're looking for a flange that escapes you, or an all-out $10,000 turbo that can support 3,000hp, Keating is your man. Once the owner of the quickest and fastest full-size diesel truck (back around 2000) Keating still is knee deep in making turbo parts of all shapes and sizes, and his website is definitely worth a look.
LINK: Keatingmachine.com