GOLIATH CUSTOM' 2016 F250
The attention to detail, cleanliness and quality parts are what make a custom truck stand out from the crowd. Matt Archuleta and his team at Goliath Customs, in Rio Rancho, New Mexico, set out to make their latest build shine bright, and stand out from the sea of SEMA vehicles that it debuted amongst. This 2016 Ford F250 6.7L diesel crew cab 4×4 short box was first seen at SEMA 2016, in the Fusion Bumpers booth, and has helped continue to put New Mexico on the custom truck map.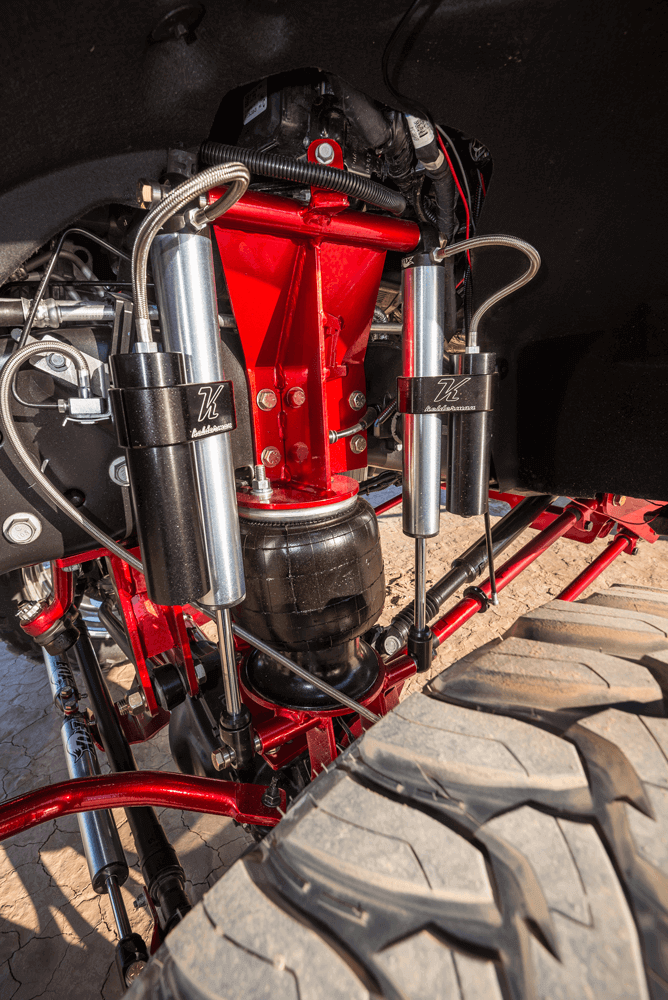 Goliath Customs is a small family automotive customization shop that works on a huge range of custom vehicles; lifted trucks, prerunners, Jeeps, UTV, muscle cars, and even lowered vehicles. The shop might be small, but their 2017 F450 tow rig sure isn't! With only one full-time technician and a handful of friends and family helping out, this little shop does impressively large things.
With a Goal in Mind
Goliath Customs is no stranger to the annual gathering of petrol heads known as the SEMA Show, as they have built two previous SEMA vehicles: a 2011 F250 and a 2014 RAM. Matt has always been a Ford fan, so for their latest build they went back to the brand that pulls at his heartstrings.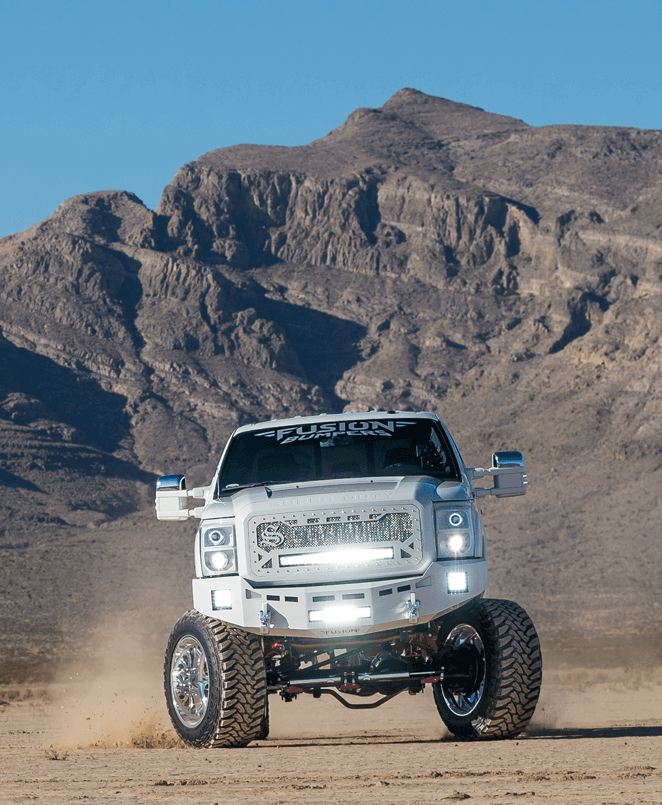 This '16 F250 was built as a marketing vehicle for Goliath Customs, and is Matt's daily driver. It was purchased in February 2016 for about $60,000, and after eight months of long hours, tons of help from friends and family, lots of great sponsors and about $30,000 in modifications the truck was ready for the spotlight at The SEMA Show 2016.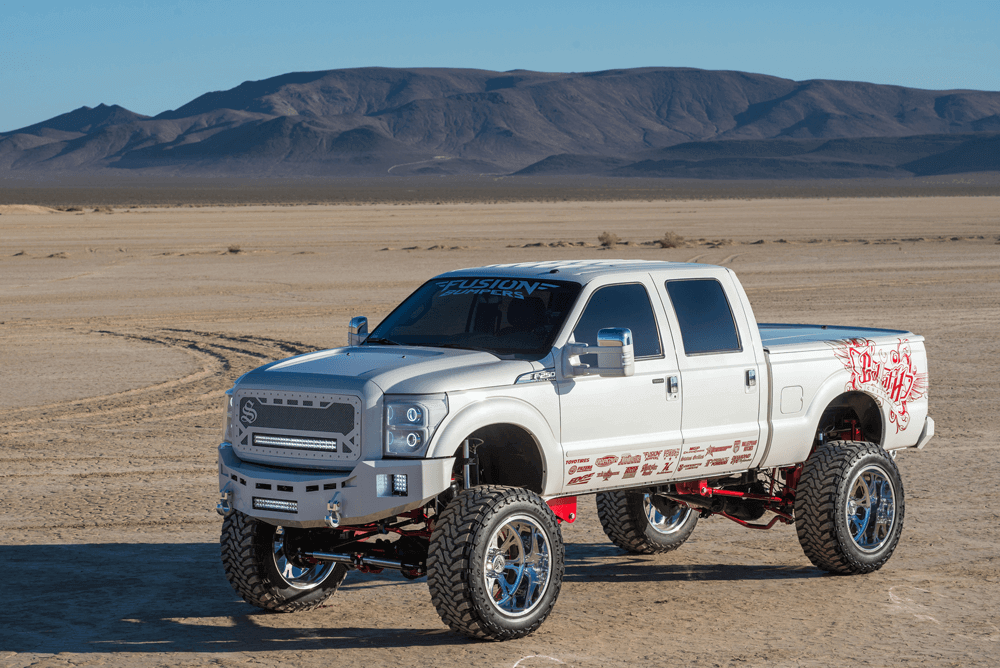 The SEMA Crunch is real, but Matt and his team are no strangers to it. They handled the pressure with ease, which shows in the quality of the finished truck they displayed. Building custom trucks of this caliber is never a small undertaking, and always takes more money, time, and labor than you'd expect. Goliath Customs started this build on the ground, as the shop didn't have a lift at the time. The team quickly realized that some of the install just wasn't going to happen in a timely fashion without a proper lift, and luckily got some lift time with their good friends at Maverick Auto & Fabrication.
Stance
A custom truck build like this really starts around a suspension upgrade and expands from there. The basis for this F250's suspension is an 8-10-inch Kelderman Air Suspension lift. The system greatly elevates the truck, creates quality ride dynamics and improves towing capabilities. It utilizes Fox Remote reservoir adjustable shocks and adjustable traction bars to dial in a plush controlled ride, a rare thing in such a tall lifted truck. As an added bonus, the entire system is made in America.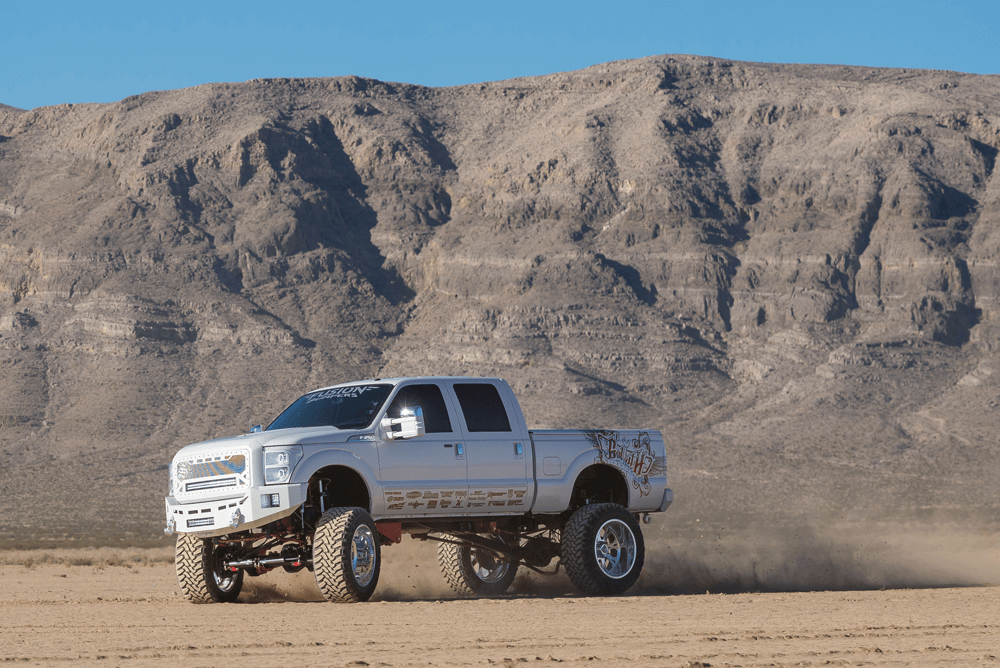 A tall suspension lift like this exposes the entire undercarriage of the truck, which makes it all the more important to make it look good and utilize quality components. Much of the undercarriage components on this build are powder coated, with Prismatic Powder, in "Jolly Rancher Red," by Synergy Coatings in Albuquerque, New Mexico. Putting together shiny undercarriage components like this is an extremely meticulous job, at least if you want to keep everything looking perfect. To truly make the "blinged out" undercarriage sparkle Matt installed a six-pack of Rigid LED rock lights.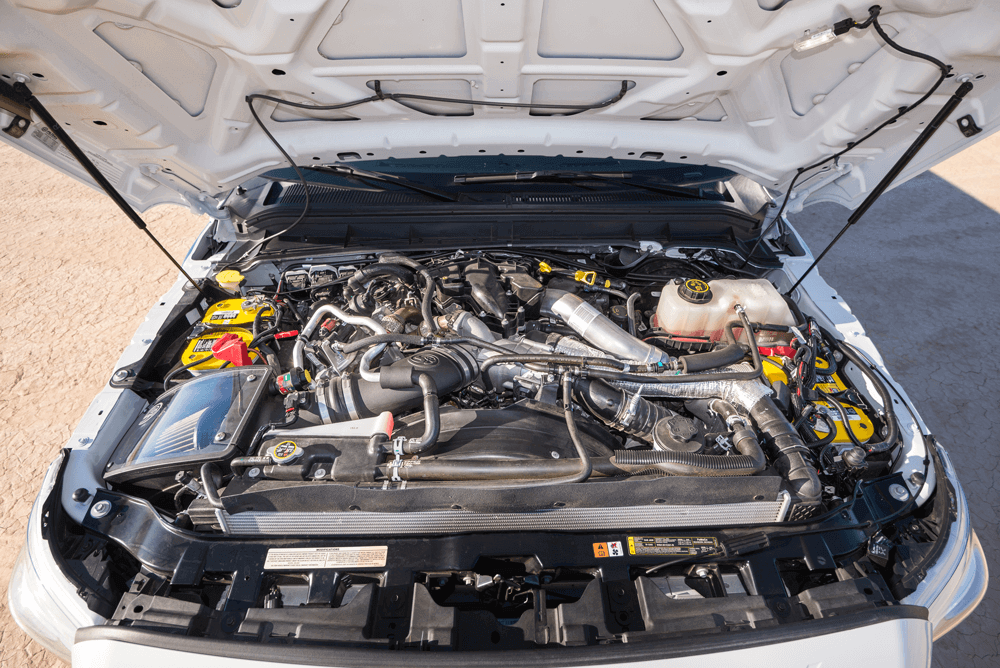 With such a large lift this truck needed some serious wheels and tires. Specialty Forged 24×14 SF002 Polished Wheels, with custom chrome spiked V+V lug nuts were installed, wrapped in aggressive Toyo Open Country MT 40/15.50/24 tires. This combo looks clean and aggressive, a fitting look for this refined truck.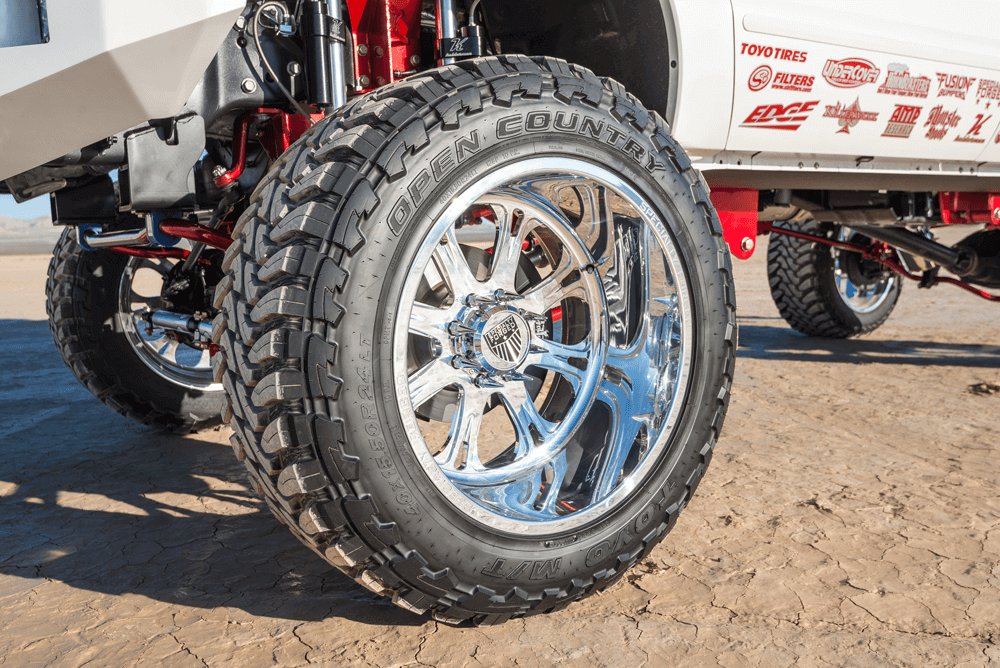 Of course the rest of the exterior of the truck needed to be elevated to the same level of refinement as the undercarriage. This transformation started off with quality Fusion front and rear bumpers, fitted with Monster Hooks and Rigid Industries lighting; two Q Series and a 16-inch Dual Row Bar up front and four Dually Series in the rear. The front grill is a custom one off Status Grille Insert, with a 30-inch Rigid Radius LED light bar. Amp Research retractable side steps allow easy entry and exit into this lifted monster.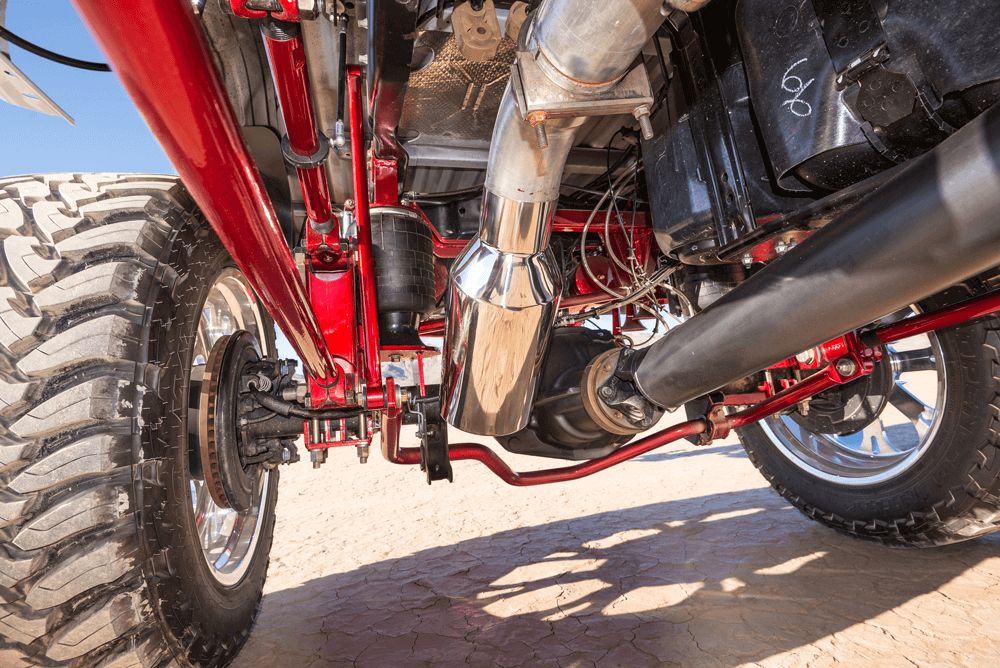 To bring the exterior together, and truly make all the lines on this truck pop, a full custom Pearl White paint job, by Superior Customs of Albuquerque, was applied. It's the little touches that truly bring a build like this together, and Matt went with a color-matched theme. The side mirrors, headlights, Undercover LUX Bed Cover and Recon Badges were all color matched to the truck. To finish off the exterior styling Genesis Signs of Albuquerque applied custom vinyl graphics.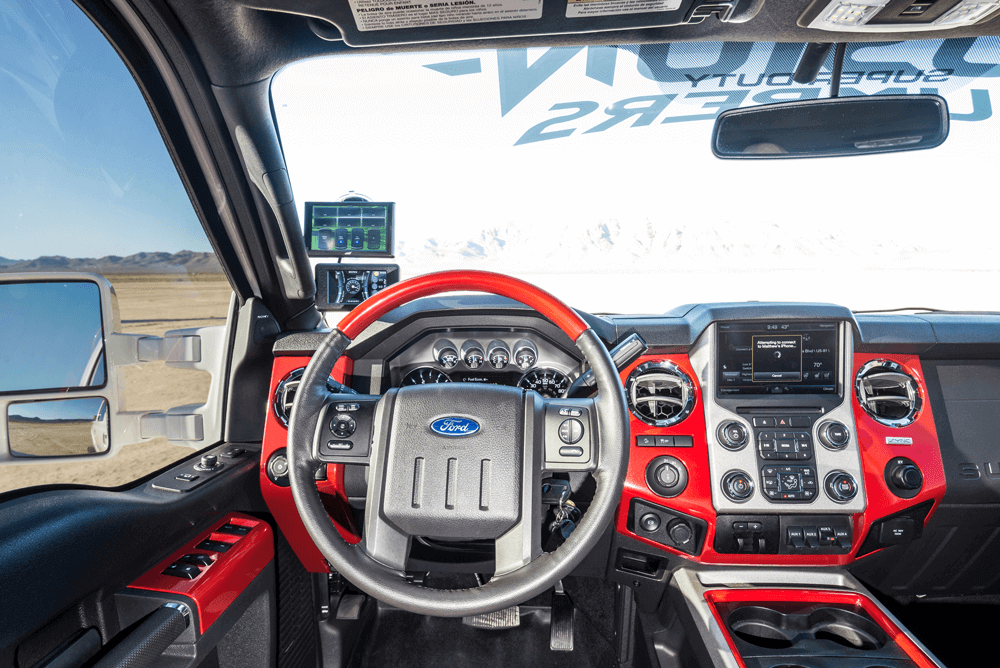 The interior of this monster was kept pretty stock, but upgraded with a few nice touches. The dash and door panel inserts were wrapped in 3M "Dragon Fire Red," by Carver Customs & Southwest Speed, to help tie together the dark red accent theme throughout the truck. The sound system was upgraded with a huge JL Audio 13×5-inch sub, mounted in a Stealth Box under the rear seat. To power the speaker upgrade three 600W JL Audio amps were also installed.
Scorpion 6.7L
Under the hood has been kept pretty clean on this truck, but optimized with a few quality touches. An S&B Cold Air System and a full Diamond Eye 4-inch stainless exhaust help the big 6.7L diesel breath easier, and sound even better. An Edge CTS2 Programmer helps monitor and tune the engine for optimized performance, no matter where this truck is or what it's being asked to do. The battery system was also upgraded to two Optima Yellow Top units.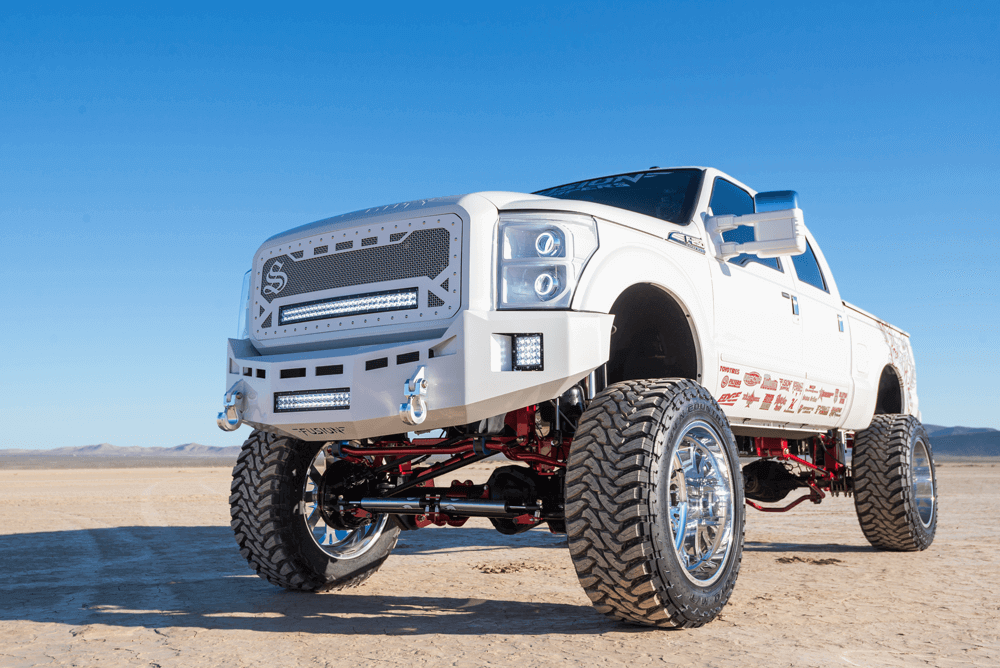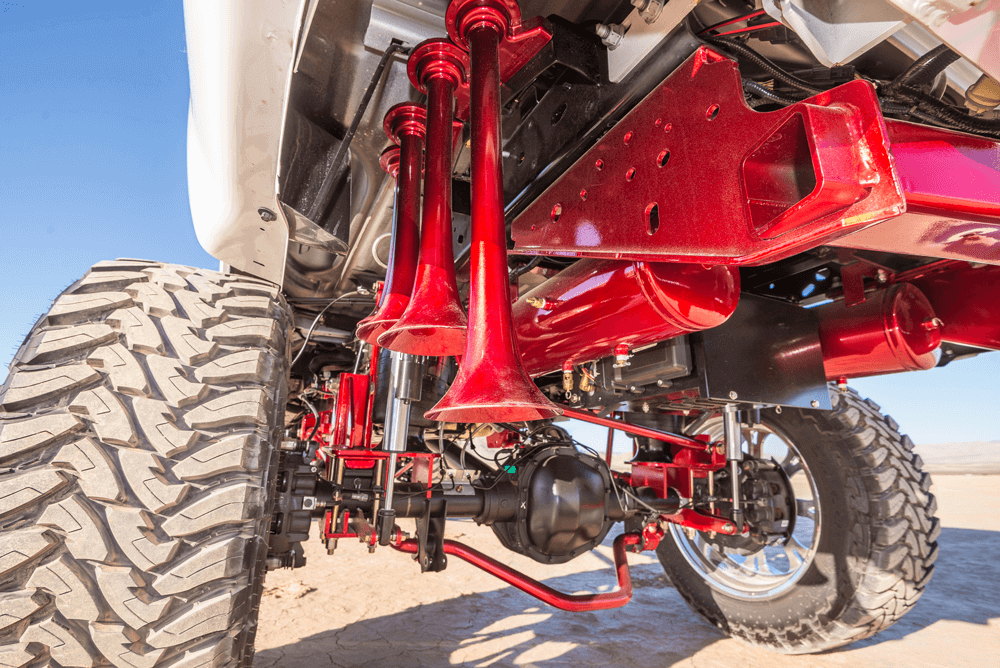 While Matt might have started building lowriders professionally in 2004, and building cars at age 17, he and his little shop have come a long way in the customization world. This latest F250 build showcases what is possible with perseverance, a vision and surrounding yourself with the right people. A custom build like this is never truly finished, and Matt already has his sights set on some impressive upgrades to this already eye catching truck, which will start soon with an upgraded 26-inch wheel package. Imagination, time and money are the only restrains to how far this build will go. I have a feeling we'll be seeing more impressive builds out of Goliath Customs in the near future.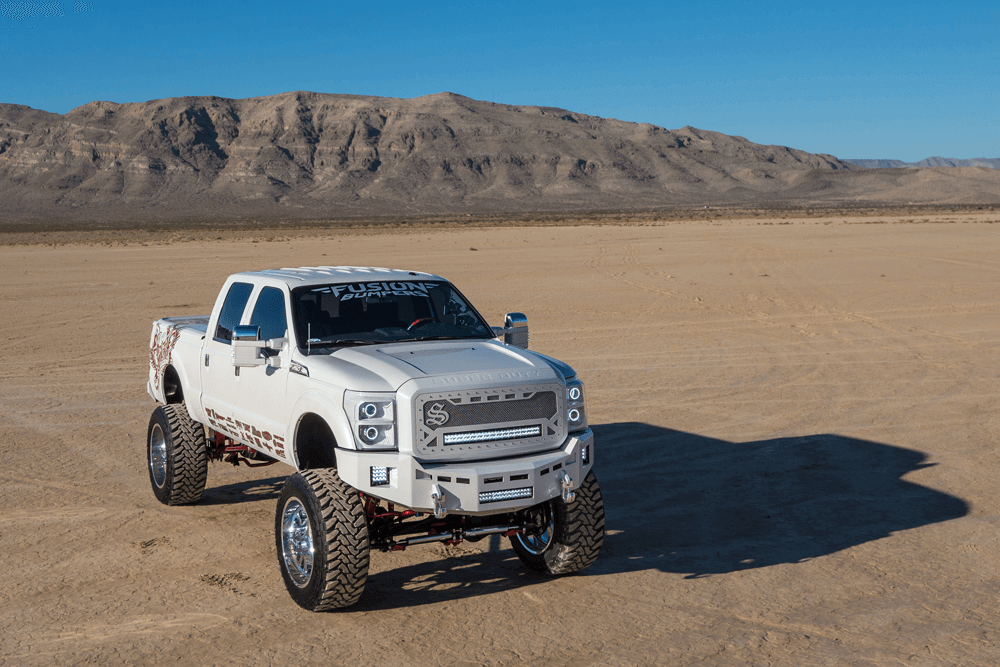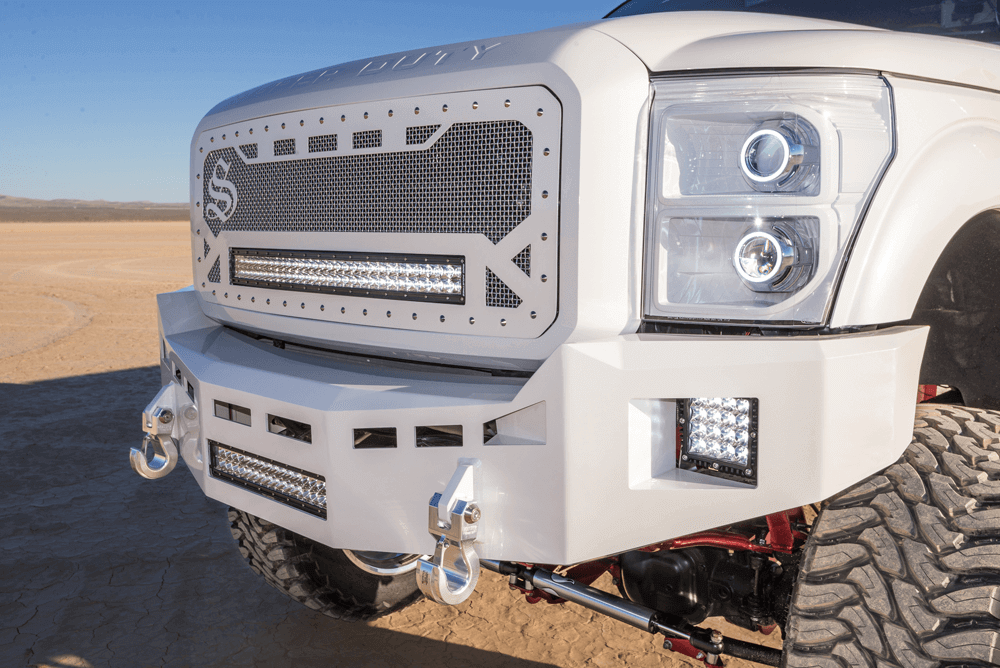 Matt wants to send a special thanks to Jeremy and the crew at Superior Customs for all their hard work on this build. He also wants to thank his wife and kids for all their patience through the many late nights that went into this Super Duty. Matt says he couldn't have done it without his main tech Chris O'toole, and his business partner Matt Santilanes.DW
A TALL SUSPENSION LIFT LIKE THIS EXPOSES THE ENTIRE UNDERCARRIAGE OF THE TRUCK, WHICH MAKES IT ALL THE MORE IMPORTANT TO MAKE IT LOOK GOOD AND UTILIZE QUALITY COMPONENTS.
SPECIFICATIONS
1977 FORD F-250 CUSTOM GOLIATH CUSTOMS 2016 FORD F250 6.7L V8 CREW CAB 4X4 SHORT BOX
SUSPENSION: 8-10-inch Kelderman Air Suspension, Fox Remote Reservoir Shocks, Adjustable Traction Bars
BRAKES: Steel Braided Brake Lines
WHEELS & TIRES:Specialty Forged 24×14 SF002 Polished Wheels with Custom Chrome Spiked V+V Lug Nuts wrapped with Toyo Open Country MT 40/15.50/24 Tires
BATTERIES:Two Optima Yellow Top
ENGINE:S&B Cold Air System, Edge CTS2 Programmer
EXHAUST: Diamond Eye MFG 4-inch Stainless
BUMPERS:Fusion Front & Rear Bumpers
LIGHTING: Rigid Industries- 30-inch Radius Bar in Grille, two Q Series and a 16-inch Dual Row Bar in Front Bumper, four Dually Series in Rear Bumper, six Rigid Rock Lights Under the Truck
INTERIOR: 3M "Dragon Fire Red" Wrapped Panels by Carver Customs & Southwest Speed
AUDIO:JL Audio 13×5-inch Sub in a JL Audio Stealth Box Under Rear Seat, three 600W JL Audio Amps
EXTERIOR:Status One Off Custom Grille Insert, Amp Research Retractable Side Steps, Monster Hooks, Custom Pearl White Paint by Superior Customs of Albuquerque, Color Matched Side Mirrors, Color Matched Headlights, by plain and simple design, Undercover LUX Bed Cover, Custom Graphics by Genesis Signs of Albuquerque, Recon Custom Painted Badges, Hadley Air Management System, Horn Blasters Katrina four Air Horn Setup