Custom Flatbed Ram
Steve Clauson built this unique flatbed Ram with his own two hands. He's a construction worker, so he knows a thing or two about layout and cutting. His skills don't stop there: he built the front bumper and flatbed custom. Safe to say, he knows a bit about welding too.
Clauson's 1997 Ram 2500 still has the original 12-valve Cummins under the hood, but he has upgraded to Baldwin industrial grade filtration, a Crazy Carls Performance intake and a straight-out exhaust system that uses mostly stock pipes.
Other upgrades include a set of 3-inch lift coils, rear leaf blocks to match and Fox shocks in all the corners. The tires are Kumho Road Venture MTs; they're mounted on some old school, American Racing 16×10 steel wheels.
Steve's had this old Ram on the chassis dyno and says it produces about 260 horses and 650 lb-ft—that's enough power for his current needs. If we're sure of one thing, it's that this one-of-a-kind Ram truck is cool and functional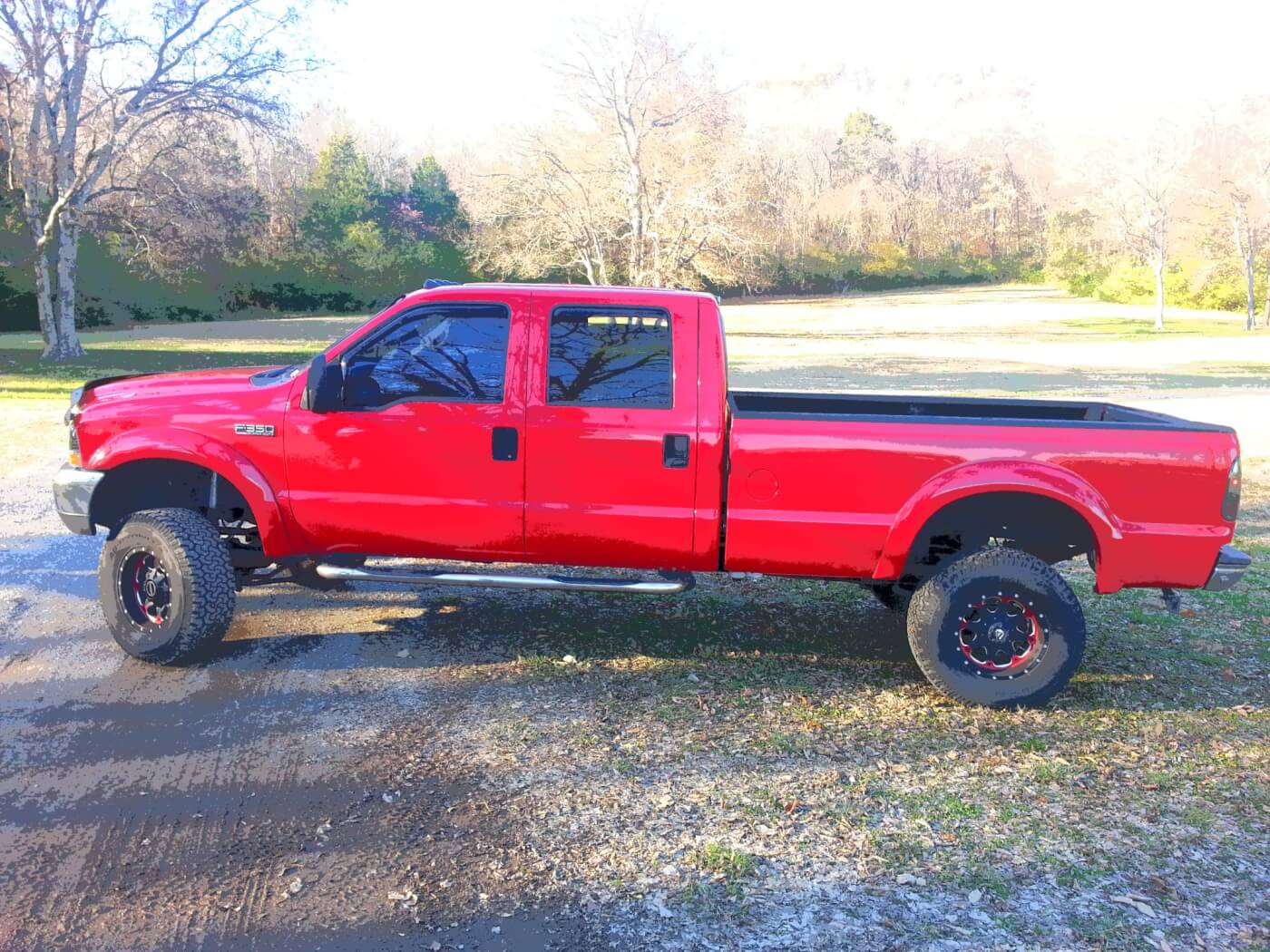 Navy Man's Ford
Ronald Tuggle tells us he spent 20 years traveling the world and serving our country as an aircraft environmental systems mechanic. He worked on Ejection seats and canopy systems on the A-6/EA-6B jets and proudly states that he worked with the best patrol squadrons for the greatest navy in the world. While employed, Tuggle drove the aircraft tow-tractors, de-icing machines, lifts, and even large cranes. It's no mystery how his love for trucks and tools started.
Now, Tuggle is now retired and living in beautiful Nashville, Tennessee, where he's closer to family and friends. But that doesn't mean he's inactive. As a kid, he always wanted to drive an 18-wheeler, and see the countryside, so when I retired, he I got CDL and started driving big diesels across the United States.
When not behind the wheel of a big rig, Tuggle is still a diesel jockey: His personal oil burner of the past ten years is a 2000 Ford F350, a 7.3L powered truck that came with a 6-inch Rancho-lift with 16.5 Weld wheels. But from almost day one he used his mechanical skills to make it his own.
Upgrades he's made include a Banks Ram-Air cold air intake, GTP-38R turbo with a Riff Raff Billet aluminum wheel w/1.0 housing and a banks exhaust Elbow. This gets more air in and the 4″ cat back Flow master exhaust help get the spent gasses out.
A local trans shop rebuilt the transmission; it's a full Stage 3 transmission built with a Stallion torque converter. He then headed to Swamp's Diesel and had them install a set of their 238/80 percent injectors, ARP head studs, a regulated return fuel system, fuel bowl delete kit feed from a FASS 150 Platinum fuel pump upgrade and a Bean's Diesel fuel sump. Tuggle then had Dyno-proven in Rossville, Georgia, install their Honey Badger Jr. HPOP. All this improves fuel delivery to the new injectors.
After some tuning and tweaking, Tuggle squeezed out 477HP /1020 ft.lb from his 7.3L. However, he says he won't be happy until he breaks into the 500+hp club—so there will be more to come.
Tuggle has also done a few external mods to make his truck stand out from the stock red trucks on the road: He swapped the stock rollers for a set of Fuel-Boost wheels and had them trimmed with a red factory match color. Then, he wrapped them with 315/70R17 BFG AT KO tires.
Other upgrades include smoke colored cab lights and ES Autometer gauges (EGT, Boost, and Fuel pressure). The headlights and taillights were replaced with a pair of smoked ANZO lenses. He is still busy making this Ford his and has a long list of future upgrades to improve looks and offer up more power.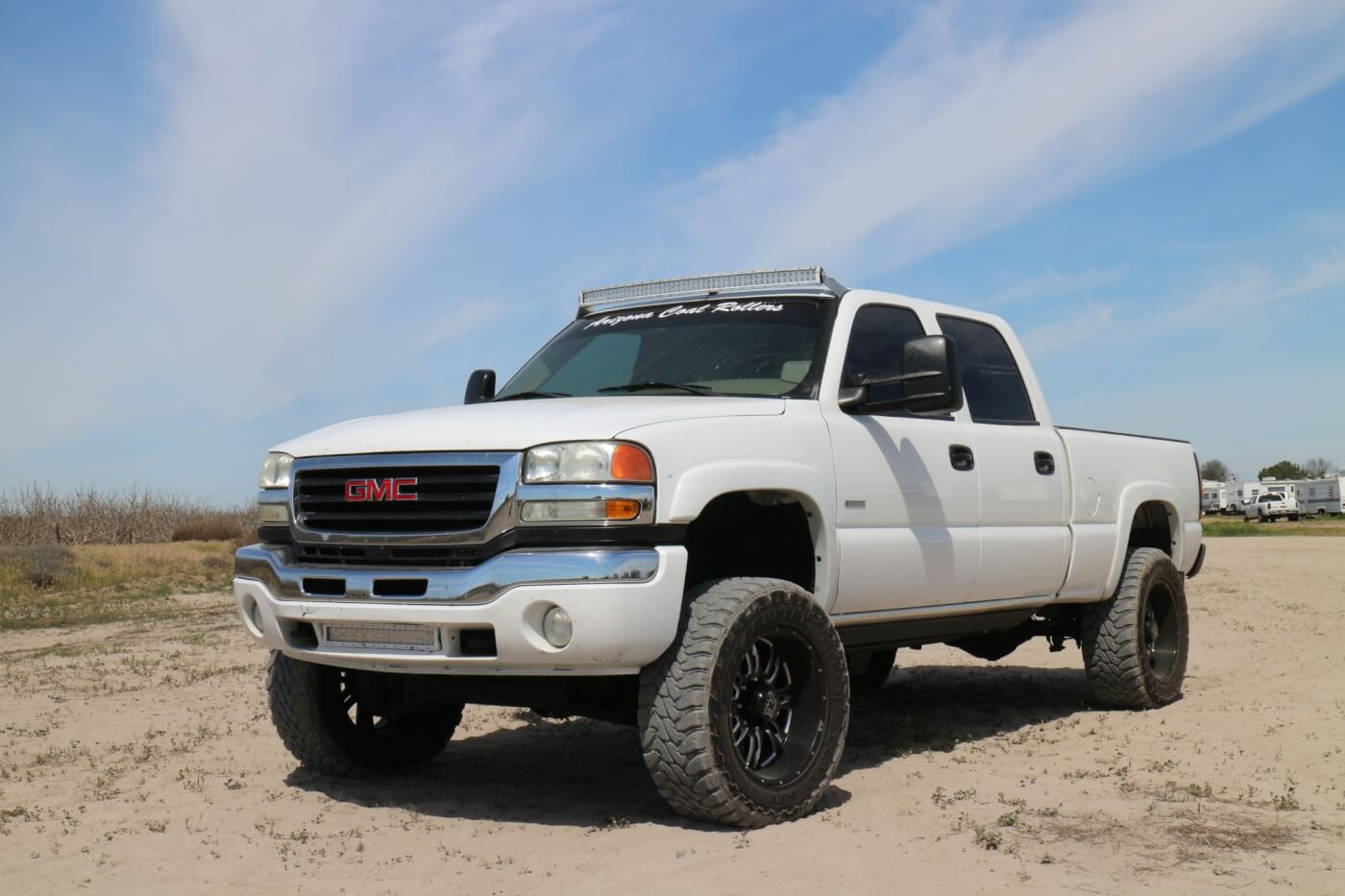 Coal Roller's Chevy
Alex Plummer is a member of the Arizona Coal Rollers club, a group of true diesel enthusiasts who drive diesel for the love of it (and a slew of other good reasons!). Yep, power, mileage and all the cool facts about a diesel engine can be something you come to love.
To improve power, Plummer had an Edge Juice with Attitude installed. The added post in power is appreciated, but power upgrades have been mild to retain reliability. In addition to the RCD 6-inch lift and Amp Power Steps, Alex also installed a custom front that he built himself. While not wild, Alex's 2006 GMC sports is an LBZ that's a little better than stock—it surly makes more torque than his old Camaro did.
What else would you expect from a diesel mechanic and oil-burning enthusiast?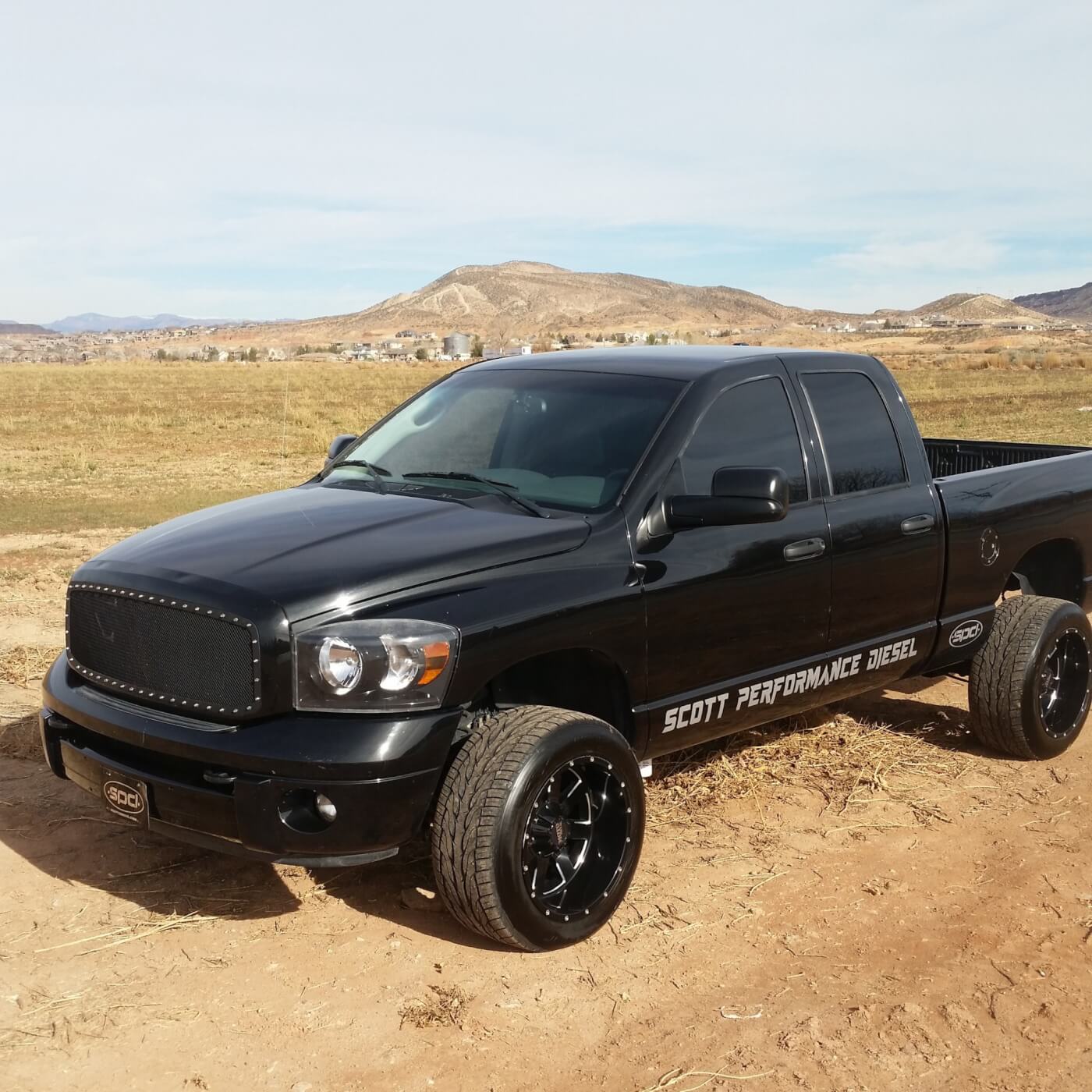 Fracking Ram
Cory Sandstrom is a workingman with a workingman's truck: a 2008 Ram 2600 diesel. He works in Williston—the sixth largest city in North Dakota—a town rich in coal, potash and of course, oil. The oil boom took off when producers began using the fracking technique for extracting oil from the Bakken formation. When not at work, he commutes home to St. George, Utah, to relax and have fun.
For Cory, fun includes taking his truck to the Diesel Drags and laying down some power. He's upgraded the 6.7L with a PDI ported 3-piece T4 exhaust manifold, a billet s472 with a .90 A/R ratio, 4-inch MBRP exhaust, and a 5-inch intake built by Scott Performance Diesel.
For fueling mods, he installed Industrial Injection R1 nozzles, an Airdog 150 and Efi live tuning done by Ryan Tabet at Scott Performance Diesel. In addition, the transmission has a quad disk billet torque converter, transgo shift kit and B&G trans tuning. Cory did all of the work, save for that completed by his friends at Scott Performance Diesel.
Cory tells us that when he drove to the 2014 NHRDA world finals last year—a 1,207 trip from St. George, Utah, to Ennis, Texas—the truck averaged 21mpg. Once there, he put down an impressive 714 hp and 1316 ft-lbs of torque.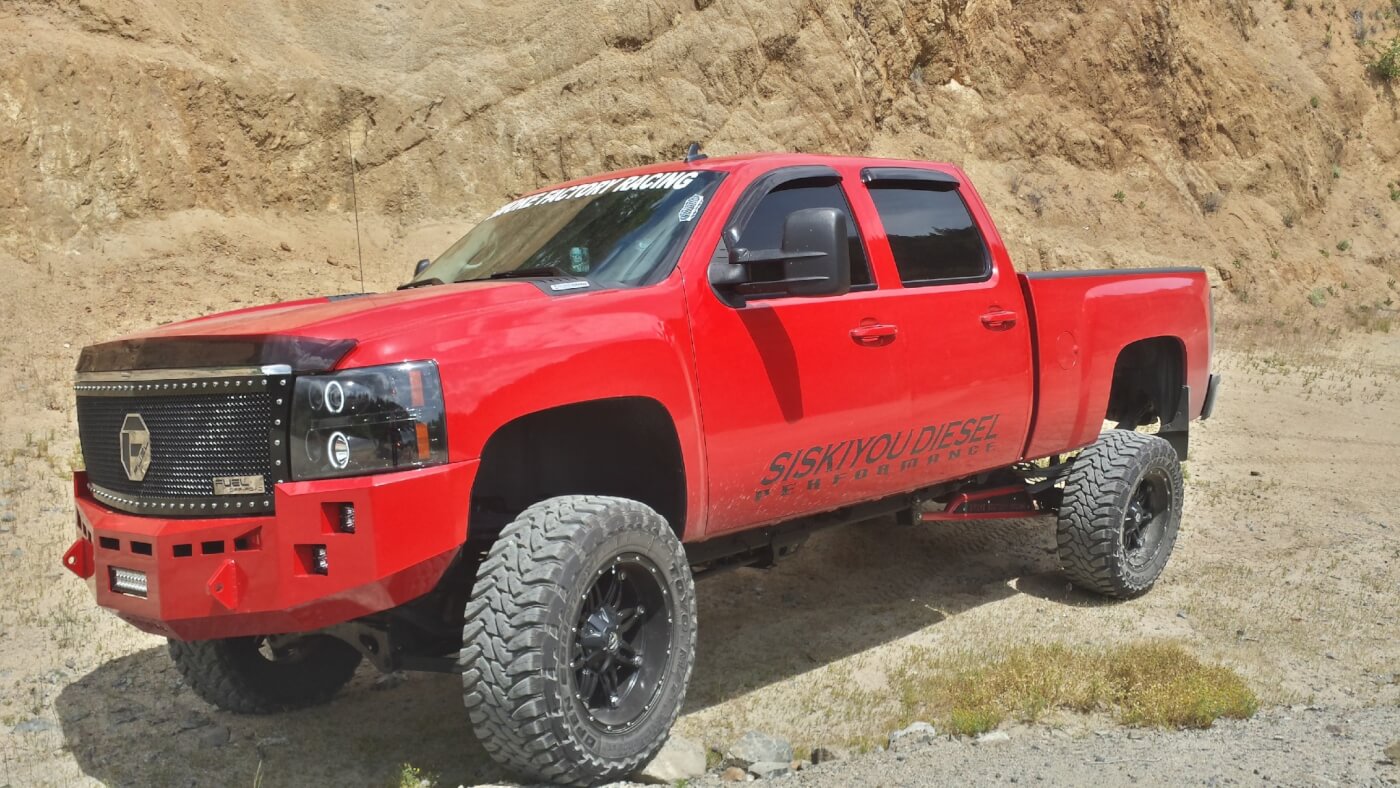 Loaded LLM
Jason Creamer is the proud owner of this red 2009 Chevy. The build list is long—and it was a labor of love to do all the upgrades—but fortunately for Jason, he has an understanding girlfriend who loves diesel trucks as much as he does. In fact, Christina sent us the photos and info you see here.
The upgrades for this Smoke Factory Racing build include an MBRP 5-inch exhaust, 3-inch diamond eye down pipe, Race up pipes and an H&S mini maxx race turner. As for power upgrades, there's also a FASS 150 lift pump, S&B cold-air intake system and a fuel rail shim kit.
To keep the power flowing to the trac, he installed a set of custom-built traction bars, from Siskiyou Diesel Performance. Meanwhile, steering upgrades include a Kryptonite sold center link, tie rods, and an idler support bracket, which is backed up by a Full Cognito brace kit with weld-in frame gussets.
The lift is a 6-inch fabtech setup, with 35-inch Toyo tires on 20×10 fuel hostage wheels. The final touches are a fuel grill, Fusion front bumper, Ridged Industry lighting, halo projection headlights, Smoked LED taillights and a spray-in bed liner.
No Zone Diesel built the transmission using Suncoast components.
As you can see, this truck is fully loaded. The inside even has leather with a wood-grain trim. DW