Real World Power Recipes from the Purdue Diesel Club Dyno Day
Dyno events are a great way to illustrate how different power combos play out in the real world. Instead of taking dozens of trucks to the dragstrip, waiting for each one to make a clean pass and then calculating horsepower numbers, a chassis dyno removes all of the guesswork and does the calculating for us. It's no secret that dyno events are a big draw for diesel owners. This is why the Purdue University Diesel Club, a group of diesel enthusiasts that attend the flagship college located in Lafayette, Indiana, hosts an annual dyno day.
Thanks to the continued support of Fleece Performance Engineering and many other sponsors over the years, the event is now known for bringing out some of the strongest running street trucks in the greater Indianapolis area. All told, 45 trucks would try their hand on D.C. Chassis Dyno's DynoJet xLC load-cell dyno in 2015, with more than half of them clearing the 500-hp mark. In the following pages, we'll showcase the dyno-proven parts combinations for most of this year's top finishers. Consider them blueprints you can put to use in pursuing a horsepower goal with your truck. DW
1,139hp Dodge, Brian Randall
As the owner of a diesel performance shop, Randall's Performance, Brian built this truck to both honor a friend he lost to cancer and be the face of his business. When all was said and done, his triple-turbo terror did not disappoint at this year's event. It would lay claim to 1,139 hp—the most of the day. Backing up those numbers, the truck has gone 6.61 at 106 mph in the 1/8-mile—at a hefty 7,600-lb race weight.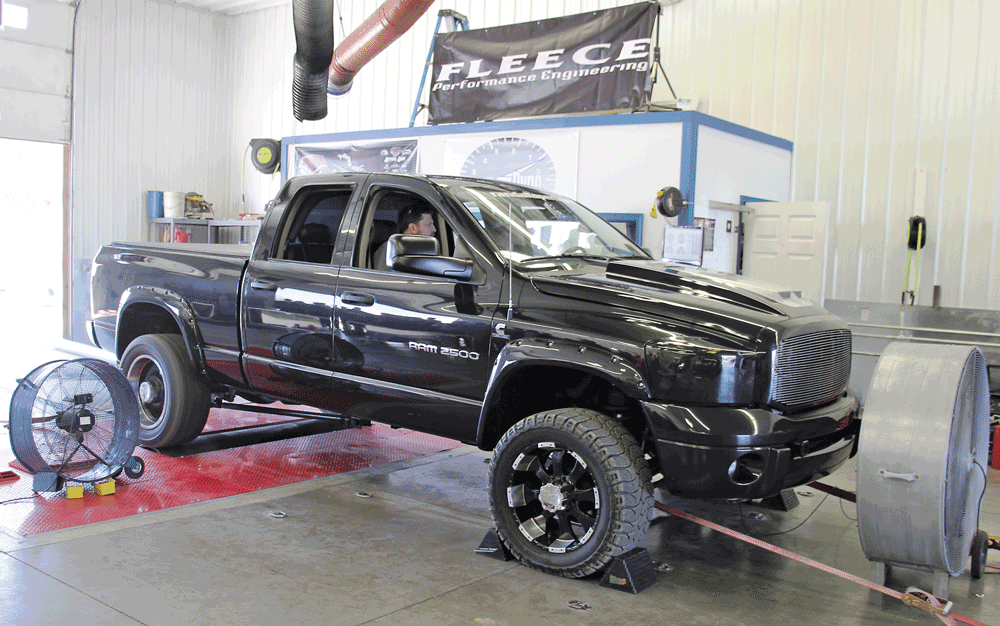 Specifications:
Hometown: Gladstone, Illinois
Truck: 2006 Dodge Ram 2500
Engine: 5.9L Cummins with Carrillo rods, coated and valve-relieved Marine QSB pistons, Gorilla girdle, fire-ringed head and block, ported and polished head, Hamilton 188/200 cam, 625 Custom Age ARP head studs
Fuel: 250 percent over Exergy Performance
injectors, twin 12mm Exergy Performance CP3's, twin Fuelab 200-gph lift pumps
Air: Midwest Truck Products triple-turbo arrangement (three S363 chargers), ZZ Custom Fabrications side runner intake manifold
Transmission: Full billet Goerend 48RE with constant pressure valvebody and custom stall billet triple disc torque converter
Tuning: EFILive via Silver Bullet Tuning
Horsepower: 1,139hp
Torque: 1,764 lb-ft
899hp Chevy, Kyle Harbin
Kyle's LMM is proof of how drivable and reliable a high-powered Duramax can be, if built correctly. He drove two hours to the dyno, made 900hp, then made a three-hour trip up to the Chicago area to grab a set of cheater slicks. After that, he drove 350 miles home, all the while getting 19.5 mpg. He hopes the added traction will help him improve on an already-impressive 7.05 at 102 mph 1/8-mile pass.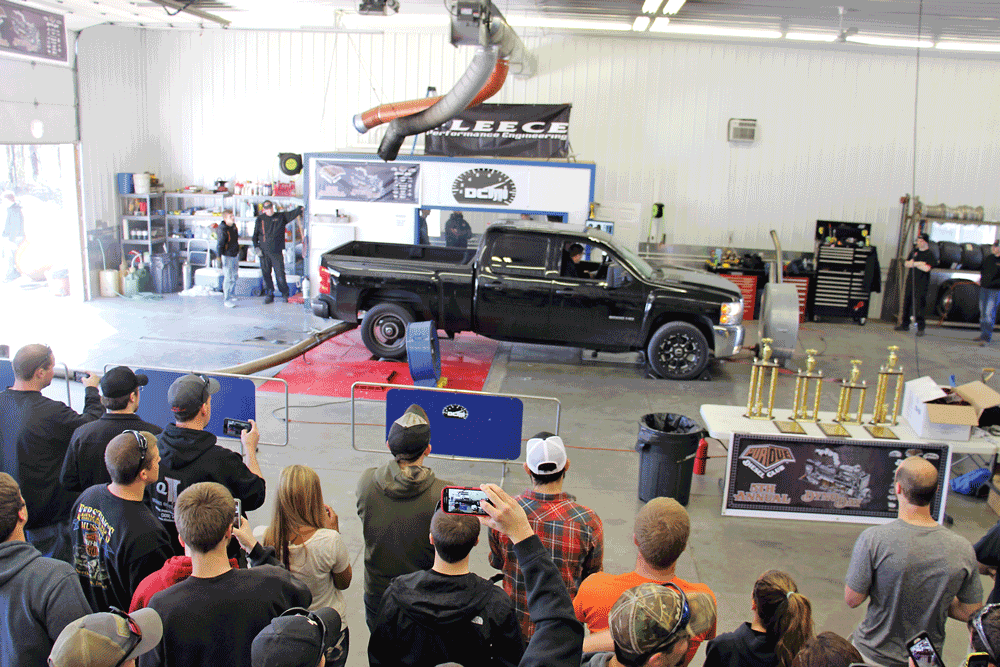 Specifications:
Hometown: Marysville, Indiana
Truck: 2010 Chevy Silverado 2500 HD
Engine: 6.6L LMM Duramax with Carrillo rods, 16.5:1 Fingers Oval Bowl Duramax Performance Pistons, 3388 SoCal Diesel cam, Merchant Automotive pushrods, SoCal Diesel valvesprings, H11 head studs, ARP main studs
Fuel: 60 percent over Exergy Performance injectors, Dual CP3's (stock pumps), AirDog II 165-gph
Air: Danville Performance 72mm Billet Stage 2R secondary turbo with billet 83mm S400 atmospheric
Transmission: Full billet Allison A1000, built by Limitless Diesel Performance with Sun Coast billet triple-disc torque converter
Tuning: EFILive via Danville Performance
Horsepower: 899hp
Torque: 1,411 lb-ft
747hp Ford, Chris Hoffman
Perhaps the most intriguing truck to run on the rollers was Chris Hoffman's 6.4L-powered Super Duty. When we asked him how in the world his stock turbocharger, stock injector'd Ford cleared 747hp on the dyno, he told us he had no idea, but that it should've made 650 hp! Chris regularly installs propane kits on big rigs at his shop, Wasted Diesel, and they usually pick up 100hp. However, he also told us he runs an energy-dense biodiesel concoction through his 6.4L; maybe that, coupled with a healthy dose of propane, had something to do with the truck's freakish numbers.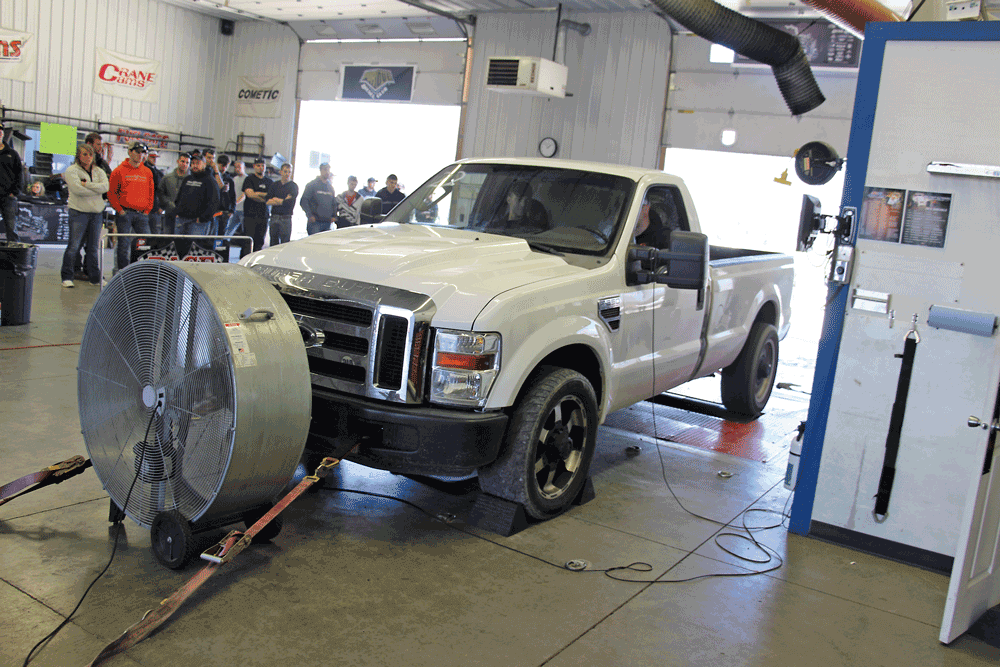 Specifications:
Hometown: Huntington, Indiana
Truck: 2008 Ford F250
Engine: 6.4L Power Stroke
Fuel: Stock
Air: Stock
Injectable: Propane
Transmission: 5R110 TorqueShift with upgraded clutches, River City Diesel billet triple-disc torque converter
Tuning: Innovative Diesel
Horsepower: 747hp
Torque: 1,323 lb-ft
732hp Ford, Jason Bannon
Jason sled pulls in Indiana's highly competitive 2.5 Work Stock Class with his 6.0L. Over the winter, he added huge (by 6.0L standards) 350cc injectors with 150 percent over nozzles, a Fleece S400 designed specifically to excel in the class, and even a rear AAM 1150 axle out of a 2003-plus Dodge. While 732hp isn't top in his class, it should be enough to keep pace with all the Duramax and Cummins competition.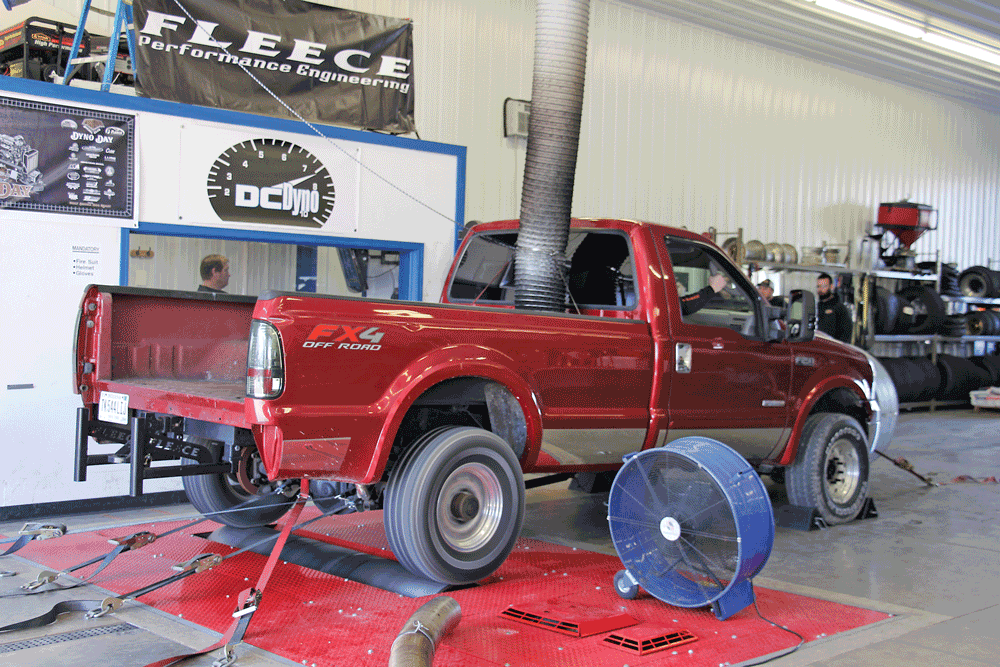 Hometown: Ladoga, Indiana
Truck: 2003 Ford F-250
Engine: 6.0L Power Stroke with Liberator Performance O-ringed heads, ARP head studs
Fuel: Warren Diesel dual high-pressure oil pumps, Warren Diesel 350/150 conventional-style injectors, Irate Diesel competition fuel system with A1000 lift pump, Driven Diesel regulated return
Air: Fleece Performance Engineering Competition 2.5 turbo (billet S463)
Transmission: ZF-6 six-speed manual with South Bend 3850 dual-disc clutch
Tuning: Warren Diesel via SCT
Horsepower: 732hp
Torque: Lost tach signal (no torque number was recorded)
715hp Dodge, Drew Romesberg
Being that Drew runs stock size tires on the factory wheels, traction can get a little dicey with 715hp and 1,346 lb-ft on tap—especially in two-wheel drive. He told us it's fine to fool around in fifth gear, but in any gear lower than that, traction is hard to come by. Traction or no, this standard cab 715hp Ram is one heck of a sleeper.
Hometown: Berlin, Pennsylvania
Truck: 2010 Dodge 2500
Engine: 6.7L Cummins with Haisley Machine billet push tubes and heavy-duty valve springs, 625 Custom Age ARP head studs
Fuel: Exergy Performance 10mm Stroker CP3, 100hp Industrial Injection nozzles, AirDog II 165-gph
Air: Source Automotive single S472, second-gen conversion kit, Steed Speed T4 exhaust manifold
Transmission: G56 six-speed manual with Haisley Machine dual disc street clutch
Tuning: H&S Mini Maxx with MCC tunes from Draconian Diesel
Horsepower: 715hp
Torque: 1,346 lb-ft
692hp Dodge, Corey Hull
With an educated guess of 650hp, Corey was pleasantly surprised to see his rig lay down 692hp. In the future, he plans to keep the S363 as the high-pressure unit in a compound arrangement—possibly sticking an S475 in front of it—and going after big power.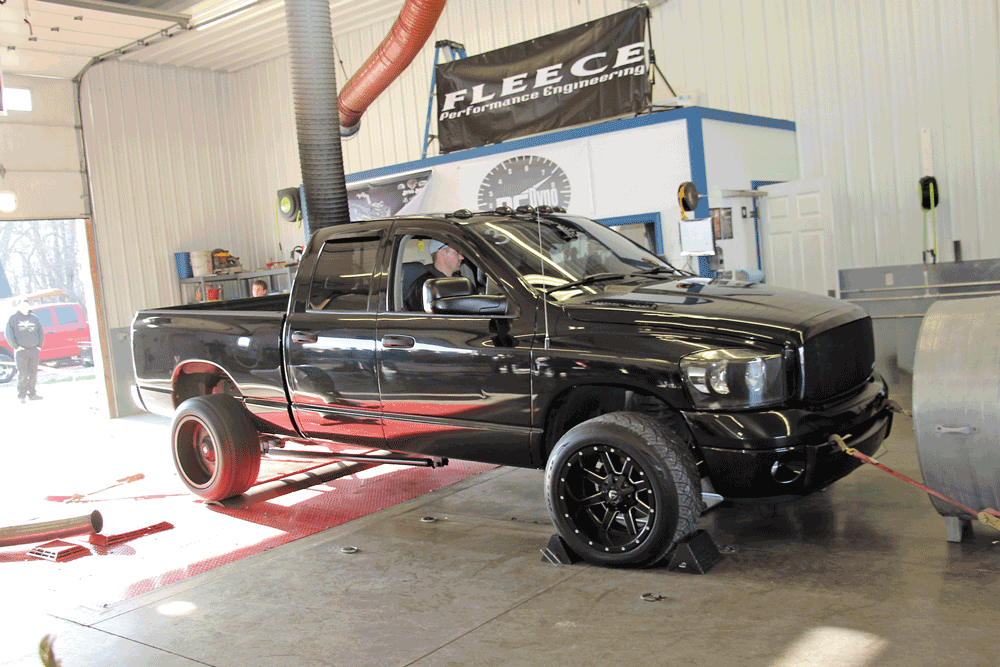 Hometown: Alexandria, Indiana
Truck: 2006 Dodge 2500
Engine: 5.9L Cummins with Haisley Machine street cam, 90-lb valve springs, and billet push tubes, H11 head studs
Fuel: 100hp Bosch Motorsport injectors, Fleece Performance PowerFlo 750 CP3
Air: Engineered Diesel Billet S363
Transmission: Dan's Transmission 48RE with billet input shaft and Goerend billet triple-disc torque converter
Tuning: EFILive via Compression Motorsports
Horsepower: 692hp
Torque: 1,378 lb-ft
625hp Ford, Justin Thomas
Justin's good friend, Chris Hoffman, whose propane-injected 6.4L cleared 747hp earlier in this event coverage, built the engine powering his 2008 F250. From there, a simple low-pressure turbo upgrade (to a 72mm compressor wheel) has pushed Justin's Ford deep into the 12s in the quarter-mile. He told us it regularly runs 12.3s and 12.4s at Muncie Dragway.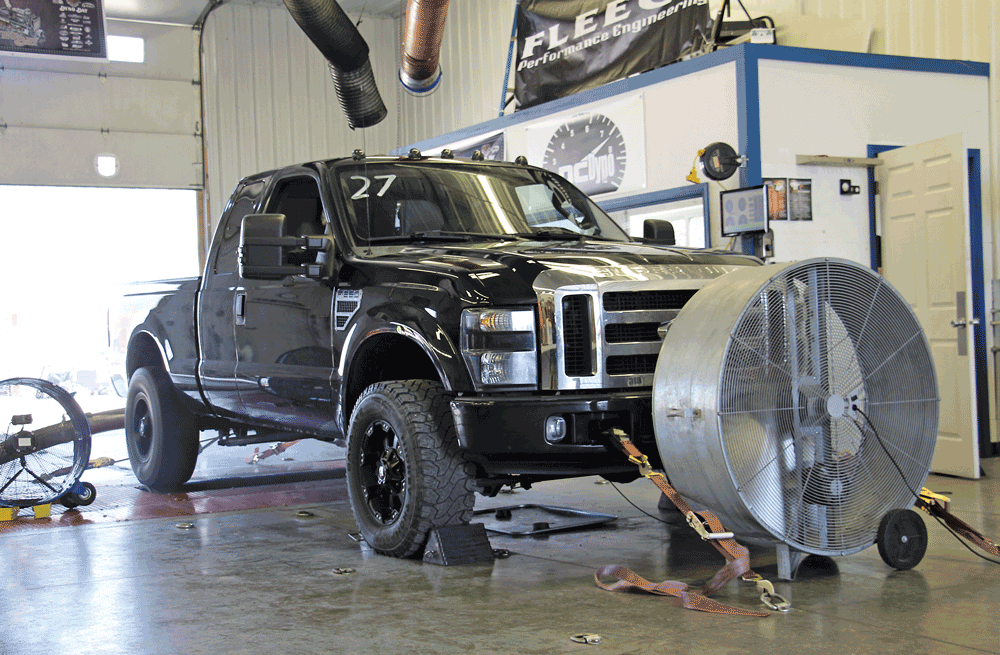 Hometown: Markle, Indiana
Truck: 2008 Ford F250
Engine: 6.4L Power Stroke with de-lipped International pistons, River City Diesel heavy-duty valve springs and pushrods, ARP head studs
Fuel: AirDog II 165-gph
Air: Stock high-pressure turbo with River City Diesel 72mm low-pressure charger
Transmission: Stock with DPC billet triple-disc torque converter
Tuning: H&S Mini Maxx with custom MCC tunes from Jesse Byall
Horsepower: 625hp
Torque: 1,140 lb-ft
581hp Dodge, Jacob Bair
Quick Fact: Jacob's second-gen 24-valve is proof that a standard output VP44 can make good power. He told us the injection pump is also the original one and has racked up 225,000 trouble-free miles (which is almost unheard of). Jacob was thankful for local shop, Compression Motorsports, which performed all of the work for him and helped get his 24-valve so close to the 600-hp mark.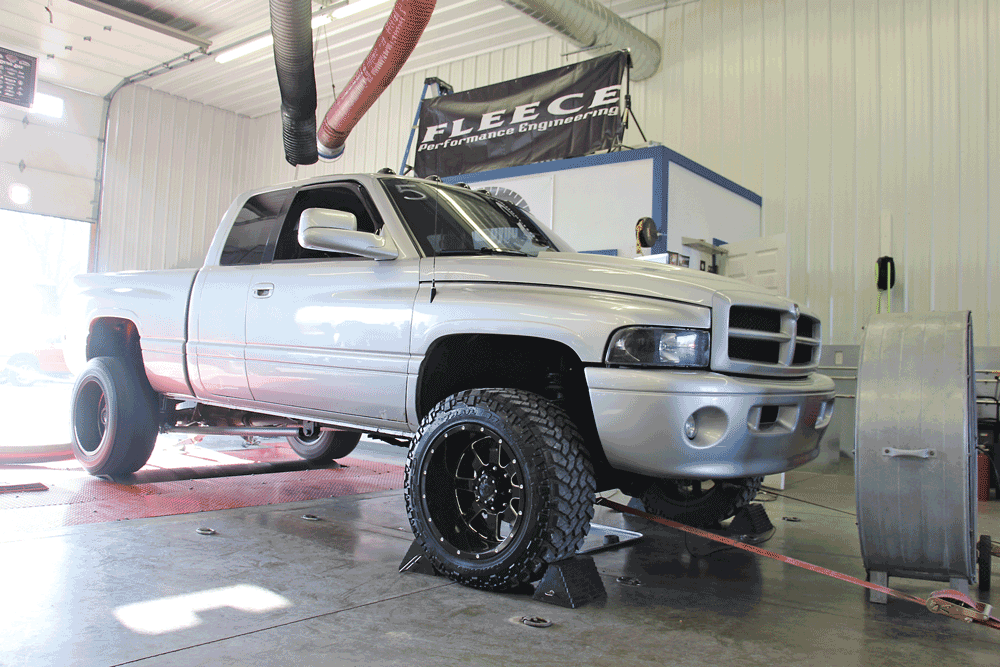 Hometown: Summitville, Indiana
Truck: 2001 Dodge 2500
Engine: 5.9L Cummins with Haisley Machine 90-lb valve springs and chromoly pushrods
Fuel: 150hp Scheid Diesel Lightning 2 injectors, AirDog 150-gph
Air: Fleece Performance Billet S363 with Stainless Diesel exhaust manifold, Hogan intercooler
Transmission: Dan's Transmission 47RE with billet input shaft and Goerend billet triple disc torque converter
Tuning: Edge Drag Comp with Smarty S-03
Horsepower: 581hp
Torque: 1,180 lb-ft
580hp Ford, Shawn Matz
This particular event showed a strong lot of 7.3L's. Shawn Matz' numbers are even more impressive when you consider his truck sports a 332,000-mile stock bottom end. Shawn and his cousin, owner of Amos Diesel Performance in Michigantown, Indiana, performed all of the work on the truck. Shawn told us he's got a Gen3 high-pressure oil pump on the way from Swamps Diesel, which means clearing 600hp isn't out of the question in the future.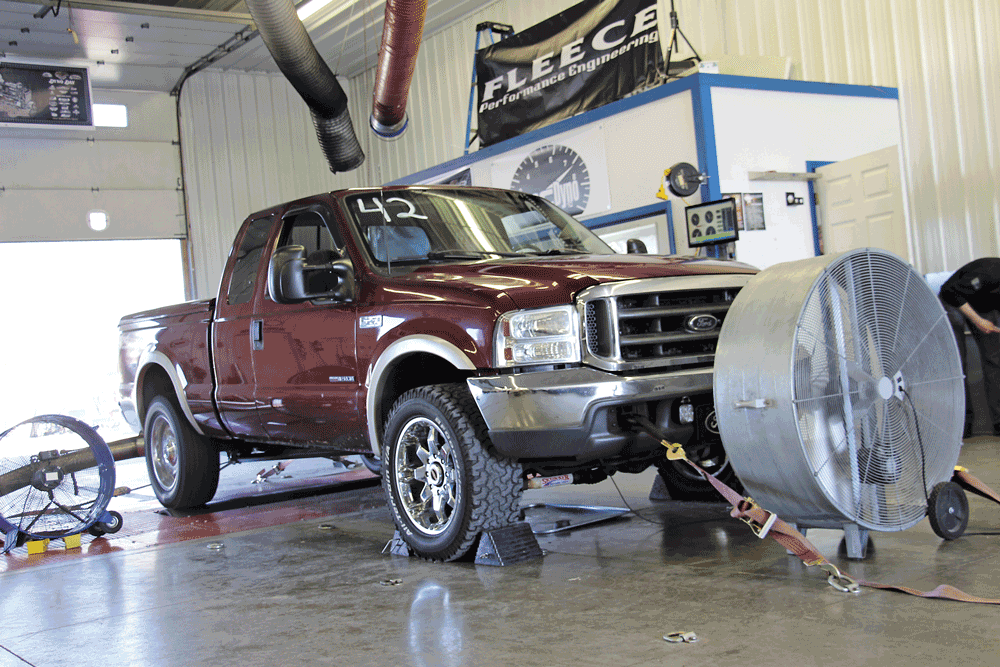 Hometown: Burlington, Indiana
Truck: 2000 Ford F250
Engine: 7.3L Power Stroke with Comp Cams 910 valve springs, three-angle valve job, Smith Brothers pushrods, ARP head studs
Fuel: Full Force Diesel 300/200 injectors, Honey Badger Jr. high-pressure oil pump, Irate Diesel regulated return, AirDog II 165 gph
Air: Billet S475 with Irate Diesel T4 turbo mount
Transmission: Competition 4R100 built by Donnie Stringer of Rossville, Indiana, with billet input shaft, billet triple-disc torque converter
Tuning: Swamps Diesel via Power Hungry Performance Hydra chip
Horsepower: 580hp
Torque: 1,073 lb-ft