INSTALLING A NITROUS EXPRESS SYSTEM ON OUR '00 F-250
Over the course of the last year, our '00 F-250 has been subjected to a long list of modifications. Hybrid injectors, an upgraded fuel supply system, higher volume HPOP, fire-ringed heads, GTP38R turbo, built 4R100 transmission, and custom tuning have all made their way onto the truck in an effort to help the build live up to its name: Project 600 HP 7.3L. To ensure we get as close to our horsepower goal as possible, we're throwing one last power-adder at the 7.3L Power Stroke this month: nitrous oxide.
Arguably no other method of adding power to a diesel is as cost-effective as NO2—and no one understands this better than the folks at Nitrous Express. The company's "Stacker" systems were specifically designed for diesel vehicles, and can provide between 50 and 300+ additional horsepower. For that little something extra, we opted to run one of NX's Stacker 2 kits—a system capable of adding another 150hp to the mix. Once everything was buttoned up, it was time to face the music in the form of strapping the truck to the chassis dyno. Follow along for the install and the data we collected on the rollers. DW
RESULT
The moment of truth for our 600hp build arrived when we strapped the truck to the chassis dyno. After producing 502-rwhp on fuel, we made sure ample bottle pressure was on tap, armed the NX system, and made a pass on spray. Thanks to the nitrous and with a 0.078 jet installed, we picked up 94 hp at the wheels and squeezed 596 hp out of the 16 year old 7.3L. As you can see the nitrous cleaned up the smoke almost completely, so we're sure that with some tuning for more fuel and a step up in the nozzle size, we'll be able to get every last drop of NX's 150 hp rating with numbers closer to 650 hp. With adequate traction at the track our near-600hp Super Duty should be capable of running a mid-12 in the quarter-mile.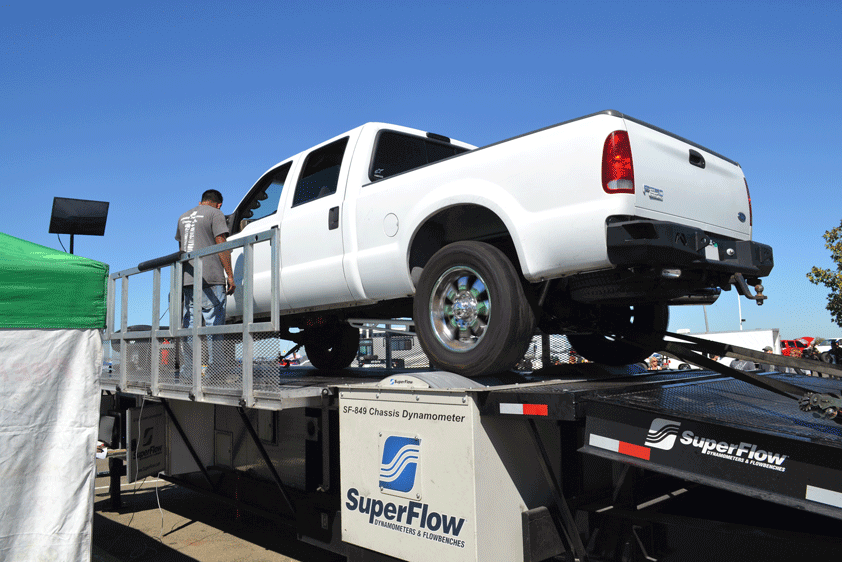 SOURCES
RIFFRAFF DIESEL
866.446.3360
NITROUS EXPRESS
888.463.2781
NitrousExpress.com