Truck of the Week
Extreme Speed
Four Turbo Terror
The Performance Racing Industry (PRI) show was this week, which means it was a busy week! Although PRI promotes all forms of motor sports, diesels were a big part of the show, as evidenced by this wild '54 Chevy. Although details are somewhat scarce, we can tell you that the truck is owned by David and Debbie Pilgrim, was built by Johnson's Hot Rod Shop, has four (yep four!) turbos mounted in the bed, and is powered by a Duramax engine. The fact that the truck was built for landspeed racing explains the unique setup, as there's practically unlimited time to get spooled up. The wild ride hasn't made a pass yet (that we know of) but it's going after the fairly stout 204 mph B/DT record held by the Salty Box Racing Cummins-powered Dodge. Ultimate goals for the truck are 250 mph!
Photo Credit: ARP Fasteners
Highlights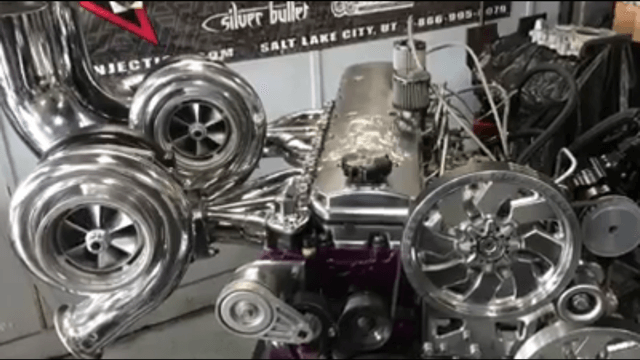 More Unique Turbo Arrangements
Shawn Baca Goes Twins
When it comes to making horsepower, "Twins" is an ever-popular option, especially with Cummins diesel engines. Famed dyno champ Shawn Baca and Industrial Injection are taking a different approach however, as they're trying a set of parallel twins (one for every three cylinders) on Industrial Injection's Shredder Series engine. The fact that Shawn's truck uses a B&J transmission with a clutch will be a big help in spooling the wild setup.
Aluminum Block Wars
D&J Precision Machine, Wagler Competition Products, Fleece Performance and Scheid Diesel debut Cummins blocks.
It seems like there's no shortage of Cummins power parts lately, as a variety of just-released aluminum Cummins engine blocks have been spotted at PRI. Each of these blocks has its own design, and pretty much all of them are safe to more than 3,000 horsepower. With Lavon Miller's engine explosion (see below) it seems like they've arrived just in time.
Cummins Rotating Assembly (Minus Block)
Lavon Breaks the Internet (Part 2)
D&J had perhaps the most innovative display at PRI, as the aftermath of their Cummins explosion was turned into a visual display of why stronger engine blocks are needed. It also serves as a reminder that at these power levels metal does have a life span, and the guys at D&J have a good sense of humor about it all.
News
Diesel Tax Goes Into Effect
And Demand Drops!
European Diesels are being hit hard by a new tax levied against polluters, and new car sales of compression ignition engines has fallen dramatically in the last few months. It's unclear whether prospective buyers are hanging onto their older cars, buying more hybrids and electrics, or a little bit of both. One thing is clear though, diesels might be facing a tough time ahead in the UK.
Image Credit: VisitBritian Britian On View
VW Exec Gets 7 Years in Prison
VW's Emissions Scandal isn't Over Yet…
Oliver Schmidt, who came over from Germany in 2015 has been sentenced to seven years in prison for his role in the VW scandal. The former VW Engineering office manager had helped destroy documents and falsify information, and was given the maximum sentence and maximum $400,000 fine for his role in the VW deception.
Photo credit: Broward County Sheriff's Department