Truck of the Week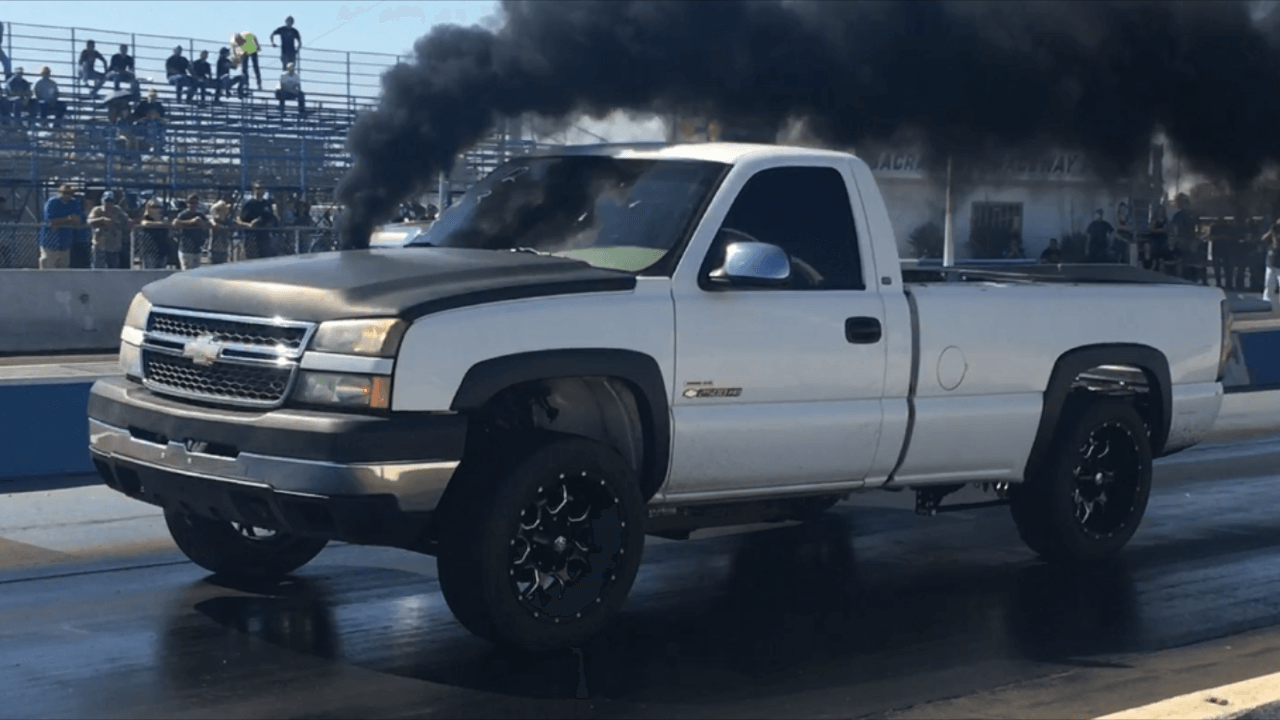 Ryan Pini's 11-second ZF6 Manual
This weekend at Truck Mania in Sacramento, CA, we saw a pretty cool occurrence–a new diesel manual transmission record of 11.14 at a blazing 129 mph set by Ryan Pini. You see, Ryan's drag truck wasn't ready, and neither was his puller, so he took the engine out of the drag truck, the manual transmission and South Bend triple disc out of the puller, and threw the combination in an old blown up fleet truck. Ryan used the quick spooling combination of a stock turbo and an S480 to give the truck a wide powerband for the launch, and used his prodigious driver skill to bang the 5,600-pound truck through the rest of the gears. In case you're wondering, according to the dyno it takes about 876 hp at the wheels to make this thing happen. Congrats Ryan!
Can't Afford the 100K Ford? Don't Worry
Building a Diesel for 45K
Ford made some waves recently when they announced an F450 package that would top $100,000. While it's undeniably cool to have the capability of a semi (practically) with the comfort of a luxury car, don't worry if you're in sticker shock–most of us are. Fortunately, we went on Ford.com to see what a no-option four-door 4×4 truck would set us back, and the no option model (probably doesn't even have floormats) came in at around $45,000. While most dealer trucks will be nicely outfitted and come in at say $55,000 or so, it's still good to know that new diesels can still be affordable for such capable vehicles.
Killer 'Bilt
A 2018 Peterbilt that turns heads
With constant worry about scary emissions legislation, it was cool to see such a highly modified 2018 model at the recent West Coast Diesels show. The Peterbilt semi explored some cool customizing tricks, which you don't often see on a brand new vehicle. We were only able to snap a few shots of the truck before the owner had to jet, as he uses it for work! Might as well put that money to use!
Rainy Rudy's
Weather Dampens (but doesn't stop) the action
After an awesome Friday day and night of diesel action, it started raining…and didn't stop. Unfortunately the second day of action was a rainout, but boy were things hot the day before. In drag racing action, Lavon Miller went a 5.002, becoming almost the first Pro Street truck in the 4s, and also up against NHRA safety rules. Rawlings Barnes broke yet another record by running a 4.99 at 142 MPH proving yet again that he has the worlds fastest Power Stroke. Dan Scheid's dragster piloted by Jared Jones was flyin at 4.25 at 175 mph with Wade Moody's Duramax right behind at 4.37 at 163 mph. The PPL got a full schedule of pulls off also, with Chad Perkins putting a wild 12 feet on Second with a 354-ft pull in Limited Pro Stock, Scheid Diesel taking a convincing win in Pro Stock with a 333-foot pull, and Brad Deeter winning Super Stock in his Oversize Load truck with a 296.08 to 296.05 nail biter over Kent Crowder and Scheid Diesel.
Truck Mania!
 Northern CA's Premier Fall Event
It was gas vs. diesel with drag racing, dirt drags, and truck pulls in Sacramento, California. The whole area was just flooded with competitors, as nearly 100 trucks hit the track, some of which were running in the 9s and 10s! They also had a dyno running all day with numerous 1,000-hp trucks (Mat Ray made 1,285, Verlon Southwick 1,077), as well as nearly 70 pulling trucks. We've been to a lot of events over the years, but not very many as diverse and faced-paced as the Truck Mania event. Check out the Sacramento Raceway calendar for next year's event, as it will be even bigger!
Tiny Tires
Need gears but don't want to pay for them?
Dieselheads have been more into wheel and tire experimentation than ever before. Stretched tires, huge wheels, wheel spacers, we've seen all of it. We did spot a new one this weekend though that was geared for performance. After all, gearing can help a big heavy truck get off the line, so why not tiny tires? The truck was a 1500 (and probably a gas rig), which is the only way it could fit such a small package, and despite the looks it did seem to make a difference in performance. But we hope it's not a trend.