1972 Allis Chalmers DES-550 Generator
Sometimes the best ideas come to a company and bear fruit at the worst possible times. Such was the case when Allis-Chalmers designed and built a new line of 60 degree V6, V8 and V12 diesels.
Allis-Chalmers (A-C) entered the engine manufacturing business in a big way with the acquisition of the Buda Engine Company of Harvey, Illinois, in 1953. Buda had long been A-C's "go-to" engine manufacturer so when it began to slide financially, folding Buda into the A-C family made good sense. Following World War II, Buda had been rolling more on inertia than innovation but with an infusion of leadership and money, it became the Allis-Chalmers Engine Division and began updating the product lines.
Go Big Or Go Home
In the early 1960s, 1962 to be exact, the Allis-Chalmers Engine Division began introducing the fruit of the Buda/A-C meld… modern, direct-injected diesels. The old Lanova style indirect-injected diesels that had been the mainstay at Buda since the 1930s and their day was long past. The big picture included the entire range of diesels built or used by Allis-Chalmers. The immediate beneficiaries of those updates were the A-C tractor lines which desperately needed power-parity with others in the ag industry. Even as these new engines debuted, some legacy Buda products, such as the 516 horsepower, 2505 cubic inch 8DCS-2508 straight-eight diesel ,were still holding up the big end of the A-C stationary and marine market and help was needed.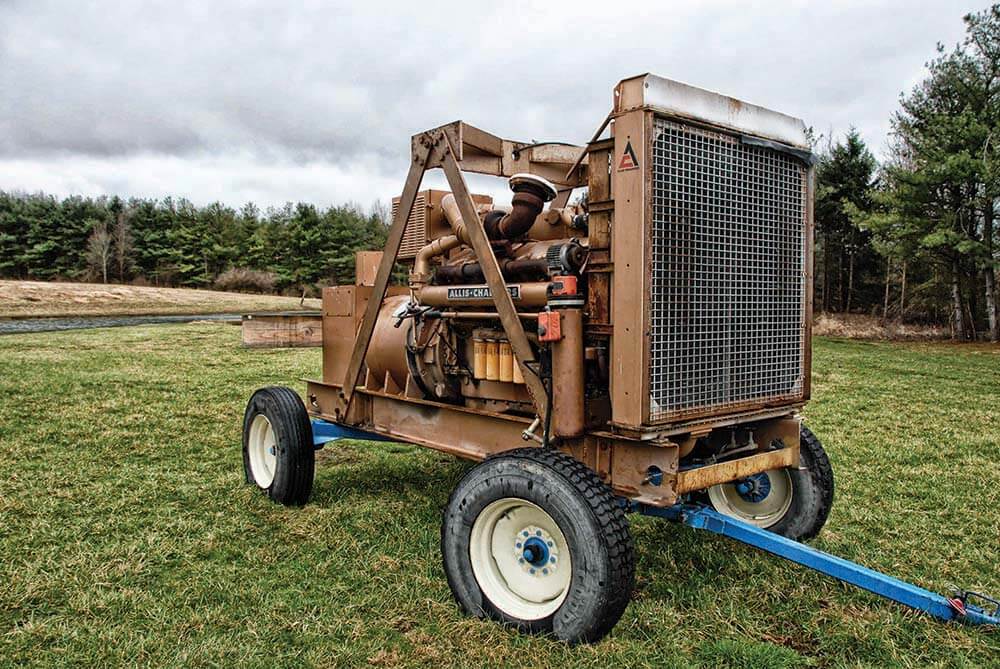 More pointedly, the Allis-Chalmers crawler and scraper divisions had been clamoring for more powerful engines as well and starting in 1958, the Engine Division began working to answer that need. A variety of bore/stroke combinations and combustion chamber types were tested. By 1961, they had settled on a square 6.0 x 6.0-inch bore and stroke (170 cubic inches) and a relatively conventional direct injected combustion chamber with a "mexican hat" style piston crown with in-house designed unit injectors supplying fuel. Four valves per cylinder were used to maximize breathing.
A 60 degree vee configuration was chosen for a more compact installation and the first development was a V8. Among the more innovative features conceived was dual camshafts. They were not overhead camshafts but because they were placed high in the block and the valves and unit injectors were operated by very short pushrods some of the benefits of an overhead cam setup were realized. The first prototype V8 was up and running in July of 1963 and the initial result was very satisfactory, though teething issues were readily apparent.
According to Jack Saylor's Spring 2015 article on the A-C V-series engines in Old Allis News, an updated prototype V8 was installed into a HD41 crawler in 1965 for tests. The results were a big disappointment. The A-C V8 was clearly overmatched in the HD41, a titan-sized, industry-leading crawler. In the course of developing the HD41, A-C had been unable to supply satisfactory in-house built engines. Galling as it must have been, going to Cummins for their big VT12, 1710 cubic inch V12 in a 525 hp configuration did the job. Many thought even the mighty Cummins V12 was a bit overworked in that application…. but the good news was that A-C was already working on a Cummins-beating V12 of their own.
The A-C V12 prototype was first strapped to a dyno in 1967 with all the lessons learned from the V8 applied to it. It was reported to have run 1,000 hours at 1000 horsepower right out of the box. The vibration issues did not plague the V12 as they had in the V8 because V12s are inherently better balanced than V8s.
In early 1968, a V8 set to 630 horsepower was tested in a gigantic 65-ton Dart off-highway dump truck for a year and 4,500 hours. The engine fared much better but still yielded some areas to improve. By this time, however, the V12 had become the golden boy for the high power applications.
As the '70s debuted, the program was near completion and had coalesced into a three engine proposition. At the bottom was the model 31000, a 1017 cubic inch turbocharged V6 that developed a max of 420 horsepower at 2100 rpm. Next up were two version of the 1358 cubic inch V8, the 41000 turbocharged that made 550 horsepower at 2100 and 1548 lbs-ft at 1600 and the 45000, a turbo-intercooled V8 that made 600 horses and 1670 lbs-ft at the same rpms. Two versions of the 2037 cubic inch V12 were planned, the turbo-only 61000 that made 830 horsepower at 2100 and 2310 lbs-ft at 1600. Top dog in the house was the 65000 that was turbo-intercooled and made a max of 900 horsepower at 2100 and 2480 lbs-ft at 1600. It would have been an impressive lineup.
According to a 1973 edition of Diesel and Gas Turbine Progress, validation of the engines included 50,000 dyno test hours, with another 16,000 field test hours in stationary and marine use. Manager of Engineering Alex Dreisin and Senior Project Engineer Bob Backlin were confident enough of the V12 engine in a 1972 interview to imply the engine would soon rise above it's preliminary 900 horsepower at 2100 rpm to 1200 horsepower very soon after full production began
After reading this, if you know the Cummins 1710 V12, you may recognize some similar characteristics between it and the A-C design, most notably the 60 degree vee configuration. You aren't alone but it's not fair to say the 61000/65000 A-C engines are a copy of the 1710. The basic design parameters of a narrow vee 12 cylinder were a proven concept used by several other manufacturers. The A-C engines  differed in being a clean sheet of paper design, where the Cummins design involved making a double-six using one of their best six cylinder designs. That's not a ding against Cummins… theirs was a very practical and successful design using proven parts… we just want you to know the A-C twelve was not a "ripped off" Cummins design.
Product Placement
In the latter part of the 1960s, the biggest A-C engine in the lineup was the 844 cubic inch, 435 horsepower 25000 series engine. It was a popular and profitable size range, used in everything from tractors to boats, trucks to power units and generators. The V12 was slated for the HD41 and, in fact, a 61000 was installed into a crawler for tests in 1973 but events had overtaken the Allis-Chalmers company and the V-series engines by then.
By the early '70s, A-C was struggling. Some of the divisions were still doing well enough but other parts were dragging the corporate entity down. As a result, execs began backtracking and hedging about a full court press on the new engine line, citing the expense to bring them to market and fear they might not fully succeed. The final nail in the coffin came in 1974 when Fiat Tractor Company of Italy acquired a 65 percent ownership in the construction equipment side of the business and they didn't want the A-C V12 or V8 for anything up ahead.
A Muted Debut and a Quick Demise
Preliminary sales information was published on the V8 and V12 engines late in 1972. By then, the V6 idea had already been dropped. The brochure listed the same maximum output for the V8 and V12 as above. In later publications, the V8 was nowhere to be seen, but the continuous "all-day-all-night" ratings were listed for the V12, namely 600 horsepower on the 61000 and 650 horses for the 65000, both at 1800 rpm.
From what we have been able to determine, assembly of the V12 engines began in December of 1972. Apparently V8 production did not start at all. According to the Saylor article, only 10 serial-numbered V8s were built, not including a large number of test engines. Only three or four V6 engines were built for tests. As it was, just 58 production V12 engines (61000 and 65000) can be accounted, plus a fair number of test engines. Most of them are known to have been attached to Allis-Chalmers generators. A few went up to Canada and a pair were used on a dredge. One 61000 engine was known to have been tested in an HD41 and another was slated for tests in a new loader design. Many of the generators ended up as backup power in hospitals. By all reports, the units served well.
By all appearances, A-C had a good product in the V-series. Once the project ended at A-C, the designs are known to have been offered to three other companies, Cummins, Murphy and John Deere, but all declined. Today, all we have to mark this innovative era at A-C are some surviving generators. At this moment in time V12 numbers 6, 33, 43 and 51 are known to have survived as generator sets and there are unconfirmed reports of others. It's a sad fate for what was a memorable and very marketable engine design.
Sources
Mayer Farm Equipment
www.mayerfarmequipment.com
(740) 426-6307
Old Allis News

oldallisnews@amerytel.net
(715) 268-4632
Unofficial Allis Forums

www.allischalmers.com