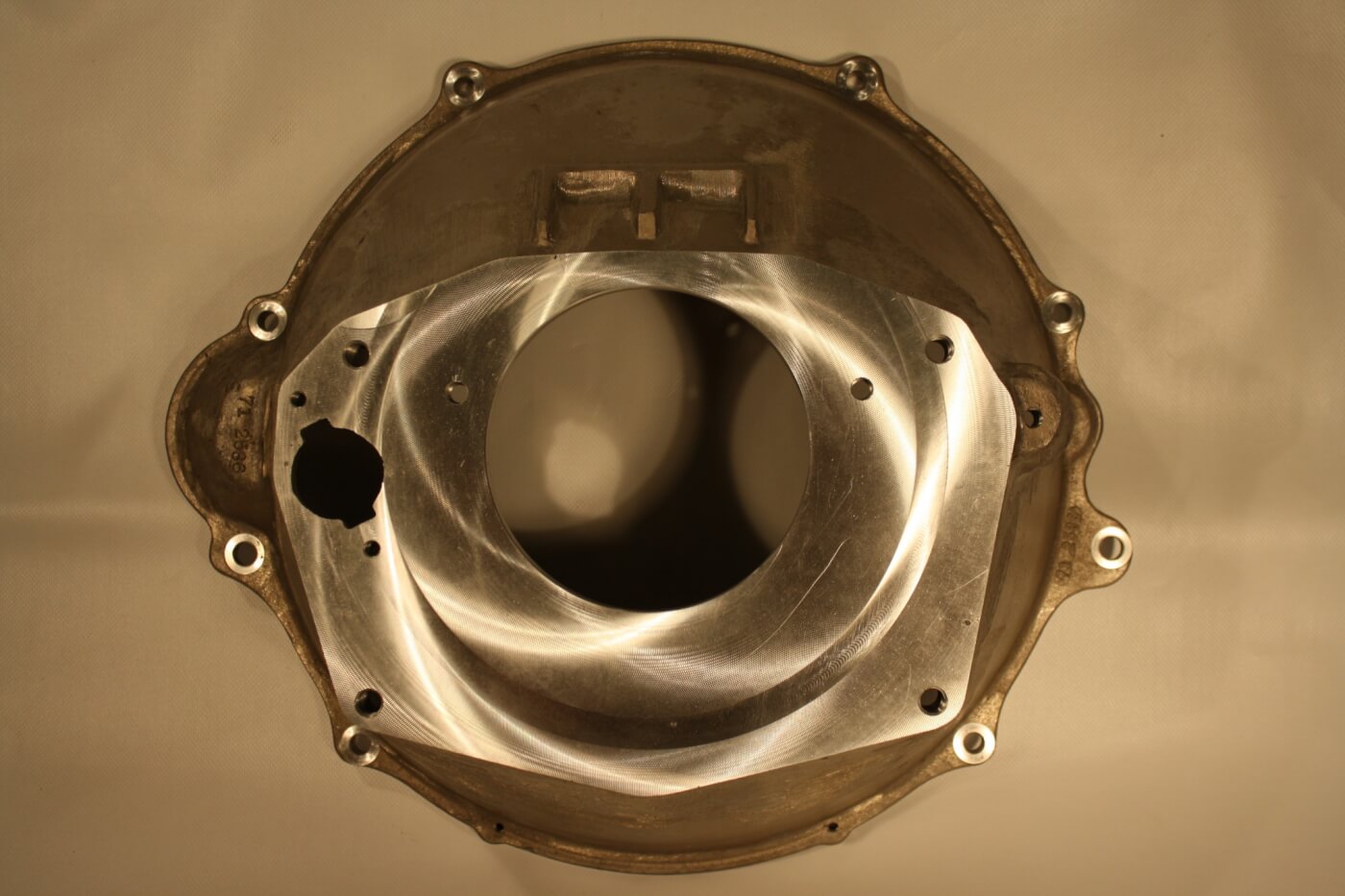 Dodge NV4500

Bellhousings
It's common to find that the stock bellhousing on 1994-03 Dodge/Ram diesel trucks can be cracked. Just finding your engine and transmission package for your swap was time consuming, and you still may not have all the parts required. Worse, NOS (new old stock) units are hard to find now that they factory has discontinued them.
The solution for your Cummins swap is one of Advance Adapters reproductions of this now discontinued bellhousing. Perfect for doing an engine conversion, converting a Gen II truck to a manual, or just replacing a broken factory bell in your existing truck. Two part numbers are available, and one is a complete kit, including pivot ball, release arm and retaining clip. Also available is as a blank casting only.
P/Ns 712586, seen here, and 712586A
Advance Adapters
800-350-2223
Diesel Torque for TJ Jeeps
The Coty Built TDI conversion package is a fantastic option to replace your TJ Jeep's tired engine.  Maintaining your familiar Jeep engine accessories and drivetrain components, the Coty Built Truss Member straddles the engine bay to position a VW 1.9L turbo diesel engine in the perfect spot. A new, included transmission adapter unites the 4-cyl diesel to a Jeep AX5 or AX15/NV3550 gearbox. The CAN interface retains OEM instrument cluster function in your TJ. With an Air-to-Water Intercooler and other optional performance upgrades, this conversion makes your Jeep capable of tackling even the most extreme environments. (Note: the engine truss is shared with the Jeep YJ kit, but most other kit parts are vehicle specific for the TJ, YJ and XJ/MJ kits for 1.9L TID conversions are available too.)
HPA Motorsports Inc. /Coty Built
604-888-7274

LED Work Light
When working on your rig, it's always better to have a good light source that allows you to see your work area. This telescoping work light from the Eastwood company is perfect for lighting your work area, under the hood, or inside the cab. It is telescoping so that it can be adjusted from 53 to 72 inches wide to fit across the hood or frame.
The light bar has 120 surface-mounted LEDs that put out 1,250 lumens. Eastwood claims that this is up to two times brighter than conventional LED work lights. The light folds in half for easy storage. The kit includes an AC/DC adapter and 12V charger for the 7.4v 2200 mAH Li-ion battery.
Eastwood Company
610-705-5404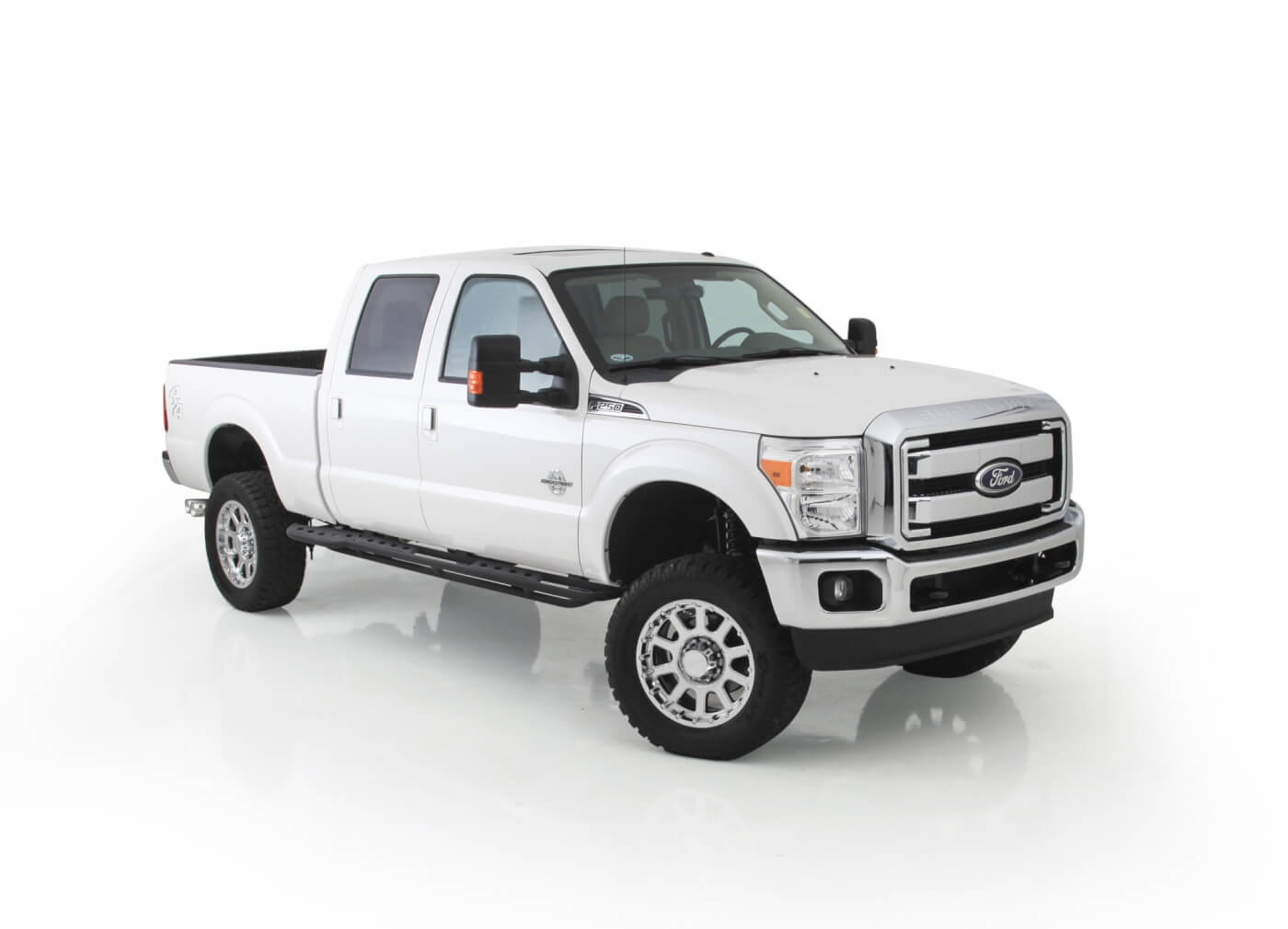 M1 Sliders for Diesel Trucks
Smittybilt has expanded their M-1 line of armor for full-size trucks with M-1 Sliders for Chevy/GMC, Dodge and Ford trucks. These sliders are more than just a step or nerf bar: the 1.75-inch 0.120-wall tubing is strong enough to fend off damage to the vulnerable rocker panels on your truck. They feature a dual girder system that protects both the bottom and sides of your truck from wheel to wheel. In addition, installation adds some aggressive styling to your rig too.
M-1 Sliders come with a matte black textured powder coat finish and 1/8-inch thick steel CNC cut and dimpled plates for sure-footed ingress and egress. Smittybilt M-1 Sliders come with all the necessary hardware and bolt on with simple hand tools.
Seen here is an M1 Slider on a Super Duty Ford.
SmittyBilt
310-762-9944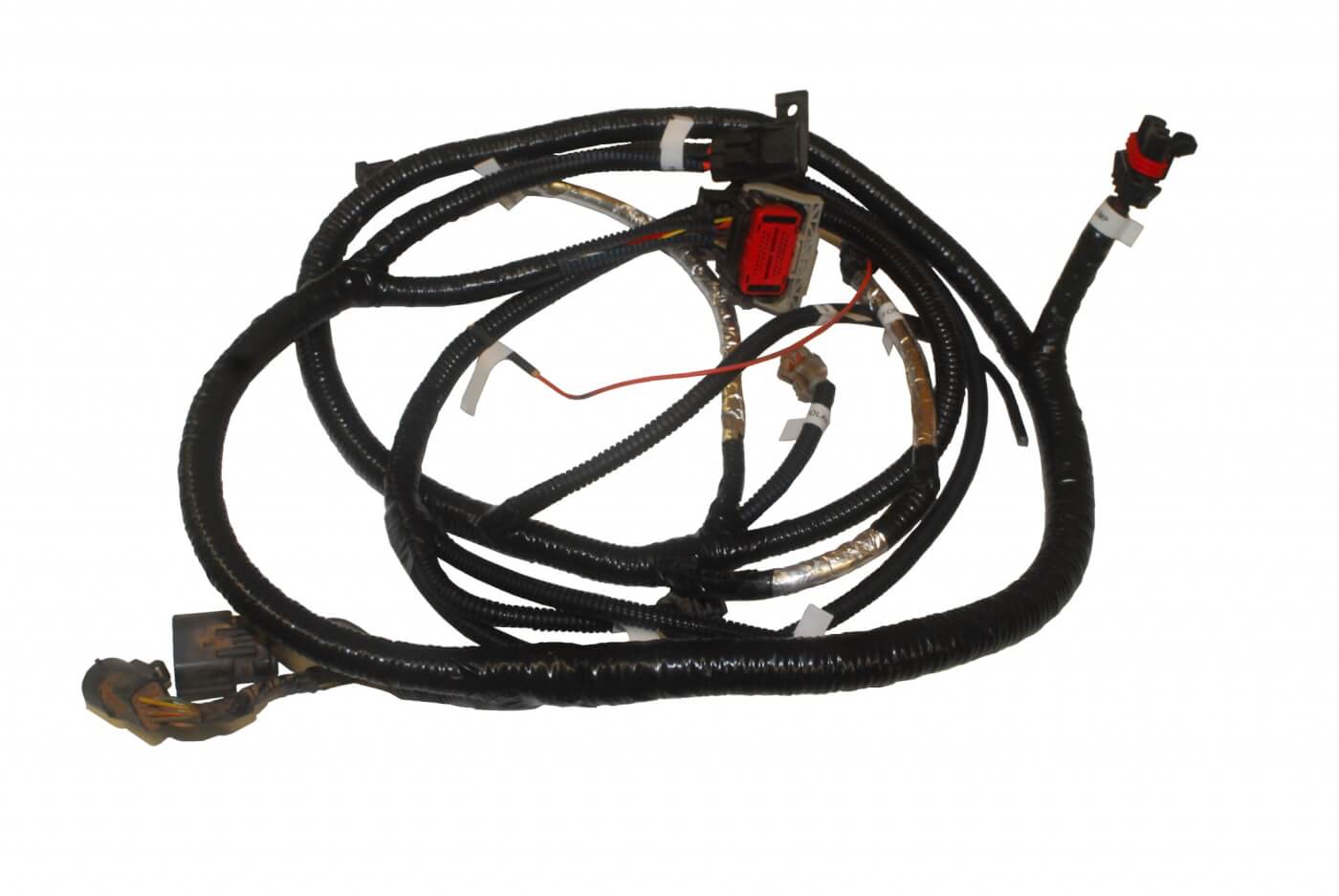 Diesel Harness Wiring Services
Late model Ford Cummins conversions require a lot of time spent with wire cutters and a great deal of confidence interpreting a wiring schematic. If dealing with a snarl of wires is the only thing holding you back from a conversion, ship your wiring harness to Diesel Conversion Specialist and have them modify it for you.
Diesel Conversion Specialists
406-755-8878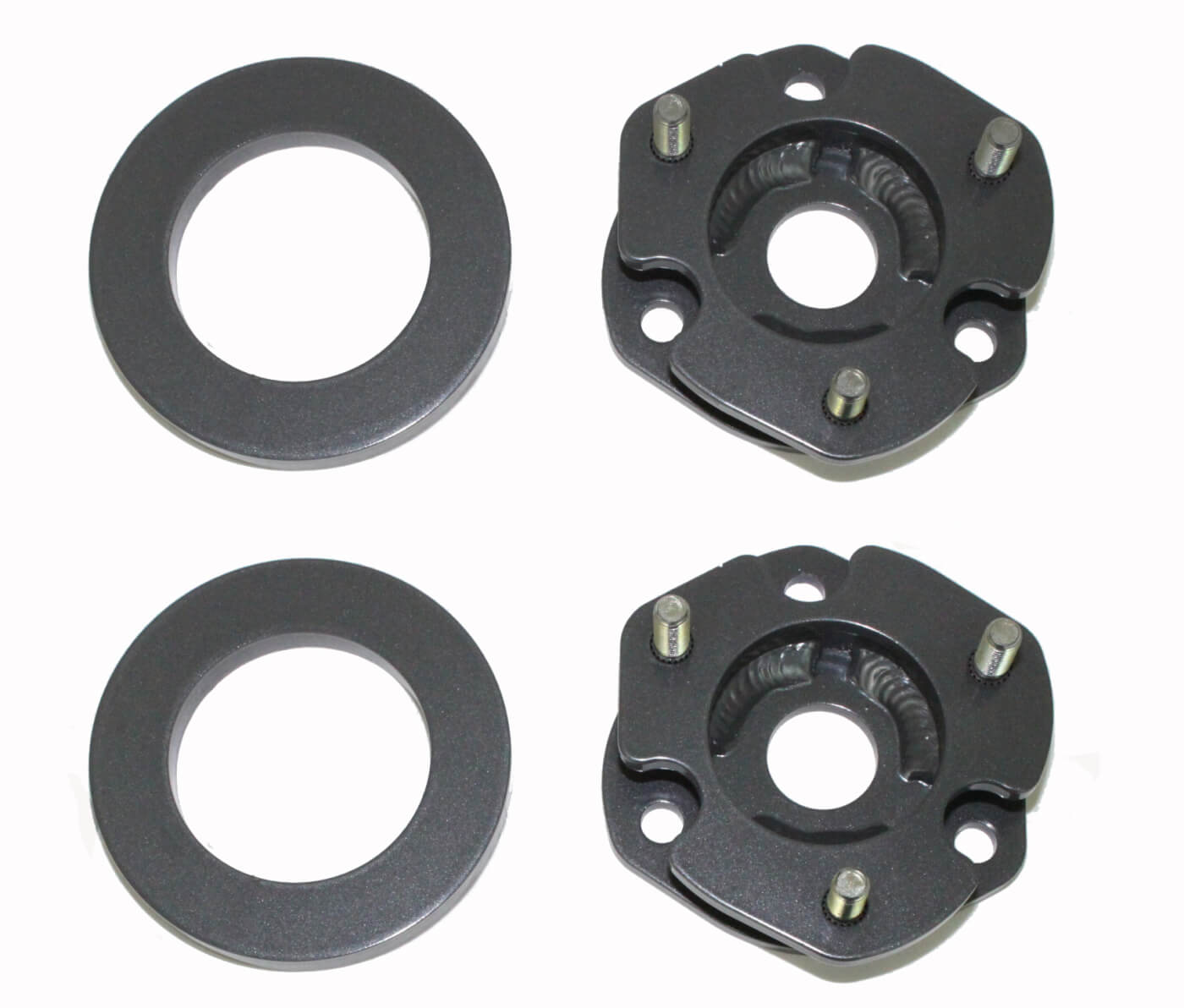 Ram EcoDiesel Leveling Kit
If you own a 20013-14 Dodge Ram 1500 4×4 and want to level the stance, MaxTrac has a solution. The new MaxTrac Suspension 4WD leveling kit features a 1″ coil spacer as well as a 1.5″ strut spacer. This design offers 2.5″ of lift overall.
The design allows correct A-Arm angle and does not over extend the throw of the ball joint, eliminating premature ball joint failure. Unlike some companies who use a 2.5″ coil spacer, MaxTrax splits the difference with the coil spacer and strut spacer to keep the strut from topping out. This improves the ride. Spacers are finished in a signature gray, high quality powder coat for durability and rust prevention.
MaxTrac Suspension LLC
877-929-3015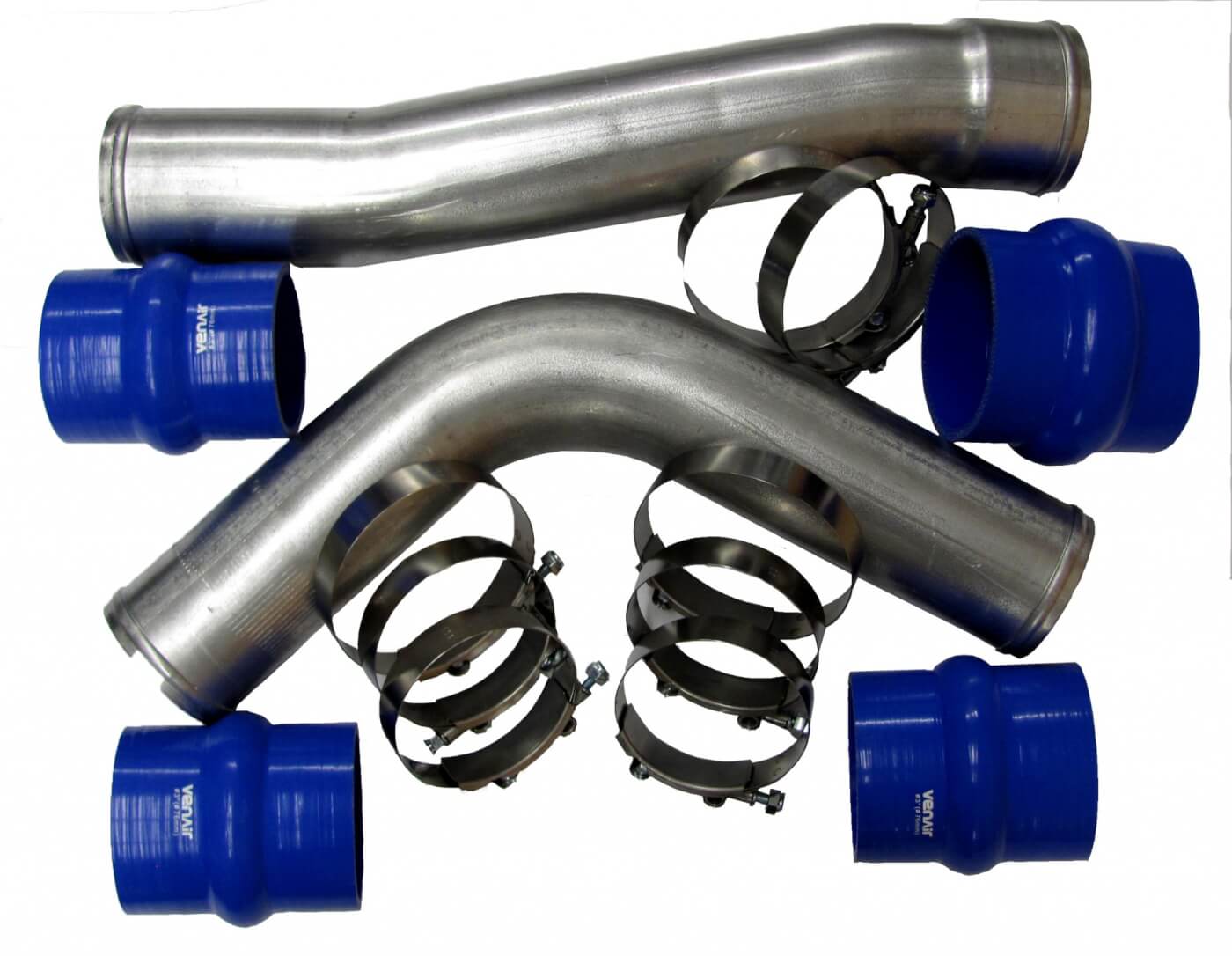 Cummins Swap Intercooler Kits
When you've got your new diesel swap engine in place, wired and nearly ready to go, it's time to consider the intake plumbing. The last details include having tubes bent for the intercooler. Save the money on custom tube bending and order a pre-made set from Diesel Conversion Specialist. Intercooler tubing kits are complete with tubing, silicone boots and clamps, and are available for Cummins conversions in Ford trucks from the early '90s through 2008. The '08 to current kits are under construction.
Diesel Conversion Specialists
406-755-8878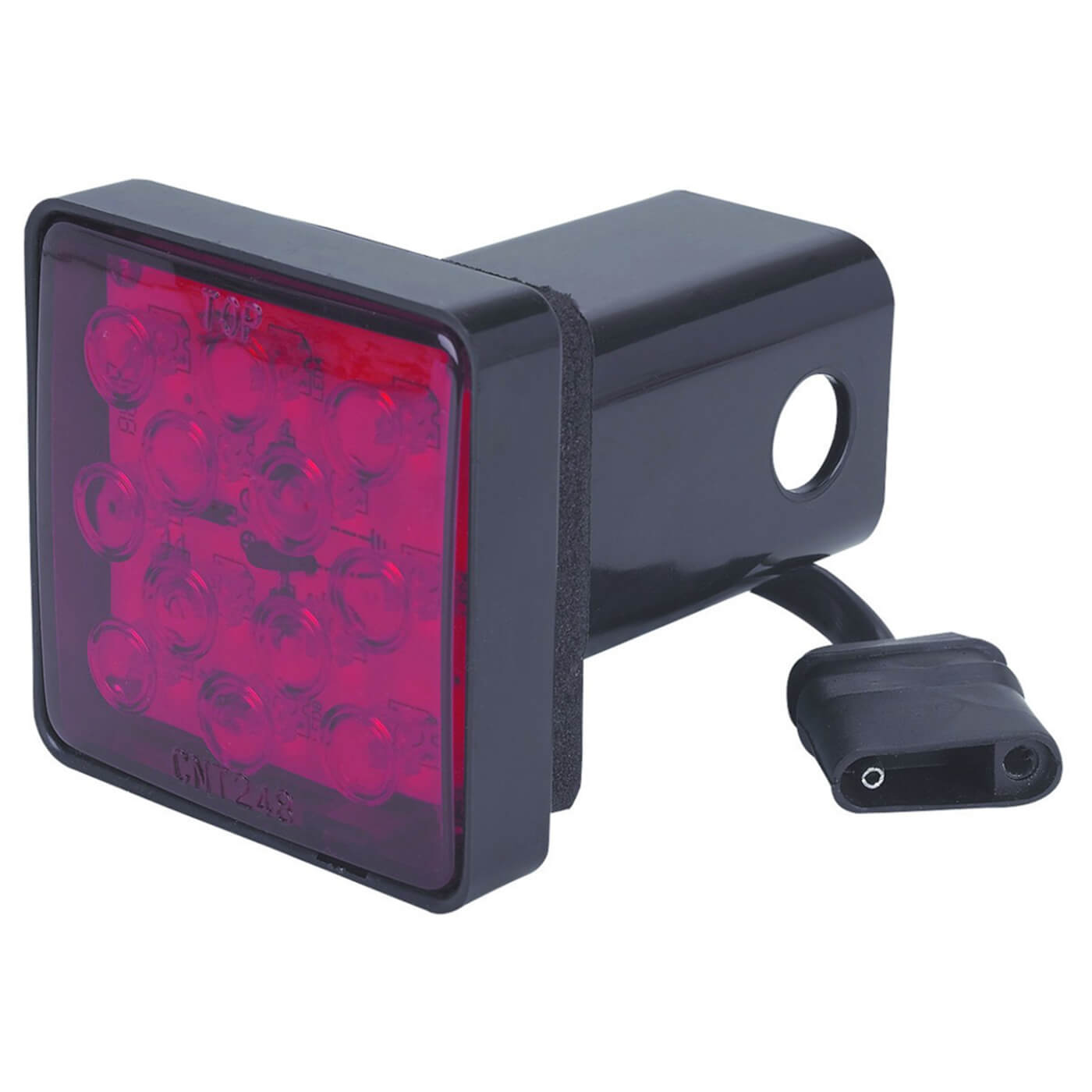 LED Brake Light Receiver Hitch Cover
Covering your receiver hitch opening keeps dirt out of your hitch box. Now you can add a third brake light at eye level for those little cars on the road.
This light 2-inch receiver features a plug-in brake light that features 12 LEDs for improved visibility and uses a 4-pin slip fit plug that taps into the brake light circuit in your 4-pin trailer plug. A ½-inch-thick foam gasket keeps the housing snug in the receiver.
Harbor Freight
800-423-2567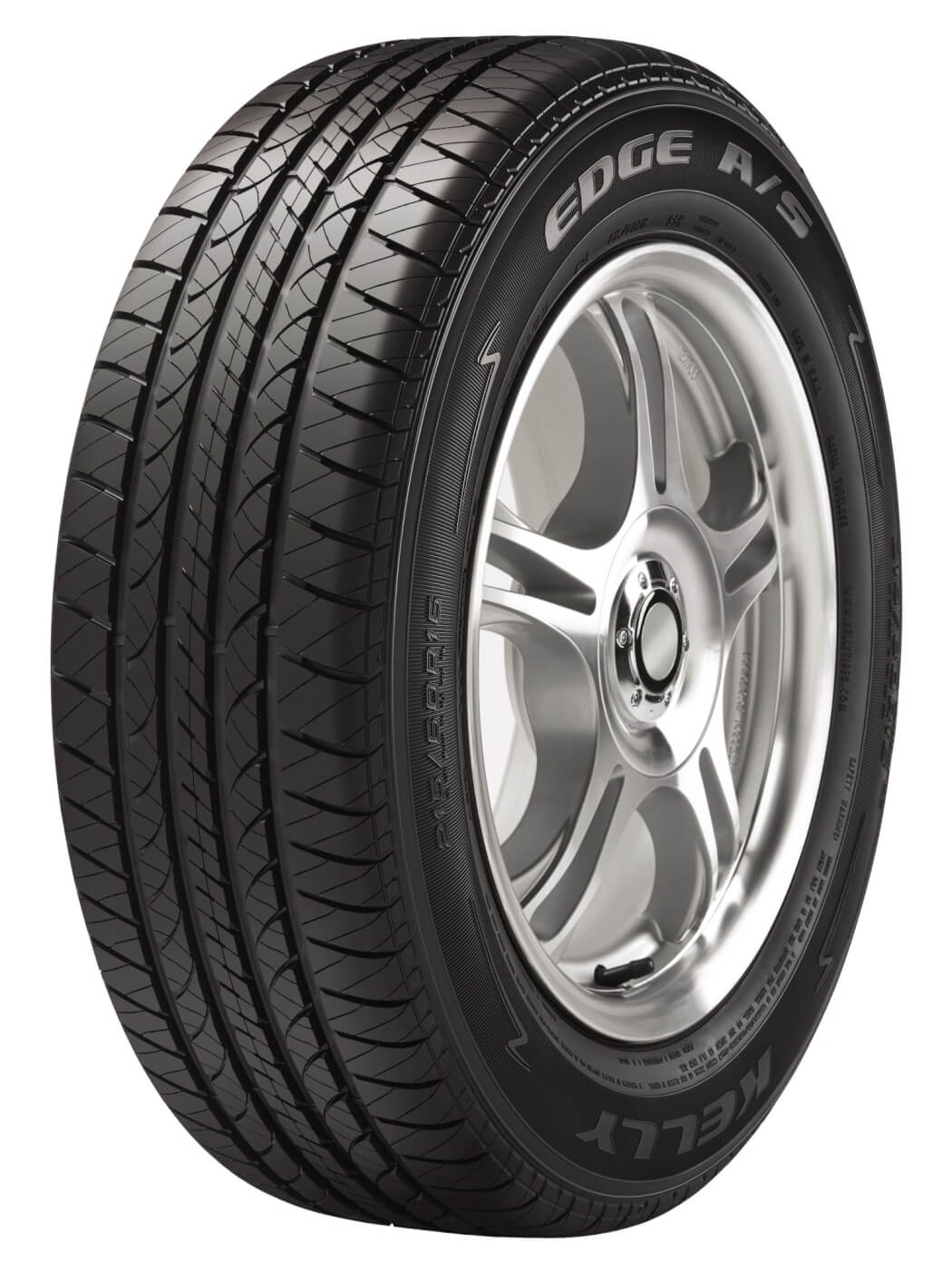 Kelly Edge A/S Tire
Among the features of the new Kelly Edge A/S are biting tread block edges for all-season traction in wet, dry and snowy conditions; broad tread grooves that help evacuate water and slush from the tread for enhanced grip; sturdy tread blocks to help stabilize the tread footprint to promote long treadwear and a proven tread pattern that enhances handling. The tires carry a 55,000- mile/85,000-kilometer tread life limited warranty.
A broad lineup of 51 sizes will be offered, covering T, H and V speed ratings, and 14- to 18-inch rim diameters within the performance and commuter touring product areas.
Kelly Tires

MaxPro Reverse Brake Bleeder
Phoenix Systems offers the heavy duty MAXPRO – a reverse brake bleeding system that allows automotive service professionals and D.I.Y'ers to efficiently perform one-person brake bleeding service, even on ABS systems.
The MAXPRO is constructed from durable die-cast steel and aluminum, and the brake bleeder is designed to withstand the rigors of professional use.
Rather than pushing air and fluid down through the system, as in the standard convention, the MAXPRO reverses this process. The trapped air in a brake system, which naturally wants to rise, is pushed up to the master cylinder with a MAXPRO. Properly bleeding your brakes will create a firmer pedal, increased braking power, responsiveness, and reduced vehicle stopping time.
Phoenix Systems
435-673-0777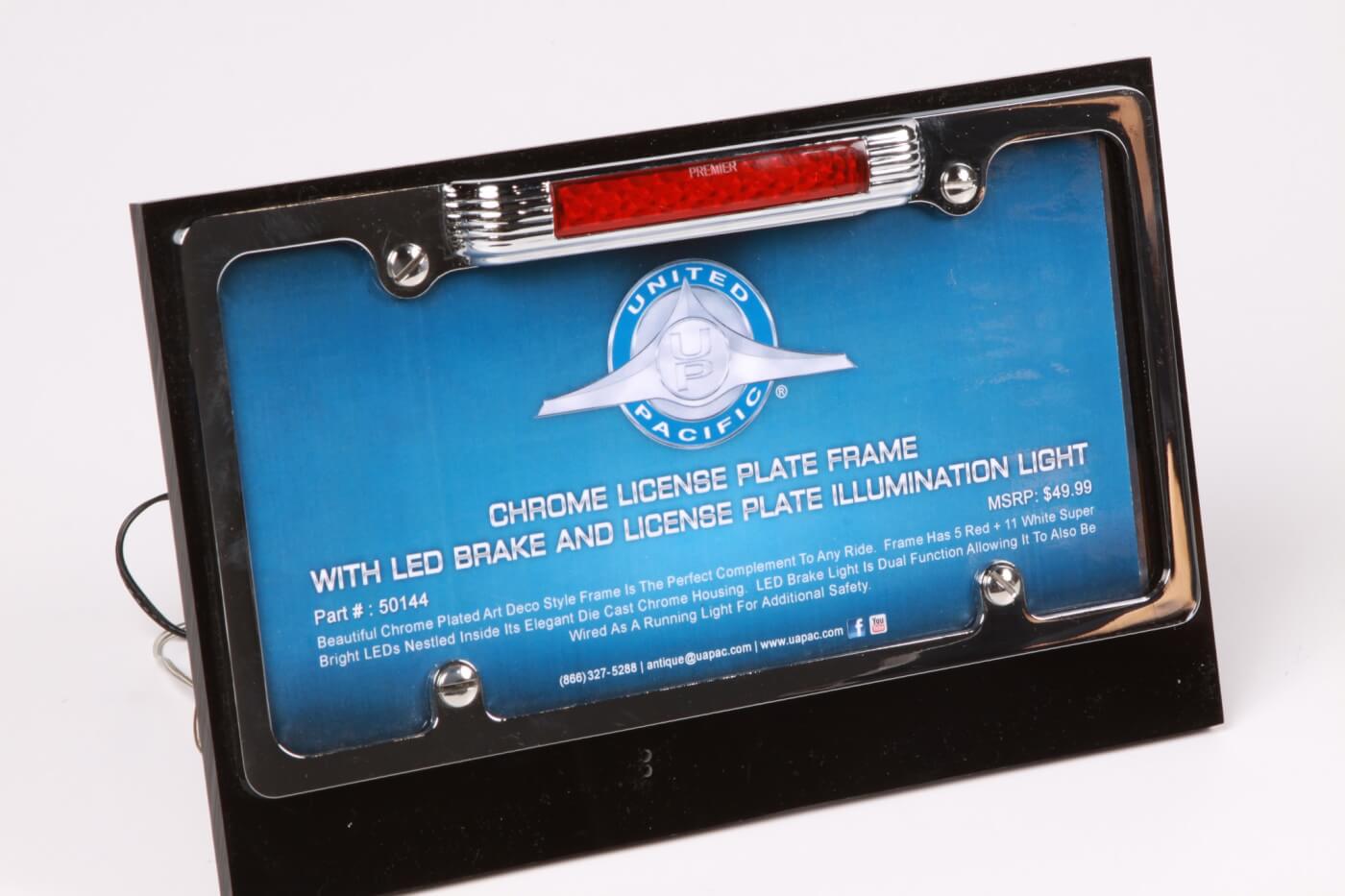 LED Plate Frame
This LED license plate frame features both a brake light and a running light.
It houses five red and 11 white LEDs. The white lights illuminate the license plate while the red ones can be wired as an extra brake light and running light.
United Pacific
866-327-5288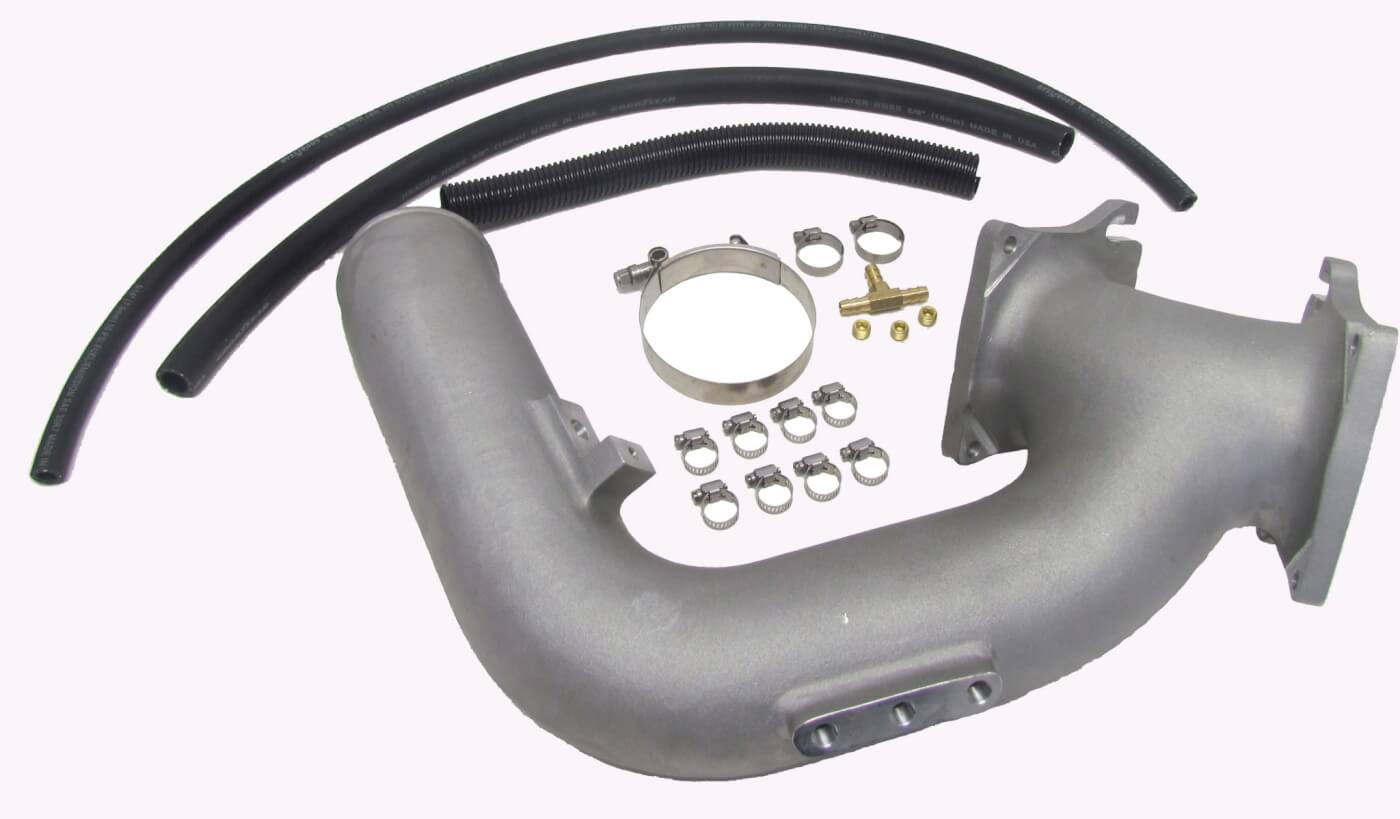 LLY Duramax 3″ High Flow Intake Y-Bridge
Replace your factory restriction intake manifold pieces with a Dirty Hooker Diesel
(DHD) LLY High Flow Intake Kit. This kit is a complete one-piece intake manifold upgrade.
The intake is assembled from mandrel bent aluminum tubing which allows for a massive increase in intake volume. When compared to the factory intake plumbing, the DHD high flow intake bridge flows an impressive 152% more volume. This intake will not only increase horsepower, torque and airflow throughout the engine, but it will also reduce EGTs and drive pressure. The reduction in EGT and drive pressure will help yield a longer running, healthier engine.
This kit includes the main intake assembly and all necessary hardware for installation. We recommend our DHD 700-125 or 700-155 Fuel Block Upgrade kit when installing a DHD, LLY High Flow Intake.
Dirty Hooker Diesel
989-479-0444
CP-Carrillo High-Performance Diesel Pistons for Duramax Applications
CP-Carrillo is excited to introduce diesel pistons for Duramax applications. These pistons include the advanced features and improvements that CP-Carrillo has developed through rigorous testing and R&D.  They are ready for immediate delivery and are for the most popular Duramax applications. Manufactured from 2618 T-61 alloy for structural support and durability, these pistons come completely hard Anodized to withstand turbocharging, supercharging and nitrous. DW
CP-Carrillo
949-567-9000