Part Three: FASS Titanium 165GPH Fuel Lift Pump
The Duramax engine has used a Bosch CP3 injection pump since its introduction in 2001 with incredible success. The CP3 injection pump has proven to be extremely reliable and capable of supporting major performance with the help of the aftermarket who has modified them for increased volume and created dual and even triple pump kits. But, with tightening emissions standards, the LML platform was released in 2011 with an all new CP4.2, also supplied by bosch, which replaced the CP3. The new CP4.2 pump produces a much higher pressure (36,000-psi at full load) than the CP3 could, offering a more controlled and more efficient burn in the cylinders, leading to cleaner emissions.
Since it's release in 2011, the CP4.2 has shown a higher failure rate than the earlier CP3 design, mostly due to its design and tighter tolerances required to make that extreme injection pressure. There have been more than a few instances when the CP4.2 pump has failed, sending metal debris and shavings throughout the entire fuel system, requiring new injectors, fuel injection lines and of course the pump itself. Yeah, you can only imagine what that repair bill will look like. We don't want to scare you into thinking your CP4.2 is going to implode on you tomorrow and cost you thousands of dollars in repairs, but it is something that any '11-'16 GM Duramax owner should be aware of.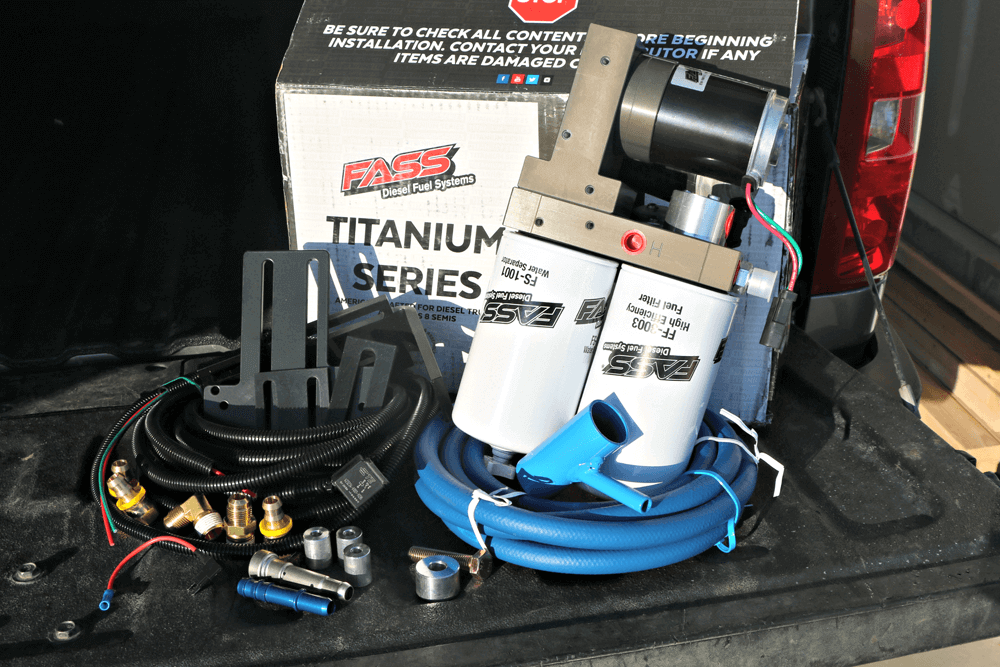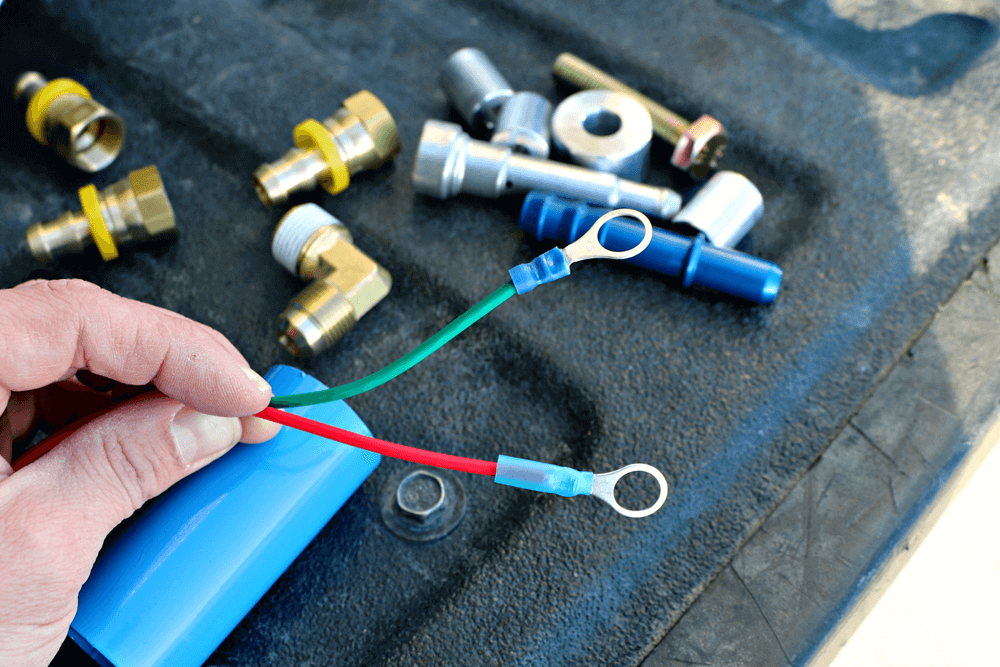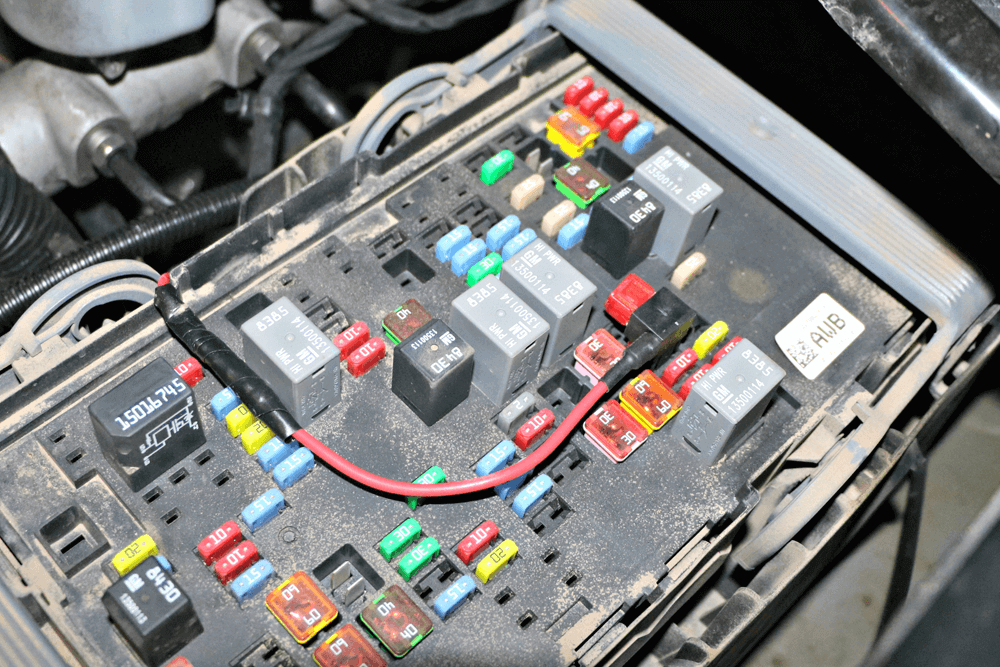 After talking with a few of the aftermarket companies in the diesel fuel injection market who specialize in the common rail systems like the CP3 and CP4, it appears that most of these known failures are caused by fuel contamination, just poor quality fuel, debris and water that these pumps just can't pass. Sure, the trucks have a fuel filter designed to catch fuel contaminants, but small particles can still get through and create major issues within the CP4.2. The stress and demand put on a CP4.2 can also be part of the issue as well. On the Duramax truck, the CP4.2 is required to draw fuel clear from the tank on its own, where, once it reaches the pump, it pressurizes it to the 30k+psi required to feed the injectors. In a completely stock application, that's a lot of demand to put on a pump and if the truck has been tuned or modified at all and requires more fuel than stock, forget it, the pump is just not going to live forever doing all that work unassisted.
THIS INSTALLATION IS STRAIGHT FORWARD AND TAPPED INTO THE SYSTEM EASILY AT A FUEL LINE JUNCTION LOCATED RIGHT IN FRONT OF THE FACTORY FUEL TANK.
To combat some of these short comings and extend the life of that CP4.2 while improving efficiency and power, the LML really needs some kind of fuel lift pump installed. A low-pressure pump that can be plumbed inline between the fuel tank and the injection pump can offer multiple benefits and should be one of the first modifications an LML owner looks in to. This particular truck already had 117,000 miles on it when we took ownership, all of which were run in stock form. Within the first month of owning it, we'd added some performance tuning, but we knew demand on the fuel system was increasing by doing so. To support the 496hp on the chassis dyno, a lift pump was going to be a necessity if we wanted that CP4.2 to live for long.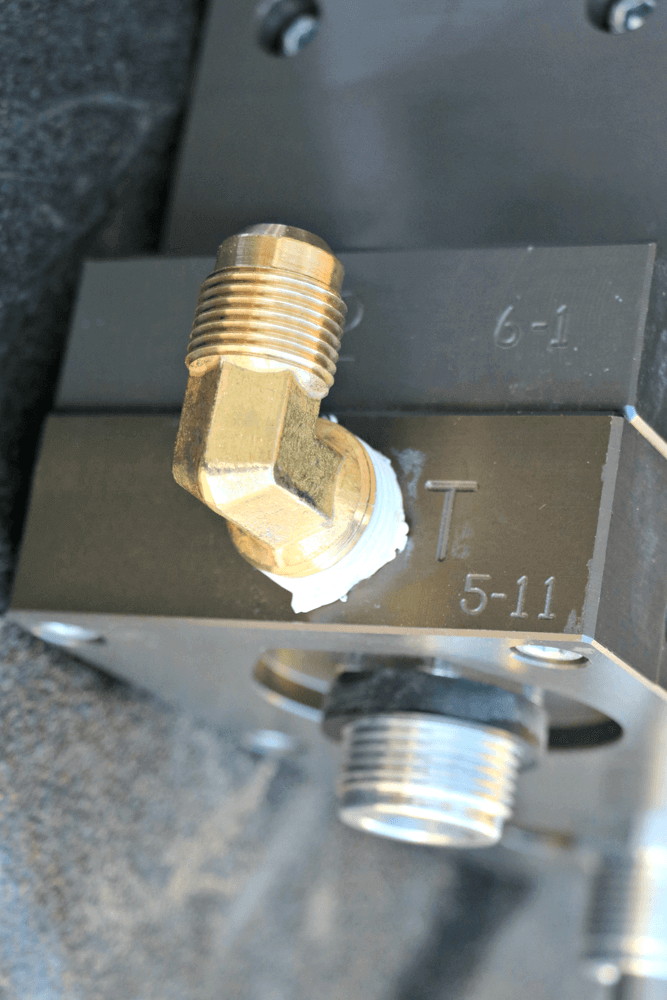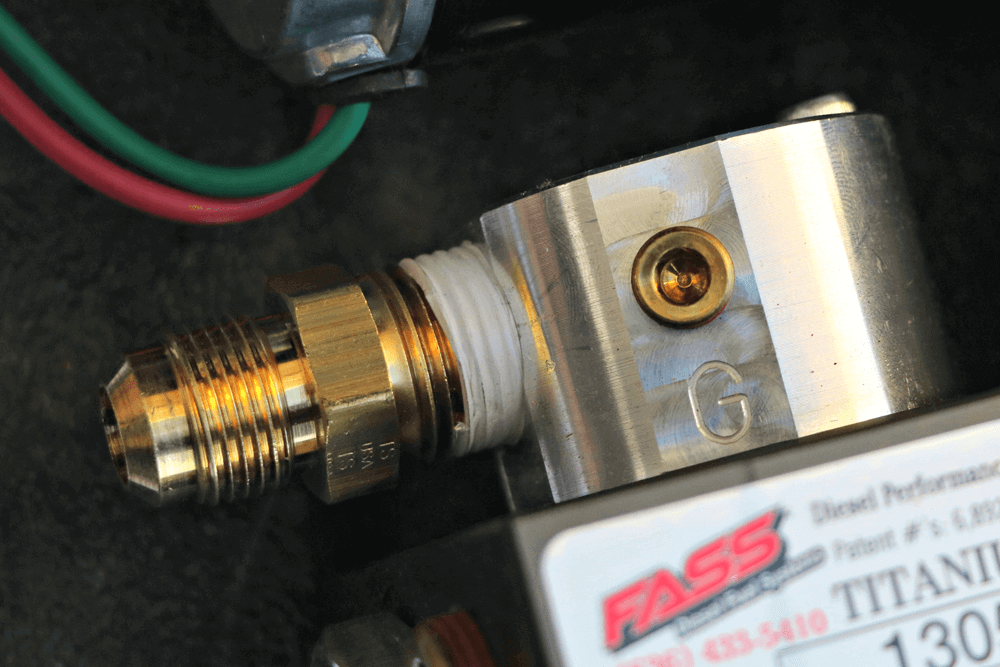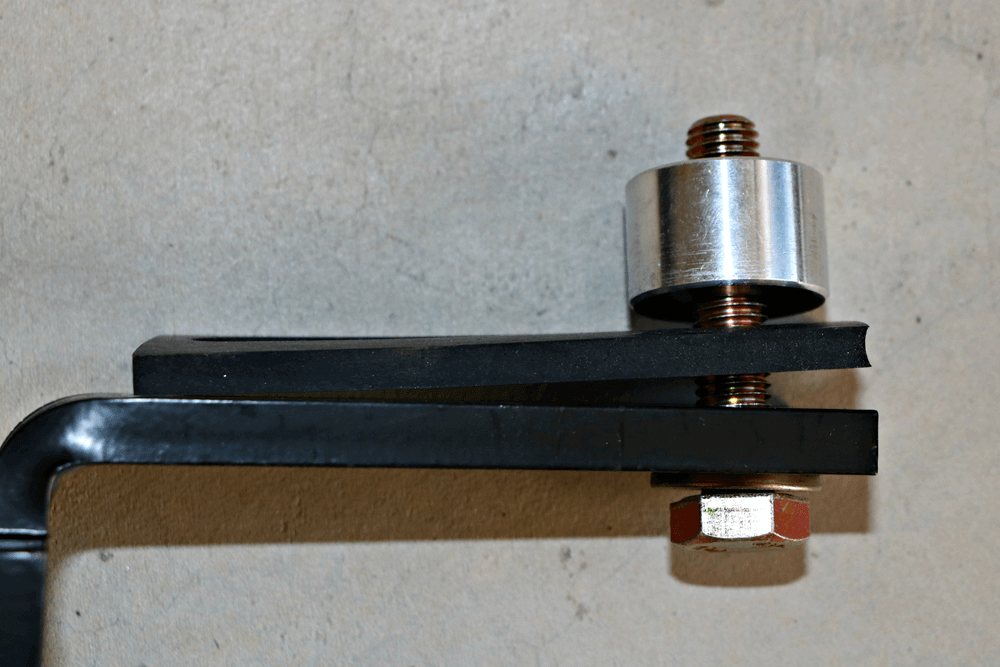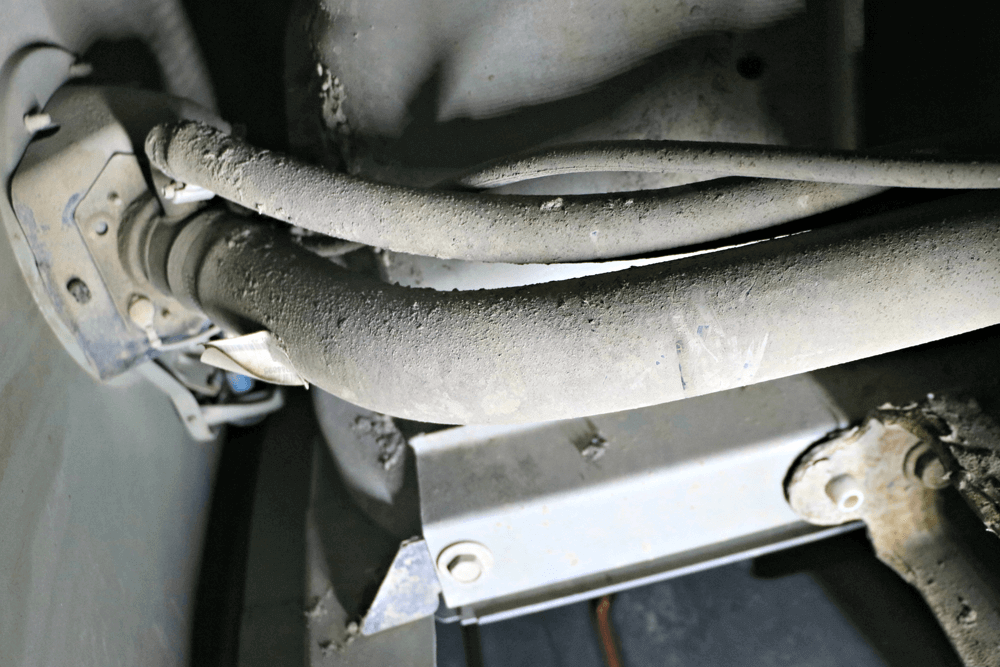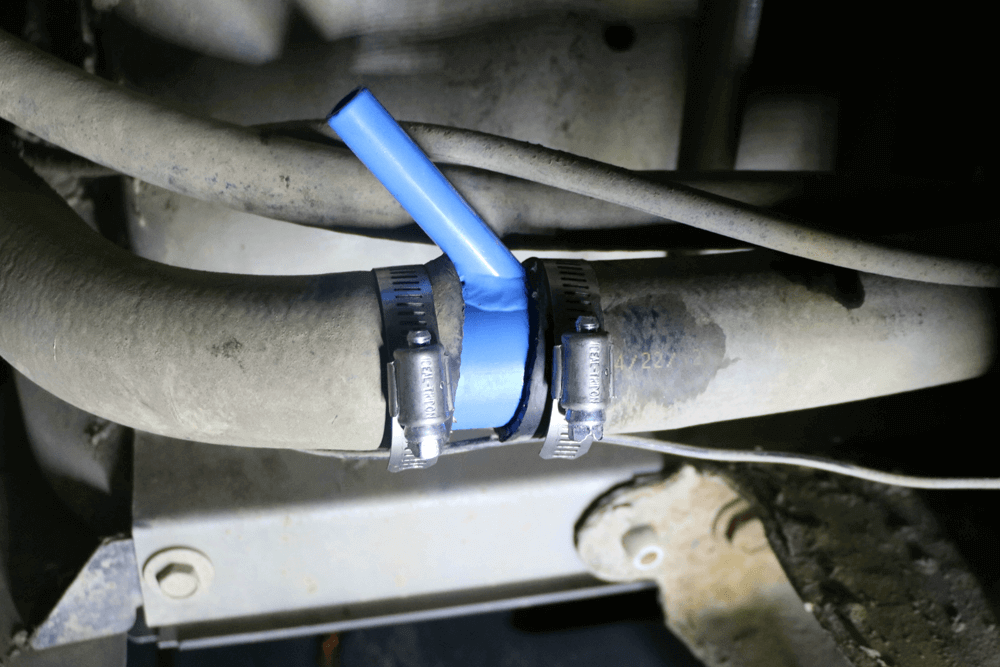 If you're new to the diesel market, you're already asking yourself what a lift pump is, so we'll get in to that for this part of our extensive LML project build. In simpler terms, a lift pump is nothing more than a basic fuel pump that draws fuel from the fuel tank to then push that fuel to the injection pump at a positive pressure. Running a lift pump in a LML will take a lot of stress off the CP4.2 as its no longer required to pull that fuel all the way from the tank on its own. One of the largest players in the aftermarket lift pump market is FASS Fuel Systems of Marthasville, Missouri. FASS stands for Fuel Air Separation Systems and their lift pumps do exactly what the name implies. The electric fuel pump will not only take the load of the CP4.2 by supplying 8-10psi of fuel pressure to, but it will also remove air trapped within the fuel, while adding extra filtration with an additional fuel filter and water separator. FASS offers a few different models based on your applications and performance goals as well.
For applications under 600hp, the Titanium 95gph series pump is more than sufficient in supplying enough fuel to the CP4.2 to keep the entire system happy. But for this project, we have hopes of going to a high performance injection pump, maybe larger injectors and adding a bigger turbo or even a set of towing compounds down the road. So, with 700hp goals, the larger volume Titanium 165gph was going to be the best fit for the build. Rated at 165 gallons per hour and backed by a limited lifetime warranty, the Titanium Series lift pump is capable of supporting well over 600 hp in the GM application. With the additional filtration offered by the FASS system, the CP4.2 is better protected from fuel contaminants, which should help avoid premature failures. The compact design and newest mounting brackets make for a simple installation and will survive even the harshest and extreme conditions. For those in colder climates, the system will also allow the addition of a fuel heater, or can even be plumbed to have hot engine coolant run through it to ensure the fuel will never run into clouding or gelling issues while the engine is running.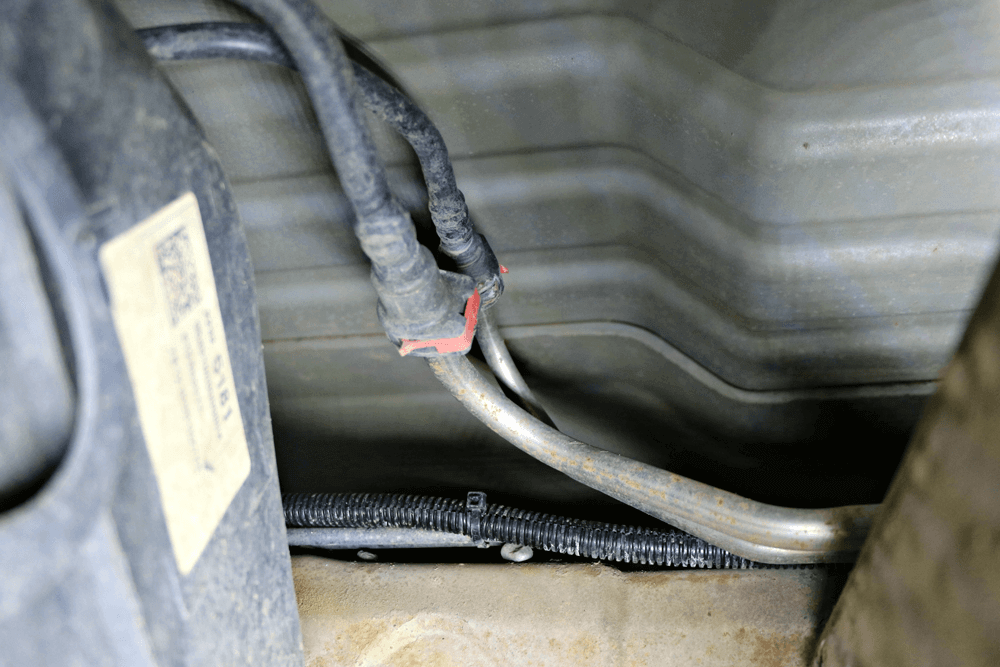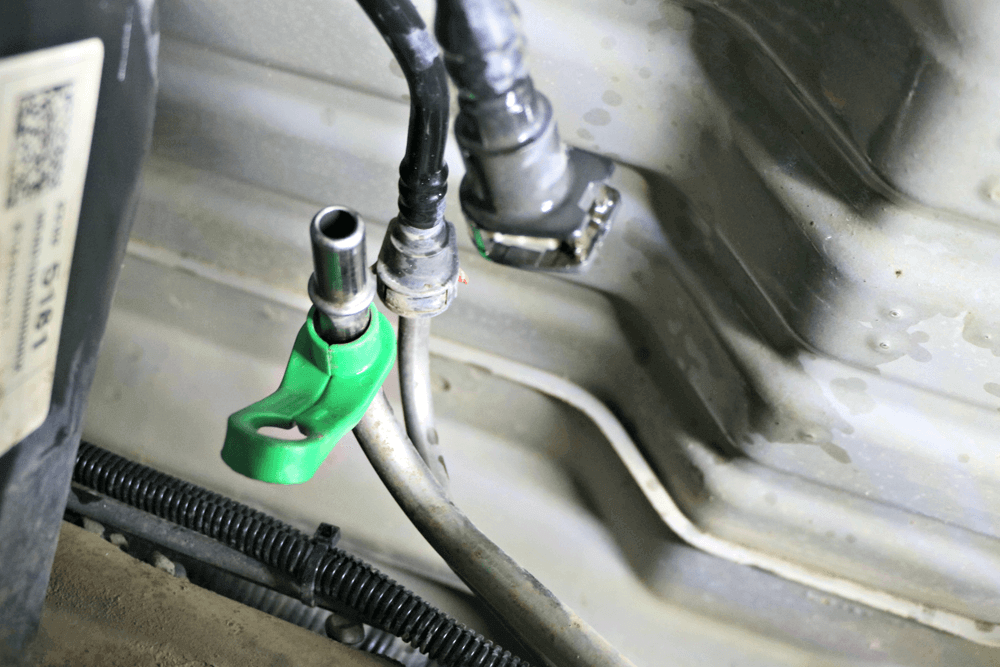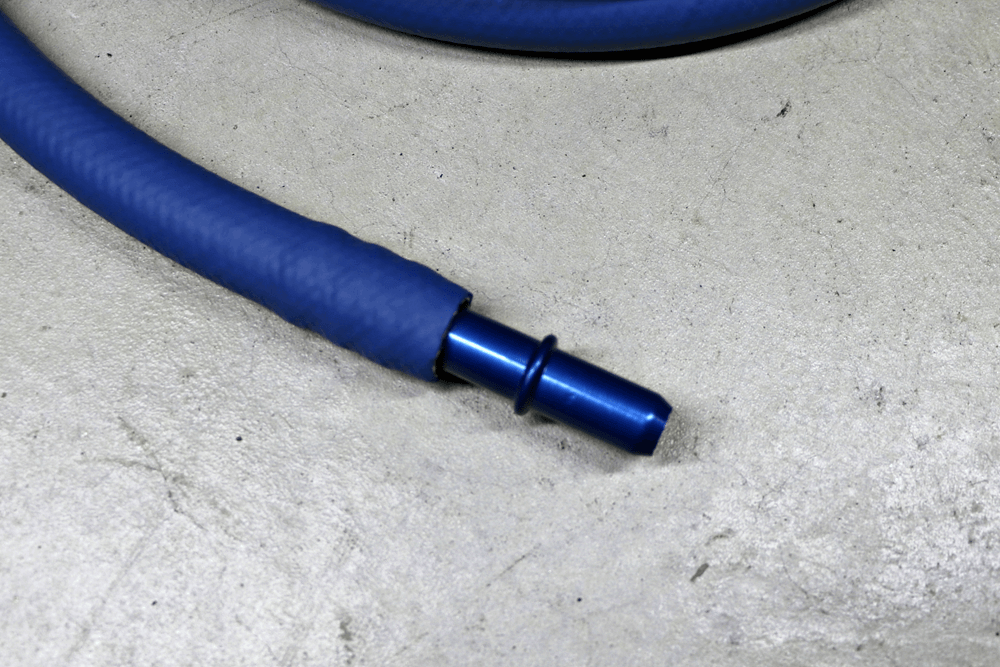 The crew at FASS have gone to great lengths to ensure their pumps can offer the most efficient performance with smooth radius cuts within the housings for smoother flow to the injectors with less restrictions. Their Mass Flow Return system built into the pumps design is continually working at 'polishing' the fuel by removing dirt, air, vapor and even water as fuel is passed through the pump and filters. The supplied 10-micron water separator and 3-micron fuel filter ensure only the best quality fuel reaches your injection pump and injectors, extending their life and efficiency. Without changing driving habits, you could see some minimal fuel mileage increases with the installation of a Titanium lift pump kit as well.
This installation is straight forward and tapped into the system easily at a fuel line junction located right in front of the factory fuel tank. For mild horsepower applications that opt for the 95-gph pump, pulling from the factory pickup tube (like we've shown here) should be enough to feed fuel to the pump, but for optimum pump performance and keeping the pump running as quietly as possible due to less restriction on the draw side, FASS suggests installing their Sump and Bulkhead Pick-up kit, which will replace the stock restrictive pickup within the tank for a much larger freer flowing pickup tube. Their unique Sump kit will also create a new low point in the system eliminating issues of fuel starvation  some trucks run in to when the tanks get below the 1/4 tank level. When fuel levels get low enough within the tank, the fuel can slosh away from the pickup, creating intermittent running problems. We will be installing a Titan Tanks replacement 57-gallon mid-ship fuel tank, so we've opted to wait to install our Sump and Bulkhead draw straw until that tank goes in. For the time being, running this 165gph pump through the factory pickup seems to be working alright, however the pump does run louder at times, telling us it's working extra hard at drawing fuel and removing air from the system, so it really does need that bigger pickup added soon for best performance.
In the following parts of this build, we'll get a little deeper into the performance side of things by bolting on a set of high flow cast exhaust manifolds and up-pipes from ProFab Performance, transmission modifications from Deviant Race Parts and Merchant Automotive and we'll be upgrading the CP4 to a modified high flow 10mm replacement unit from Exergy Performance capable of 800 hp. We also have a pile of parts from Kryptonite Products waiting to go on that includes their Stage 3 leveling kit with new Upper Control Arms, ball joints and Bilstein shocks. Their Stage 3 Steering Package is also here to replace some worn out stock idler and pitman arms, and we'll also be upgrading the weak factory tie rods with their beefy lifetime warrantied parts. We'll do some more cosmetic upgrades too, with a new wheel and tire package, some wider fender flares and maybe a replacement front bumper while we're at it.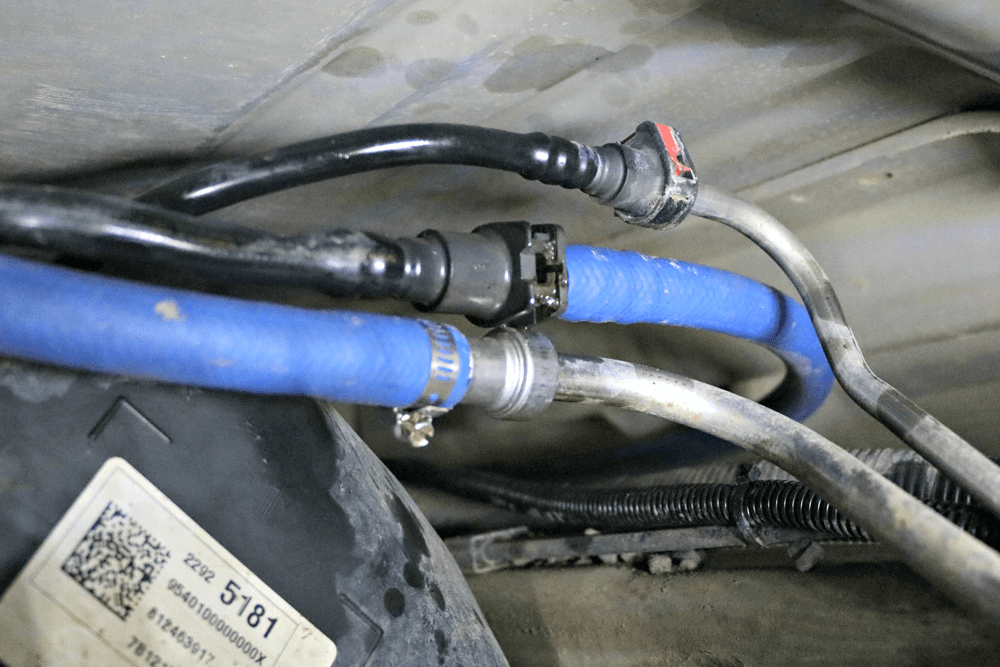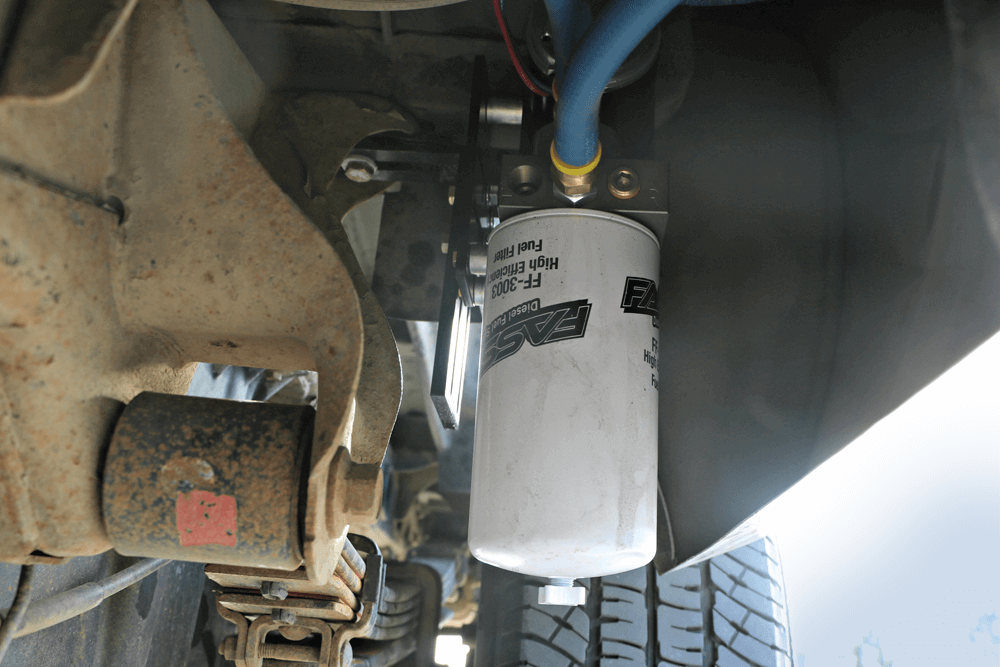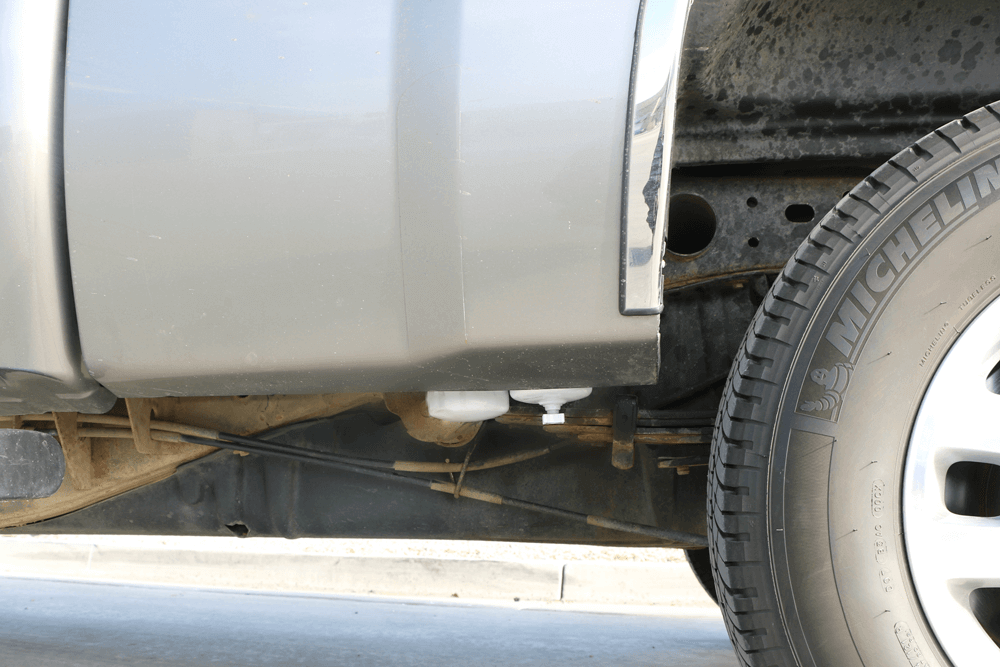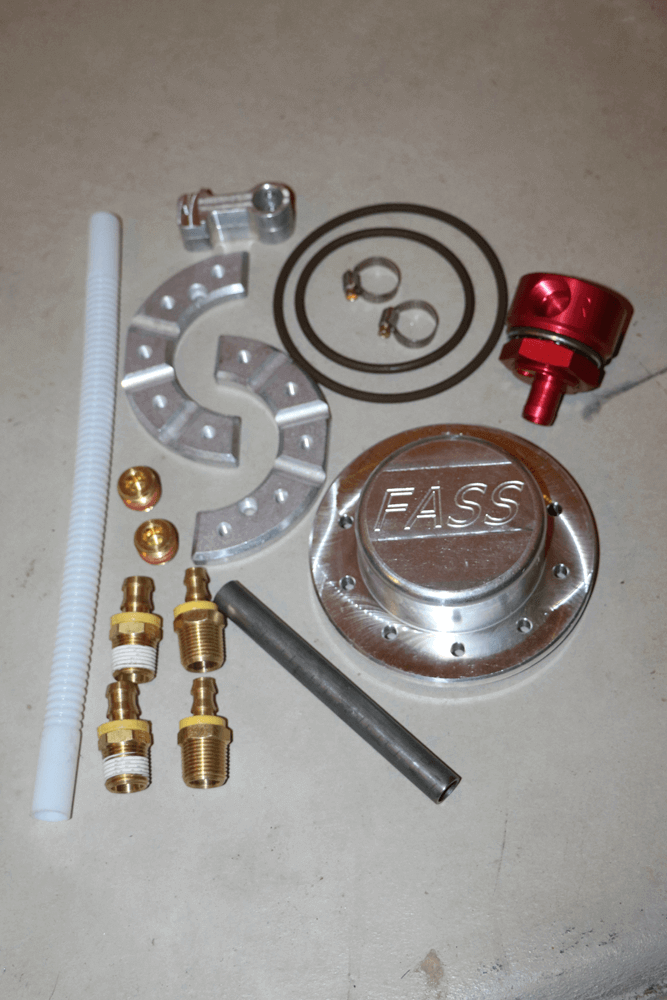 Sources:
FASS Fuel Systems
FASSride.com
866.769.3747
Bestop
Bestop.com
800.845.3567
Deviant Race Parts
DeviantRaceParts.com
208.719.0112
Edge Products
EdgeProducts.com
888.360.3343