The questions we usually have when going to swap a diesel into something that didn't originally come with one generally start off with matching an engine's power output to a project's needs. That's one of the most fun parts as it's usually accompanied with a bit of bench racing and dreams of how the project will perform in the end (be it a boat, hot rod, pickup or bar stool racer). After that, question's trend towards "Will it fit?" or "Is it possible to pull off?" Sheet metal can almost always be trimmed, massaged or removed all together to create clearance when needed. It's obstacles like electronics or adapting an engine to an existing transmission that usually are the most common things holding a project back.
Luckily, thanks to the automotive aftermarket there's help, as conversion parts do exist. Tons of them! We've put together a solid list of diesel conversion specific products for you, as well as a massive list of vendors who can help you swap a diesel into your ride. We've also gone back through the archives and picked our favorite, top 10 diesel converted rigs from the past few years. Hopefully, this will give you a bit of motivation, and help, to get that project rolling in the right direction, the diesel world direction. DW
Black Beauty
This Duramax-Powered street/strip truck is owned by Brett Deutsch. His grandfather gifted this 1969 Chevy C10 for his 15th birthday. Brett's grandfather had swapped in a three-cylinder Detroit Diesel engine, but the power was underwhelming. To satisfy his need for power, a swap to a small block Chevy gasser was installed but proved to be lacking too. Today, this truck is a Duramax diesel powered daily driver that can burn down the strip in the mid to low 9-second slot.
For the full story, see Diesel World's January 2014 issue.
Diesel Muscle Car 
Rick Fletes loves power and is a real car enthusiast. He loves Detroit Iron and going fast on the track. Being a practical type, Rick knew that it would be more economical for to a swap a Duramax Diesel in his ride than purchasing a new one with a Big Block Chevy gas motor inside: The diesel was sure to offer more torque and be more reliable than a full race big block gas race engine he reckoned too.
So, Rick located a wrecked GM truck with a low mile LB7 and scavenged the harness and engine for his race-ready, diesel powered daily driver. With the Duramax backed by a Turbo 400 automatic and Gear Vendors Overdrive, this oil burning Chevelle turns in top track speeds around 150 mph, with ET times in the mid '11s. During the week, this is now his daily driver, and it gets between 25-30 mpg.
For the full story, see Diesel World's December 2012 issue.
Cummins Powered Classic Power Wagon
Strength, reliability and simplicity—that's the way pickups used to be made. Trucks were made for work, not comfort. Vintage pickups are enjoying a resurgence in popularity, and Brian Wellman of Crandall, Indiana, is the enthusiastic owner of a very unique, classic Dodge.
While it was acquired in the rough, this W200 Dodge Crew Cab was restored to a near-new condition. The major upgrade was the swap to a 1993 12-valve Cummins. The diesel is mated to a '92 A518 overdrive automatic and a divorced mount 205 T-case splits the power to both axles on this 4×4.
For the full story, see Diesel World's January 2014 issue.
1948 Ford F3 Pickup
The 1948 Fat Fender F3 Ford pickup is a classic that is as cool today, as it was when it drove off the line. While unique in and of itself, owner Andrew Derdok wanted something extra special for his restoration. That special touch is the 5.9L 12-valve Cummins under the hood. The diesel is backed by a Dodge 727 automatic and 3.07 "road gears" let this truck cruise down the road at the posted highway speeds with ease.
The original plan was to make this truck a daily driver and carry a dirt bike and other toys in the back. That plan changed when the finished rig transformed into a show quality ride. While driven routinely, the hauling of dirt bikes is strictly prohibited.
For the full story, see Diesel World's November 2014 issue.
1967 Camaro Racer
The owner of this red racer, Dustin Hamm from Sebastopol, California, acquired this 1967 Camaro when he was just 16 years old. It came to him with a 600-hp small-block Chevy gasser V-8. The trouble was, the power came at a cost. The cost of getting just 8 miles per gallon was seen at every fill-up.
In 2009 Hamm decided to swap in a LBZ Duramax diesel. This was swapped into the Camaro, with a 47RH automatic from a Dodge diesel truck. The Camaro now gets 25-30 mph around town and turns in 13.0 ETs at around 110 mph on the track.
For the full story, see Diesel World's November 2014.
Super Chief
David Chader was a car guy from a young age. At 11, he convinced his parents to buy the 1979 Jeep Cherokee Chief from a neighbor. During his senior year of high school, David and his dad decided to perform some "mild" modification to the Jeep. This included swapping the original AMC 360 gas engine for a Cummins 6BTA. The 6BTA had recently been rebuilt and it was treated to some upgrades before being slipped into the Jeep. A SunCoast 1994 47RH automatic transmission sends power to the transfer case and then splits out to the front and rear Dana 44 axles. The Cummins allows David's mighty Cherokee Chief to average 25-mpg during extended travels while not missing a beat.
For the full story, see Diesel World's December 2006.
1929 Model A Oil Burner
It has become an urban myth that when Henry Ford introduced the Model T, it was available in any color you wanted, as long as it was black. This isn't true, but the fact that neither the Model T nor late Model A where available with a diesel engine is. Cirius Noble is the owner of this fine 1929 Model A, and it does have a diesel. A 2.1L (128 ci) I4 Renault diesel from a '89 Jeep Cherokee was swapped into the Ford. This engine has an aluminum block and weighs only two-thirds of the original cast iron Ford gasser. It also has more than double the horsepower, and it get's better mileage too.
For the full story, see Diesel World's January 2014.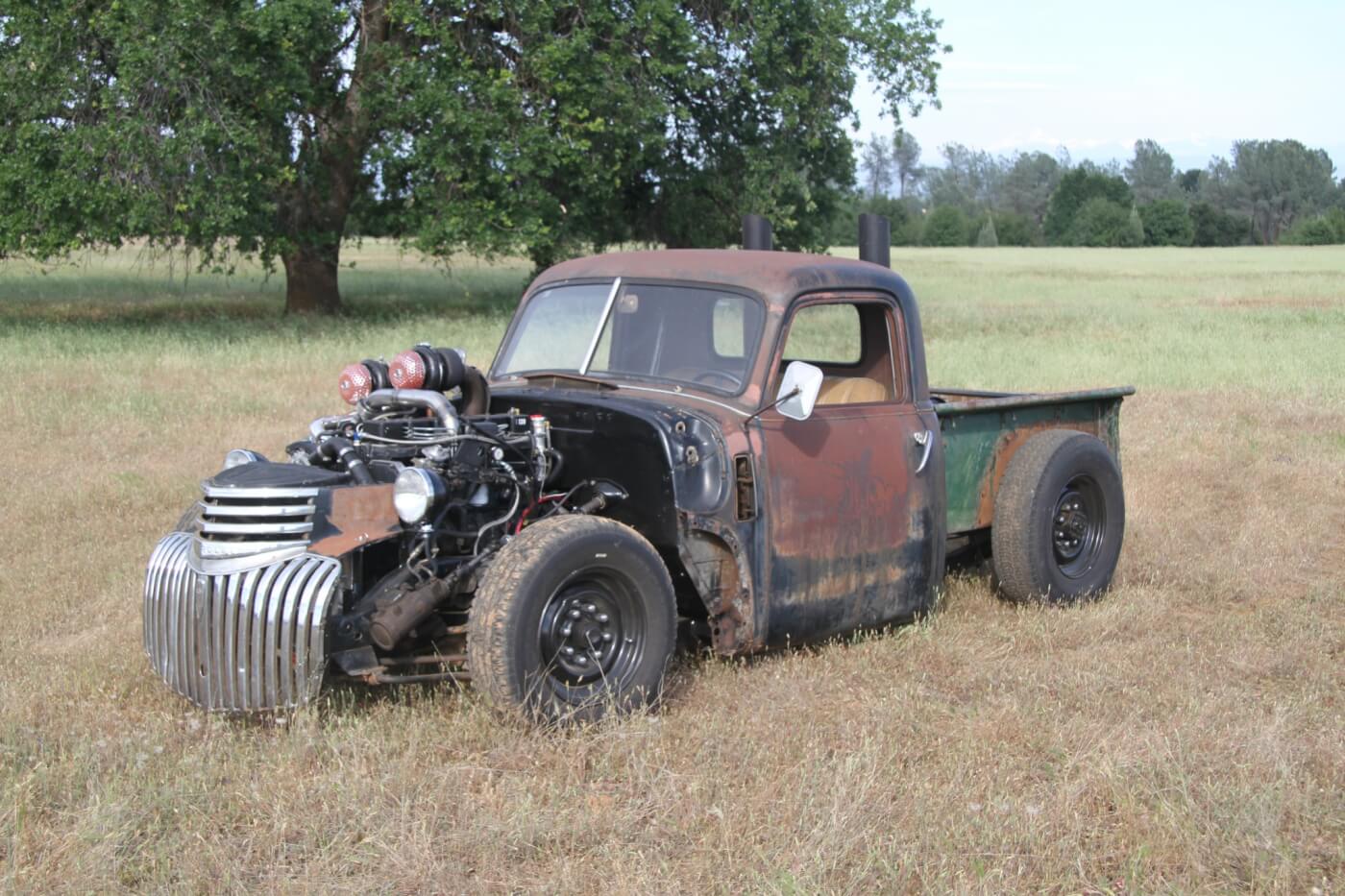 RUSTY ROSE
Rat Rods are a breed of their own. These patina'd rigs are rusty and rustic on purpose and their owners are often as unique as their rigs. Harvey Grant is one of these unique car fanatics, and his Rusty Rose is one of a kind. A 1951 Chevy truck cab, 1950 bed, 1947 grille are all blended into the body for this Rat Rod. The drive train is out of a 1993 Dodge pickup. The 12-valve Cummins 5.7L diesel has been modified with twin stock turbos and other upgrades. While not technically an engine swap, it's more of a custom build; this diesel rig is unique and shows just how wild you can get with your truck, if you let your imagination run away first.
For the full story, see Diesel World's October 2012.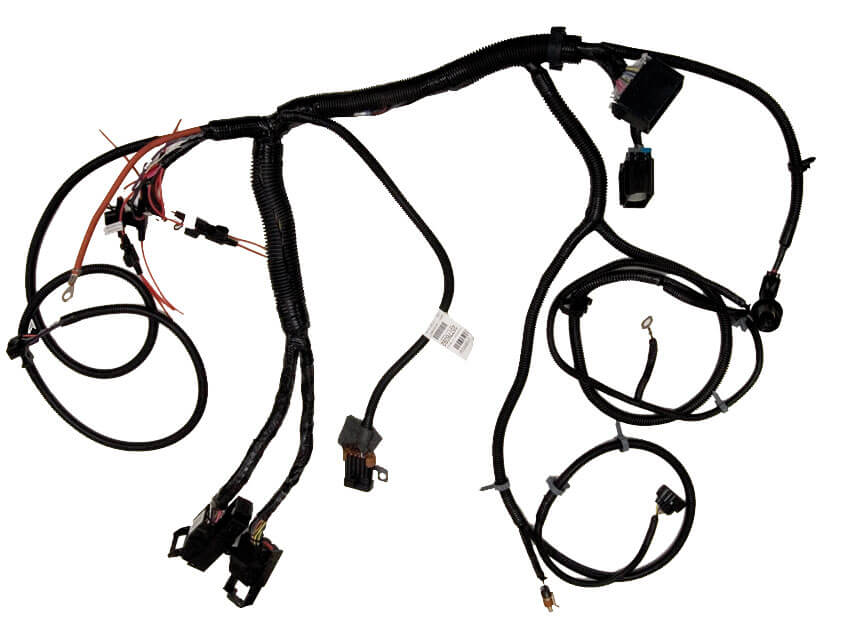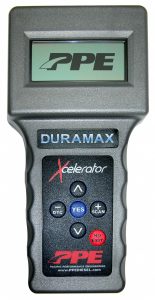 Duramax Stand-Alone Wire Harness
PPE offers complete stand-alone wire harnesses for the Duramax engine, from 2001-2010. When combo'd with their Hot+2 ET Race Xcelerator programmer, all that you'll need to do to get that Duramax running in your project is hook up a couple grounds, 12V constant power, key on, a start signal and you're good to go.
Pacific Performance Engineering
714-985-4825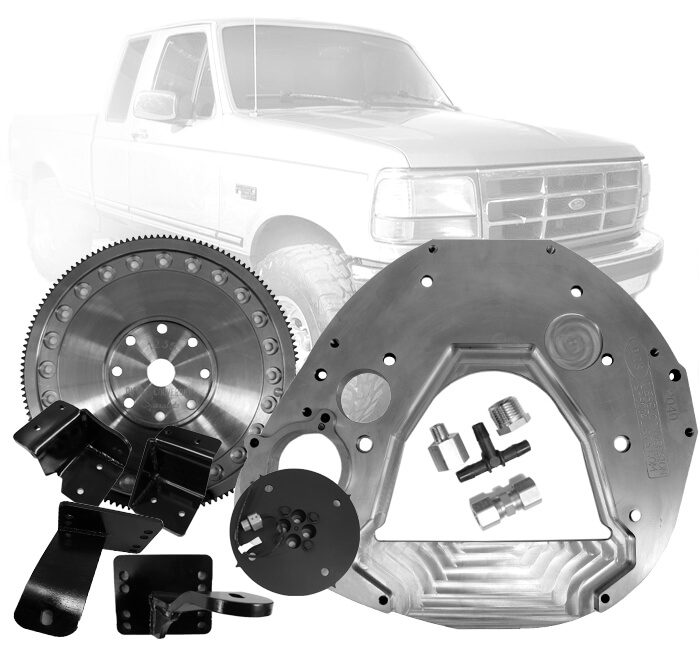 Ford F-150 4BT
Simple is better, and fitting a 4BT Cummins to the OBS half-ton Ford doesn't get any easier than with a conversion kit from Diesel Conversion Specialists. Kits are available from comprehensive to bare bones, for either the automatic or 5-speed manual transmissions. Manual and Automatic transmission kits include adapter plate and motor mounts. The comprehensive kit additionally includes an A/C compressor adapter that moves the A/C up and away from the frame, a tach sensor and mount, alternator adaptor, belt tensioner bracket and host of other conversion friendly parts.
Diesel Conversion Specialists
406.755.8878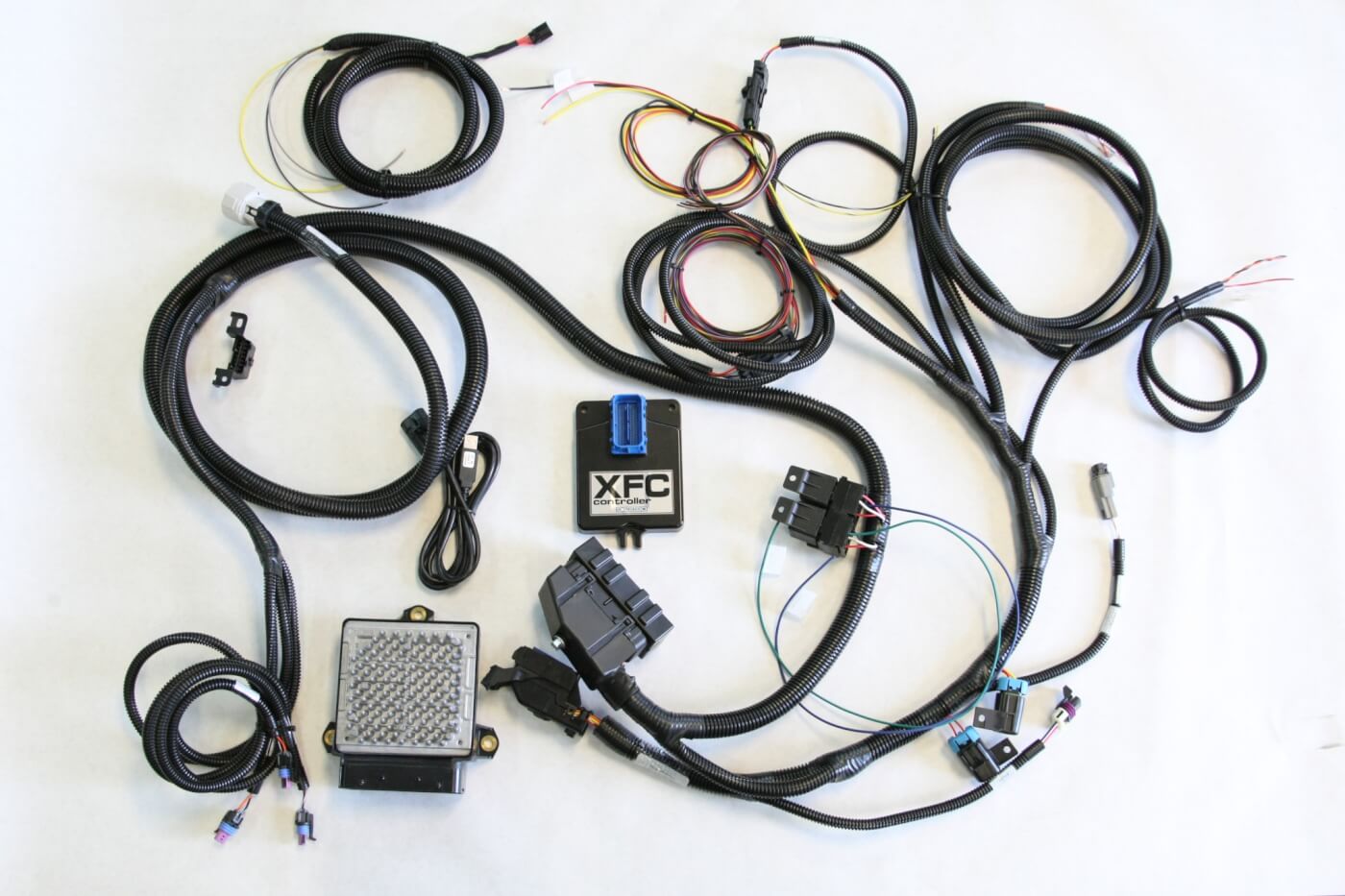 Allison 5-Speed Stand-Alone Controller
Designed to run the Allison 1000 as a stand alone, behind any engine, in any vehicle. Allows user definable shift points, converter lockups and shift quality. This controller also has tunable torque input, TPS calibration, engine RPM calibration, Tow/ haul mode and overdrive cancel. Includes Allison TCM, XFC, TPS adapter and complete harness.
Destroked
720.897.7477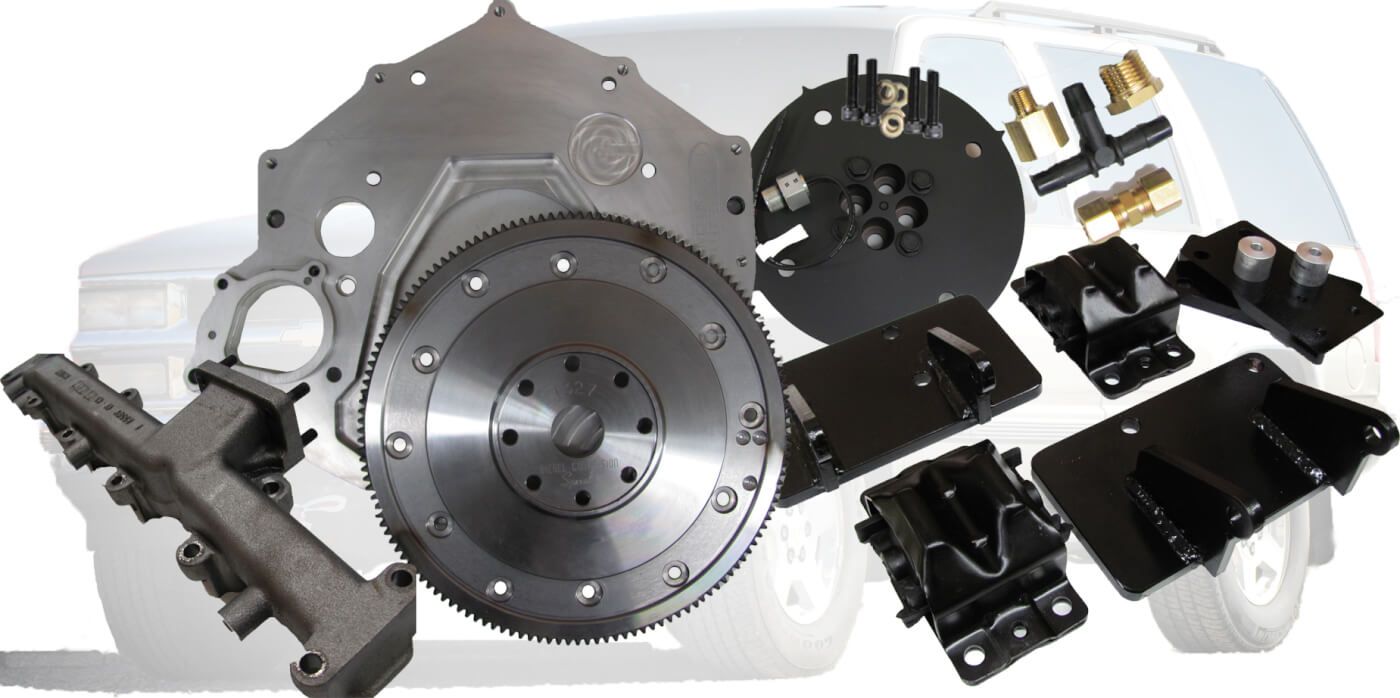 GM IFS Pick-up Conversion Kit
The GM IFS truck is capable of much, but it's better with a Cummins under the hood. Diesel Conversion Specialists offer 6BT and 4BT conversion kits for these trucks. These kits include adapter plate, motor mounts, sensor adapters (to keep your OEM sensors) and an exhaust manifold. Everything is bolt-in with only light modifications required to the truck.
Diesel Conversion Specialists
406.755.8878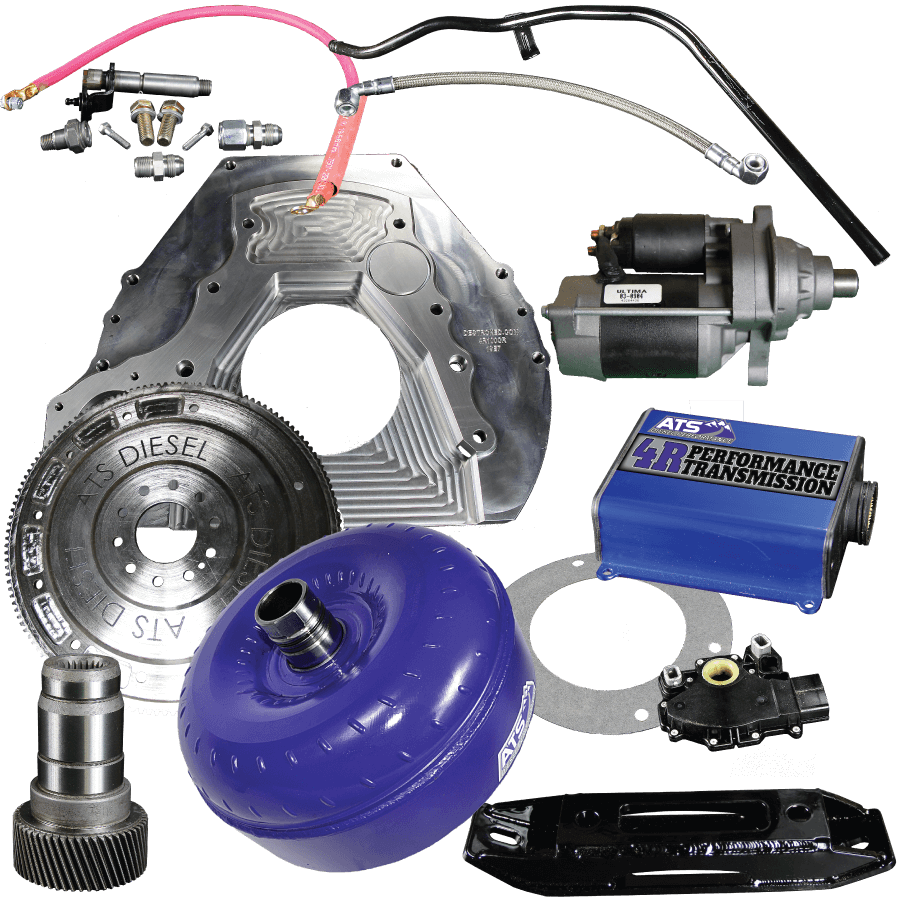 ATS 4R100 to Cummins Adaptor Kit
This kit from ATS Diesel is quickly becoming popular with the late model Cummins crowd due to the problematic 68RFE transmission. Using ATS's kit allows Cummins owners to swap in a much stronger 4R100 trans, but also helps Ford owners swap in a Cummins with their existing 4R100 backing it up.
ATS Diesel
866.209.3695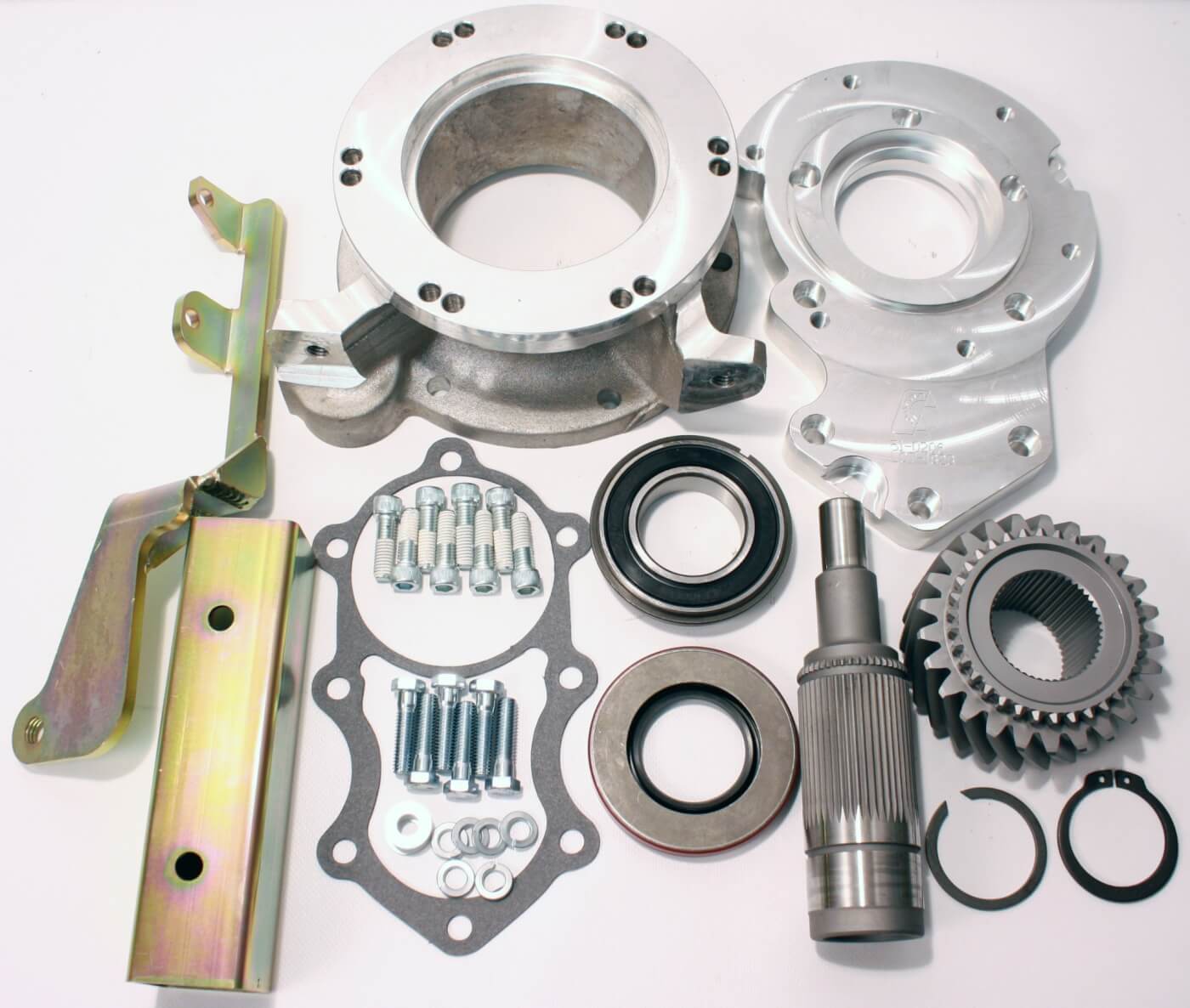 NP205 Transfer Case Adaptors
These adapters will allow a Dodge diesel 4WD NV4500 5-speed manual to mount to the durable NP205 transfer case. Three adapters are available; they are perfect for doing Cummins conversion swaps into an older truck. The adapters have added a series of adapter for GM's 6-speed automatics (6L80/90E) transmissions to the NP 205 transfer case. Part numbers are 50-9550, 50-9551 and 50-9552. The 50-9551 is seen here.
Advanced Adaptors
800.350.2223
Motor Mounts
One of the challenges that can stall a conversion is an engine mount. They're simple enough in concept but difficult to actually construct so that they safely and adequately support a diesel engine. Diesel Conversion Specialist has moved engine mount design up a notch with laser cut and CNC formed mounts, available for any year Ford-Cummins conversion project you have in mind.
Diesel Conversion Specialists
406.755.8878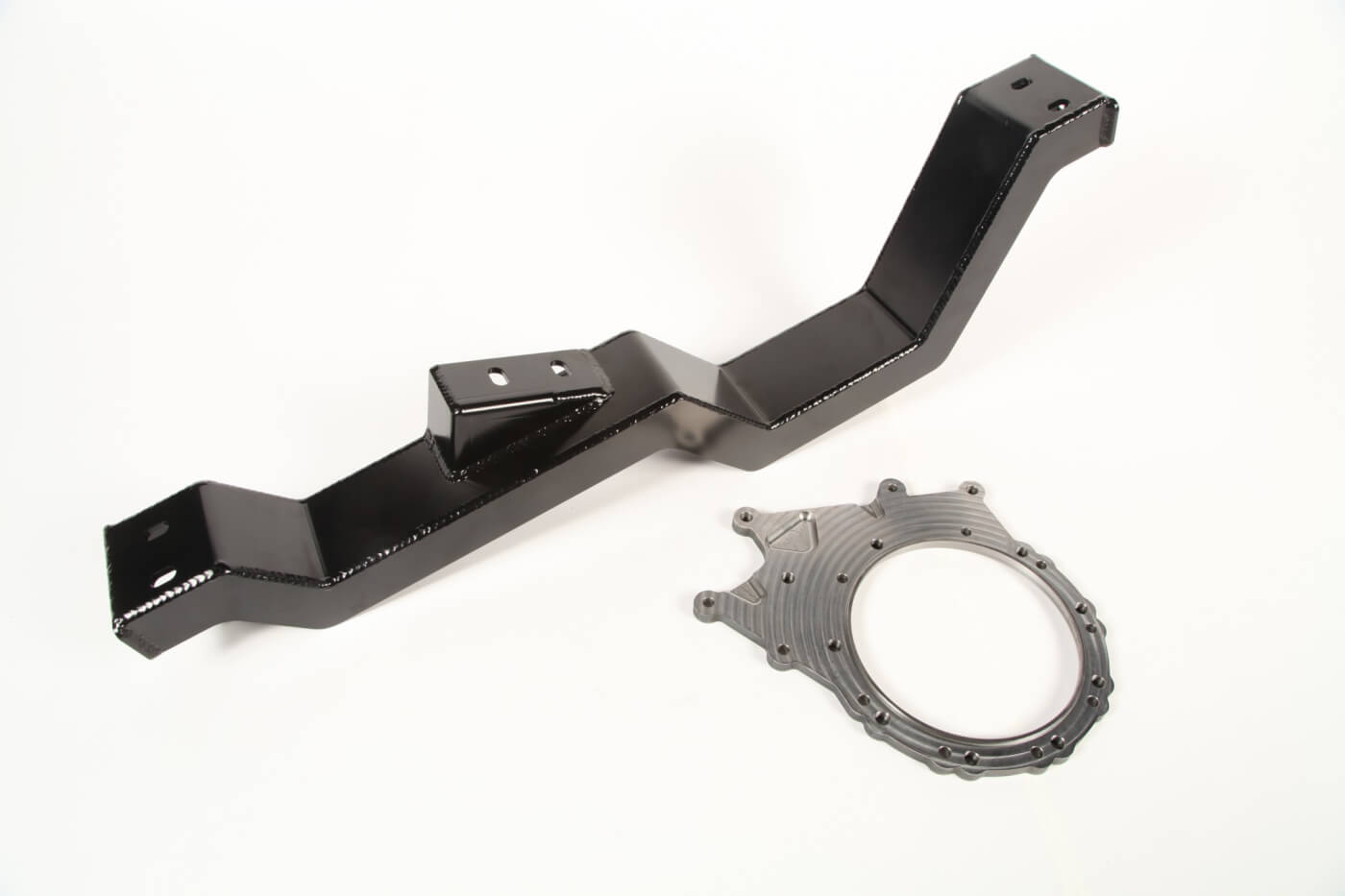 PMF 2011-13 Ford F-250/350 Transfer Case Indexing Plate
When taking on an engine swap, the entire driveline must be taken into consideration. Often times, the transfer case on a 4×4 model just won't be in the proper position for your swap to go smoothly. This can often be corrected by clocking the T-case into a different position of rotation.
This CNC-machined transfer case indexing plate and cross member allows the user to index or rotate the transfer case downward to correct the driveline angle on large lifted applications. While designed for the 2011-13 Ford F-250/350, it can also be considered for the task of clocking the T-case on your diesel swap when using the Ford driveline.
PMF Suspension
520.465.7971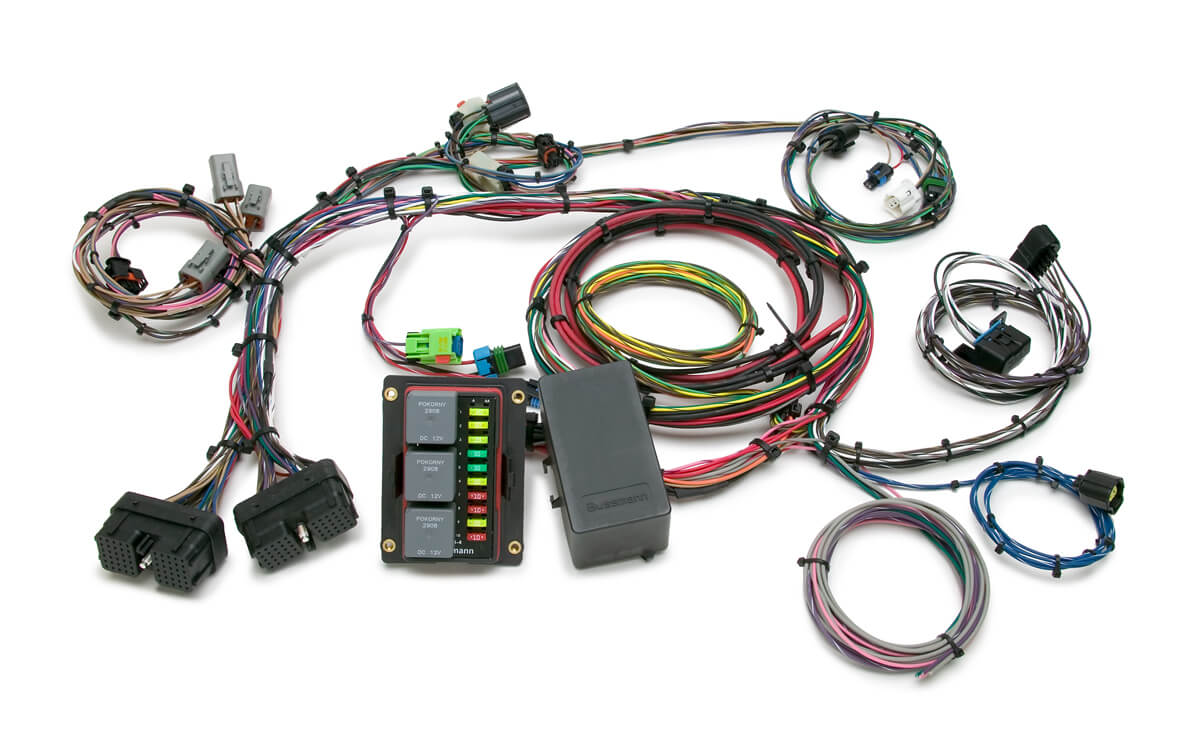 Cummins 5.9L Swap Harness
The Painless harness was the first aftermarket harness to facilitate the transplant of a Cummins diesel engine; this harness is professionally manufactured by Painless Performance with all new components that meet factory specifications for durability and performance. This harness fits the 2003- 05 5.9L Common Rail engines. It works with the manual transmissions only.
Painless Performance Products
817.244.6212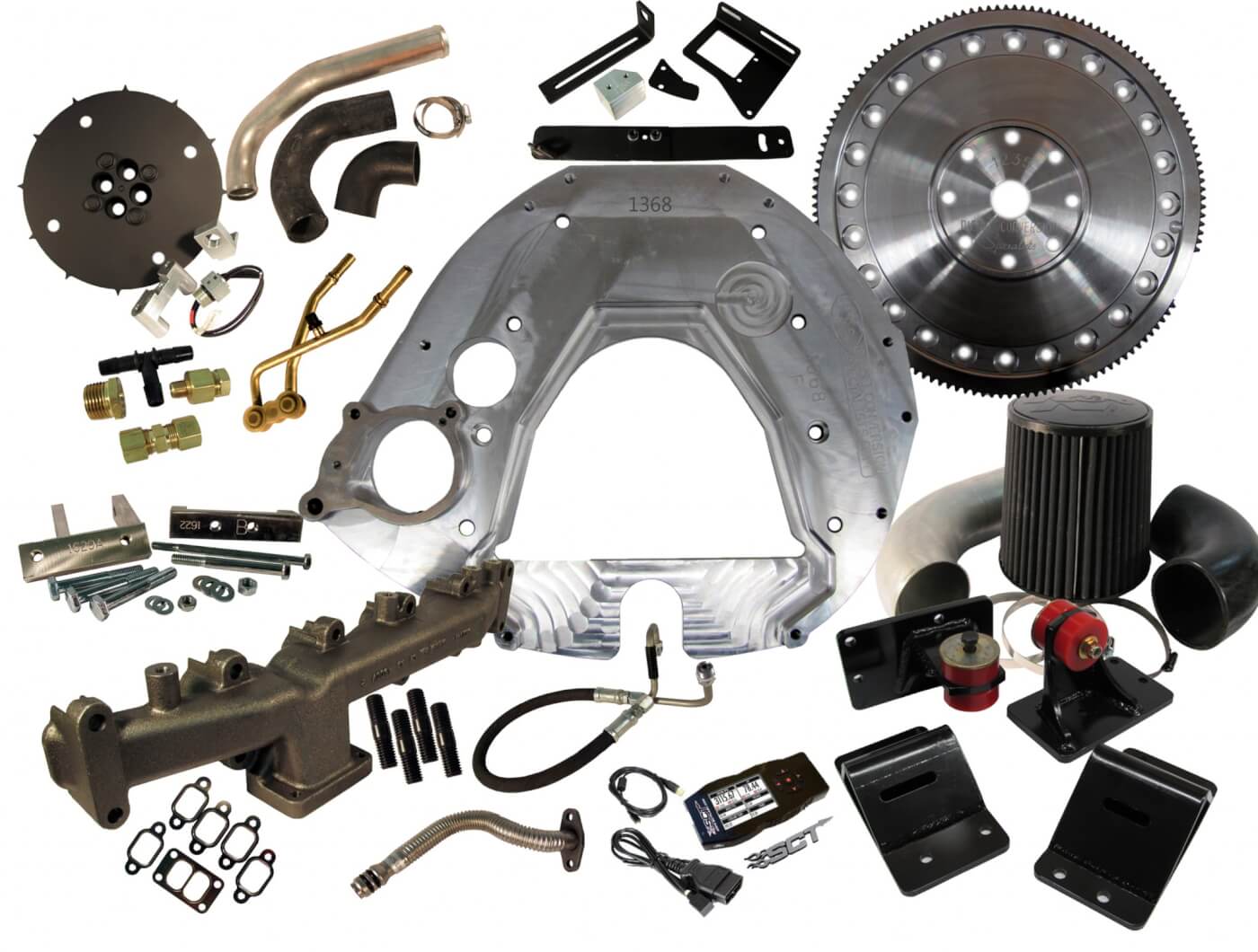 Comprehensive Auto Trans Kit
No one likes to make repeated trips to the hardware or parts store to finally have everything needed for a diesel conversion. If one-stop shopping is what you're after, the comprehensive Ford Cummins conversion kits from Diesel Conversion Specialist are ready made to make the conversion as seamless and complete as possible. Kits include everything from the motor mounts to the A/C manifold, an installation manual, live tech support and even transmission tuning for the late model Ford trucks. Also available for manual trans Fords.
Diesel Conversion Specialists
406.755.8878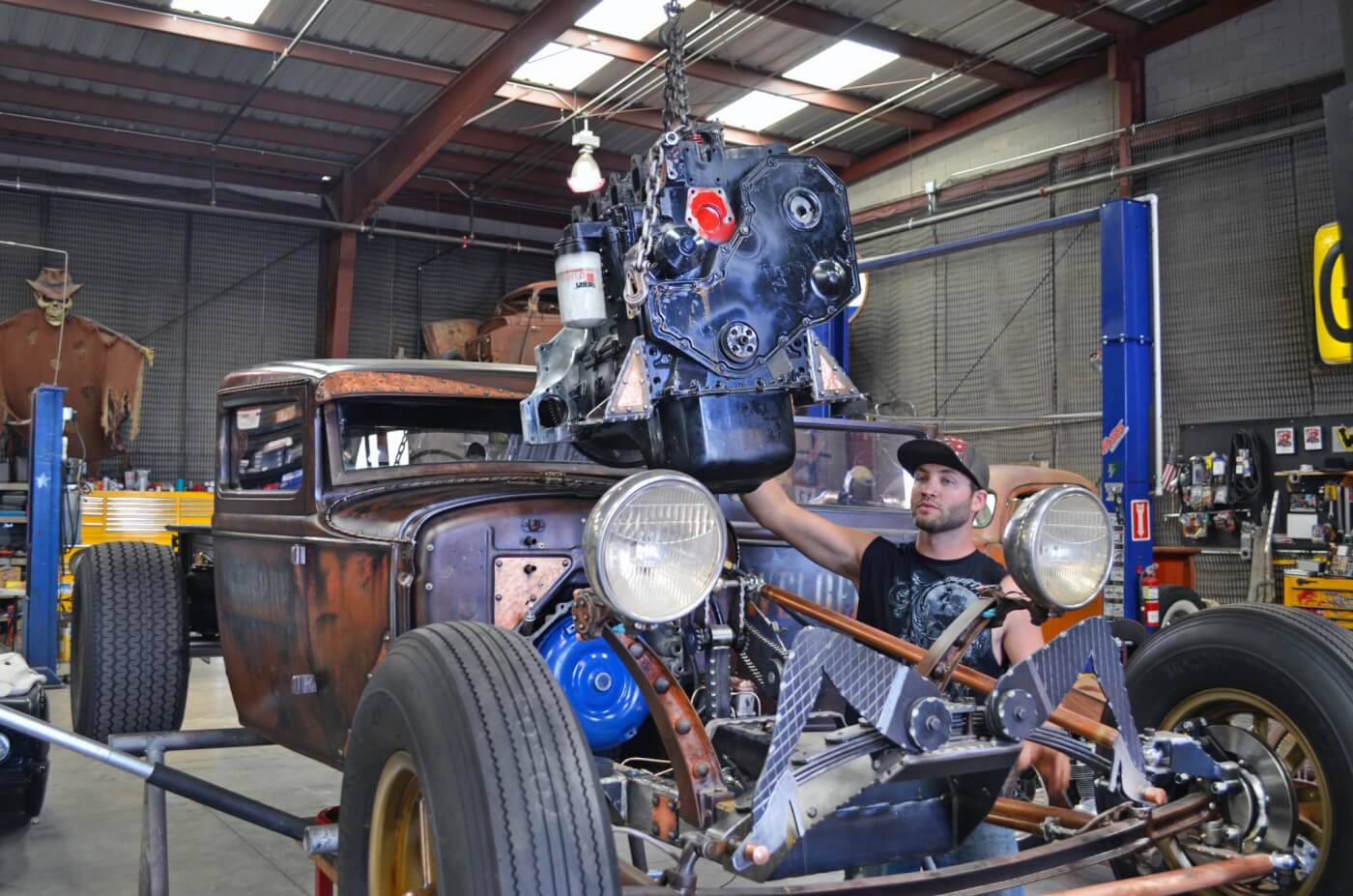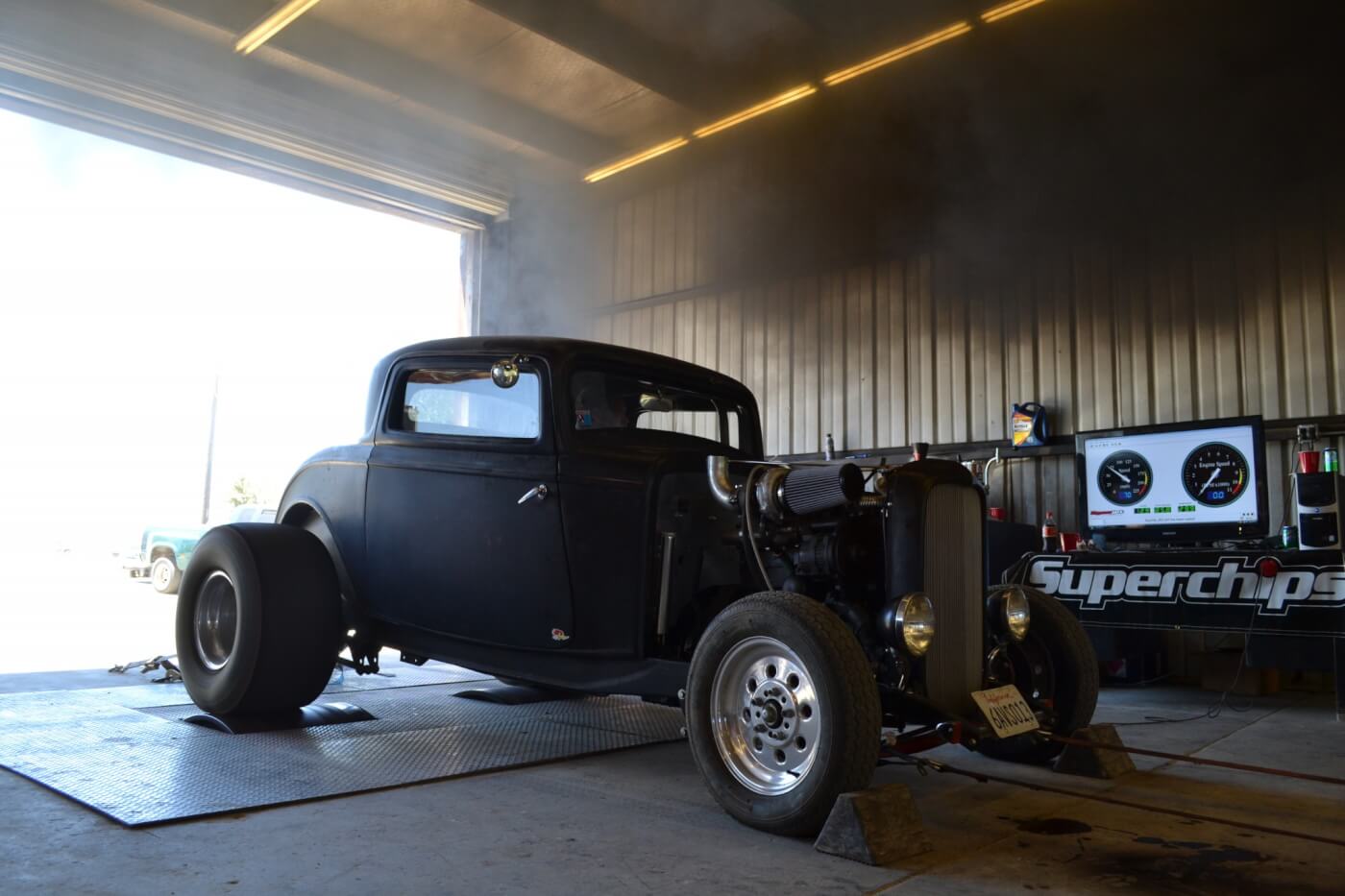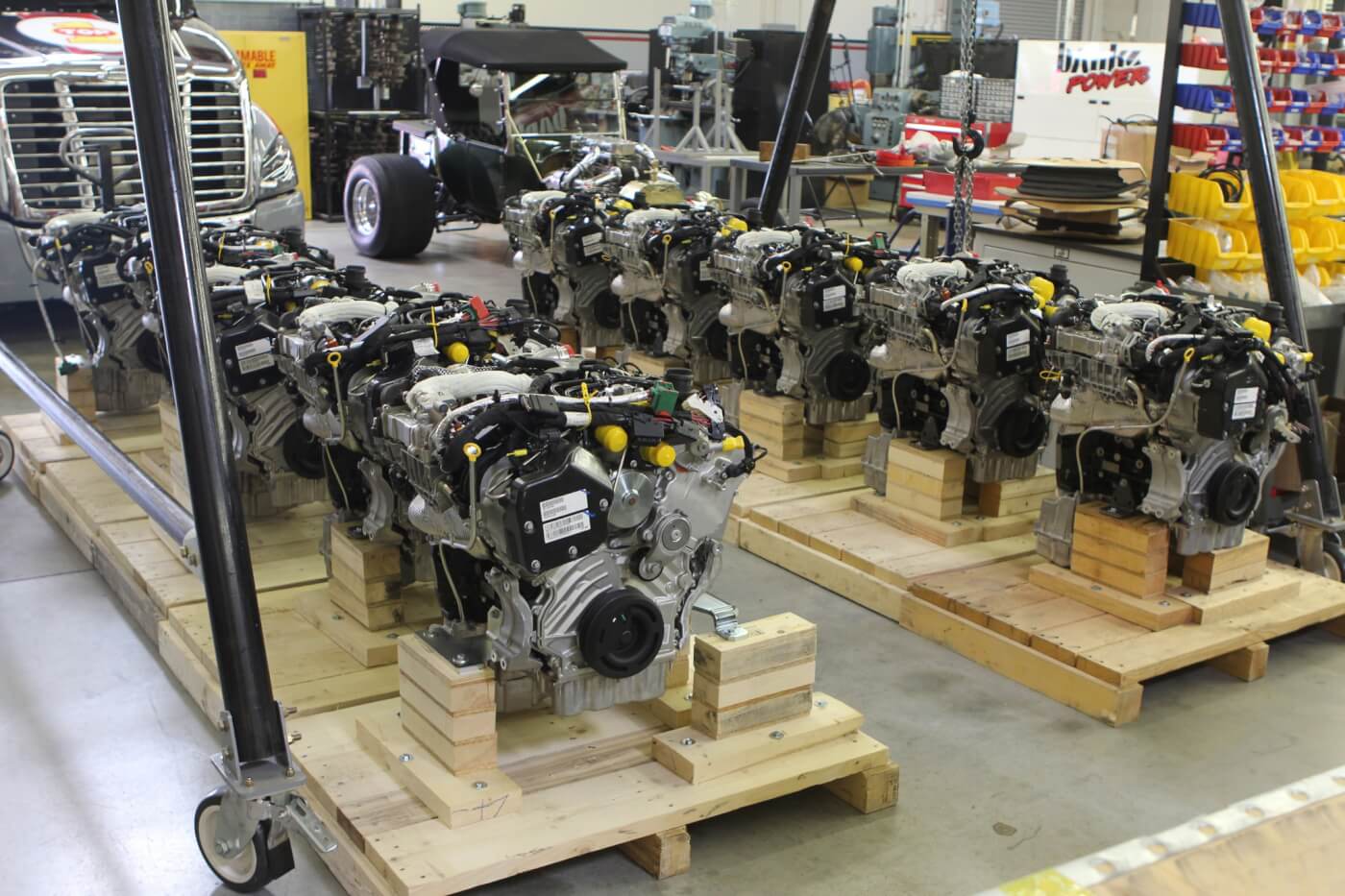 Shop Directory
These Guys Have The Goods
ATS Diesel (4R100 Conversion-Cummins)
4BT Swaps (Forum)
4×4 Labs (Mercedes diesel adaptors)
Acme Adaptors
Advanced Adapters
BT Diesel Works (Duramax Harness)
Coty Built (Jeep-TDI)
Bruiser Conversions (Jeep)
727.709.0239
Diesel Conversion Specialists (General Conversion Support)
Diesel Toys (Toyota)
Eco Off Road (Toyota)
Gale Banks Engineering
H-Line Conversions (Hummer-Duramax)
JD Jeeps (Jeep)
Mash Motors (Hummer)
Mercedes Diesel 4×4 (Mercedes)
Overland Diesel (Kubota)
Pacific Performance Engineering (Duramax Specific)
Painless Performance (Cummins Wire Harness)
Rocky Road (Samurai-TDI)
Screamin Seeman Off Road (Cummins-Chevy)
Standalone Solutions (Duramax Wire Harness)
TD Conversions (General Conversions)
Tennessee Diesel Conversions (Cummins Specific)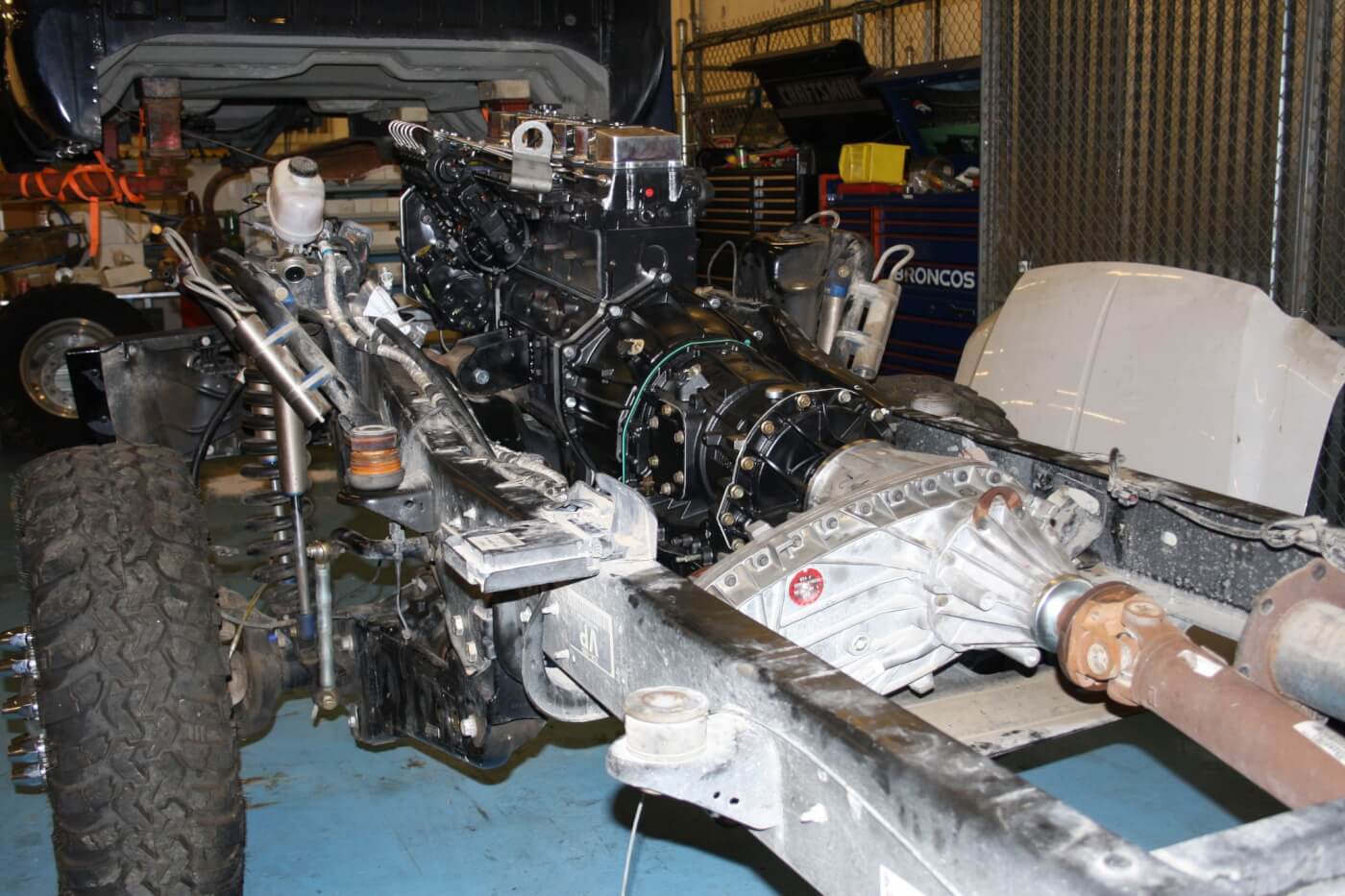 Destroked
We've been working with Destroked for years. They've built some extremely clean and functional trucks and offer kits of the same quality to help you get the job done on your own.
Destroked (Cummins-Ford)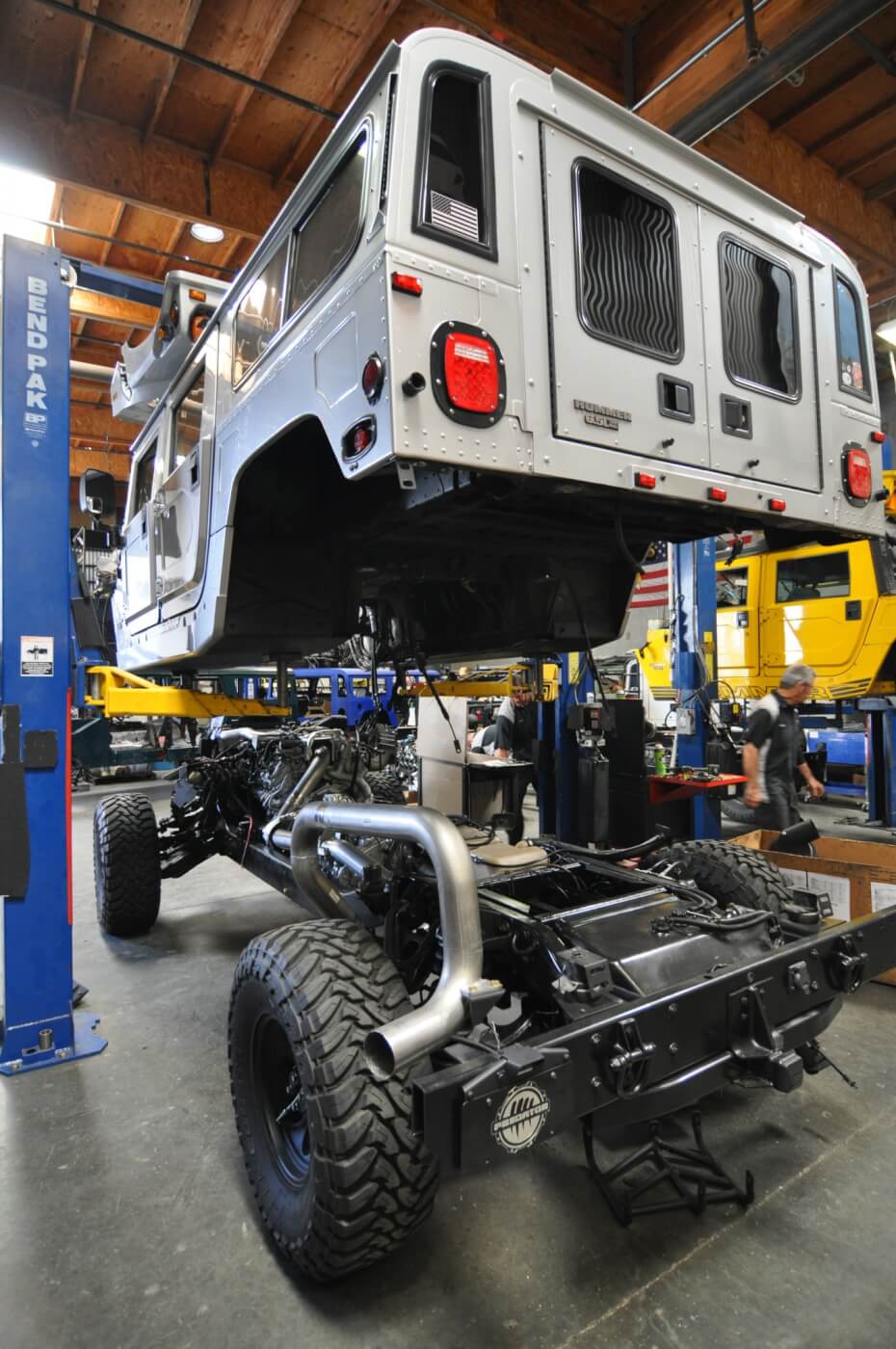 Predator Hummer
We stopped by Predator while building this issue and were impressed with what they have going on. The entire place was packed with H1's, H2's and HMMWV's in various stages of modification. They do more than just a simple drivetrain swap and have many different proprietary modifications that make these prior military vehicles more suited for civilian use, without taking away any strength.
Predator Hummer (H1, H2 and HMMWV Conversions)