The road to 10-second time slips is an arduous one fraught with pitfalls and peril, but the reward is worth the wait. Just ask Mike Geiger of Milliken, Colorado.
When Geiger found his 2006 Dodge just outside of Greeley, Colorado, he had no idea it would become the track terror it is today. He actually had the truck lifted 8 inches with 37-inch tires before lowering it back to a more sensible height and getting sucked into the addictive vortex of power and speed.
"I was just going to put a chip in it and call it a day," said Geiger. "I had no idea it would be transformed into the monster it is today."
The truck was found in a place called Iron Mountain. This is fitting because Geiger has taken every step to make the 5.9L Cummins as strong as one. For example, the crankshaft, valve springs and the 0.20-over pistons were all cryo-treated while the cylinder heads were fire-ringed. We'll get to the rest of the engine specifics later, but first, back to the lecture at hand. The area where Geiger found the truck and where he and his crew reside is somewhat of a rural area. There are a lot of fields; some have oil, others have soybean, and others just have dirt. So when Mike took delivery of the truck he was pleasantly surprised to find it in near new condition as many trucks are run into the ground inspecting oil rigs in those fields.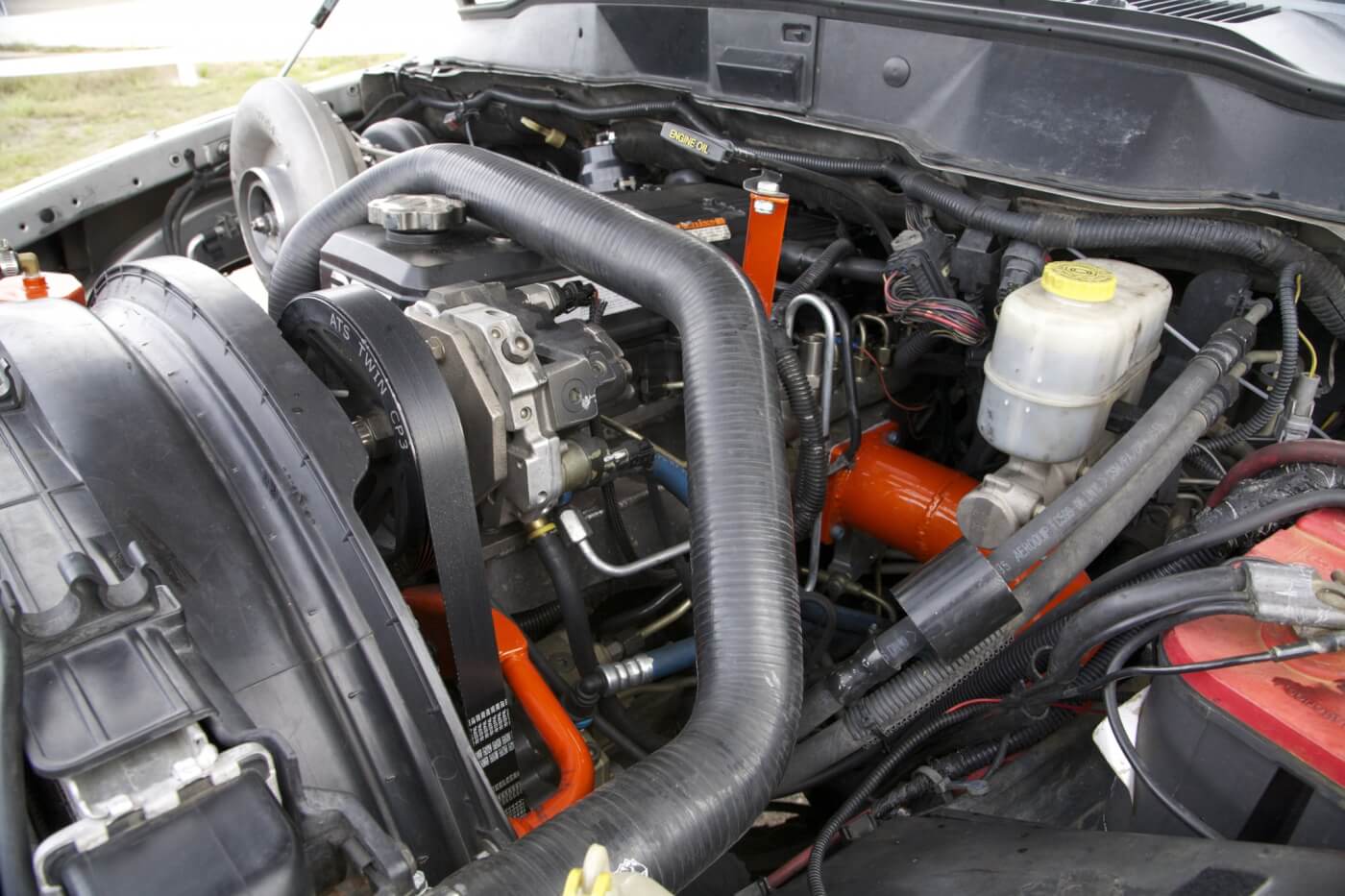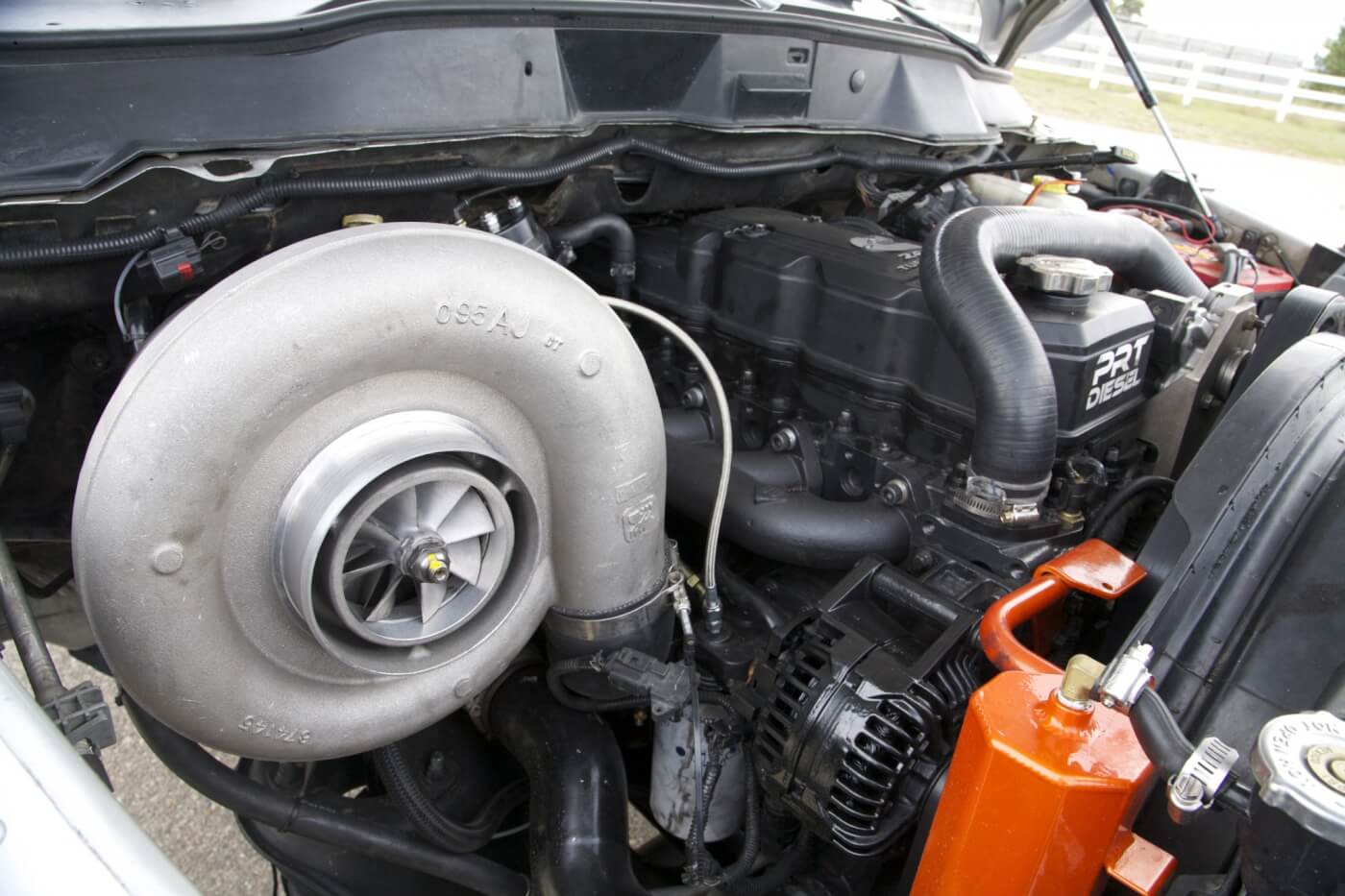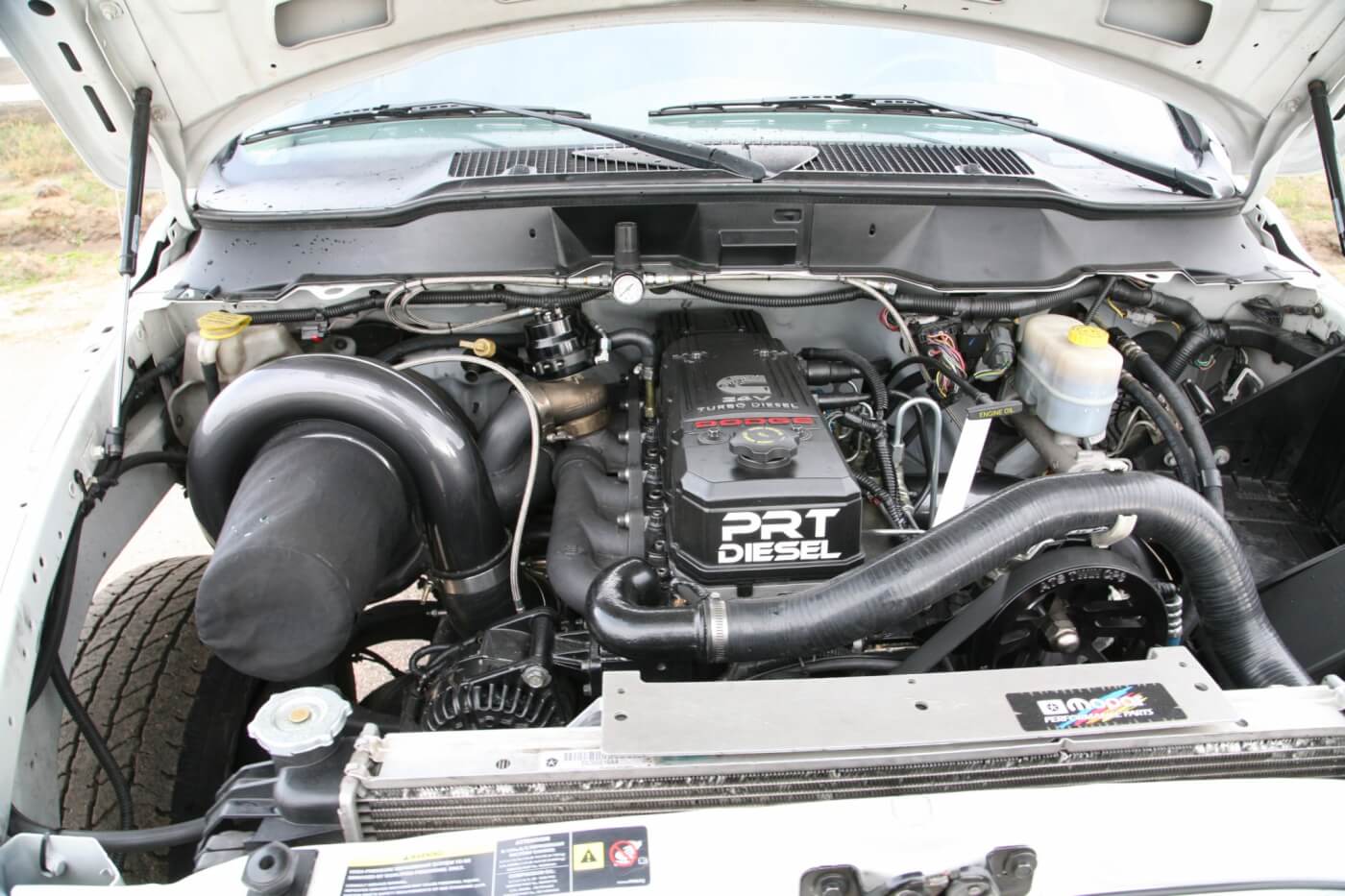 One of the first things Geiger did to improve the Dodge's performance involved the aFe intake, a new ATS 3000 turbo, ARP head studs, twin AirDog 150 fuel pumps and an ATS Diesel Subzero intercooler. At this stage, Mike also added the 20-inch Monster XD rims wrapped in 305/55/R20 Nitto Dune Grapplers, plus a rear diff cover and various boost gauges so he could keep an eye on things like boost and oil pressure on his run down the quarter-mile. Of course, once his time started dropping, so did transmission parts.
"We had a lot of tranny problems at first," said Geiger. "We were going through them left and right until ATS looked into it."
Eventually, Geiger ended up with ATS's Stage 6 transmission which includes a deep pan, ATS manual-shift valve body, a billet flex plate as well as billet output, input, and intermediate shafts. This bulletproof version of the Cummins 48RE is a three-speed with a push-button overdrive.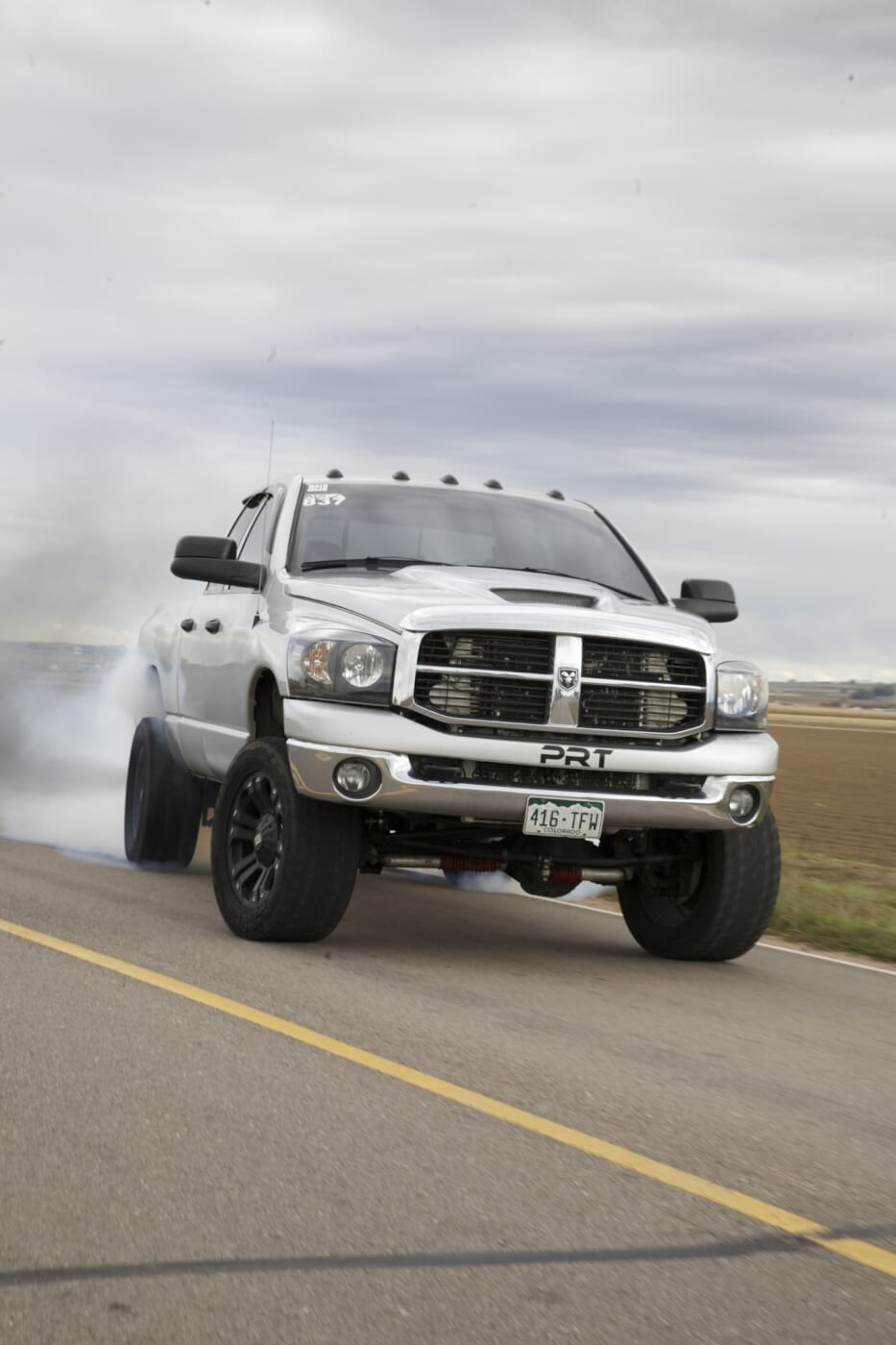 "We've put more than 30 to 50 trannies in my truck and this last setup is the only one that we haven't had any issues with," explained Geiger.
With the transmission issues sorted out, Geiger and his friend Tyler Baker proceeded to gain power in increments with the addition of items like Carillo billet rods, Rolling Smoke Diesel 5-inch exhaust and a BD Diesel T-3 exhaust manifold. Baker is one of the owners of PRT Diesel and also sponsors Geiger. It's worthy of mention that Baker also owns a 2006 Dodge putting down 1,300 hp on fuel only. With the two power-hungry mad scientists hard at work they managed to get the truck to put down 1,109 hp and 1,900 lb-ft of torque. To help get all that power to the ground safely a set of CalTracs traction bars, Skyjacker dual steering stabilizer kit, BD Diesel steering brace, MaxxLink anti-sway bars and Fleece Low Pro shock mounts were all added. With all of this and a single ATS Aurora 5000 turbo, Geiger finally broke into the 10s by running a 10.9 at Bandimere Speedway.
The truck was found in a place called Iron Mountain. This is fitting because Geiger has taken every step to make the 5.9L Cummins as strong as one.
Since then Geiger has upgraded the Industrial Injectors with a set capable of 65 liters per minute and a compound turbo setup utilizing an ATS Aurora 4000 and an ATS Aurora 8000. Proper tuning was achieved with the help of Zack Fuller utilizing EFILive and with the addition of some nitrous, the diabolical Dodge put down an unbelievable 1,499 hp. If our calculations are correct, this four-door could be well into the nines, a grand achievement for a race car much less a street-legal truck on street tires. Only some serious track time will tell just how rapid this monster from Milliken will become. But in the meantime, there's no doubt that Mike Geiger and PRT Diesel are making their presence felt, whether it's in a sanctioned race or doing burnouts in the backwoods. DW