Royal Canadian Air Force Cockshutt 40D Tug
Buy from the home teams," has long been the a military priority for many countries around the world when procuring equipment. So it was in the early years of the Cold War when the Royal Canadian Air Force procured Canadian-built equipment to support operations in air bases around Canada. When it came to utility tractors, they turned to Cockshutt Farm Equipment of Brantford, Ontario, for some adapted version of the Model 40 tractor.
The year was 1954 and Cockshutt was in the midst of a renaissance of sorts The had introduced a plethora of new, in-house designed and built tractors following World War II. Among them was the Model 40. It had been introduced in 1949 as a six-cylinder 3-4 plow tractor and was the cock-o-the-walk for a few years before the more powerful Model 50 was introduced for 1952. The Model 40 initially mounted only a 230 cubic inch Buda 6B230 gas engine but in 1950, Buda's 6BD230 diesel was added as an option. The Buda diesels of the period used the Lanova combustion chamber, so were often called Buda-Lanovas.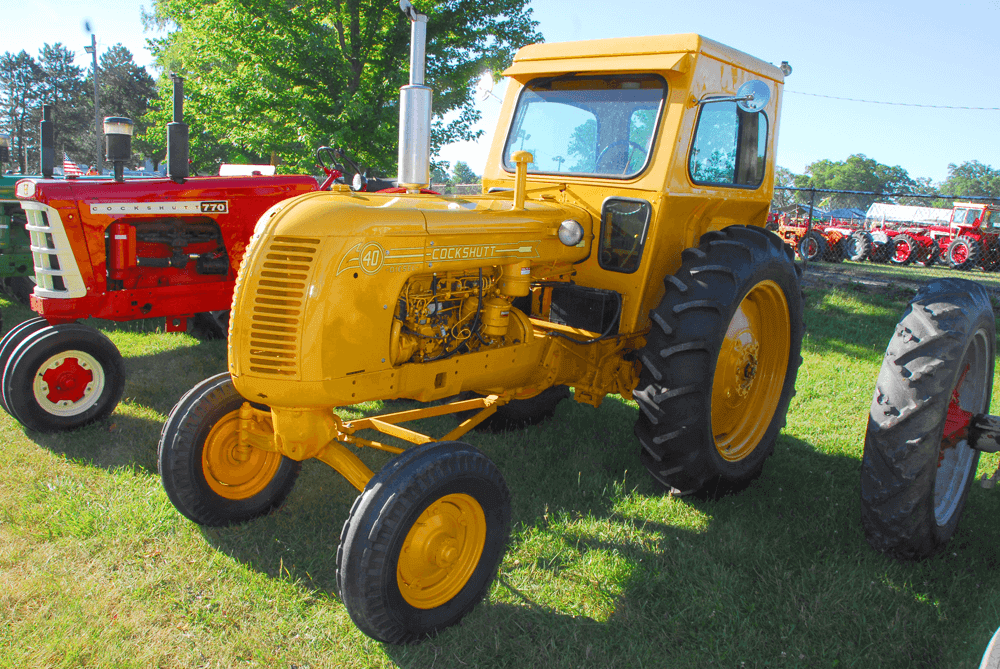 The Model 40 featured a 6-speed mechanical gearbox and could mount a Live PTO, 3-point lift, hydraulic remotes and even a side mounted drum PTO. Most Cockshutts were built as ag tractors, either rowcrop (narrow or adjustable wide front) or standard "wheatland" style but they also offered industrial models and that's where the Royal Canadian Air Force comes in.
There is no doubt Cockshutt tractor models were procured for RCAF use over the years but we don't have a complete list of which or when. We have seen Cockshutt Model 30 gas tractors with forklift attachments and Cockshutt 40Ds with a cab. Because many RCAF bases were (and are) well into the frozen north, and fighting the Cold War was a 24/7/365 operation, the addition of a Tokheim cab was deemed an important feature. It's official yellow color indicates this was a flightline vehicle and the tractor had a few other special options for RCAF use.
Berry discovered the Cockshutt was in service at Chatham from 1954 into
1966
Current owner Glen Berry discovered this unit was operated at RCAF Chatham in New Brunswick, one of the Canadian Maritime provinces. Chatham opened in 1941 and operated as both a primary flight and observer training base and housed a coastal defense bomber/reconnaissance squadron through World War II. It was closed in 1945, but reopened in 1949 as an interceptor base with the de Havilland Vampire and later the CF-13 Canadair Sabre (the Canadian F86 Sabre). Starting in 1974, the military shared the facility with civilian airlines and commercial aircraft and it remained an interceptor base to 1984, when it became a totally civilian airport.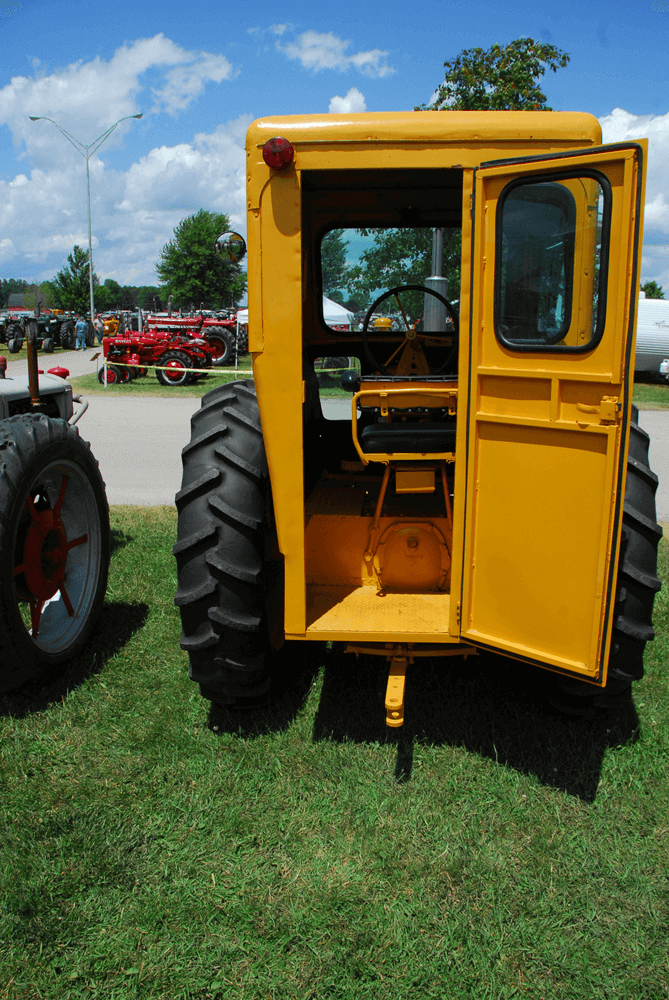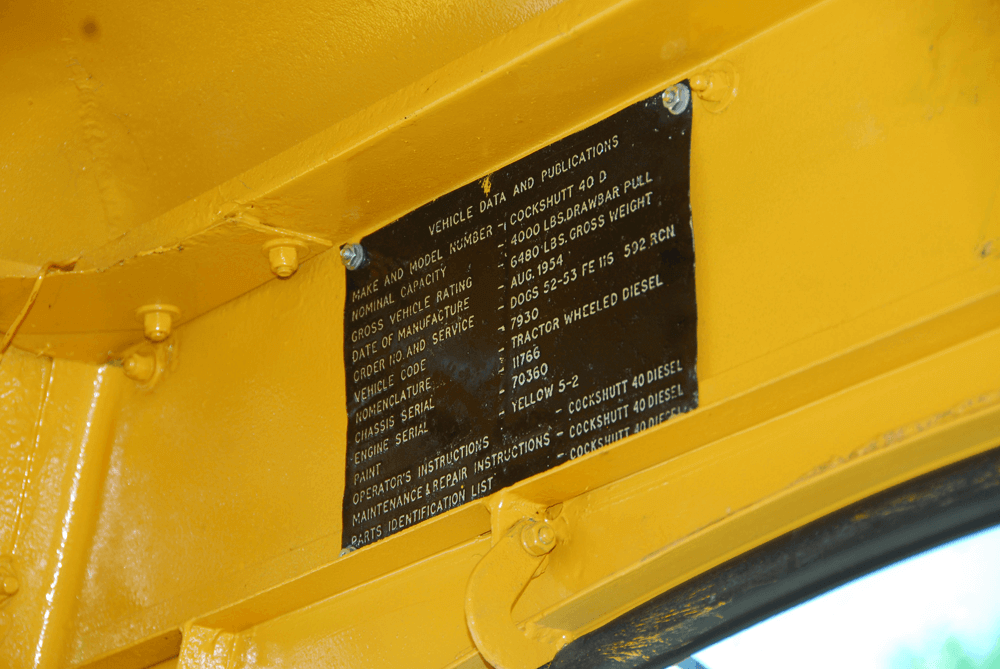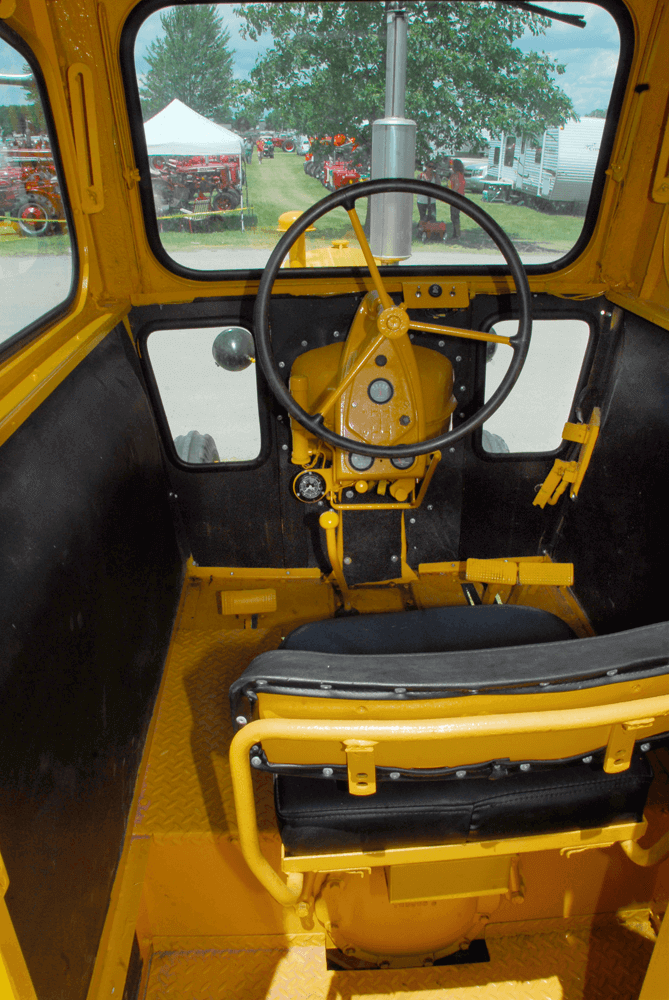 With a little digging, Berry discovered the Cockshutt was in service at Chatham from 1954 into 1966 and was used as a general flightline mule. It towed interceptors to and fro, including the aforementioned Vampire, CF-13 Sabre and CF-101 Voodoo. It pulled munitions and cargo wagons and did any other thing needed to help keep the Russian Bear at bay. One reason a diesel tractor had been chosen was for fire safety and low electronic field emissions. These tractors have an electrical cutout that completely disables all the electrical items on the tractor to reduce any effect electrical fields might have on radios. The diesel doesn't care where the electricals are on or not.
Glen and his brother Craig have just about cornered the market on RCAP Cockshutt tractors. Glen just recently found another Model 40 identical to the one here that was used at the same base. On top of that, Craig and Glen have six of the known 12 Model 30 forklifts built especially for the RCAF in the early 1950s. On top of that Glen is a jet engine collector and had a TF-41 jet engine on it's special trailer that makes a nice accessory when showing the restored Cockshutt. These tractors turn a lot of heads at tractor shows, to be sure!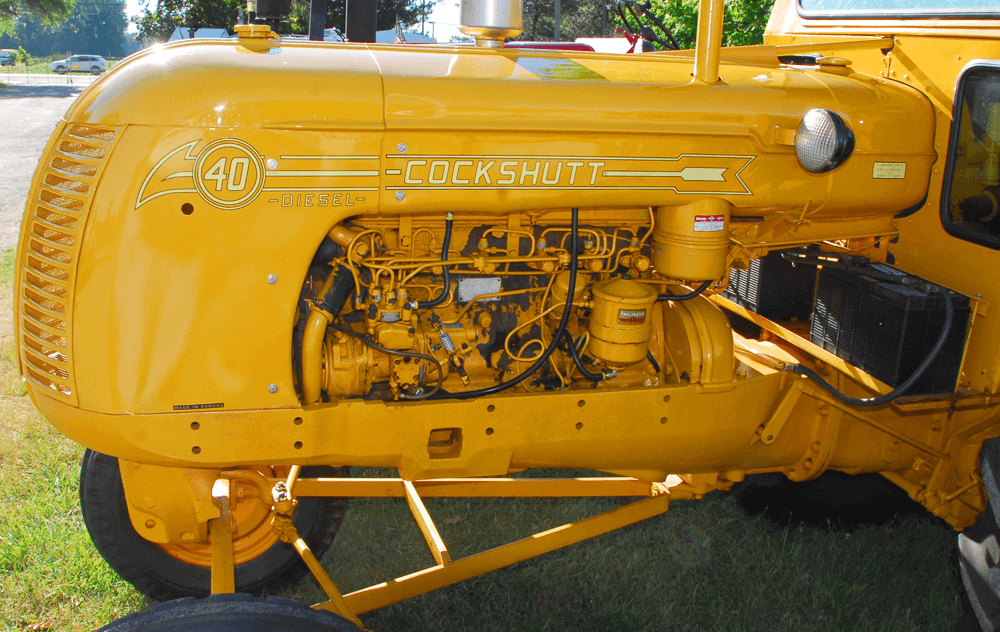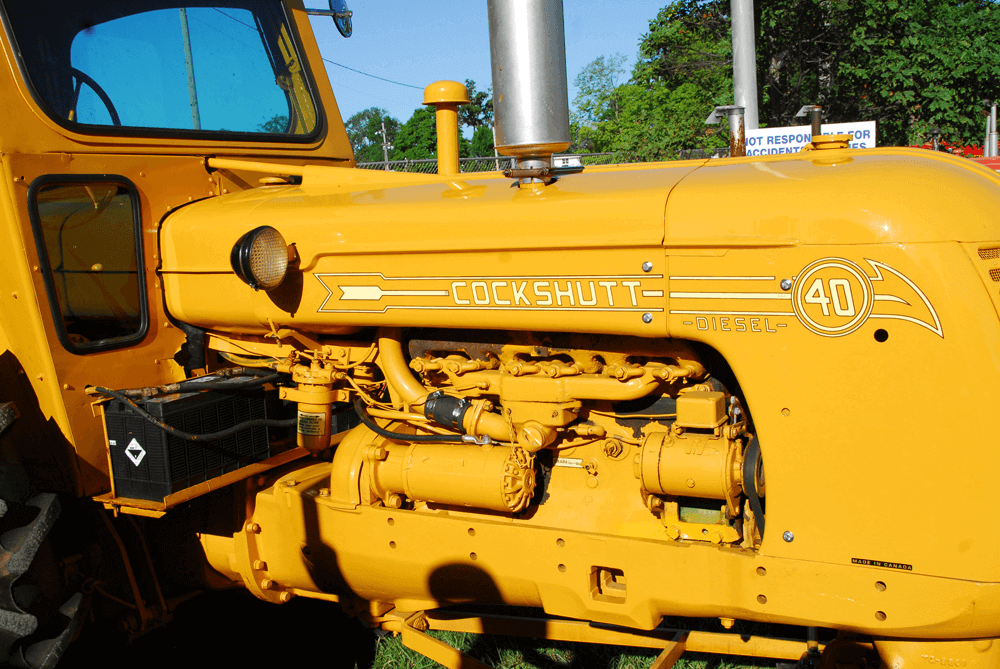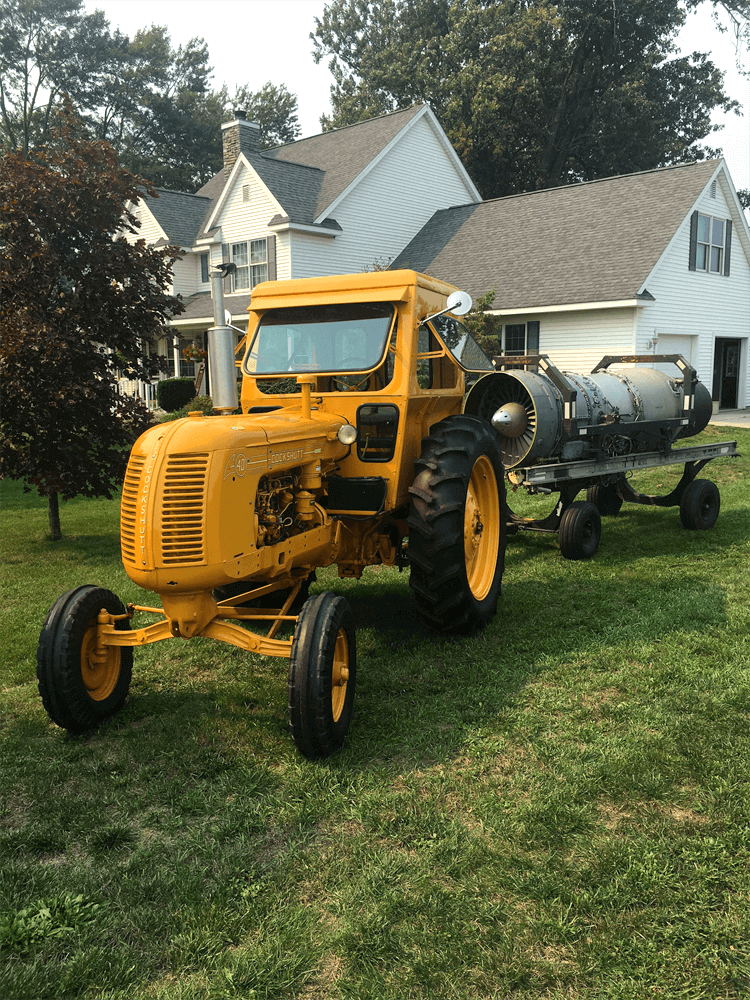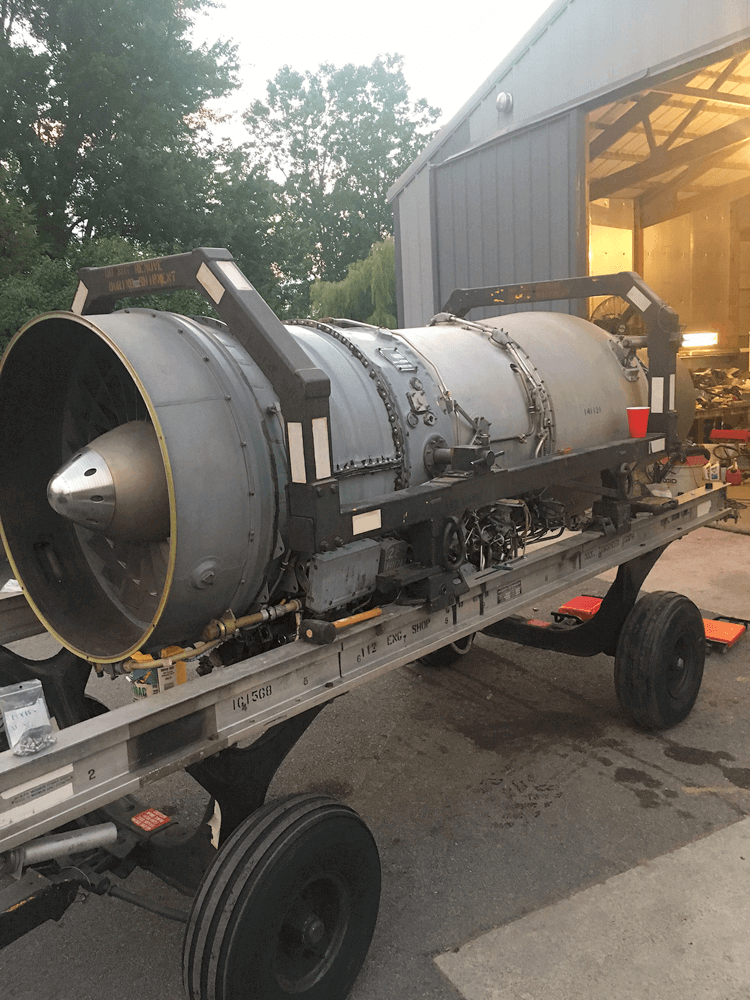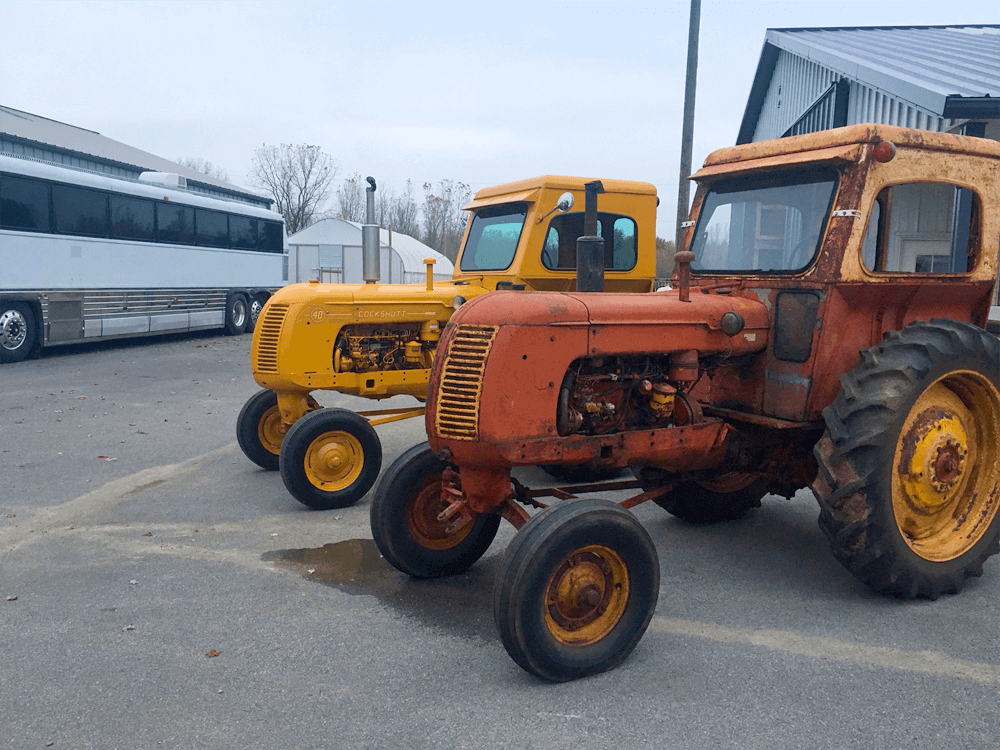 [divider]Specifications[/divider]
1954 Cockshutt 40D RCAF Utility Tractor
Engine: 6-cylinder diesel, Buda 6BD230
Displacement: 230 ci
Bore & Stroke: 3.43 x 4.14 in.
Flywheel Power: 60 hp @ 2400 rpm
Rated Torque: 166 lbs-ft @ 1450 rpm
Compression Ratio: 15:1
Transmission: 6-speed
Weight: 6,480 lbs.
Fuel Capacity: 21 gal.
Tires:   Front: 6.00-16
Rear: 12-38
Rated Drawbar Pull (RCAF): 4,000 lbs.