Truck of the Week

Zombie Killer!
Danny Elmore's Wild 6.0L
Happy Halloween everyone! We couldn't help but get into the spirit a little bit, and make Danny Elmore's wild "Zombie Killer" 6.0L Ford our truck of the week. The Ford isn't just a dead paint job however, as it can run 11's in the quarter mile with the help of a host of aftermarket performance parts. "It's a real hit at the track, especially this time of year!" states Danny.
Highlights

More Zombie Stuff
Ghouled-Out RZR
Part of the fun of owning a diesel truck is all the other accessories you can tow with it, fit in it, or cram into the bed. When it comes to Halloween fun, there's no reason your toys can't become spooky. Our buddy sent us this pictures of his ghouled-out RZR, complete with some severed limbs and various apocalyptic and zombie stuff. Now if he could just meet up with Danny Elmore…
How-To

Coolant Reminder!
Especially if you have a race truck that runs straight water, fall is a great time to check your coolant levels, and if you are running H2O, add some anti-freeze. Usually a night or two under freezing won't do anything, but multiple days in the 20s (or below) and you're running a serious risk of cracking a block, especially if you have solid freeze plugs. So remember to check that coolant racers!
Events

Diesels in the NHRA
John Robinson's Power Service Dragster
There's no doubt that the NHRA is still the biggest stage in drag racing, so we're more than happy to see diesels thrown into the mix. While they don't race in the Top Fuel Class (neither do gas engines) John Robinson's digger is plenty quick, having run mid 6's in the quarter mile and low 4's in the eighth-mile with its 2,500-hp Cummins engine. John is quick to credit Scheid Diesel for the engine program, and Power Service for its sponsorship, although he's the nut behind the wheel!
Manual Transmission Record….Again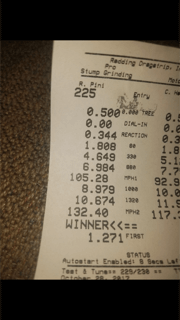 10.67 at 132 mph!
A few weeks ago, we wrote about how Ryan Pini was able to re-set the manual transmission quarter mile record with an 11.14 (the old record was 11.22). Well, with some borrowed drag radials, the compound turbo Duramax busted the door down to the 10s with an incredible 10.67 at 132 mph! Remember, this is a guy who has to shift his own gears folks!
SEMA Unveil

DX500 in a….
Ok, this one is a bit of a teaser, but with the SEMA show coming up, there's sure to be an awesome amount of interesting diesel products and builds for everyone to ogle. One of the most interesting pieces will be unveiled with a DX500 from Wagler Competition products, but that's about all we know. Oh, and they said it's gonna be FAST! Stay tuned for next weeks Weekend Recap, or watch our Facebook page on Tuesday at 11am, PST, @DieselWorldMag.