Is this the future for oil filters?
When it comes to your truck, some of us will hate to admit it, but horsepower isn't everything. As a truck owner, you know how much general maintenance and up-keep on a diesel pickup can cost. If you're someone that pushes your truck to its limits, whether in competition or heavy towing through the hot summer months, if you expect it to last you must take care of it. While engine oil can take a beating in a light duty engine, some owners try to stretch that service life longer than they should due to the cost of oil and filters for these trucks. All this leads to premature engine wear, parts failure and poor engine efficiency. Keeping good clean oil running through the engine is imperative to the longevity of that engine under heavy usage.  To maintain an engine oil's effectiveness, it must stay clean and a good oil filter is needed to do so. An oil filter should keep contaminants from running through the engine but still be able to flow enough to keep everything lubed. In higher demand applications, conventional oil filters often fall short. Looking to overcome some of the short falls in a conventional filter, HUBB Filters of Corte Madera, CA developed an all new system that can both increase filtration while still improving flow.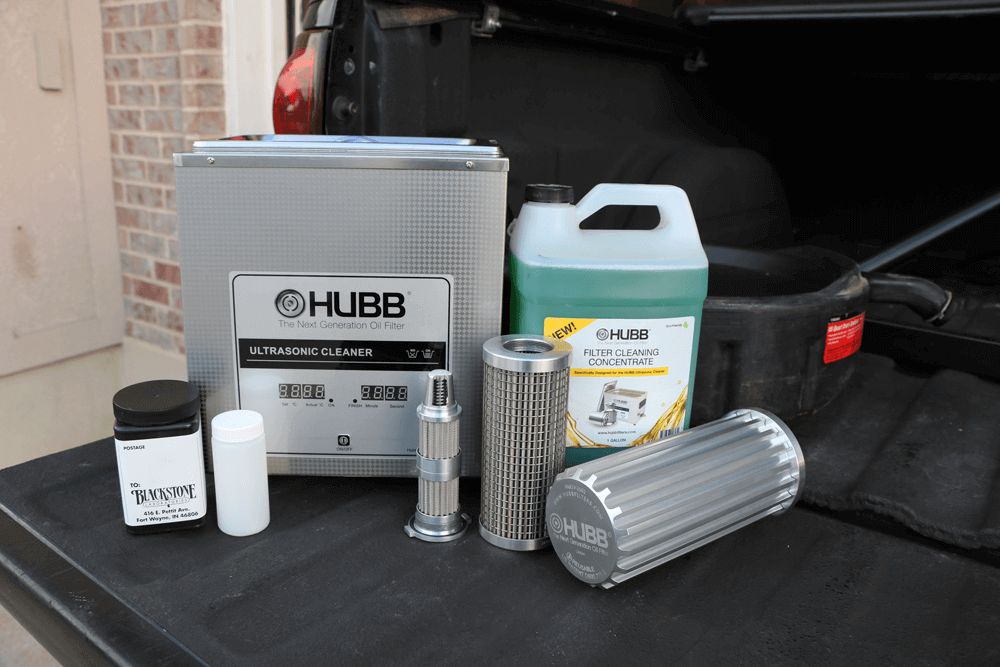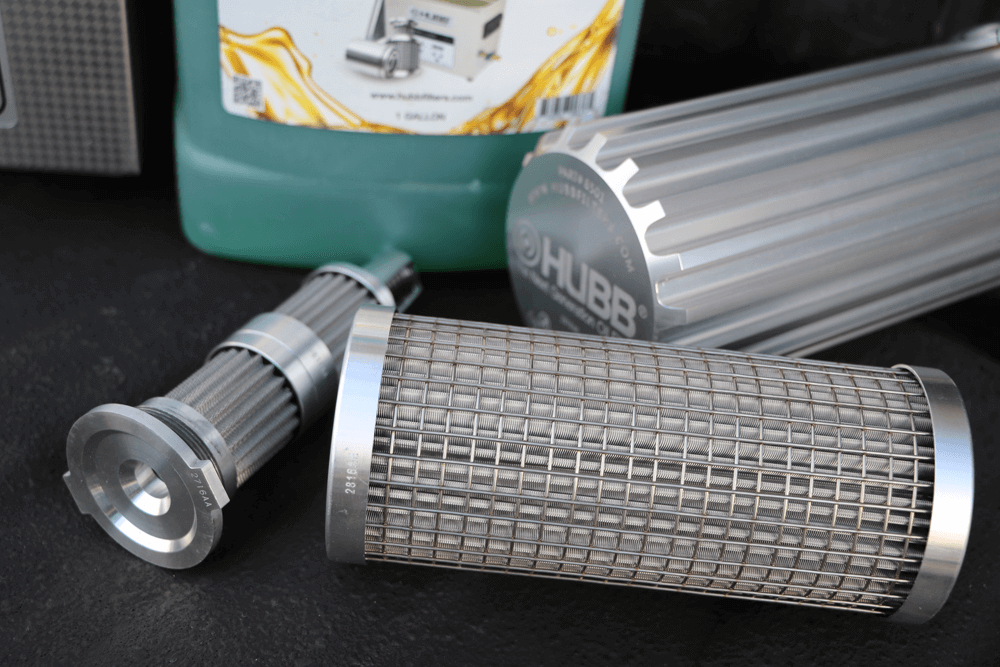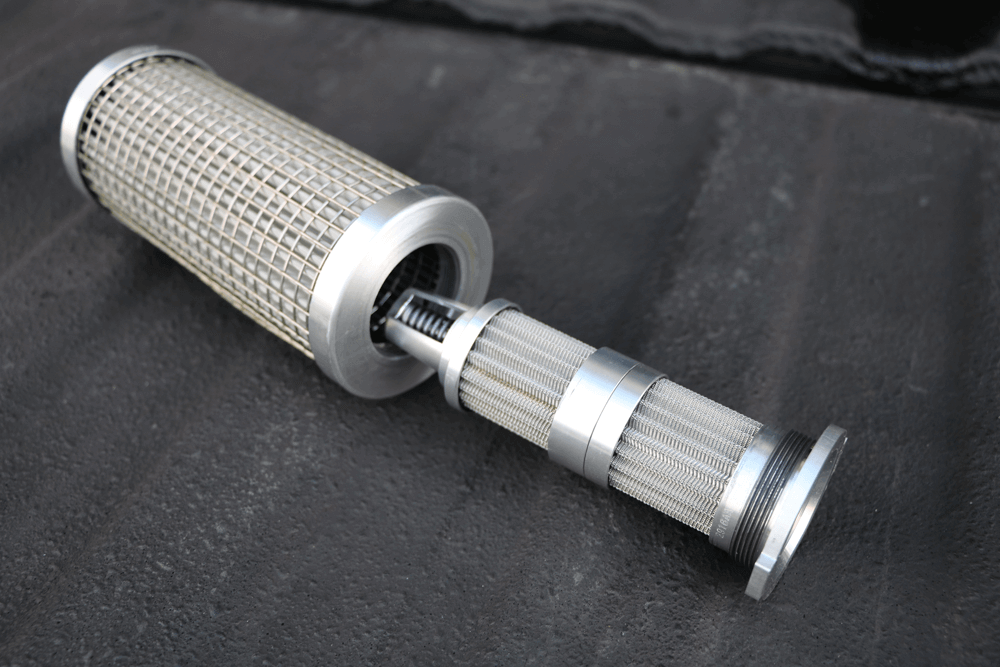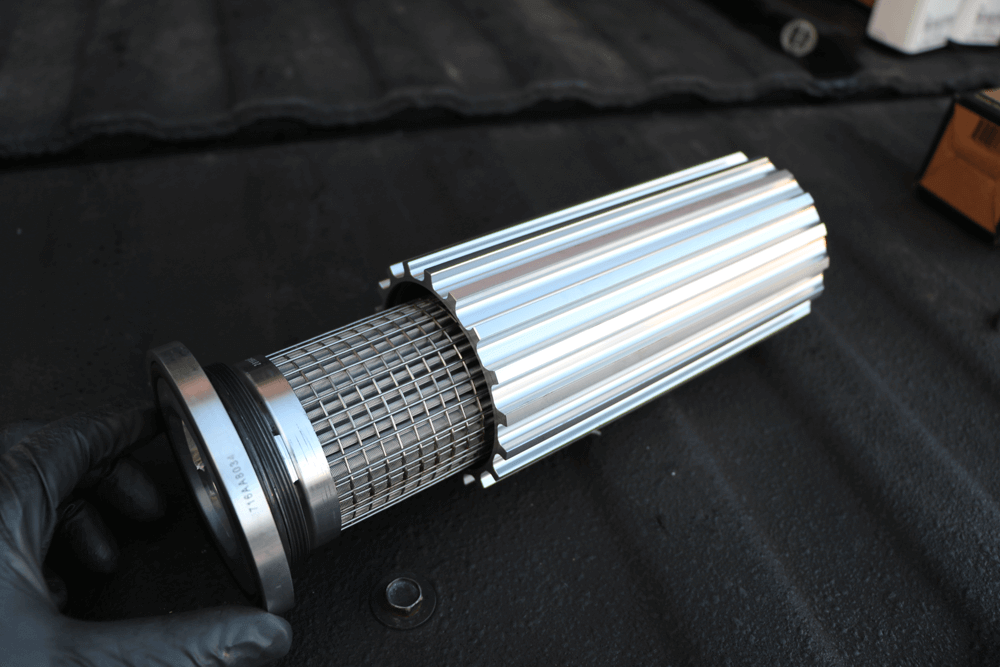 The biggest difference is how engine oil flows through the filter. The HUBB filter uses two large kidney shaped openings at the baseplate that channel oil around the outside of the primary filter. Larger openings increase oil flow into the filter compared to a conventional filter. At this point, the filter-in-filter design really sets the HUBB system apart. After the oil goes through the primary filter, as oil pressure increases during acceleration, the pressure valve will open and allow oil into the secondary filter. Oil flow changes directions within the filter, moving from the inside out which eliminates cross contamination with dirty unfiltered oil before it exits the filter housing and is fed back to the engine internals.
HUBB FILTERS OF CORTE MADERA, CA DEVELOPED AN ALL NEW SYSTEM THAT CAN BOTH INCREASE FILTRATION WHILE STILL IMPROVING FLOW.
The primary and secondary filters are vital in keeping clean oil running to the engine under every driving situation. With a conventional filter, as oil pressure increases and peaks, the filter will bypass a lot of the oil to keep up with demands sending unfiltered oil right back into the engine. To further protect the engine, HUBB uses a second pressure differential valve that opens if pressure becomes excessive in extreme operating conditions. The second pressure valve is a safety net to ensure the engine is never without oil, but unlike conventional filters, the oil has still been filtered. The valve closes when the oil flow demands return to normal keeping the engine safe and happy, regardless of its use. HUBB's testing has shown increases of oil flow rate to the engine by five times that of a standard oil filter. With a filtered efficiency of 99% at 25 microns, it's much higher than only 52% of a conventional filter.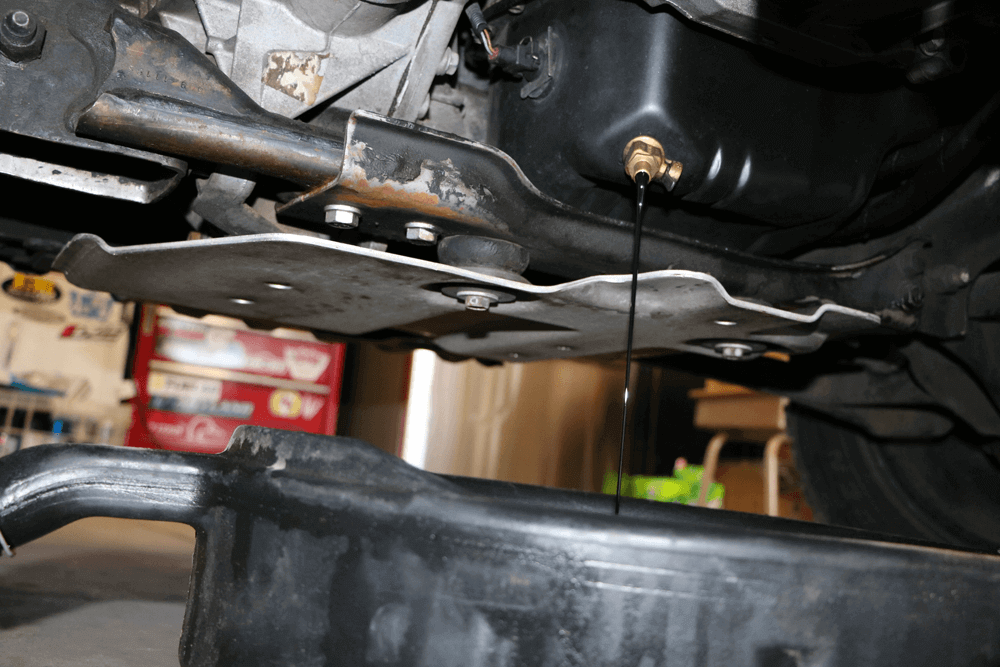 HUBB's in-house development and testing showed significant improvements over a conventional filter as it produced an oil flow rate of 50 gallons per minute, when a standard filter runs at just 10-12 gallons per minute. While it filters better, the HUBB filter requires just 2-psi of oil pressure to push oil through it, when even the best conventional filter will need 7+psi. Due to it's size and internal design, the HUBB filter has five times the capacity to store contaminants and double oil change intervals. These filters will also allow oil pressure to build quicker at start up helping protect the engine from harm from lack of lubrication.
The HUBB Filtration system makes a lot of sense to just about anyone with a light duty truck. For a fleet company, increasing oil change intervals can save thousands of dollars a year on services. For a competition drag race or sled pull application, the increased flow can keep up with the demands of a fully built competition engine with excellent filtration and protection under high horsepower engine abuse. Lastly, the filters are fully serviceable and can be cleaned at each oil change, meaning it's the last oil filter you'll ever have to buy.
[divider]TESTING[/divider]
To add a little science to back the claims coming from HUBB, Blackstone Laboratories of Fort Wayne, IN was used to do complete oil analysis on three separate oil intervals on this truck. The first sample came with 3,000 miles using a conventional Wix filter and Delo 15W-40 motor oil. Mileage was a mix of daily driving and heavy towing. The second sample was 3200 miles on new Delo 15W-40 and the HUBB filter, again mixed daily and towing miles. Lastly, oil was left unchanged and another 1800 miles of driving was put on it, pushing the oil to 5000 miles at its third sample.
Since not everyone understands these oil reports completely, here is a simple breakdown of Blackstone's final reports:
It appears there is some abnormal bearing wear happening within the engine, which would have nothing to do with the oil filters being used. Engine could be showing signs of getting tired, main bearing wear, or a camshaft/lifter problem?
Looking at some of the key elements within the oil, the HUBB system helped tremendously in some areas. Molybdenum stays consistent at even 5000 miles, where the conventional filter shows over 3x higher. Magnesium shows up stronger and the Boron levels remain low at 5000 miles with HUBB, where the conventional filter showed 3x the amount at just 3000 miles.
The new filter system shows excellent test results for maintaining the oils additive package and could be good to run even longer than the 5000 miles it was tested at.
However, Blackstone did suggest changing the oil at 5000 miles due to higher silicon levels within the oil, typically caused by a leak past the air filter. One should take note of the silicon levels being lower at 5000 miles with HUBB than 3000 miles with conventional. The HUBB is filtering contaminants better even at extended use.
In summary, the reports show the oil is in great condition after 5000 miles and could've been run another 3-5k miles, if not for the high silicon levels from an air filter needing attention. This was not the case on the conventional filter, which showed virtually 7100 miles worth of oil wear after 3000 miles of driving. That's a significant difference that should be noted. HUBB does almost 200 filter reports per month for users and fleets and has seen consistent results across the board.