Jakob Bonser from Loveland, Colorado, always wanted to build something of his own—something that would be big, bad and different. When he was 16 years old, he purchased a 1969 Chevrolet K20 ¾-ton pickup and decided to make it into that something special he'd always wanted. Because the family garage was too small to cage the beast, Bonser utilized the space on his driveway to complete the build. Can you imagine building a project in your driveway during the winter in Colorado?
The frame is the foundation of any well-built truck. Being a welder and mechanic by trade, Bonser strengthened the frame by welding 3/16-inch steel plate to box the frame rails. The stock wheelbase was stretched six inches by relocating the rear suspension pickup points and perches. A 14-bolt GM rear end housing was stuffed with 4.56 gears and factory ¾-ton drum brakes. The housing is anchored by a pair of custom three-link traction bars constructed of 1 5/8-inch-diameter D.O.M. round tubing.
The rear suspension includes air springs, valves, solenoids, compressor and switches that were all taken from a Kenworth semi truck. A pair of Rancho 9000 gas-filled shocks helps dampen the rear suspension through rough terrain. Up front, the Dana 60 front axle housing was loaded with 4.56 gears and equipped with disc brakes for pulling and stopping. A pair of Rancho 9000 gas shocks work with the Superlift 6-inch lift, four-leaf spring packs.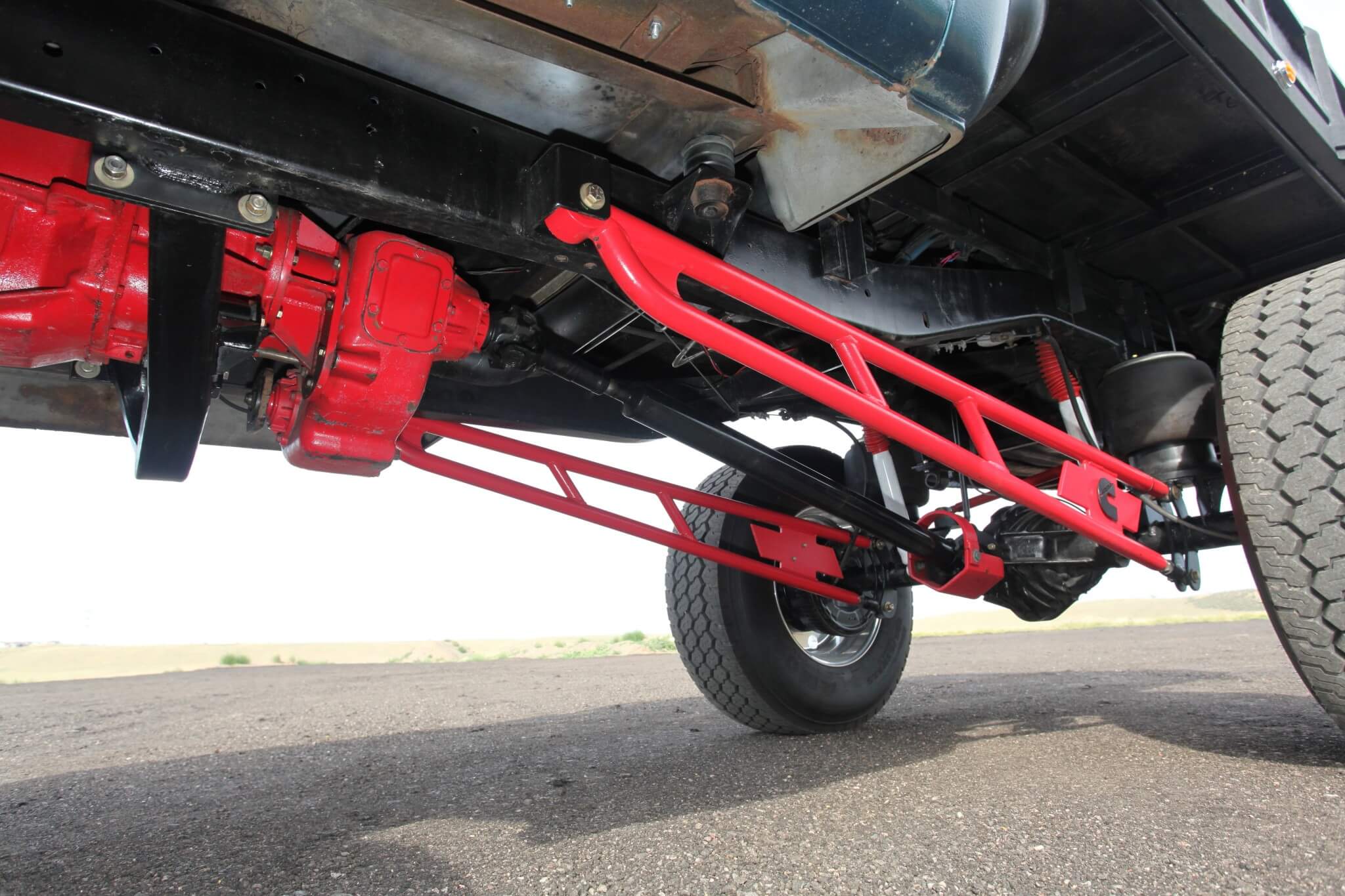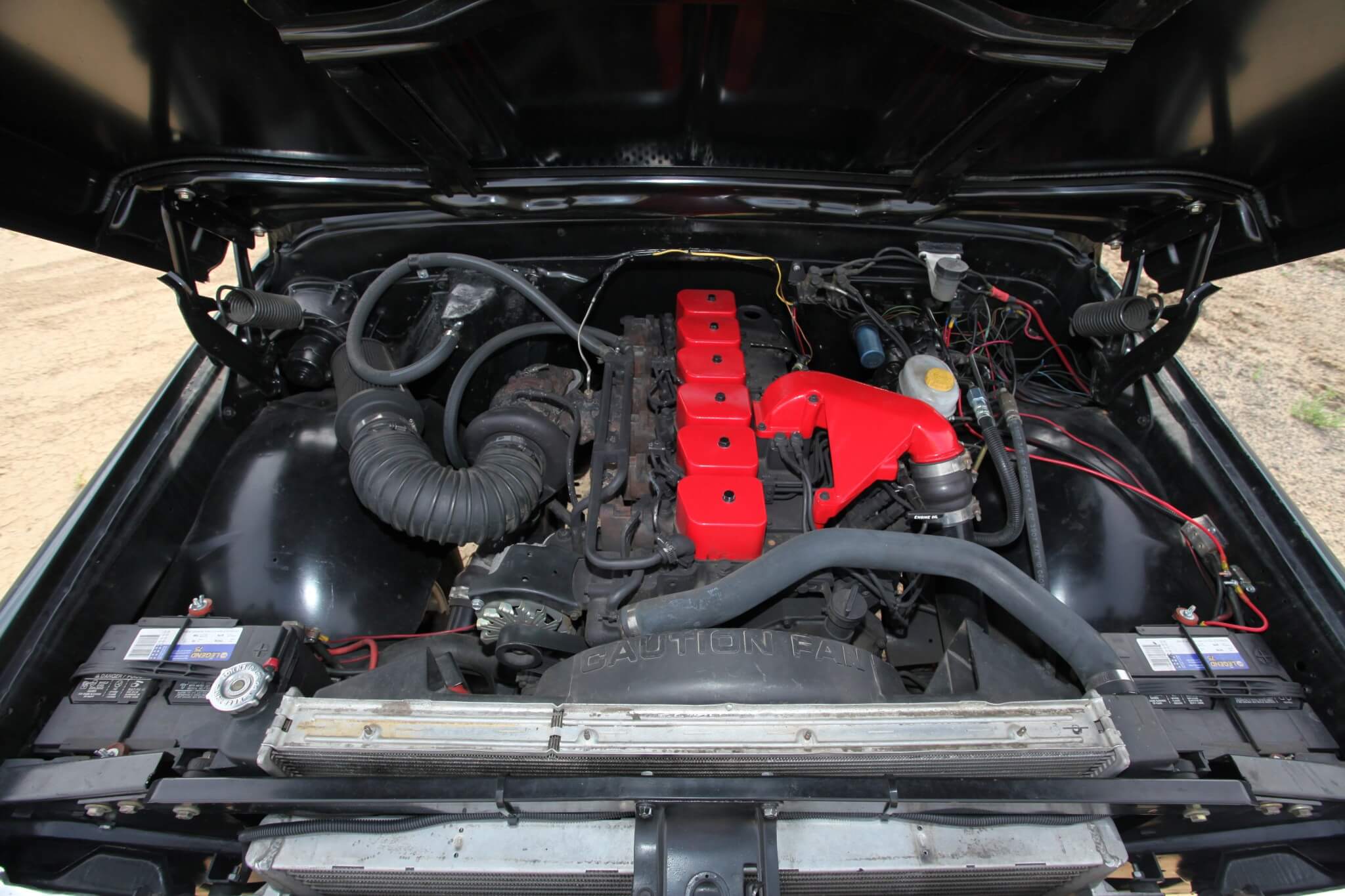 The worn GM steering box internals were replaced with all-new components for quicker steering response. To create both style and traction, a set of Alcoa Super Single polished aluminum wheels (22.5×12) were wrapped with Hankook AMOZ 305/65R-22.5) rubber.
The original Chevrolet 350-cid V-8 small-block powerplant and 350 automatic three-speed transmission were extracted from between the frame rails. Looking for more horsepower and torque, Jacob purchased a 1995 Dodge 6BT Cummins 5.9-liter inline six-cylinder, 12-valve single-turbo diesel. It puts out around 430 horsepower at 2,400 rpm and 850 lb.-ft. of torque at 2,300 rpm. The stock exhaust manifold flows into a 4-inch downpipe and 5-inch Y-pipe that split off into a pair of 6-inch-diameter vertical stacks. The stacks were extended through the bed.
Gear selection is accomplished with a 2003 Dodge NV 5600 six-speed manual transmission and a South Bend dual-disc clutch. The NV5600 is mated to an NP-205 transfer case with a 1.96:1 gear ratio. This cast iron gear drive case is strong and durable enough to live long and prosper behind the diesel. A custom long-neck aluminum shifter allows for easy gear selection.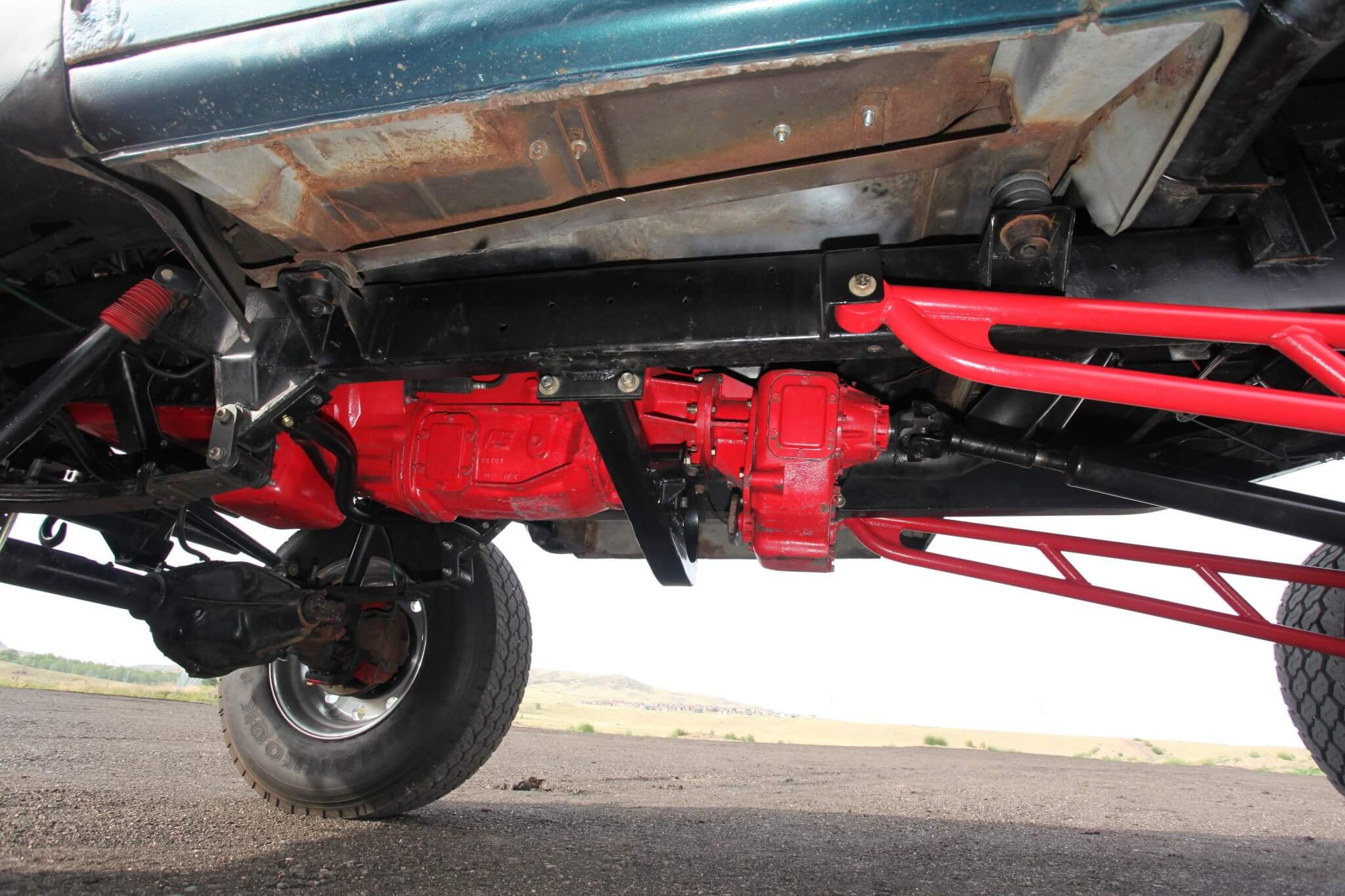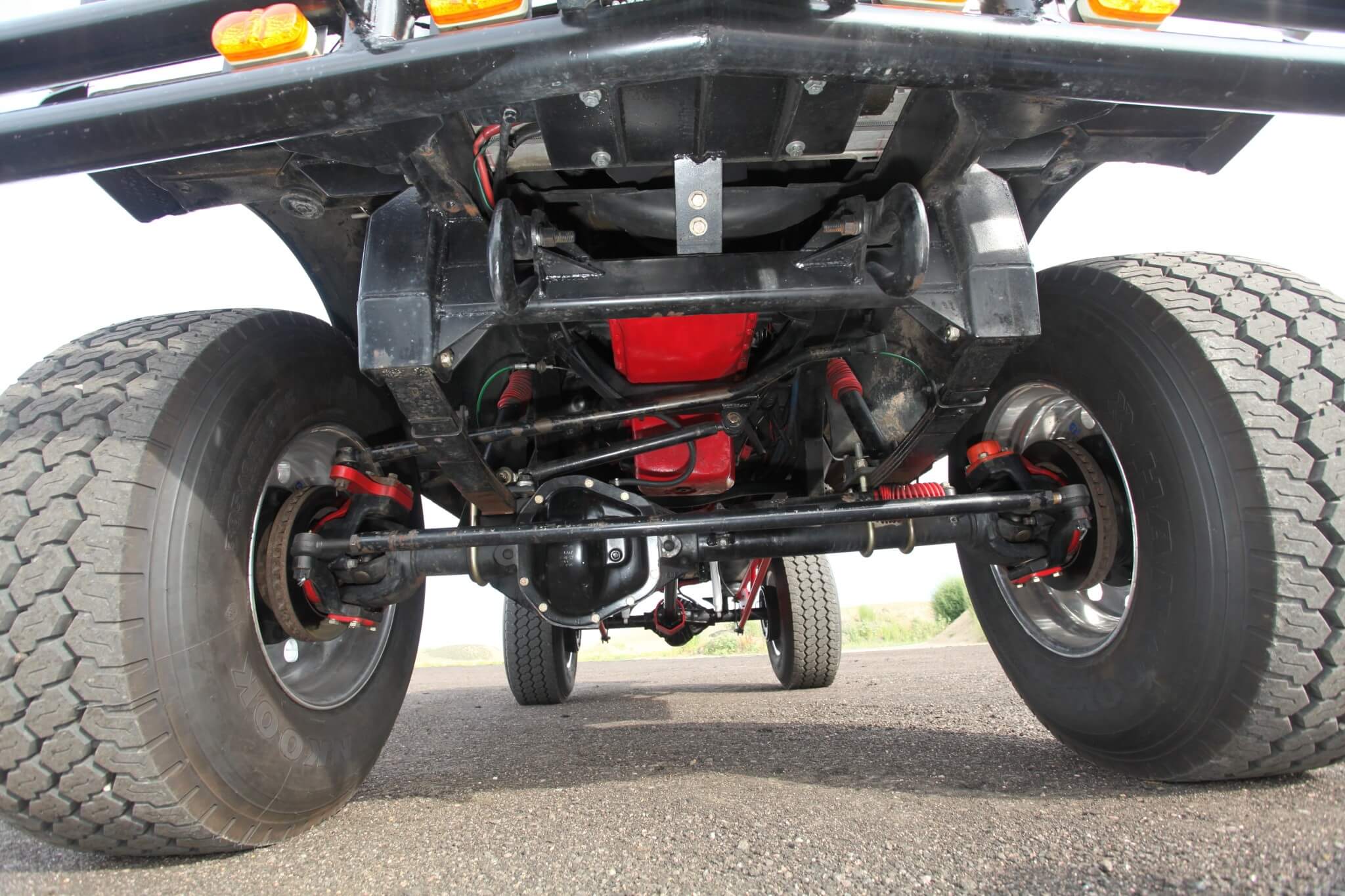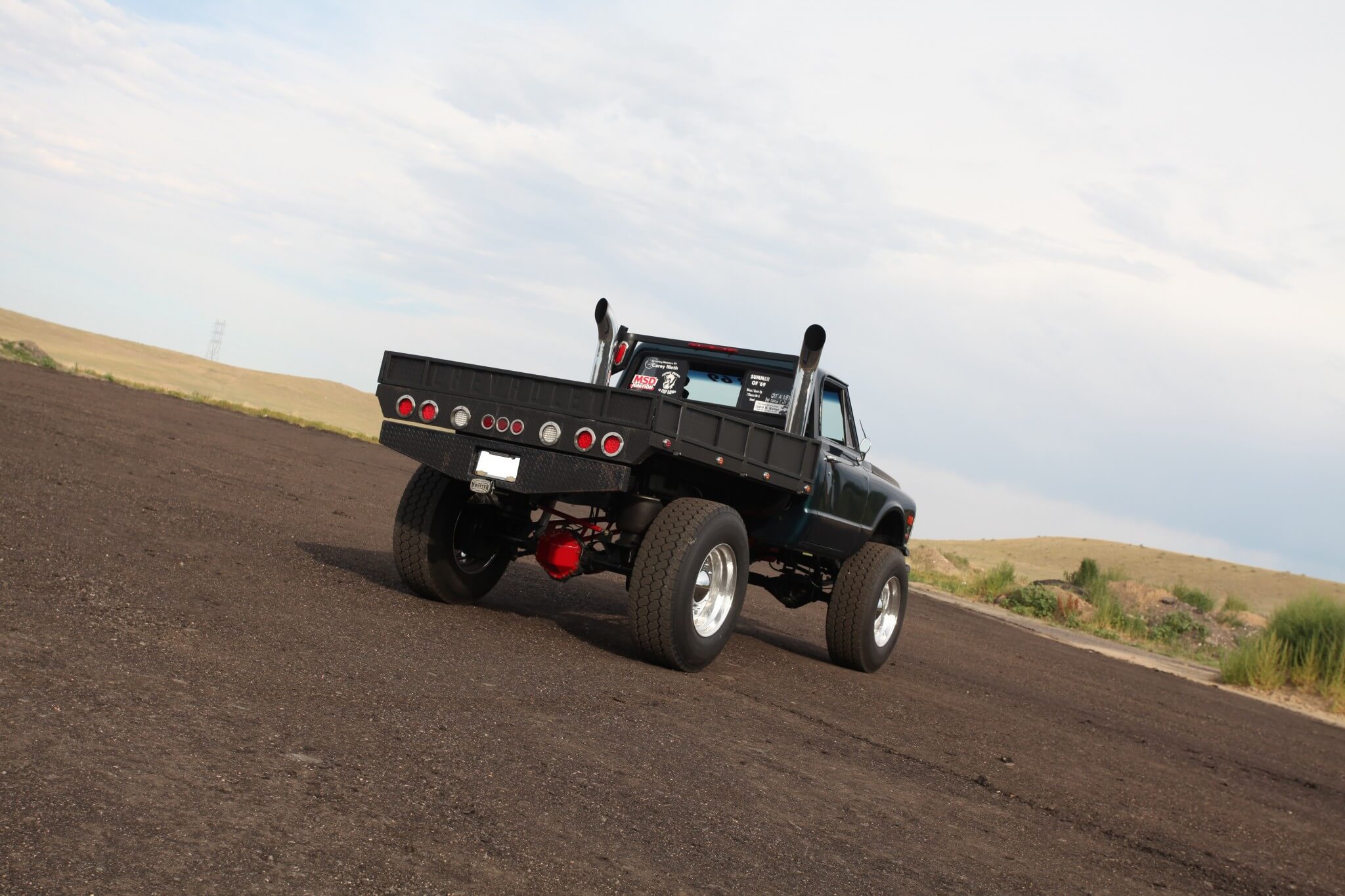 The classic 1969 emerald green cab, doors, fenders, grille and LMC 2-inch cowl hood give this driveway creation its unique identity. The front fenders were modified for additional tire clearance. Bonser fabricated both the double-tubed front bumper and diamond-plate rear bumper. The factory bed was removed to make way for Jacob's custom-made flatbed that includes tapered sides and a removable tailgate.
The classic 1969 emerald green cab, doors, fenders, grille, and LMC 2-inch cowl hood give this driveway creation its unique identity.
The simple factory dash and gauges were upgraded with a set of Auto Meter gauges and a tachometer, while a Grant "Challenger" GT steering wheel caps the factory steering column. An A-pillar gauge pod was installed and filled with Auto Meter gauges. This allows Bonser to keep tabs on the engine's vital signs without taking his eyes off the road or track. An LMC rubber floor mat makes for easy removal and hose-off when the inevitable mud is tracked into the truck.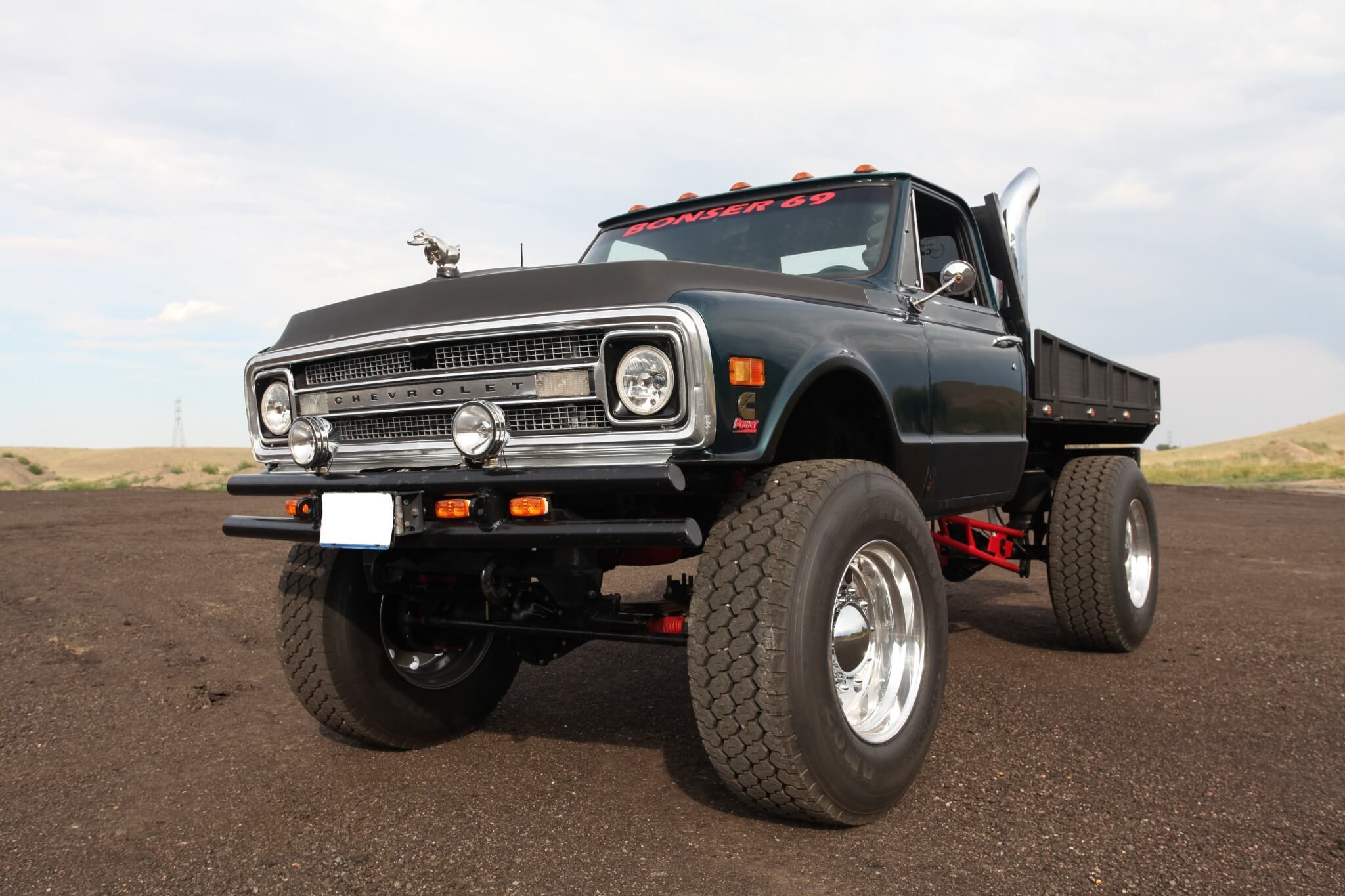 The cab of the classic Chevy was upgraded with modern audio gear. A Sony head unit and amp produce quality tunes that blast from 4-inch Alpine speakers mounted in the door panels and Alpine 6x9s mounted behind the seats.
Lucky Colorado-area diesel enthusiasts might see Bonser's diesel beast making passes at local ¼-mile drag strips. The truck's best pass has been an 18.0 E.T. at 78 mph. Not bad for an 8,000-lb beast. DW